Daily Archives:
May 27, 2019
Today, being Memorial Day, my client's off ice was closed, but I'm not sure I could have made it in anyway.
Neither one of us wanted to even get out of bed, much less actually do anything, you know like unpack the four big suitcases littering the living room and the kitchen. But after getting some coffee into our veins, we were able to kind of move about. But neither of us felt like doing any unpacking, so mostly we just sat and talked about our trip and the fantastic time we had.
While we were still in London, I ordered a 10" digital photo frame from Amazon so it would be here when we got home. We already have one that displays family and RV travel photos, but I thought I get a separate one to just for our trip. So I did start going through the 2447 photos that I made along the way to decide which ones I want to load into it. But even that turned out to be more work than I wanted to do.
Our son Chris was in town for the day, so about 3:30 I called an Uber to take us up to Webster to meet him for lunch at King Food, and also give him the presents we had brought home for him, Linda, and Miss Piper.
Readers will remember that right before we left on our trip the radiator on our truck started leaking, but we had so much going on that I decided not to fool with it until we got back. I was thinking I'd just have a rental car waiting for us this morning but then discovered that the local Enterprise office wasn't open due to the holiday. So I ordered for tomorrow morning.
Getting back to the rig, we did start making some inroads into the whole suitcase thing, at least enough to get some laundry going and putting away some things, but our hearts, and bodies, weren't really into it.
Part of the problem is that we're both still jet-lagged, more so than when we flew over to Europe. That, coupled with exhaustion, I guess.
Jan fell asleep on the sofa about 6pm, then came to bed when I did about midnight. But then she was up about 4am and couldn't get back to sleep.
Hopefully tomorrow will be better.
Finishing up, a teaser from our visit to Versailles –The Hall of Mirrors.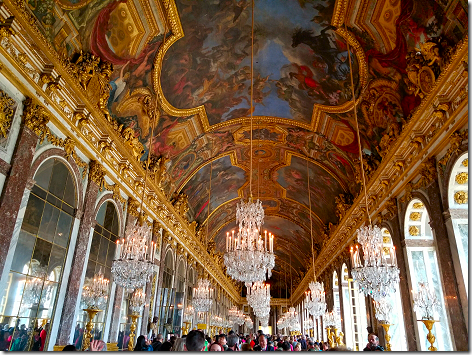 sdfgf