Daily Archives:
May 26, 2019
Before our trip home today we spent several hours last night carefully weighing our luggage over and over.
Did you know a single sox weighs 3 oz?
We were trying to max our two large checked bags right up to the 50 # limit, finally getting one of them up to 49.9 and the other one right on 50# by using the digital scale we had brought with us.
Then I got my carry-on right up to the 17# limit allowed for them. So then leaving out of travel clothes, I wedged all the rest into Jan's carry-on, and, holding my breath, weighed it.
25.8 pounds!
Yikes!
Ok, if we each wear 4 shirts, 3 pair of pants, 6 pair of underwear, and 2 pair of shoes, we might get in under the wire. But somehow I don't think that's going to work either. Then Jan remembered that when we were checking in at the gate to our Lufthansa flight from Houston to Frankfurt last month they offered to also check in our carry-ons as well as our big bags.
So Jan had the idea to just check in her carry-on along with her big bag, which means the 25# wouldn't matter. So with a plan in hand, we were up at 7am, downstairs for breakfast at 8, and sitting in the lobby waiting for our ride by 9:30am.
Advised that we should be at Heathrow Airport 4 hours before our scheduled flight at 14:10, we were there a little before 10. Only to find out that our flight was going to be delayed, but only for about 10 minutes. So no problem.
But after we got through TSA (no cavity's searched) and were at our gate, we were told the flight had slipped 45 minutes. Then we were told that our plan was late coming in from the States, and we were pushed back an hour. And that caused the dominos to fall, further screwing over our schedule.
Gates are booked for a flight at a specific time, so if a plane is too early or too late arriving there may be another plane at that gate. Which is why as our flight got pushed back later and later, our specific gate number became 'iffy'. But finally about an hour and 15 minutes late, we were boarded on our Boeing 787-9 and waiting for push back from the gate.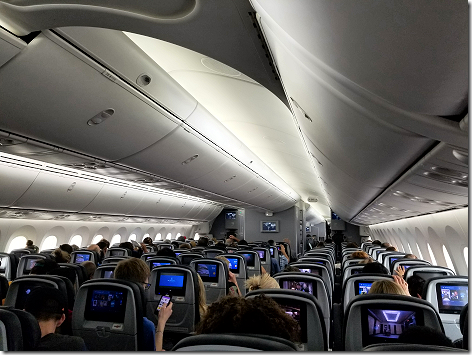 But that didn't happen. As our departure got pushed back later and later, we also lost our slot in the flight path that we were scheduled to take home. So a new flight plan had to be calculated and then approved. But that resulted in a longer path home, so we had to take on another 10,000 pounds of jet fuel.
So finally, two hours and 10 minutes late, we were rotating and in the air for a now-10 hour flight.
They were able to make up some time by pushing the speed, staying at 34,000 feet and almost 600 mph for most of the flight, leaving us with views like this.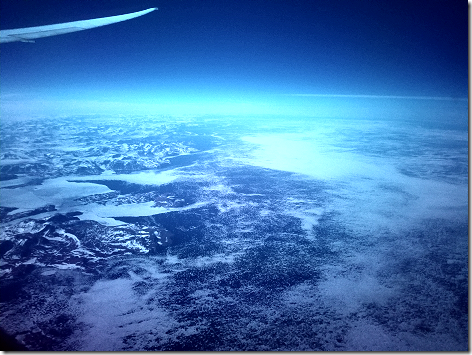 We finally got into Houston about an hour and 10 minutes late. And after getting through Customs,we met our driver and were on our way back to Santa Fe, getting back to the rig about 10pm.
Safe, sound, and with a lot of really great memories. And totally exhausted.
Now, after we get unpacked and settled in, I'll start going back and filling in the missing days on our trip of a lifetime.
Stay tuned.
hjfjh