Daily Archives:
June 13, 2019
We were out the door about 8:50 this morning for the drive up to Webster for my Dermatology appointment to check out my Photo Dynamic Therapy treatment back in December.
The doctor want to check for any remaining lesions. I knew I had a couple, but I was hoping he would just be able to freeze them off, so I wouldn't have to have my head fried again. And he was, not only taking care of the two I knew about, but a few more he found.
I was in and out in about 15 minutes and don't have to come back until December for check up.
Then it was off to have breakfast once again at SnoozeAM. This place is always busy, with a 10 minute wait, even on a Thursday morning. But always good.
But once again, I ended up with Goldilocks Eggs. I always get the Snooze Classic,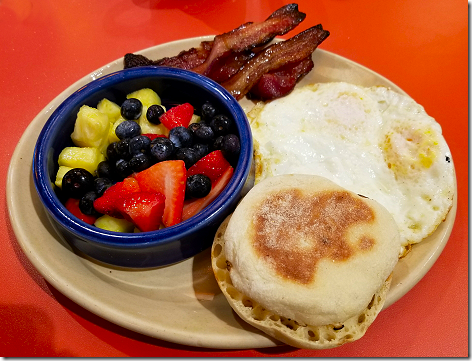 with three eggs over medium, 3 strips of crispy bacon, fruit instead of hash browns, and an English muffin.
But for the 2nd time they somehow managed to cook each egg of the three, three different ways. One of the yolks was cooked solid, over hard, while another one was so lightly cooked it was almost sunny-side up.
However, the third one was just right. But I have absolutely no idea how they manage to do this.
Then we headed back home for a few hours, before Jan's appointment at 2:30, with the same Dermatology office, but at the much closer League City location.
Hopefully I'm going to be able to borrow a floor jack from my client which will make changing out my truck's brake pads on Saturday.
Wrapping up, Brandi sent over a copy of Landon's 3rd grade STAAR Test results. STAAR is the acronym for Texas's "The State of Texas Assessments of Academic Readiness", which is given every year from the 3rd grade through the 8th.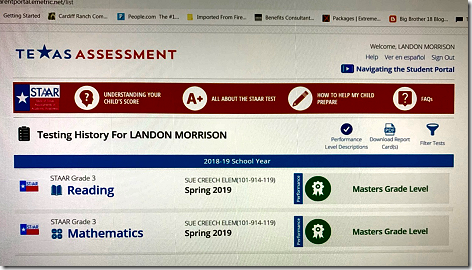 And turns out that he tested better than 81% of ALL Texas 3rd students in Reading, and better than 84% of ALL students in Mathematics.
WOW! Way to go, Landon.
Tomorrow it's back to work putting some final touches on the website.
---
Thought for the Day:
Isn't it funny how red white and blue represent freedom, unless they're flashing behind you.
asdfadsf