Daily Archives:
May 21, 2022
Lunch today was at Gator's once again, with Jan getting her favorite Strawberry Walnut Salad with Grilled Chicken,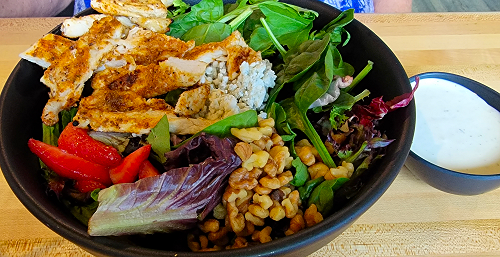 with a side of Ranch Dressing.
Recently I've been getting the Loaded Baked Potato Soup, but decided to go back to the Blackened Chicken Breast Sandwich with Sweet Potato Fries.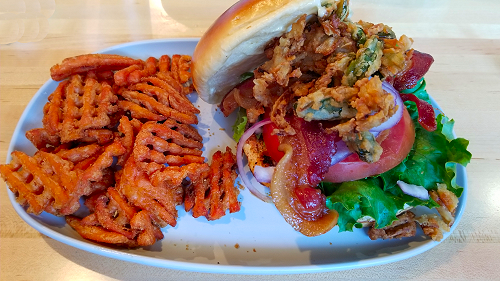 And of course, we had to finish up by splitting one of their delicious Keto Blueberry Muffins.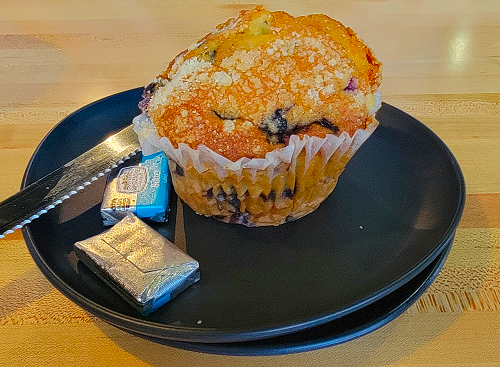 Then it was on up I-45 to the Costcutter's near the HEB so Jan could get her hair cut. While she was doing that I filled up the Jeep at their gas station.
And set a new personal record. 15.72 gallons at 4.199 for a total of $66.
Another 10 cents and the price of gas will have tripled since November 1st, 2020. On that day I paid $1.42/gallon to fill up the Jeep.
Round and round it goes, and where it stops nobody knows.
Jan and I both really appreciate all the nice comments from our readers about the reposts of our past adventures.
Thanks.
An Ugly Fish
---
May 21, 2009
Last Day in Paradise – Redux . . .
Well, it turns out that today was not our last day in Key West.
I wasn't feeling well this morning so we decided to put off leaving for another day.  Just stayed around the coach all day and then walked over to the RV park restaurant for supper.  This place is an outside bar/restaurant with the tables right on the water.
The food was great and the view was fantastic!
Jan had the Turkey & Dressing and I had the Cuban Roast Pork dinner.  Both excellent!
While we were sitting at our table a guy brought by a small batfish he had caught.
This is one ugly fish.
Since we have a long trip tomorrow to West Palm Beach, we'll try to get an early stop, probably around 8pm
Westport WA with Friends
---
May 21, 2010
Crabs, Pelicans, and Deer…Oh My!
Before heading out to lunch we stopped by the dumpsters to drop off our garbage. About 50 yards away we saw 3 of the 4 deer that hang out around the park.
Then we drove over to The One-Eyed Crab for lunch. This place is so good it's the 3rd time we've eaten there in 3 days. My shrimp salad sandwich on ciabatta bread was fantastic. And of course the obligatory clam chowder.
After lunch we perused a couple of gift shops and then went back down to pier 21 to check out the pelicans again.
And I've never seen pelicans in a close swarm like this.
Getting back home, Jan sat out with Mister. While he explored the area, I worked on my on-going tire problem.
I installed the 2nd valve stem extension, put on the remote pressure sensor, and monitored the pressure for a while. Unlike the other day, this time I didn't show any loss. After checking for a couple of hours I decided it was safe to top off the tire pressure, so I fired up the coach engine so I could air up the tire using the on-board air compressor.
Then about 5:30 we drove to Half Moon Bay restaurant for our last dinner with our friends Al and Adrienne. We leave tomorrow morning so this will be our last get-together for a while.
Tomorrow we head for Cle Elum, WA, about 195 miles away. Cle Elum is right down the road from Roslyn, WA, where Northern Exposure was filmed. We stayed here two years ago on our way to Alaska, and it's a really nice area.
Exploding Chip Bags
---
May 21, 2013
Another Day, Another Repair Job . . .
The wind really picked up today as the cold front moved in. Doesn't look like we'll get any rain out of it, but the high for the next two days will be in the low 50's with the low in the mid 20's.
Yes, mid 20's!
But it will still be sunny so it will be nice. In fact for the rest of the time we'll be here, it supposed to be sunny and in the 60's.
Around 2pm I headed out for a couple of errands. I wanted to get the truck washed, and I wanted to check out any local hardware stores for a new countertop drinking faucet.
This one had started leaking around the base and I want to get it fixed. It has always dripped just a bit when our shore water pressure was high enough, but that wasn't a problem because the cat's water bowl sits under it. But now water is pooling on the countertop so I need to get it fixed.
There's no Lowe's or Home Depot around here but I thought I'd check out the several hardware stores I've seen in the area. With enough searching, I could probably find new washers for the inside, but it's just simpler to install a replacement.
I wasn't able to find anything locally, but I'll check when we're in Reno tomorrow. Otherwise it looks like I'll be able to get one from Amazon in a couple of days.
Getting the truck washed just further convinced me that I don't like the 'touchless' car washes, the ones that use water pressure only. They just don't get all the dirt and grime of the truck like the ones that use the rotating felt brushes.
Here's what happens when you buy a bag of chips in Apache Junction at 1500 ft. and then bring it up to a elevation of 6500 ft. It swells up like a balloon, and then 'poofs' when you open it.
I've noticed a number of our packages doing this.
For dinner tonight we finished off the last of the spicy chicken vegetable soup. Still good.
Tomorrow we're going to do our Donner Pass, Reno, Virginia City, Wal-Mart, Sam's Club, Famous Dave's BBQ daytrip.
Sounds like fun.
Happy, Happy, Happy!
The XL Meat Grande
---
May 21, 2014
A Wild and Wooly Night . . .
Well, they said we were in for some thunderstorms last night, but that was an understatement.
During the night we had high winds, very heavy rain, lightning, and hail, sometimes all at the same time. And that all prefaced another cold front coming through.
Today's high was 83°, but the low tonight is supposed to be 49. Tomorrow is 68 and 44, with Friday at 67 and 45.
But with no rain forecast, it really should be pretty nice. At least no AC needed for a few days.
Later in the morning, Jan and I changed to the sheets on our bed. We really like these Sateen sheets we bought earlier this year. In fact we liked them so much we bought a 2nd set.
Striped QUEEN Sateen Sheet Set
They're a high thread count and very soft. They've also held up very well as far as wear and tear goes. They still look brand new.
I spent most of the afternoon working on some computer stuff, before getting in some nap practice.
I think I've about got the art of napping down pat, but probably need a few more months of practice to hone my skills.
About 4pm Jan and I drove over to pick up Dave and Lynn Cross for dinner. They had never been to Mancino's Pizza, our favorite local pizza place.
Not only are their pizzas really good, but also their Sammy Bread, which is a homemade cheesy garlic bread, is great.
We always get the XL Meat Grande pizza which has pepperoni, sausage, ham, bacon, ground beef & a special blend of cheese. Like we do at Grimaldi's, the XL gives us plenty to take home for later.
We've known Dave and Lynn for 5 or 6 years but this is the first time we've really had a chance to sit down and talk. Turns out Dave and I have a lot of common interests, including flying, and both having worked in the aerospace field.
Coming back to the park, we spent an hour or so at their 5th wheel with Lynn serving us pie for dessert. Really good.
We got back to the rig about 7:30 where I started looking at problems with a laptop. It's pretty new, but I'm wondering if it's not memory problem. I think I may have some spares around here to substitute.
We'll see.
BBQ and Tacos
---
May 21, 2016
Whoops!
or Lost in Translation.
Well, that didn't go as planned.
Jan was up about 8 this morning, to get ready for our trip down to Katy to our daughter Brandi's for a family get-together for our son Chris' birthday. I was going to get up about 8:30, and we were going to leave about 9:30, picking up Rudy's BBQ for everyone along the way. Jan was also bringing a big pan of her Sopapilla Cheesecake that everyone was looking forward to.
But getting up, Jan found several phone calls waiting for her, from both Chris and Brandi. Somehow we all got our wires crossed, and although Jan and I were sure we heard Saturday, apparently everyone else knew it was Sunday.
Now I think we would have noticed if it was going to be Sunday, tomorrow, because that's the day we move back to the Colorado River Thousand Trails in Columbus. So, a quick change of plans.
First things first, I went back to bed. Nice!
So now, we'll change our schedule for tomorrow's trip. We'll skip our usual Cracker Barrel breakfast and pull out of the site about 8:30. After hooking up, this should put us out on I-45 south about 8:45. Then it's a stop for diesel at the Flying J along the way, right before we get on the Tollway.
Now, sometimes we've been in and out there in 15 minutes, and once it was over 45 minutes, so I'm allowing extra time for that. But we'll make up most or all of that because we won't have to make the Rudy's BBQ stop.
And that was because this afternoon we decided to drive down to the Rudy's in the Woodland's area and pick our BBQ today. And even better, it gave us a good excuse to have dinner at the Torchy's Tacos in the same area. A Two'fer!
I guess you could call Torchy's a 'gourmet' taco place. I mean, with ahi tuna tacos, grilled salmon tacos, or ones with Jamaican Jerked Chicken, Fried Avocados, or Jalapeno Sausage, it's hard to call them anything else.
We started out with the Green Chile Queso & Chips.
This time Jan tried the Baja Shrimp, as well as her usual Brushfire, which is the Jerked Chicken.
Me, I stayed in my usual tasty rut, with the Jalapeno Sausage and the Green Chile Shredded Pork.
Jan liked her Baja Shrimp, but will probably go back to her Trailer Park taco, which has Fried Chicken and Green Chiles, with cheese and Pico de Gallo.
After a delicious meal, we drove on down the Interstate to the Rudy's for our BBQ. They were pretty busy, so it took about me about 15 minutes to pick up 1-1/2 pounds of moist brisket and 1-1/2 pounds of lean (or dry and chewy as I call it). This is Jan's favorite.
I also got a couple of quarts of the Creamed Corn. Jan doesn't really like corn, but she loves the way Rudy's does it. A loaf of bread and a lot of Rudy's Sauce, and we were on our way back north.
Our final stop was at the Conroe Sam's Club for a case of Joint Juice for Jan's knees and joints. We had checked at Wal-mart and several other places, and everyone was out of it. But we've never not found it at Sam's. Until today.
But before I could look for the Joint Juice, I needed to renew my Sam's card. Now normally I would do this at the register, but this time I wanted to downgrade my Plus card to a regular card, saving $30 over the Plus card's $99.
We had originally upgraded to the Plus a few years ago because it offered additional prescription discounts. But then Sam's stopped honoring Wal-Mart's $4 – $10 prescription list, so it ceased making a difference.
The line at the Customer Service was long enough that a manager came over help out. And luckily for me, he was a little rusty on the computer. He was able to give me my new, downgraded card, but he couldn't get the system to charge me the $69 for it.
So finally, in frustration, he handed my new card and said, "Here! It's free this year."
Nice!
But I didn't get to used my shiny new card for Joint Juice, because they didn't have any either. And the pharmacist said she hadn't seen it in a while. So now we'll have to look elsewhere.
Jan has been taking Joint Juice for years, even before we started RV'ing. And she knows from experience that if she goes off it, within 3 or 4 weeks, she'll start having a lot of knee pain. So when we got home I went online to see what I could find.
Amazon had it for $34 for a case of 30, with free Prime Two Day Shipping, but that's about $10 more than Sam's price. So I did a generic Google search and found Jet.com
I'm sure you've seen the TV commercials with people's exploding heads and purple smoke. That's Jet.com. And they have great prices, and great service.
The case of Joint Juice that Sam's sells for $25, and Amazon sells for $34, Jet.com sells it for $18.26. And that's with Free Two Day Shipping. In addition, I got another $0.26 cents off because I waived Free Return, and then another 1.5% off because I used a debit card, rather than a credit card. Nice and Nicer!
I'll probably be ordering more stuff from Jet.com at these prices.
Wheaty Treats
---
May 21, 2017
With a side of Jell-O . . .
As it seems to happen all the time, the forecasted low of 39° for Garrison, MT last night turned out to actually be 32°.
And expecting this, I did plug in the rig'sengine's block heater last night so that this morning my engine oil temperature was a toasty 137°. Nice.
We were out on I-90E heading to Billings, MT 240 miles away a little before 10am. And thanks to blog reader Mary Burge, our first stop was at the Wheat Montana in Three Folks, MT,
Wheat Montana is a family farm/deli that specializes in non-GMO wheat products grown on their own farm. Wheat which they then turn into delicious wheaty treats like ginormous cinnamon rolls
and other delectables.
Besides the goodies, we split a really good Tuna Melt with Cheddar Cheese before we got back on the road.
Thanks, Mary.
Two things come up a lot while you're traveling through Montana:
First off you start to hate these signs.
It means you're now in for a long, slow climb at 40mph and 3mpg. Sometimes it seems like you're going straight up. But at least I finally got to pass someone, the slower trucks, as we crawled uphill. And just like yesterday we were back up in the snow line with piles of it still along the road.
But it also means great scenic views along the way.
One thing that was different about this trip was Karma. When we first started traveling with her last year, she would run and hide as soon as I started up the rig, and not show up again until about 15 minutes after we were parked.
But in the last six months or so she's started coming out more, sleeping on the sofa, or on the floor between our chairs.
But today, just liked Mister used to,
she climbed up on the dash and went to sleep.
By 4:30 we were parked and set up at the Billing's Trailer Village RV Park, a park we've stayed at many times before.
And this morning we decided to shake the Jell-O again and change our schedule a little. Originally we were going to stay one night here in Billings, and then in Gillette, WY for one night, before going on to the Rapid City, SD area for a week or so.
But where to stay in Gillette was always kind of sketchy. So now we're staying here for two nights, and then we'll make the 365 mile trip straight through to Rapid City on Tuesday.
About 5:30 we headed out to have dinner at Famous Dave's BBQ once again. Our last visit was about two months ago when we were staying in Apache Junction, AZ, so it was about time for another meal there.
Jan got her regular 1/2 rack of St. Louis Ribs, with fries and beans,
and I got my usual Rib's N Meats Combo, with St. Louis Ribs, Beef Brisket, and a Hot Link Sausage, along with corn on the cob and beans. All delicious as usual.
Yeah, it's a rut, but it's a tasty rut. And as usual also, plenty of leftovers.
We'll sleep late tomorrow, goof off and then do some shopping. Then it's dinner at our other favorite place here, the HuHot Mongolian Grill.
Red, Green, Blue, and Orange
---
May 21, 2019
A Lay-About, Do Nothing Day . . . 5/21/19
That turned out to be a little expensive.
When we extended our London stay an extra 3 days and added some extra excursions, we left today open for anything interesting that we came across that we might want to do.
However, what we ended up wanting to do was pretty much nothing. At least in the morning so we could sleep late. We did go down for breakfast about 9am since it wraps up at 10. Didn't want to miss out on our free meal.
While we were there I went online and bought us two 24 hour tickets on one of the several Hop On – Hop Off double-decker open top buses. Looking at the brochure, it showed 4 lines, Red, Green, Blue, and Orange, that covered the major tourist attraction parts of the city. So we thought we just spend a relaxing afternoon riding around the city, checking out some of the places we hadn't already visited, and maybe getting a better look at some we already had.
We also wanted to check out Oxford St, a high-end shopping area, and also home to Hamley's, a toy store that opened in 1760, making it 259 years old! Kind of makes F.A.O. Schwarz, which opened in 1862, look like the new kid on the block.
F.A.O. Schwarz even went out of business for 3 years, from 2015 to 2018, when their owner, Toy's R Us, went under and dragged Schwarz down with them.
But the whole hop-on hop-off thing wasn't what it was cracked up to be. At least with the company we chose.
They have a neat app that I downloaded onto my phone that lets you track the buses so you know when the next one is coming along to your stop. BUT they don't tell you that that bus will be full, and so will the next two, and the empty one that finally shows up wont even appear on the app at all.
And when we got to the stop where we're supposed to change over to another route, we found that the pickup point for the new route was about 100 yards away from the the drop off point.
And then when we got ready to come back to our hotel from the Oxford St. area, the buses in use must have been those new 'stealth buses', the ones you can't see, because the app would show a bus stopping in front of us, but we couldn't see any bus stopped or coming by. Turned out to be a big waste of £70.
So we Ubered home. But more about Uber later.
Jan and I have both been suffering from colds since we were in Paris, and have been taking Dayquil as a decongestant. So while we were out hopping yesterday she told me how tired and sleepy she was, even though she'd taken Dayquil and not the Nyquil that makes you drowsy.
Later getting back to the hotel, she discovered the problem. She had accidently taken a couple of non-prescription over-the-counter sleeping tablets instead of the Dayquil.
I guess they really work.
A Porpoise, Not A Dolphin
---
May 21, 2020
So Long and Thanks For All The Fish . . .
Some of you will get this, but most of you probably won't.
A couple of days ago, I blog-posted about my porpoise training days down in Florida during the the summer of 1967.
And I talked about how Lori, the smaller one on the left,
once caught a fish in her pen and gave it to me as a gift, I guess because I had given her so many fish.
Well, apparently it wasn't just Lori. It seems that dolphins at the Barnacles Café and Dolphin Feeding, an attraction in Australia, are missing all the tourists, who aren't coming to see them, and feed them, so they're bringing them gifts to try and lure them back.
Dolphins who frequent Australia's Tin Can Bay, a popular tourist spot, have taken to bringing "gifts" ashore, apparently missing the visitors who would normally be lined up to feed them before the coronavirus pandemic.
The pod of humpback dolphins has brought sponges, barnacle-covered bottles and fragments of coral to Queensland's Barnacles Cafe & Dolphin Feeding in recent weeks, a volunteer told Australia's 7News.
"Nothing surprises me with dolphins and their behavior anymore," Barry McGovern, a dolphin expert and PhD student at University of Queensland, told the outlet. "They do everything – they use tools, they have culture, they have something similar to names in signature whistles."
Now, before anyone corrects me, yes I know Lori and Thor were dolphins, NOW. But back then, they were porpoises.
This was a dolphin, and actually still is.
It's a fish. A Dolphin Fish, to be precise.
But somewhere along the line it became a Mahi-Mahi.
I wish they'd just make up their minds and stop changing the names of things.
---
Thought For The Day:
Seems like college is a lot different now than when I went. We got discounts on notebook paper and textbooks.
   .