Daily Archives:
May 23, 2022
Spent today at work finishing up some of those last minute niggling details hanging around before we leave on vacation on Thursday. Pretty much everything is done. Just hoping now that everything keeps working for the next three weeks.
A great new show premiered tonight on AppleTV+. Entitled Prehistoric Planet, a new episode streams tonight and going for the next 4 nights.
Jan and I watched the first one this evening, and it's hard to believe we weren't watching a real animal documentary.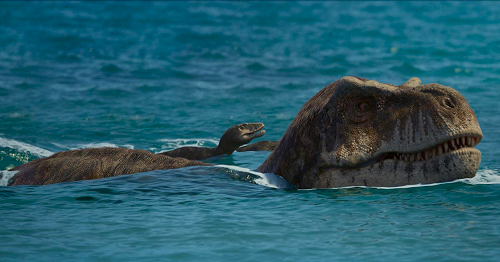 Who knew T-Rex could swim?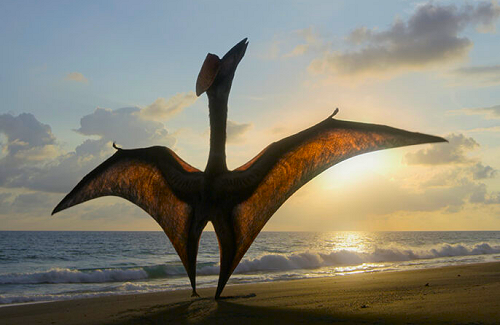 Check it out.
It's sure to show up somewhere else after the first run on AppleTV+.
Cedars On The Lake
---
May 23, 2010
On to Coeur d'Alene…
We left the Whispering Pines RV Park in Cle Elum about 10:30 heading 230 miles east to Coeur d'Alene, ID.
Whispering Pines is a very nice park nestled in the trees (pines, of course), and we've enjoyed both our stays here.
About 12:30 we stopped at a rest area and had a quick lunch. Then it was back on the road.
We arrived at Blackwell Island RV Park about 3:30 pm and got set up. Checking in was easy since we were still in their system from our stay here 2 years ago on our way to Alaska. While we were checking in, we had them make our reservations at the Cedars restaurant right down the road on Coeur d'Alene Lake.
About 5:30 pm we headed over to the Cedars. And actually it's not ON the lake, it's IN the lake.
It's 600,000 pounds of concrete floating on the water, The concrete surrounds a Styrofoam core that gives it buoyancy.
We were really looking forward to eating here again. They have fantastic steaks and our mouths have been watering all day.
And they certainly didn't disappoint us this time. Jan had the Angus Baseball Sirloin and I had the Prime Rib. Both were really, really good.
Very nice inside.
You can even dock your boat and have dinner.
We've got a full day here tomorrow to look around and explore this beautiful city.
Road Trip from Prescott AZ to Vandalia IL
---
May 23, 2015
Recapping–Still on the Road . . .
Catching up on 5/21
After spend the night in Amarillo in a very nice Quality Inn, especially for $53/ night (senior discount), we started out with a really good free breakfast at the hotel, before finally getting on the road about 7am.
About 1pm we stopped for lunch at a Raisin' Cane's Chicken Fingers on the east side of Tulsa. And in case anyone wonders, we also left the truck running and the AC going for Mister whenever we stopped. Usually he never even woke up.
We first discovered Raisin' Cane's while we were gate guarding near Bryan/College Station last year. Really, really good, not only the chicken, but the Cole slaw too.
Then it was back on the road until the the west side of St. Louis when we stopped for supper at a Steak N Shake for dinner. Anticipating our visit to the Cincinnati area later this year, we both had Steak N Shake's version of Chili 5 Ways.
We both agreed that although it was really good, it wasn't quite as good as the Gold Star Chili restaurant's version found in the Cincinnati area.
After also getting gas we were back on the road for our last couple of hours, finally arriving at our motel in Vandalia a little before 10pm. Another long, long travel day. Glad we had a reservation since they were full and turning people away when we arrived.
Makes us really appreciate our normal travel days in the rig: Leave at 10am, get there by 2pm.
Maybe tomorrow I'll have time to get more caught up on the blog post of our days here with the family so far. We'll see.
I did hear from the Service Manager that they found damage to our rig's diesel fuel tank, and that it will have to be replaced. Don't know yet how much extra time that will take.
It's always something.
The LOW down
---
May 23, 2016
They're Back . . .
After getting some coffee in me this morning, I got to work on fixing my satellite problem. Yesterday when I got everything set up, I found I only had one tuner active. My first thought was maybe this was the original problem with my 'found' Winegard Satellite Dome, and was the reason it was discarded.
But a quick swap of the cables at the dish told me it was a cable problem, since the problem followed the cable. So now I went along, checking each connector for bent center pins, etc., but finding no obvious problems.
Deciding to put aside further troubleshooting until later, and just get things working again. So I got out my 60 foot extension cables and ran them directly from the dish, in through the driver's window, and to the receiver. And that got everything working again. I'll ring out the cables a little later and figure out what's wrong.
Well, our power problems are back once again, and now I think I've finally got a handle on what's causing them. And the culprit is . . .
Low voltage.
To recap, every time we park in this inner 'A' circle, we have problems with the power popping off in the afternoons, especially when Jan is cooking, and running both the microwave and the toaster oven. But the problem only occurs in this area. Not at any other park, not in areas 'C' and 'D' here, not even right across the road (it's on a different circuit).
But this afternoon when the power popped off, nothing extra was running, just the TV, computer, and both AC's. In the past it took something like starting the microwave while all this was also running.
But Serendipity revealed what was going on this time. As the power went off, I was walking toward the front of the coach and looking right at the voltmeter located over the driver's seat. This shows the rig AC voltage, whether from shore power or the genset.
Normally this meter is kind of blocked by the satellite cables running to the back of the receiver, but since I had temporarily moved the wires around this morning, I could see the meter as the power came back on.
Now my Progressive EMS (Electrical Management System) will drop out at 108 volts to protect things like AC compressors from damage from low voltage. Most other things in the rig would not be adversely affected.
So I turned the AC's off and then going outside I flicked the switch that put my EMS in bypass mode, which meant that it was no longer monitoring the voltage.
A little bit later I saw this.
As the afternoon wore on, the voltage gradually started to rise, ending up about 113 volts by sundown. And at 1 am it now shows this.
The only kind of weird thing about this my Progressive EMS normally shows when it drops out due to a problem, and it did this time. But when I checked it after the first occurrence a month or so ago, it didn't show an error, so I never checked it again. And that kind of confused things as I looked at the problem.
Tomorrow I'll take my photos down to the office and get them on the problem.
Billings MT to Rapid City SD
---
May 23, 2017
Long Day, But Great Scenery . . .
Since we had a long day today, 315 miles, well, long for us anyway, we were pulling out of the park about 8:15 with Jan following in the truck.
We were on our way to the Sam's Club a couple of miles away to take on some diesel at $2.37 per gallon. As I found during our scouting trip yesterday, it was an easy in with no problems. However the out part was a little more time consuming.
Just as I was ready to pull out to the left, the only way I could go, a lady in a large while truck pulled into the pump row to my left. And just sat there in the truck. Finally after about 5 minutes, she got out and fueled up. Then it was back in the truck for another 5 minutes or so before she finally pulled out, with me right behind her.
Parking over on the side of the parking lot, we were hitched up and on the road by about 9:15. Getting out on I-90 we headed southeast about 65 miles to the turnoff for US212, and the Little Bighorn (is there a Big Bighorn?) Battlefield.
We were a little hesitant about taking 212 when about 5 miles before the exit we saw an electronic sign that said, "Consider I-90, US212 Expect Delays". But as we talked it over, we figured that any delay less than the hour that route would save us would be worth it.
Although it was a two lane road, it was good and we had no trouble holding 60mph, except for a couple of long climbs. And although we passed through a couple of construction zones, we never found any delays.
But maybe the sign was the reason we had very little traffic going in our direction, but a lot coming toward us.
We did have a lot of great scenery, with large farms, rolling hills, distinctive rocks, and an some pronghorn antelope.
We pulled into the Elk Creek RV Park about 3:30 and were directed over to their Deer Creek RV area. We've got 50amp full hookups for 7 days at $17.50/day under Passport America. Nice.
Tomorrow we're going to just goof off and probably go out to dinner.
---
Thought for the Day:

Some days I'm diagonally parked in a parallel universe.