A Really Topper. . .
Not much going on at work today. Fixed a couple of machines to be shipped out, and update some prices.
For years Jan has enjoyed her pillow, one that she bought from a vendor at an RV rally years ago. But she was surprised a while back to discover it was actually a MyPillow pillow. So for a while now, she's been trying to talk me into getting a new MyPillow to replace my old, slightly dilapidated one.
So about a month ago I ordered one from MyPillow for myself. And I should have listened to her before now. (She says that applies to a lot of things).
It's a really great pillow.
So when I was looking for a new Mattress Topper for our Queen size bed, I decided to check out the MyPillow 3" version. And I liked what I read.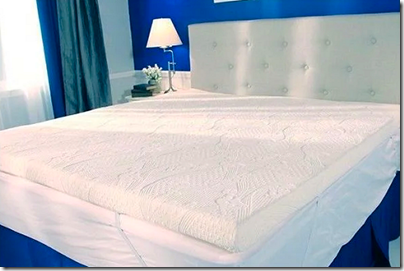 And the part that I liked most was that the top layer of the 3 layer topper was made from a phase change material that keeps the mattress cooler under your body. So that, and the fact that the topper was 1/2 price right now, AND came with a free set of sheets,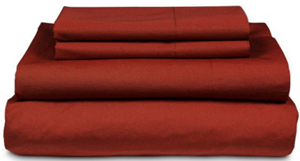 sold the deal. And now we've been sleeping on it since last Saturday, and it lives up to its billing.
It's both firmer and cooler than our old one.
Much Recommended.
Tomorrow we've got our monthly visit with our Alvin Opry group, including, hopefully, Gene and Sue Hofford, the owners of the original Alvin Opry.
It's been a while since we've seen them, so we're looking forward to seeing them again.
---
Thought for the Day:
Shouldn't 'Phonetically' actually be spelled with an 'F'. Otherwise, what's the point?
Astoria, OR
---
June 22, 2011
Goonies and Eagles . . .
After the usual coffee and toasted bagels at 10, Jan heated up the last of Baldy's BBQ about noon, and once again we enjoyed some great BBQ. Too bad that's the last of it.
About 2 pm we headed out to do some sightseeing in the area. We first drove north up through Long Beach for a while and then turned around and headed back south across the big bridge to Astoria.
After driving around for a while, we ended upon a hill overlooking the city that held the Astoria Column.
Built in 1924 by The Great Northern Railway and Vincent Astor, great grandson of John Jacob Astor, who founded Astoria. (Astor, Astoria, get it?). Founded in 1811, Astoria is the oldest settlement west of the Rockies, and, although John Jacob Astor is said to have founded the city, another source says he never visited here. Jan and I figured he had 'people' to found things for him.
The murals wrapped around the column depict 14 significant events in the settlement of Oregon, including Lewis and Clark, and the settling of Astoria.
The Astoria Column is 125 feet high, and it's 164 steps to the top. I know every one of those steps, because I climbed it, while Jan stayed on the ground.
But the climb was worth it just for the views.
Coming back down the hill we drove up and down some of the residential streets checking out the many neat houses.
Last year we saw a lot of these 'painted ladies' in San Francisco, too.
While not a 'painted lady' as such, this house is famous because it was used in the 1985 movie, "The Goonies', which was filmed. Other movies filmed in the area were 'Overboard', 'Short Circuit', 'Kindergarten Cop', and a number of others.
Now this place might have been used to film 'The Addams Family'. I certainly wouldn't want to live next door to it.
Leaving Astoria proper, we drove east on US-101 looking for the Twilight Eagle Habitat. Following the signs we ended up at this overlook on the Columbia River delta area. Eagles or no eagles, the view was great.
We did see one bird high overhead, but too far away to identify by eye.
But I took a photo anyway. And, as it turns out, it was a Bald Eagle, as you can tell from the enlargement below.
Finally we headed back to Long Beach and on up the highway to Los Compadres, a well-recommended Mexican restaurant. A great meal.
On A Gate Near Charlotte, TX
---
June 22, 2012
If It's Tuesday, It Must Chile Rellenos . . .
We now have a new place to eat every Tuesday.
Why, you might ask?
Because Tuesday is Chile Relleno day at Galindo's in Charlotte.
Galindo's is a nondescript (rundown, even) little place that I pass every time I go into Pleasanton for supplies. It's actually the closest restaurant to our gate site.
But one thing I've noticed is that there are always cars in front, and at lunch time it's hard to even drive past the place. They don't really have any parking to speak of, so customers just park along both sides of the street.
And today, in the window, was a sign that said "Chile Relleno". As it turns out, Tuesday is Chile Relleno day at Galindo's. And Jan says, boy do they make good ones.
I got her the Chile Relleno dinner with rice and beans, and I got a couple of Chorizo and Egg breakfast tacos for me. I really like the fact that they serve the breakfast stuff all day.
Jan said it was the best Chile Relleno she's had in a long time. Filled with ground beef and cheese, and covered in a crispy coating, she said it was delicious. And she really liked the rice and beans, too. Very tasty.
Even the chips and salsa were great. Really hot salsa.
So we now know where we'll be eating from every Tuesday.
---
Things sure pop up quickly around here. One day it's an empty pad with just a BOP(Blow Out Preventer) standing in the middle of it. That's the insect-looking thing sticking up in the center of the photo below.
Then, two days later it looks like this after the fracking crew moves in.
It's really amazing how fast they can build up and tear down these small cites, almost overnight.
And apparently they are really hurting for oilfield workers down here. I was reading another website about all the job fairs the companies are holding. A truck driver with a CDL and six months experience starts at $29.50/hr. And this is local, home every night work.
Certified Rig Workers make between 100K and 200K a year. And a 'year' consists of six months for them, since they work 7 twelve hour days and are then off for 7 days. That explains why we have new guys show up working on the crew, riding with someone else, or driving a beat-up clunker, and then a month later (two work shifts) they show in a new $40 – $50,000 truck.
It seems like a lot of people don't want to work this hard, but the companies say one of the biggest problems is finding people who can pass the drug tests. You'd think they could at least knock off the weed for the 30 days before the test.
And as far as the 'Certified Rig Worker' goes, those are mostly safety and EPA certifications that the oil company puts you through after you are hired.
---
When we were in San Antonio last Sunday, I stopped in at Home Depot and picked up another couple of rolls of solar screen. Although I have screens on the inside of the windshield, they don't really fit flush to the glass, letting more heat in. So I'm going to hang solar screen on the outside also, to help cut down the heat load on the AC's.
As it stands right now, the AC's run constantly from around 11am to about 7pm without let up. Glad we don't have to pay for the diesel to run the generator for that.
---
Jan had another Tarantula sighting the other day. But this one was closer to home. Much closer!
She looked down and there was one sitting about a foot from her foot. She said she tried to scream but nothing would come out. Despite being scared to death she didn't want to kill it if she didn't have to, so she picked up a small spade laying nearby and banged it on the table leg.
The first time nothing happened. The second time the spider started coming toward here. Whoops! But the third time she banged harder and the tarantula scurried away.
She now has a large mirror propped up on the ground so she can see behind her in case another one tries to sneak up on her.
I gave her a water spray bottle and told her to just squirt it a few times and that should run it off. Of course it might just make it mad.
But we won't tell her that.
---
June 22, 2013
Yellowstone & Supermoon, Almost . . .
We left the rig at Yellowstone Valley Inn & RV Park about 9am, heading for the Old Faithful area of Yellowstone National Park, but this time I got to sightsee a little more since I wasn't driving the rig this time.
And it was a lot of really spectacular views.
Our road paralleled the Shoshone River for a good while, with a lot of whitewater and kayakers enjoying the water.
And as we got closer to the park, we started our climb up the highest point on our trip, Sylvan Pass at 8530 feet.
We were surprised to see how much snow was still around up there.
We knew we were getting close when we took the curve and looked out on Yellowstone Lake. When we left the rig it was bright and sunny, but as we got deeper into the park the overcast rolled in and stay with us most of the rest of the day.
A few miles before the Fishing Bridge we had our first animal sighting, this female elk out in a field. There was a small herd of more off in the trees.
Getting to the Old Faithful area about 11:30, we got parked and headed over to the Old Faithful Inn for lunch. I remember eating here with my family in 1964 when we did a two month trip out west.
We both had the lunch buffet with such items as Sautéed Trout, Wild Rice, Chipotle BBQ Chicken, and our favorite, the Bison Chili.
BTW When did buffalo become bison. We don't sing "where the bison roam". We don't read about "Bison Bill Cody, and we don't sing "Bison gals won't you come out tonight"

So who decided we needed a new name for buffalo, and why wasn't I consulted?
Finishing up lunch, we walked over to the Old Faithful Geyser to wait for the next eruption.
Luckily for us we only had to wait about 20 minutes, since the sun had disappeared in the clouds and the wind had picked, making it pretty chilly.
After watching the Big Blow, we made the obligatory visits to a couple of gift shops before getting back on the road and heading north on the Grand Loop Road.
Passing Madison Junction, the west entrance to the park, we headed over to Norris, and then Canyon Junction. Along the way, we came across this gray wolf running across the field.
And this pair of swans.
Next was this group of adult buffalos and a couple of calves.
And a little later, this big guy was just glaring at the traffic going by.
Coming on around the Grand Loop we came back to our turn at the Fishing Bridge, and after making a pit stop at the General Store there, we headed home.
Just as we were leaving the Yellowstone Lake area, we once again came across this one-lane stoplight system.
It's there because of this washed-out section of roadway. The only problem is that this same section was washed out two years ago, and protected by the same automated stoplight system.
So either this section of pavement washes out regularly, or they just haven't gotten around to fixing it yet.
Personally I think it's the second reason.
We finally got back to the rig about 5:45pm and settled in. Since we had a big lunch, I made coffee and then we popped some Orville Redenbacher's Kettle Corn.
All in all, a very nice day.
I thought tomorrow night was supposed to be the SuperMoon, but this one will do in a pinch.
Still In Elkhart, IN
---
June 22, 2014
Gotta Love that Global Warming . . .
This time 3 years ago we were spending a week at Glacier National Park in northern Montana.
At that time, it pretty much looked like this.
And this.
But, after more than 15" of snow the other day, the above scene looks like this.
Yes, the waterfall is frozen. Really glad we aren't there this year.
Later in the afternoon, I went outside to change out one of my headlight bulbs on the truck. I remember the good old days when you could just pull the bulb socket out of the back of housing, plug in the new bulb, put the socket back in, and you were good to go.
However, changing this one out now requires a #10 Torx driver and a 10mm socket and a ratchet with a long extension with 4 bolts and screws.
After finally finishing up the headlight repair, I checked the engine oil and transmission oil, on kind of a 'while I was in there' basis.
Around 3pm we headed back over to Mishawaka for a couple of reasons. The first was, Jan already had a Wal-Mart / Sam's list, and we were just there Friday.
The other reason was that when we ate at Outback Steakhouse that night, I left my little bottle of ground Ghost Pepper/Trinidad Scorpion powder, and I was hoping they still had it.
So our first stop was at Outback, and they did still have my bottle in their Lost & Found box. Yea!
And our next stop was, believe it or not, Taco Bell. Jan and I had been seeing the ads for their new 'Quesarito'. It's a burrito wrapped up inside a cheesy quesadilla.
It looked really good, and tasted even better. Jan got hers with the ground beef, and I got the grilled steak. And they also have shredded chicken. We both got the Quesarito Box, which comes with a Quesarito, a Crunchy ground beef taco, a Doritos Nacho Cheese Crunchy Taco, and a drink.
The Doritos Nacho Cheese Crunchy Taco has a taco shell made in, what else, Doritos Nacho Cheese flavor. And again, it's really good. If I'd known how good, I would have paid the little bit extra to get both tacos that way.
And even better was the price. Our total bill was $12.38.
We used to eat at Taco Bell a lot when our kids were little, but kind of got out of the habit. Maybe we need to rethink that.
Our next stop was Sam's Club. We wanted to get another box of the fresh cherries that we got on Friday. They were really good, and we wanted more. And then after our Wal-Mart stop, we headed home.
Coming back to Elkhart, I stopped off at Menard's to get some hardware for my latest project.
I needed to take down my AC grills so I could clean the filters, but that involves digging out a screwdriver, and it's a pain in the rear trying hold the grill up with one hand and get the screws out with the other.
Plus the fact that continuously putting the screws back in the same holes is making them looser.
So I decided to install hanger bolts in the screw holes and use wing nuts to hold up the grill.
Hanger bolts look like this. It's wood screw on one end and a machine bolt on the other.
But the first problem you have with these is – how do you screw them in. Well, they make a special driver that looks like this. But it costs more money (about $8) than I spent on the rest of the project (8 hanger bolts and 8 wing nuts – about $6).
So here's my cheap version. It's just two nuts with a lock washer in between, and then tightened down snug.
Then my ratchet will screw them in just fine. And cheaper too.
So when I got finished, and after cleaning the foam filter, it looked like this.
Much easier to take down and reinstall.
Verde Valley Thousand Trails
---
June 22, 2015
A World of Difference . . .
Well, the Reflectix foil sheets made a lot of difference on the windshield today. It went up to 106 degrees, but it never got over 79 in the coach. Still very comfortable.
I spent a good bit of time over the weekend reading the two different manuals I have on my Cummins Onan 7500 Quiet Diesel Generator, trying to get a handle on my recent problem. This was about all I could do over the weekend until I could make some phone calls today. But I woke up about 4:30am this morning with an epiphany, and it didn't hurt as much as you might think. Something had been nagging me, but it took a while to register.
Somewhere during the last 8 years, I had gotten the idea that my genset had a separate 12v DC circuit that would charge the rig's battery sets. But a footnote that came back to me made me rethink the whole problem.
My generator only has 120VAC output. Any battery charging comes from the generator AC powering the power converter just like it does on shore power. So now my focus was back on the transfer switch.
As I said the other day, the genset/transfer switch et. all. was working at the time of the blowout. In fact the only reason I turned it off was that I discovered diesel running out on the ground from the torn off filler pipe. So I was looking for something relating to the blowout to be causing the problem.
I called American Coach about noon and was told that there was nothing in the shredded wheel well wire harness concerning the genset, so that was off the table for now.
I now decided that around 5pm, when things were cooler, I would shut off shore power, crank up the genset, and then do some more checks. To prepare ahead of time I removed the AC connection access cover on the genset to let me check the voltage output right at the unit. Next I lifted up the bed, removed the cover on the transfer switch, and carefully checked all the wiring.
At 5pm I shut everything down in the coach, i.e. AC's, TV, DirecTV receiver, computer, etc. and shut off the shore power at the breaker. Coming back inside I used a screwdriver to cycle the two big contactors in the transfer switch. Neither one seemed to be stuck or have a problem in any way.
So then it was back outside to crank up the genset. When it was running smoothly, I used my voltmeter to check the voltage output.
And I had 120 VAC.
And coming into the coach, I now had 120 VAC inside too.
Checking out the transfer switch, I now also had the Green LED that says the transfer switch is in Generator mode, just as it should.
With no AC's running it was starting to heat up inside the rig, so I shut everything down and put us back on shore power.
And the transfer switch worked just fine.
So why did it work now, but not the 6 or 7 times I tried it last Friday, both at the tire shop and on the way here? The only thing I really did was to toggle the two contactors in the transfer switch. Neither one acted like they were stuck or hung up in any way.
I'll wait a couple of days and try it again, just by shutting off shore power and cranking up the genset, and see what happens.
I hate it when a problem like this fixes itself without me understanding the cause.
A problem that can fix itself, can also unfix itself, usually at the most inconvenient time.
Words to live by.
Colorado River Thousand Trails, Columbus, TX
---
June 22, 2016
Putting Down Roots . . .
For A Month, anyway.
A little after 2pm, I went back down to the park office to set up our month-long stay here in July. Once I got that set up I cancelled our two two week stay's at Conroe and Colorado River for that time period.
One thing I want to check into further is about longer duration stays. At first I thought we could only do an annual lease, but it seems we can also do shorter periods of time.
As I said before, we're not settling down, but the 3 or 4 months we normally spend in Houston area would be nicer if we didn't have to keep moving every couple of weeks. I'll find out more when I go down to pay for our month stay next weekend.
You may or may not have heard of Fiverr. It's a website where you can hire people to do stuff for you, usually pretty cheaply.
Draw a carton, design a logo, write your resume, put your lyrics to music and sing it for you, write you a business plan for a load, or even do some programming for you . . . or me, as the case may be.
I've got some simple but time-consuming programming that I need done. But I've also got a lot of website stuff to take care of, So I decided to give Fiverr a try for this. Now Fiverr is called that, because many things are priced at $5. But actually it's a haggling type of thing.
After signing up, I posted what I wanted done in some detail, and then waited for the offers to roll in. You get them 6 at a time, and as you eliminate ones you don't like, another one takes its place. Then when you pick one, the bargaining starts. The points of contention are price, # of revisions, and how long to delivery.
My guy started off the negotiations by asking me what the budget was for this project,
Wrong!
I countered by asking how much he would charge for the job, telling him to keep in mind that if it was too expensive, then it would pay to just do it myself.
He came back with $70, but said he would drop it to $60 since this was my first buy on Fiverr. The $70 would cover 3 revisions and 1 Day Delivery. By the time we got finished, we were at $25 for 1 revision and 3 Day Delivery.
Works for me.
Later in the afternoon, I went through a couple of outside bins and finally found my old Winegard Carryout satellite dish power cable. I thought I had saved the old one. This will give me a cable to go with the Carryout Dish I found by a dumpster at Lake Conroe. So now I've got a complete set.
In fact I've been using the found one ever since, and I can't be absolutely sure, but it does seem to find the DirecTV satellite at 101.1 degrees faster than my old one.
I mentioned a while back about problems with our DirecTV remotes. All three have developed flakey keys and I was hoping that Strike-Hold would fix the problem. But apparently even a miracle liquid like Strike-Hold couldn't fix these keys.
When that didn't help I tried to take one apart, but the cases are firmly glued together, so no luck with that. But I did have luck with Amazon.
I found that I could buy two DirecTV Remotes for $8, with Prime 2 Day Shipping.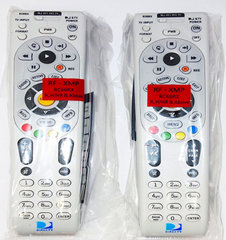 A great deal,
So good in fact, that I ordered two sets to have spares.
Lake Conroe Thousand Trails
---
June 22, 2017
Alexa and Dot . . .
Another day of doing nothing was really, really nice. At least up here, TS Cindy was pretty much a fizzle.
But it did leave us with a mid-80's overcast day, cool and comfortable.
Yesterday I tried to make some more Thousand Trails reservations and ran into a strange problem. I normally book us back and forth between Lake Conroe and Colorado River every two weeks this time of the year, and then drop the ones we don't need as we travel later in the year. But this way we've always got a place to stay no matter what.
I had us booked from now through 9/3/2017, so I went to extend us to the end of September. But when I tried to book us from 9/3 to 9/17, the system told me I couldn't do this because I couldn't have bookings over more than two major holidays, and I already had two.
But the only major holiday I could see coming up was the 4th of July, And the next one, 9/4, Labor Day, was the time period I was trying to book. So I got on the phone to TT Reservations to find out what the problem was.
Turns out that though the Error Message I was trying to book over two holidays, they actually meant two holiday PERIODS. And a holiday period is the week before the actual holiday and the week after.
So, since I was already booked for August 20th to September 3rd, i.e the holiday period, it would not let me book for the week after the holiday.
But the lady did say I should be able to book this after this Sunday, the 25th, after we move over to Colorado River. We'll see.
As we've been traveling the last few month we've really enjoyed using our Amazon Alexa Dot.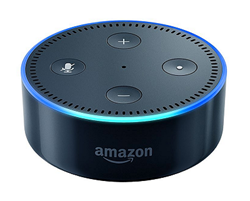 A scaled-down version of the full-sized Amazon Echo, Dot functions exactly the same, only with smaller speakers and less volume. In addition it is also USB powered, unlike Alexa which has to be plugged into an AC outlet. And at $50 (and I've seen for $40 recently), vs the $180 for the full-size Echo, it's a great bargain.
So what this all means is that it's perfect for use riding on the dashboard while we travel. We can listened to music, talk radio, etc. without worrying about getting out of range of a radio station.
And to make it even easier, we use our portable charger/power supply to power the Dot.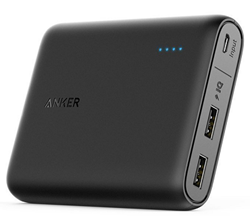 Since this makes it a portable unit, I use it outside when I'm working on something. Works great.
Tomorrow, if the weather holds, we're going to drive up to the Huntsville area to check out our friend's in-progress RV Park and Storage Facility. Looking forward to it.
On Our Way To Illinois
---
June 22, 2018
Today: Not As Good As Yesterday . . .
As we had planned we pulled out of our site a little before 11am, heading for Byram, MS, just south of Jackson, and about 215 miles away.
Everything was going just peachy, until about 5 minutes before we were going to get back on I-10, the generator died, and of course taking the AC's with it.
Now this happens occasionally, and in the past, after I waited a minute or so, it would restart and run just fine. But not today. Today sometimes it would just crank over with nothing happening. Then I'd wait 10-15 seconds, and this time it would almost catch, but not quite.
Actually it was acting like it had run out of fuel when the tank level got too low, but since we had 110 gallons in a 150 gallon tank, I don't think it's the problem. The generator fuel filter was just replaced a couple of months ago, and of course it ran perfectly all day yesterday. So since there wasn't much I could do about it on the side of the road, we soldiered on, hot and sticky, but undaunted.
I continued to try it every now and then along the way, but just had a repeat of the above.
The only real slowdown along the way was the 45 minutes it took to get through Baton Rouge, starting a couple of miles before the bridge over the Mississippi. Both lanes grind to a halt and then we all creep along at about 1 mph, up and over the bridge, down the other side, and then up the hill to the right.
And it's creep, creep, creep, all the way. And the reason for all this is perfectly obvious. It's also perfectly obvious that some road design engineer needs to be b****-slapped. The entire slowdown, backing up and over the bridge is caused by the fact that they have two lanes going up the hill to the right. BUT, just as soon as you get to the top, the right lane becomes an immediate Exit Only off the Interstate. And the vast majority don't want to exit there.
So they're all fighting to get into the left lane, cutting off, and cutting in front of the left lane vehicles. And it doesn't help that pretty much every other vehicle is an 18 wheeler.
They need to just get rid of that Exit Only lane and have one lane going up the hill and merging into the traffic from I-110/I-10. Yes, there would be twice as much traffic in the single lane, but I'd be willing to bet that it would move a lot faster without all the 'cutting in'. But they didn't ask me.
But they should. About a lot of things.
We pulled into the Swinging Bridge RV in Byram right at 4pm, got directed to our long pull-thru, and got set up. As we did last night, we only hooked up power and water. We will hook up the sewer line tomorrow when we're at the Tom Sawyer RV Park for two days so Jan can do laundry. And as last night we didn't set up the sat dish or TV either. But we will tomorrow night.
As soon as we were plugged in and the AC's on, we jumped in the truck (with cold AC) and headed up I-55 and east onto I-20 and over to Brandon, MS, and the Sonny's BBQ there.
We first ate at this one two years ago when we came back from Alabama this way, due to all the flooding along I-10 in Louisiana and Texas. There used to be another Sonny's here a few years ago, but it closed, probably due to how the neighborhood had deteriorated.
Like most of our favorite places, Jan and I both have our favorite meals that we get time after time.
With Jan it's a Pulled Pork Sandwich on Garlic Toast with BBQ Beans and French Fries.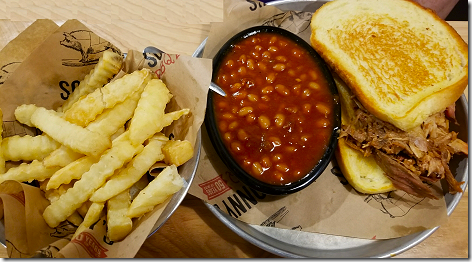 And as for me, I always get the Pork 3 Ways Platter, with Sliced Pork, Pulled Pork, and Ribs, with BBQ, their really delicious Coleslaw, and Garlic Toast..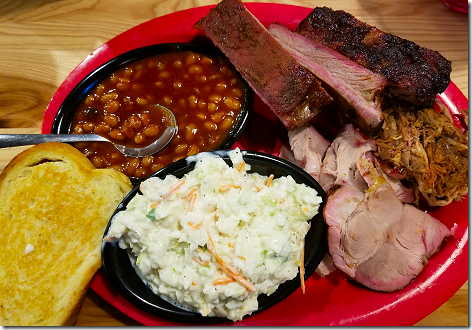 Really great, and I had more than half left over to bring home.
One thing did puzzle us at Sonny's though. They're celebrating their 50th anniversary, from 1968 to 2018, but we both remember eating at Sonny's when we were dating in the summer of 1967 in Titusville, FL. Sonny's and Fat Boy's were our two favorite BBQ places.
So is 1968 when the chain started, with just one location before that or what? I should have ask the waitress, but forgot.
I had planned to run the generator out and see if showed any error codes, but as we were coming home it started raining, then pouring down. So now our plan is just to leave early tomorrow, probably around 7am, to beat the heat, and then hopefully I'll be able to check it out tomorrow or Sunday while we're at the Tom Sawyer RV Park in West Memphis, AR.
Two Days, Two more BBQ places!
My BPPV
---
June 22, 2019
It's Back . . .
But not as bad.
Yesterday morning my BPPV (Benign Paroxysmal Positional Vertigo) returned for the first time since Christmas 2017, though not quite as bad. And also like last time, it was less intense today than yesterday, so it should go away in a few days.
I hope.
About 1pm Jan and I headed out for lunch, once again at our new local favorite, Boudin Barn.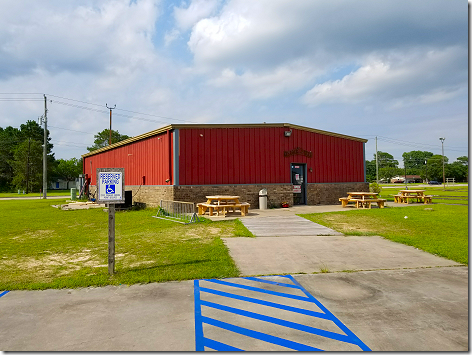 We were back today, in particular, because their weekend special, a Bacon-Wrapped Boudin-Stuffed Chicken Breast lying on a bed of loose Boudin and covered in a Shrimp and Crawfish Cream Sauce.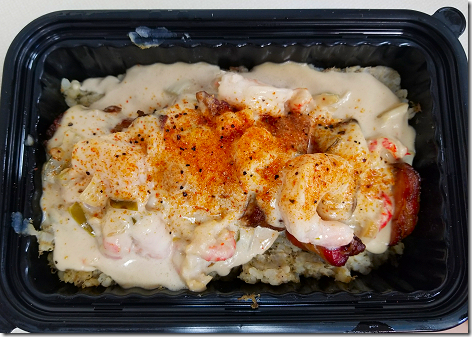 This is maybe the best thing we've ever eaten, It's that good.
Jan and I split the order, as well as Jan getting a order of their Boudin Stuffed Mushrooms,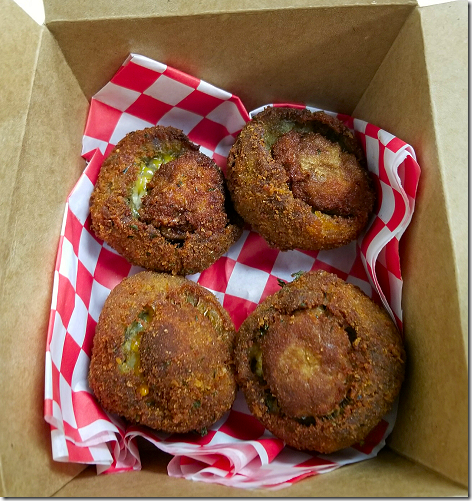 while I got an order of their Boudin Balls and A Boudin Link. With this we also split the fries.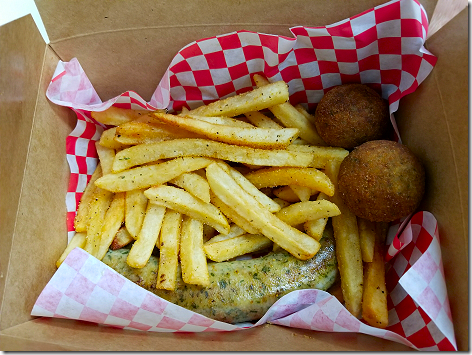 As well as this Chicken Breast version, on other weekends they have a Pork Tenderloin version, and one done with a piece of Ribeye on alternating weekends.
We had a chance to spend some time talking Chris, the owner, about the food. He said everything, except for the fries, is prepared in-house. And in fact, he supplies Boudin Balls and Boudin Links to many other restaurants in the area.
And even the fries are customized with their own seasoning blend. Also really good.
And as before, the servings were big enough that we had some to take home.
Then it was on down to the Texas City WalMart. And although we didn't need any this time, I noticed that their gas price had dropped to $1.94. Nice.
Then we made a stop at our storage room to drop off a few things from our trip, and also to pick up our furniture dolly to use to lift the tires back in place when I do the rear brakes on the truck.
I also stopped off at the local O'Reilly's to pick up the rear brake pads I had ordered, only to find that they had been sent back because I hadn't picked them up after 3 days. Who knew!
So I reordered them, and also picked up 7 more spark plugs to change out the rest of them on the truck. Then I'll see about ordered more ignition coils.
Tomorrow looks to be a nice stay-at-home day. I hope.
Home in Santa Fe, TX
---
June 22, 2021
The New King . . .
Today, our first free day back home, was a time for catching up on a number of errands.
First up was picking up a couple of prescriptions, one at WalMart, and one at Sam's Club. The one at WalMart was the last one on that prescription, and because of that, I hadn't bothered to transfer it to Kroger since there was only a couple of dollars difference.
And the one at Sam's was the same. But in this case I also renewed my membership, but at the Basic level for $45 rather than the Plus level at $100.
The only reason I had the Plus membership to start with was because of the drug discounts that came with it. But since I've moved everything to Kroger, the $55 I saved by downgrading pays a large part of the $72/year that the Kroger's plan costs. And the $17 left over was saved in the first month's prescriptions. And a lot more, besides.
So now all our prescriptions are with Kroger, saving us about $300 a years.
Next up was lunch at Twin Peaks once again.
I know, it's a dirty job, but someone has to do it. Especially since Jan asked to have lunch there.
Jan and I got our usual favorites, Jan's Spicy Chipotle Chicken,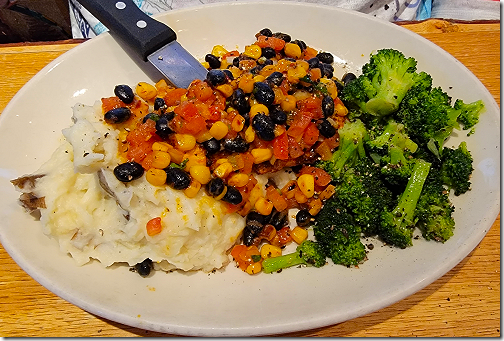 And yes, there is a large chicken breast buried under there.
For me, I got the Billionaire's Burger.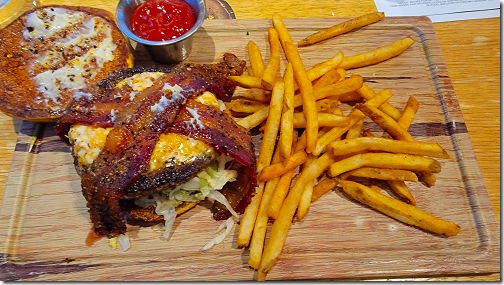 Both delicious. And of course, there's the scenery. After all, their motto is "Good Eats and Scenic Views."
Then, after an HEB stop, we were on our way home.
But while we were at HEB I did notice these in the snack aisle and thought they sounded pretty good.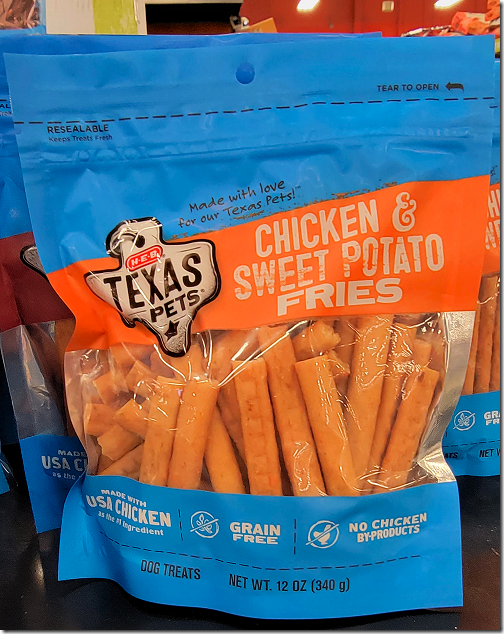 I mean, chicken and sweet potatoes, I like both.
But then I read the label a little more closely. So why was it in the people snack section?
I assuming that someone at the store also wasn't reading the label too closely either. It would be kind of interesting to know how many people also bought them (and maybe ate some) without reading the label closely.
I've been posting 5G speeds from the cities we've been in recently, but as I mentioned before, I'm really disappointed in the 5G speeds here in the Clear Lake area.
Here is the original 4G speed here in Clear Lake.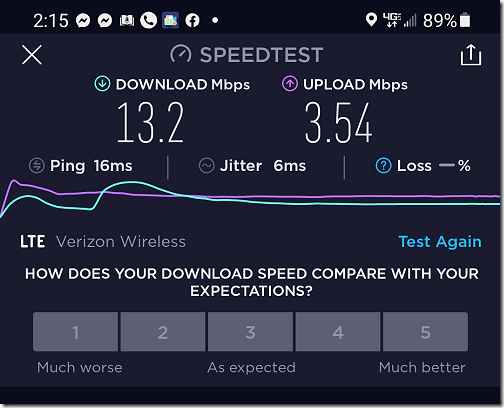 But here's the 5G speed.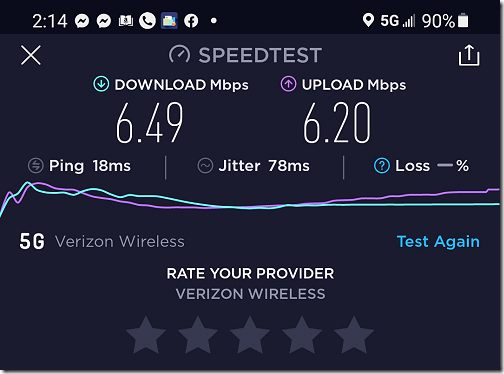 So what's wrong with this picture?
I have heard something about that Verizon is 'running 5G on top of 4G' in some areas, but it wasn't clear what this meant. So maybe that's what this is.
But it is a disappointment.
We visited 3 Buc-ee's 4 times on our recent trip, the brand-new one in Leeds, AL just south of Birmingham, and the kind of new one in Robertsdale, AL about 25 miles north of Gulf Shores. And we also stopped at the one out in Baytown, TX just east of Houston twice, going and coming. One of our favorite stops
At the present the largest Buc-ee's, at a little over 66,000 sq.ft., is over in New Braunfels, TX. But that's about to change. A new one has just broken ground in Sevierville, TN, and at 74,000 sq.ft. it's going to be the new king.
It's located on I-40 just east of Knoxville, TN, and smack dab in the Pigeon Forge/Gatlinburg area of the Smoky Mountains. Should be a big hit.