Daily Archives:
January 1, 2023
We decided on a slow start to 2023 so the only thing on the agenda for today was lunch at the Whataburger over by the Interstate, the first time since the recent unpleasantness, when we just got our order to go. But today we ate in.
Then it was just home. Like I said, a slow start.
But nice.
January 2023 looks to be a busy one for us.
First up, we've got lunch with our friend's Debi and Ed at Vernon's Katfish up in Conroe this Thursday, the 5th. Then on Monday I've got my big evaluation with Dr. Wang, my neurosurgeon, about my possible lumbar fusion.
Next up, on Wednesday the 11th, we've got the Jeff Dunham show at NRG Arena. We've seen a bunch of his shows online, but this will be our first time to see him in person. Really looking forward to it.
Then the next day we're meeting the Alvin Opry group at our local Red Lobster for our monthly get-together. And following up on that theme, the next night we've got the Alvin Opry itself.
Then later this month, on the 15th, I'm making hotel reservations for 2 nights in Waco, TX for April 7 & 8, 2024.
Why, you might ask?
Well, that's the date of the next total solar eclipse visible in the U.S. And the last one for more than 20 years. So this one will possibly be it for us.
And checking this interactive solar eclipse map shows that Waco is the only decent sized city in Texas that's in the middle of the totality zone.
And why am I booking a room now? Well, I figure that as the time gets closer rooms are going to get in short supply as the world concentrates on the totality path.
And this month is the earliest that Booking.com will let me reserved a room.
Nothing like planning ahead, right?
---
Thought for the Day:
We remain, as a British officer had reason to complain at the start of our Revolution, "a people numerous and armed."
---
January 1, 2011
1/1/11 . . .
Got this photo of Landon checking out his crib. He's grown so tall Brandi said he's outgrown his bassinet. His head would be touching the top and his feet would be touching the bottom. So now he's moved up to the big boy bed.
Then our friend Maria called about noon to see if we wanted to meet for lunch. We ended up at Luby's Cafeteria, which on certain days, is now a all-you-can-eat buffet. It turned out to be pretty good, too.
Leaving Bob and Maria, we drove over to Wal-Mart to do some shopping. We were surprised to find them not busy at all. Guess everyone was still sobering up.
Next we stopped by one of our storerooms to look over some furniture that belonged to my mother. I want to try and put some of it out on consignment before we leave. I'd actually like to get rid of this storeroom entirely, leaving us only one.
Getting back to the rig, we let Mister out on his lease while Jan fed the birds. And with the nice weather and a fully charged battery, I was able to remove the last of the wheel well flanges. I've got all the hardware so I hope I'll be able to start putting on the new ones tomorrow.
Then our son Chris called about 6 to set up a get-together tomorrow morning for the breakfast buffet at La Brisa at 11 am. After talking to our daughter Brandi, it looks like everyone will be there.
That was about it for the first day of 2011, a pretty quiet start to the New Year. And hopefully we'll have as much or more fun as we did in 2010.
---
January 1, 2012
Landon is Scary . . .
I was up at about 8:45 this morning with further confirmation of something I already knew.
I don't sleep well when Jan's not here.
She spent the night at Brandi's last night taking care of Landon while Brandi and Lowell spent New Year's Eve with friends up in Katy, while I came back to the rig for the night. Which I spent tossing and turning.
About 9:30 I headed back over to Brandi's to pick up Jan and Landon for breakfast at the Egg and I, one of our favorite local places.
And this is where Landon gets scary . . . scary smart, that is.
While we were waiting for a table, Jan was sitting on a small bench with Landon standing beside her. I was standing in front of him so he couldn't fall, going through my pockets looking for quarters for the newspaper machine, when I dropped a quarter that rolled all the way under the bench.
Facing the prospect of getting down on my hands and knees and crawling under the bench (Hey, it was a whole quarter and I'm cheap).
Jokingly, I picked up Landon and put him on the floor, telling to crawl under the bench and get the quarter. He looked up at me, dropped to his knees and crawled under the bench. A couple of seconds later, he popped back out, stood up and handed me the quarter clutched in his little fingers with a big grin on his face.
I was absolutely dumbfounded. How did he know what a quarter was, much less the concept of crawling under the bench and getting it?
I didn't point at it or anything, Just told him. He's 16 months old.
That is one amazing little boy, not just because he's my grandson, of course.
And of course how better to cap off a moment of brilliance with a rousing game of Peek-A-Boo.
As before, Landon ate all of his Mickey Mouse pancake,
and then fell asleep before we even got out of the parking lot on the way home, with his nap continuing at home for the next couple of hours.
Brandi and Lowell got home about 2pm so Jan and I headed out a little later, stopping off at a client's before heading back to the rig.
Getting home, the first thing Jan and I did was to take a nap. Because she was always listening out for Landon, she didn't sleep much better than I did last night.
Once home, neither of us felt like going back out, so we had our leftover Chinese from King Food the other night. Just as good as the first time around.
All in all, a good start to the New Year.
---
January 1, 2013
Dinner and a Movie, Finally . . .
Jan and I left the rig about 12:15 headed up to the Clear Lake area. We were once again trying for our dinner and a movie. And this time we pulled it off.
We got to King Food about 12:45 in time for a nice leisurely, delicious meal of Chicken in Hot Garlic Sauce, Shrimp Spring Rolls, and Hot & Sour Soup. It's nice when you go to a restaurant so often that they pretty much know exactly what you're going to order when you sit down.
About 1:30 we headed down the road to the nearby Cinemark theater. Being New Year's Day, I expected it to be busy, but it was jammed. Probably because of all the new movies that just came out.
But I was surprised to see how busy Breaking Dawn, Pt. 2 was. This, the last movie in The Twilight Saga, came out the middle of November, so I expected the theater to be pretty empty, but it was about 3/4 full.
Jan and I each got a small popcorn because neither of us like to share. On the plus side, the popcorn was really fresh and good since they were popping it right there. Unlike some theaters we found that pop it at a central location and bring to the theaters in giant plastic bags and just dump it in the machines to warm it. But on the minus side, two small bags of popcorn cost as much as our tickets. Ouch!
If you're not up on the best-selling series of Twilight books, it's the story of a young human girl who can't decide if she's in love with a vampire or a werewolf.
Decisions, decisions.
I haven't read any of the four books, (Jan's read them all), but I have seen all but one of the five movies (book number 4 was split into two movies), and I thought the storyline was pretty enjoyable. The surprise ending (which I won't give away) was a surprise to everyone, even Jan, since it differed from the last book.
Coming home from the movie, I stopped off at a couple of clients, and then a grocery store. We wanted to get some more Monterey Jack cheese for our Chicken Tortilla Soup tomorrow.
---
January 1, 2014
A New Year . . .
Not much went on this first day of 2014. Jan's feeling better. but still not quite up to snuff.
About 1 PM I headed into Clear Lake to a client's office to install the 2014 UPS software on his machines. UPS no longer sends out CD's so I had already downloaded the 560 MB program, otherwise I would have been there a lot longer. I had to set the software up on 4 machines, one as the Workgroup Administrative Workstation, and the other 3 as Remote Workstations.
And as usual, there's always one machine that wants to be contrary, but finally they were all up and running.
We're still really liking our new coffee maker.
Hamilton Beach 49980A 2-Way Single Serve Brewer and Coffee Maker
It makes consistently good coffee, and I really like the fact that it makes both K-Cup packs and multi-cup carafe pots. And in addition, it also has a K-Cup adapter that will let you use the coffee pods, or even your own coffee grounds.
One plus I really like is that unlike our previous coffee maker, and a couple of other of our appliances, the LCD screen is backlit in blue so it's very readable in the dim light under the counter. Some appliances have no backlit at all, and are hard to read.
The only possible addition I would like to see would be a reservoir for the water used to make the K-Cups, so I wouldn't have to add that small amount of water each time. This is how our son-in-law Lowell's Keurig K-Cup maker works, and I'm jealous.
But I guess you can't have everything.
The other gripe I have, not just with this appliance, but pretty much all countertop appliances now, is that the cord is too short. All of our kitchen outlets are up underneath the cabinets or over the sink. So due to the length of the cords the appliance pretty much has to sit in the sink for the cord to reach. Which means I have to use an extension cord, which defeats the safety purpose of the short cords. I'm probably going to end up putting plug strips on the back walls of the kitchen area.
At first my new Kindle Paperwhite was supposed to be here until between Jan 6th and 10th. Then that got moved up to Sat. the 4th.
Yesterday Amazon said it had already shipped and now would be here Friday the 3rd. Way to go, Amazon.
Tomorrow I've another client appointment to install a new computer, 2 new printers, and also set up the UPS software at his office. UPS' new software always keeps me busy this time of year.
---
January 1, 2015
Happy New Year!
Jan and I didn't do much of anything today, just took it easy now that all the holiday stuff is over. I fooled around with some of the projects I've been working on, but never really got up enough energy to accomplish anything of note. It didn't help that we're on our 4th or 5th day of cold, rainy, miserable weather.
I fooled around with the sink faucet hose, trying to make it work, but no matter how I tried to put the pieces together, I couldn't make it fit. 'Fits All Brands' my foot.
The company's located in Irving, TX so I'll give them a call tomorrow and see if they can help. I may end up buy a new faucet nozzle, but that's another $25 or so, And coupled with the $25 for a new hose to replace the leaking one, it's getting close to the cost of a completely new faucet and hose.
About 3;30, deciding that we both were in a 'steak' mood, we thought we'd give Saltgrass Steakhouse a try again. We last ate at the one on Kemah Boardwalk on Valentine's Day 2013 and enjoyed it. So we were looking forward to trying it again.
And we weren't disappointed. I don't know why we don't eat here more often. But it's probably that there's not as many of them around the country as Texas Roadhouse, Outback, and Longhorn, our other favorite places.
After our great meal, we headed back out in the cold, with our next stop at Lowe's to return the other faucet hose. I did find out while I was at Lowe's that I don't have an American-Standard faucet like I told by American Coach, but it's actually a Moen. Which makes sense since the shower faucet is also a Moen. Leaving Lowe's it was on to the Wal-Mart right next door to pick up a few things before finally heading home.
Tomorrow we're probably going to get together with some friends here at the park, probably at El Bosque, a really good Mexican restaurant. At least we hope so.
---
January 1, 2016
A New Year . . .
Our regular morning walk was called on account of possible frostbite. At 11am it was 41°, with enough wind to give a wind chill of 31°. Not gonna happen. But hopefully it will be better tomorrow, since we're supposed to walk with Garland and Valencia again tomorrow.
So we just stayed in the rig with the heater going, while I fixed coffee and Jan fixed us fried egg and cheese breakfast sandwiches. Then I started in on a few chores.
The first think I did was to remount Jan's "Oh Sh?t Handle" using the longer screws I picked up from Lowe's the other day. Looks like that should finally do the job. After we get over to Columbus, I'll see about re-staining them with the White Oak Pickling Stain I also got at Lowe's.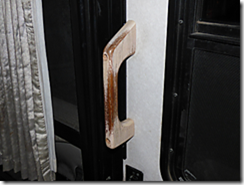 After taking care of a couple of more things, I tracked down my infrared thermometer that I'll need to replace the glass on my son Chris' Galaxy S5 phone. I'll use Jan's hair dryer to heat up the screen/LED combo until it's the right temperature to loosen the glue holding them together, and the infrared thermometer to be sure I don't get it too hot.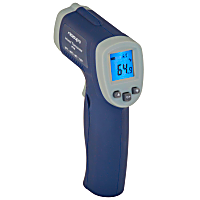 MeasuPro Wide Range Temperature Gun Non-Contact Digital Infrared Thermometer with Laser Targeting
These thermometers have a lot of uses around the rig, including checking your tires during stops to see if one is running hotter than the others. indicating a possible problem, to checking air temp output on AC's, etc.
About 2:30 Jan and I drove down to the Clear Lake area to meet up with Chris, Linda, and Piper for dinner, and also so I could pick up the phone in question.'
Since we knew we were going to be down there today, we had some Amazon stuff delivered there, including Jan's New Kindle Fire cover,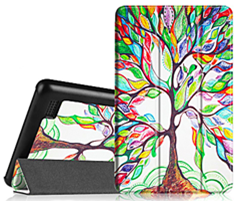 and, of course, the glass replacement kit for Chris' phone.
About 4:30 we all met up at the Cheddar's in Webster, one of our favorite places for just plain good food.
I had what is now my new favorite dish there, the Asian Chicken & Shrimp Salad.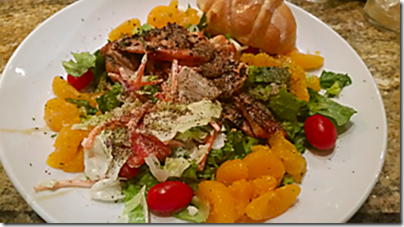 Despite that fact that no one is smiling in this photo,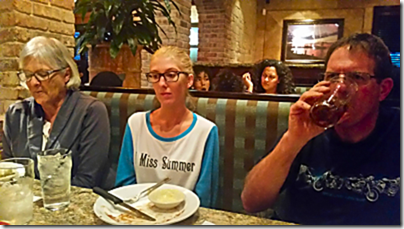 we had a really good time, our first get-together since Thanksgiving.
Piper leaves tomorrow on a ski trip to Breckenridge, CO with some of her girl friends. Hope she's taking a lot of warm clothes, since it's supposed to be –3° there tonight
Leaving Cheddar's and before heading back to Chris', Jan and I stopped off at the Harbor Freight in Webster for a couple of things. I wanted to get one of the Variable Speed Reciprocating Saws they had on sale today only, as well as a 3 ton Floor Jack for Chris and I to use when we replace the shocks on our truck sometime in the next month or so. We have an old one that's about given up the ghost, so this one is needed.
After stopping off at Chris' to say goodbye and pick up our Amazon stuff, we headed out for Conroe, getting back to the rig a little before 8pm.
A great start to the New Year!
---
January 1, 2017
Welcome 2017. Good Riddance 2016 . . .
Well after my surprise gate last night, tonight I'm back on a new/old gate.
I was here for two days last Monday and Tuesday, and now I'm back again, TFN. But at least I'm still on nights. Someone said 'TFN' really means 'Two Freaking Nights'. Either that or this is all just a game of Musical Gates, like musical chairs.
The last one standing loses the gate.
I had nobody come through last night's gate, and Tom, the day guy on this gate said he only had 1 guy come through today. I've had 1 guy come in this evening looking for a missing piece of equipment, but that's it so far.
Jan and I have been talking about our travel plans for nex . . . this year, trying to decide on our itinerary. As of right now we plan on leaving our gate guarding here around the 15th of February and go back to the Houston area to get all our doctor appointments taken care of. Then around the 10th of March we'll head toward Tucson and the 57th Escapees Escapade that starts March 17th, at least the Early Bird days start then.
It's still up in the air on whether or not Jan and I will be giving our seminar, Gate Guarding for Fun? and Profit again. They're apparently running behind schedule scheduling everyone. But hopefully I will hear soon, and I'll let you know.
We've got a lot of new information on gate guarding from the guard shacks and how it's different (better and worse) from doing from your RV.
After that it's probably Apache Junction, Verde Valley, and Vegas, Baby! Then maybe the Oregon/Washington area and then back over through South Dakota. Jan wants to do the Rapid City/Mt. Rushmore area again, as well as Deadwood, which we haven't done.
After that, who knows. We normally come back to the Houston area toward the end of August for Landon's birthday, but we'll be coming back early this year for a family reunion in June. After that we don't know. Maybe back on the road for awhile before more gate guarding in August. We'll see.
But we've definitely decided that all of our future gate guarding will be 'shack-based' from now on.
Following up on my problems with Sam's Club Scan & Go and Wal-Mart's Savings Catcher apps, I installed the Wal-Mart app on my Samsung Tab tablet to see if I still had the same problem with the camera. And I did.
Once again the little window where I should see the video from the camera is just a black square. So I don't know.
So I'll ask my readers. Does anyone else have either of these apps running on a Galaxy S5, and does it work?
Please let me know.
---
January 1, 2018
Jan's In The Hospital . . .
Jan's spending the night in the hospital. But it's not really serious.
But kind of.
She got hit with a combination of a kidney stone(s) and a UTI infection which all kind of knocked her for a loop.
Last night at Brandi's she woke up nauseated and vomiting, and then passed a stone around 4:30am. And at the same time she started fighting off the UTI, I guess. But she'd had no other symptoms previously. But she was very drowsy and very weak and had trouble walking by herself.
I brought her back down to Clear Lake Regional where she used to work and took her to the emergency room. That's when they discovered the UTI, and a second kidney stone after a CAT scan. And this is a big one, a little over 1 cm, which is closing in on 1/2 inch, too big to pass.
So tomorrow sometime they plan on going in and removing it.
That's all I know now, but I'll keep you updated. I'm going to bed.
---
January 1, 2021
Too Cold For S'mores . . .
Jan and I left Fredericksburg about 11:30 this morning on our way to Kingsland, TX, about 55 miles away. We're meeting up with Brandi, Lowell, and Landon, who were coming up from Katy (Houston) this morning.
Once here we all headed out to Chris and Linda's where we were soon joined by Miss Piper who drove over from Austin where she lives. So for the first time in a while the gang was all together.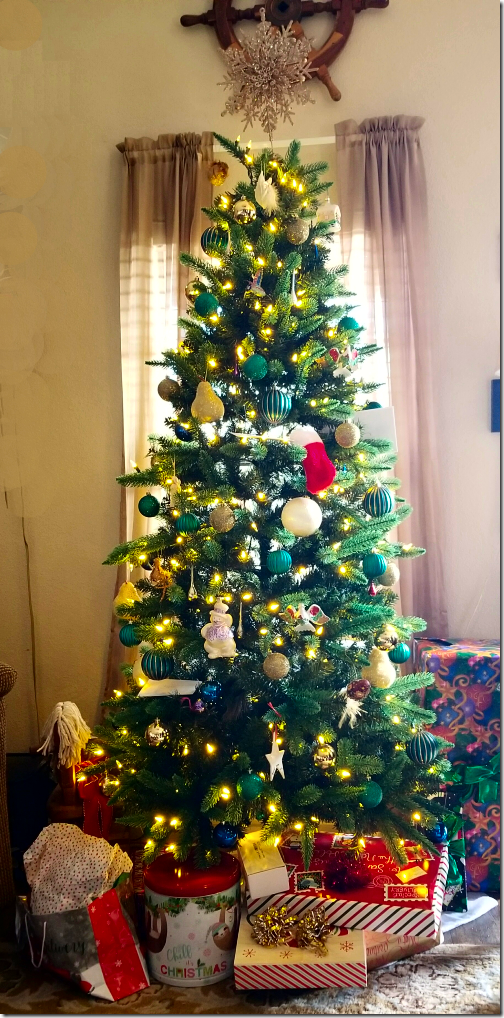 Then after we had exchanged Christmas gifts with everyone here, Chris and Landon quickly ended in a Video Game Deathmatch on the console game Landon brought up with him.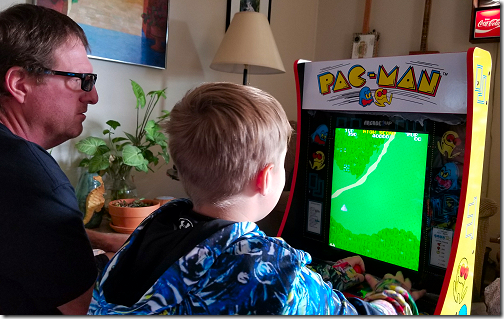 But the most impressive gift went to Jan.
Chris makes these giant wind chimes, this one about 15 feet high, made out of drill pipe. He welded it together and then hand-tuned the pipes, so it sounds like Big Ben, with deep bass gonging sounds,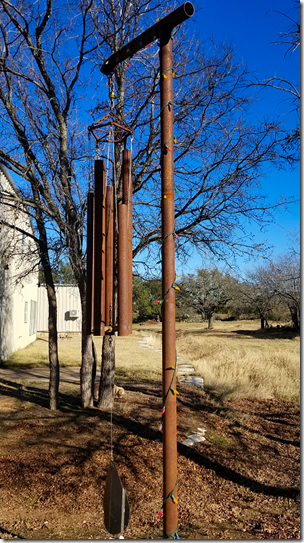 and not the high-pitched tinkle you get from the little ones.
But he recently made this slightly smaller one up for Jan's Christmas present this year.

All of it is from scrap or repurposed materials, or handmade pieces.
The top is from a discarded store display,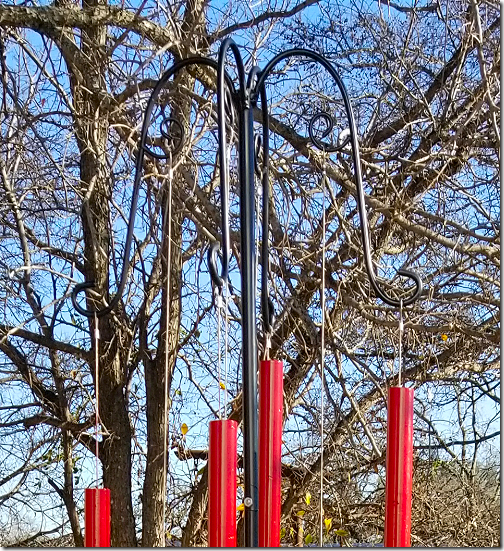 while the wind paddles are made from old ceiling fan blades.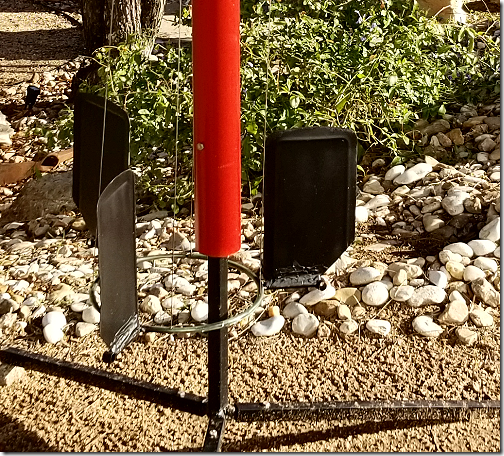 This is going to look great out on the patio by the rig. Jan loves it.
We had planned to do S'mores around the firepit this evening, but as the sun went down, and the temperature dropped into the high 30's, daytime S'mores tomorrow afternoon started to sound a lot better.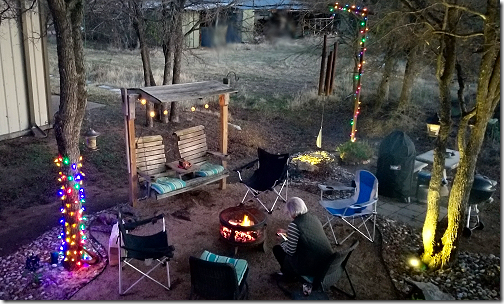 But it is supposed to be warmer tomorrow night, so we'll see.