Daily Archives:
January 13, 2023
Catching up on the Titanic/Olympic story as I promised.
As I said the other day, I went into this pretty skeptical about the whole story, but it's hard to ignore after watching the movie several times.
To summarize, based on the movie, Titanic: The Shocking Truth, shown on Amazon Prime, the sinking of the Titanic was an insurance scam. And no one was supposed to die.
The White Star Lines set out to build 3 new ships, the Olympic, the Titanic, and the Britannic, designed to dominate the Trans-Atlantic routes between England and the United States.
The first two, the Olympic and Titanic, were built side by side in the Harland & Wolff Shipyards in Belfast, Ireland. But the Olympic, launched first and making its maiden voyage in June, 1911, seemed to be cursed. Captained by E.J Smith, in less than a year it collided with two other ships, as well as being run aground, and after temporary repairs in New York, it limped back to Southampton for more permanent repairs.
But the insurer, Lloyds of London, refused to pay the claims for the damages, blaming Captain Smith for the mishaps.
At this point the Titanic, being prepped for its maiden voyage in April 1912, and the Olympic were docked side by side in Southampton. And this is when the plan was hatched.
The Olympic was so damaged by its second collision that it was deemed unrepairable, at least from a economical standpoint. The loss of this $10 million (over $300 million in 2023) would have been a severe blow to the White Star Lines, and might have even taken them under.
So according to the movie, the plan was hatched to swap out the Olympic for the Titanic over a weekend. It seems that there were only a few things that identified each ship. The main one was the ship's name, welded into the bow of the hull, along with a few other identifying marks.
And strangely, Captain E.J. Smith, blamed for all the damage to the Olympic, was now given command of the Titanic.
Does that make sense? Or could he be essentially blackmailed into the plan?
But the few small differences seemed to give away the switch-out. Things like the the fact that the Olympic had 16 portholes in one location, and the Titanic had 14. All this is shown and verified from photographs at the time.
But strangely, when the 'Titanic' sailed on its maiden voyage from Southampton, it had suddenly grown two extra portholes.
The idea was to sail the 'Titanic' out into the Atlantic Icefields, brush up against an iceberg, evacuate all the passengers and crew, and let the ship sink. Bolstering this theory, just a few days before the ship sailed, the insurance amount was increased from the fully-insured $10 million to $12.5 million.
There was another ship in on this, the Californian, which had sailed from Southampton a few days earlier, and stopped in the middle of the icefields and waited.
Waited for what?
This explains why, according to eyewitness reports, they didn't even launch lifeboats for over 45 minutes, and were sending them out only half full. They were expecting to rendezvous with the Californian, who would take all the passengers to safety.
But a number of small errors cascaded into the tragedy that made its way into the history books.
What still sticks in my mind though, is a still shot from the 1986 French visit to the wreckage. Part of the 'Titanic' nameplate had fallen away, revealing some of the original letters welded into the hull underneath.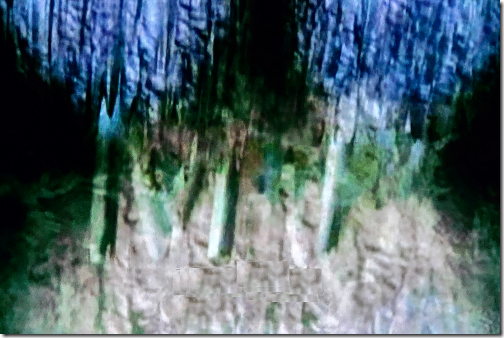 There's no M or P in TITANIC, but there sure is in OLYMPIC.
I urge you to check it out for yourself.
---
Thought for the Day:
As they say, "Happiness is a belt-fed weapon" . . . and a set of Hello Kitty Ear Muffs.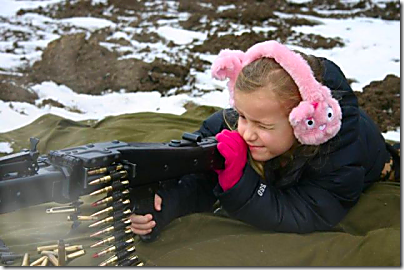 ---
January 13, 2011
Old Friends and A Good Time . . .
After yesterday's busy day, it was nice that today was a little slower paced.
Slower paced, but COLD.
At 10:30am it was still only 35 degrees, after going down to 30 overnight. I'm hoping it will warm back up soon so I can get back to my outside rig maintenance stuff.
About noon, I drove over to the RV Park office to pay the site rent, and told them we would be leaving in the next month or so. Also told them we'd be back next year.
Next I started making some phone calls.
Jan ordered a blouse from Roaman's a couple of days ago for $39.84. Then today I was checking one of our bank accounts and noticed we had 4 pending charges for the blouse, not just one. When I called the company, I was told that the extra 3 charges would disappear in the next couple of days, leaving only the one. She could not, or would not explain why the 3 extra charges were there in the first place. She first tried to tell me that maybe I submitted the order 4 times rather than one. Then when I asked her if that was the case, why did I only get 1 email confirmation and not 4. Again, no answer.
I'll see what happens in the next several days.
Next I called Penn Warranty Corp. to cancel our truck's extended warranty. After paying them almost $1300.00 the last 3 years, they paid $37 on a $600 brake repair bill that was caused by a faulty brake caliper, not wear and tear. And this was the first claim I've ever had with them.
Finally I called AT&T to cancel the phone and Internet service I still had at the house. There actually hasn't even been a phone hooked up there since Brandi moved in. They just use their cell phones. I just kept it for the email service. But I'm finally configured somewhere else now.
By this time it seemed like a nice time for a nap, especially since Jan was already asleep on the sofa.
After our naps, we left the rig about 5:20 heading up to Webster to Chuy's, another of our favorite local Mexican places.
But this was a special occasion. Jan was meeting five of her former Medical Records co-workers for an evening of good food and the occasional margarita. OK, maybe more than occasional.
Jan has done this every year since we've been on the road, and it's always a good time to be had by all, and the occasional margarita, of course.
While Jan was having fun, and the occasional margarita, I, of course, was working.
I drove over to a nearby client's office to update some software, and reprint some missing reports.
I picked up Jan about 8:30 and we headed back to the rig. She couldn't stop talking about how much fun she had, and that she was already looking forward to next year.
---
January 13, 2014
Souped-Up Soup . . .
Sometimes Canada has us beat!
This morning started out what is hopefully, a nice long run of typical Houston winter days, sunny, with temps in the 60-70's and night temps in the 40's.
Just about perfect.
I got the coffee started and then Jan and I headed out for our walk around the park. I put Mister out on his leash and he just sits there and watches us go round and round the circle. When I say "Hi" as we go by, he meows back. He thinks it's some sort of game.
Coming back to the rig, Jan fed the birds, while I fixed our coffee, and heated up the Buc-ee's Cranberry Nut muffins we got yesterday. Then we sat outside and had our coffee and muffins while we enjoyed the sunshine. Mister has his own chair and normally sits right beside us. He thinks he's "people' too.
Next up was some more chores. The first one was to replace the CR1632 batteries in the 4 tire pressure sensors on the truck. One of them was dead and I've found that when one dies, the others aren't far behind, so I always replace them all at once.
I'll do the six on the rig right before we leave in February.
If you RV and you don't have a TPMS (Tire Pressure Monitor System), you should. I use and recommend the TireTraker system, sold by Daryl Lawrence at Lawrence RV Accessories.
In fact I like it so much, it's on my list of 10 Things Every RV'er Needs from the seminars I used to give at different rally's.
Then I checked my water pump to see how I'm going to mount a new check valve in the water line. The internal check valve in my Shurflo water pump has apparently weakened over the years, and when we're on shore water with high pressure, water is forced back through the pump and into the water tank. Then the tank fills up and water starts running out the overflow, making a mess.
Since the pump works fine, it's easier (and cheaper) to just add a new check valve in the line itself. It looks like I just need a couple of small stainless steel circle clamps to finish the install.
Then it was time to get dinner started. And in this case, dinner was going to be souped-up soup. Starting with the soup we make a couple of days ago, I added two more cans of Bush's Chile Beans, a package of frozen Crinkle Cut Carrots, and some more Shredded Chicken.
One thing I really like when opening cans is this One Touch Can Opener.
We've had this one since before we started RV'ing 6 years ago, and I think I replaced the batteries once since then. You just set it on the top of the can and press the button. And off it goes.
You don't have to touch it again until it stops all by itself. It also cuts the lid on the outside of the crimp so there are no sharp edges, and the removed lid can actually be put back on the can for short-term storage
As far as tomorrow, we'll see what happens.
---
January 13, 2015
The Crazy Chicken . . .
Once again today, the weather was in the low 40's, with no sun, and windy enough to not be very conductive to working outside on any projects. So I stayed inside and mostly goofed off.
Well, I did finish up with my client's new computer. But, unfortunately I wasn't able to get any data off her old hard drive.
I opened up the case and plugged in the frozen-overnight hard drive, and I was encouraged to not hear the 'clicking' sound after the drive spun up. But unfortunately the computer could not see the drive at all.
Just to sure I didn't have a problem with the way the drive was hooked up, I connected another old drive I had, and it worked with no problems. So then to double-check I hooked the bad drive up again, but still with no luck. So at this point I just packed up the computer and got it ready to deliver tomorrow afternoon.
A little later, our friend Randy came by to ask for some help. He wanted help getting his big, old, heavy, CRT TV out of the overhead cabinet of his Monaco. Later, I drove my truck over to his site and we put the TV on the tailgate and drove it over to the dumpster and dropped it in.
The reason Randy didn't need his old TV is a friend of his son's gave him this one. For Free!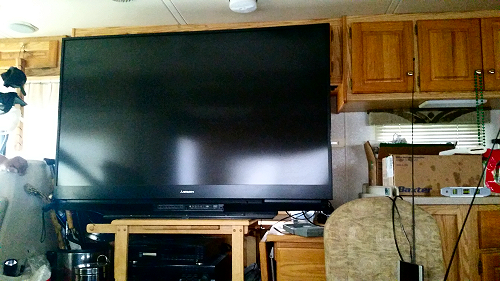 It's a 65 inch Mitsubishi LCD and it sits on one side of the rig, across from the sofa on the other side. To me it would be like sitting on the front row at the movie theater, but Randy seems to be happy with it.
Did I mention it was free?
Tomorrow we're going to deliver the new computer, along with making a couple of other stops. First we're going to have lunch at Katz's Deli in the Montrose area on Westheimer. Then I want to check out the iBurn store down on Bellaire to look over their stock of hot stuff.
I always need more hot stuff.
Then it's off to Pasadena to deliver the computer. Coming home we're going to go by one of the new El Pollo Loco locations that have just opened here in Houston and pick up some chicken and stuff to bring home.
We first encountered them a number of years ago out on the West Coast, and we're really glad to find them spreading out eastward. There are two open here now, and a third one opens soon. And hopefully there are more in store for this area.
---
January 13, 2016
Fitbits and Scotchloks . . .
Jan and I didn't walk today, but we probably will tomorrow. After I posted the article about accuracy problems with FitBits, I got several comments and emails from readers who have also noticed problems with theirs.
So check out the free RunKeeper app before you spend the money on a FitBit.
Well, I heard back from American Coach and my screen door hinges are no longer available. As a matter of fact, it doesn't seem like the hinges were ever available separately from the door. But the door company is out of business, so nothing's available.
So I'll give Colaw RV Salvage a call tomorrow and see what they might have in stock. They did have a lot of the parts for our blow-out repair last summer, so hopefully they'll be able to help here too.
A little before 1pm Jan and I drove into Columbus to check out the weekday lunch buffet at Schobel's. We had the Sunday buffet and really liked it, so time for another shot.
And although the number of meat selections, and the price, were a little less, everything was still delicious.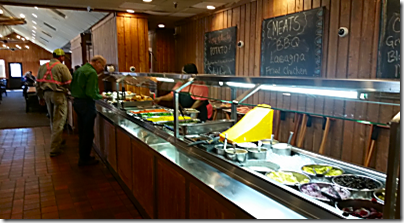 And if not all, it sure seems like almost all of the veggies are fresh. And with mashed potatoes, green beans, carrots, corn, broccoli and black-eyed peas, it was all good.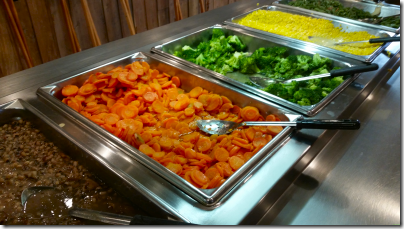 While on Sunday, they have six meats, the weekday buffet has three, with today's Beef Tips and Gravy, Lasagna, and Fried Chicken. Since we also had it Sunday, I assume the Fried Chicken is available every day.
Coming home I made a stop at the hardware store to pick up some larger Scotchlok connectors to finish up a project.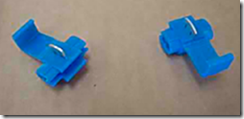 I wanted to add a 12v socket to one of the cabinets in the kitchen so I can plug in a small inverter to run our Amazon Echo (review still coming) while we're traveling. We want to use the Echo for music and news while we're on the move.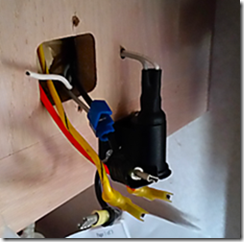 To get power for the socket I used the Scotchlok's to tap into the power feed for the lights over the sofa. And when I got everything wired up and packed back in the wall, it looked like this.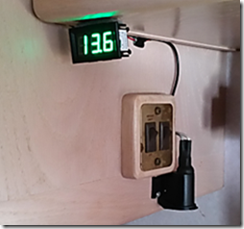 The digital voltmeter also taps into the light power feed and monitors the coach batteries. There are two more that I've installed up front over the dashboard. One monitors the AC voltage feeding the coach, whether from the generator or shore power, and another one that monitors the engine batteries.
Jan and I are really looking forward to tomorrow.
Wrapping up, I definitely want to build one of these for next 4th of July.
---
January 13, 2017
First Time Since 2012 . . .
The last time we had breakfast at Barth's was in 2012. We were following a Marathon drill rig that year and were at a site over near Whitsett, TX.
We were off for a couple of days because they were moving the rig to a new hole on the same pad. Back then they would bring in two 100 ton cranes and just drag the entire derrick 25 feet to the new spot. Now the rig's just walk to the new spot all by themselves.
Anyway, due to my vampirish tendencies (but not the blood-sucking part) I don't do breakfast very often, but somehow Jan talked me into it this morning. And I must say it was worth braving the sun, even if my skin did sizzle a bit.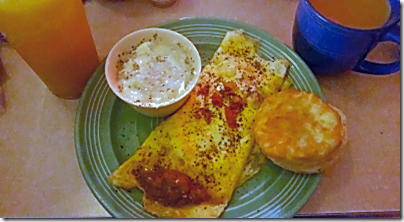 Jan and I both had omelets, hers cheese and mushroom, with a side of bacon, and mine double bacon and cheese with grits and a large OJ.
And of course, coffee.
Coming home we stopped off at HEB so I could pick up some Lotto tickets. Both PowerBall and MegaMillions are in the $120 – $130 million range so it's time to get back in the pool.
Getting back to the rig, I went back to catching up on my sleep.
A long-time friend of ours has some property on lake in east Texas and is thinking seriously about putting in an RV park. He's thinking 50-70 sites, both back-ins and pull-thrus.
Concrete Pads 70 x 30 feet
Gravel Roads
Free Laundromat(s)
Bathroom/Shower(s)
Clubhouse(s)
Pavilion(s)
Fenced Pet Runs
I added
Good Wi-Fi
Wide Turns
Don't put Big Rocks or Poles at corners
Just put Gravel across the corners
So now I'm throwing it out to the masses . . . or the blog readers, anyway.
What would you like to see in a new RV park?'
So give me your ideas to pass on to him.
---
January 13, 2018
So That's Why . . .
And now I know.
I had really planned to get outside and put up the new awning, I really did.
But somehow it just didn't happen. Apparently my get up and go not only didn't . . . get up and go, it never even showed up in the first place. But there's always tomorrow.
Maybe.
Finally about 2pm Jan and I headed into Clear Lake first for lunch and then some shopping.
Lunch was King Food for big bowls of our favorite Hot & Sour Soup and then an order of their Crispy Chicken Wings with Garlic Butter, our new favorite.
Then after a delicious, relaxing meal, we headed over to the Wal-Mart on El Dorado for some groceries. Jan still wasn't quite feeling up to walking all over the store so she stayed in the truck with her Kindle while I did the shopping,.
Finally checking out, I had all my groceries on the checkout conveyor belt when I reached in my back pocket for my billfold and found nothing,
Rut Roh!
In fact, when I reached into the pocket my hand went all the way out the bottom. And now I remembered that's why I stopped wearing these pants a couple of years ago and bought new ones. I had grabbed these up since my others were in the wash.
What I don't understand is why they were still hanging in the closet. I thought I had thrown them away.
Well, they're in the garbage now!
After checking both Customer Services at Wal-Mart with no luck, I headed back out to the truck. Since I knew that I'd had it at King Food, I first put in a call to them, but got a busy signal.
Knowing they do a big take-out business, I tried it again a couple of minutes, again with no luck. So I started cancelling credit cards.
My first call was to PayPal to cancel that one, which is my main one that I use, since I get cash back on it. It only took me a couple of minutes to deactivate it using my phone.
Then, before I did another card, I again called King Food and found they had it. Someone had found it in the parking lot and turned it in. So we head back over to KF to pick it up. And I found all my money and my cards still intact.
Then it was back over to WM to see if I could salvage my groceries or if I would have to shop all over again. The first place I checked was at the Customer Service area, and there was my cart. Getting back in line, I checked out again and we headed home.
A little later I put in a call to PayPal to see if I could un-deactivate my card, but no luck. So they're sending me a new one next week.
That was enough excitement for today.
---
January 13, 2019
Still Going . . . And Going . . . And Going!
Catching up on a few things that went on while the blog was in la-la land, on Sunday the 23rd of December, we all got together at Brandi's up in Katy for our family Christmas.
With Lowell's parents coming down from Oklahoma, and Chris and Linda coming down from Kingsland, and the possibility of going-home bad weather, we decided to have our get-together on the 23rd.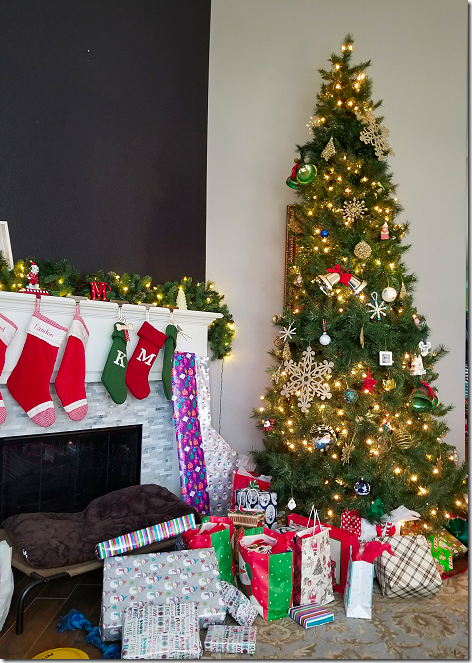 Brandi always does a great job with the whole decorating thing.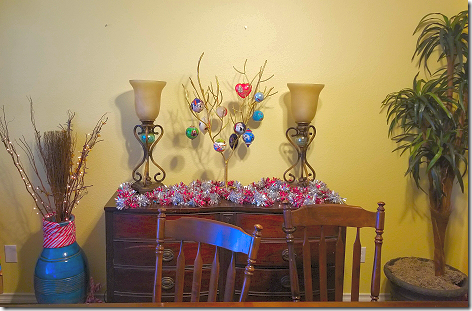 Note the 3 stockings labeled K, M, and B. Their pets get their own stockings. K for Miss Kitty, the dog, M for Mooshi the cat, and B for Baxter the dog.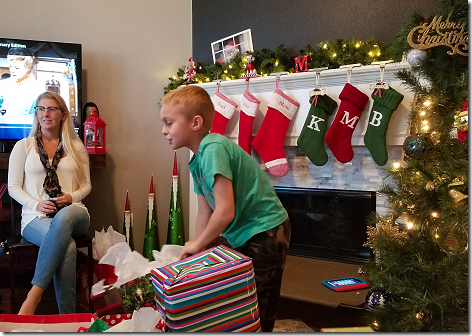 Brandi decided to do a Texas Christmas this year, so she did a delicious brisket. The first one she's done, and it came out great.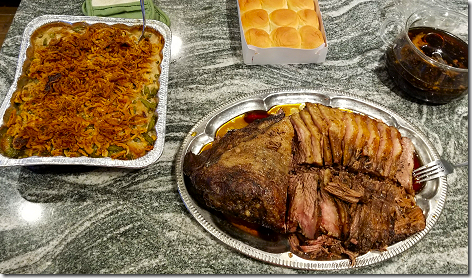 So a Christmas dinner plate looked like this. If that doesn't scream 'Texas' I don't know what does.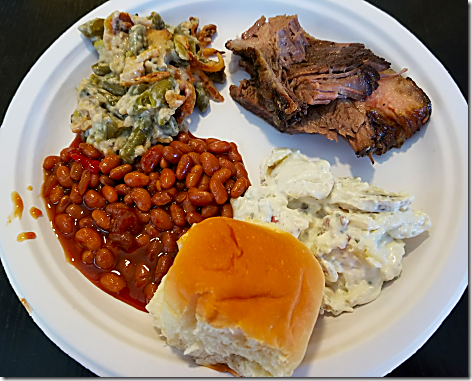 Everybody got presents except Jan. Or at least, she didn't get anything from me. Because her gift was wandering around the country. It got to Houston, then left Houston for Dallas, and then disappeared. And by the time it was decided that it was gone for good, Amazon was sold out.
By the time they were back in stock, and Jan got it, it was January 4th. So Jan got her present a little late, but really love it. She had mentioned a while back that she would like a Fitbit. So she got this one.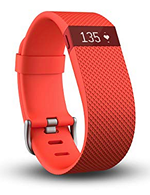 And in a favorite color too.
While the blog was down we passed a milestone along the way. January 6th marks the beginning of our 12th year of Full-Timing, since it's the day we picked up our 1999 American Eagle from Roman Holiday Motor Coaches in San Marcos, TX.
And we're still having fun.
---
January 13, 2021
Bye DirecTV . . .
Today marked the last day of our DirecTV subscription, one that we've had since 1997. Supposedly sometime in the next two weeks or so I'll get information about how to send back our receiver. Though why they would want back a 6 year old DVR that they no longer use, I have no idea.
I stop off yesterday to pick up a couple of Lottery tickets, for both PowerBall and MegaMillions. And as usual, I had trouble getting set for Annual Payments, rather than Lump Sum.
Texas apparently is one of the few states that make you decide ahead of time which way you want to receive your prize. Most others you get to decide after you win. And I must be about the only one that wants Annual Payments because it seems they never know how to print one out.
In this case the upcoming MegaMillions is $750 Million with Annual Payments, but if you take the Lump Sum, you only get $550 Million. So you give up $200 Million to get it all at once.
And what exactly are you really going to do with $550 Million that you can't do with the $25 Million a year for 30 years that you're going to get with Annual Payments?