Daily Archives:
January 3, 2023
Before we left the rig this morning I made my annual dermatologist appointment to get my head checked.
No, not for that, but for any possible pre-cancerous stuff up there. I had a Squamous Cell Carcinoma removed in 2014 so I don't wan to take any more chances.
Lunch today was at our all-time favorite pizza place, Grimaldi's Pizzeria, this the one in Baybrook Mall here in Webster.
We've been eating at Grimaldi's all around the country since our first visit at the original one in NYC in 2009.
As always we started off with their small Spinach Salad, just loaded with Bacon and Gorgonzola cheese.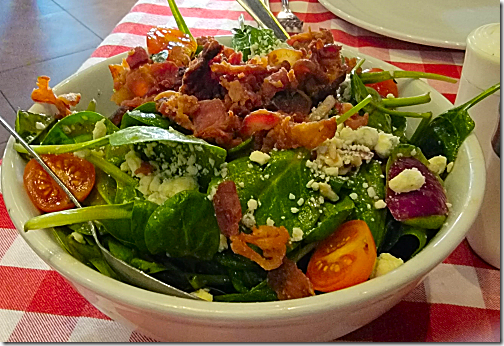 Jan and I both agreed that this was the best one of these salads we've ever had.
Then it was on to The Don, a pizza with Italian Sausage, Pepperoni, and Meatballs, to which we add Mushrooms.
We always get the Large 18" version so we have leftovers to take home.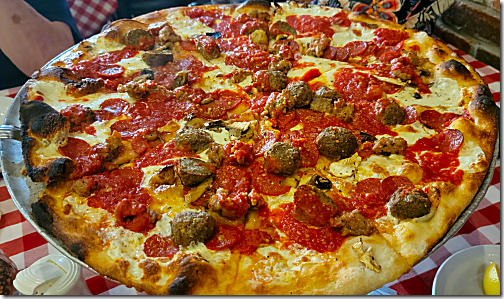 The 'Bones' in this blog title refer to pizza. When they were little Chris and Brandi called the leftover edges of the pizza crust 'pizza bones', because no one ate them. But we never have any bones left with Grimaldi's pizzas. Although it's hard to tell from the photo the slices (not shredded) of mozzarella go all the way out to the edge. Plus the crust is so tasty, so no bones.
Then it was on up to the nearby WalMart for a few things, before making a final stop at the DSW to exchange a pair of boots that Jan got for Christmas. Then it was home for the day.
Here's one of Landon's latest 3D printer projects.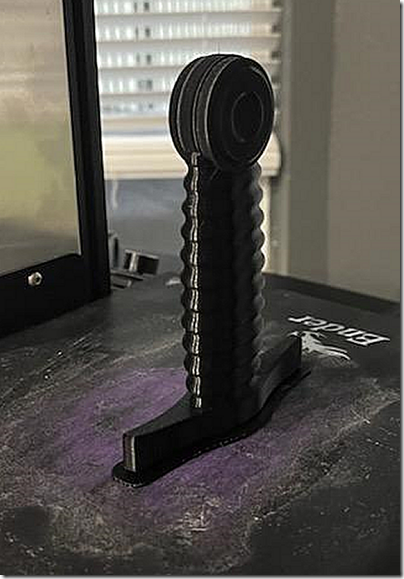 Yeah, I know it looks like just a dagger handle, but it's actually the complete dagger. The blade slides out of the handle kind of like a ballistic knife. The neat part is that the handle and the interior retractable blade are all made at one time.
---
January 3, 2011
Rig Maintenance . . .
Today was a stay-home, work around the rig day.
Jan went down to the park laundry to wash some rugs that are really too big for our rig's washer/dryer, while I started working on my list of things to do before we leave here in about a month.
First I cleaned the area underneath the old wheel well flanges so I will have a clean surface under the new ones, and then started removing the old rivets.
I also cleaned and coated the battery terminals on the toad and the rig. I had also planned to to drain and flush the water heater, but quickly I ran into a problem. I couldn't get the drain plug out.
I tried using a 12' length of pipe as a cheater bar, but even that didn't work.
I was afraid that if I twisted too hard I might break off the connector. So I sprayed it with penetrating oil and then I'll try it again tomorrow.
Next I cleaned the rocks and mud out of my leveler pads, and then tomorrow I'll put silicone spray on the leveler tubes themselves. I'll probably also spray the slide tracks at the same time.
That was about it for today. Hopefully I'll be able to get the water heater drain plug after It has soaked overnight.
---
January 3, 2012
They Had Better Be Worth It !
Today I headed out about 11:30 for some errands and a few client visits.
My first stop was at a client's to pick up a check, and now I finally got the Chase Online Deposit thru your cellphone thingie working.
I had tried it twice before, and no matter what I did, the check pictures came out blurry, even trying 3 or 4 times. They would look fine on the screen, but as soon as I took the picture, the result was blurred. However when I took a picture of the check the regular way with the camera in the phone, it looked fine.
So today I decided to try it again to save me making a special trip to the bank that was in the opposite direction from where I needed to go next.
And it worked fine. No problems. The only difference was that the first couple of times I tried it on the kitchen counter in the rig, and today the check was on the center console in the truck.
Of course the ad on TV shows the guy holding the check up in the air as he takes the photo, so who knows. We'll see how it goes next time.
My next stop was Auto Zone to get new windshield wipers for the rig and the truck. After a little research I decided to try the Rain-X Latitude Wiper Blades. According to Consumer Reports and other sources, they will last the longest.
I ended up getting them local because Amazon didn't stock the 26 inch ones for the rig, and the place that did have them said 11 to 14 days delivery. Heck, we may be gone by then.
But, boy, were they expensive! They're sold in singles so I had to buy 4 packages, two of each size. And the total came to just over $93.00.
They really better work good.
Then I headed over to Pasadena to check out a laptop problem with a new client. His 5 year old laptop seemed to be pretty well infected, so after fooling with it for a while, and finding he had the Recovery CD's, I decided it would be faster, and cheaper for him, for me to pull his documents and photos off, and just reinstall Windows from scratch.
Leaving with his laptop, I headed over to another client's for a quick look at a problem she was having with her email Contacts.
She could select a contact to email to, but she couldn't open or edit a contact. It took a few minutes to track down the problem, and after getting it fixed up, I headed home about 4:30pm.
Brandi sent over this hilarious video of Landon eating dinner while trying to stay awake. Brandi's laughing so hard she can't hold the camera still. A couple of times her laughing wakes him back up.
About 5:30 Jan and I headed over to the Monterey's Little Mexico in Dickinson to meet our friend Maria to first eat supper, and then Jan and Maria were going to play Bingo at the Knights of Columbus Hall in La Marque.
Our granddaughter Piper didn't go because she starts back to school tomorrow and wanted to get a good night's sleep.
Maria won a small pot, but Jan busted out for the night. Maybe next week.
---
January 3, 2014
A Blah Day . . .
This morning started too early, even if it was getting up at 9:30.
For the last 3 or 4 weeks I've had a persistent cough that I attributed to allergies. I had the same thing when we were Gate Guarding in 2012. And after a couple of months it went away.
This year it was exactly the same. A 'tickle' in my throat that gives me coughing spells. But nothing else. No sneezing, no congestion, no runny nose, nothing but the cough.
But then last night I started coughing even more and getting a sore throat. So right before I went to bed I took a big swig of Nyquil and it really helped. I slept right through the night without coughing at all.
But for some reason when I got up this morning I was hoarse and my voice cracking when I talk. I also didn't feel really good. Not bad, but just blah.
But duty calls, so about 10:30 I headed by over to the UPS upgrade client where I was yesterday. My task now was trying to get the address book data off the old machine and on to the new one.
After spending a good bit of time on the phone with UPS, they finally decided that the problem was that I was trying to go from the 2010 version of UPS Worldship to the 2014 version on Win8. And apparently you can't do that directly.
So they sent me a link where I can download the 2012 version which must be installed on a Win7 machine. Then we can export the data from the old version into the 2012 Win7 version. And then we'll export it from the 2012 version into the 2014 Win8 version.
Or at least that's their story and they're sticking to it. So I'll download the 2012 here at the rig, install it on my Win7 laptop, then take that over to the client tomorrow, transfer the data back and forth, and see how it goes.
So that's my tomorrow.
Then it was off to another clients to install a new printer. Which didn't work out very well. He bought the printer, a Samsung ML-2545 Laser Printer about a year ago and then stored it away. But when I got it out of the box, the toner cartridge was missing.
Turns out the client had taken the toner cartridge out months ago to use with another printer and forgotten about it. So we're back to square one on this.
Heading back to the rig about 3 pm I was feeling worse and worse, just really, really tired. So getting home, I climbed into bed and took a 2 hour nap
I did feel a little better when I got up, at least well enough for Jan and I to head up to IHOP for supper. I guess it was OK, but neither of us remember much about it.
Brandi sent over the latest Landon photo, getting ready to head to town.
Hopefully Jan and I will feel better tomorrow. But we'll see.
Especially since I have to work tomorrow.
---
January 3, 2015
Fried Chicken and Windows Vista . . .
After another wet, gloomy morning, we actually started to see glimmers of sunlight peaking out from the gray. And by the afternoon it was bright and sunny, although it's rained so much for the last week, that everything is still very soggy.
Yesterday's power converter install is still working fine. The house batteries are staying fully charged, and the system is regularly switching over to top off the engine batteries.
So far, so good.
I was thinking about adding some new photos to the rotating slideshow at the top of the blog, so I was going through some of the more than 27,000 pictures we've taken in the last 7 years.
No, that's not a typo. Since we hit the road February 6th, 2008, we've been averaging over 10 pictures a day. Thank God for digital cameras, otherwise we couldn't afford the film developing costs.
I did find a few new photos that I'll be posting in the next few days, but Jan and I really ended up just paging through the pictures, reminiscing on our trip to Alaska, and visits to Yellowstone, Glacier National Park, Grand Tetons, and many others.
In fact we spent all afternoon on this, until suddenly it was time to head out for dinner. We've been wanting some good fried chicken so decided that Golden Corral was the place. So we headed out about 4pm for the one about 5 miles south of here.
As usual the food was really good, and even better, Golden Corral is running a promotion where you get to take home 6 free yeast rolls.
Yay, free food.
Leaving GC, our next stop was the Lowe's right down the road. I needed a new 1/2" x 3/8" drive socket for my set. I noticed yesterday that one was missing when I went to use it on the power converter install. And I also wanted to get a small paint roller handle for another project that I'll talk about later.
I had also planned on getting a replacement Danco faucet nozzle to go with the Danco 'Universal' replacement hose for our sink faucet. But blog reader Rod McElhenry reminded me that Moen faucets have a lifetime warranty, so I'll wait and give them a call on Monday.
Then it was on to the Wal-Mart right next door for a few things, and then a last stop off at Starbuck's to get a couple of Chesnutt Praline Lattes, and to get registered in their Starbuck's For Life contest. Of course if you read the fine print, 'Life' to the Starbuck's corporation is 30 years. But I'd be 96 by then so the point is probably moot.
Getting back to the rig, we found we had a new neighbor. Randy Lazarine, who was parked next to us in Columbus a couple of weeks ago, showed up. If you remember, he's the guy with the new-to-him coach that had been completely mis-wired so that his power converter was not even hooked up, and his house batteries and engine batteries had been wired together. His solar panels kept things going at first, until we had a week of no sun. Then all his batteries ran down and he couldn't even start his coach.
I didn't have a chance to talk much tonight but I guess it's still working OK. I'll know more tomorrow.
Tomorrow looks to be a stay-at-home day. We're going to put together a big batch of chicken vegetable soup in the slow cooker and goof off.
---
January 3, 2016
Never Again . . .
Jan and I decided to start our trip day with an early breakfast at Cracker Barrel. And unlike going to Cracker Barrel on a Sunday around 11am, going before 8am is a breeze. We were in and out in about 45 minutes, and Jan even came home with a moose.
Yeah, I know they call it Sven the Reindeer from Walt Disney's Frozen.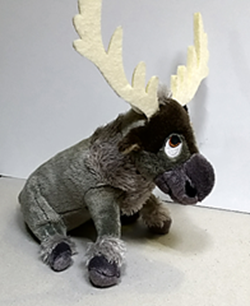 But I'm sorry, that's a moose
Getting back to the rig, we were hitched up and on the road by 10am. We had decided beforehand to try one of the several 'shortcut' routes out through the countryside this trip, instead of our normal Interstate route which racks up about 120 miles.
The 'shortcut' route is about 107 miles, which Google maps says is the absolute shortest route, coming down I-45 to the FM-1488 exit, and then cutting across through Magnolia, Hempstead, Bellville, and then back onto I-10 about 9 miles east of Columbus.
Delorme Street Atlas said the route would take 2 hours and 50 minutes, and that was pretty close. We pulled up at the Colorado River Thousand Trails guard shack 2 hours and 46 minutes after we left Lake Conroe.
In comparison, our normal 120 mile Interstate route takes about 2 hours and 5 – 10 minutes. Plus our gas mileage dropped from our normal ~ 8.5 mpg to about 6.2 mpg, due mainly to two factors.
First, the majority of the trip the speed limit on these fairly narrow two lane FM roads is 50 mph. So since my Allison transmission won't upshift into 6th gear until about 52 – 53 mph, I ended up in 5th for most the trip. Not very conducive to gas mileage.
And second, the roads were pretty curvy in places, necessitating even more slowdowns, as did the number of small towns along the way with 30 mph speed limits.
Plus I found myself a lot more tired when I got here. When we do the Interstate route, I pretty much put the speed control on 60 and just go. And except for our normal potty break around Brookshire, we never slow down until we're at the exit for SR-71 at Columbus.
So, boiling it down, we'll probably never go this route again. It takes longer, and uses more diesel. enough more that it overcomes the $6 in tolls I pay on the Sam Houston Tollway. And as I said, it's more work. As I've mentioned before, the traffic doesn't really bother me, especially since we're moving on Sunday.
Now, as I was outside setting up, Janice Evans walked by and mentioned they do another 'shortcut' route, so I may check that one out with Dave when I get a chance.
I was looking at my trip odometer for 2015 and found we did 5345.2 miles for the year, a couple of thousand miles less from our normal mileage due to sitting in the back of an RV Repair place in Prescott, AZ for two months, waiting on our blowout repair.
We'll probably do a good bit more than that this year since we'll be going down to Tampa and West Palm Beach, FL, and then all the way to Essex Junction, VT, and then back to Houston. And probably a lot more.
I mentioned yesterday during my water heater repair saga that I had run into this same problem at the Indian River Thousand Trails in Batesville, IN a few years ago.
Well, here's the rest of the story.
"A few years ago, while we were staying at the Indian Lakes Thousand Trails in Batesville, IN, a couple parked next us were having the same problem. I don't remember if their rig had been in for repairs or what, but they also only had lukewarm water."
From Larry Merritt
That was us. It was a new water heater that Camping World had installed. The mechanic had installed the bypass upside down. The water heater is still keeping the water hot in our 2005 Winnebago Adventurer.
I did not realize Larry and his wife were blog readers. It just goes to show you how small the RV world really is.
After dinner tonight I got on the glass replacement of my son Chris' Galaxy S5 cellphone.
Here's the starting point. I've got everything laid out and really to go.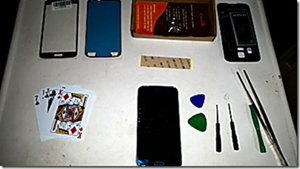 And here you see what the playing cards are for.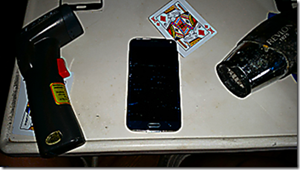 I used the hair dryer to heat up the phone and the infrared thermometer to monitor the temperature. When the temp was right, I used a razor knife to slightly pry up the glass and a playing card to keep it separated as I work my way around the edge of the phone.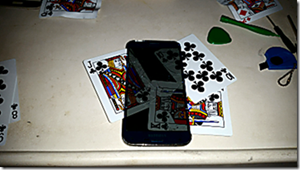 It actually went a lot smoother than I expected. I stopped here for the night and will pick it back up tomorrow.
---
January 3, 2017
A New Gate? And A New Puppy . .
Well, Texas' weird winter weather is on a roll again. Yesterday and today were in the 80's, but in the 40's at night. Then for the next few days, it's high 50's/low 60's with 30's and 40's at night.
Jan wanted to get some groceries today so we combined it with Fried Chicken/Roast Beef day at Barth's before ending up at HEB and then home. The HEB is really nice here and closer than the Wal-Mart, so we go there a lot if all we need is groceries.
Tonight looks to be my last night at this gate . . . for now. But it seems like I keep getting rotated through the same ones over and over. But I would be perfectly happy to not come back to this gate, or the last one either, because of all the Internet/Phone problems.
So hopefully I'll have a new gate in the next day or so.
I mentioned in last night's blog that the Internet had gone down about 8pm and was still down at 11pm. Well at midnight it all came back on like someone had flipped a switch. Which I figure is what happened.
Then tonight everything was great until about 7pm when it died, only to come back on at 8pm.
And on the subject of the Internet I recently had a comment from a new blog reader, or at least a new commenter (I have to approve all first time comments) complaining that my blog about Internet service was boring, and I should be blogging more about RV'ing.
Here's how I replied.
Sorry to disappoint.
We've been full-timing for 9 years and blogging about it for 8.
Our blog is not necessarily an 'RV' blog, but 'our adventures' as we RV. And I can tell you from experience that cell phone service, Wi-Fi service, and Internet service are prime topics as we all move around the country. In fact over the years I written whole blogs on the problems and solutions to getting Internet service in a particular area.
And of course without Internet service, this blog wouldn't exist.
And of course right now we're not RV'ing as such, but Oil Field Gate Guarding in south Texas about 60 miles south of San Antonio. This is something a lot of RV'ers do, and a lot of other RV'ers are interested in. In fact my wife and I give very popular seminars at the Escapee's Escapade RV rallies on the subject.
I also write a lot about repairing things around the rig, also very popular with our readers. I've written blogs about repairing washing machines, toilets, rooftop AC's, and much more.
But the main thing I can tell you is that after doing almost 3000 blogs, what I write about has to interest me. It's not always easy coming up with 500-1000 words a day, believe me. That's why you see so many 'abandoned' blogs around the Internet. They go gung-ho for about a month and then it peters out.
To keep my interest, I write on a lot of different subjects. If you check under Greg's Musings on the top right menu strip you will find a number of well-received articles on the Election, the Electoral College, the Dakota Access Pipeline controversy, and losing our past through Political Correctness. Right now I'm working on another article on Global Cooling-Global Warming-Climate Change.
Hopefully we'll manage to come up with enough stuff to keep you reading the blog. Keep in touch and feel free to post any more comments you have.
That's why you see so many varied topics here. Otherwise I'd get bored. And that's also the reason I started doing the articles for the Greg's Musings area.
And on that subject, thanks for all the kind words about yesterday's screed on Simple But Not Easy Solutions to the immigration problem. I'll try to get it posted as a separate article in Greg's Musings in the next day or so.
A large part of the problem with the immigration problem is that a lot of people, especially in our government and industry, don't see it as a problem at all, just as cheap labor.
And those who question the influx of this 'cheap labor' are called 'anti-immigration' and even racists.
Personally I have no problem with immigration, that is 'legal, controlled immigration.' My grandmother, my father's mother, was born in England and around the turn of the century immigrated first to Canada and then to the US where my father was born in 1909.
Meet Baxter.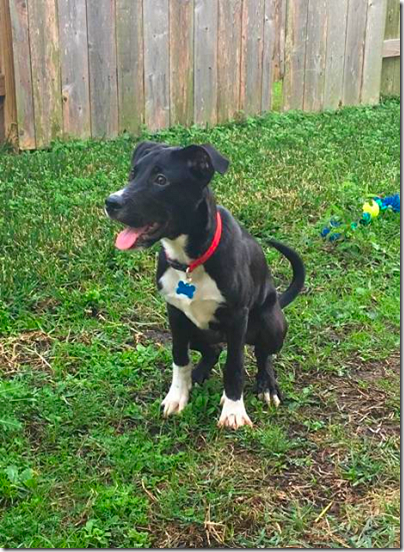 Baxter is a new addition to the Morrison household, and a new little brother to both Landon and Kitty, their 125# Black Lab.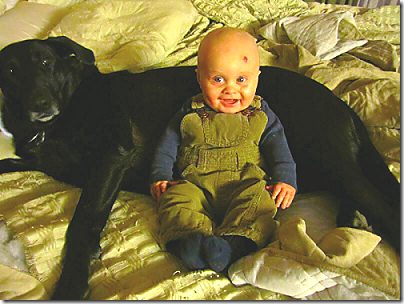 Landon and Kitty have been together since Landon was born, and although Kitty is very protective of Landon, they still scuffle over toys and stuff like siblings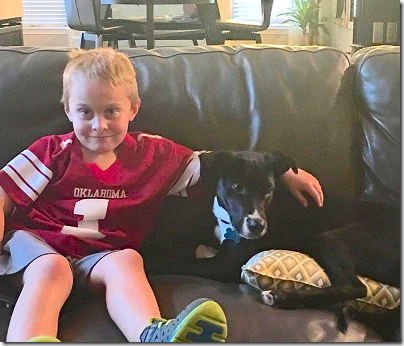 Looks like he's fitting right in with the family,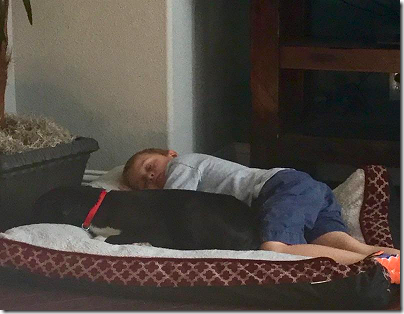 even to Baxter and Landon napping together on the dog bed.
---
January 3, 2018
Night and Day . . .
Better and Better!
Jan was sitting up and talking when I got to her room a little after 9 this morning. Very happy to see that.
Her breakfast came about 30 minutes later, scrambled eggs, bacon, and an English Muffin. And coffee.
Tasted like the coffee was from the same place as my cup yesterday, so she passed and just drank ice water,.
She ate some of the eggs, tried a bite of bacon that was too tough to chew, and a few bites of her muffin. Not a lot, but better than last night.
Finishing up, she had a few spoonful's of the diced pears fruit cup that came for dessert.
Later in the afternoon her attending physician came by to check on her. He did mention that when they do take care of her kidney stone in 10 days or so, they plan to use lithotripsy, a way of using sound waves to pulverize the stone inside the kidney.
When lunch came, Crusted Tilapia, Diced Carrots, White Rice, a Dinner Roll, and a Flour Tortilla for some reason. Plus Vanilla Pudding for dessert.
She ate even better this time, but I still had to help her because her hands were so shaky. But she said it was all good.
Then when dinner came about 5:30, Cilantro Chicken Breast, Green Beans, and White Rice, as well as a Dinner Roll and Chocolate Pudding for dessert, she was now able to feed herself with no problems. She said it was really good this time too.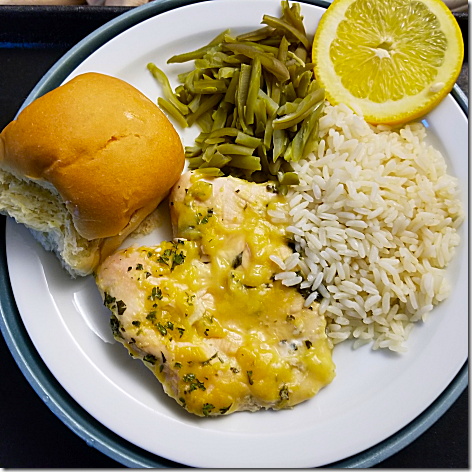 Doing Great!
Still don't know if she will be able to go home tomorrow yet. They said that someone was going to come in and start trying to get her up and see if she could stand on her own, but that hadn't happened by the time I left at about 6:15pm.
So I guess we'll see tomorrow.
---
January 3, 2020
More Drums . . .
We've almost caught up on our TV shows that we lost track of during the two weeks we were up in Kingsland and Luling back at the end of November. Then we DVR'd the final episodes but didn't watch them until we could catch up with the older ones.
So now after using streaming to watch the missing episodes, and then the final DVR episodes, we've caught up on Evil, Stumptown, Emergence, and Prodigal Son, so we only have the the last episode of Bull to finish us up. And we'll take care of that one this weekend.
We also really liked the twist at the end of the winter finale of Emergence. Talk about a surprise. One of our favorite.
Especially since the little girl is named Piper.
Since they were so good on Wednesday, we did another batch of drums this evening. Only more of them.
We had only done 10 last time since that's how many were in 1 package. And Jan graciously gave me one of her five, so I had six and she had four. And about 3 into her 4, she started to regret her magnanimity.
So this time we did 15 drums instead of 10, and this time Jan got 8 and I got 7.
I did increase the Baking Soda to 3 Tbsp., up from 1 since I was doing more drums and thought I was a little short on the Baking Soda last time.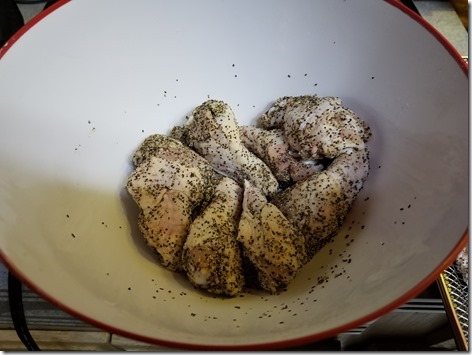 Then I put them on the tray and popped them into the Air Fryer, and they came out looking like this.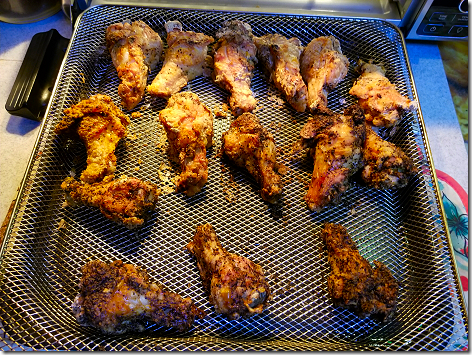 Next time I'm going to reverse the tray at the 13 minute halfway point since it looks like the front half cooks a little faster than the rear. Otherwise they were delicious, mine with just Kraft Bacon Ranch as a dip, and Jan's with a Bacon Ranch/Spicy Szechuan sauce dip.
And in this case, Jan decided that 4 drums weren't enough but 8 was 1 too many. So I got an extra one back. Yay!
You might have the commercials that just started running for SingleCare. Being hawked by Martin and Charlie Sheen, SingleCare looks to be a discount drug service similar to GoodRX.
But based on my personal comparisons, it doesn't really measure up. Here are side-by-side comparisons of 2 drugs that Jan and I take.
You be the judge.
That's SingleCare on the left and GoodRX on the right.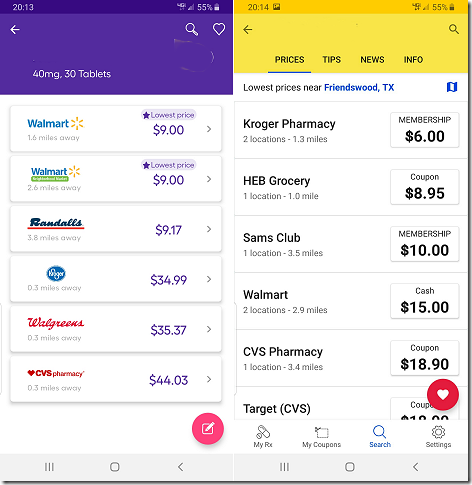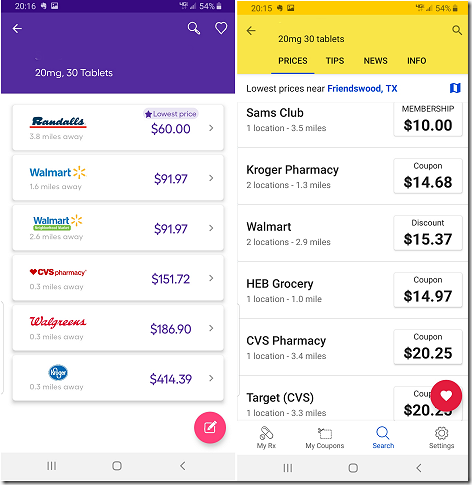 You think maybe if they weren't putting out the big bucks for Martin and Charlie, that they might able to come up with some better discounts?
Yeah, me too.
---
January 3, 2021
Glad To Be Home And Sleeping In Our Own Bed . . .
We were on our way home this morning by about 8:30am, with several detours along the way.
Our first stop was at the Sonic right down the road for breakfast sandwiches for Jan and Miss Piper, and then a little further along for Lattes at the Lazy Heron Coffee House for me and Jan.
Then our 3 car caravan hit the road for Austin with Piper leading the way, followed by Lowell, Brandi, and Landon, and then Jan and I in the Tail-End Charlie position.
We were taking this somewhat round-about way home so we could check out Miss Piper's apartment there in Austin.
She has a really nice, large two bedroom place in a beautiful tree-lined apartment complex with easy access to the MoPac Expressway, and only about 5 minutes from her present job.
And of course the beautiful 4 poster bed that her father Chris made her.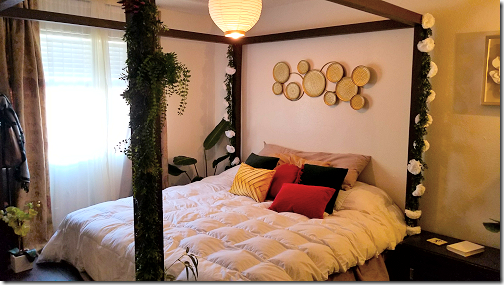 And speaking of jobs, I mentioned before that she was up for a Psychological Counselor position with the Austin Police Department's 911 Division. Well, she got the job, but due to all the paperwork that has to be done, as well as background checks, it may be late January – early February before she actually starts.
She did say that the FBI background check had come back with no problems, but there's still more hoops to be jumped through. She also said she's looking to get started on her Master's Degree sometime in the near future.
You go girl!
Then after that, our next stop was at the nearby Trudy's North Star restaurant for their really good breakfast, with some of us getting the buffet and other just ordering from the menu. But all good, however.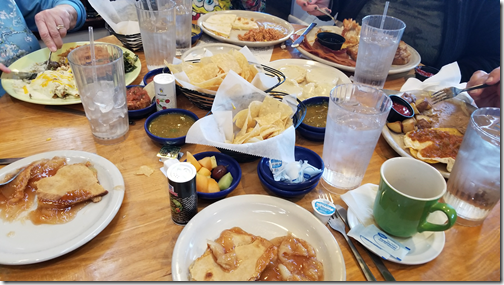 Finally, about 11:45, the Houston bunch all headed home with a bathroom/coffee stop at the Buc-ee's in Waller. (Yeah, I know. A bathroom/coffee break kind of defeats the purpose.)
Jan and I finally got back to the rig about 3:15pm after a really great long weekend with the family.