Daily Archives:
January 4, 2023
This is a montage of all the celebrity deaths in 2022.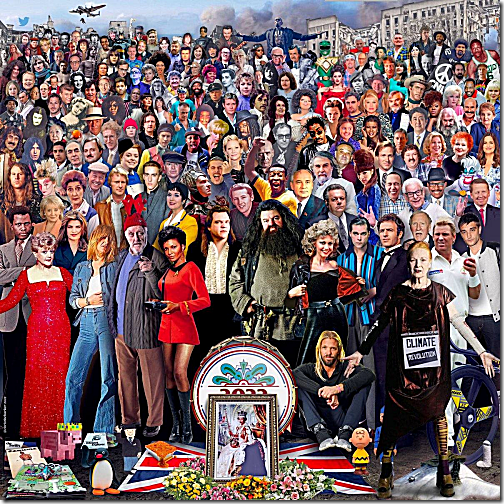 How many can you identify?
If it helps, you can click the click below for a full size version.
2022 Celebrity Deaths – Full-Size
And this link will give you an answer guide.
2022 Celebrity Deaths Guide – Full-Size
Have fun!
Tomorrow morning Jan and I are heading up to Conroe to meet up with Debi and Ed Hurlburt at Vernon's Kuntry Katfish once again. We've been eating there for about 10 years since we became Thousand Trails members and started staying at the Lake Conroe Thousand Trails park, and it's always delicious.
Unfortunately Janice and Dave Evans won't be able to join us this time.
Maybe next time.
---
Thought for the Day:
"Happiness? A good cigar, a good meal, another good cigar and a good woman – or a bad woman; it depends on how much happiness you can handle." – George Burns
---
January 4, 2011
Spicy Chicken and 330 Million . . .
Today was an errand day, with a long list of things to do and people to see.
But first we started out with Spicy Chicken Sandwiches from Wendy's. This is one of our favorite sandwiches, and their new Natural-Cut Fries are pretty good too.
Our next stop was at a client's office up in Clear Lake. He was supposed to have some files for me, but he hadn't picked them up yet. So I told him I'd come back by after I ran some more errands.
But first I went across the street to a former client's Air Conditioning company to use a vise in his shop area. I had a piece of electrical conduit I needed to cut with a hacksaw, but I needed to hold it steady to do it.
After that we drove over to Sam's Club to pick up some vitamins and other stuff. Then, since it was close by, we drove over to the house to check our mail.
Then it was back to the client's to try again. And luckily this time he was back with the files I needed.
Jan wanted to get her hair done so our next stop was at the TGF Hair Salon over in Kemah. The place was pretty busy so it took a while, but I had a book to read so I was good.
Before heading back to the rig, we stopped off at Kroger's for some groceries, and also, some Mega-Millions Lotto tickets. The total has risen to $330 Million, so I had to get a piece of that action.
We got back to the rig about 4:15, but without much time to rest.
Since tonight was Bingo Night, we left a little after 5 to drive over to Monterey's Little Mexico in Dickinson to meet Bob and Maria for dinner, before she and Jan headed down to La Marque for bingo. Leaving there I dropped Bob off at his house before heading back to rig.
Only to get back and find the power off at the park and the surrounding neighborhood. Of course everything in the rig was still running fine on the batteries and the inverter.
The power finally came back on a little before 8 pm, and then about 9:30 I headed down to La Marque to pick up Jan.
She won again, but only $25 this time. But then maybe I won the Mega-Millions tonight so it really won't matter.
---
January 4, 2012
Sony and SuperCuts . . .
Thought you might find this video interesting. It was prepared for a Sony stockholder's meeting in 2009. It really makes you think.
Prepared for Sony Stockholder's Meeting
Jan decided to go with me today since she wanted to get her hair and nails done, so we headed out about noon, with our first stop at King Food for a great lunch of Chicken in Hot Garlic Sauce, XXXXX spicy, with added jalapenos. Hmmmm Good!
Then, after dropping Jan off at SuperCuts, I got gas and read a Kindle book on my Droid until Jan was finished.
After that we stopped off at Brandi's to pick up our mail, and then it was on to Sam's Club for our prescriptions and a few other things.
On the way to my client's, I dropped Jan off right down the street to get her nails done, while I installed the extra RAM in the two new computers I just got for him. Or at least, I tried to.
Turns out I was misinformed (lied to?) about the memory configuration in the two machines. They come with 6 GB, and the computer has 4 RAM slots. I was told the installed RAM was a 4 GB stick and a 2 GB stick, leaving two slots open.
However when I popped the cover off the machine, I found it configured with 3 – 2 GB sticks, leaving only one slot open. So now I'll have to take the RAM back to Fry's Electronics and trade it in for 4 GB sticks.
It's always something.
After picking Jan up from the nail place, I drove over to the client's house where I had recently battled AT&T over their DSL service. And Surprise, Surprise, it was fixed. It had been switched over from Static IP's to Dynamic, and was working perfectly. I'll come back tomorrow and finish setting up the new router now that everything else is working.
Heading back toward the rig, and since it was now about 5pm, we decided to have supper at the IHOP in Kemah before getting some groceries at the Wal-Mart right down the road.
It was good to finally get back to the rig after a long day.
---
January 4, 2013
The WOW Factor . . .
Well, today was even more boring than yesterday, at least for you readers.
I hadn't actually planned to go anywhere today, at least until dinner. But I was halfway expecting a call from the client that I just finished setting up her new computer with a new OS and a new version of MS Office (2010). She and her husband spent the last month out in San Diego and just got back yesterday afternoon. So I was betting with myself whether she would make it through the weekend without having to call me.
Well, I lost (won?). She got on the new computer about 11:30 this morning and was on the phone to me at noon. So I ended up going up to her house for a while to get her straightened out, and while I was there, I talked to her husband about what he was looking for in the new computer that I'll be getting him in the next month.
By the time I got back home it was almost 4pm so Jan and I headed out to Chili's for dinner, and then right down the road for a Wal-Mart visit.
And that was about it for the day.
Like I said . . . BORING!
---
January 4, 2014
Blah, Day Two . . .
Neither Jan or I felt much better this morning, but I needed to get my client's UPS system up and running before he leaves for Ecuador tomorrow. So I once again headed about 10:30 for his shop over in Alvin.
I was trying to get his Customer Address book off of his old Win2000 machine transferred to his new Win8 laptop. Yesterday UPS sent me a link to download the 2012 version of their Worldship software. This is because you cannot transfer data from an old version to a new version separated by more than two years.
So trying to get from the original 2010 version to the new 2014 version, we had to use the 2012 version as an intermediary. So I downloaded and installed the 2012 version on my Win7 laptop and took it over there with me.
3 hours later, after a marathon Tech Support phone call, several false starts, a couple of detours, rebuilding some corrupted data, and a few more lost hairs (like I have them to spare), we had all 494 customer addresses moved into the new program. Job Done.
Getting paid (Yea!), I headed over to another client's office to do some work on a network problem with his computer cash register program. But that was not to be.
He forgot to tell me that since I was here last year, he changed his office locks and my key no longer works. Oh well.
Before I left, I called Jan to see if she wanted to be ready to go to linner when I got home, but she said she really didn't feel like going out, and suggested I bring Monterey's Little Mexico Chicken Tortilla Soup and Beef Fajita Nachos home.
Later in the evening I fixed us a couple of K-Cups of Hazelnut Cream Cappuccino with our new brewer. So much easier than setting up for brewing a carafe.
Lowell sent this photo over of Landon getting in some last playtime before the cold snap hits tomorrow.
Speaking of the cold snap, tomorrow should bring us our coldest temps so far. Our low tonight is supposed to be 60°. But tomorrow night's low is expected to 28°. And then 26° on Monday night.
Time to disconnect and drain the water hose and put the heat lamp in the water bay.
---
January 4, 2015
Soup's On . . .
Jan and I did pretty much nothing this morning, just enjoyed the bright sunshine for the first time in more than a week. Mister even went outside for a while, but despite the sun, it never got out of the 40's and was windy enough so that he came back in after just a few minutes.
About 1pm I got out the slow cooker and started putting together a batch of our chicken vegetable soup. One thing about our soup is that it's never the same twice. We always start with chicken broth and poached chicken breasts, but after that it's more just what we have in the pantry and the freezer
At some point we buy a big package of boneless chicken breasts and several cartons of chicken broth. At home we put all the chicken breasts in the slow cooker, add the chicken broth, add seasonings, and then poach the chicken breasts for a few hours.
Then we vacuum-seal the chicken, two breasts to a package, and put them in the freezer. Since we always use liners in the slow cooker, it's then easy to take the broth and freeze it for later also. And we'll be doing this again soon since today's batch used our last package of chicken.
So after the broth is in the slow cooker, it's time to get creative. I started with a can of Rotel Hot Diced Tomatoes with Habaneros, a can of Whole Kernel Corn, a can of Red Kidney Beans, and a can of Black Beans and set the cooker on High for a couple of hours.
At this point I took the chicken breasts which had been thawing in the fridge and shredded them into the soup. Then about 30 minutes later I added half a bag of pasta twirls to the soup to cook. About 10 minutes before we were ready to eat, I put a bag of steam-in-the-bag veggies in the microwave, and when they were done, they went in the pot too.
To go with our meal, I heated up a couple of the free rolls we got from Golden Corral last night. And this was the result.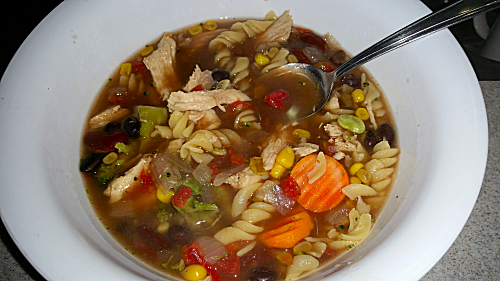 Really, really good. And enough left over so that we can add another couple of cans of stuff, and maybe some more chicken broth, and we're good to go all over again. Which will probably be Wednesday night after we get back to the Colorado River Thousand Trails.
Tomorrow we're going to take down to Fry's Electronics for a few things, and then eat at Grimaldi's Pizzeria on the way home.
---
January 4, 2016
But The Patient Died . . .
With temps in the 50's, and a lot of sun, it was perfect for a walk this morning.
But I had to map up a new 1 mile trek for us since we're parked closer to the river this time, and not up on the 'A' Loop where our previous route was located.
So I ended up with us doing a double loop around the 'C' and 'D' roads.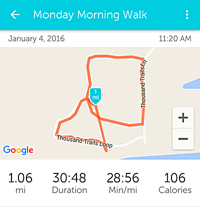 During our walk we did check out the Colorado River for the first time since the recent flooding. There was more water there than we've seen in the past, but not a lot really.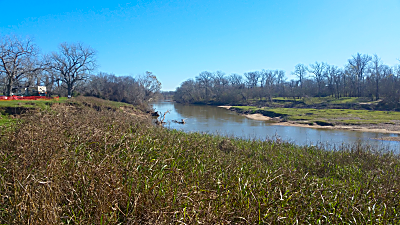 We did see the riverbank cave-in, another flooding leftover. They've got it roped off, but it doesn't look like they plan to do anything about it.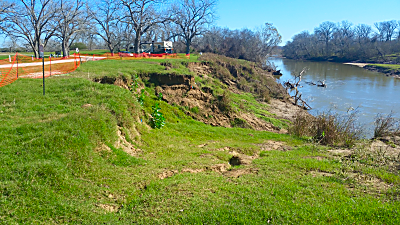 Along the way we ran into Janice Evans, Debi Hurlburt, and I think, Claudia Horak and Lynette Starwalt in the back seat. They were on a girl's day out and were coming back for a left-behind cellphone.
Getting back to the rig, we sat out in the sun with our coffee and breakfast bread, enjoying the sunshine and the nice views.
Back inside, Jan read and I worked on several projects before getting back to my cellphone repair.
Well, the operation was a success, but . . .
I worked a little longer on my son Chris' Galaxy S5 cellphone, to remove and replace the cracked front glass.
The actual removal process went fairly smoothly, just time-consuming.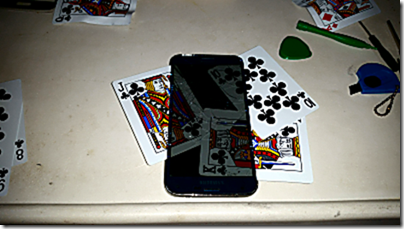 Getting to this point by using a hair dryer, it took a couple of hours of slowly and carefully prying off the glass. At this point, I put the battery back in, turned the unit on, and it still worked.
But things went quickly downhill after that. When I completely separated the glass from the LED/digitizer board underneath, I discovered that the thing I had been trying to avoid, cracking the LED, had been pre-done for me. The board was already cracked along a crack in the glass itself, but it was still working because glass glued on top was holding it all together. But as soon as I removed the glass, the LED screen came apart and just up and died.
Bummer!
So now we'll have to go the more expensive route and replace the $125 glass/screen combo rather than the $10 glass that I already bought. I guess I can save it in case I break my glass, but I have an Otterbox on mine which makes it a lot harder to break.
Later in the afternoon, our ex-next door neighbor's Bonnie and Vance Clegg stopped by to say "Hi".
They were parked next to us when we were here at Colorado River a couple of weeks ago, and are still in the same space up in the 'A' loop. But somebody was already in our A2 space, so we had to park down here this time.
---
January 4, 2017
See I Told You So . . .
Well, no new Gate call today, so to guarantee one for tomorrow we've scheduled a day trip into San Antonio once again.
So if I don't hear from Todd tomorrow morning, we'll head out about 11am with a first stop at the Wal-Mart/Sam's Club in the City Base area. Then it's on to see Passengers at the Alamo Quarry theater. Then to top off the night we'll meet up with Jim and Peri Dean at our other favorite San Antonio eatery, La Fonda on Main.
Of course scheduling this much fun is almost sure to attract a new gate job. So we'll have to see how it goes.
Next up, I want to thank everyone for their kind words of encouragement on my blog topics. It's always helps to know that there's somebody out there on the other end of the Internet who appreciates my efforts. Thanks again.
As I mentioned I'm working on a couple of other articles, one on Global Warming, and another on the National Popular Vote Interstate Compact(NPVIC).
This is an agreement between states that they will give their Electoral Votes to whoever wins the Popular Vote. So far 10 states plus D.C. have signed up. The compact will only become active when enough states with enough Electoral Votes join to guarantee the result.
There are various ideas on the legality of the whole thing due to the fact that Article I, Section 10 of the US Constitution states that: "No State shall, without the Consent of Congress . . . enter into any Agreement or Compact with another State, or with a foreign Power."
And actually the last time a group of States made a compact, it led to what we call in the south, 'The Recent Unpleasantness' or 'The War of Northern Aggression'. You Yankees call it the Civil War.
So there is that.
See I Told You So. Regular readers know about my (and Jan too, to a lesser degree) love of hot stuff. Hot wings, hot Mexican food, BBQ, pretty much anything. And I've seen articles in the past about the possible health benefits. And now here's another one.
Though in this one, they think you won't get the full benefit from eating the capsaicin, but that it must be part of a drug treatment. But other articles say different.
Of course it may just be Big Pharma trying to keep me away from the hot wings so they can sell me something expensive.
---
January 4, 2018
Jan's Home!
After a lot of starts and stops, I picked up Jan at the hospital entrance a few minutes after 4pm. And boy was she glad to get out of there. Kind of like escaping from prison.
Our first stop was at my client's to pick up an Amazon package that came in today, then off to Sam's Club to pick her Levaquin prescription. Levaquin is the antibiotic she'll be on for the next 3 weeks. They also gave us a couple scripts for a painkiller and something for spasms, but they're both p.r.n. or 'as needed', so we'll wait and see if they're needed before picking them up.
Then it was on to King Food for a big bowl of their Hot & Sour Soup and an order of their Crispy Chicken Wings with Garlic Butter Sauce. Really delicious. We were first introduced to these by Brand and Lowell at our Christmas Eve dinner at King Food.
We were back at the about 6:30 and Jan was really happy to be on her sofa again. She's getting around fine on her own, but still a little shaky so she takes it slow.
Looks like they will be taking care of her remaining kidney stone using Lithotripsy as they had thought. That procedure is scheduled for 11:30 January 12th. She also has a meeting scheduled with the anesthesiologist for the 10th to go over things beforehand.
---
January 4, 2020
Making Up For Lost Steak . . .
About 4pm Jan and I headed up to the Saltgrass Steakhouse in Webster to make up for missing our New Year's Eve dinner while she was under the weather with our sequential colds. So, since the only cold-related problems we've got is an occasional hacking cough, we decided that tonight was the night.
We've found that if we can get there around 4:30 or so, or at least before 5, we can usually get a table pretty fast, or even immediately, like tonight. But by 5:30 the place was full and there was a line.
Between the Wedge Salads, Jan's 9oz. Filet and my 16oz Ribeye, the meal was as delicious as usual. And even better, we had a $25 discount on our Loyalty Card, so my steak was pretty much free.
Coming home, we had planned to drop off our Christmas decorations at the storage room. Both of them.
Our Rig Christmas Tree,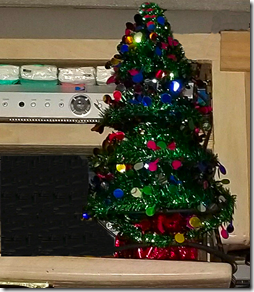 and our Christmas Wreath on the front of the rig.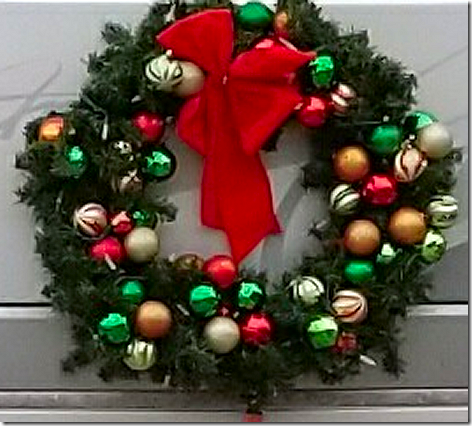 but it was getting dark so we'll do that tomorrow probably.
Between everything we had going on, and our NYC trip, I never did get around to putting up any lights this year.
Bah Humbug!
I'm sure you've probably seen the TV commercials for the TV streaming channel, CuriosityStream. Started by the founder of the Discovery Channel, it features very well made shows on History, Science, Space, Society, Technology, and a lot more.
We had been talking about signing up, and then Jan found a post on Facebook giving you a 40% discount for yearly signups. So 1 year of HD service, that's normally $19.99 is now $12.99.
For an entire year.
And if you want 4K service, it's $42.99 rather than $69.99. Another great deal.
But there is a lot of 4K content on the HD service, also. Which meant that I got to see 4K video on our TV this afternoon, and it's fantastic.
BTW this sale only goes through tomorrow, so check it out now at the link above.
---
January 4, 2021
No Blog Tonight . . .
Just Don't Feel Like Doing One.
But I will leave you with one of Landon's Christmas presents. Brandi found this waiting for her when she got up this morning.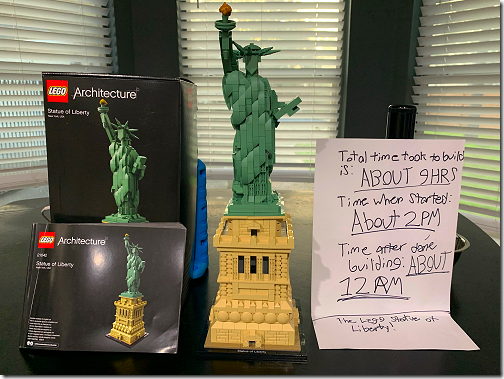 He worked on it straight through after they got home yesterday. Nice job!