Daily Archives:
January 18, 2023
Not a lot new happened today.
Still slogging through the manual for our new machines, trying to make sense of the Polenglish that they're written in, and getting into American English.
---
Thought For The Day:
Sarcasm. Because murder charges are expensive.
---
January 18, 2011
Bingo and Turkey Vultures . . .
Well, today was supposed to be nice, perfect for working outside on rig stuff. But, once again…
They lied!
It was really overcast when I got up, but after a while I decided to give it a try.
And, of course, as soon as I got set up and started working on installing the new wheel well flanges, it started raining.
Of course it did.
About 1:30 I headed up to Clear Lake to check in on a client that was having some problems. Then after about a hour getting him fixed up, I drove over to my doctor's office to see about coming in early to my blood work done, before my appointment next Tuesday. So now I have an appointment to go by this Thursday to get that taken care of.
Getting back to the rig a little after 4, Jan and I headed right back out to pick up our granddaughter Piper for Bingo.
As regular readers know, Miss Piper had two wisdom teeth out last Friday and she's still a bit under the weather, but well enough to play Bingo.
We met our friends Bob and Maria at Garcia's Grill in Dickinson for supper, and then Jan, Piper, and Maria headed out to play Bingo.
In the meantime, I dropped Bob off at his house and then I headed up to Clear Lake to a client's office to install the new 2011 UPS Worldship Shipping software.
And, lo and behold, the install went smoothly with no glitches. Very unusual, believe me.
I picked Jan and Piper up about 10:15, and was greeted with the news that the only person that won anything was Maria, and she was one of 13 winners of a $100 pot.
So after taxes, she got a little over $5. Bummer.
After dropping Miss Piper off, we got back to the rig about 11:00.
Hopefully tomorrow's weather will be better. At least they say it will. But then they said that today, too.
On a different note, Jan and I have been noticing all the "buzzards" flying around FM517 about half a mile east of I-45.
Late in the afternoon you can see hundreds of them circling overhead, and then they roosting the surrounding pine trees. Soon it looks like the trees are decorated with large black ornaments.
A little research told me that there's really no such animal as a buzzard. It's kind of a generic name for vultures, and even some hawks and other raptors.
A little more Googling told me that these are Turkey Vultures.
The main difference between Turkey Vultures and Black Vultures is the Turkey Vulture has a red head, and the Black Vulture has a grey head.
It's hard to tell from the last picture of two vultures sitting in the tree, but their heads are red.
I haven't been able to find anything about why they roost in that area. It's right along a 4 lane street and next to a city park. I can't imagine there are a lot of dead bodies in the area.
At least I hope not.
---
January 18, 2012
Chicken Fajitas & Fry's . . .
Today was pretty straight forward, with not a lot really happening.
After doing some stuff around the rig, I headed out about 1pm up toward Clear Lake. My first stop was Fry's Electronics where I was looking for some check printing software.
My client's website takes checks online and uses the software to print out a check using the customer-supplied routing and account numbers. My client then deposits the check in his bank just like a regular check.
But since we upgraded his main machine to Win 7, the old DOS-based check printing program will no longer run, so I'm looking for a new program for him.
After finding something I hope will work, I drove over to my client's for the afternoon.
But, by the time the afternoon was over, we had decided to replace the ornery computer with a new Win 7 model, thus taking care of all of our networking problems.
Works for me.
I headed home about 4:30, and then turned around and Jan and I headed up the road to La Brisa for a great dinner. Jan had the Chicken-Stuffed Avocado with Chicken Fajitas and a couple of Shrimp Brochettes, while I had a Trio Combo, with Beef Fajitas, Chicken Fajitas, and Ribs. As delicious as usual.
---
January 18, 2014
Bins and Booze . . .
Our beautiful weather here on Dickinson Bayou continues with highs in the 60's and lows in the 40's. And even better, the long range 10 day forecast shows pretty much more of the same. Yay!
A knock at the rig door this morning introduced me to Lloyd Jackson, a blog reader who's staying down the road at Green Caye RV Park, and wanted to introduce himself and inquire about my upcoming windshield replacement since he needs to replace his too. Lloyd reads our blog so he's pretty much up on everything. It's always fun to meet our readers as we travel around the country.
Later I spent some more time going through some of the rig bays, sorting stuff out. I've finally decided what I want to about the stuff stored in the back of the truck.
Rather than store stuff either loose or in a couple of large bins, I'm going to get a number of these plastic file boxes.
These will allow me to sort things into labeled boxes so I won't lose things like before. Yeah, right.
About 4:15 Jan and I headed up to Webster where I dropped her off at Carrabba's Italian Grill about 5. Jan was there for her yearly get-together with her former hospital coworkers. They've all gotten together like this every year since we started RV'ing in 2008.
They had their usual great time, until a lady sitting behind Jan slung her glass of wine over Jan and a couple of the other ladies. Without even much of apology either. When I picked her up about 8, I told her she smelled like she had a really good time.
While she was partying, I grabbed a couple of steak fajita tacos from Taco Cabana before heading over to a client's office to work on their Point of Sale Cash Register System. They had been having a problem with one of their remote units and I figured that the problem might have been caused when they changed to a new Internet provider who also changed some things on their internal network.
As it turned out I was right, and I got things reconfigured and back up and running pretty quickly. Then I spent the rest of the time updating the machines and cleaning out the gunk.
And with her usual perfect timing, Jan called to be picked up just as I finishing.
Tomorrow morning Jan and I are going to get together with our long-time friend's, Bobby and Maria, for breakfast at the IHOP up in Kemah. We're really looking forward to it.
---
January 18, 2015
Gosh Darn It . . .
Another beautiful day today, sunny with a high of 69, and a low of 39 tonight. Pretty much perfect weather to us.
I spent most of the early afternoon working on a website problem with Godaddy and the maker of a software package I'm using, going back and forth between the two, trying to figure out why I'm getting an error message instead of being redirected to the Thank You page.
Part of the problem is the time lag going back and forth between the two. But we'll get it fixed eventually.
While I was waiting to hear back from anybody, I got back working on installing the new Moen kitchen faucet hose that just came in yesterday. It actually turned out to be pretty easy since the connection under the sink was a quick-disconnect. It was the 'getting' under the sink part that was the problem.
But I got it hooked up and then tested it. And Gosh Darn It (insert your own words here) the new hose leaks exactly like the old one did.
At the faucet end of the hose there is a ball-joint where the hose screws into the spray nozzle. Water is leaking from out around the ball-joint in the connector.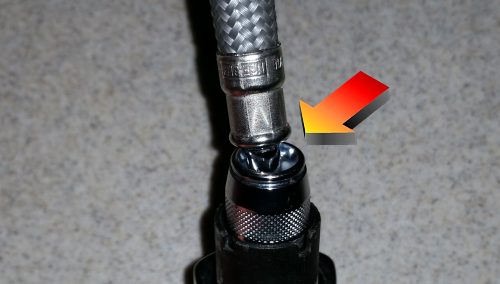 So I guess the trouble must be with the spray nozzle, but I sure can't see any problem with it. The screw ring tightens down on the threaded end of the nozzle just fine. So it's back on the phone to Moen tomorrow.
About 4:30 Jan and I drove around the circle, picked up our friend Randy at his RV, and then headed up to La Grange to introduce him to Sealand Seafood. You wouldn't think that a place like this would have great seafood, but it does.
And lucky for us, Randy agreed.
Jan and I had our usual 2 Fish, 6 Shrimp, 6 Oysters platter, while Randy had the Blacken Tilapia with Crawfish Etouffee. Ours was as delicious as usual, and Randy said his was the best he'd ever eaten. And the servings were big enough that we all had leftovers for another meal.
It looks like things are maybe getting closer with Galveston Bay RV Resort. They posted a photo this afternoon and said the new sites were very close to being done.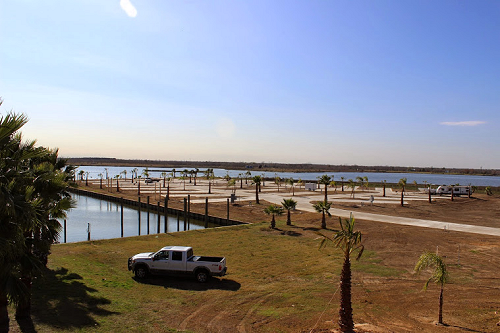 Hope so. It would be really nice if when we leave here Wednesday morning, we could go down to Galveston Bay, instead of back to the Conroe Thousand Trails.
---
January 18, 2016
When One Door Closes . . .
Jan felt kind of 'blah' this morning so we didn't walk. But she did fix us great breakfast sandwiches, using the biscuits and the leftover omelet from yesterday's breakfast at Schobels in Columbus.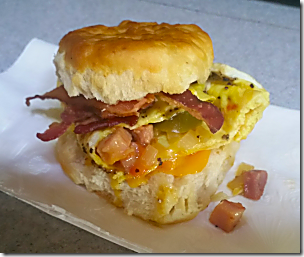 Toasted up in the oven, it's made for a very tasty breakfast.
After a lot of computer stuff, I took a look at my screen door problem. I had planned to remove the door and store it in the back of the truck, but that didn't work out. Due to the fact that the door is almost 7 feet tall. It sure didn't look that tall, but a measuring tape told the tale. It wouldn't fit.
But I still wanted to take it off to look at the hinges, even if temporarily.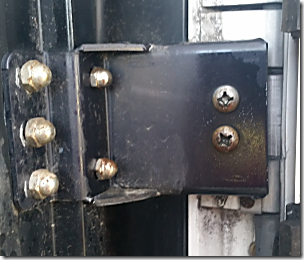 I sprayed the 4 screws with WD-40 and let it penetrate for a while. After about 30 minutes I used my large #3 Phillips head bit and long extension to get the screws loose.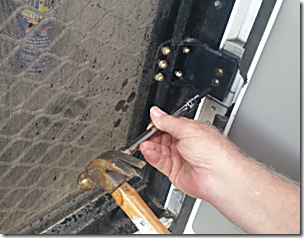 Using a small hammer, I tapped the driver bit a few times in each screw. This did two things, it helps break the screws loose, and it sets the bit into the softer screw metal, making it grab better and not wallow out. And it worked. When I used my ratchet with the extension and driver bit, the screws broke loose with a snap and came right off.
About this time our friend Rudy Legett called and said he was in the area, and wanted to come by and say 'Hi'. We last saw Rudy and his wife Carolyn last July up in Fort Smith, AR while we were heading back to North Alabama after our two month sojourn in Prescott, AZ for our blow-out repair. Rudy and his wife were heading north for the summer and our paths crossed for a couple of days.
We were staying at the Springhill COE park, and they ended up parked right across from us. We first met Rudy and his wife several years ago when we were staying down in the Dickinson area, and went out to lunch with them. So it was good to get back together for dinner here too.
Rudy is an Aqua-Hot technician, and services their hydronic systems that act as both a water heater and heater for your coach. A really nice system.
After Rudy left, I took a quick look at another door problem that I've had. When the rig is up on the levelers, the door is torqued slightly, and it's sometime difficult to get the door to lock correctly.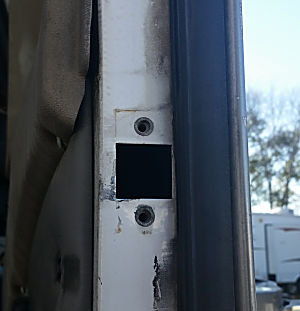 What I found is that the latch just barely clears the bottom of the hole, keeping the bar from engaging and locking the door. So I thought for a few minutes and decided the quickest way to fix the problem is just to 'brute force' it.
So breaking out my recip saw, and chucking a metal blade, I cut a couple of notches in the bottom and ended up with this.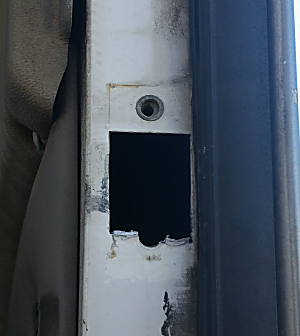 Now the door locks just fine, with no binding. I'll dig out a file tomorrow and even out the cuts, to neaten it up. But for now the problem is fixed.
Tomorrow it's back the screen door.
About 4pm Jan and I drove into Conroe to have dinner at Raising Cane's Chicken Fingers, a chain that we first encountered in the Bryan/College Station area in 2014 when we were gate guarding about 20 miles east of there.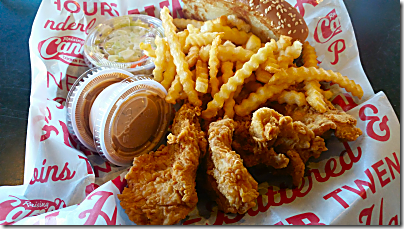 We've also eaten at several of them on the road, and this one in Conroe. It's a simple menu, with only chicken fingers, fries, Cole Slaw, and Texas toast.
But simple is good, especially when you do it right. And they do.
Really good.
Coming home, Jan wanted something sweet, so we stopped at a nearby Panera Bread where Jan picked out a Chocolate-filled Croissant and I got a Cranberry Orange Muffin. Both really good several hours for a late night snack.
The weather should be nice tomorrow morning so maybe we'll be able to get a walk in. I've mapped out a new route for here at Lake Conroe since we're walking further now since we were here two weeks ago.
But we'll see how it goes.
---
January 18, 2017
Rigging Down?
We still don't know exactly when yet, but they're supposed to start wrapping this part of the pre-frack up tonight or tomorrow.
Maybe. You never know when they'll break something, and then it'll be a couple of extra days. But hey, more money for us.
This will probably be an even shorter blog than the recent short ones, since I'm typing it on the laptop sitting in the truck on the pad. So we'll see how long the battery lasts.
Although we like the money with both of us working, this 2- 1/2 hour round trip out here from Kenedy is really eating into our sleep time. So before the actual frack starts in the next week or so, we're definitely moving over here to Westhoff from Kenedy. This will make our commute time less than 10 minutes each way. That will be much nicer.
The only downside is that Jan and I will be working opposite shifts at the same gate, so the whole 'two ships passing in the night' thing. But it will only be for a couple of weeks or so before we leave here for the year on the 15th of February.
This morning on the way home a little after 5am, we stopped at The Donut Palace in Yorktown, one of a number in the area. Seems like every little town has one. Picked up hot, fresh breakfast kolaches for the trip home, and a couple of donuts for later. Plus a couple of breakfast biscuits for tonight's dinner on the gate. All still warm from the oven.
Delicious.
After getting about 5 hours sleep we were up and out the door. Jan had prescriptions to pick up at Wal-Mart, and we wanted to have what might be our last meal at Bella Sera. Then after getting gas (driving 100 miles a day eats it up) we were back at the rig for about an hour nap before heading back out about 3:30pm.
After dropping Jan off at the front gate and driving into the pad which is almost 5 miles further in, I caught with a Waterbuck antelope just running down the side of the road along the fence line.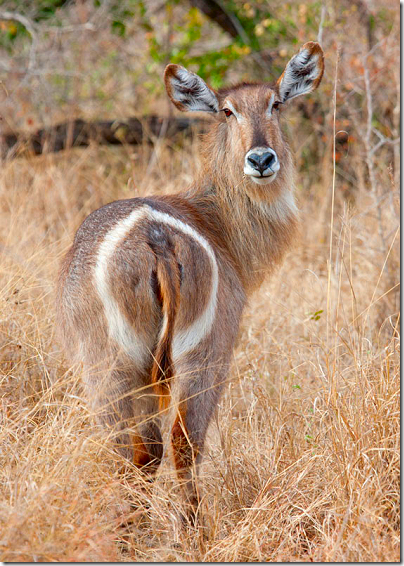 Waterbucks are always easy to identify by the white ring on their rear ends.
Asking around, I found out there's a whole lot of game animals around here, zebras, other antelopes, and more.
---
January 18, 2018
I Depend On The Kindness Of Strangers . . .
We only got down to about 30° last night, much better than yesterday's 23. And it finally made it into the 40's today.
And as of yesterday there was snow on the ground in all 50 states.
Jan continues to feel good, with absolutely no pain whatsoever as a result of her lithotripsy. Hopefully that will continue. Now she just needs to get all her stamina back.
About 3pm I went outside and reconnected us to shore water. Even though it had been in the 40's for a while I still had icicles hanging off the rig. I also turned off the heat lamp but left it in the bay since we almost certainly have more cold weather to come.
I finally got tired of cleaning calcium buildup and debris out of the flow restrictor in our Oxygenics shower head.

This low pressure problem was recently aggravated by using the rig water system the last couple of days, so I took care of the problem permanently. I took my drill and drilled the offending disk out.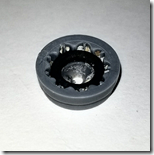 No more problems now and the water pressure is great.
This year's flu is looking worse and worse, especially since this year's vaccine is said to be only about 10% effective against the N3N2 version that's causing all the problems. However some authorities say it might be effective as much as 30% of the time. And it MIGHT make the symptoms of the other flu's less. Oh Boy!
I have not had a flu shot since 1965-66, and I don't plan to ever have another one. Jan got them regularly when she was working at area hospitals (it was required), and occasionally since then.
When Jan was in the hospital recently, her doctor asked me if she had had a flu shot this year and I said No. So he ask if she wanted to get one while she was in the hospital and I again said No, especially since it wasn't very effective this year,
He nodded his head and said that he was hearing that from a lot of people this year.
In fact I've only had two flu shots in my life, the one in the winter of 65-66 and the winter before, in 64-65. And the reason I had those two was that I didn't have choice either. I was attending Columbia Military Academy and it was required.
After the first one I was so sick that I missed classes for four days. But the next year I didn't fare nearly as well.
I passed out on my way back to the dorm and was in the hospital for almost two weeks. And based on that history the doctor told me that if I ever got another one it might possibly kill me.
So you tell me, would you take that chance?
So as I tell everyone, I depend on the kindness of strangers. If EVERYONE else gets vaccinated like they're supposed to, then I won't have to worry about the flu because there will be no one for me to catch it from.
So you all know what you have to do.
---
January 18, 2019
Jan's A Happy Camper . . .
We arrived at the Alvin office of Jan's ophthalmologist about 7:15am for her 7:35 checkup on yesterday's cataract surgery.
Only to find the parking lot empty and the office dark. Which was completely unlike her last visit the day after the surgery on her left eye, when the parking lot was more than half full and the place was bustling.
But at 7:30 people pulled into the parking lot and the lights came on.
The doctor checking her was someone we haven't seen before, but we both really liked him. He said Jan was doing fine, and to come back in a week for another checkup. Then in a month, she'll come back for her final visit and her new eyeglass prescription. At that point she should be done and done.
For her part Jan's much happier with the short-term results on her right eye than her left one. She says that right off the bat she's seeing much better with her right eye that she did after a week or so after her left one. The doctor said that this is not unusual at all.
Jan got a pair of readers a week or so, and so far, they're working great for her, letting her read her Kindles, laptop, and the desktop.
---
January 18, 2020
Bits And Pieces, Odds And Ends . . .
I recently came across a couple of new cables for charging all the many devices we seemed to have accumulated, one very useful and the other one just neat.
We have a couple of devices that stay plugged in and charging pretty much 100% of the time, which of course is not good for the batteries.
One of them is our Verizon MiFi which runs all our many WiFi-controlled devices here in the coach, from our Wyze security cameras to our SmartBot coffee pot controller, and the number of WiFi switches we have. So it needs to stay plugged in all the time
The other one is Jan's Samsung Galaxy S5 phone. It's mainly used so that I can call Jan when I'm at work or out and about. Otherwise it just sits on the counter. And if it gets unplugged after it's 100% charged, it often gets forgotten until it runs down and shuts off.
I've tried using timers to shut them off on a schedule, but they always seem to still get overcharged, or they run down. But then I came across these cables.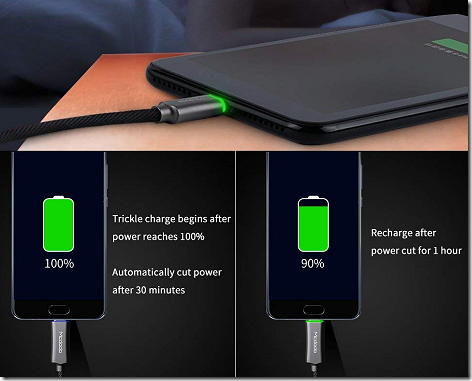 Cable Auto Disconnect Smart Charging Male to Male USB C Cable
They charge the device up to 100% and then shut off until the charge drops to about 90% and then turn back on. Lather, Rinse, Repeat.
The other cables are just neat, and very colorful.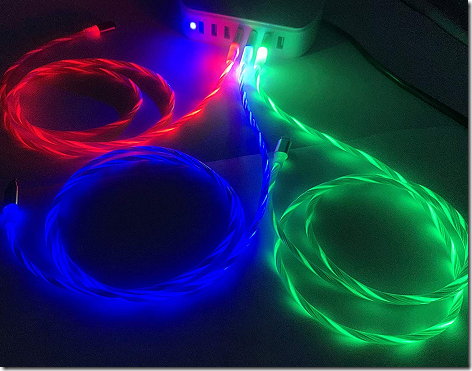 This evening I went online and reserved seats for Knives Out at the theater up in Webster for tomorrow afternoon. Using Flixster on my phone, I was able to reserve our seats and pay for them through the app.
This is the same theater where we saw Downton Abbey a few months ago, and it has the new very comfortable recliners.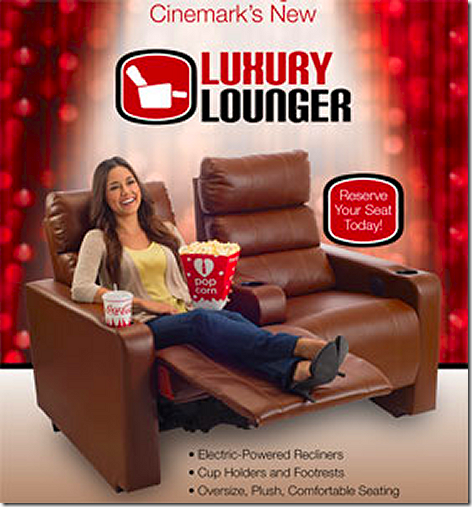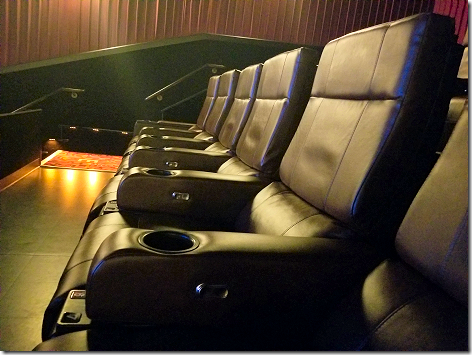 So comfortable, in fact, that you have to be careful not to fall asleep. Or at least Jan does.
Though I guess it depends on the movie. A few years ago we somehow ended up taking Landon to see the SpongeBob Square Pants movie and all 3 of us fell asleep. And that was without recliners.
At the time Jan and I both agreed that that was an hour and 40 minutes we would never get back.
And we still haven't.