Daily Archives:
March 12, 2015
About 7 miles down the road.
While I slept in a little, Jan headed out to catch the movie about the life of Kay Peterson and her husband who founded the Escapees RV organization in 1978. Then after coming back to the rig for coffee, she headed back out again for the Escapees Pet Parade, and then the Chili Cook-off.
She later said there were some really good chili's and some really bad ones. And some she didn't dare try at all. But they did raise about $11,000 for CARE (Continuing Assistance for Retired Escapees), the Escapees adult day care program.
While Jan was out gallivanting around, I was getting us ready to roll. Around 3, we're going to move about 7 miles west over to the Voyager RV Resort for the next week, before heading up to Apache Junction.
We pulled out about 2:30, and looking back as we got on I-10W, we saw Nick and Terry right behind us. Ten minutes later we were pulling up to the guard house at Voyager and getting checked in.. Although we couldn't get parked next door to each other, we're only 5 spaces apart, so it works.
After getting parked and plugged in, the first thing Jan did after turning on the AC (for the first time in a week since we've been on 30amps) was to started doing a week's worth of catch-up laundry.
About 4 Nick and Terry picked us up to head out for dinner at Poco & Mom's, where Jan and I just ate a couple of nights ago. But it was good enough (great enough?) to go back again. Even better our mutual friends, Tom and Barb Westerfield, were meeting us there.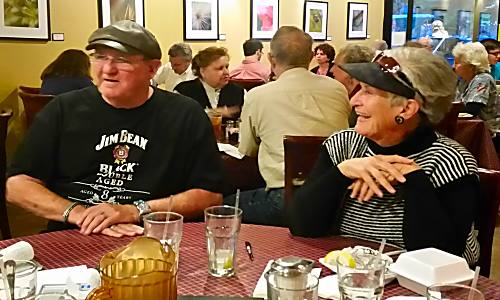 We've known them for years, but tonight was the first time we've had a chance to get together at this rally.
Jan and I both had the same Combo Plate, and we both agreed that, if anything, it was better tonight than last time. And it was great last time.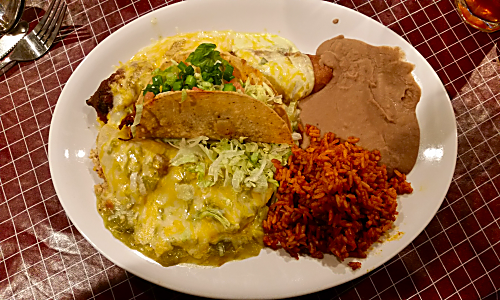 Luckily, by getting there at 4:30, we got a table for 6 right away, because about 30 minutes later the place began to fill up. And as usual when RV'ers get together, we spent longer at the table just talking afterwards than we did eating to start with.
It was really good to see Tom and Barb again. Hopefully it won't be so long next time.
__________________________________________________________________
Thought for the Day:
I have yet to see any problem, however complicated, which, when you looked at it in just the right way, did not become still more complicated. – Poul Anderson
sfdgsf