Voyager Bound . . .
Since we only had a 33 mile trip this morning, we didn't get up until a little after 7:30 and then took our time getting ready to roll.
---
---
But after calling Voyager RV Resort and being told we couldn't come in until after 11am, we decided we had time for breakfast. And remembering the extensive breakfast menu at the Horseshoe Café & Bakery from our visit last Thursday, we headed into Benson to give it a try.
And we weren't the only ones, with a 20 minute wait before we got seated. But the service was fast, and the coffee was great.
Jan got her favorite Mushroom and Cheese Omelet with Country Potatoes, Bacon, and a Biscuit.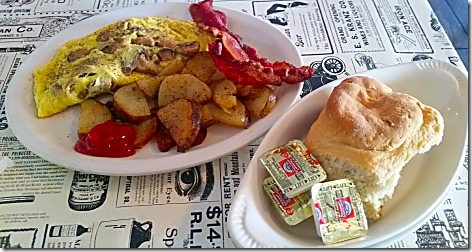 I went with the Wagon Wheel Breakfast, with Eggs, Bacon, Sausage Links, and a Belgian Waffle.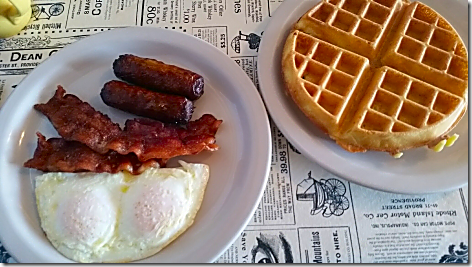 Really, really good, and we both had plenty of leftovers, too.
Back at the rig a little after 10, we finished packing everything away and cranked up the rig a little after 10:30, planning to leave in about 10 minutes. But first we had to get the slide in.
Although we had no problem bring it in when we left Las Cruces last Tuesday, putting it out when we got here at Cochise Terrace in Benson was a different story, with a lot of jerking and groaning.
And this morning didn't get any better. The right side only went out about 3 inches and then stopped, while the left side kept going. So it was outside and into the bay under the slide to check out the problem.
At first everything looked fine as I had Jan move the slide in and out a bit. But finally looking down on the floor of the bay, I found a sheared-off bolt, and nearby, the broken nut end.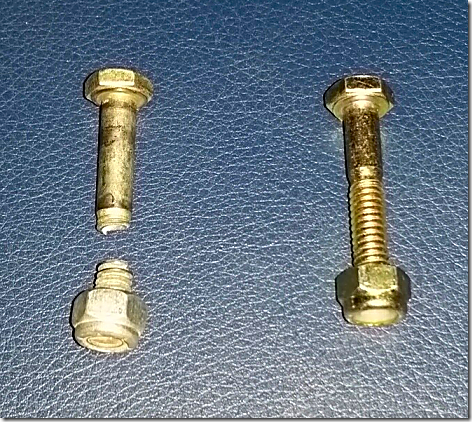 This led me to pull back the square shaft from the inside round shaft, so now it was obvious where the bolt came from. But why did the bolt shear off and the shear pin right behind it was fine. A little further investigation told me the reason.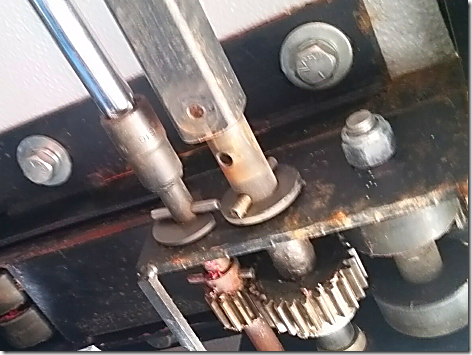 The shear pin on the manual drive shaft to the left was sticking out a little too far and was jamming against the round base on the other shaft and maybe occasionally hitting the other shear pin too.
So now it was off to the Ace Hardware in Benson for a new bolt. Actually four new bolts. One for the repair and three for spares. You know me.
---
---
The guy at the hardware store confirmed what I thought I remembered, that the six lines on the bolt head indicated that the old bolt was a Grade 8, the hardest and strongest of standard bolts. So I was careful to get replacements of the same grade.
Getting back to the rig, I knocked the offending shear pin back out of the way a little and then jogged the manual drive to line up the two shaft holes, installed the bolt, and I was done.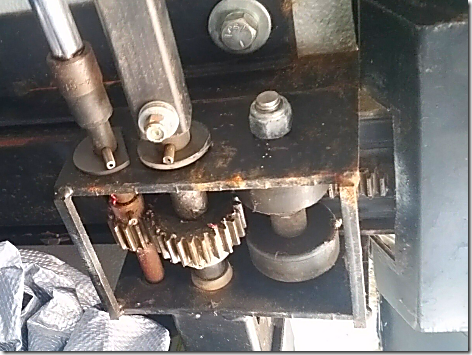 I hoped.
And after cranking up, the slide came in smooth as silk.
So a few minutes later we were on our way, with Jan following me in the truck. No need to hitch up for a 30+ mile run.
We were checked in at Voyager and waiting to be parked by about 1:15pm. Unfortunately the lady who guided me to our site thought she also knew how to park me.
Now Jan and I have been doing this for over nine years and we've got it down to a science. I tried to tell the lady that Jan and I could park just fine by ourselves without her 'help'. But she was insistent that it was going to be done her way.
Jan said later she wondered why I kept jogging back and forth and 'didn't just pull in and park like we normally do". I said it was because you weren't guiding me, she was, and she didn't know what she was doing.
But we did end up parked right next to our friend's Chris and Charles Yust, so it all worked out for the best.
After we got parked, and after just plugging in power for the AC's, we headed down the the Pima County Fairgrounds to get registered for the Escapade. Then it was off to the nearby Wal-Mart for a few things. The last time Jan had been to a Wal-Mart was about two weeks ago and she was starting to have withdrawal pains.
Later, we headed out with Chris and Charles to have dinner with some friends at a favorite place of theirs, Rigo's, off 1-10 West, just south of the Silver Saddle Steakhouse.
And with a delicious Mexican buffet, Rigo's is now a favorite of ours. Though Jan stuck with her Chile Rellenos, I did try the buffet, and it was great. And it was 2 for 1 Beer Night!
Caldo (Beef and Vegetable) Soup, Cheese and Potato Soup, Beef Fajitas, Shrimp Fajitas, Tacos with all the fixin's, and a lot more. Plus Sopapillas and Rice Pudding for dessert.
And they also have a Breakfast and Lunch Buffet.
I did manage to get a picture of the whole motley crew. Well, almost the 'whole' crew.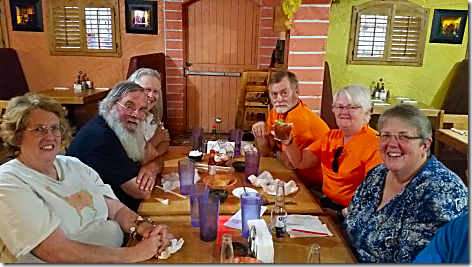 Somehow I manage to leave Charles out of the photo on the front right. My excuse?
I had two beers. But then I wasn't driving.
On the left, we have Jan, Bob, and Sandy. And on the right, there's a small part of Charles, Chris, Mickey, and Lynn.
We had a great time, and what's more amazing, we weren't the loudest group there. Very unusual, believe me.
---
---
Tomorrow is first day of the Escapade, although the seminars don't start until Monday. so Jan and I will get to spend some time roaming the Vendor area, buying stuff we want, but probably don't need. Sounds like fun.
---
Thought for the Day:
"I have a psychological disorder that prevents me from keeping thoughts inside my head where they belong. "
adsfasdf