Pelicans and Dolphins and Cranes, Oh My. . .
For everyone who has emailed their concern about our proximity to Hurricane Michael, we're fine. In fact, except for some overcast skies, rain sprinkles, and brisk winds, we've seen no sign of Michael.
Of course the same can not be said for the people a couple of hundred miles to our west. Our thoughts and prayers go out to everyone in the storm's path.
First to catch up on last night's visit to the Dixie Crossroad's restaurant in Titusville, a long-time favorite of our since the 80's. We had been disappointed to hear that since the place had changed hands a while back, the quality had gone down, even to the point of no longer service the free basket of corn fritters that came with the meal.
So we were very happy to see a basket of them on our table.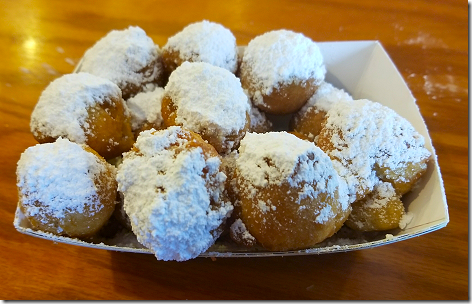 And the food, and the service, pretty much held up for the rest of the meal. Jan had a salad,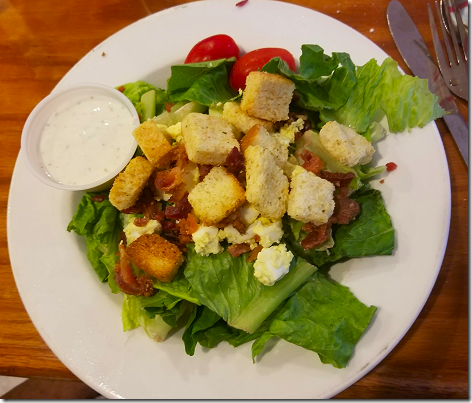 and the Fried Mullet with Garlic Butter Steamed Veggies.
One thing funny is that Dixie Crossroad's is known for their Mullet. And when I was growing up in south Alabama, mullet was the go-to fish for any fish fry. Though they won't normally bite a hook, they're pretty easy to catch a lot pretty quickly with a cast net.
But when we moved out to Texas in late 1978 and tried to order mullet, we found that they considered it a a trash fish, good only cutting up as bait. Different strokes, I guess.
But they're missing out on some good eatin'.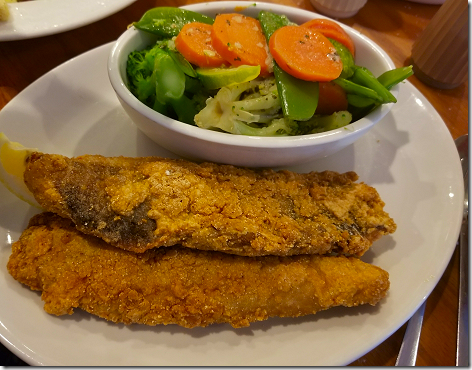 As for me, I started off with a cup of Clam Chowder,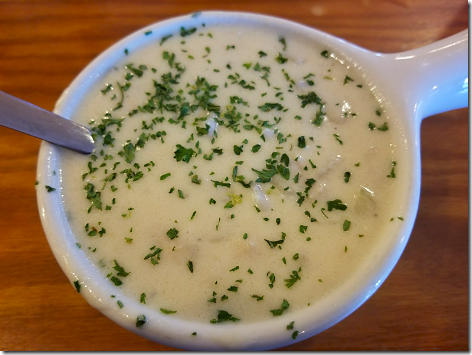 and the Shrimp & Oysters with Cheese Grits.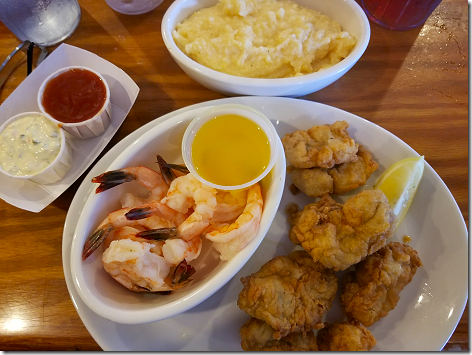 I made the mistake of giving Jan a taste of my chowder and almost didn't get my spoon back. She said that's what she's getting next time.
Everything was really good, so maybe they're back on track, but the prices were a good bit higher than we just paid for similar meals in Gulf Shores and Breaux Bridge.
But still good.
Now to today.
About 11am Jan and I headed into Titusville and the WalMart there to try and get our South Dakota Driver License Renewal / Vision Statement / New Glasses problem straighten out once and for all.
We fell behind the power curve when our long-time mailbox service, My Dakota Address, shut down without notice around the end of July. After having started refusing everyone's mail a week or so earlier.
So with all their ex-customers scrambling to get a new South Dakota address, the remaining services were overwhelmed, which put us into the middle of September to get a new address.
Then I could start putting in the paperwork to renew my South Dakota Driver License. Part of the Renewal By Mail is to have your eyes checked by an Optometrist for the vision part of the renewal, who then fills out a SD DMV form that I submitted to SD with my renewal papers.
But apparently the optometrist checked off something that SD didn't like, so it all started back over again. Then my new glasses, promised to come in before we left for Florida, didn't . And neither did Jan's.
However, they did come in Wednesday after we left, and we got the call while we were sitting in Crazy Bout Crawfish in Breaux Bridge, LA having dinner after the first travel day of our trip.
Luckily I was able to have my client's office manager pick them up that afternoon and get them in the mail to us the next day. I had her send them to Nick's address here in Florida since we would be on the road.
So now, after calls between South Dakota, Webster, TX, and the Walmart here, we may have it straighten out. But I'm not holding my breath.
I guess I'll know more tomorrow when I talk to SD again.
Finally about 2pm we headed up to Edgewater to finally get to see Nick and Terry's house.
And father getting the full tour, I told Nick and Terry it was like Dr. Who's TARDIS. It's bigger on the inside than it is on the outside. It just seems to go on and on. In fact the garage alone is 1100 sqft.
WOW!
A little later Nick took us on a nature tour of his subdivision. I say, nature tour, because we saw Manatees,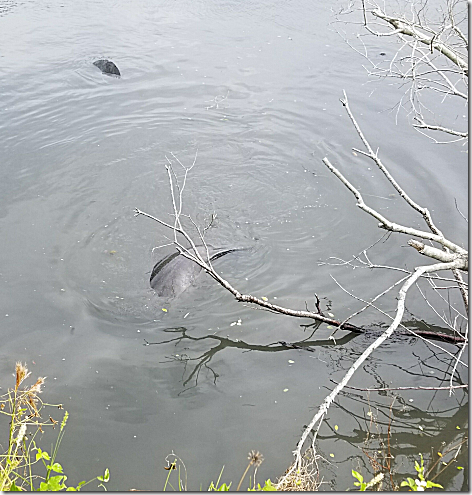 Pelicans,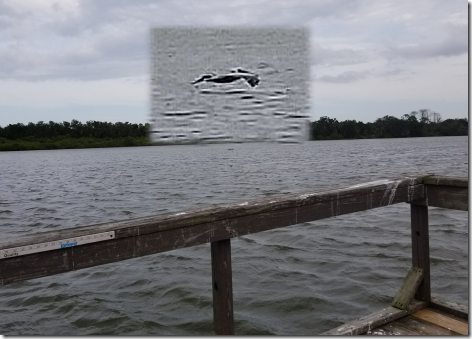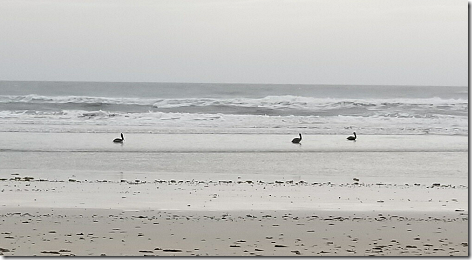 and Dolphins riding the bow wave of a passing boat.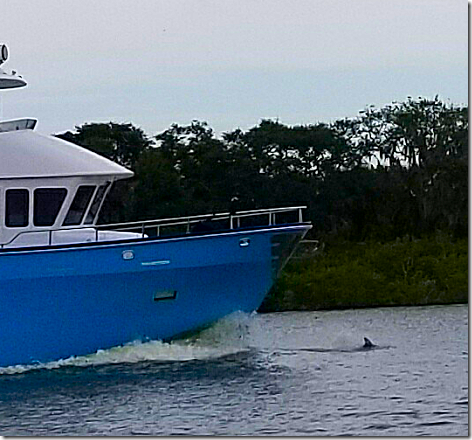 And if that wasn't enough, how about a quartet of Sandhill Cranes just strolling through the neighborhood?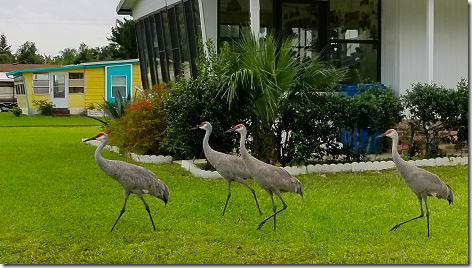 Jan was giddy.
Later, after a drive up to New Smyrna Beach and a drive back down out on said beach, we ended up at Dustin's BBQ in Edgewater.
If you didn't know better, when you walk in, you would think you're in a Sonny's BBQ. The layout is similar, as is menu. And that's because the owner used to work for Sonny's, and then went out and started his own chain with six locations in Florida.
Jan had the Endless Salad Bar and a BBQ Grilled Chicken Breast, while I had the house special, Baby Back Ribs with Cajun Garlic Shrimp, Fried Okra, and Cheese Grits.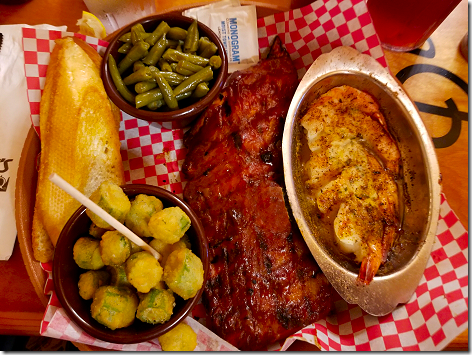 All really good, and hopefully we'll get to go back before we leave.
Dustin done did Sonny proud.
And tomorrow we'll do it all over again.

---
Thought for the Day:
The first testicular guard, the "Cup," was used in Hockey in 1874 and the first helmet was used in 1974. That means it only took 100 years for us men to realize our brains are also important.
Sounds about right.
asdfadf