Daily Archives:
November 14, 2020
Last night Jan and I attended our first Alvin Opry performance since last January, and it was good to see a lot of old friends. And what was interesting is that, despite the majority of regular patrons being our age, or even older, as far as anyone could tell, no one had succumbed to the WuFlu. Though a couple of people had contracted it, they had recovered in just a few days with no problem.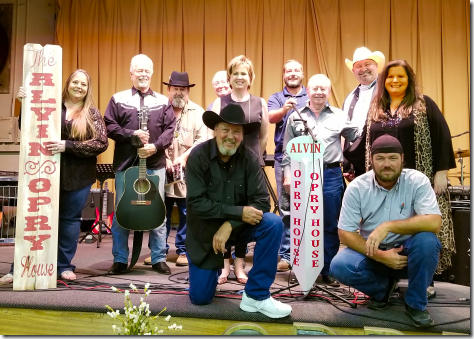 By the time we said our goodbyes and got on the road home after a great performance, Jan had an epiphany. Or maybe it was just hunger pains.
Or more likely, it was the memory of how back in the old days of the Alvin Opry a bunch of us, including some of the performers, would all go out and have a late breakfast after the show. And since Jan decided tonight was going to be a 'cheat' night, she wanted 'sweet and gooey' pancakes. So we headed back over to our usual Denny's for our late-night treat.
Now this is unusual for Jan, since she's not normally a night person, but she was gung-ho tonight. I think the pancakes were calling her name.
Sitting there in the busy Denny's with more and more people coming in, we were talking about the first time Jan got a taste of the late-night life. It was in the Montgomery, AL, probably in the mid-70's, and I had been out of town for some reason.
Getting back late, I talked her into going out about midnight for breakfast at the nearby Sambo's. And after we ordered she looked around in amazement at the crowded restaurant.
"What are all these people doing up this late?", she asked. Laughing, I explained to her that not everyone fell asleep by 8pm like she did, and that there was a whole 'nother world out here at night. Shift workers, truck drivers, and a lot of drunks leaving the bars early, all were in the crowd.
And tonight, true to her word, Jan got the 'sweet and gooey' she wanted, with the Cinnamon Roll Crunch pancakes, along with eggs, bacon, and fruit.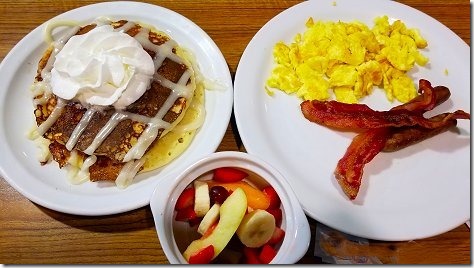 The fruit being a pretense of sticking with our diets, since it replaces the Hash Browns.
Hey, every bit helps.
For my part, I got the Salted Caramel and Banana Cream version, also with eggs, bacon, and fruit.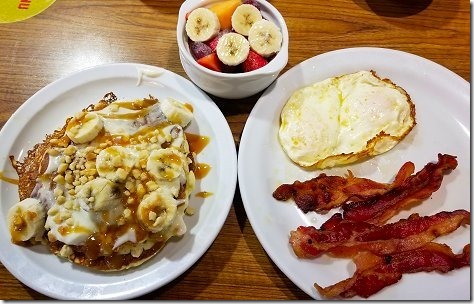 Another fun day.
---
Thought For The Day:
Everyone has three personas. Public, private and what really goes on in their head.
---
November 13, 2009
It sure was Friday the 13th…
Today was not a good day, travelwise that is.
It started out pretty good, though. We pulled out of the Turkey Creek RV Park in Branson right on time at 10 am, heading for Memphis about 265 miles away.
But things went down hill fast after that. Less than a mile from the park, we encountered a steep climbing right-hand turn. I was only going about 25 mph, I mean, I was still in 3rd. The problem was that, although the turn was to the right, the road actually was banked to the left, because another road came in from the left at an angle.
As I went around the corner, this caused the coach to rock pretty far over to the left for a few seconds. And of course a lot of stuff came loose and went sliding over that way as well. What we didn't realize was that this caused the slide to lift up from the floor slightly, just about time that one of the cat food bowls went sliding under it. And then the slide came back down, trapping the bowl underneath it.
But we didn't know this at the time. We had other problems.
The road I had chosen (Well, the GPS had chosen…) turned out to be much more hilly than I had expected. The GPS can show you curves, but not hills. So as soon as I could find a place to pull over, I tried to find a new route.
I found another way to go that was about 40 miles longer, but didn't appear as curvy as the original route. Luckily we had only come about 8 miles, so it wasn't a big deal to turn around. And 30 minutes later we were passing back in front of the RV park going in the opposite direction.
Well, the new route was a little less curvy, but turned out to be just as hilly. The only real plus was that the road was better, even 4 lane in places.
But because of all the hills and curves, it was still slow going. Finally about noon we stopped for a bathroom break. Walking back thru the coach I notice that the slide was tilted back off the floor about two inches. A little hands and knees inspection reveal the culprit…the aforementioned cat food bowl.
And boy was it wedged in tight. After moving the slide in and out slightly didn't help, Jan as finally able to break the bowl with a basin wrench. Thinking ahead, I had positioned a thick book under the slide so we could clean out the broken glass before letting the slide all the way down.
But now the book was stuck. And nothing we tried would free it. This was starting to look like an Abbott and Costello routine.
What I need was a pry bar of some sort to give me enough leverage to lift the slide slightly to free the book and then move the slide out, letting it come off the pry bar. But I just didn't haven't anything that big.
After spending about a hour fooling with this, we decided to wait and try to fix it when we got to Memphis…actually West Memphis, AR.
We finally pulled in the the park about 2 hours late, after dark, in fact. After we got hooked up, I unhitched the truck and drove about 10 miles over the river to a Home Depot in Memphis and bought a 3 ft long piece of 3/4 inch galvanized pipe.
Getting back to the rig, it took about 10 seconds to free the book and set the slide back in place. And all it needed was the right tool…a honkin' big piece of steel pipe.
The slide still works just fine, so hopefully no harm done.
And hopefully, tomorrow will be a better day…
---
November 14, 2009
Tom Sawyer on the Mississippi…
Well, today was certainly better than yesterday. And we got to travel thru 4 different states…AR, TN, MS, and AL.
We woke up this morning to a beautiful view of the Mississippi River from the rear of our coach.
We arrived at Tom Sawyer RV Park in West Memphis, AR after dark, so Jan had no idea how close to the water we were. She was really surprised when she stepped outside this morning.
Later in the evening I kept hearing trains go by, but I didn't remember seeing any tracks nearby. It turned out this is what I was hearing.
After enjoying the view we headed out about 9:30 am across the Mississippi thru Memphis, TN to Athens, AL, about 215 miles away.
It was a much smoother trip than yesterday. No problems at all, really. We did stop for breakfast / lunch (it was lunch time, but we had breakfast) at a Huddle House restaurant in Corinth, MS. Lucky for us, their parking lot was big enough for us to park the rig with no problems.
We pulled into Northgate RV Travel Park about 3pm, and got hooked up. We'll be here for a few days, visiting relatives here in Athens. And, lucky for us, one of my relatives owns the RV park.
We plan on staying here until maybe, Wednesday before heading down to Gulf Shores, AL for a few days, on our way back to Houston.
More tomorrow…
---
November 14, 2011
Jimmy and Lulu . . .
While we're here in Gulf Shores, we staying at the Gulf State Park right across the road from the Gulf. You can here the waves from here.
The sites here in our favorite area are along a large lake and are half circles off the road, so easy in, easy out.
Our rig door is about 20 feet from the bank, giving us a great view of the lake.
If we don't keep Mister on his lease, he goes right down to the edge of the water. We think he's gator hunting.
Brandi and Lowell sent us some photos of Landon at a park play area this weekend. Looks like he mostly had a pretty good time.
Check out those blue eyes.
Landon falls into the clutches of a predatory female. Brandi said he wasn't too happy about the hug.
That'll change someday.
About 3:30 Jan and I drove up to the Intracoastal Canal to have an early supper at Lulu's at Homeport.
Lulu, or Lucy, is Jimmy Buffett's sister and has had a restaurant in this area, first on Weeks Bay and now here in Gulf Shores, since the late '90's.
With its great view of the Canal, Lulu's is one of the most popular places in Gulf Shores. We've watched it grow, and almost double in size in the last few years.
The food is always great here, so the choice was hard. Jan ended up having a Shrimp Loaf, or Po-Boy, and I had the Shrimp and Oyster version.
But it was important that we leave enough room for our favorite dessert – Krispy Kreme Bread Pudding.
That's right. Bread pudding made with Krispy Kreme doughnuts. It's really hard to describe how good this is. It just melts in your mouth.
On another note, as it turns out I had another brush with celebrity growing up here. Well, pre-celebrity, actually.
A while back I read in one of Jimmy Buffett's books that, growing in the Mobile area, he and his friends used to come to Gulf Shores and surf at Alabama Point.
If you surfed at Gulf Shores, you did it at Alabama Point because the crosscurrents generated by the Gulf entering Perdido Bay produce the highest non-storm waves in the area.
Jimmy Buffet is a couple of years older than me, and when I was surfing at Alabama Point with my friends, there was usually a group of older guys from Mobile and Fairhope there too. So I figure that more than once I was surfing along side Jimmy Buffett.
Who knew?
---
Thought for the Day:
"Ninety percent of politicians give the other ten percent a bad reputation." – Henry Kissinger.
---
November 13, 2012
A Real Cutie!
We got a photo of our new great-niece, Annisten Morgan Robinson. She's a real cutie!
I've started getting calls from computer clients wanting to schedule some help when I get back to Houston. So it looks like I'll be busy again this winter just like last year.
After coffee for breakfast, we heated our some of our Lambert's leftovers from yesterday. And we still have enough for another meal. At $12.50 for 3 meals worth, that's a real deal.
It was a busy morning on the phone. We talked with our daughter Brandi a couple of times working out some details of our Thanksgiving trip to Marble Falls, TX. Then we talked with our grand-daughter Piper to see if she will be able to join us in Marble Falls.
About 3:30 Jan and I headed out for some shopping and then dinner. Our first stop was Tallulah's Treasures in Orange Beach.
Tallulah's is another of our favorite shops. Formerly known as Tootie's Yellow Broom, this is another place we've been coming for years.
Just a fun place to walk through, even if you don't buy anything.
Our next stop was for dinner at The Gulf, a new place that just opened last week. Located down at Alabama Point / Perdido Pass, it's the first business in what's to be a beach boardwalk attraction.
Built from shipping containers, its novel construction frames a beautiful view of the bridge over Perdido Pass and the Gulf.
The only problem with this beautiful location is its history. There used to be a large restaurant/hotel on this location, and we ate here a couple of times over the years. But in 2004 Hurricane Ivan wiped it off the beach. The only thing left was the foundation.
I hope The Gulf has better luck.
Jan and I both had their Angus Burgers and shared an order of fries. Both were really good, not quite Five Guys good, but good.
And of course the view was fantastic.
Leaving the restaurant, we headed home with a quick stop at a CVS for a few things.
All in all, a very nice day.
---
Thought for the Day:
"A fine is a tax for doing wrong. A tax is a fine for doing well." – Unknown
---
November 14, 2012
White's By The Sea . . .
Jan and I have been really enjoying these days of just doing nothing. Reading, napping, watching TV, playing on the computer, pretty much nothing.
For lunch we had the last of our Lambert's leftovers, and then it was back to doing nothing.
For dinner we met Jeannie and Eldy at Sea N Suds, one of only two restaurants here that is actually right on the beach (the other one is The Gulf, where we ate last night).
We started out with a dozen raw oysters, (Eldy got a dozen, too), then Jan had the Fish Sandwich made with fresh cod, along with the salad bar, and I had a bowl of gumbo (very good) and the Fried Shrimp Dinner. For their part, Jeannie and Eldy split the Seafood Platter along with the Gumbo.
Then we spent the next two hours just talking. Toward the end of our evening a couple at a nearby table came over and asked if we were RV'ers. When we said we were, they said they were too, and had a lot up at the Escapees Park in Summerdale.
As we sat and talked, we got to watch a lovely sunset over the beach. And from personal experience, the beaches at Gulf Shores are some of the most beautiful around.
But besides the good food and great views, this place has more personal meaning to me.
Where this condo and the Sea N Suds now stand was the location of my parent's motel in the 1950's.
Here's an aerial shot taken about 1956. I remember seeing this photo, but hadn't seen a copy for years. So I was very surprised to find a copy hanging on the wall at the Sea N Suds when we were here in 2009. When I explained things to the manager, he let me take the photo back to the rig to scan it.
The "Tackle Shack" is now part of the Sea N Suds building. The pier, the longest on the Gulf Coast when it was built, was mostly wiped out during Hurricane Fredrick in 1979.
My parent's motel was called 'White's by the Sea", and here's yours truly in front of the sign, wearing my favorite cowboy outfit.
Tomorrow we're going up to the Escapees Park in Summerdale to meet up with some friends, with a side detour by the Camping World.
---
Thought for the Day:
"I don't know the key to success, but the key to failure is trying to please everybody." – Bill Cosby
---
November 14, 2017
Stompin' Grounds . . .
When I woke up this morning, Jan had flown the coop. But it was only down to Janice and Dave Evan's nearby coop. They had come down from Conroe yesterday and are parked just a few spaces down from us.
Jan wanted to pick Janice's brain about the Instant Pot, and also get some cooking tips and recipes.
After Jan found her way back home, we headed out about 12:30 for the afternoon, with our first stop at Stomp's Burger Joint over on 146 in Kemah. We've been eating here since 2011, and in fact it's where we first met Janice and Dave Evans in December 2011.
After the fabled Tookie's never reopened after Hurricane Ike in 2008, Stomp's was opened in 2011 by some of Tookie's ex-employees, duplicating much of the look, feel, and tastes or the original.
Then about a year later, Tookie's itself was reincarnated by a new owner. But Stomp's has continued to flourish and even grow. And some people think the new kid on the block is better than the original.
http://www.houstonpress.com/restaurants/burgers-off-the-beaten-path-stomps-vs-tookies-6430232
Jan got her usual Outlaw Burger with an 8oz. 100% Angus Beef patty, Cheddar Cheese, Grilled Chopped Jalapeno And Onions and Salsa Picante, Served On A Bun With Mayo, Lettuce, Tomato.
All of their patties are 100% Angus Beef, and ground and formed in-house.
I got the double-meat Hog Wild, with two 8oz 100% Angus Beef Patties, Mixed With Rendered Bacon And Topped With Melted Cheddar Cheese Served On A Bun With Mayo, Lettuce, Tomato, Onion, And Pickle. That's 16 ounces of Angus Beef.
I don't even try to eat this by hand. It's fork food all the way.
We also got an order of their Half and Half Onion Rings and Fries.
Their onion rings are almost as famous as their burgers, cut, battered, and fried all in-house. Delicious as well.
Stuffed to the gills and more, we drove on up to Sundowner Canvas, also in Kemah, to see if they could do our new awnings.
They were kind of hesitant, but said they could do them if I furnished the filler rods. No problem since I planned to take all the old panels to them anyway, and the rods are reusable.
The only problem seems to be how busy they were and how soon they could get to them. The owner is supposed to give me call with timing and prices.
They did give me a scrap sample to bring home so I could hang it on the old awning and see what it looks like, color-wise.
And I think I nailed it.
This is what I photoshopped a couple of months ago.
And this is what I got today.
The sample looks darker due to the sun going down over my shoulder, but up close it looks identical.
The sample is Sunbrella Ocean Blue, which I think will be perfect.
I just received my new PayPal Card, this one with the chip in it. And the first thing I noticed is that there are no numbers on the front any longer. They're only printed on the back, and much smaller than usual. I guess it's been years since anyone has hand-swiped my card, anyway.
Don't know if this is the new norm, but it's the only card I have like this.
In other news, Surf's Up . . . on Lake Tahoe?
Every fall the southeasterly winds come down off the Sierras and kick up 3 – 5 foot waves all across the lake. Running from one end to the other, they just keep building, making for some great surfing. Very cold surfing, wetsuit cold surfing, but great surfing, nevertheless.
Back to work tomorrow, with more phone time with Godaddy, I'm sure.
The Word of the Day is: Attenuate
---
Thought for the Day:
If you had invested just $100 in the Bitcoin digital currency in 2010, it would be worth a whopping $72 million today.

---
November 13, 2018
The Run Around . . .
Today was my day for getting my head BBQ'd, so we were out the door about 9:15, heading for the Dermatologist's office up in Webster.
At least that's where we were told to go when we made the appointment last month at their League City office. And the text I got yesterday morning confirming my appointment said to go to the Webster office.
But when we got to the office about 9:50 for our 10:15 appointment, we were told that we were at the wrong office, and should have been at the League City one. She offered to reschedule our appointment, but I said, "No, call them and tell them we're on our way."
And by pushing the Malibu a little more than usual, we made the 10 mile run from the 3rd floor of the Medical Building at Clear Regional Hospital down to the League City office just off FM-646 in just over 15 minutes, arriving at 10:13, two minutes before our 10:15 appointment.
Only to be told that the first receptionist was wrong, and our appointment WAS at the Webster location. So while she called the other office to tell them, Yes we were supposed to be up there, we turned around and headed back up to Webster, a little more sedately this time, much to Jan's relief.
Getting back there once again, they took me back to a treatment room, and after wiping my head down with acetone to prep it, the Physician's Assistant used what looked like a large Sharpie pen to cover my scalp with the photo-reactive solution.
Then instead of the 30-60 minute wait for the solution to dry that I had read, I found out that is was a 2 hour one. Lucky that I brought my Galaxy Tab 4 and Jan brought her Kindle Fire to keep us occupied out in the waiting room.
Back in the treatment room, the technician wheeled the Blue UV Light over and positioned it over my head.
She said it was on a timer, and noting it was set to 16:40, I said, "So 16:39 is not enough and 16:41 is too much?" She said, "Well, we don't want your head to burst into flames."
See I told you that might happen. And then, after giving me a pair of goggles to wear, she turned it on.
And I would have sworn my head WAS on fire. I didn't realize they had it set on 'Extra-Crispy'
The tech said that some people said it felt like a million angry fire ants were feasting on their head.
That was an understatement.
But finally it was over, and after getting the post-op instructions, and getting an appointment for a second shot at immolation a month from now, we headed up to Bay Area Blvd. to have brunch at Snooze, only to find that it wasn't really open yet. That's tomorrow.
What we had been seeing was a series of pre-opening meals given for community leaders, so we headed right up the road to once again have breakfast at The Egg and I.
Coming home about 2:30 we first made a stop at the Santa Fe PO to check the mail. I was hoping my new permanent SD driver's license had come in, and it had. So now, thanks to the revised Vision Statement I got from the ophthalmologist last week, I can now legally drive at night.
And while on the subject of ophthalmologists, I've got my follow-up appointment with a cornea specialist to check out the slight yellowing of my left cornea that the Sam's Club optometrist mistook for a cataract.
Then it was on to Snider Transmission to check up on our Dakota. Kenny said it was done and they'd done a short test drive, but that he still wanted to a longer one, maybe an hour or so, to double-check everything. So I told him we'd pick it up tomorrow afternoon.
---
Thought for the Day:
"The stars can be near or distant, according as we need them." – O'Brien to Winston, 1984: