Daily Archives:
November 23, 2020
Or Babies, I guess.
Jan said she loves our new mattress topper and I'm really glad to hear that.
She's got a 'Princess And The Pea' kind of back, and she's really sensitive to what she sleeps on. And I'm happy too, since so far it's seems a lot cooler than our old. Probably because of the open coils of gel-infused foam.
Well, it looks like Cracker Barrel has run out of Thanksgiving. Or at least Turkey Dinners.
I mentioned yesterday all the rigmarole I had to go through to order a Turkey Dinner Bundle to be picked up tomorrow afternoon. But we really lucked out in comparison to my client's office manager.
She also tried to order using the app last Friday and it didn't work for her either. But when she called the local store, they told her to call back on Monday. But when she called back this morning they told her they had no more openings, and thus, no more Turkey Dinners. And they said that all the CB's in the Houston area were booked up.
So how the heck does Cracker Barrel run out of Turkey Dinners. I mean they have serve Turkey and Dressing every Thursday anyway. It's not like they could over-order or anything.
Yesterday Jan and I had breakfast for dinner at Denny's once again, both of us having our favorite omelets, mine their Ultimate Omelet, with a little bit of everything, ham, sausage, bacon, mushrooms, onions, and cheese, along with fruit instead of the hashbrowns, and an English muffin.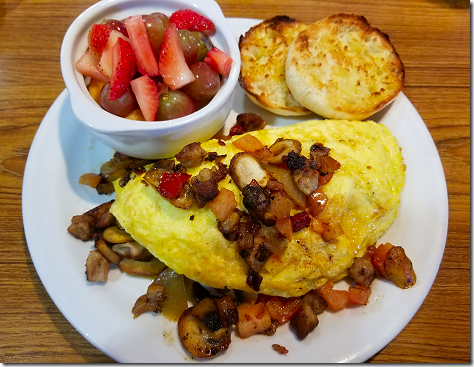 Really good, too.
---
Thought for the Day:
The reason ya'll are so jealous is that the voices only talk to me.
---
November 23, 2009
Gumbo…Gumbo…Gumbo…
Today was the first day of our two day trip back to Houston. We left the Gulf State Park at Gulf Shores about 8:00 am, but we didn't get far. Only to the Cracker Barrel in Foley where we decided to stop for breakfast..
Finally, about 9 we hit the road…again. Being pretty much all Interstate, we had a smooth trip, all 300 miles of it. About 2:45pm we pulled into the parking lot of Mulate's here in Breaux Bridge, LA, (pronounced 'mu lots') pretty much our favorite Cajun place. There's a place in Houston that runs a close second, but this one is the best.
I have been eating the gumbo here for almost 15 years. From 1994 until 2006 I made the round trip from Houston to Birmingham every month to visit my mother. And I always stopped at Mulate's both going and coming. It go so that I would just walk in and sit down and they would bring me my order…large seafood gumbo, extra rice, and Ice tea, and then bread pudding and coffee for dessert.
Actually, I'm starting to salivate just typing this. And I just ate there 5 hours ago. It's that good! It was nice to walk in, have Tracey run over and give us a big hug, and then bring us our order. Just like old times.
Right now we're parked right down the street in the Walmart parking lot for the night. Tomorrow we'll make the 250 mile run to the Galveston Bay RV Park on Dickinson Bayou, where we'll be parked for the next couple of months or so.
---
Thought for the Day:
"Remember democracy never lasts long. It soon wastes, exhausts, and murders itself. There never was a democracy yet that did not commit suicide." – John Adams: letter to John Taylor, April 15, 1814
---
November 23, 2013
Changing of the Guards . . .
Well, it's done. We're off the gate for this year.
I spent last night getting everything but our canopy taken down and packed away, even if somewhat soggy. Tearing down the canopy can be a one man operation, but I didn't want to chance it in the 20 mph winds we were having all night. Before I can take it apart, it has to be completely unstaked and all the tie downs removed. And of course right about then a big wind gust would make it look like Dorothy's house in the tornado. So I saved that for when Jan got up about 7am.
About 8:45 I called our support guy Todd, and got Joseph instead. Todd was off this weekend and Joseph was filling in. I called to be sure he would have an extension cord on his truck. While I was reconfiguring the cords getting the rig unplugged from the generator, I found the plug on one cord had overheated and just came apart when I pulled on it.. This one powered the front set of light stands and also the bell. So the new guards were going to need it.
At about 7:30 Jan and I started in on the canopy, and since the wind had died down it went pretty easy. The only problem was that the canopy was wet from the rain when we took it off, so rather than pack it away in the case, we just stuffed it in a large garbage bag, and we'll dry it out after we get back to Houston and the weather improves.
My last chore was to stow the water and sewer hoses, leaving only our electrical cord to unplug from the generator before we pulled out. Well, that and the slide.
Then it was just a matter of waiting for our relief. I forgot to ask Joseph whether it would be just him relieving us until the new guards showed up, or if he was bring them with him.
As it turned out, Jim and Donna Mossman showed up with Joseph about 9:30. While Jan went over the logs with Donna, I caught Jim up on some things about the site. Interestingly, Jim and Donna are long-time blog readers, so It was good to finally meet them. I think we left our gate (ex-gate?) in good hands.
When I saw them pulling in, I went ahead and cranked up the rig, so by the time we were ready to leave, the rig was up on the airbags and ready to roll. After saying our goodbyes, and unplugging the electric and bringing in the slide, we pulled out.
Well, I pulled out. Jan on the other hand, took off like a bat out of hell, never looking back and leaving me in her dust. I finally caught up with her at the Gate Guard Services yard and we parked and got set up. As it turns out we're parked in exactly the same spot as when we first got here in April last year for our first gate guarding adventure..
We've just got 50amp, but that's no problem for one night. As soon as I was done with the set up, I headed off to bed since It was now 10:30, and I was already 3 hours into my normal sleep time. So a nap was in order to start getting me back on a somewhat normal sleep schedule.
About 3:30 Jan and I headed over to Pleasanton for dinner and some grocery shopping. On the way we drove by the gate to check things out, and it looked like Jim and Donna were all set up and had made themselves at home. Good to see.
Dinner was at Chili's, and the shopping was Wal-Mart and HEB, and we were home by a little after 6pm.
Tomorrow, we'll head for Houston about 9:30 with a stop at the Buc-ee's in Luling for coffee and a kolache for breakfast. Tomorrow night we're meeting Chris, Linda, and Piper at our favorite Chinese restaurant, King Food.
Family and good food. Can't be beat.
---
Thought for the Day:
---
November 23, 2015
First Day of Freedom . . .
Our first day of gate freedom and I slept in until about 11am, my first full nights sleep in 3 months. When I'm on the gate I normally sleep 3 or 4 hours at a time, twice a night. I can do this for long periods with no problems, but it's certainly nice to not have to.
Along with our morning coffee and pumpkin bread, we enjoyed just sitting and talking, and not jumping up at the sound of the bell alarm. Jan did say that she still hears bells in her sleep. For my part, I find myself checking out tag numbers to see if I recognize them as we walk around.
About 1pm Jan and I headed out for some shopping and then a trip down to Katy to have dinner with Brandi, Lowell, and Landon. They leaving tomorrow for Oklahoma to visit some friends and then spend Thanksgiving with Lowell's parents before coming back home Sunday night.. So this would be our only chance to see them for a week.
Our first shopping stop was the Convenience RV Store a couple of miles north of here next to the Fish Pond Restaurant. I was looking for a couple of things, 12v light bulbs, and a shower door latch.
in our bathroom, besides the overhead lights, we have six light bulbs, three on either side of the vanity mirror. A week or so ago, four of them suddenly died, all three on the left side, and one on the right.
Now three bulbs going out in one fixture is kind of suspicious, and makes you think that maybe there's a problem with the fixture itself. But I took a good bulb from the right side and it worked in the left fixture, and one of the dead bulbs still didn't work in the right side. At first you'd want to chalk this up to just a coincidence, and it kind of is, but not quite.
In the 8 years we've own this coach, I've replace two of these six bulbs, both on the right side. And I'd be willing to bet that those two bulbs are the ones still working. The other four are original to the coach when we bought it in 2008, and may just be original to the coach from1999.
And actually it's not that unusual for bulbs with the same amount of hours to go out in a group. Back in my younger, skinnier (stupider?) days when I was working in radio and TV broadcasting, I used to moonlight replacing the bulbs in the transmitting towers for a number of stations in the area. I have no fear of heights, and I worked cheap, so I usually got the job. And one thing you did when you went up to replace a bad bulb, you replaced them all at the same time. Otherwise, if one went out, more would follow, sometimes within a few days.
These bulbs were kind of expensive, and sometimes the station would try to cheap out by only replacing the bad one. I'd warn them that I'd be back in a short time, but they wouldn't listen. And anywhere from few days to a few weeks, I'd be back.
I was also looking for a new shower door latch, but as it turned out they did not have either the bulbs or the latch in stock, but they did order them for me, and they should be in by noon tomorrow.
Nice service.
Our next shopping stop was Wal-Mart, of course. It's not really shopping without a Wal-Mart stop. Beside the groceries and stuff, we both got haircuts while we were there. I hadn't had one since the 1st of October so I was starting to look a bit shaggy, at least on the sides. Not a lot to worry about on top.
Finally about 4:15 we were on our way down to the Katy area to meet Brandi, Lowell, and Landon at one of our favorite restaurants in that area, Torchy's Tacos.
Where else can you get a taco with a grilled jalapeno sausage, queso fresco, shredded cheese, and pico de gallo. Not your average taco.
Later, after some time at Brandi's, we finally headed back to Conroe, getting back to the rig about 9:15.
Another nice, but long day.
_______________________________________________________
Thought for the Day:
"If we don't change direction soon, we'll end up where we're going." Professor Irwin Corey
---
November 23, 2016
Space Pens . . .
I spent the afternoon finishing up a couple of things on our truck for our trip tomorrow.
After I filled up the windshield washer fluid tank with the Rain-X washer fluid I got at Wal-Mart yesterday. I've used this stuff for years and it really works. During light to medium rainstorms you don't even have to turn the wipers on. The water just beads up and rolls up the windshield.
Well it was a lot of work but we now have all our Christmas lights up in the rig.
I think the one most impressed with them was Karma. After I put them up, she got on the kitchen counter and just stared up at them for about 20 minutes.
Over the years we slacked off our decorating. This was what we did in 2009, our first Christmas in our rig.
Talking about Karma, this afternoon she jumped up on the back of the sofa and was chasing something in the front end of the window, pawing at it. Then I heard a 'yelp' and Karma started licking her left paw. Looking down in the window track I found a honey bee. Don't know how it got in, but I got rid of it.
Karma only licked at her paw for a few minutes and then it didn't seem to bother her any more. I looked at it awhile later and it wasn't swollen and didn't seem to be tender, so I guess she's OK.
This afternoon I came across this graphic on Facebook and couldn't resist making a comment correcting all the misinformation in it.
And here was my comment.
Having spent 10 years at JSC on the Shuttle program, I can tell you why NASA didn't use pencils. Pencil 'lead' is graphite. And graphite is electrically conductive.
When you use a pencil in space the tiny graphite particles shed by the pencil float off around the cockpit, coming to rest everywhere, inside instruments, electronics, etc., causing random shorts and problems. With the wrong short at the wrong time, you could lose a spacecraft.
While the part about the Russians using a pencil is true, the rest is just completely wrong.
Paul Fisher of the Fisher Pen Co. spent $1 million of his OWN money to develop the Fisher Space Pen for sale to the public. In 1968 Fisher sold 400 pens to NASA for $2.39 a pen, a 40% discount from the retail $3.98 because they bought in bulk.
In 1968 the Russians saw the light and ordered 100 pens and 1000 refills for their space program.
Then in 1969 the Apollo 11 crew used parts of a Space Pen to fix a broken rocket engine arming switch, letting them make the return trip back to Earth
A pretty good deal for $956 of Fisher Space Pens. And a lot better than the fictitious $12 Billion.
Oh, yeah. The pen won't work at 300° Celcius either. That's 572°F. The pen would melted long before that. As well as the person using it.
---
Thought for the Day:
If life hands you lemons, you're less likely to have scurvy.