Daily Archives:
November 18, 2020
Yesterday's short blog didn't actually get posted until this morning due to a wide-spread Internet outage, effectively shutting off access to large numbers of sites. Including mine. But everything was fine this morning.
Later in the afternoon we headed into the Houston Medical Center area to meet up with our long-time friend, Chris Yust, who had come up from Florida to visit family and catch up on a couple of doctor appointments.
And to see us, of course.
So we met up at her hotel, and after some catching up, we headed out to have dinner at Pappadeaux's Seafood Kitchen down on the 610 Loop a few miles away. It's probably been about 20+ years since we've eaten here since we don't get up this way very often. But it was as good as our somewhat dim memories recalled.
Chris and I started out with the House Salad, with a really good home-made Ranch dressing.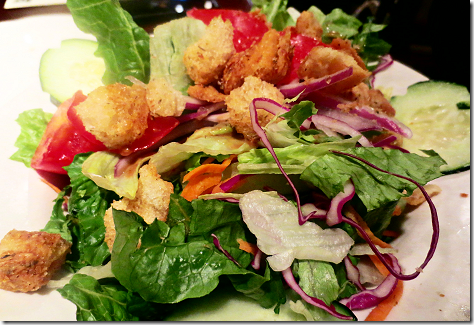 Then Jan had the Redfish with Butternut Squash,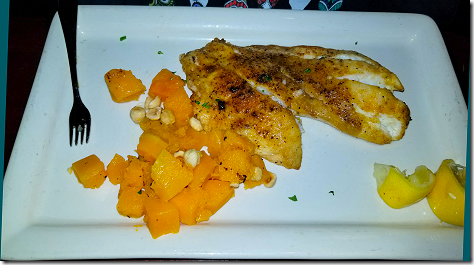 while I had the Blackened Catfish with Green Beans Almondine.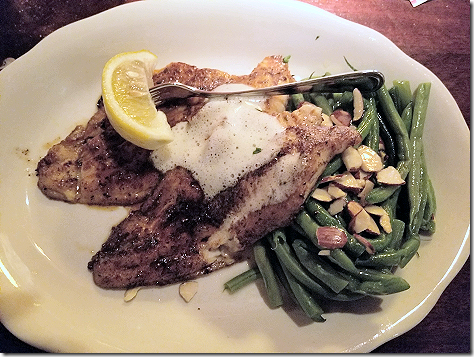 Chris, however, took a somewhat simpler route with a Shrimp Cocktail.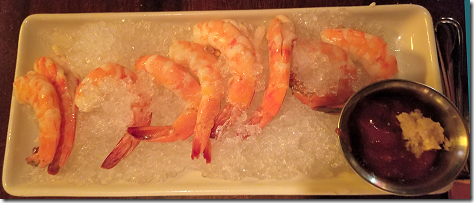 Everything was really delicious, and really pricey, too.
My Blackened Catfish wasn't really any better than what Jan and I get locally at Dickinson Seafood, and it was more than twice as expensive. And Jan felt the same way about her Redfish.
I guess that's we haven't been back for 20+ years.
But being able get together with Chris more than made up for it.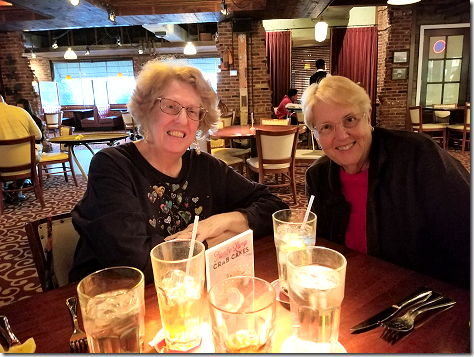 Hopefully it won't be as long before we see her again as it was this time.
Got an email from Dakota Post this morning saying they had received my Jeep registration paperwork and would get them in process today.
Tomorrow is the end of all my fun and frivolity. I pretty much took a week off from working on the rig, but tomorrow it's back at it, trying to get the bad Helicoil out.
---
November 17, 2009
Sweet Home Alabama…
Today started off with a big scare!
About 9:15 am our daughter Brandi called and told us that our son Chris had collapsed at work and was on his way to the hospital by ambulance. He had suddenly fallen to the ground, clutching his stomach, and throwing up.
She said she was on her way down to St. Johns Hospital in Nassau Bay and would let us know something as soon as she knew something. She called back about 10 to tell us that she was at the hospital and Chris was awake and talking.
She called back about 11:15 am and said that Chris had had an attack of kidney stones, and they were sending him home with pain medication and antibiotics to pass the stone.
Although it was painful for Chris, this was really pretty good news, considering all the other much worse possibilities it could have been.
At 11:30 pm we met my Uncle Tom and Aunt Lanette at Bob Gibson's BBQ for lunch down in Decatur. My Uncle Tom played for the Pittsburgh Steelers for 3 years back in the 1950's, after playing football for the University of Alabama. He then coached high school football in Alabama and is considered "The Winningest Coach in Alabama High School History".
About 4:30 pm, my cousin, Glee, her husband, Dave, and my cousin, Joy, my wife Jan and I all headed out to eat supper at Catfish Cabin, a local seafood place.
We had a great time talking over old times. I haven't seen either Glee or Joy in over 40 years, but as Jan said it was like we had known them for ever. And she had never met them before.
About 5:30 Chris called and talked to us for a few minutes. He was home and really enjoying the pain medication. Apparently they were going to just wait for him to pass the stone. Ouch!
---
Thought For The Day:
Apply sufficient thrust and pigs fly just fine. However, please don't ask about the flying monkeys.
---
November 17, 2011
What's Up, Doc? . . .
As I mentioned yesterday, our weather here was forecast to be pretty nasty the last few days, but all of sudden it all just went away. Nice!
About 10am Jan and I headed out for the day, first a few sites down the road to see Eldy Tompkins and Jeanne Sparks. They just got in last night, and we wanted to set up a time for a supper get-together tonight.
Then it was off to Pensacola via Alabama Point. Our first stop was our favorite Sonny's BBQ, where we try to eat every time we're in this area. And we're always sure to have enough leftovers to bring home.
Our next stop was at Artesana, a really neat gift shop that we've been visiting for more than 30 years. And every time we find something new and interesting.
Heading home, we came back via US98 thru Foley. I wanted to stop there because I had seen signs for the Holmes Hospital Museum.
The reason was two-fold. My mother, an Army nurse during WWII, and a Public Health nurse in Birmingham, worked here for Dr. Holmes as a part-time nurse after we moved here in late 1950.
And I had my tonsils out here in 1953 or '54.
The hospital opened in 1936 and was the first hospital in Baldwin County. It occupied the top floor over Crosby Drugs, as seen here, and closed in 1958 when the Baldwin County Hospital opened north of Foley.
This would have been the operating room where my tonsils were yanked out, and the room below is where I remember walking up. My bed was against the far wall, and I remember my throat hurt and I got ice cream and a new toy truck.
They also had a book listing all the people born there, and I was able to find several kids in there that I went to school with.
Really brings back a lot of memories.
We got back to the park about 3 pm, and then at 4 we picked up Eldy and Jeanne and headed up to Lulu's at Homeport, Jimmy Buffett's sister's place.
On the way, our son-in-law Lowell called and said our roller coaster pic had gone viral again. We had a bad connection so I don't know who saw it, but the website for Ch. 2 in Houston has a series called Scared Straight – Best Roller Coaster Faces Ever, and if you check out #16, you'll once again see our happy faces. Well, mine's happy, anyway.
I really loved the comment at the bottom of the picture.
Eldy and Jeanne really enjoyed Lulu's and said they'll go back before they leave in 10 days or so.
Tomorrow we're taking them up to Lambert's for some Throwed Roll dodging. Hopefully they like it too.
---
Thought for the Day:
"No man in the wrong can stand up against a fellow that's in the right and keeps on a-comin'" – Texas Ranger Bill McDonald (1852-1918)
---
November 18, 2011
Last Day in Gulf Shores . . .
Today was our last day here in Gulf Shores so after coffee we headed out to visit some of our favorite places in the area.
Our first stop was Tallulah's Treasures, a really neat gift shop that used to be known as Tootie's Yellow Broom. This is probably the most unique gift shop I've ever seen, and believe me, we've visited a lot of them over the years. They have some really neat stuff.
When we were here in March of 2009 this really high-end RV Resort was going up in Orange Beach right across the road from the ocean.
And when I say high-end, I mean the lots started at $500,000 and went to over $1,000,000. The sites were nice, and although not very large, they did include a small house or casita on the lot as you can see in this photo.
Well, this is what it looks like now. Overgrown and out of business.
Guess those million dollar lots didn't move as well as they thought.
Our next stop was in the Romar Beach area where my parents had two beach houses. At one time they owned all the property from about 100 feet behind me over to the big condo building on the right, a total of 300 feet of beachfront.
And, before Ivan, both sides of the road here was filled with houses, but after Hurricane Ivan hit in September 2004, this is what's left. The pink cottage on the left is one of my parent's houses, and the only one to survive.
Originally there were two of them, and they were side by side on the right side next to the condo. But over the years they sold both of them. One was torn down and replaced by something bigger. The one now on the left was moved there and also replaced by a bigger house of the beach side.
And I'm sure if the other hadn't been torn down it would have survived too. My father knew how to build for the beach and it showed.
Below is the beautiful ocean view from our beach houses.
Later we drove down the west beach to the bridge where we always see a lot of Jan's favorite pelicans. There is a large water main along the bridge and the pelicans really like to rest there.
It's a lot of fun to watch them jockey for position and push each other off the pipe.
Later we drove over to the beach and took the walkway out to the ocean.
I've visited beaches all over the continental US and I still think Gulf Shores beaches are pretty much the most beautiful around. These sugar sand beaches can't be beat.
About 4:30, we picked up Eldy and Jeanne and headed up toward Foley to Lambert's Throwed Rolls. They had never eaten there so we wanted them to give it a try.
This time I just the veggie plate, which along with the pass-arounds, was a great meal. Jan had her usual Fried Chicken, as did Jeanne, while Eldy had the Fried Catfish, which he thought was delicious.
Eldy and Jeanne are staying in the area for another week or so, so we gave them a number of other places to eat and visit. Hopefully they'll enjoy the area as much as we do.
Tomorrow night we'll Wally-Dock in Breaux Bridge, LA before arriving in Houston on Sunday. We're really looking forward to seeing everyone.
---
Thought for the Day:
"Science is the belief in the ignorance of experts." – Richard Feynman, father of Quantum Physics
---
November 17, 2012
Snakebit ?
Since this was our last morning here in Gulf Shores, we wanted to end it with a delicious breakfast, so about 6:45 (OMG!) we headed down to Orange Beach to have the breakfast buffet at Hazel's Seafood Restaurant. Hazel's is known for their buffets, especially their Sunday Brunch and evening Seafood Buffets. But we love the breakfast buffet and always try to visit at least once each time we're here.
We were back at the rig by 7:45 and on the road by 8:45. The rig cranked up with no problems, and we were on our way back to Texas.
But our first stop was Dodge's up in Foley to top off our diesel. Jan had followed me in the truck so it would be easier to get in and out of the station to fill up. She waited for me right down the street where we hooked up the toad and were on our way.
And everything went smoothly until we were in Mississippi several hours later. As we were coming off a section of rough pavement on a bridge, I noticed a funny vibration. But since we were planning to make a rest area stop about a mile up the road, I decided to wait until then to check it out.
Getting out of the rig I did a detailed walk-around. Something didn't look right but it took a little checking to figure out what the problem was.
At first I thought one of my rear airbags was deflated, but after crawling under the rig, I discovered that neither airbag was airing up. Since my dash air pressure gauge was showing normal pressure I'm thinking the problem is in the proportional valve that equalizes the air between the front and rear airbags. But I'll have to wait to get back to Houston to track it down. By taking it easy we should be able to get home OK. We did about 200 miles today after I discovered the problem.
I'm beginning to think our travels this year have been kind of snakebit. It seems to have been just one thing after another.
We pulled into Poche's RV Park in Breaux Bridge, LA about 4:30pm and got park and set up. Then it was off to supper at another of our favorite places, Pont Breaux.
We've eaten here for more than 30 years, when it was called Mulate's. But when we got here last year, we found it had changed hands and was now called Pont Breaux. But lucky for us, they've kept the same menu and it's as good as ever.
So after a great meal, we were back at the rig for the night, but on the way in I did get this great sunset photo over the RV park lake. If you look carefully you can see a great heron perched on a float out in the lake.
And to make it even better we have new Landon pics.
Brandi, Lowell, Aunt Sherry, and Landon, along some friends, Jason and Shawna Oakley, and some of their family, all visited the Texas Renaissance Fair north of Houston.
It was his first time and Landon had a 'Two'fer'.
His first big Turkey Leg.
And his first elephant. If you look at his face, he's not too sure of the whole thing.
Tomorrow will be our last day of RV travel this year. We've got about 230 miles to go which will give us a little over 7100 miles for the year. Far short of the 10 – 12 thousand we usually do, but since we spent 4 months oil rig gate guarding in south Texas, it cut down on our traveling this year.
---
Thought for the Day:
"The crime of taxation is not in the taking it, it's in the way that it's spent." – Will Rogers
---
November 18, 2012
The Last Day of 2012 . . .
or Shake, Rattle & Roll.
Yes, this is our last day of travel for 2012. We ended traveling 7151 miles this year, quite a bit less than our usual 10 to 12 thousand or so. But we might make it up next year. Who knows?
After yesterday's sunset picture, I got this sunrise with the fog floating over the lake.
We left Poche's RV Park a little before 8am, heading for the Galveston Bay RV Park about 230 miles away, which will be our home for the next two or three months.
We stopped to top off our diesel tank right before we got back on I-10W. We had planned to grab a breakfast sandwich from the Quiznos Subs at the service station, but it turns out Quiznos doesn't do breakfast like Subway so that was out.
Instead we ended up at the Cracker Barrel about 8 miles away in Lafayette. Love their RV parking.
Our trip was mostly fairly smooth with some intermixed Shake, Rattle & Roll. Since we no longer had the rear airbags, the ride was a rougher than normal with a lot of vibration. We kept our speed at 55, but even so, we'd hit rough patches that caused the rig to start porpoising and bouncing.
But we survived and pulled into the park about 3:30. On our way we stopped right up the road and topped our diesel off again. I also added a dose of algacide to the tank before I filled up to forestall any problems with condensation in the tank.
And on a pleasant note, diesel was only $3.53, a nice change from the $3.81 in Breaux Bridge this morning. I love Texas.
About 5:30 we headed up to the park clubhouse for Thanksgiving dinner. Jan made a batch of her Heavenly Hash last night in Breaux Bridge so it would be all ready to go this afternoon. We had a great meal, and a fun time meeting old friends and making new ones.
We even found some French Canadians that we liked. The couple were from Quebec and said they were heading to Mission, TX for the winter. Jan asked if they'd been to Florida, and the husband said he didn't like Florida in the winter. When Jan asked him why not, he said there were too many French Canadians down there.
Tomorrow will be a busy day, checking in with a couple of clients, picking up food for our Thanksgiving, and get ready for our trip to Marble Falls on Wednesday.
Busy, busy, busy.
---
Thought for the Day:
"If a thousand shares of stocks or bonds make nothing, you pay nothing. But on a thousand acres of land you pay enough to support half the community who own no land and pay no taxes." – Will Rogers