Daily Archives:
November 3, 2020
(Now Try Getting That Tune Out Of Your Head)
After a nice, quiet lay-around-the-rig day, Jan and I headed out for dinner about 3:30pm, once again at the nearby Dickinson Seafood.
Along the way we passed our new favorite Cowboy Coffee kiosk and were happy to see several cars in line, and also happy to see that there were no cars in the line at Starbucks, unusual for this time of day with the coming-home traffic.
For dinner, while I got my usual Blackened Catfish with Shrimp, and Veggies,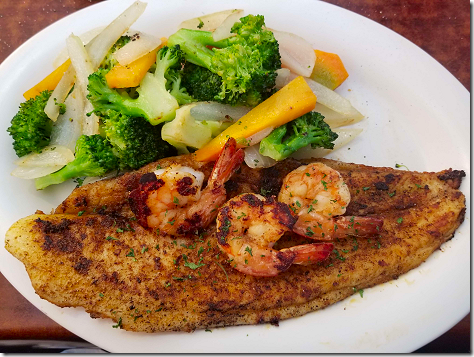 Jan went the Fried route with Catfish, Shrimp, and Oysters Combo Platter.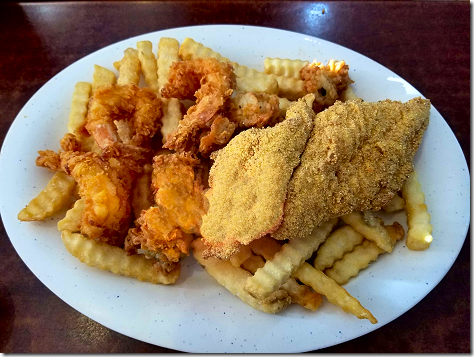 Both delicious, though Jan says she'll probably go back to the Blackened Catfish next time.
Coming home about 4:30, still no line at Starbucks and still a line at Cowboy Coffee, which we promptly got into. And this is where the 'small world' part starts.
As I mentioned yesterday, this is the first time we've seen one of these small, drive-thru only, coffee kiosks around here, though we did see a lot of them in the Northwest US and especially Alaska.
And as we turned in, I noticed an SUV with an Alaska tag pulled off to the side. As I commented to Jan about it, a couple came out and heard me since my window was down. The lady said that they were the ones from Alaska, and their daughter owned this place. And the daughter is from Washington state.
When of course explains where the 'kiosk' idea came from. And the lady from Alaska said she owns two coffee places like this in Soldotna, AK. But now this is where it really gets weird.
When we mentioned that we were RV'ers and had spent some time in the Northwest and Alaska, the lady said that they used to own a RV park in this area before they sold it. And the name of that park . . . wait for it . . . wait a little more . . .
Petticoat Junction RV Park, where we've stayed for the last three years. They ended up selling it to Rob, the present owner. Now cue the Twilight Zone theme.
---
According to a new study, people who suffer the most severe symptoms from Covid are almost twice as likely to be deficient in vitamin D.
EU Health Secretary Matt Hancock has now ordered a review into the use of vitamin D in helping to protect against coronavirus, despite previously saying it did not appear to have any effect.

However, a recent study of 216 Spanish patients is the latest to suggest that low levels of the vitamin is linked to serious cases of the virus.
New study finds taking Aspirin significantly lowers risk of complications, death in COVID-19 patients.
A new landmark study at the University of Maryland School of Medicine found that COVID-19 patients taking a daily, low-dose aspirin to protect against cardiovascular disease significantly lowered the risk of death and complications from COVID-19.

The study found that COVID-19 patients taking aspirin were nearly 50% less likely to die in the hospital and much less likely to be admitted to the ICU and put on a ventilator.

Doctors said because the virus increases the risk of blood clots, it makes sense that aspirin would help infected patients.
For the record Jan and I have take Vitamin D3 for years now as well as a low-aspirin, Cinnamon, Garlic, and Turmeric. And then due to the recent unpleasantness, we added Quercetin and Zinc.
Quercetin is a HCQ (hydroxychloroquine) analog, an over-the-counter version that's available without a prescription on Amazon. And though weaker, like HCQ it acts as an zinc ionophore that opens the virus to facilitate getting the zinc inside the virus itself.
But of course this all might be moot since my doctor is fairly certain I had the China virus back around the end of February. And if I had it Jan almost certainly had it too, but was asymptomatic like around 40% of other cases.
Came across this chart on a European website and found it very interesting.
The RED line is the seasonal flu death rate in 2018.
The BLUE line is the seasonal flu death rate in 2020.
And the GREEN line at the very bottom are the CoVid deaths in 2020.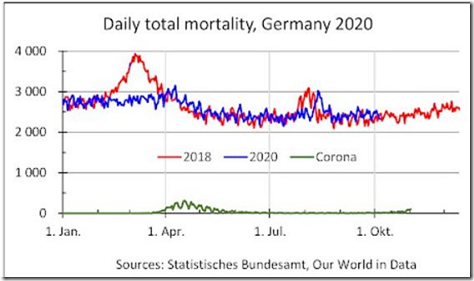 Makes you wonder.
---
Thought For The Day:
"If there is no enemy within, the enemy outside can do us no harm." —Eric Thomas
Back Home at the Galveston Bay RV Park
---
November 3, 2010
Rain, Rain, Rain . . .
It was raining when we left rig about 10:30am and it pretty much rained all day.
Whoopee!
On our way we stopped by Chris and Linda's to give Linda some papers I had printed out for them. Then it was off to drop Jan off at Brandi's. They were going to do a Girl's Day Out of lunch and shopping.
After leaving the girls, I headed over to Discount Tire to let them take a look at my slow leak. They put the tire in the water tank and couldn't find a leak. But to be on the safe side, they broke the tire down, lubricated the bead, replaced the valve stem, and put it all back together. Now I'll just have to see.
Leaving Discount Tire, I stopped by a client's office to work on a software problem. It's beginning to look like I'm going to have to write a new program to fix their problem. I think they've finally exceeded the capabilities of their old one.
Later I headed down the road for lunch at Chili's, and then it was back to Home Depot to get the parts I need to install the external check valve in my water pump line.
Finally, it was back to Brandi's to wait for she and Jan get back from shopping.
Hope I still have some money left.
Leaving Brandi's we stopped off at Kroger's for gas and then it was home for the rest of the rainy evening.
About 5:30pm I made a pot of hazelnut coffee, and we just sat around and enjoyed the evening.
Really nice!
---
Thought for the Day:
The role of a journalist is to take a topic that he does not understand and write about it so that it can be misunderstood by anyone.
Still At The Indian Lakes Thousand Trails Park near Batesville, IN
---
November 3, 2011
A Cold, Nasty Day . . .
Well, after the beautiful sunny weather yesterday, today we woke up to cold and rainy. Never got out of the mid-40's and rained pretty steady all day. Yuck!
But at least tomorrow is looking up again with sunny and the high 50's. Of course tomorrow night it's back down to a little below freezing.
About 2, FedEx online tracking said that Jan's new phone, an LG Revere, had arrived at the park office so I went down to pick it up.
Getting home I installed the battery and plugged in the enclosed charger. I'll let it charge overnight and then we'll activate it tomorrow. I'm also going to see if I can transfer the contact list between Jan's old and new phones using Verizon's online Backup Assistant.
At 4 Jan and I headed out for dinner, but our first stop was the Post Office over in Sunman, the closest town. I was sending back a USB wireless card that I ordered a week or so that didn't work. So back it goes.
Our dinner destination was the Cracker Barrel about 15 miles away in Harrison, OH, which is just over the border from Indiana. Thursday is Cracker Barrel's turkey and dressing day, Jan's favorite. Unlike a lot of other places, they have cornbread dressing, not just bread dressing.
Jan says if it ain't cornbread, it ain't dressing.
After dinner we drove across the parking lot to pick up some groceries at Biggs, a local supermarket.
Then coming back into the park, we stopped at the front gate to sign up for Saturday night's Thanksgiving Dinner here at the park. It's $4 each, and we bring a covered dish. Jan's fixing her world-famous Broccoli-Cheese Casserole, with the park supplying turkey, ham, mashed potatoes, and other vegetables. Sounds great and we're looking forward to it.
——————————————————————————————————————-
Thought for the Day:
Life's a race. Keep your motor runnin' and burn rubber every now and then!
With Family In Athens, AL
---
November 3, 2012
Stars Fell on Alabama . . .
Today started off nice and quiet with coffee and not doing anything else. It was nice to just sit here. We were supposed to get together with two of my cousins this afternoon, but other than that we're pretty much on our own.
One thing that has surprised me here is how fast the Verizon 4G is. At 44 Mbps, it's the fastest I've very found anywhere in the country. And the upload speed of 20 Mbps is none too shabby either. The 3G is pretty good too, the fastest I've had in a long time. Nice!
We just goofed off for the rest of the morning and early afternoon. Then about 3pm, my cousins, Anna Jean & Marjorie came by the rig to visit for a while. Since they're actually my grandmother's sister's children, they're really my second cousins. But who's counting.
And this is where the 2nd Small World theme comes in.
In another of those strange coincidences that seem to pop up in our family, knowing that we're from Texas, Anna Jean mentioned that her son Ted had been recently gotten married down in Austin at a small chapel that hangs out over a canyon.
With a couple of more questions, we all realized that her son Ted was married in the same chapel where our daughter Brandi was married in June 2010.
This is the Chapel Dulcinea, located in the Texas Hill Country near Austin. And it has a great view out over the valley.
A really beautiful place to get married. And another of those strange coincidences.
As always we had a great time getting together with my cousins, and look forward to doing it again next year.
A little later while Jan was getting ready for us to go to dinner, my cousin Wes came by with our mail from MyDakotaAddress. I was glad to see it because I was afraid it wouldn't get here until after we leave here on Monday. It has the renewal papers for our car and rig tags and I didn't want it to get lost.
For dinner we decided on Catfish Cabin again. You wouldn't think a restaurant 400 miles from the ocean would have seafood this good and this fresh, but they do.
Monday we plan on heading down to Gulf Shores, and of course, more good seafood.
——————————————————————————————————————–
Thought for the Day:
"There are only 10 types of people in the world: those who understand binary, and those who don't."
(A Computer Nerd Joke)
Gate Guarding In South Texas
---
November 3, 2013
Do you want Fries with that?
With the moderating daytime temps (it was 78 and beautiful today) here on the gate, comes the not-so moderate nighttime temperatures. It got down to a nippy 42 degrees last night. Now I realized that for a lot of folks up north that's balmy weather. But along with the balmy, I also had 'breezy'.
A steady north wind was coming over my back which tended to blow the heat from the two small electric heaters away from me. So it was time to bring out my secret weapon: A 250 watt Infrared Heat Lamp, and yeah, just like the one you see keeping the fries warm at McDonald's.
Infrared Heat Lamp Bulb – 250 W
I actually thought of this a week or so ago when I was at McDonald's getting us lunch. So after not finding a bulb at Wal-Mart, I ordered one from Amazon. But last night was the first time it got cold enough again to try it out.
And it works great. Since the heat is transferred by radiation and not airflow (fan), it's not affected by the wind. I've got it in one of those clamp-on reflector lamp housings and it really helps.
The flare stack out in front of us here has really been working overtime today, with flames about 60 feet high, based on the height of the stack, which is forty feet tall. One of the supervisors told Jan they were trying to fix it because it wasn't supposed to get that high, but I guess it's a work in progress, because when the wind is right you can feel the heat coming off it.
Always welcome!
A welder from Cowboy Cadillac Welders was out this morning trying to fix the gate. He got it pretty much put back together, but said they didn't tell him how bad it was, so he'll have to come back tomorrow with some different equipment.
Finishing up, it's amazing how much better you can dress after you become millionaires.
You can go from this:
To this:
Nice wallpaper too. It's amazing what a little money will do.
And finally, have spent five months in Alaska, and lived for over 30 years in Texas, I find this hilarious:
---
Thought for the Day:
It's been said that Science progresses one funeral at a time.
Gate Guarding In East Texas
---
November 3, 2014
Still No Frack Food . . .
The weather was really nice today, but we had a big bump up in traffic to make up for it, 250 vehicles, up from yesterday's 190.
Not sure why the jump though. The frack is cranking along pretty steady with sand trucks coming in and sand trucks going out. And then there's the crew changeout at around 5am and 5pm.
There was one thing new on the gate when I came out at 1pm to relieve Jan.
Speed bumps. Lots and lots of speed bumps.
Or maybe more like an E-Ticket ride at Disney World.
Apparently one of the landowners got ticked about speeding trucks and someone tearing down one of his fences, so he got one of the contractor's front loader guys to put these in.
Well, that lasted until the big sand trucks started getting hung up, and cars started bottoming out, including a lot of the other resident's cars. At that point the front loader guy took them all out. Then after some more yelling and cussing, they put back in 4 humps here and then two more singles every 50 yards or so.
It is kind of fun to watch some of these guys who don't know the bumps are there encounter them for the first time.
One thing to know is that this is a residential road we're 'gate guarding' on. And that's in 'quotes' because there is no 'gate' here. It's just a STOP Sign out on the side of the road that the oil 'bidness' trucks/cars are supposed to stop at. However the 20+ residents don't stop.
Another thing strange about this gate is that, since Jan and I are working for the oil company, we have to wear the full safety gear, I.e., FRC clothing, safety glasses and helmet, and steel-toed boots. Even though the drill rig is almost a mile away, and the frack sites are even further.
But at the same time, kids are riding back and forth in front of us on their bikes and horses, wearing shorts and T-shirts.
Kind of feel like Jan and I are over-dressed.
Since the time change this past Sunday, the sun's coming up before Jan relieves me at 7am so now I get to see the sunrise every morning, and this one was pretty good.
Brandi sent over this photo of Landon getting his T-Ball trophy.
Kind of looks like he was surprised with a mouthful of something.
We're supposed to get rain tomorrow and Wednesday, the first we've had at this new gate, so I'm not exactly sure which way it's going to run off. The pad is fairly level right here, but then looks to drop off slightly toward the roadway. Doesn't look like it should puddle here, and there's no pond behind us to overflow underneath the rig like the other gate, so we should be fine.
OK, it's two days now with no Frack Food.
What up with this?
_________________________________________________________________
Thought for the Day:
"My guess is that there aren't a hundred top-flight professional comedians, male and female, in the whole world. They are a much rarer and far more valuable commodity than all the gold and precious stones in the world. But because we are laughed at, I don't think people really understand how essential we are to their sanity." – Groucho Marx
Gate Guarding In East Texas near Carthage
---
November 3, 2015
Chicken and Cows . . .
Well, our 'Mostly Cloudy' day turned out to be 'All Cloudy' and pretty 'leaky' too, with a very fine, almost misty, rain falling most of the day, and of course, no sun to be seen at all.
Of course, there's always tomorrow . . . which is the same 'Mostly Cloudy' forecast.
The gate traffic stays pretty consistent with 55 to 60 vehicles a day, with the same six crew, and a few supervisors coming through, and the rest are the water tankers hauling out the flowback water they're removing from the three wells.
And it's a lot of water. At 9000 gallons per trip, and 42 tankers today, that's almost 380,000 gallons a day. And for the last seven days since they started the Flowback, that's over 2.6 million gallons, one tanker at a time.
A few weeks ago, our landowner came by to let us know that he was releasing about 50 head of cows (and two donkeys) into our area, and to let the truckers know. So we regularly have anywhere from one or two cows, to the whole herd just wander by.
They usually stop and stare for a few minutes and then move on.
But yesterday afternoon was something a little different. I heard a lot of commotion and looking up, saw a pretty good size Black Angus cow running full speed up the road toward me, followed closely by Billy, the landowner's son, in his red pickup.
As soon as the cow passed our rig, she circled back around behind us, trying to head back in the direction she'd just come. The red pickup skidded to a halt, backed up, and tried to cut her off, as she came back around. This back and forth went on for a while, with Billy steadily driving the cow on down the road. But every now and then, the cow would make a dash for freedom, cut across the pasture, and head back this way.
Finally this 'traveling circus' disappeared around the corner down by the pad, and afternoon's entertainment was over.
When Billy came back through a little later, I told him, "You know, they have horses for that, and they'll do most of the work for you." He laughed and said, "Yeah, but I don't have to feed and water this one."
Turns out the cow was feeling amorous, and was smitten with a bull right across the road on a neighbor's land. So smitten in fact, that she kept trying to tear down the fence to get to him. So he had been trying to move her a couple of pastures over, I guess hoping for 'out of sight, out of mind'.
I told him it probably all depended on how strong his fence was at the new pasture.
For lunch, I made a quick trip into Carthage to pick some Chicken Express. Well, Chicken Express for Jan, and I guess, Fish Express for me.
Jan usually gets the 4 Chicken Tenders with Fried Okra, and I get the 2 Catfish Filets with Fried Okra, and then we split an order of Fries.
Their Fried Okra is delicious, but they serve it kind of strange. They give you a small bag of it, and then dump 3 or 4 bags worth just loose in the box. I always wonder why they even bother with the little bags at all.
We also get four pies with our order. Jan gets two Cherry and I get a couple of Apple. These are not to have with our meal. In fact, we always have enough left from our Chicken and Fish for another dinner. No, we normally have these the next couple of mornings for breakfast, or with our coffee later.
One thing I've noticed is that, at least here anyway, both Chicken Express and Whataburger have gone back to actually deep fat frying their pies, instead of baking them. Much, much better tasting.
On a related note, the young lady that works the counter at Chicken Express needs to be moonlighting as a trainer down at Whataburger. I mentioned all the problems I have with Whataburger taking my order and getting it correct, but the girl at CE has no problem with my order.
That was our meal today, but yesterday Jan served her famous Nachos.
This is a favorite gate meal of ours, really quick for Jan to fix, and really good to eat. And we have it a lot off the gate too.
________________________________________________________________
Thought for the Day:
It ain't over til it's over, and it ain't over til I'm out of ammo.
Gate Guarding in South Texas
---
November 3, 2016
Boxed In . . .
Today turned out to be a nice rainy stay-at-home day. Not very heavy, but just steady for on and off for most of the day. Very nice.
Hopefully it will settle some of the dust on the roads around here. And the cooler weather that the front is bringing is very nice too.
After a text from Nancy, the RV park owner, to be sure we were here, her husband dropped off a package from our son Chris with our mail. Jan was impatient to she what the hospital bills from her September kidney stone problem were going to be.
So far, we've gotten two bills. The one we got today for $18.10 was for the CT scan, but Chris said another one came in after he'd sent this box off. That one, for the hospital itself, is for about $170. Not bad, I guess.
One thing that always amazes is all the hoops you have to go through to pay one of these bills. I not only had to enter 3 different numbers from the bill, but then had to answer a couple of security questions and enter the last 4 digits of my Social before I could pay the $18.10 bill.
Is there really a problem with hackers logging in and paying other people's medical bills?
If so, I'm all for it.
Long time blog readers will remember our late lamented Mister, and his love for boxes.
Big boxes.
Small boxes.
Even smaller boxes.
And 'if I can't see you, you can't see me' boxes.
But as it turns out, Miss Karma is not a 'box' kitty, and couldn't care less. I put the box that our mail came in down on the floor to see what Karma would do.
And the answer is Nothing. She just stared at it and walked off.
Figuring maybe being a semi-feral stray, she didn't really know what to do with a box, I picked her and tried to put her down in the box.
Bad Idea.
She didn't want any part of it. In fact she got all 'bitey'.
Though I bet if I had squirted some whipped cream in there, she'd have hopped right in.
I did a couple of chores around the rig, one of which was to finally put the doors back on the washer compartment. That project had gotten pushed aside after I repaired the broken wire on the washer's water pump, and then we were trying to get started on a new gate guarding location. But now it's done.
When Ray came by to drop off the package, I double-checked with him about using the my pressure washer to get the mud coating that we acquired on our way down from the Colorado River Thousand Trails. There were two 10 mile long construction zones that left the rig covered in mud.
So once we're down with rains that are forecast over the next few days, I'll see about cleaning things up.
One thing I'm going to do is call the Ocean Express Car Wash down in Webster to see if they will tell me the brand of spray car wax they use. Whenever we have the truck washed and waxed it comes out with a shine that makes it look like new. And I wanted the rig to look the same way.
Hopefully I can find out what brand they use, and then buy some online. Or maybe I can talk them into selling me a gallon or so. Either way it would really make the rig sparkle.
Of course the mud's got to come off first.
---
Thought for the Day:
"In a government of laws, the existence of the government will be imperiled if it fails to observe the law scrupulously. Our government is the potent, the omnipresent teacher. For good or for ill, it teaches the whole people by its example. Crime is contagious. If the government becomes a lawbreaker, it breeds contempt for law; it invites every man to become a law unto himself; it invites anarchy ." Olmstead v. U.S., 277 U.S. 438 (1928)
Back Home In Santa Fe, Texas
---
November 3, 2017
Every Kiss . . .
Work went pretty smoothly today, as I was able to get a lot done, mostly because I was able to concentrated on one task at a time and finish it without having to go stomp out a fire somewhere else. Nice.
About 5:30 Jan and I drove up to the Jimmy Changas on I-45 just above FM646 to meet up with long-time friend's Beth and Bob Young, who we've known for about 30 years. It's been about a year since we last got together, so we had a lot to talk about.
Jan had the Stuffed Avocado,
which she said was good, but not quite as good as the one she gets at Los Cabos over in Columbus when we stay at the Colorado River Thousand Trails.
I started out with a cup of the Creamy Chicken Poblano Soup.
Unfortunately I ate half of it before I remembered to take a photo.
For my entrée I had the Machete Salad with Fajita Beef and the Creamy Poblano Dressing.
And looking back, it's the same salad I had when we last ate here almost two years ago. And both were really good.
Tomorrow looks to be a nice, easy, stay at home day for a change. Looking forward to it.
---
Thought for the Day:
I disagree with Kay Jewelers. I would bet on any given Friday or Saturday night more kisses begin with Miller Light than Kay.
---
November 3, 2018
Now That's Just Mean . . .
We decided that today was just going to be a do-nothing day, and that's pretty much what we did.
Though I did get up enough go to take a look at our Lasko heater problem.
I was going to take it apart to see if it was clogged up with dust and cat hair, enough to make it run hot and trigger the thermal overheat switch.
The heater has a total to 10 screws holding the case together. 7 of them are standard Phillips type, and another one is a Torx screw.
No problem as I have a complete set of Torx drivers here at the rig. But then they just got mean.
The remaining two screws looked like these.
These are Notched Spanner Security Screws.
I guess I could understand using ONE security screw in the case. I regularly run into different types of these screws of some of the machines I repair at my client's. In fact we have a set like this from Harbor Freight.
But I have never seen any unit with three security screws, and of two different types.
Actually there are two different types of Spanner screws, the notched type, and the Snake Eyes Spanner version, like this.
But they're both removed with the same bit,
like these.
So I'll bring the bit set home, but now it possibly might not be needed.
When we got up this morning, it was in the low-50's outside, and the low 60's inside. So I went ahead and turned the heater on for as long as it would work.
And it proceeded to work all morning with no problems, until it wasn't needed anymore. But I'll probably still take it apart anyway.
We were sitting around this afternoon trying to decide what we wanted to fix for dinner. But as happens, we didn't want to fix anything. What we did want was breakfast, so about 4:30 it was off to Denny's.
We've had the same waiter, Scott, so many times I think he pretty much knows our order by heart since we always get the same thing.
Yeah, it's a rut, but it's a tasty rut.
Coming home we made a Dollar General store for a couple of things. Specially, White Out and some legal pads. Don't know what the problem with WalMart is, but the last 3 or 4 times we've been there, they've had no White Out OR legal pads.
It seems like they've never really restocked since the Back to School horde passed through. It was either a horde or plague of locusts stripping the shelves bare.
But DG had both in stock, and some other stuff that we just had to have.
Last thing, we stopped by the PO to check our mail, and then it was home for the night.
---
Thought for the Day:
I have a photographic memory, but I ran out out film when I was around 7.
---
November 3, 2019
A Touch of Class . . .
I thought I'd get a jump on reservations on our Alabama/Florida RV trip next June so I so put in a call first to Luxury RV Park in Gulf Shores, just a few blocks off the beach. We stayed there a couple of times in the past and it's a nice park.
I started off by asking the lady if they were taking reservation yet for next June, and she chuckled and said, "Not only are we taking reservations, we're already booked for June and July."
So then it was on to our 2nd choice, Island Retreat RV Park up on Fort Morgan Rd. We've never stayed here, but have driven through it a couple of times and it's very nice. And only about 3 miles from the beach.
And lucky for us they did have a site for the 10 days we'll be there.
We're already booked at Poche's RV Park in Breaux Bridge LA going and coming back, so that's done.
But when I checked Seasons In The Sun RV Park in Mims FL where we stayed in October 2018, I found it was no longer a Passport America park. But checking the PPA app I found one, Crystal Lake RV Park, about 10 miles up the road.
I left a message but I haven't heard back yet.
I know a lot of RV'ers say that Passport America is not worth the money, they can never get discounts at the parks they want, when they want.
And no, you're not going to get a PPA discount in Florida in the winter. But you can get one in June. The season seems to be November to April, at least at Crystal Lake, where we'll be paying $20/night for our 11 night stay instead of $40/night.
That's a savings of $220, and, along with a couple of more stops going and coming, we'll probably save about $300 over the entire trip. Not bad for a $45 a year membership.
Several readers said they tried to purchase the Foam Tablet Holder that I mentioned a few days ago and found it no longer available. This happens when someone buys a couple of containers of stuff from China, and when they're all sold they start over with something else.
One of our readers, Karen, said that WalMart has them for about $20, so you can try there.
This time of year we really enjoy our Touch of Class Heated Mattress Pad.
We got it from Sam's Club back in 2011 and it was a great buy. It's really nice to turn it on an hour or so before bedtime, and then crawl into a warm bed. Unfortunately I don't think ours is available anymore.
But I'm sure Amazon will have one you'll like.
---
Thought For The Day:
Worrying is like interest on a loan you don't owe. You don't owe it, so don't worry about it.