Daily Archives:
November 26, 2020
and the Dressing, and the Green Beans, and the Mashed Potatoes, and the . . .(Insert Your Favorite Thanksgiving Dish Here)
About 12:30 I started putting out and heating up our Thanksgiving meal, mostly compliments of Cracker Barrel.
I mixed the chicken broth in with the Cornbread Dressing and put it in the convection/microwave for about 40 minutes while I was prepping everything. And a lot of the prepping consisted of taking the lids off the Green Beans, the Carrots, and the Mashed Potatoes, and putting a couple of big dollops of KerryGold Butter in each dish.
As well as drizzling melted KerryGold over the top on the Yeast Rolls, which went into the toaster/convection oven at 400° for about 15 minutes, coming out looking like this.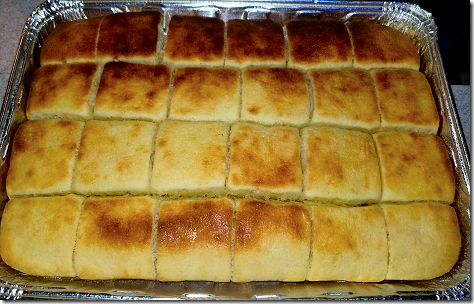 While this was going on I got out the Turkey Breast, cut open the sealed plastic bag, and started slicing.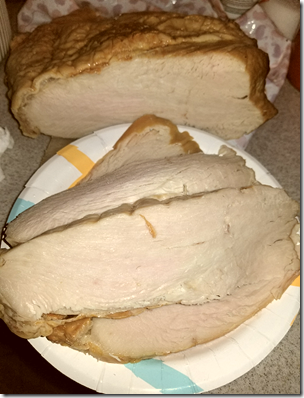 And no, it's not really greenish. It's just the lighting.
Then after cycling all the Veggies and the Turkey Gravy through the microwave,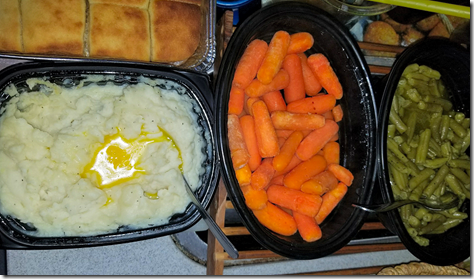 and laying everything else out,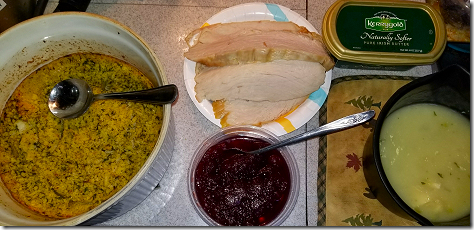 we were ready to eat.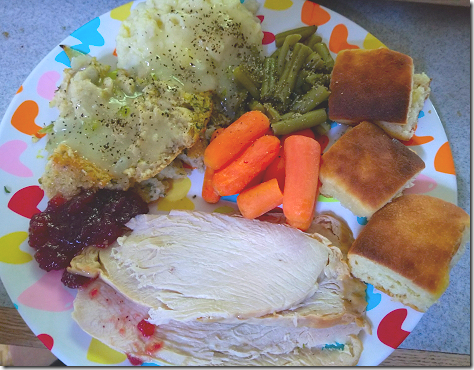 Really, really good. Thanks to Cracker Barrel.
And then for dessert, there was pie.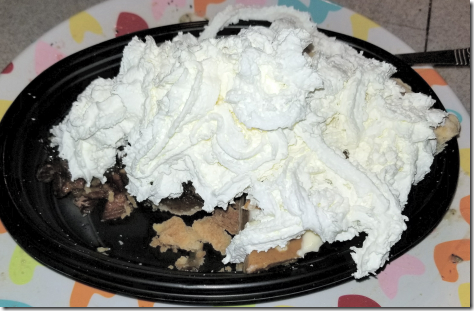 And yes, there's a piece of Chocolate Pecan and a piece of Cream Cheese Pumpkin underneath all that Whipped Cream somewhere.
And the clean up consisted pretty much of just snapping the lids back on the serving dishes and putting them back in the fridge.
Nice!
The only downside to this very nice day, is that we lost the park WiFi Internet about 10:30 am, and as of 11 pm tonight we still don't have it back. The WiFi signal is there, and we can connect to it and get an IP address, but it's just not talking to anything.
Rob, the park owner who's out of town, had his daughter come over and reboot everything here, but it didn't help. And so far it's been impossible to talk to anyone at Xfinity.
Nothing we have will get a signal. The TV, computer, tablets, Kindles, Echo's, all zip. But I can connect to my Verizon MiFi or my phone hotspot, so I know it's not me.
So later in the afternoon I turned our DirecTV DVR back on and we watched stuff we had recorded a while back.
---
Thought for the Day:
Cogito ergo sum. – Descartes
(I think, therefore I am)
Cogito cogito ergo cogito sum. Cogito. – Ambrose Bierce
(I think I think, therefore I think I am. I think)
And I think I like the last one better.
I think. – Greg
---
November 26, 2011
Moving Day . . .
After our coffee and a quick drive past the site to be sure no one had come in and parked there overnight, we moved the rig a little before 11 and got settled in at our new home.
Hooking up backwards wasn't as much a problem as I anticipated. I had thought I might need another length of sewer hose, but as it turns out my two pieces were just enough.
Power was no problem since whoever originally purchased our coach ordered the extra-long power cord, and that's been a big help several times.
As it turns out, the only problem was with the water connection. The previous tenant had left one of those silver 2-way hose connectors like this.
The problem was the threads on both sides were so messed up that I couldn't connect my hose to it. And worse, I couldn't get the splitter off, either. It was stuck good.
The pipe is PVC and when I tried to use a wrench to twist it off, the PVC started to bend. Just what I want to do – break off the pipe.
My solution was to call the park office and let them fix it. We'll just stay on internal water till they get it fixed.
Here's a couple of views out our front window. As you can see we're only about 20 feet from the water.
By the time we got parked the thunderstorms were rolling in and the formerly blue skies were turning gray and dreary.
This shot shows Jan's favorite island. A lot of birds make this area home and it's one of her favorite sights.
After we got settled in, a little after 12, we headed up to Seabrook to have lunch at Hooters, our (my) favorite hot-wing place. Really like their XXX hotter sauce.
After lunch our next stop was Wal-Mart for a few things. It looks like the Black Friday madness has subsided to a dull roar. They were busy, but not overly so. We didn't even have to wait in line to check out.
Coming back into the park, we saw our newest resident, a Roseate Spoonbill, hanging around with a paddling of wild ducks.
When we first saw it a few days ago, it was resting on the bank, facing away from us, and we thought it was a Flamingo. But these shots proved different.
It was still pretty cloudy, so he looks a little colorless, but in the bright sun, the pink really stands out. A beautiful bird.
I'll try to get some better shots later.
We still haven't seen the Great Blue Heron that was here our past three winters. Hope he's OK.
Getting back to the rig about 2, the rainy weather made a perfect setting for very nice nap. The rain on the roof of the rig made it very easy to fall asleep.
Supper was leftovers of Mexican and BBQ with cookies for dessert. Nice and simple.
Tomorrow I want to dig out my truck manual and see what I can do about the broken window lifter.
If the weather cooperates, that is.
---
Thought for the Day:
I'm working on my second million . . . I gave up on the first.
---
November 26, 2017
In An Instant . . .
We bought a 2+ pound eye of round roast a couple of weeks ago to try out in our Instant Pot, But we got so busy that we ended up freezing it.
So today we decided to try out our IP with Pot Roast and Veggies. We'd seen that we could do the roast frozen so that's how we did it.
I put the roast in the IP and then added beef broth, water, salt, pepper, and heat.
Then I added some of the cut-up onions from our veggies,
locked the lid down and then set the the IP to Meat and 90 minutes, and off it went. It took about 15 to reach pressure and then the countdown began.
Per the instructions, 90 minutes later I did a quick release and here's what we had.
Jan had already prepared the veggies, potatoes, carrots, and onions. The corn I was going to do separately.
So in the IP they went right into the leftover juices.
This time I set the IP to Manual and 10 minutes with a 10 minute natural release and then quick release.
As soon as they were done, I put the corn on the cob in our steamer basket, still using the original liquid, and set the IP for Manual and 3 minutes, and then did a quick release.
And about 10 minutes we were ready to eat. The roast sliced easily and was fall-apart tender.
It was delicious, but no heat. We'll add more next time.
The veggies were a little over-cooked, but still delicious. Maybe 8 minutes next time and quick release.
I like my corn on the cob with some bite to it, but next time I'll do it for 4 or 5 minutes, instead of 3.
All in all, it was a good first try with our Instant Pot. Looking forward to more great meals.
The Word of the Day is: Confabulate
---
Thought for the Day:
Pretty much sums it up.