Daily Archives:
November 19, 2020
.Jan and I headed up to Webster about 2:30, first for lunch at East Star China Buffet once again.
Just as good as always.
Then it was on over to Sam's Club to pick up a couple of prescriptions before we headed back down toward Santa Fe, with a stop at the local Jack's to pick up some Christmas Antenna Balls for our truck and our Jeep. But we were quickly informed that they no longer do antenna balls, and haven't for a while.
In fact, it looks like the last time they did any may have been back in 2014. At least that's the last year shown for any at the AntennaBallStore website.
Oh, well.
Then we stopped off at the PO and found that the South Dakota tag renewal stickers for our truck and rig had come in. Now hopefully our new Jeep tags will come in next week some time.
Apparently, up in Alaska right now, car licking is a big problem. Well, a moose licking your car is the problem.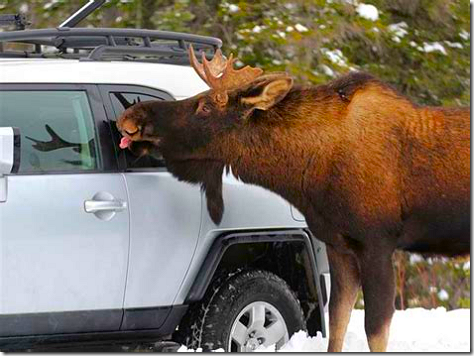 So much so that they're even posting signs about it.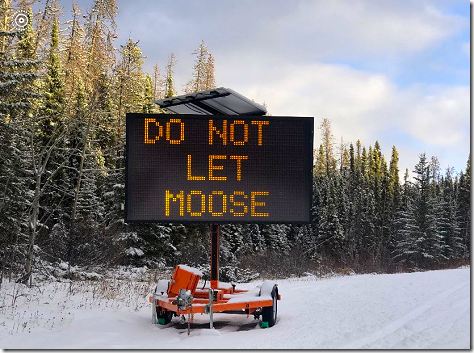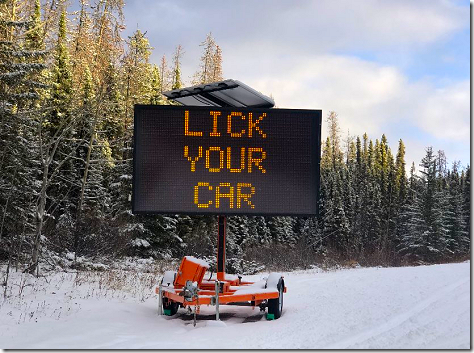 it seems the moose really like the taste of the road salt used to de-ice the highways up there. So to them your pickup is just one big salt lick.
Supposedly it draws the moose out into traffic where they get hit. But they already get hit a lot anyway.
Or maybe the moose get their tongue stuck to your car and can't get loose.
Like in "A Christmas Story".
---
November 19, 2009
Beach Party…
Since we wanted to get an early start this morning, I got the toad hooked up last night, and everything else stowed away.
We pulled out of my relative's RV park about 8 am and headed down I-65 toward Gulf Shores about 380 miles away.
I-65 is in good shape and it was a smooth trip.
Jan hasn't driven at all this year so she decided she wanted to drive for awhile. So a little south of Montgomery she took over. She drove about 125 miles until right before we got off the Interstate. At that point we were a little over 55 miles from our park.
We pulled into the Gulf State RV Park about 3:30, got parked and set up.
Getting to our site we passed one of my favorite signs.
What exactly 'aggravates' a gator? Maybe it's not 'feeding' them. I would prefer to know.
We're back in our favorite area along the bayou.
And of course Mister had to start checking things out. I think he's hoping to catch himself a gator.
---
Thought for the Day:
Sometimes I just clap because it's over, and not because I liked it.
---
November 19, 2012
1st Day Back in Texas . . .
Today is our first full day back in Texas, and it's been interesting to see all the new restaurants that are opening in this area. We've got a P.F. Chang's, a Cheesecake Factory, and a Longhorn Steakhouse, just to start. So it's looking like some good eating's in store.
Getting back here reminds us how much we enjoy being here. And one of the many reasons is this view out the front of our coach.
Jan and I headed out on some errands about 10:30, but our first stop was one of our local favorites, King Food. We been eating here for more than 30 years, and we're actually on our 4th owner. But they still have some of the best Chinese food around, and in fact this past year, they were selected one of the top 100 Chinese restaurants in the U.S.
After a great lunch, we headed over to the Honey-Baked Ham store to pick up a ham and a roasted turkey breast for our Thanksgiving meal up in Marble Falls. Luckily for us the line getting into the store was only about 15 minutes so we were on our way again pretty quick.
After dropping the ham and turkey at our daughter Brandi's, our next stop was Kroger's to pick up a couple of things. Then it was on to our storage room at Challenger Storage to pick up Jan's bird feeder. She really enjoys watching all the many types of birds we have in this area.
As you can see Jan has a very popular bird feeder.
Our next stop was at one of my clients to check in and see what he broke while I was gone, and how hard it's going to be to fix.
Then it was back home for the rest of the afternoon, which let us just relax and enjoy being back in Texas. Then after a nice afternoon, and an even better nap, we headed out about 5:45 to first have supper at another local favorite of ours, Monterey's Little Mexico, for what's pretty much the best Chicken Tortilla Soup around.
Then it was on to our ultimate goal for the evening, our first chance to see our grandson Landon (and Brandi and Lowell,of course) in about six months. The last time was the end of May when we came back to Houston for our granddaughter Piper's high school graduation.
We did get to Skype with them occasionally, but it's not like being there.
When we got to Brandi and Lowell's, Landon was a little shy at first, but quickly warmed up to us, and started calling us Nana and PaPa. We stayed about an hour before it was time for his bath and bed.
A visit with Landon, a great way to round out the day.
---
Thought for the Day:
A sufficiently advanced incompetence is indistinguishable from malice." – Steve Rush
---
November 19, 2014
A FixIt Day . . .
And a somewhat expensive lesson.
As soon as I got up this morning I called Bob Parker to pass on some info I found out last night about his Intellitec 900 system. I came across several posts about this system, and they said that when these systems start acting funny, to completely reboot it. You do this by removing shore power and then disconnecting the coach battery for about 10 minutes. You want absolutely no power coming to the unit, and using the coach battery disconnect won't always disconnect every last thing in the coach. I know it doesn't on our coach.
When I talked to Bob, he and Donna were in Livingston, but he said he would try it when they got back. While I had him on the phone, I also told Bob I had his Wi-Fi router fixed and would drop it off when we got back to the park.
Next up was a couple of my own problems. I finally had the time and the decent weather to let me get back on my turn signal problem. And now I had a new problem to work on. Yesterday I noticed my brake lights weren't working. So as a workaround, when we went out I would just turn on and off the headlights/taillights to simulate brake lights.
I decided the brake light problem was the most urgent so I started out at the brake light switch attached to the brake pedal under the dash. And I found no voltage there, so it was back to the fuse panel on the driver's side edge of the dash. But there was no fuse for the brake lights here. And the owner's manual was no help either.
So I was back to my Haynes manual, and that told me about a brake light fuse in the power distribution panel under the hood. Up till then I had always thought that everything in there was engine/transmission related. And most of it is. What I found it there was a bunch of these 1″ long cartridge fuses, a type I had never seen before.
Checking the specified fuse with an ohmmeter I found it was open. Eureka!
But what's this? Five spaces down from the brake light fuse is one labeled 'Turn Sig/Haz". Could it be this simple for that problem too?
And that fuse was bad too. Just to be sure, I went back through all my books and manuals and nowhere was it mentioned that there was a fuse for the turn signals under the hood. They only mentioned the one in the dash fuse panel, and I had checked that one with no luck.
Blog readers will remember that a couple of weeks ago when I was working on this problem, I bought a $70 flasher control module to fix this problem because all the online stuff said this was the fix. But I was not able to pull the old one out from under the dash. I couldn't get a grip on it, so I thought I'd let my son Chris try it when we get together Friday night.
Since I had never seen fuses like this before, I went back online for a little research. Found I could order the fuses online, but locally the Dodge dealer seem to be the only place that carried them. No luck with AutoZone, CarQuest, etc.
So, since it was now after 3pm Jan and I headed out for a couple of errands and then dinner. And my first stop was the Chrysler dealer in Conroe to get two of the fuses.
Coming back out to the truck with my $13 worth of fuses, I plugged them both in and, VOILA!, I had turn signals and brake lights again.
Of course I also have a $70 flasher control module just waiting to be used if my original one ever does go out. OUCH!
With that fixed, we were on our way to have dinner at Applebee's, one of our favorite chains. And no matter what we order as an entrée, we always get the Green Bean Crispers appetizers.
These are lightly-breaded green beans, flash fried, and served with smoky bacon ranch and creamy horseradish dips. Really good, and well recommended.
Somewhere in here, I talked to Bob Parker who said that rebooting his panel fixed the problem with his Intellitec system. Great!
I love it when a plan comes together.
Finishing up our meal, our next stop was the Academy Sports & Outdoors for a bottle of the diesel biocide to be sure that the colder, wetter temps don't cause algae growth and clogged fuel filters in our coach.
Next up was a quick stop at the Wal-Mart before we headed back to the park, and along the way I dropped off the router at Bob and Donna's rig.
Some readers may wonder about the two fuses and why they would blow, and why I wasn't worried about a short in the system causing the problem. And why I wasn't too worried about the fact that I had two fuses blow.
Well, when I closely examined the fuses, there was no indication of a 'hard' blow. No burnt, smoky areas inside, no melted plastic. etc. In fact it was hard to tell the fuse WAS blown without testing it.
Fuses age, especially in an automotive environment with the heat and the vibration, so sometimes they just up and quit. And that seems to be what happened this time. And the coincidence of two fuses dying in a relative short time, well, as Sigmund Freud is reputed to have said,
"Sometimes a cigar is just a cigar."
______________________________________________________________
Thought for the Day:
"Trying to describe a building is like trying to describe a beautiful woman: the proper medium is a picture." – Robert A. Heinlein
---
November 19, 2015
Sometimes A Coincidence . . .
is just a coincidence.
First up, a correction.
Yesterday I talked about the Power Tank Tire Inflator that I use, and I gave you an Amazon link and picture.. But blog reader Len Coffelt pointed out that that one probably wasn't the one I was thinking about. And he's right. That one now only goes to 60psi, not exactly useful for large RV tires.
The funny thing is that listing came directly from my past orders list on Amazon. And my Power Tank Inflator is labeled an TI-8200.
So I guess that sometime since 2009 when I bought mine, Power Tank changed the specifications on the 8200.
The one that you probably want is this one.
Power Tank TIG-8170 Tire Inflator
This one, like my old 8200, goes to 160psi. and should do the job.
Sorry about that.
---
The last couple of days we've had an invasion of the Asian Ladybugs, or Lady Beetles as they're also called. And unlike our native species, the Asian ones bite.
And the other way to tell the difference is that the Asian ones are not just red, but a lot of different colors. And the Asian one s have more spots.
It's been a real pain keeping them out of the rig when they're swarming everywhere.
The next thing up on my chore list this morning was swap out my old, defective transfer switch for the new one I just received a few days ago. I didn't expect it to be a big hassle, and it wasn't.
It was an uber-hassle.
Over the surface it looked simple, and it was. Turn off the rig power at the 50 amp breaker on the generator and unplug the shore power cable, remove the 9 color-coded power wires and the 3 bare ground wires, pick up the old unit, put the new one in its place and reverse the wiring procedure.
Then came the test.
Regular readers will remember that my problem was that my transfer switch would only switch over to the rig's generator as long as we were still running on shore power. But if we wanted to use the generator on the road, then I had to start the generator, go back and lift the bed, remove the compartment cover, and then use a large screwdriver to push down on the contactor until it locks in.
A real pain in the rear if you're doing this on the side of the road because you decided you wanted run the house AC's.
So after I got everything swapped out, the next thing was to start up the rig generator and see if it works. And it did.
Twenty seconds after I started it up, the new transfer switch clunked, and we had AC power in the rig.
The green LED shows that the switch is in generator mode.
Thinking the problem was fixed, I shut off the rig generator and went outside to plug back in and flip the breaker on. Note that I don't depend on just the breaker to protect me.
I came back in the rig expecting power to be on, but had nothing. And back at the transfer switch with my voltmeter, I had nothing coming in there either. So at least it wasn't another bad switch.
Back outside, there's no way to measure or see the voltage at the generator while you're plugged into it, so I again flipped the breaker, unplugged the power cable, flipped the breaker back on, and checked the voltage at the socket.
I had 122 volts on both legs. So plugging back in, I went over to my electrical bay and checked my Progressive EMS.
Aha!
I had 122 volts on L1 and 15 volts on L2. And with that low a voltage on L2, my EMS was not letting power into the coach.
Cycling the breaker again, I watch the EMS display as it went through its testing before putting power to the rig, and saw L1 at 122V and L2 at 122V
But as soon as the EMS tried to put power to the rig, it dropped right back out, showing 15 volts on L2.
WTH?
At this point the first I thought was that something was wrong in the coach, and it was pulling the L2 voltage down. But then everything was fine in the coach because the rig generator didn't have any problems.
Again, WTH?
So turning the breaker back off, I unplugged the output of the EMS system from the coach at the main power feed.
And powering up, the EMS still showed L2 at 15volts.
So now it was a generator problem.
3 years ago when we were gate guarding down in south Texas, we had generator do something similar where one leg dropped to 75 volts. But it stayed at 75 volts. But here we were seeing 122 volts until we put a load on it, and then it dropped to 15 volts.
And that indicates a bad connection somewhere.
I put a call into Todd, our GGS service guy, and he said it was probably the 50 amp breaker, and that he'd already replaced two others this week. He said he was the other side of Bryan/College Station and it would between 7 and 8 pm before he could get here.
I told him no problem, and that we'd just run our rig generator if we needed.
Especially now that our transfer switch works.
We found out this afternoon that we don't have a 12 hour gate. We have a 10 hour gate, with everyone coming in between 6:30 and 7am, and they're all gone by 4:30pm. In fact they couldn't work at night if they wanted to, because they no longer have any light towers. They took them all out today, I guess to save money on the rentals.
So Jan and I headed out about 5pm for one last steak dinner at Longhorn Grille, and it was as good as last time.
Todd showed up about 7:45pm and 15 minutes later we were back on shore power.
Great job, Todd.
This lesson here is that it's easy to get led down the wrong path when you're troubleshooting something. Most of the time it's the last thing you fooled with that's causing your new problem, but then other times, just enough to keep you on your toes, it's just a coincidence.
---
Thought for the Day:
with Thanks to my Great-Niece Stahlie
I wrote this blog back in 2016, which at the time kind of went 'mini-viral' around the Net. And it's amazing that it seems even more relevant today.
---
November 19, 2016
What If We Erase Our Past?
George Santayana famously said,"Those who cannot remember the past are condemned to repeat it." Or maybe you like Mark Twain's version better when he said, "History doesn't repeat itself, but it does rhyme."
But you can't remember the past if it's disappearing right before your eyes.
Stalin's Communist regime was probably the first modern government to make a consistent effort to erase the photographic past, as seen in this famous comparison.
Makes you really appreciate how much harder this was in the pre-Photoshop days.
In Stalin's case, whole Cabinets, as well as top generals, would just disappear from history. I guess this is what they mean by "Out of sight. Out of mind." Poof! You're gone.
And it wasn't just the Russian Communists, but the Chinese Communists too.
Bo Gu, a protege and senior adviser to Mao Tse-tung, apparently got on Mao's bad side, and Bo and bunch of other senior leaders died in a plane 'crash' in 1946. Almost immediately, Bo and the others, AND the plane crash pretty much disappeared from history.
Even Hitler got in on the act when he was mad at Joseph Goebbels about something. Goebbels also disappeared from official photographs for a while until he got the message.
At least Goebbels only disappeared from photographs, and not permanently as most did.
Even the ancient Egyptians were not above erasing a Pharaoh from history. Akhenaten, son of Amenhotep III, husband of Nefertiti, and father to King Tutankhamun, or King Tut, as Steve Martin calls him, tried to move the populous away from the many different gods they worshiped to a belief in only one supreme god, Aten, the sun god.
Akhenaten even built a great new city dedicated to Aten called Amarna. But it only lasted about 10 years until Akhenaten's death. Then the people and the priests revolted, reinstalled their pantheon of gods, and did their best to rid history of any mention of Akhenaten and Aten. They tore down the temples to Aten, destroyed Amarna, and even removed Akhenaten from all official king lists, even going so far as to chisel his name from all monuments and stonework.
And we see the same thing happening in the same area today with ISIS, the Taliban, etc., destroying ancient Mesopotamian relics because they're not mentioned in the Koran, so they can't be allowed to exist.
And now we see this happening in America today.
There seems to be a concerted effort to erase the Confederacy, the South, and even the Civil War from present day knowledge, to the point of pulling down mountains. Or at least mountainsides.
There has been a call to remove this sculpture from the side of Stone Mountain outside Atlanta.
Depicting Confederate President Jefferson Davis, General Robert E. Lee and General Thomas "Stonewall" Jackson, at three acres it's the largest high-relief sculpture in the world, even larger than Mount Rushmore. And some people want it dynamited or sandblasted to get rid of it.
And all over the South flags are coming down, and streets, parks, buildings, and even high school football teams are being renamed.
And on a somewhat more personal note, Vanderbilt University is spending $1.2 million to remove the word "Confederate" from "Confederate Memorial Hall" that's on one of its buildings on the Peabody campus. I say 'personal', because I actually lived there for about six months.
In 1957 my mother went back to college to get her teaching degree, at the then Peabody College for Teachers in Nashville, TN, one of the best schools in the south. At the time we lived down in Gulf Shores, AL, where my father was in the commercial shrimping business with seven of the big ocean-going shrimp boats.
So my mother and I moved to Nashville for her school. We were supposed to be in family housing, but there was a delay due to new construction. So my mother, with the help of some of her college friends, snuck me into Confederate Hall.
I say 'snuck' because I wasn't supposed to be there. You see, Confederate Hall was the women's dorm – single female coed women. I kind of became a mascot, and the girls would help sneak me in and out to avoid being seen by the resident dorm 'mothers'. And yes, I do remember seeing coeds in the hall in various states of undress.
Unfortunately I was NINE! But I digress.
Confederate Memorial Hall was built in 1933 by the United Daughters of the Confederacy and donated to Peabody with the stipulation that it always bear the name "Confederate Memorial Hall". In fact early on it was reserved for the female descendants of Confederate veterans who were able to live there free.
Well, some years later Vanderbilt University took over Peabody, and since 2002 has been trying to change the name of Confederate Hall but that pesky 'stipulation' kept getting in the way.
But finally this past August Vanderbilt paid the United Daughters of the Confederacy $1.2 million (the equivalent of the $50,000 the UDC paid for its construction in 1933) and gained the right to remove the word 'Confederate' from the building and just call it 'Memorial Hall'.
Ironically they had already been calling it that in all their literature for years. So they paid $1.2 million to chisel some stone off a building that didn't really change anything.
Is it just me, or would it not have made more sense to use the $1.2 million for minority scholarships? Did they ask anybody, "Do you not want to see the word "Confederate" or would you like a free scholarship?" Seems a pretty easy choice to me.
Finally I'm now waiting for someone to call for the renaming of Arlington National Cemetery in Virginia. You see, the name Arlington comes from the 'Arlington House' estate which passed down from George Washington's family to the wife of Robert E. Lee. Yeah, that one.
So at the beginning of the Civil War, the estate of Arlington House, and the present location of Arlington National Cemetery, was owned by Robert E. Lee.
Rename it quick before it offends.
So, are we becoming too Politically Correct? If we erase all the bad things from our past, how will we know what to avoid next time.
Time will tell, I guess.
---
Thought for the Day:
In 1913 Adolf Hitler, Joseph Stalin, Leon Trotsky, Josip Tito, and Sigmund Freud were all living in Vienna, Austria at the same time.
So maybe if Sigmund had been a better psychiatrist then, the world would be a better place now.
---
November 19, 2017
Fun On Ice . . .
After a quiet Sunday morning, Jan and I were on our way up to Sugar Land Ice a little before 12:30.
We were meeting Brandi, Lowell, and Landon at the rink for Landon's Ice Hockey practice. Due to all the family stuff going on, he missed the first couple of practices, but he's back on the ice, and you can certainly see the improvement from last year.
Landon and the girl on the team were two of the most aggressive players and often found themselves facing off over the puck.
And there they are again going after the puck in the corner.
And of course you know it's all over when the Zamboni comes out.
After practice was over we all headed down to the nearby Floyd's Cajun Seafood. It doesn't make any difference which Floyd's we go to, it's always delicious.
Jan had her usual Chicken Fried Chicken with Sweet Potato Fries, while I got my usual bowl of Shrimp Gumbo, this time with a side of Fried Okra.
I don't think you could cram any more shrimp in there if you tried.
Brandi says that Landon has gotten hooked on those brain teaser sites like Luminosity, and plays them all the time now.
She also says he's better at them then she is.
Finishing up, I gave Jan a kiss and send her home with Brandi, Lowell, and Landon where she'll be Landon-sitting until I pick her up Tuesday afternoon.
I mentioned yesterday all the old photos and slides we'd come across. Here's one of Chris and Brandi with Jan's father, probably at Disney World in about 1976-1977.
Finishing up, Brandi posted this photo of Landon in his elf costume.
She said this is probably the last year she'll be able to get him in that outfit.
The Word of the Day is: Bombinate
---
Thought for the Day:
I used to have an invisibility cloak, but I set it down somewhere.