Packing Up In Paradise . . .
Since we have to be gone from the condo by 10am tomorrow, everyone started doing some packing today, but of course, interspersed with beach stuff, including feeding the seagulls the last of the bread stuff leftovers.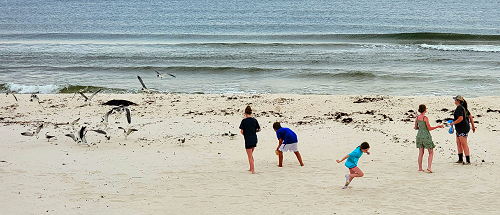 We had some high winds and rough water this morning, but that didn't stop the kids from taking advantage of it with their Boogie boards. With the onshore wind, the waves start building further out so they're bigger when they get closer to shore.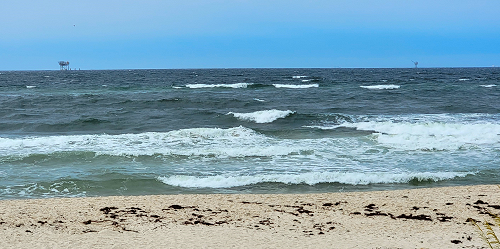 The wind got stronger and stronger as the afternoon went on, pretty much stripping the beach of umbrellas, canopies, and chairs. At least the ones that didn't already get taken down first.
Jan did get a couple of pelican sightings today, as the rough water brings a lot of fish closer to the surface, just perfect for a pelican snack.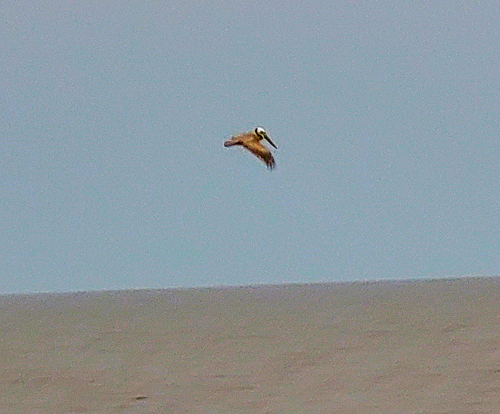 Meals today were pretty much just trying to finish off any leftovers. And between Spaghetti, Lasagna, Queso, Egg and Sausage Casserole, it was all delicious.
Besides generally cleaning up the kitchen, we had to wash and put away all the towels and washcloths we used, so everyone washed their own during the day.
Jan and I are going to try to be on the way by about 9am, with our first tentative stop at the Buc-ee's up in Robertsdale right off I-10. We tried to stop there last Saturday as we arrived in the area, but the line to get into the place stretched back down the exit feeder and along the shoulder of the Interstate. But we're hoping that earlier in the morning it won't be as busy. But we'll see, I guess.
We all had a great time, and we're already planning our next get-together, this time down in Texas.
Tomorrow we've got a 260 mile trip to Baton Rouge where we'll spend the night before doing the last 300 miles on Sunday. In addition we'll finish up our BBQ Trifecta by having supper at the Sonny's BBQ before checking into our nearby Sleep Inn Hotel.
Sonny's, along with Big Bob Gibson's in Decatur, and Golden Rule BBQ in Birmingham, make up 3 of our 4 favorite BBQ places. The 4th being Famous Dave's BBQ, but unfortunately I think the nearest one is in Nashville.
Maybe next trip.
From Weed To Bend
---
June 10, 2011
Cha . . . Cha . . . Cha . . . Changes . . .
Today is our last full day in the Mt. Shasta area. Tomorrow we'll head about 190 miles north to the Bend / Sunriver Thousand Trails Park about 20 miles south of Bend, OR.
As far as the changes, originally we were going to stay here in Weed for three nights, Bend, OR for seven nights, and then La Pine, OR for seven nights. Then it was Weed for seven nights, Bend for seven nights, and La Pine for three nights.
And now it's going to be Bend for ten nights, period.
About 1 we headed out on a roundabout trip to the Wal-Mart in Yreka by way of the Mt. Shasta Lavender Farm about 20 miles out in the country.
Sue, a camp host here at the Friendly RV Park told us about the Lavender Festival that starts tomorrow. But since we won't be here, we decided to detour out that way anyway just to see what we could see.
We turned off the main road,
onto this dirt/rock road, and started a slow three-mile, 600-foot high climb up the side of the hill.
If it hadn't been for the sign at the road we'd have wondered if we were going the right way. Even the lizard seemed lost.
When we finally got there, we found . . . no lavender. Or, we found lavender plants and a beautiful view, but it was more green in color than lavender.
It looked like this today.
This photo from their website shows how it should have looked. After talking to one of the owners we found out that due to this year's cold, wet weather, the season is running about a month behind.
This is what blooming lavender looks like.
This is what our lavender looked like.
Bummer!
We didn't get to see the lavender in bloom, but it was a fun trip with a beautiful view, so it was worth it.
This is a better view of what the farm looks like from the road about 4 miles away.
Leaving the lavender we headed on up to Yreka and the Wal-Mart to pick up our prescriptions and a few other things. Our daughter Brandi called to check in while we were there and it's always good to talk and get the latest Landon update.
Coming home we saw this Adopt-A-Highway sign listing 'Just Bill' as the adopter. Now, is 'Just Bill' really his name, or is he just very shy?
By the time we got back to Weed, it was time for dinner so we decided to have one last hurrah at Dos Amigos.
This time I had the Tres Amigos, a combination of Chile Verde, Chile Colorado, and a Chile Relleno. Very good.
Jan once again had what she says is the best Shrimp Enchilada she's ever had. Just look at the size of those shrimp.
Getting back to the rig after a great meal, I took care of some jobs outside. I put a new charge wire connector on both the rig and the toad because the old ones were getting worn out. Then I tried to do everything I could to prepare for our departure tomorrow.
See you tomorrow in Bend.
And In Bend The Next Year Too.
---
June 10, 2013
Reddd Robinnn . . .
YUMMM!
About noon I went outside and finished up the last part of my water works by replacing my Water Inlet Check Valve with one that has an actual working check valve.
About that time the park maintenance guy showed to replace the vacuum breaker on our shore water hose bib.
A couple of days ago it started leaking slightly and has gotten worse every day, so I called them this morning to replace it.
Hopefully, this takes care of all my remaining water-related problems.
Later, a little after 2 pm, Jan and I headed into Bend for some sightseeing and dinner. We wanted to make the drive up to the summit of Pilot Butte, another lava conelike our Lava Butte visit that I reposted a couple of days ago.
At 500 ft, and just about a mile from downtown Bend, it's the highest point in town. But our drive to the top was not to be.
The road to the top was closed, with no reason given. So we headed a little further down the road to the location of the Pilot Butte Trailhead, the starting point for those who want to make the 1 mile walk to the top.
What we found was Pilot Butte State Park, a very nice park,
But what was unusual is that this State Park has Bob and Sue, the Park Hosts.
Unfortunately, they were 'Off Duty', so we weren't able to find out if they knew why the road was closed. But we ask a couple who were just starting their walk to the top and they had no idea.
So giving up on our drive to the top, we headed over to the Old Mill District to have dinner at Red Robin in a beautiful location right along the Deschutes River.
After really good burgers and fries, we headed over to Fred Meyer for a few groceries, and then a little further down the highway to a produce stand for some of the delicious fresh cherries that are in season here right now. And this was what was parked nearby.
I'm not sure what this guy was trying to accomplish here. And I'm not sure if it's even drivable or floatable?
Not sure right now what's on the schedule for tomorrow. Maybe nothing.
Lake Conroe Thousand Trails In Conroe, TX
---
June 10, 2016
Pump It Up!
After our water outage the other day, I decided it was time to install the new water pump that I ordered from Amazon recently.
After opening up the panel and removing the screws holding the pump to the top of the compartment, I unplugged the connector that I had installed when I last replaced the pump back in 2008.
Then I unscrewed the In and Out connections and pulled the pump out. I immediately noticed that water was leaking out of the back of the pump, which probably has something to do with it dying. Next up was to unscrew and clean out the strainer/filter.
The filter was actually pretty clear, with only a little bit of the carbon granules from the water filter. All in all, pretty good.
I noticed that the directions with this pump say not to use Teflon tape or anything similar on the connections, so I cleaned any residue off the threads.
The instructions also said to use a 15amp inline fuse, but unlike last time they didn't include a fuse with this one.so I cut the power leads so I could use the old one.
I used wire nuts to connect the leads and then I put a squirt of urethane sealer into each one to seal them off. One thing I noticed is that the entire black mounting base is made from heavy rubber, which should make it a lot quieter.
Then I put the pump back in place, connected the water lines, and plugged the electrical connectors together.
Since the shore water was still turned off, I hit the pump switch and listened to the pump start up and run until the system was pressurized. But I had to listen carefully because as one reader mentioned, this pump is really quiet.
I'll wait a while before I button things back up to be sure everything is OK.
Since I was in the water bay, I decided to change out the filter in my EVQ canister. After always struggling to get the top off, I came up with a way to get it loose.
I have the wrench to hold the bottom, but it was always hard to hold the top to break it loose.
Then I noticed that the unused prongs on our Blue Ox baseplate was perfect for holding the top while I turned the bottom. Easy Peezy.
And this is what the old filter looks like after 5 months of use. Yuck!
Finishing up with water stuff, I went back up on the rig roof to check out how I'm going to clean my evaporator coil.
As you can see here, anything sprayed on the coil drips off and falls right through the filter and into the bedroom. Not a good thing.
So my idea now is to get a piece of sheet metal big enough to cover the opening. That way I can wash and rinse the coil without any dripping.
After cleaning up, Jan and I drove over to the 'F' section to meet up with our friend Randy so he could follow us to the Asian BBQ & Grill for dinner. He had read about how much we liked it and wanted to try it for himself.
We all got the Vermicelli Bowls, Jan's with Lemon Grass Chicken, and mine and Randy's with the Grilled Pork and Shrimp.
As always before, it was all delicious, and they have a new customer in Randy.
Not sure yet what's on tap for tomorrow, so we'll just have to see.
Leaving Rapid City, SD
---
June 10, 2017
A Nice, Short, Cool Day . . .
Since we had a short travel day on tap we didn't get up as early as usual, taking our time, and not leaving until a little after 10.
While Jan waited off to the side in the truck, I pulled out of the site and then parked for a few minutes. I wanted to walk the site and check the high grass under the rig to see if I had left any tools behind. We rendezvoused at the Mobil station out on the Interstate where I filled up with diesel. Or at least tried to.
Normally I can use each credit card twice at the pump, but this time after the pump stopped at $90 the first time, I slid the card again and was told, "You can not use this card again right now". Never saw that before.
So I used a second card, and after a second $90 worth, I got the same message a second time. Oh well.
After not quite filling up, we were hitched up and on the road a little before 11am. Right before we pulled out, I started up the generator using my new starter bypass system. And about 30 seconds later we had power and air conditioning. Nice.
Our first stop was at Wall Drugs about 65 miles away, pretty much just for lunch.
When we came through here in 2008 we spent more time roaming around the block-sized place, but not today.
The last time we were here it was October and we were the only RV in the football-field-sized parking lot. Today it was a madhouse, with rigs parked every which direction, blocking each other in.
We left the generator/AC's running for Karma while we made the block walk to the store. I got in line at the burger window and ordered a Beef Hot Dog and Fries for Jan, and a Buffalo Hot Dog and Fries for me.
After a nice lunch, we made a quick lap around the gift shop before heading back out to the rig. I thought we were blocked in because someone had decided to park their ginormous 5th wheel in the access road on the side of the lot blocking it for everyone. But luckily the rig right in front of us pulled out and we were right after them.
We pulled into the Belvidere KOA about 2:30 and were quickly led to our long pull-thru site, with 50amp Electric/Water. Nice that we didn't have to unhitch the truck.
Later when I went out to the truck for something and found this guy crawling across our site.
Although this guy is a Western Painted Turtle, he looks a lot like the Red-eared Sliders I use to have. He just doesn't have the red stripe on the side of his head.
And then there's this distant ancestor that we saw last week at the Reptile Gardens.
The largest turtle that ever existed, he weighed about 4500 pounds, was 15 feet long and 16.5 feet across the front flippers. Found near Hermosa, SD, he was about 100 years old when he died, and lived at the time of T-Rex, about 65 million years ago.
Tomorrow, we've got about 230 miles to North Platte, NE where we'll stay for a few days taking in all the train stuff that's there.
And about 5 miles after we leave the park we'll be back in the Central Time Zone for the first time since March.
Home At Petticoat Junction RV Park in Santa Fe, TX
---
June 10, 2018
Awesome is awesome . . .
I was outside working on cleaning the rig by about 11:30 this morning, but it took longer than I had figured, due to the fact that it took longer to get all the encrusted oily grime off the rear of the rig than I thought.
But Awesome is awesome for cutting through heavy grease and grime.
So I went from this
to this.
And it's shiny too. It just took a while.
And by 2:30 I had done the rear and the passenger side of the rig, using Black Magic Wash/Wax. Turned out to look pretty good.
Beyond the nicks and scrapes the big problem with the rig's 19-year-old paint job is the fact that the Clear Coat finish is slowly peeling off in spots, making the area look like it's sunburned and peeling. The pressure washer will clean off these spots, but it will continue to peel back from there.
My research says that there is no way to remove the clear coat without removing the paint underneath. And I'm just not sure I want to spend $10,000 to $20,000 on a new paint job for an almost 20-year-old coach. But I'm thinking about it.
But by 2:30 I was pooped. I plan on finishing up with the front and driver's side tomorrow afternoon after I get home from work. But, as usual, we'll see how it goes.
After 3 hours out in the hot sun, I decided that I deserved a steak, so about 3pm Jan and I headed up to Webster to eat at Saltgrass Steakhouse. On the way we were debating, Longhorn or Saltgrass? But Saltgrass won out due to their fantastic Wedge Salad.
Really good.
Jan had the New York Strip with Steamed and Grilled Broccoli,
while I got my usual Pat's Ribeye, also with the Broccoli.
Well worth 3 hours in the hot sun.
We've always been impressed by the quality of the steaks we get at Saltgrass, and a couple of years ago we found out why.
We were eating at one of the ClaimJumper's restaurants out in Las Vegas and I complimented our waiter about how good the steak was, and he told us what the secret was.
ClaimJumper's is one of the 40+ restaurant chains owned by Tilman Fertitia and Landry's. Among others are Morton's, McCormick & Schmick's, and a couple of other high-end steakhouse chains. But all the Landry's restaurants get the same quality meat from the same suppliers. It's apparently cheaper to do it that way rather than have the different restaurants getting different meat from different suppliers.
Make sense, and good eating for us.
Coming home we stopped off at the new Dollar General on FM646 to pick up more Awesome since we were running low.
Several of our readers have ordered the SoundBar that we recently installed, and are just as happy with theirs as we are with ours.
So if you're having problems with the sound levels on your TV, check it out.
Catching Up To The Duggars?
---
June 10, 2019
They're All Mine . . .
Before I left for work this morning, I put in a call to Kenny at Snider's Transmission to find out the best place to take my truck to get the water pump checked out/replaced. He recommended Mike's Auto Repair right down the road here in Santa Fe, so I checked Google and put in a call. And got no answer.
I'd try again later at work.
At work, I got back on the website problem, and finally started to make some headway. It was up and running, and processing orders, but for some reason, it wasn't sending out confirmation emails to the customer, and it wasn't detailing the shipping options correctly.
But I kept at it and finally got it set up and working. So now I started in on prettying the up the site, changing the colors and fonts to match our logo.
I've still got a few things to finish up, but I hope I'll have it back online in the next day or so.
I had called Mike's Auto Repair several times during the day, still with no luck. Maybe they're closed on Monday?
So on my way home, I first headed up Hwy 6 to check out Mike's, and found them open for business.
And after talking to the receptionist, I'm going to bring my truck up there tomorrow, though they may not get to look at it until Wednesday.
Turns out the problem with the phone number is that it's wrong on Google and they haven't been able to get it corrected.
They're only about 3 miles away so hopefully, I'll be able to get it up there before it overheats, but I'll carry extra water with me anyway.
This past Friday, when we were out and about, we ended up behind this extended Nissan passenger van.
And looking a little closer, we read what was on the back window.
In case it's a little fuzzy, it says –

They're all mine.
I know what causes it.
My hands are full.
I'm glad it's me and not you, also.

We're not Catholic (or Mormon).
We are not on welfare.
It's not a daycare.
We are not done.
And on the other side of the rear doors was this –
Looks like they might be angling for a TV show. But they've got a ways to go to catch the Duggar's
---
June 10, 2020
YouTubeTV
Last Saturday I signed us up for the two-week trial of YouTube TV, and it didn't take long to get our recordings set up on the DVR software. Though we can set all this up on the TV, it's quicker and easier to do it on the computer.
A couple of odd quirks, however. You cannot record just a single episode of a TV show, it will only record every episode. And if you stop recording a series, you lose all the episodes that you've recorded so far. Strange, but not hard to work around. Otherwise, as I said before, all recordings are saved for 9 months, and you can record and save an unlimited number of shows.
In the back of my mind, I was wondering what kind of server capacity they must have to record and save all these shows for their 2 million subscribers. But I think I've figured it out.
They only record ONE copy of every show on every channel, not 2 million copies. Then your account info just holds pointers and bookmarks linking to each show you've set to record and how much you've watched of it for the Resume function.
That's about 1680 hours of video per day, so not that bad.
And we are really enjoying the fact that all the shows are in HD, rather than the SD video we have with DirecTV. Looks like YouTube TV will be our new streaming service.
---
June 10, 2021
City Museum Of St. Louis . . .
About 9am a whole bunch of us headed over to St. Louis to visit the City Museum of St. Louis. And by 'whole bunch', I mean 18 of us in 3 different vehicles. We'd bought our tickets online a month or so ago, since you have to buy them for a certain entrance time, in our case 11am.
The word 'Museum' in the name is kind of a misnomer. Rather than a museum in the conventional sense, it's more of an eclectic collection of random items, ranging from firetrucks, Ferris Wheels, a 24-foot metal praying mantis, two Sabreliner 40 jets, a school bus that hangs over the side of the building, all connected together by caves, tunnels, aerial walkways, giant crawl-through Slinkies, ladders, and pretty much anything you can imagine. And 3 or 4 different slides, including one 10-story one going from the top floor to the basement.
Oh, and a log cabin that belonged to the son of Daniel Boone.
And right in the middle, on the 5th floor, are condos selling for over $600,000.
One of the things you notice immediately when you enter the building, are all the beautiful mosaic floors, all with animal themes.
And they seamlessly 'flow' from one room to the next.
In fact, animals are a main feature of the place, from elephants on the roof,
to their distant Mammoth cousins.
That's about it for today. It's late and I'm tired, but there's a lot more, so I'll pick up where I left off tomorrow.
But a final shot of all the kids with us today.
And yes, I did have to swap some heads.
---
Thought for the Day:
Resistance is futile – especially if less than one ohm.
    …..