X-Rays And Trip Thoughts . . .
We were on our way about 12:15 this morning with our first stop at my neurosurgeon's up in Webster to get new X-Rays.
Next Monday I've got the 6-month evaluation after my November 2021 Cervical Spine Fusion surgery. And while we're there I also want to talk about a possible Lumbar Fusion as well. I'm still having some weakness in my legs and some pain in my lower back, especially when I sit up or move wrong.
The question is about the success of lumbar surgery. Jan knows from her medical record days that lumbar surgery is likely to have more problems than cervical surgeries. So I want more info before I proceed.
Afterward, since we were in that area, we had lunch at our old Pho Barr there in Webster. Just as tasty as always.
Then after a quick stop at Sam's so Jan could get the nose piece on her glasses replaced, we were on our way home.
---
Getting back to our recent Alabama trip:
Along the way, the price for gas varied from $3.99 somewhere at a truck stop in Mississippi to $4.52 in Gulf Shores. Though there was that time when I paid $5.22 at a WalMart.
I had already run my card when I noticed that the pump was only for Premium Unleaded Ethanol-Free. Luckily I was only topping off, not filling up.
As far as our hotels, during our trip, we stayed at a La Quinta in Slidell, a Days Inn in Athens,  a Hampton Inn in Birmingham, a Sleep Inn in Montgomery, and a Sleep Inn in Baton Rouge. And of course the condo in Gulf Shores/Fort Morgan.
All of the hotels except for the Sleep Inn in Baton Rouge we'd stayed at before. And the Sleep Inn in Baton Rouge was the only disappointment.
Since my recent unpleasantness, we've been booking handicapped rooms, mainly for the extra handles in the showers. So we were happy to see one like this at the La Quinta in Slidell.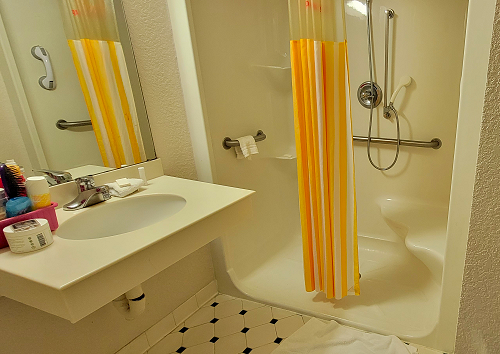 And the Sleep Inn in BR had the same layout. But there was no holder for the shower nozzle, and the water pressure was pathetic. If you turned the nozzle pointing up, there was only enough pressure to spray the water up about 9", so it just kind of drizzled on you when you were trying to actually use it. Hard to even rinse off the soap.
Since we figured that the shower at the condo wouldn't have anything extra, we ordered these off Amazon.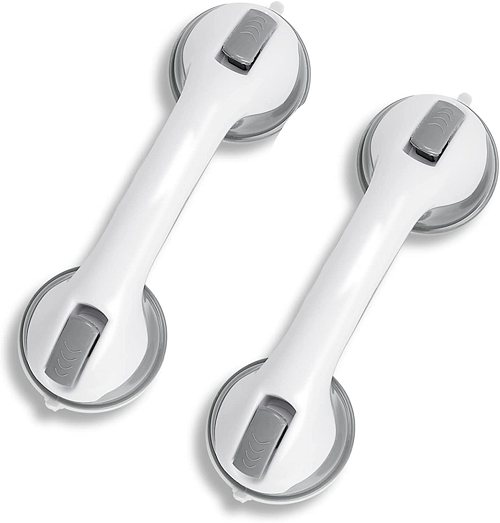 They worked great, so much so that we also used them at the Athens Days Inn since we were there for 5 days. And we decided to add them to our shower in the rig when we got home.
---
Thought for the Day:
Recently there has been some talk from politicians about again trying to switch the US over to the metric system. When a reporter asked a college engineering professor what he thought of the idea, he said," There are two kinds of countries in the world: Those that use the metric system, and those that have walked on the Moon.
Bleach And Drano Don't Mix
---
June 14, 2009
Trolleys and Uncle Bubba…
Today we had lunch at Paula Deen's brother's place,  Uncle Bubba's Oyster House.
First off,  we had a little problem finding the place, but apparently, it wasn't just us.
Our GPS system took us to the left off  US 80, which was very obviously a residential neighborhood.  Finally, I decided to turn around and go back across the road.  As we were going back we saw several cars full of people coming the way we had just come, all looking at the GPS on their dashboards.
We crossed back over US 80 and about 100 yards down the road there was a small sign on the left.  I don't know why they don't have a sign out on US 80.
When I asked the hostess about it, she said they have contacted MapQuest, Garmin, Magellan, Google, etc. to try and get the problem corrected, with no luck.
We got there about 20 min before they opened at 11 am. While we were waiting, we heard the staff and some customers waiting with us, talking about what happened the night before at the restaurant.
Apparently, a maintenance person mixed bleach and Drano to do some cleaning.  The resulting chlorine gas started spreading thru the restaurant, the Fire Department arrived, and the place was evacuated and closed for the night.
I guess we just missed all the excitement.
Anyway, the food was great.  Jan had the Shrimp/Oyster combo platter, and I had the Low Country Boil, with boiled shrimp, grilled sausage, boiled potatoes, and corn on the cob.
For dessert, we shared a fantastic Strawberry Shortcake, made with pound cake.
While we could still walk, we headed back into Savannah to take the Old Town Trolley tour of the Savannah Historic District, from the same company we've taken tours with before in Key West and St. Augustine.
Savannah has the largest Historic District of any city in the country and the tour was a lot of fun, but hot. Savannah certainly has a lot of very old houses.
After the tour, it was a quick stop at a pet store, and then back to the coach.
Later in the afternoon, I checked out my toad taillight upgrade and Jan and I sat outside in the shade.
That's A Roast, Not A Steak
---
June 14, 2010
Another cow bites the dust…
We left Valley View RV Park in Ft. Sumner, NM about 9:30 am after getting 107 gallons of diesel at a Valero. It was $3.09 a gallon, which is better than the $3.69 I paid in Washington State a few weeks ago, but not as good as $2.89 in Salt Lake City about a week ago. And of course it was $2.74 when we got into Texas today. Oh well.
About an hour later we passed thru Clovis, NM, our daughter-in-law Linda's hometown, though we didn't really get to see a lot of it just passing through.
Then, about 10 miles later we were back in Texas and the Central Time Zone, for the first time since late February.
It's good to be home, and "back to civilization'" as Jan says.  Of course, Jan defines "civilization" as any place that has a nearby WalMart. And today in Clovis was the first sign of a WalMart in 4 days.
Compared to the RV park from Hell in Magdalena the night before last, the park in Ft. Sumner was a Rivera resort.  And they were both the same price, $20. Here's a couple of photos of the Ft. Sumner park.
The kind of funny thing about here in Ft. Sumner is that, although I had no usable cell service, just a signal, but with no bars, I had good Internet on my Verizon AirCard, which is supposed to use the same signal band. If I tried to make a phone call, it would try to connect and then just drop out. Funny.
And, although it's hard to tell from this photo, the Amarillo Ranch RV Park we're now at here in Amarillo for the next two nights is even nicer, and only $16.50 with Passport America. Whoopee!
After arriving at Amarillo Ranch RV Park about 2 pm we got set up, and then a little while later headed out for some shopping. Our first stop was Sam's Club, and after that we headed toward Kohl's so Jan could find some sandals for Brandi's wedding.
But we discovered that the Kohl's was way west of town about 12 miles away, and we'd decided we wanted to eat at the Big Texan Steak Ranch, which was the other way, before it got too crowded. So we headed back toward the RV park, and the Big Texan, which is about a mile on the other side. We'll do Kohl's tomorrow.
Let me tell you, the Big Texan is big!  It not only has the enormous two-story restaurant and gift shop, but a small casino with slot machines, and a motel next door.
Jan was apparently too hungry to get up close and personal with Big Tex here,
like she did with Babe the Blue Ox in Klamath, CA last month. Maybe next time.
The Big Texan claim to fame is their 72 oz. Steak Challenge.
Free Steak!  I'm going to have to check this out.
The décor can be described as "Western Chic", but who cares if the steaks are good.
And here's where the action takes place. It's up on a stage, complete with two live steaming Internet WebCams to record all the action.
And here's the deal.
You have 1 hour to eat a 72 oz. Sirloin steak, shrimp cocktail, salad, baked potato, and a dinner roll.
If you do it, it's all free.
If you don't, it costs you $72.00.
I assume they get their money upfront.
Yikes!  That's not a steak, that's a roast. That's 4 and a half pounds of meat!
I don't know if you have to eat the two raw jalapenos or not.
The oldest person to complete the challenge was a 69-year-old grandmother.
The youngest was an 11-year-old boy.
The record time is 8 minutes 52 seconds by Joey Chesnut, the World Champion Hot Dog Eating Contest Winner.
And a Bengal tiger once ate the 72 oz.  steak in 90 seconds. Don't know what he did with the baked potato and shrimp cocktail.
We found out later that they have this limo that will come over to the RV park and pick you up and return you.
This is probably a good idea if you plan on trying the Challenge, since you'll probably be too stuffed to drive, win or lose.
For our part, Jan had the 9 oz. Filet, and I did the Quarter Challenge, with the 18 oz. Ribeye.
Unfortunately I was too hungry to take a picture first, but 18 oz. of steak is big!
And, although I finished the 18 oz. steak, salad, baked potato, and a roll, I don't think I could handle 3 more steaks and a shrimp cocktail.
I told Jan that I'd be willing to starve myself for a couple of days and give it a try if someone else wanted to foot the bill.
We were certainly too full for dessert, but we'd heard they had really good carrot cake so we ask for a slice to go.
And this is what we got.
When they say Big, they mean it.  It fills the whole container!
As we staggered out to the truck, almost too stuffed to walk, our daughter Brandi called to check up on things since we had had spotty cell service for the last couple of days
Then it was back to the rig, to just sit around and digest.
More tomorrow…
but we probably won't eat again 'til Thursday.
44 Feet A Year!
---
June 14, 2011
Crater Lake . . .
Jan having gotten up earlier as usual, this morning started at 8:30 for me, since we were leaving at 9 for our day trip down to Crater Lake National Park.
But our first stop was at the park entrance at Big Jim's Coffee Wagon, a coffee and pastry kiosk that's open every day from 6:30 to 10:30 am, and gets a lot of business from outside the RV park, as well as park residents. Jan had a Hazelnut Hot Chocolate and a breakfast sandwich, and I had a Snickerdoodle Latte and a bagel w/cream cheese. Both very, very good. We'll go back.
Then we were on the road heading about 100 miles south to Lobert Junction where we would pick up SR 62.
Along the way, we saw Mt. Scott which is right next to Crater Lake, and blocks it from our view.
Right before we turned onto SR 62 we stopped for gas and a pitstop at the Crater Lake Junction Truck Stop, and then it was back on the road for the 35-mile trip up into the park.
We started out about 4000 feet, and by 4500 feet we were seeing snow.
And more snow at 5000 feet
And even more at 6000 feet.
Then we see this.  Oh, Boy!
But finally at about 7200 feet we pulled into Rim Village, and seeing a lot of people on top of a hill taking pictures, we decided to join them.
And this is what we saw! Be sure and click on this panoramic photo to see it full size. Be sure and use the slider bar at the bottom to see it all.
If ever a view was breathtaking.
Crater Lake is 6 miles across and 1949 feet deep, and from where we were standing on the rim, it's 900 feet to the water.
This 'lump' is Wizard Island, formed from lava eruptions after the volcano Mount Mazama exploded in 5700 B.C., and then collapsed into the crater we have today.
Here's an Internet photo showing it from a better angle.
And this Internet aerial view gives a better perspective of the entire crater.
The water in the crater, formed from snow melt over thousands of years, is some of the purest in the world, and really acts like a mirror.
Since it still goes down into the low 20's here at night, you can see a sheen of ice around the edges of the lake.
And here's my Sweetie, showing up the view.
While we were at Rim Village we checked out the gift shop and café. The first thing we noticed were these 'snow tunnel' entrances leading out to the street.
And it's really a long hallway leading into the building. It turns out that these are done this way so you can get into the building when there are 30 to 40 feet of snow covering up everything. Crater Lake gets an average of 44 feet (FEET!) of snow a year, and this way the snow plows can clear the entrance right along the edge of the road, so you can get inside the building.
Even the outside restrooms are done the same way.
A little after 1pm we drove about half a mile along the rim to the Crater Lake Lodge to have lunch.
Originally built somewhat shoddily in 1915, it had deteriorated to such an extent that in 1989 it was condemned, torn down, and rebuilt from scratch, with only the Great Hall being saved. And they did a beautiful job.
Jan and I had great Reuben Sandwiches in the dining room,
and then went outside to take in another great view of the lake from the lodge porch.
We even had a Steller's Jay taking in the view with us.
All during the day, we kept bumping into this group of motorcyclists, who asked me to take their picture with their camera. So the last time I saw them I took a picture with mine.
If it had been a little later in the year, we could have taken the 31-mile loop drive around the crater. And we could have also come in the north entrance and saved ourselves about 100 miles. But the loop is still snowed in.
It takes 10 men working for 4 months starting in April to clear the loop. They can do about 1/4 mile a day to clear 30 feet of snow from a roadway 30 feet wide. That means they're moving over 1 million cubic feet of snow a day. That's over 25 million pounds. A DAY!
After getting our National Park Passport stamped, we headed back toward home, after having a great day. And then to top it off, after coming through the tiny town of Fort Klamath on SR62, we had probably our last view of Mt. Shasta, about 90 miles away. What a sight!
We got home about 6 pm, after a 9-hour trip of about 275 miles. A long, but really nice day.
Tomorrow, who knows?
But I know I'm sleeping later.
BOOM, BOOM, BOOM!
---
June 14, 2013
A Hidden Gem . . .
By the time we waited in line to get diesel this morning, got the toad hooked up, and finally got on the road it was about 11 am, but since we only had about 170 miles to go today, that wasn't a problem.
And we got free coffee. Since we bought about $350 of diesel, the manager didn't charge me when I got Jan and I coffee/cappuccinos right before we left.
But once again we got hung up trying to get filled up. The station was very busy, but with 10 pumps (8 gas, 2 diesel), they only had one lady trying to get everyone taken care of. In addition, the placards on the pumps say it is against the law to leave the area of the pump while you're filling up. But the lady would be 60-70 feet away at times taking care of someone at the other end of the station.
Finally getting on US97 N, we headed into Bend where we would pick up US20E. We did make a small detour through the weigh station along the way. I had noticed that pretty much every time we went past, it was closed. But like most of these, the digital scale was still operational, with a large outside display. In fact last week, I'd driven the truck through the scale to weigh it.
Finding it closed again, I drove the RV through and recorded the front and rear weights. Because of the way the station is laid out, there was no way to go around again so I could get the side-to-side weights, just the front and rear. But it showed that as usual, we're running right at, or a hair over our gross weight.
But it's always good to double-check.
After a couple of very nice rest area stops, we turned south at Burns, OR onto SR205 for the last 12 miles down to Princeton, OR, and The Narrows RV Park.
SR205 was a good road, except for the cows.
We saw several of the 'livestock on road' signs, and they really mean it. Later at dinner, our waitress mentioned that she 'hit six cows last year'.
I then ask "You hit cows six times last year?" She said "No, I hit six cows all at once. BOOM, BOOM, BOOM . . . I was driving on a dark night, came over a hill, and there was a herd of black cows, so it was BOOM, BOOM, BOOM!"
Ouch!
We got into the park about 3pm, and after being led to our site, we got plugged in and set up. With Passport America it was $14.14 for 50 FHU, a great price for a really nice little park.
About 4:30 we walked over to the small restaurant located in the office to have dinner. We both got the Chicken Fried Steak and it was a great choice. We were both amazed at how good everything was. This is just a small place with 4 tables and 4 stools at the counter, but it was easy to see that the cook really knew her way around a kitchen.
While we were eating, she came out front to get a drink and we complimented her on the food. And by then we'd already decided to come back tomorrow morning for breakfast before we leave.
Tomorrow we've got a 200-mile trip to Nampa, ID, just south of Boise, and it looks like we've got a lot of curvy road between here and there.
Oh good. Cat barf.
Still Stuck In Prescott
---
June 14, 2015
Seven Weeks And Counting . . .
Well, here we sit starting seven weeks in Prescott, the longest we have been in one place since the winter of 2013. Talk about Hitch Itch.
And I'm not really sure we'll get out of here this week like we had hoped. The glass guy is coming by tomorrow morning to 'measure' the opening, which tells me that the glass has not even been ordered yet. Which means probably 3 or 4 days before they're actually ready to install the glass. So I'm thinking it will very possibly be some time next week before we get out of here.
If we're lucky.
We're booked into a hotel for two nights starting tomorrow, but I suspect I'll have to extend that. Hopefully I'll know more tomorrow.
About 2:30 Jan and I drove over to Texas Roadhouse to have linner. One thing we both like about this location is that they don't have the loud music blaring like others. In fact, they had no music whatsoever. Very nice.
Jan had the 12oz Sirloin while I went with my usual 16oz Ribeye, and this was another great steak from them, just like last time.
Tender, with just the right amount of fat around the edges that crisps up, it was delicious. Hopefully we'll get to go back before we leave the area.
One thing that Jan and I always laugh about when we're at a Roadhouse is remembering the first time we went to one. This was about 15 years ago, back when they had the big barrel of peanuts in the waiting area, and the floor was covered in peanut shells.
Our granddaughter Piper was only about 6 at the time, and when she walked in, she looked around and said in a loud, little-girl voice, "This place is filthy. Don't they ever sweep up in here?" And the place roared.
Maybe that's why the floor is clean now and they don't have the big barrel of peanuts anymore.
Zero-G
---
June 14, 2016
A New Hose and a Fixed Microwave . . .
About 3pm Jan and I headed down to the Katy area to have dinner with Brandi, Lowell, and Landon, pick up our packages, and make a quick stop at the Camping World just past Brandi's turn-off at FM-1463. Earlier in the afternoon I had called CW to double-check that they had the Zero-G RV Hoses in stock.
The Zero-G hose is a hybrid version of a regular RV water hose and one of those Pocket collapsible hoses.
I'd been waiting for someone to come out with drinking-water-safe version of a soft, non-kinking hose. And this appears to be it.
The hose is normally $35, but if you're a Good Sam member, it's $30. And even better, if you're a member, it's Buy One, Get One at Half Price. So I got two of the 25ft 5/8 inch hoses for $45. Nice!
I presently have a 35ft heavy-duty 'non-kinking RV hose that has kinked and crimped in three places. And this is my 2nd one.
I bought the first one at an RV Rally 4 or 5 years ago, and within a year or so, I had several kinked/weakened spots on it that were starting to bulge out like a bad tire. So much so that it would no longer really coil up, but would just kink and fold over at the crimp spot. So when I encountered the vendor at another rally a year or so later, I showed it to her and she swapped it out with a new one.
And it started crimping within six months. So much for a 'Lifetime Warranty.
We got to Brandi's just as Lowell was leaving to pick up Landon, and when they got back, we waited until it was time to meet  Brandi at La Finca Mexican Restaurant, our favorite Katy Mexican place. Yeah, that's right. We had Mexican two nights in a row. And that's not our record.
Back in the 80's when the kids were young, we actually ate at the same Mexican restaurant (the late, lamented Burrito King in Webster) seven nights in a row.
If Mexican is good one night, it's good two nights . . . or seven nights.
Landon just had chips and Queso, and pretty entertained himself.
But he kept cracking us all up with the faces he was making.
Finally, after a great meal and a great time, we headed back to Conroe about 6:30, taking the Grand Parkway once again to avoid the Houston going-home traffic.
As soon as we got home I went outside to install my new hose.
I was happy to see how heavy-duty it was,
with strong metal couplings and a thick nylon washer.
Unlike the Pocket hoses, this one does not expand or contract, but just firms up like a fire hose.
And when you turn the water off, it flattens down and can be smushed into a small ball. The canvas-feeling fabric seems to be durable and stretchy.
I'll let you know how it holds up, but I like it so far.
Back in the rig, I thought I'd see how my replacement microwave door latch was going to work.
Here's how I started the repair.  Easier Than I Thought . . .
The new part, the black one at the bottom, is heavier, and the piece that broke off the old is now beefed up. So hopefully it will be good for more than the 17 years that the first one lasted.
It only took about 5 minutes to snap the new door opener in place, push down the locking tab, put the control panel back on, and plug the power in.
Pushing the button in, the door opened, and when I heated up a cup of water, it worked great. It's nice to be able to make a $6.80 repair, rather than $400-$500 for a new microwave.
Now Jan will be able bake her Sopapilla Cheesecake that she's had waiting in the fridge since the oven broke.
Not Ever
---
June 14, 2020
She Who Must Not Be Named . . .
A number of you left nice comments regarding yesterday's blog, Racist, Bigoted, and … Small?, which recounted a comment someone left on Friday's blog, WuFlu Fallout . . . and my answer to her.
As I always try to do, I both posted my answer to her back in the blog comments area, as well as answering her via email. And then used my answer in yesterday's blog.
And then this morning I received a long email reply from her, further disagreeing with my analysis of the WuFlu situation, and also upset that I had used her comment as a blog post. So I pointed out that she posted in a public area that anyone could read, but that I would not share anything she emailed to me.
I then proceeded to reply to her in a long, detailed email answering each one of her points, and then inviting her to comment again.
This apparently put her into a complete snit, and she replied, telling me not to contact her again and not to use her name on my blog again.
So whatever you do, DO NOT go back to yesterday's blog and read her name. She Who Must Not Be Named won't like it.
You have been warned.
---
Thought for the Day:
My idea of an agreeable person is a person who agrees with me. — Benjamin Disraeli
    …