Daily Archives:
July 3, 2022
When I posted in yesterday's blog about how proud we were of our grandson Landon's great scores on his recent Assessment tests, I forgot to include the obligatory photo.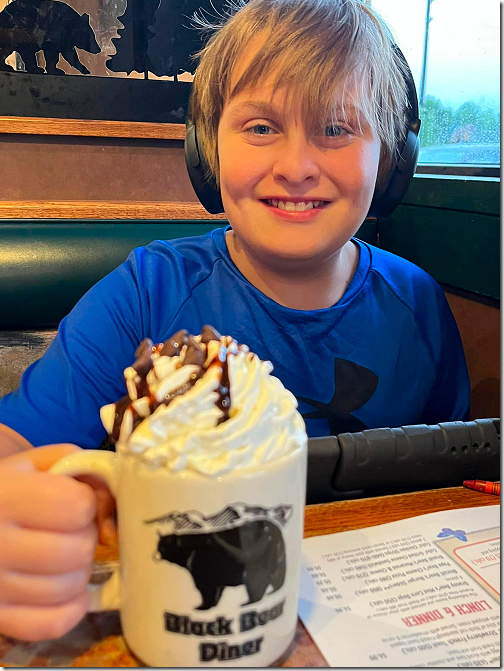 Today was kind of easy, with lunch at Texas Huddle Grille again.
But first we made a quick stop at the Clear Lake Kroger to drop off some prescriptions, and then it was on over for lunch.
Jan got her Keto (No Bun) Cheddar Bacon Mushroom Burger with a Side Salad and Grilled Veggies.

while I got what brought me to Texas Huddle in the first place, the PB&J Bacon Cheeseburger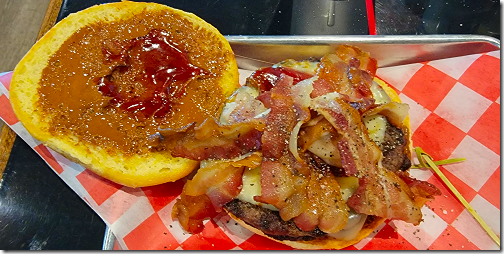 And this was the best PB&J Burger I've ever had here, mostly I think because it had more PB&J on it than usual.
And even better, it had extra bacon since Jan always gives me her bacon. She doesn't like bacon unless it's crispy, crunchy done. In other words, burnt.
Lucky for me.
Then it was off down to WalMart for some stuff. And I was surprised that the place wasn't busier. Just pretty much a standard Sunday, and not the day before a major holiday.
But nice for us.
Tomorrow, being the 4th, we're of course have BBQ. But not our own like last year, but at our local favorite, Spring Creek BBQ.
Looking forward to it.
---
Thought for the Day:
Yes, sometimes I do talk to myself. Even I need expert advice occasionally.
---
July 3, 2009
Problems and More Problems…
Well, it wasn't too back last night with no A/C so we lucked out.
I called first thing about the blown EMS and left a message. It took about an hour for him to call me back, but he told me how to bypass the unit and that he would send me out a new board on Monday.
The bypass only took a few seconds and I could now get power into the coach. So, except for needing a new board for the EMS, my shore power problem was fixed. Although I still don't know what caused my EMS to blow up. Sometimes it's just bad luck.
But I still don't know what the problem is with the generator. I'll have to work on it later.
We finally left the park about 12:30 pm heading up I-64 W 110 miles to Louisa, VA, just southeast of Charlottesville, VA. We want to visit Monticello, Thomas Jefferson's home, and Appomattox, site of the end of the Civil War.
We wanted to stop off in Richmond to eat lunch at Famous Dave's, one of our favorite BBQ places, and also pick up some Aunt Gussie's Sugar Free cookies at Whole Foods that we like.
About an hour and a half after we left Richmond, we pulled into our site at Small Country Campground in Louisa.
---
July 3, 2010
Turkey and Deer
We left the rig about 12:45 pm and headed over to Gina's. Jan said she wishes that they would hurry up and move the cows back to the other pastures, since now she has to get out and open three cattle gates instead of the normal one.
I worked on getting the light fixtures installed, wired up, and tested. Since the fan is done, all I have left to do is to get the switch box wired up. I could have gotten further but I ran out of wire twist nuts, so I'll have to restock.
About 4:30 we headed out for dinner at Rockin' R Steakhouse in Blanco. A very good meal. The steaks were delicious.
We dropped Gina off at her place (3 more cattle gates) and then headed home.
As we were leaving we encountered the turkeys again. And this time I got better photos.
We got home a little after 7, and of course, Jan had to feed the deer. But the deer seemed to have left town for the holiday because for the first time there weren't any around.
Tomorrow we going to pick Gina up around 9 am and drive over to Fredericksberg for the day. We also want to eat at our favorite German restaurant, Der Lindenbaum while we're there.
---
July 3, 2012
Thursday, maybe . . .
Well, it looks like we will be moving with our drill rig. And supposedly we will move Thursday. But of course you never know.
Melissa, our Gate Guard Service sales rep, came out to the drill rig this afternoon (Monday) and our Marathon Company Man told her they wanted us to move with them, and that they didn't want to share a guard with the other rig. They wanted their own, I.e. Us.
Still don't know yet how they're going to handle the fact that there's another gate guard already there for the other drill rig. Guess it will all work out somehow.
The other nice thing is that we have heard unofficially that the rig will be in this new location for 7 to 8 weeks. If that turns out to be true, it means that Thursday will be our last move before we plan to leave in August.
And the other, other nice thing is that this new site has 5 bars of 3G Verizon service so we won't need our Wilson booster. We're going to be only about 5 miles east of I-37 so everything will be more accessible.
Brandi sent over the latest Landon pics.
Is this kid cute, or what?
Not that I'm prejudiced or anything.
After being here at this site over six weeks, we finally got our first rain yesterday (Sunday) and it really made up for lost time. The storm that hit us came over Corpus Christi first and dropped 5 inches of rain on them, and it seemed to have plenty left over for us.
Luckily the road and our pad are built up pretty high so we didn't have any actual flooding, But while it was raining there was over an inch of water on the ground under our canopy. The solar screens that we hang from the sides of the canopy kept most of the rain from blowing in so it wasn't too bad while I was out here. I was glad that no vehicles came thru during that time so I didn't have to actually get out in it.
---
July 3, 2015
2708 to Go . . .
I spent the morning mapping out the rest of our travel year, or at least the part that ends up with us back at the Colorado River TT starting the 14th of August. We'll be there for two weeks around the time of Landon's birthday party on the 22nd, plus Jan has a follow-up doctor's appointment on the 21st. No problem, just a regular checkup for her breast cancer last year. Then, after that, we don't know yet. But we've got 2708 miles to go until we get there.
The only question mark for the trip are the two weeks from July 20th to August 2nd. We're trying to decide on staying at the Cherokee Landing TT or Natchez Trace TT, both in Tennessee. The recommendations seem to lean toward Cherokee Landing, but we're still thinking about it.
Some people have said to stay a week at both, and we may end up doing this, But part of me just wants to park for two weeks and kick back. So we'll have to see.
About 6:30 we had our first real rain since we go here two weeks ago. We've had a couple of little showers a few nights, but nothing worthwhile. But the storms moved in tonight and it just poured, heavy enough to knock out our DirecTV for almost an hour
We're also supposed to more thunderstorms over the next couple of days, and in fact, the high temp of Sunday is only supposed to be 95 degrees
Yeah, right. It gets cool just as we're ready to leave.
Tomorrow we're going to have lunch at La Fonda, then go into Cottonwood to Hog Wild BBQ to pick up some to take with us when we leave here on Monday. Sunday we'll have dinner at Crusty's Pizza down in Camp Verde, and while we're there, we'll pick up a couple of their Baked Spaghettis dinners to take with us. We'll cut them in half, vacuum-seal them, and freeze them, again for later.
Each one is big enough that half makes a meal for each of us.
---
July 3, 2016
It Even Works On Bears!
Since today is the first day of our official 1 month stay here at Colorado River Thousand Trails, as soon as I got up I went outside and took a photo of my electric meter. Monthly and Annuals here have to pay their own electric and I like to have my own record..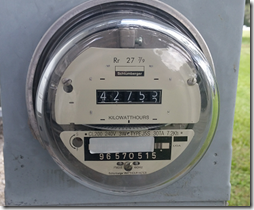 I'm not expecting any problems with the meter reading, but it has happened at other parks, so I feel better having my own total.
A little after 1pm Jan and I headed into Columbus to have the Sunday Lunch Buffet at Schobel's Restaurant. But before we left the park I stopped off at the office to pay the $375 for our month stay here, and also get the windshield card for the rig and the mirror hanger for the truck. One thing I like is that, unlike when we stay here for two weeks and are given three different gates to cover the time, they give you one code for the entire month.
Wonder if they have a yearly code for annuals?
While I was there I mentioned about recording the meter, and as it turned out, they hadn't done it yet, so they wrote it down from my photo. Guess I missed a chance for a little creative photo editing and a really low electric bill for the month.
Then it was on into town for the buffet, and I guess it was the holiday because we've never seen it this busy. In fact we had a wait, ten minutes, for the first time ever.
A week or so ago, I mentioned that I gotten us a couple of pair of EMT scissors, or Trauma Shears from Amazon.
As I said, EMT's and ER personnel use them to cut people out of their seat belts, coats, clothes, belts, shoes, etc. In fact, they will even cut metal.
So I wasn't surprised to see a couple of EMT's wearing them at breakfast this morning.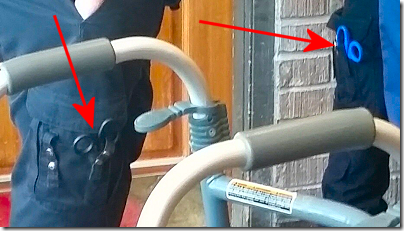 The buffet here was as delicious as usual, with Fried Chicken, Sausage Links, Ham Slices, Roast Beef, Mashed Potatoes, Green Beans with Bacon, Corn, and Candied Yams. All this, along with a great salad bar and Carrot Cake for dessert.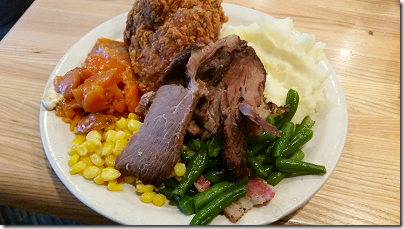 And really really good.
And this just illustrates my point about Peter's BBQ's price increases. At $11.95, it's only a dollar more than the much smaller buffet at Peter's. A much better deal.
Game of Thrones recently wrapped up the 6th season on HBO, and although Jan and I have never watched it, we will probably check it out in a few years when it comes to regular TV.
I mean, with magic, intrigue, dragons, and nudity, what's not to like? But it may be a while since it's now been renewed for a 7th season.
But I recently came across this video showing the before and after of some of the special effects on the show. It's really amazing what they can do with computers and video now.
But what caught my eye was in the last few seconds of the clip. Apparently the bear used in the show is real, and not a special effect. And it shows the trainer giving him a pan of whipped cream.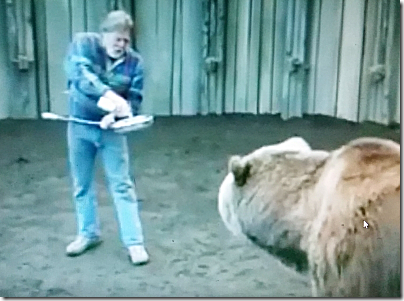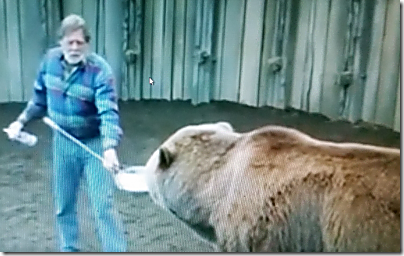 As I mentioned the other day, Miss Karma the cat loves whipped cream, and will come running when she sees the can. So when she got out the other day, I used whipping cream to lure her out and catch her.
So I guess it works for bears too. I know I'd give the bear as much whipped cream as he wanted.
---
July 3, 2017
Final Goodbyes . . .
Jan and I did much of nothing today, with, as usual, Jan reading and napping while I worked on website stuff.
But that finally ground to a halt when I got to a point that I need input/photos/content from the client before I can proceed, something that's pretty standard with website work. I sometimes refer to getting input from a client to pulling teeth.
At least it's not my teeth.
Earlier today Jan took Landon and Gwen over to the nearby Main Event Entertainment Center to spend the afternoon, ending up at Baskin-Robbins. Sounds good to me.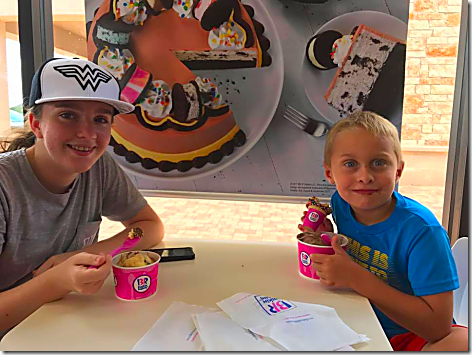 At 3:30 we headed into the Katy area for a stop at Sam's Club for a couple of prescriptions and some other stuff. Then it was on to the nearby Cheddar's to meet up with Jan's sister Debbie, her granddaughter Gwen, and husband Jim. And of course, Lowell, Brandi, and Landon.
Jan calls this Brandi's 'pissy' face.
Everyone else in Debbie's family has already headed back to Illinois.
We spent about two hours at dinner before finally saying goodbye and getting in our hugs. We've already set another reunion, this time up in Illinois, for two years from now. Looking forward to it already.
Tomorrow I going to check out the local hardware store to pick up some plastic sheets. I'm going to extend to the rear the top and the sides of our rig's front AC cover
Hopefully this will eliminate the dead air space and improve the air flow around the condenser coil. I hope this will fix the problem of our AC working just fine when we're sitting still, but not when we're traveling.
If I can't find plastic that I like I may just leave the cover off for the trip back to Lake Conroe this coming Sunday, assuming the weather looks good.
---
July 3, 2018
Mommy and Me . . .
I was up early again (this is getting old) wanting to get back working on my generator problem. After reading the service manual over several times, I had list of questions for the Onan Tech Support guy.
As I mentioned, the original guy I had been talking to up in Elkhart, IN was off all week for the 4th holiday, but I found another support guy in Minnesota who was very helpful.
Except today.
When I called the message said that they were all off Tuesday, Wednesday, and Thursday, and to call back on Friday.
Bummer!
So I ended up spending the rest of the morning and afternoon doing website stuff, and using the Duck Pack & Track system to catalog and store some of my stuff around the rig.
Later in the afternoon we headed over to my Aunt Virginia's house to have linner/lupper with her. Since we were running a little early I decided to drive through the next subdivision to check out probably the most famous house in Athens, AL.
Designed by renowned architect Paul Rudolph, it was on the cover of Life magazine and reviewed in House & Gardens magazine.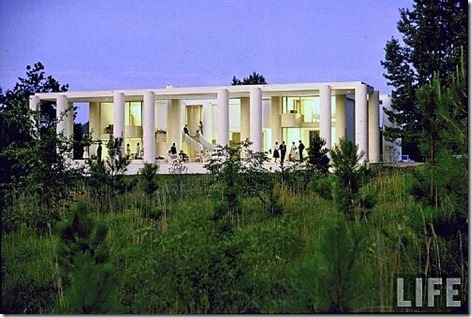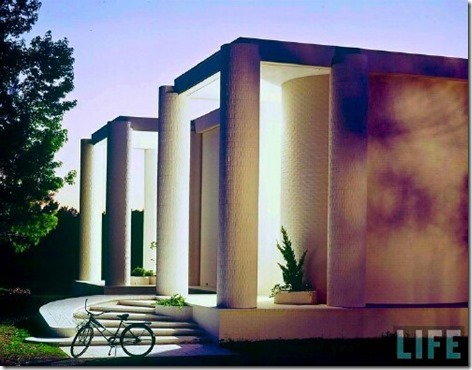 For obvious reasons, I always called it the 'Parthenon House'. And I dated the girl who lived here, before I went off to college in 1966.
It still looks pretty good, at least what you can see of it.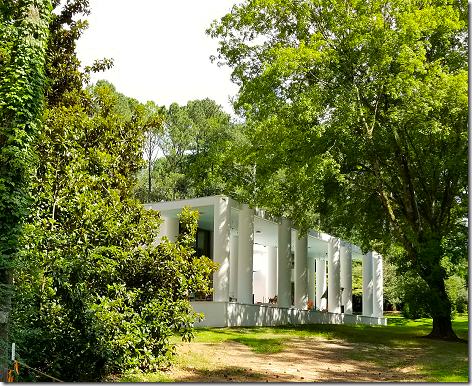 The trees have grown up around it a lot in 50+ years.
We had a great visit with my Aunt Virginia (I've always called her 'Ninny' because when I was real little kid I couldn't say 'Virginia'. It just came out 'Ninny'.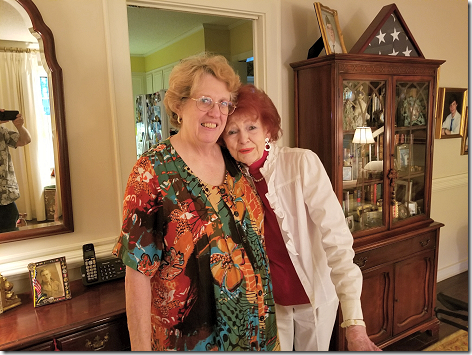 Honestly, it's always a little bittersweet coming back here every year to visit. All of my remaining relatives are in their late 80's to early 90's, with the youngest being 88 and the oldest being 92.
And it seems there's always one less each year. Which is why we never miss our yearly visit, even if we make a special trip just to come over here, like we did last year.
After we said our goodbyes, and promised we come back by on Friday, we spent some time just driving around, trying to get my bearings with all the changes.
I spent two summers working for a plumbing, heating and air-conditioning company, and a number of the places I helped build are still here. But a lot are gone, too.
In fact in some cases, things have changed so much that I can't even tell where they were.
We did drive by the house we lived in here after we moved back from South America, and it still looks pretty good.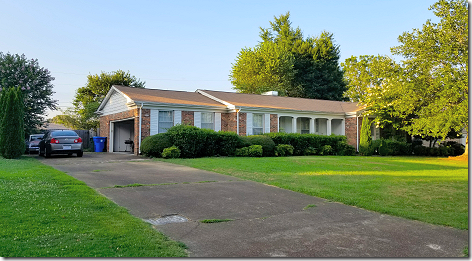 Glad to see that.
With the 4th and all, tomorrow looks to be a stay-a-home day. Kinda looking forward to it.
Wrapping up, earlier this evening our daughter-in-law Linda sent over this photo of me that I've never seen before.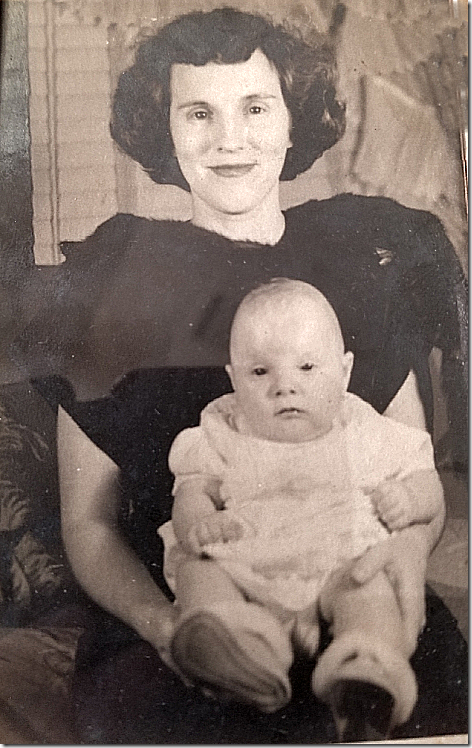 She said she found it mixed in with some of our son Chris' old photos. My mother had written on the back, "Gregory the Solemn One'.
But apparently at other times I was a little more cheerful.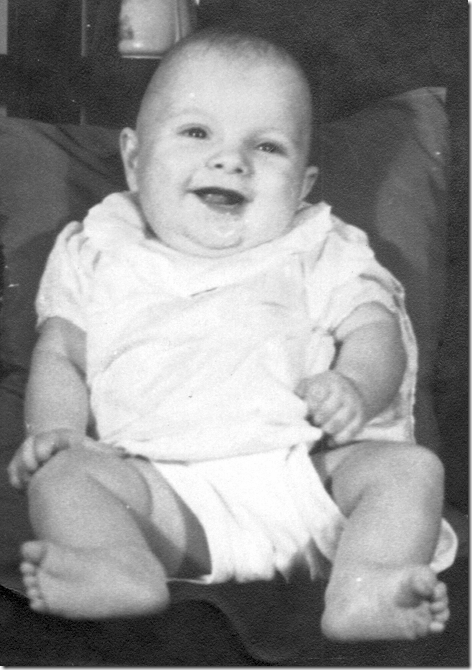 I think both of these were taken in early 1949.
---
July 3, 2019
Happy 4th of July Eve . . .
Leaving work a little early, I first went by WalMart and then Sam's Club for our prescriptions, as well as gassing up at Sam's at $2.15 a gallon. Then it was on the way home.
Though I didn't come home that way, Jennifer, our Office Manager, says that the I-45/FM646 underpass is now open, a couple of months early. Now if they'd just get the onramp to I-45N from 646 open again.
Though normally we eat at home at Wednesday's, since it's a holiday weekend we headed over to FM517 to have dinner at Los Ramirez Mexican Restaurant once again. Great as usual.
I went ahead and ordered seven more ignition coils from Amazon for our truck. I was hoping that O'Reilly's would match the Amazon price, but no such luck. And that's probably because there's a big difference between O'Reilly's price and Amazon's.
O'Reilly's charges $29.99 for the SMP Blue Streak UF270 coils while Amazon has the exact same coils for $16.47 each, a difference of $13.52 each, or over $94 total.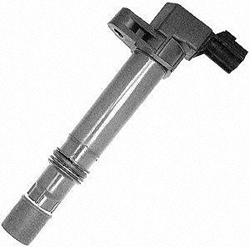 That's a big savings.
The coils won't be here until Monday, so I'll probably go ahead the install the new plugs this weekend, and then do the coils next week when they come in, since they go pretty quickly.
If the weather holds tomorrow we're thinking about heading over to Friendswood for their 4th of July Celebration and Fireworks. We used to attend this all the time, but it's been years now.
---
July 3, 2020
First The Statues, Now The Bugs . . .
First they came for the statues, then they came for the bugs.
Emory and Henry College in Virginia is rethinking their school mascot, a wasp.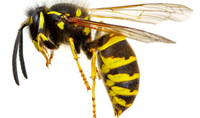 Why you might ask?
Well, it seems that the college authorities are worried that people might ignore the all the logos of the aforementioned insect on everything, but might instead think that the school mascot is actually a WASP.
You know, a White Anglo-Saxon Protestant.
Our granddaughter Piper is housesitting up at Brandi's while they're up in OK visiting Lowell's parents, so Jan and I are heading up there tomorrow morning about 10:30 to have brunch with her.
Really looking forward to seeing her again.
---
July 3, 2021
Baby Got New Shoes . . .
I've been wanting to do something about the steel wheels on our Jeep, pretty much the only cosmetic problem with it.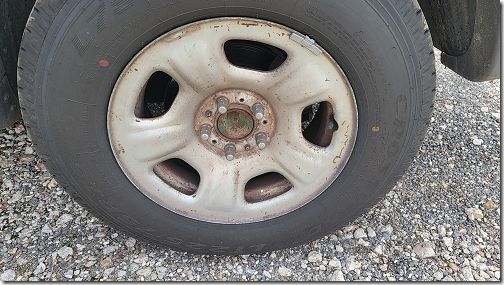 And yeah, I could mask them off, sand them, and paint them, but that's a lot of work.
So I found a set of these 'wheel skins' on eBay, made especially for Jeep steel wheels. They're very heavy, chrome-plated plastic and they snap on very easily, but have to be plied off. And the reviews are really good too.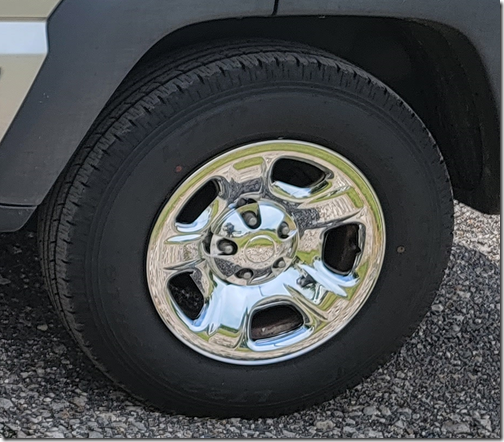 So I went from this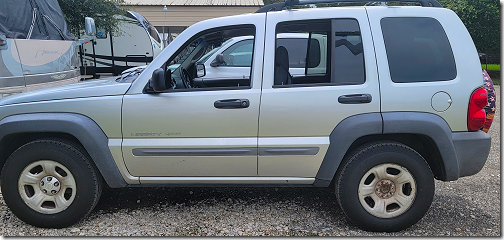 to this.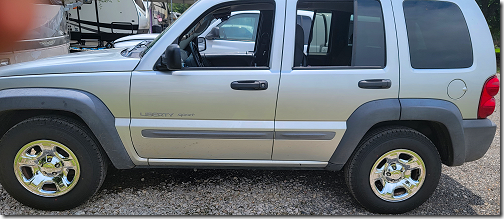 Really nice.
Baby got new shoes.
About 1pm Jan and I headed out to have lunch at Los Ramirez once again, and it was probably the busiest we've seen them in the last year or so. At least 3/4's full.
Then it was on up to the Home Depot for a couple of things for me, and a new plant for Jan. She wanted something in a pot that she could set out on the patio, so this is what she got.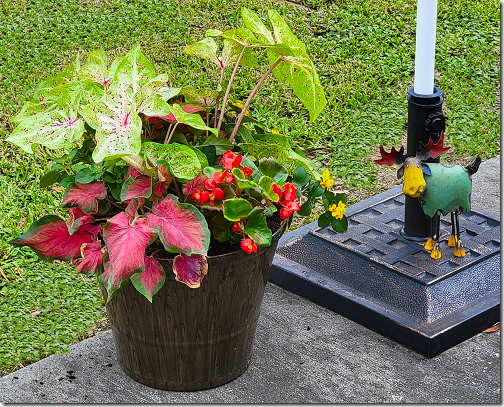 It's rated for Partial Sun since it only gets it from about 10 to 3 each day.
And somehow a new addition to our Flamingo population made it back home with us too.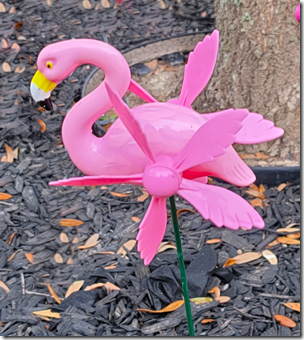 Wouldn't want all the rest to be lonely.
A little before 5pm I started prepping the baby back ribs for the overnight marinating. I had purchased two packs of Smithfield Baby Back Ribs like these last week.

Cut up into 3-4 rib pieces, it looked like this.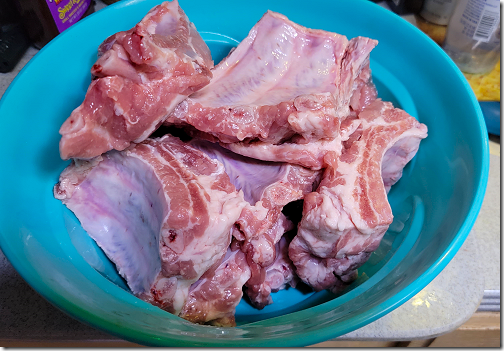 Next up, after patting the rib sections dry, I did the Shake N Bake thing with the rub mixture in a plastic bag, ending up with this first batch.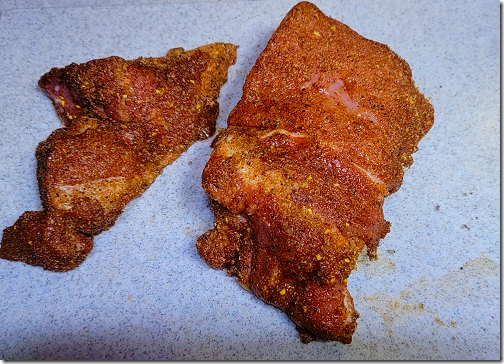 Actually the piece on the left is one of those solid meat chunks you sometimes find on the end of a rib. Really good.
After this, I put two rib sections in a vacuum bag, and then added 3 drops of Wright's Liquid Smoke to each bag right before I vacuumed-sealed the bags. Or at least I mostly did. Some of the bags ended up with no drops because I forgot. So it will be interesting to if we notice any difference between the bags.

I used the Wright's based on a number of online reviews, and the fact that it's actually 'liquid smoke'. They burn hardwood in a sealed system, catching the moist smoke and then condensing the liquid down and then bottling it. And it certainly smells that way when you open the bottle.
By the time I got through bagging it all, this is what I had.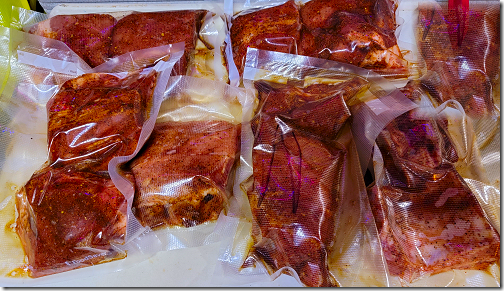 Tomorrow afternoon I'll get everything set up in the immersion cooker and start it going for 24 hours.
Looking forward to some good eats on Monday.
Later in the afternoon I put out our flag for the 4th of July weekend.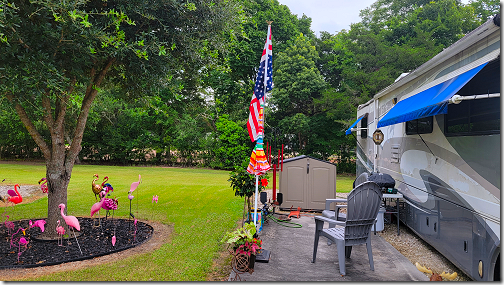 ---
Thought for the Day:
One man alone can be pretty dumb sometimes, but for real bona fide stupidity, there ain't nothin' can beat teamwork. – Edward Abbey