Daily Archives:
July 20, 2022
Tranquility Base here. The Eagle has landed."
53 year ago today mankind first walked on the moon.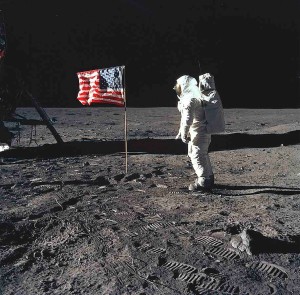 And Apollo 17, the last Moon Mission, landed back on earth December 19, 1972.
And we never went back.
"I always dreamed I'd live long enough to see the first man on the moon. I never dreamed I might live long enough to see the last." – Jerry Pournelle, NASA scientist / science fiction writer.
Jan and I spent that day sitting in the living room of Dwight and Betty Elliot, our only friends who had a color TV, watching the Apollo 11 moon landing while I was in college at the University of Alabama in Tuscaloosa, AL.
Of course, since all the video from the moon was in black & white, I'm not sure watching it on a color TV made much difference. All we got was to see Walter Cronkite in living color.

(this is a photo taken with a camera on the moon, hence the flag in color)
At that time I was still in school, but with my father working for Boeing on the Apollo program at Marshall Space Flight Center in Huntsville, AL, and Jan's father working for Rocketdyne at the Cape, I was determined that someday I would work for NASA too.
And though it took me nine years, in December 1978 Jan and I, and our two kids, moved from Montgomery, AL to Houston where I went to work for a NASA contractor at JSC.
And by the time the Space Shuttle was flying, I found myself in charge of processing the in-flight video coming down live from the Shuttle and sending it out to the world for others to see, kind of completing the circle.
So at 3:17 that afternoon, Jan scooped up our 14 month old son Chris, and pointing at the TV, said, "Chris, you won't remember this, but you're watching a man land on the moon!"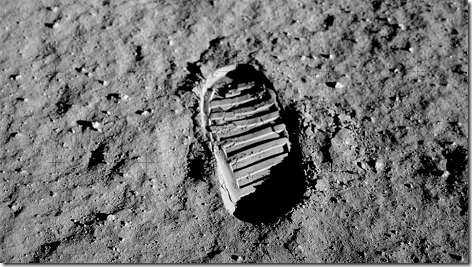 And while I was at NASA, one thing I heard over and over, from former astronauts, present astronauts, engineers and technicians, was "We made it to the moon. Why did we leave and never go back?"
---
Jan and I were on our way out about 12:45 for a first stop at the CVS over in Dickinson for Jan to pick up a few things, before we headed on up the feeder to have lunch at Denny's once again for our favorite Ultimate Omelets.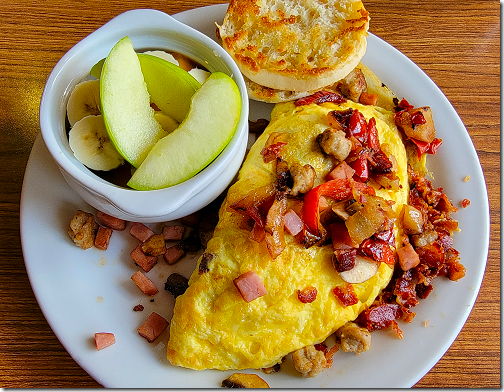 And as usual, the omelet is stuffed full with goodies, with even more scattered on the outside, with fruit instead of the Hashbrowns, and a Grilled, not Toasted, English Muffin.
Always fantastic.
And as we've done in the past, we had our server, Angie, take a $5 tip back to Hugo, the cook, for a job well done.
Then it was on over to the WalMart next door to take back some stuff, and buy some new stuff. Sometimes 'stuff' is fungible.
Gas prices continue to drop around here, at least in most places. The cheapest in the area, at $3.39, is again at the Sam's Club and the Buc-ee's down in La Marque.
But up in the Webster area, Sam's Club and Costco are stuck at $3.59. But some stations are still as high as $4.29. And in a couple of cases, like our HEB, the price went back up about 8 cents before it started dropping again.
---
Thought for the Day:
Women and cats will do as they please. Men and dogs should just relax and get used to the idea. – Robert A. Heinlein
---
July 20, 2010
The Rally – Early Bird Day 1…
I wanted to try and beat the rush this morning getting into The Rally so we left the Louisville South KOA about 7:45 am and drove about 20 miles north to the Kentucky Exposition Center and got in a fairly short line to enter the grounds.
Since we were "Will Call", we were directed to a nearby area to unhook our toad and picked up our packet that told us where we would be parking. We placed the parking tag in the window and headed to our parking spot.
As we drove down the street we were directed to our assigned spot based on the color of our card. All in all, pretty smooth.
We got in and got parked in about 20 minutes. We only have 30 amp electric here so we'll have to be careful with our water and sewer tanks.
About 9:30 we drove right down the street to a nearby Cracker Barrel for breakfast, which turned out to be somewhat of a mistake.
Not breakfast, it was great. But what we didn't think about was getting back into the Expo Center. Because now there was a long line of RV's trying to get in. And there was only one entrance during RV parking, so ended up taking us over 30 minutes just to get back in.
But before going back to the rig, we parked nearby to where we thought registration was. But it turned the lady had given us incorrect information and we ended up walking almost 3/4 of a mile thru a maze of corridors and escalators to get to the registration area. But we smarten up coming back, and took the shuttle back around the loop.
Getting back about 1 pm we settled in for a quite afternoon, but it was interrupted 3 or 4 times by the power going off. It wasn't just us, but was the whole area. But apparently a nap took care of the problem, because when we woke we had had no more problems.
Out in the parking lot, we saw rigs everywhere we looked. Here we are below.
About 4:30 pm we headed out for Marks Feed Store, a nearby BBQ restaurant that turned out to be very good.
Getting back to the rig, we looked over the lists of vendors and seminars here at the rally, trying to figure what we want to see when everything starts on Thursday.
---
July 20, 2011
On to Billings . . .
After coffee and bagels, and a nice quiet night, we pulled out of Riverfront RV Park in Garrison about 9 am heading for Billings, MT about 270 miles away.
And just like yesterday, we had some beautiful rolling vistas along the way.
After smooth roads and an uneventful drive we pulled into the Billings Trailer Village RV Park in Billings about 2:30 and got set up. This is our 4th time to stay here and we always feel welcome. Of course the first two times we came through here in 2008 on our way to and from Alaska, we got snowed in for a week both times.
Hopefully that won't happen this time.
While I was setting up outside, Jan let Mister out, who immediately jumped down on the pavement and started yowling, and looking down at his feet. After a couple of seconds Jan grabbed him up and put him on the grass. Dumb cat didn't have enough sense to get off hot asphalt. He just stood there and cried.
About 3 pm Jan called her friend Linda to get a 'when and where' for dinner tonight.
Since the 'when' was 5:30 we figured we'd have enough time to get our Wal-Mart and Sam's Club shopping out of the way beforehand, so off we went.
The 'where' for dinner was the HuHot Mongolian Grill, one of our favorite places when we're in town. You start out with an empty bowl and then fill it your choice of different meats, veggies, fruits, and sauces, and then give it to the grill guy. He cooks it all up on this big grill and gives it back to you on a big platter.
Hmmm! Hmmm! Good!
Linda is a longtime friends of ours. She and Jan worked at the same hospital in Houston years ago, until one day Linda decided she wanted some different scenery, so she up and moved to Billings, MT, of all places.
After dinner we went over to Linda's house to meet her new cat, and sat around and talked for a while, catching up.
We didn't stay long because it had been a long day, and we'll see Linda again in a week or so when we come back through Billings, after our Yellowstone/Grand Tetons excursion, and on our way through North Dakota.
Tomorrow we've got a short 100 mile run down to Cody, WY to meet up with our friends Al and Adrienne, who are workamping there.
On To Sault Sainte Marie
---
July 20, 2013
Four Time Zones in Four Weeks . . .
and a few days.
Before we left the Island Casino this morning, we took the Shuttle over to the restaurant to have breakfast before we headed out for Sault Sainte Marie about 185 miles north of here.
After a nice breakfast we got ready to pull out. Since we hadn't unhitched the toad, or set up the sat dish, we had a lot less to do than normal. But before we left the casino area we wanted to dump our tanks since the Elk's Lodge in Sault Sainte Marie where we'll be for the next week doesn't have sewer connections. So we want to start the week with empty tanks.
But although the dump station was empty when we went to breakfast and empty when we came back to the park, both sides were full when we queued up. The 5'er and the Class A were obviously together, and had no idea what they were doing. They were both already dumping when we pulled up, and 20 minutes later still weren't finished.
Then when it looked like they were finishing up, they apparently decided they needed to take the time (our time!) to flush their tanks. By this time there were two more rigs in line behind me waiting . . . and waiting.
Finally after about 30 minutes we got our turn. It took me 8 minutes and we were gone.
About a mile after we left the casino, we entered the Eastern Time Zone. We last left the Pacific Time Zone on June 15, so that means that in one month (and a few days) we've been in all four US time zones. We get around.
The trip was pretty smooth, but because we were on a lot of back roads we didn't make very good time. But the scenery was nice. We got into Sault Sainte Marie about 3pm, found the Elk's Lodge, parked, and got set up.
The view out our windshield, overlooking the locks, was fantastic.
We're really looking forward to checking out the area in the next few days.
About 5 pm we headed out for dinner at a Chinese restaurant called China Cate. We thought it was going to be a buffet, but it turned out a small family-run place in downtown and it was really good, kind of like Luckie's Thai in Tucson. And like Luckie's they had a constant stream of takeout orders being picked up.
After that great meal, we drove out to the Walmart to pick up some kitty litter and then drove around for a while before heading back to the rig for the night.
Still not sure what we'll do tomorrow yet. We'll see.
---
July 20, 2015
In the Tennessee Woods . . .
We only had an 80 mile trip today, so we weren't in any real hurry. So about 9am we drove into town to have the breakfast buffet at the Shoney's.
It was pretty good, much, much better than the breakfast we had at the Camp Verde Denny's when we left the Verde Valley Thousand Trails a few weeks ago. The coffee actually tasted like it was made today, not last week, like the Denny's.
Getting back to the rig, all we had to do was crank up the engine, start the genset, unhook shore power, and off we went. Our first stop was the Flying J out on the Interstate to top off the diesel with about 80 gallons.
Normally I wouldn't worry about getting fuel this early, but I'm still not sure what the genset cut-off point is on the new diesel tank and fuel pickups. 98 degree days are not when you want your diesel level to get too low.
We had scouted out the 2 lane RV pumps yesterday, and knew that we had to use the left one, because as the signs warned, any rig over 32 feet would have a problem making the turn out of the lane.
Of course, when we pulled in there was a rig already there. We sat there for over 5 minutes before I happened to see the pump handle jump as it clicked off. But still no one appeared. Then Jan finally saw that the guy was in the front of the rig cleaning the windshield. And cleaning, and cleaning, and cleaning. Because it was almost 10 minutes before he came back to the pump and finished his credit card transaction.
About this time Jan sees the wife leave the rig and go inside. And after finishing up with the pump, the guy turned, looked at me, and then followed his wife inside also.
Finally after another 15 minutes or so, they both came out, got in, and drove off. So we sat there for almost 30 minutes while these idio . . . I mean, RV'ers took their time. We were in and out in about 15 minutes. But even with our quick turn-around, I still didn't have time for a rig wash. There was a Blue Beacon right next door that I had thought about trying out, but with our lost time, and the fact that there was several semi's getting washed in front of us, I decided to skip it for now.
Going through Memphis, we did go around in a couple of circles due to a new interchange that existed in real life, but not in my GPS. But pretty soon we were in the clear and heading east.
We did end up taking a nice drive out through the countryside on narrow roads with no shoulders as we tried to reconcile my GPS' instructions, the park's directions on the website, and, once again, real life. But we finally pulled up to the guard shack about 2pm and got checked in.
And were promptly handed 11, yes, 11 pages of rules and regulations, with the first page defining in dense legalese terms such as 'tent', 'guest', and of course, 'recreational vehicle'.
But then the last line says, "The most important objective of your membership is to HAVE FUN!"
Is this before or after I finish reading the book of rules?
I was happy to find out that they had 50 amp sites available, so we unhitched and drove into the park to find our site. But after I got parked, I discovered that their idea of a 50 amp site is a little different from mine.
There are two electrical boxes on the same post at the rear of the site. Ours says '50' and the other one is for the site behind us. Opening the box I saw a single 50 amp receptacle, and a single 30 amp breaker.
Rut Roh! A 30 amp breaker does not a 50 amp site make.
While I was contemplating this, Jan came back and said that the ranger had come by and said that we would have to use both boxes to get 50 amps.
Huh! Now I can do this, but most RV'ers can't, so what exactly was he talking about?
The major reason you need 50 amps is to be able to run both AC's at the same time. Each AC pulls between 15 and 17 amps, and a little more when it's starting up. So just 30 amps doesn't cut it.
But a good while ago, I broke out the wiring to one of my AC's so I can unplug it from the main coach power and plug it directly into another outlet. It might be a 20 amp outlet in the same box, or in this case, the box behind our site.
But later we found another problem with the 30amp breaker. When we pull more than about 25 amps, the breaker pops. Which means right now, I'm running both the fridge and the water heater on gas.
So I'm going to check back with the ranger tomorrow to see if we can get a 'real' 50 amp site.
But even with the problems, it's still a nice site, with plenty of trees and shade, and it does have a satellite shot between the trees so Jan's happy.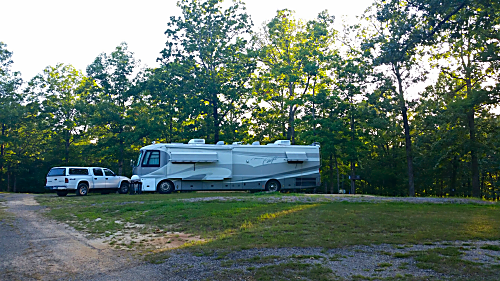 And I've got 3 bars of Verizon, so I'm happy.
---
July 20, 2016
Well, Maybe Tomorrow . . .
My back wasn't up to it this morning.
Well, I did intend to get up on the roof and do the AC coil cleaning this morning, I really did. But yesterday, after I finished prepping the AC cover, I got down on my stomach to clean some debris on the top of the slide and clear out the drain channels for the front AC.
That wasn't the problem. Getting up was the problem. And as I did, I felt something twist in my lower back. Not a hurt, but just a 'pull'.
But even after taking a couple of Advil before bed, the 'pull' translated into a 'knife' when I got up this morning, or tried to, anyway. But as the day wore on, the 'pull/knife' eased up to just some stiffness. So hopefully the job is back on for tomorrow.
I wanted to everyone a warning about 'bogus' Friend Requests. I'm not talking about ones where you get a new Friend Request from someone you're already friends with.
No, this is where you get a request from someone you never heard of, and here's the real kicker, you have no mutual friends in common, I'm getting 3 or 4 of these a week now with no let up, it seems.
The final way I check them out is to click on the name and and look at their Timeline. What I always find is a few pictures, probably stolen, and not other information. In fact usually the page was only created a few days ago.
So I just Delete Request and then mark as Spam.
When I posted the photo of the Falcon 9 launch and 1st Stage return a couple of days ago,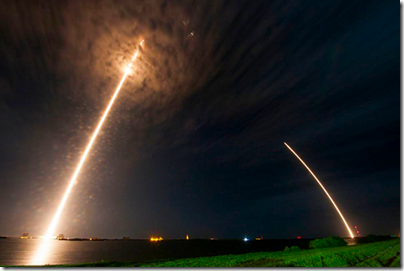 I questioned what the larger flash was at the top of the streak. Blog reader John Brown suggested that it might be a reflection of the light as the Falcon entered the clouds.
I checked with SpaceX ( turns out that I know a guy who knows a guy at SpaceX) and he confirmed that John was correct. That also explains why it wasn't visible from other directions.
---
July 20, 2017
About 4:15 this afternoon Jan and I headed into Conroe to meet up with Debi and Ed Hurlburt to have dinner at Cracker Barrel, Thursday being Jan's favorite – Turkey and Dressing Day.
While everyone else went with the crowd and ordered the T&D, I, marching to my own drummer, ordered the Beef Roast Campfire Meal.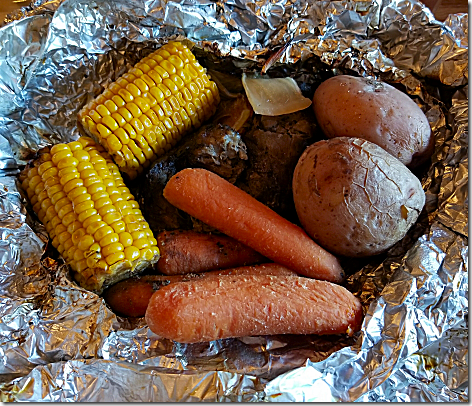 I had this once before and it's really good, perfectly seasoned, moist and juicy. Really good,
By the time we left it was almost 7:30, so we did log in the prerequisite three hours that are required for all RV'er get-together meals. Hopefully we'll be able to meet up again soon.
---
Now back to more Unintended Consequences.
I try not to pick on Seattle, but it's just so easy. A recent paper in the Economic Policy Journal documents how, as Seattle's minimum wage has increased from $9.47 to $11 to $13 to $15, restaurant health code violations has risen even faster.
And this is not per capita, but just on total violations. Which is even stranger, since as the minimum wage went up, the number of restaurants has been falling, either from going out of business, or moving out of the city. Some people found this strange and couldn't figure out the cause and effect.
Having been in the restaurant business a long time ago, I can tell you exactly what's happening. They're cutting the staff and the dedicated cleaning crew is the first to go. Then the cleaning jobs get spread out among the remaining staff. But as more and more reductions hit, there's less and less time to do anything but your basic job, I.e. making hamburgers, for instance. So the cleaning jobs fall further and further behind.
In pretty much any business, but the restaurant business especially, if your labor costs suddenly increase, you have two real options . . . cut other costs or raise prices. So you start by cutting hours, and then cutting jobs. And of course that's when you can start to have a problem with things like health code violations.
Now any time the idea of increasing the minimum wage comes up, the ivory tower elites will say, "Just raise prices. Since everyone will be doing it, you won't be at a disadvantage."
First off, if the business could get away with raising prices to make more money, THEY WOULD HAVE ALREADY DONE IT! THEY ALL WOULD HAVE.
When you raise prices, people stop coming to your establishment. Now you hope that the higher prices will offset the loss of some customers. But at some point you start falling behind the curve and are just losing money. As you keep raising prices, sales go down.
Like the old adage, "I lose money on every sale, but I make it up in volume." Yeah, right!
Or like the story of the little boy who sets up a lemonade stand in front of his house. A guy comes by and asks how for a cup of lemonade, and the boy says, "$1000.00."
The guy says, "How in the heck do you plan to make money selling lemonade for a thousand dollars a cup.
The kid says, "Well, I only have to sell one cup."
I guess that goes for a $1000 hamburger too.
Of course some companies are using the minimum wage to restructure and cut costs even more.
The Applebee's franchisee for NYC has over 40 restaurants there, and as the state's minimum wage increased, he's cut over 1000 jobs in the last year, two-thirds of his employees. But he's doing this not by reducing service due to less employees, but by embracing technology.
He's moving all his stores to the table-top kiosks for ordering, paying, and playing games.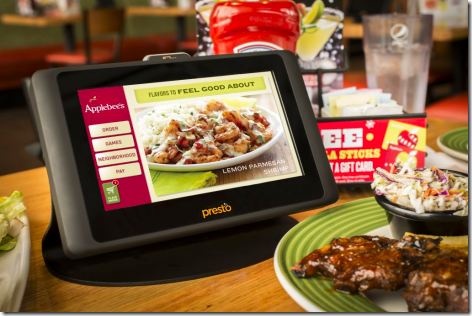 Instead of having one server for every three tables, he will have one 'concierge' for a dozen tables, there mostly to be sure you understand how operate the kiosks.
He expects eventually to cut over 2000 total jobs.
And according to the New York Post, the state's lost over 1000 restaurants last year, about double the number lost in the previous years before the wage hike. And now they're complaining about tax revenues being down, and are talking about raising taxes.
They never learn.
I've got enough for about one more blog on this, so I'll finish up tomorrow night.
I really appreciate all the nice comments from our readers on this series.
Thanks.
---
July 20, 2018
My First Invention . . .
I think I've been 'inventing' things my entire life, or at least as far back as I can remember.
The first real 'viable' invention was when I was about 6 (1954ish) and we were living in Gulf Shores, AL where my parents had a motel on the beach. Yes, that's me in my favorite cowboy suit.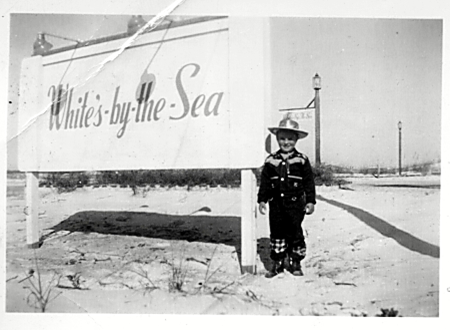 We had just gotten a TV, because there was finally something to watch. Or at least more than one station on the air. WALA, channel 10 in Mobile, AL, WKRG channel 5, also in Mobile, and WEAR channel 3 in Pensacola, FL. (For some reason, I remember those call signs and channels. But I can't remember where I left my glasses.)
But besides the fact that the stations were about 50 miles away, the Mobile and Pensacola stations were in opposite directions from us. So our 50 foot tall antenna had to be turned to point toward Mobile or Pensacola, depending on what we were watching. And guess who got to go outside and turn the antenna pole.
I began to wonder why you couldn't hook up a electric motor to turn the antenna pole instead of doing it by hand. Now the only electric motor I had access to was the one that came with my A.C. Gilbert Erector Set, the big one that had everything in it, enough stuff that I think I could have built another Eiffel Tower if I tried. And if I knew what the Eiffel Tower was when I was six.
So I decided to try using my motor, one just like this one,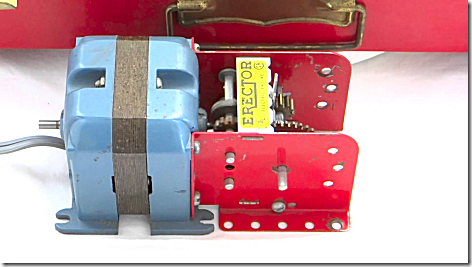 to make the antenna turn.
The set came with four large metal wheels that you could use to make motorized trucks and stuff. But even with all that and the different gears, it didn't have the power to make it rotate. So I kept adding gears, including some from a couple of bikes I had around. and as I remember, a belt and pulley from an old Coca Cola drink case compressor, eventually ending up with a bike chain driving it until I finally managed to get that Erector Set motor to turn the antenna pole.
And it worked.
But there was a small problem. The motor was geared down so much that it only took an hour and a half to make the 180 degree turn. Not very useful.
But I was very proud of what I had done, and was getting ready to show it to my father when a problem arose. My father later said he knew something was up when I came running wild-eyed into the motel office, grabbed the fire extinguisher off the wall and ran back out the door. At this point, he of course was right behind me.
The problem was that this small electric motor was not really designed to run for 90 minutes, non-stop, under an extremely heavy load.
And it had burst into flames.
While I was trying to get the extinguisher to work, my father, seeing what was happening, just reached over and unplugged the motor from the extension cord. He said I had tears in my eyes as I watched my prized motor melt down into slag.
When I told him what I was trying to do, he just smiled and said, "Come on. Get in the car." An hour or so later, we were in Mobile buying an antenna rotor system. And there was also a stop-over at Sears for a new Erector set motor.
That's when I found out someone had already invented the antenna rotor before me.
But I've always thought that I invented the antenna rotor. After all, I had never heard of one before, and mine worked fine. I just needed a bigger motor.
Readers might remember back in March when I replaced the battery in my 6 year old malfunctioning Garmin Nuvi 1490 LMT GPS. And for $15 my GPS was good to go again.
For about 4 months.
Then it started almost-constantly shutting down and then turning back on, all by itself. Googling said it might be a problem with a bad update downloaded from Garmin. But I hadn't updated the unit during the time frame when it started acting up. I figured it could be a problem with the 12volt power cord, but shaking it or wiggling it didn't seem to make any difference.
But before I replace the unit, (I already have one picked out) I decided to risk $6.89 to get a new cord from eBay to be sure it's not something internal with the circuitry inside the plug.
Luckily I'll be able to move all my stored locations for the old one to the new one if I replace it. I would hate to lose all 6 years worth of data.
We've got a buyer coming tomorrow afternoon to look at the house and make us an offer. So we'll see how it goes.
---
July 20, 2021
A Real Catch . . .
With only 15% percent chance of rain last night we were surprised to have an hours-long thunderstorm last night. It started about 8:30 and just poured down for a couple of hours, with the power going off several times, but just for a few minutes.
Then after it had all died down, about 10:30pm the power went off and stayed off. For about 2 hours before it finally came back. Then about 3am the storm started up again, maybe even heavier this time, but with no power losses.
And checking this morning, our rain gauge showed we've had a little over 6 inches overall. Wow!
About 10:30 this morning Jan and I headed up to Conroe to meet up with long-time friend's Debi and Ed Hurlburt at a new place for us, The Catch. And the place turned out to be really good. So enough that we wish we had one down in our area.
We both got the Catfish Filets, Jan's Grilled and mine Blackened. And you have your choice of 4 grilled shrimp or 4 grilled oysters, as well as either hushpuppies or garlic bread. So Jan got the shrimp and hushpuppies and I got the oysters and the garlic bread. Then we split the sides up so we each got some of both.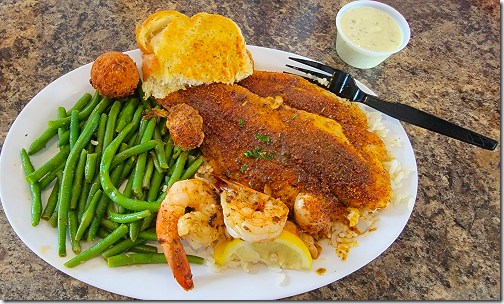 Did I mention it was all really, really good?
One thing different about this trip was how effortless it was. They've apparently reconfigured the lanes and open new ones going through downtown Houston, So the usual traffic bog-downs on the Pearce Elevated just weren't there and we just breezed right through at the speed limit. (or faster, maybe)
Very Nice!
---
Thought for the Day:
"The only way to keep your health is to eat what you don't want, drink what you don't like, and do what you'd rather not." – Mark Twain