Daily Archives:
July 22, 2022
With my client out of town, it was pretty quiet at work and I was able to catch up on scanning a lot of old machine manuals into computer form.
We did have about 30 minutes of really heavy rain, but none down in our area down here in Santa Fe, unfortunately.
Yesterday, coming home, we made another run down our street to check out the Down South RV Park about 3 miles south of us. We had tried to find it the other day but we had the address wrong.
But we found it today.
It's a very nice park, with 14 concrete pads on 3 acres of land.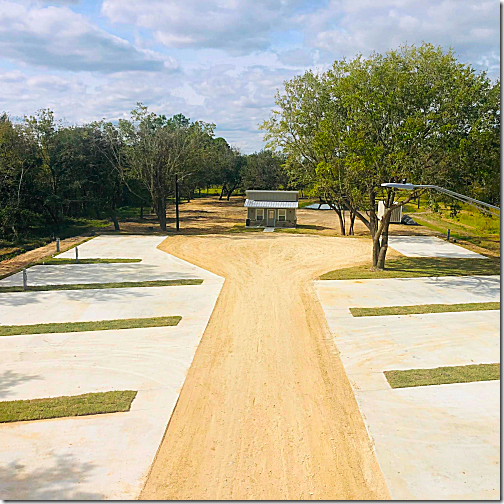 It's nicely laid out with 25' x 50' pads so you're not bumping into your neighbor.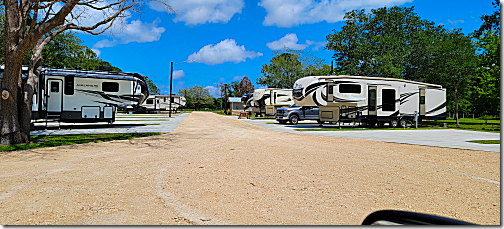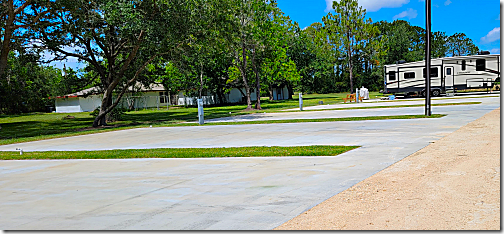 And of course the laundry room.

Tomorrow we plan on having lunch at a gas station. Well, at a restaurant that's inside a gas station/convenience store.
It's called Joe Fat's Eatshop. (my kind of name) and the reviews, and the photos, are really good.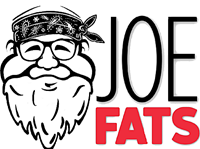 The Fried Catfish Dinner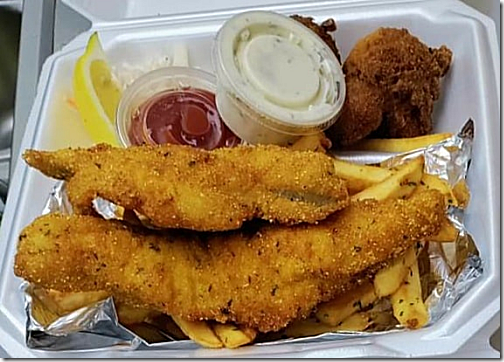 The MOTU Cheeseburger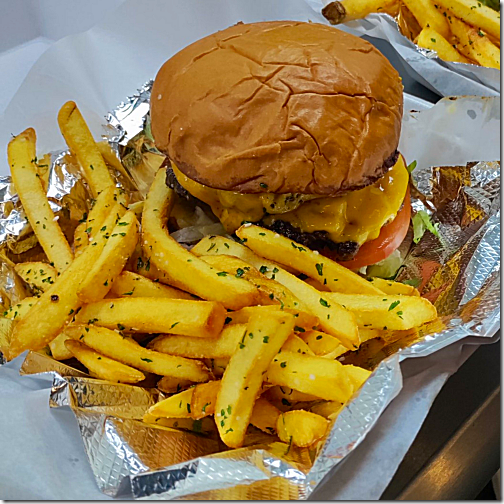 Two 1/4 lb. ground chuck beef patties Semi-smashed to cook fast and develop a nice crust on the griddle, seasoned well and topped with 2 slices American. Placed on a buttery toasted brioche bun made by Colosseum bakery, topped with roasted garlic aioli, mustard, ketchup, shredded lettuce, tomato, pickles and chopped onion all wrapped tight in a tissue and foil to retain heat.
And of course, my favorite to come, the PB&J and Banana French Toast.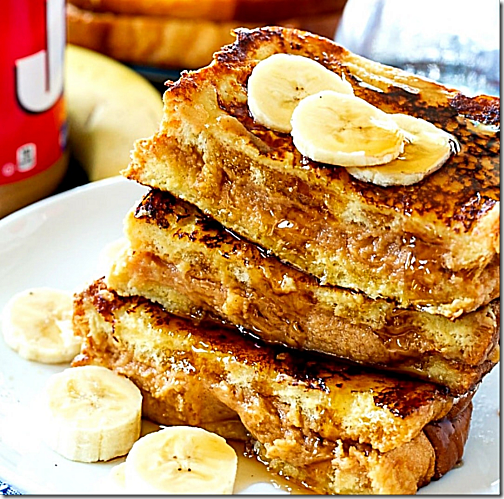 ---
Thought for the Day:
In 1776 the Sioux defeated the Cheyenne in war and took the Black Hills from them.
About 100 years later the US did the same to the Sioux.
Why does the first conquest confer legitimate title and the second doesn't?
---
July 22, 2010
The Rally – Day 1…
First off, some background information. 'The Rally' is/was Good Sam's big yearly rally, this year in Louisville, KY. And by 'big', there were almost 3000 RV's here. And it looked like this.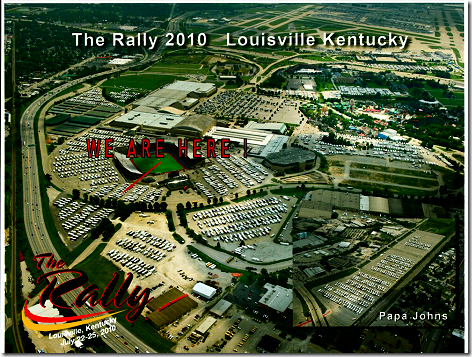 After we got parked here on Tuesday, I was curious how they were supplying us with power. It turns out that rather than powering us directly from the mains, they're using portable generators set up around the park.
These diesel generators put out 240V at 240 Amps. There's also another generator behind this one.

They then split the 2 phases into 2 – 120 V lines at 240 Amps each.
This means that each generator can power 16 coaches with 30 amps each.
Really neat setup.
---
About 10 am we headed over to the Expo Hall to start making our way thru the vendor area. They have several hundred vendors here, with a lot that I haven't seen before at other rallies.
One of the vendors was from the Province of Saskatchewan, and was giving out tourist info on the area. Saskatchewan is one of the provinces we haven't visited yet, so we picked up some booklets.
Here's Jan chatting up a handsome Mountie.
About noon we took a break and grabbed a lunch of hot dogs and a pretzel from one of the vendors.
Then at 1 pm Jan attended a seminar on Velcro. I went back to the rig and took a nap. I think I probably had the best time. Velcro? Really?
At 3pm I met back up with Jan and we went to Mike and Terri Church's talk on RVing in Alaska. Ninety minutes later we were homesick for the place and ready to hit the AlCan heading north again. It was nice to see so many of the places we'd been, and to see all the places we'd missed.
Maybe in a couple of years.
At 4:30 pm we drove over to the nearby Cottage Inn, a restaurant that we passed the other night and noticed how busy it was. It's a small place, very popular with the locals, and has been owned by the same family since 1929. And the food was excellent!
Home cooking at its best.
Getting back to the fairground, we ran into Lynn and Dave Cross that we had last seen at a rally in Yuma, AZ this past March. Lynn and Jan worked the registration table together.
We asked where they were going next, and they said they were going to be taking a TRACKS RV caravan tour of National Parks. Sounds like fun.
Tonight's entertainment was Bob Newhart, but first we started off with some rousing songs from a local choir, Master's Men.
And then it was time for Bob. And he was hilarious! He started off telling a story about how in the '60's he decided to take his family along in an RV as he crossed the country to perform a concert. It sounded like a combination of "RV" the movie,and "The Long, Long Trailer" with Lucy and Desi, and ended with him scraping the air conditioner off the roof as he arrived at the hotel where he was performing.
He finished up with one of his famous routines about a driving instructor with a really bad student. He mentioned in the setup that it was a woman driver, and got some boos from women in the audience.
So he said "OK. How about we made it a Chinese driver. Will that make you happy?" So he sat down and started the routine…in Chinese!
After about 30 seconds of incomprehensible dialog, he looked at the audience and said "OK. We can go on like this for another 8 minutes, or it can be a woman driver. You chose."
The audience roared. And it was now a woman driver.
Bob put on a great show. It's hard to believe he's almost 81.
Leaving the concert hall, I got this shot of the former Six Flags – Kentucky Kingdom amusement park that is part of the fairgrounds. But it didn't seem to be open.
A little Googling told me that back in February of this year, Six Flags and the Expo had been negotiating a new lease, and Six Flags had wanted some better terms because with the bad economy they were losing money on the park. Apparently this is the only park where they lease the property and don't own it outright.
So when the Expo dug in their heels and refused to renegotiate the terms, Six Flags called their bluff and did not open the park this year. They just shut it down and left the Expo holding the bag.
And now the Expo is really hurting, because they not only don't get the lease money, they also have lost the parking fees which they got. Talk about cutting off your nose to spite your face.
Tomorrow it's more seminars, more vendors, and Tanya Tucker for entertainment. Sounds great!
It's also supposed to be 98 degrees here tomorrow, so we'll see how the 30 amps and one A/C works out.
---
July 22, 2011
Yellowstone–Bears or Bust . . .
After getting up at 6 am (OMG!) we met Al and Adrienne at their rig at 7, and packing their two dogs into the truck with us, we headed out of town toward Yellowstone.
We planned on making what's known as the Grand Loop, a 260 mile drive from Cody to the east park entrance, to Old Faithful, on up to Madison Junction, over to Canyon Village, and then back down along the Yellowstone River to the Fishing Bridge where we came in.
We did make a quick stop at Peter's Coffee for coffee and scones of course. Can't start the day without coffee.
We brought the dogs, Banjo and Abby, along in case we needed bear bait. I mean we definitely want to see bears, and who knows, we might need bait.
About 15 miles before the entrance to the park, we came across this very unusual house sitting high on a hill overlooking the Wapiti Valley.
Nicknamed the Pagoda House, it is actually known as the Smith Mansion. The designer / builder was Francis Lee Smith, who started construction in 1973. An architect/engineer, Smith, using mostly hand tools and homemade pulley systems, worked on the house for almost 3 decades before dying in 1992. Still unfinished, it stands over 75 feet high and is made from timbers cut on nearby Rattlesnake Mountain. Smith's daughter is presently heading a project to restore and preserve the mansion.
Leaving the Wapiti Valley, we were already encountering great scenery, and we were still several miles from the park. Sure bodes well for the rest of the trip.
A few minutes later we entered Yellowstone National Park, and I was once again glad we had the National Park Senior Pass that lets us into all National Parks for free. Costing only a one-time $10 fee, it has saved us a lot of money over the last few years, including the $25 it would have cost us to get into Yellowstone.
We very quickly started seeing even more impressive vistas, including snow-capped mountains,
and beautiful Yellowstone Lake.
And all along the roadway, you find steam and sulfur vents jetting up, reminding you that you're traveling over an underground caldron of molten lava, just waiting to escape. Oh Boy!
A few minutes later we saw our first wildlife, this bison sunning himself out in a meadow.
Wonder if he knew I was going to have bison chili for lunch?
A few minutes later we saw a big gray wolf go running across the highway about 100 yards ahead. He was chasing something that we could see zipping though the trees, but we couldn't tell what it was. Another check on our wildlife scorecard.
After a 115 mile trip we pulled in to Old Faithful Village. It sure had changed since I was here as a kid in 1964, a lot more buildings and a lot less trees.
After parking, and getting our National Park Passports stamped at the Visitors Center we headed out to Old Faithful. A sign said the next eruption would be in about 20 minutes, plus or minus 10 minutes. When we got out to the geyser, we found it doing its usual pre-eruption smoking and spitting.
And a lot of people were already there ahead of us. But luckily we were able to find a seat.
Old Faithful wasn't quite as prompt as he should have been. About 5 minutes late, off he went.
It's a really impressive sight, going on for over 2 minutes, before settling down to its normal steamy spitting and spurting.
Old Faithful Spouting Off Video
As soon as Old Faithful had settled back down, we walked over to the Old Faithful Inn to have lunch in the dining room. The buffet looked really good with pan-seared trout, BBQ chicken, and of course, bison chili, among other items.
And it was really good.
After lunch in the beautiful dining room we went back to the car, and while Al and Adrienne walked Abby and Banjo, I tried to figure out where we stayed 47 years ago. (And before anyone says anything, the high temp in Yellowstone today was 66 and partly cloudy. The dogs were just fine in the truck with the windows cracked, and pretty much slept the whole time. I mean, why would we want to damage our potential bear bait.)
Anyway, I remembered where our cabin was in relation to Old Faithful, right across the way from it, and by looking a park map I figured it out.
What was then the main lodge has been replaced by a new one, and the old one is a cafeteria and storage warehouse.
And right next door were the old cabins we had stayed in, still in use and rented out today. I'm not sure exactly which one it was, but almost certainly one of the first two.
And I think they were already old when we stayed in them.
A little while after leaving Old Faithful, we saw our first elk, or at least the bottom half of an elk. He was so busy eating, he never put his head up.
Next we came across several more bison.
Then we saw this male elk sound asleep in the middle of a grassy meadow. I'll leave it to the reader to put the two parts together in their mind.
Our next stop was what is known as the Grand Canyon of the Yellowstone.
The falls in the photo are known as the Lower Falls, and at 308 feet are the highest falls in the park. If you look carefully in the photo below you can see people on the viewing area just to the right of the top of the falls. This is called the Brink.
A lot of really colorful rock formations in this area.
Finally we reached the Fishing Bridge and started retracing our route back to Cody, once again traveling along Yellowstone Lake.
And finally, the Holy Grail of Yellowstone wildlife, a big grizzly. He was ambling along the shoreline, seemingly just taking in the sights.
This is what's known as a 'Bear Jam', when all the cars come to a screeching halt to get a picture of the bear.
Still ignoring all the gawkers, the bear crossed the highway and scampered up the hill and into the trees.
So we got to see a bear and didn't even need our 'bear bait'. I'm sure Abby and Banjo were relieved.
We got back to Cody about 5:45, and after stopping off at our respective rigs, we met back at Sunset House, a local restaurant, for dinner.
Today was a very long, but VERY fun day . . . and tomorrow –
Dinosaurs!
Winding Down On Our First Year of Gate Guarding
---
July 22, 2012
Never Kill A White-Headed Fly . . .
Especially one that says "Help Me. Help Meeeeeee" in a high, squeaky voice.
(Obscure Movie Reference)
The last few days we've had a fly invasion here at the gate. One of the things we've liked about this gate over our last one near Charlotte is the distinct lack of insects. No mosquitoes, no katydids in my pants, no tarantulas (not really an insect, but still under the generic 'bug' category). But now we have flies. Lots and lots of flies. They started out just a few, but now we get 6 or 8 at a time.
This afternoon Jan did the 'water in the clear plastic bag' thing, and no, Jan doesn't watch "Mythbusters". So I guess tomorrow we'll see how that works.
My question is this. Why only 6 or 8 flies at a time? You kill the 6 or 8, and then a few minutes later, 6 or 8 more show up.
Why don't they all show up at once? Do they queue up someplace nearby? Is there some sort of allocation system so you don't have 'fly overcrowding' in any one area, and everyone gets their 'fly quota'?
Or is there a fly dispatcher? "Here's your next assignment. Sign here, and we'll notify your next of kin, all 27 million of them."
And are you as disappointed as I am that Raid "Flying Insect" spray doesn't kill flies like it does on TV? You know, there's a big BOOM!, and when the smoke clears, the fly is lying there on his back with his little fly feet up in the air.
I want the BOOM!
And did you ever notice that his little fly feet have little tiny shoes on them? Couldn't they fly better without the shoes?
Inquiring minds, and all that.
Well, we've got less than a month to go on our gate guarding experience. We plan on leaving the gate on Monday, August 20th. As it stands now, we'll first head down the road about 5 miles and spend the night at the Gate Guard Services yard while we get the rig set to travel. We've been parked either at the yard or on a gate since April 5th, and it always takes awhile to get everything tucked away when we've been off the road that long. Then that night we'll drive into San Antonio for one last Mexican meal, probably at La Fonda on Main.
Heading north we'll try to hit a couple of Thousand Trails parks along the way, but don't quite know yet how that'll work out. We'll see. I know we'll spend one night in southern IL with Jan's sister Debbie, but after that it's all up in the air.'
Just the way we like it.
My Android Free App of the Day is ListNote. Apparently using the same technology as Google's Voice Search, it does an excellent job of turning voice dictation in text files that can be exported into other software. Pretty neat.
---
July 22, 2013
Bears and Elks . . .
Today was a designated "Goof Off Day", consisting of reading, computers, and TV. It is kind of nice to just do nothing once in a while. And we did it very well.
As great as our site is here at the Elk's Lodge, it's got one problem. That's keeping the coach leveled. This close to the water the ground is so soft that even using my 16" x 16" pads they just slowly sink into the ground. And not evenly, either. So now we have enough tilt to make it noticeable when we walk around. If it doesn't get any worse, it may have bottomed out and I'll re-level, maybe tomorrow.
The weather has been really nice since we got here, much cooler than our time down in the Wisconsin Dells. Yesterday the high was about 70, and tomorrow it's supposed to be 69 and sunny. Very Nice.
For dinner we had our left-over Chinese from our meal at China Cate this past Saturday night. Chinese is one of those left-overs that just gets better with age. Very good.
Then for dessert we had the free Bread Pudding we got at Famous Dave's BBQ last Thursday night in the Dells. Bread Pudding also ages well.
Tomorrow we'll make up the difference from today, with a very busy day planned. First we'll head up to Whitefish Point and The Shipwreck Museum. Then coming back down we're going to check out Tahquamenon Falls State Park. Then it's down toward Newberry to visit Oswald's Bear Ranch.
Then comes Jan's favorite part. We'll head down to Newberry to the Visitor's Center to pick up a copy of their Moose Guide. Turns out there's a lot of moose up here and Jan wants one. Well, she wants to see one, anyway.
Thursday we plan on driving across the bridge into Canada and maybe check our the Bushplane Museum.
---
July 22, 2015
We Took A Chance . . .
I realized this morning that I didn't have the pronoun correct in yesterday's blog title. Kitty, Landon's Black Lab, is a girl, not a boy. So it should be "A Dog and Her Boy", not "A Dog and His Boy".
About 4pm Jan and I headed out to see some of the area and see if we could find a place to eat. Our first destination was Walnut, MS about 12 miles away, where two places come up on Yelp, a pizza place and a diner called Camo, both with good ratings.
But getting there, we decided we didn't really want pizza tonight, and as it turned out, Camo was only open from 5am to 1pm, or 2pm on Saturdays. So we decided to go ahead and drive into Corinth, MS, about 25 miles east.
Turns out that Corinth has pretty much everything as far as restaurants go, from a Ruby Tuesday, to a Cracker Barrel, and a Ryan's. But as we drove around for a while, we came across Mi Toro, a Mexican Restaurant with an almost full parking lot. Now we've been burned before with some really bad Mexican food, but this place looked nice, and as busy as it was, we decided to take a chance.
With us and new Mexican places, it's a three step process.
1. First try a tortilla chip by itself.
2. Next try a chip in the salsa.
3. Then taste the ice tea.
And happily for us, Mi Toro passed all three taste tests with flying colors. And I don't think we've ever been to a place that passed all three of these tests that didn't have good food as well. And today was no exception.
Jan ordered the #3 Combo, with a Beef Enchilada, a Beef Taco, and a Chile Relleno.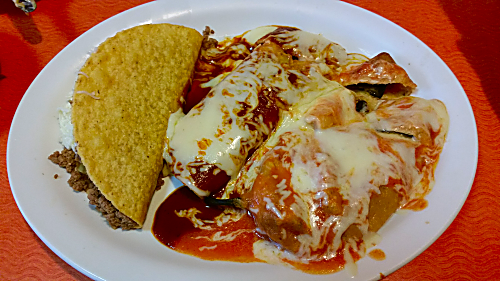 I got one of my favorites, Carnitas, which are chunks of slow-cooked pork, that are grilled again right before they're served.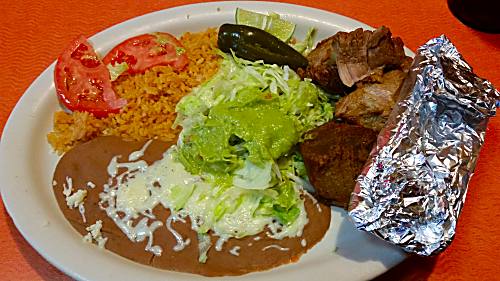 Both of us agreed that we'll try to eat here again before we leave the area.
---
July 22, 2016
The End Of An Era . . .
As I said yesterday, today was a 'rest up' day from my rooftop AC coil cleaning. And it was definitely needed, since I woke pretty sore this morning. Mostly I think from getting down on my knees and back up several times as I was working around all sides of the AC unit.
One blog reader ask why I didn't use something stronger to clean the coil, something stronger like Greased Lightning, or our favorite strong cleaner, Awesome.
Awesome certainly has its uses. In fact it's the best thing I've found for getting dead, stuck bugs off the front cap of the rig. Just spray it on, leave it for a few minutes, and then spray it off.
But be sure to get it all completely off, because it will start to eat your paint. In fact, Awesome recommends you don't use it full strength at all, but dilute it first.
The reason I didn't want to use it for cleaning the AC coil, is that all these cleaners are highly alkaline, and if you don't get every last drop out of every nook and cranny, it will start eating the thin aluminum fins, just dissolving them away.
I've seen this happen before on a home AC unit. The homeowner had put in a new underground sprinkler system where one sprinkler head sprayed slightly on the outside unit.
But he also had a setup that automatically added liquid fertilizer to the spray. And that fertilizer was alkaline, as most are.
After a couple of months his AC just quit working. When they had it checked out, a large section of the coil fins had just disappeared, and if you rubbed your finger over the rest, they just disintegrated at your touch.
But the 409 I used is perfect for breaking loose the dirt and gunk without harming the coil.
Wrapping up, it's the end of an era. The last VHS VCR will roll off the assembly line the end of this month. Funai, known as Sanyo in the US, is still selling about 750,000 units a year, but that's dropping steadily, and they're having more and more problems getting parts.
The last VHS tapes were made in 2008, but the supply stored away in warehouses has kept them on the market for years after. And the last movie on VHs was The History of Violence, and was released in 2006. So it's been all downhill since then.
We got our first VHS recorder, a Panasonic, in 1980, paying, I think, around $900 for it.
It looked just like this one.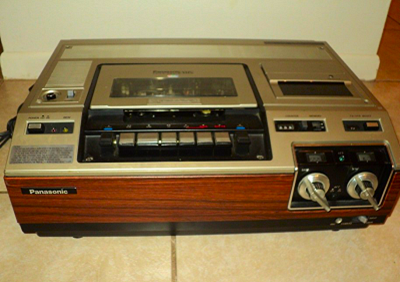 Of course I couldn't keep my hands out of it.
These units only had a fast forward/rewind mode that didn't let you see the picture as you were using it. But within a couple of months I had come up with a way to add a wired control box with an on/off switch and variable speed knob.
With the 20-30 foot cable stretched across your living room, it would let you fast forward through commercials as you watched the picture in fast mode. The knob let you speed up or slow down the mode.
I was working at JSC-NASA at the time, and after word got around, I installed these on a lot of other people's machines, making enough to more than pay for our VCR.
Nice.
---
July 22, 2017
Now We'll See How It Works . . .
Today I finished mapping out our upcoming Alabama trip, and making the reservations that we'll need.
We're leaving from Colorado River on Wednesday with a stopover in Breaux Bridge, LA and Theodore, AL. Then we'll spend two nights in Montgomery, AL visiting old friends from when we moved from there to Houston in 1978.
Then it's on up to our relative's RV park up in Athens, Al for five days or so, visiting relatives. And while we'll there, we'll make a day trip down to Birmingham to visit friends from when we lived there too.
Then on the 4th of August we'll head back home by a different route, through Birmingham, Tuscaloosa, Meridian, Breaux Bridge again, and then back to Lake Conroe on the 6th of August.
About 4pm today Jan and I drove into Conroe to have dinner at El Bosque, probably our favorite local Mexican place, although Mama Juanita's is pretty good, too.
Jan got her favorite Pollo a la Parrilla,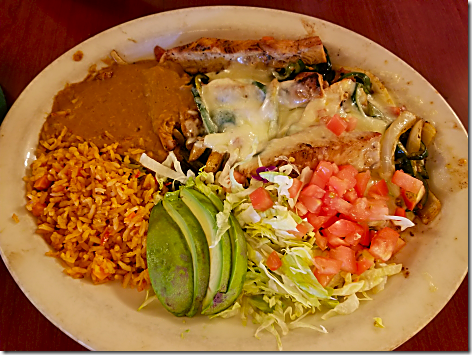 while I got my usual Fajitas a la Diabla.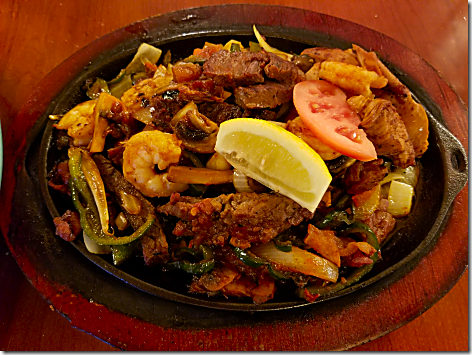 Both delicious as always, with plenty left over for dinner tomorrow night.
Then it was next door to the Home Depot to get the last few things I needed for my AC Baffle project up on the roof,
Coming home I waited until a little after 7pm, hoping it had cooled off, and with the overcast it really had.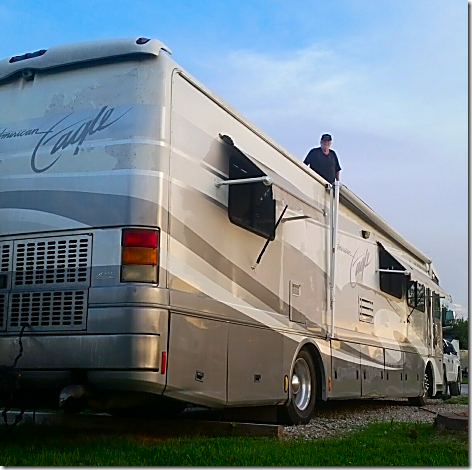 It only took me about 45 minutes to mount the Plexiglass sheets on the top and sides of the AC cover.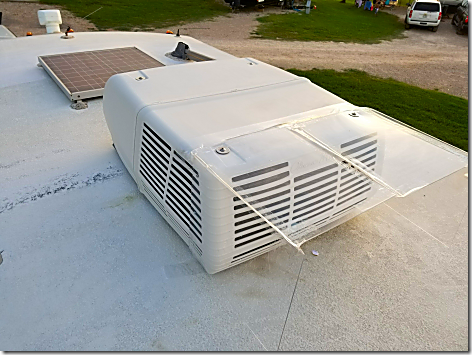 I used heavy duty packing tape to seal the edges and lock the pieces together. In hindsight I should have used a rod or something to bridge across the two top sheets, but that's for next time. If it works this time, of course.
So tomorrow we'll see how it's going to work on our trip back to the Colorado River Thousand Trails.
---
July 22, 2019
Top This . . .
Work was finally back to normal today, since Jennifer was back on duty. Of course it took most of the morning for Dr. Heimlich and myself to try to explain all the weird stuff we had left for her to try and straighten out.
But by the afternoon she had it all sorted out and was back on track.
I meant to post a photo of the old spark plug that I finally got out yesterday, but here it is now.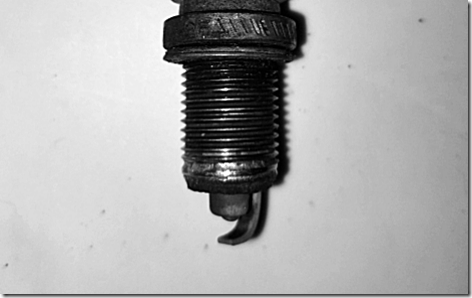 I'm not really sure what happened here but the first two or three threads are just gone. It sure doesn't look like it's cross-threaded, at least not in a way I've seen before. So maybe one of our intrepid readers has an idea.
The new plug went back in just about as hard as the old one came out. But when I drove it back and forth to work today it was running a lot better. Not perfectly, still a little rough, but much better.
It's been a good while since I shot a heli-coil, but I'm going to see how the truck runs over the next few weeks before I go that far.
So tomorrow, if it doesn't rain, it's on to the brakes.
Looks like starting this Thursday Karma and I are going to be on our own for about 10 days. Thursday afternoon I'm taking Jan up to Brandi's for about 10 days so she doggie/kitty-sit while Brandi, Lowell, and Landon are down in Costa Rica.
It's Landon's first trip out of the country so he's excited to have his own passport now.
Jan and I are in the market for a new 4" Foam Mattress Topper for our Queen size bed. We've had this one for about 5 years and it's showing its age.
But the main reason I want to change out is that I'm looking for something cooler, and I'd prefer something I can get from Amazon. Easier to return if I don't like it.
---
July 22, 2020
Comet NEOWISE . . .
Some more Comet NEOWISE photos.
The comet over Windsor Castle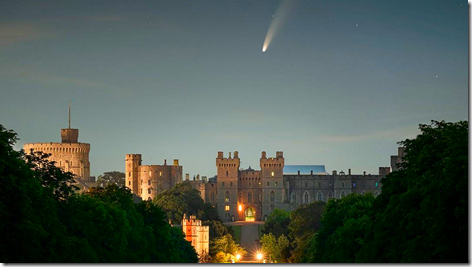 The Comet over Wyoming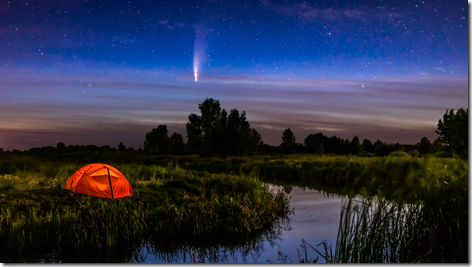 ---
July 22, 2021
Taking Suggestions . . .
Jan has been scouring YouTube videos for ideas about what to do and see in Branson this December. Besides Yakov Smirnoff and SIX, we had also wanted to see Jim Stafford, but it looks like he's taking Christmas.
We want to see the Toy Museum and the Dinosaur Museum, and also do a Dinner Cruise on the Branson Belle. We already did the Dolly Parton Stampede in Pigeon Forge, plus Jan's not real big on the whole rodeo thing, so that's out.
We've done Duck tours all over the country, so despite the tragic occurrence back in 2018, we wanted to do one here. And we had heard that the tours had been resumed with new boats, but it turns out that they've now been delayed and won't start up until March 2022.
According to the web, when they do start back up they'll be using this new ducks.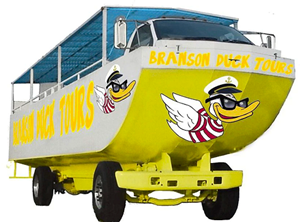 Called Hydra-Terra's, they're so filled with foam that the Coast Guard rates them as unsinkable. Of course I seem to remember another boat described that way.
I kind of wonder though about how well this thing will move through the water with all that undercarriage hanging down under there, compared with the original ones like this.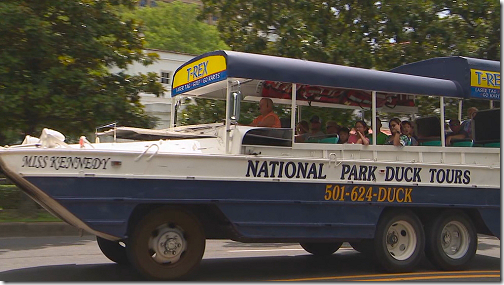 So anyway, we looking for suggestions for shows, attractions, etc., I.e. your favorite must-see's.
Yesterday I posted my new new 'Make Texas A Country Again' shirt. Well Jan has a new one too. And it combines two of her favorite things.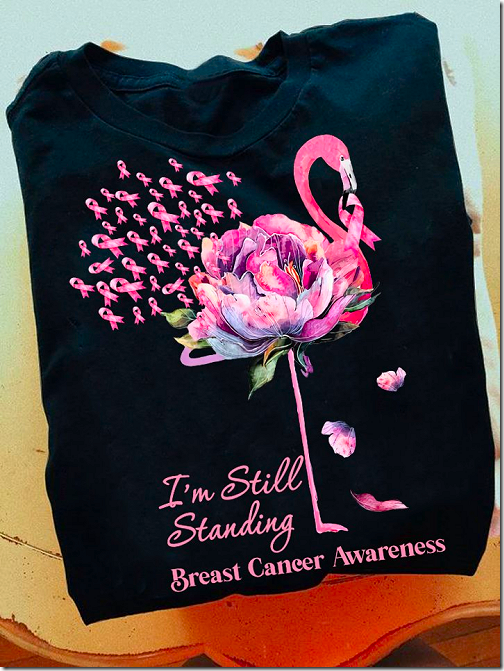 Her love of flamingos and her survival of breast cancer in 2014. A really bright and colorful shirt. Jan loves it.
Our friend Barbara Cutsinger told us that there's actually a "The Catch" restaurant up in the Almeda Mall area, not too far from us. So we'll have to check it out soon.
One thing I forgot to mention about our meal at the one up in Conroe when we met up with Debi and Ed, was that they have free frozen margaritas, in 4 different flavors. And unlike most of these slushie machine margaritas, these actually had alcohol in them. And not just the usual 'few' drops. But enough to give you a definite 'buzz'.
I mentioned yesterday that our old Alvin Opry friend Leighan Cortes was killed in a traffic accident while vacationing in Germany with her father.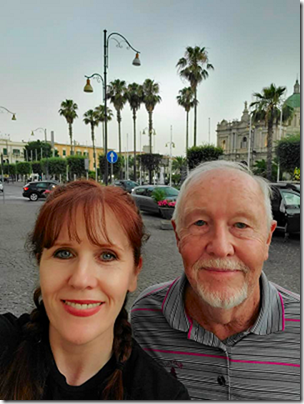 Well, even sadder, it turns out that her father, shown with her here, was also killed in the same accident.
Our prayers and sympathy's go out to the family.
---
Thought For The Day: