Daily Archives:
July 9, 2022
Both of them, Jan and the Jeep.
I headed out for Katy and the El Asador Mexican Restaurant near Lowell and Brandi's where we were all meeting up for lunch.
But along the way I got redirected to just come to the house instead. So we just ordered online and had it delivered by DoorDash.
And it was really good. Jan and I split an order of Combo Fajitas, with Charro Beans and all the fixing's.
Heading home a little after 1pm, we made a detour in Clear Lake to pick up some prescriptions at Kroger, and stopped off at Snider Transmission to pick up the truck where I had left it when I got the Jeep, before finally getting back to the rig.
While Jan was gone I did get around to doing the battery changeout on my Galaxy Tab 4 that I mentioned a while back.
It started like this.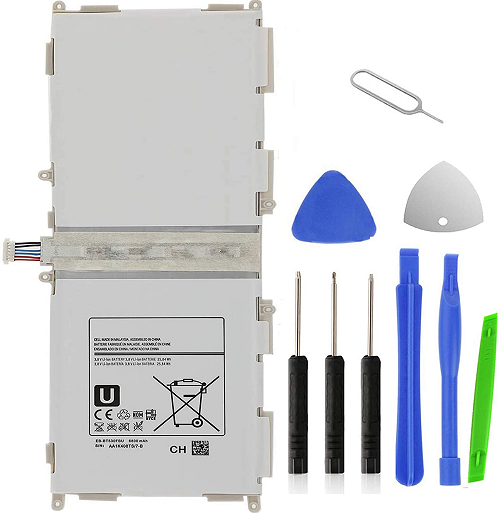 Then using one of the supplied tools, I popped the back of the case off, giving me this.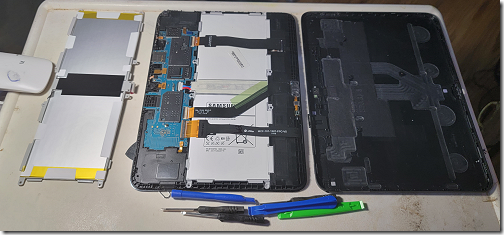 Next up I pressed the release tab on the 3 ribbon cables and pulled them out of the way.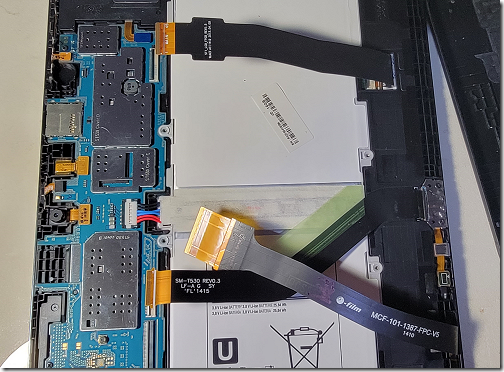 Then after removing the 4 tiny screws that hold the battery down, I disconnected the battery cable and popped it out.
Finally I put the new battery in and replaced the screws and reconnected the cables.
Then before putting the back on, I tried to boot it up, and it was dead.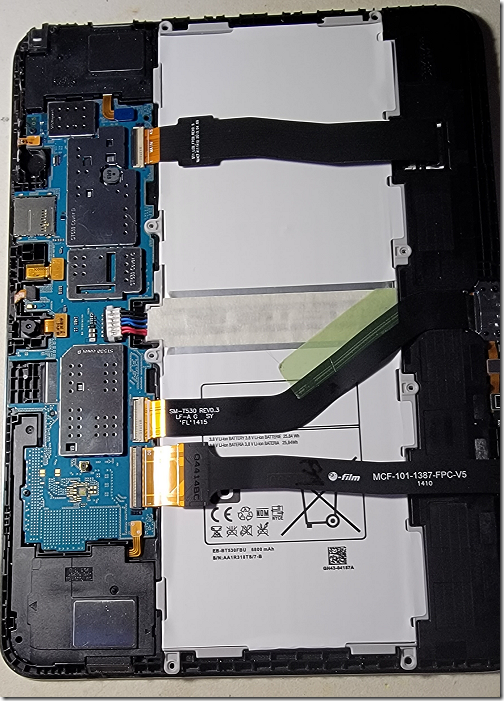 Figuring this had to be a battery problem, I double-checked the battery cable and found it wasn't seated all the way down. And then another power-up attempt gave me this.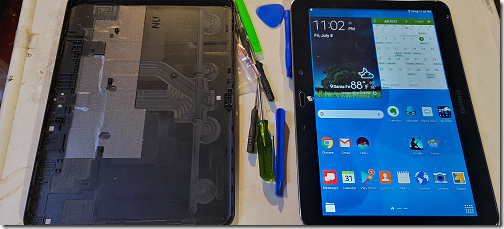 Success!
Finally I have temporarily turned off the blog's Firewall this evening, so anyone who still sees the 'Hi Jetpack' page, please let me know.
Thanks.
---
Thought for the Day:
Don't be ashamed of who you are. That's your parent's job.
---
July 9, 2009
Quack, quack! DUKW, DUKW!
We had planned to visit the Natural History and American History museums today, but that didn't work out.
We started out with breakfast at the Silver Diner again, and then took the Metro Orange and Red lines into Union Station again.
This let me get some more pictures of the inside of the station.  It's really something.
We had come back here to take the DC Duck tour.
It's a 90 minute tour, one hour on land and 30 minutes on the Potomac River.  We traveled in a WWII DUKW amphibious vehicle, or Duck.
We had a great time on this tour.  We saw a number of places we didn't see on the other tour, and a different view (from the river) of others.
While still on land we did get a better view of the Jefferson Memorial.
When it was time for us to hit the water, we just drove down a boat ramp on the Potomac River and off we went.   Neat !!
I want one.
We also got a river view of the Pentagon.  This is the opposite side from where the plane hit on 9/11.
We passed under the 14 St. bridges where  the Air Florida 737 took off from Washington National Airport (now Ronald Reagan – Washington National), fell out of the sky, bounced off the bridge, and crashed into the freezing Potomac on January 13, 1982.
The bridge was later renamed the 'Arland D. Williams Jr'  bridge after one of the plane's passengers who repeatedly helped others to safety until he died in the frigid water.
78 people died, including 4 whose cars were crushed when the plane hit the bridge.  Only five passengers survived.
From the river we also got a unique shot of two famous monuments in one, The Washington Monument and the Jefferson Memorial.
We came back out of the river near the airport and hit the road again.
We pulled back into Union Station about 2:45.  We then realized that we really wouldn't have time to do two, or even one of the museums,  justice.
So we decided to eat supper at Union Station and head home early to miss the 'going home' rush on the Metro.
We'll try the museums again tomorrow.
---
July 9, 2010
Waskom…
Today was a pretty uneventful day, which was nice for a change.
We left the North Waco KOA (actually in West, TX.  No, not west Texas, but West, TX) about 10:15 am heading north and then east toward Waskom, TX, about 5 miles from the Louisiana border and about 20 miles west of Shreveport.
We pulled into Miss Ellie's RV Park in Waskom about 2:45 pm and got set up. I'm glad I made a reservation because the lady in the office said we got the last site, and she'd already turned away 4 or 5 people this afternoon, waiting for us. It seems like the further east we go, the fuller the parks are. Although I usually don't worry about reservations, I guess I have to be more careful.
After we got settled in, we headed into Shreveport/Bossier City for dinner.
We'd decided we wanted to get our "wing fix' so we ended up at Buffalo Wild Wings, one of our two favorite wing places. (The other one being Hooters).
Jan got her wings 'HOT' and I got mine with "MANGO HABANERO" with a side of "BLAZIIN'" for dipping. "BLAZIN' is their hottest sauce, then comes "WILD", MANGO HABANERO", and then "HOT". Then there are 10 less hot sauces, for a total of 14.
By the time we got finished, our mouths were really burning, so that called for a stop on the way home at Dairy Queen for some soft-serve ice cream to cool off.
We got home about 6:30 and settle in for the season premiere of "Eureka" on SyFy Channel
Tomorrow we'll travel about 230 miles east to somewhere around Jackson, MS. Still not sure where we'll stay yet. There's a MOOSE lodge there that I'll call in the morning to see what they have available.
More tomorrow…
---
July 9, 2011
On to Leavenworth . . . No, not that one
This morning we headed out for Leavenworth, WA about 175 miles away.
Funny thing about this trip is that it took us 94 miles and two hours just to get out of Seattle. More than half the trip!
We didn't have any problems. It's just that we had to come down one side of Puget Sound from Bremerton, around the bottom, and then back up the eastern side by Tacoma and Seattle before getting on US-2 to finally start heading east.
And then it took another 45 minutes to go the next 10 miles.
We started to regret our decision to take US-2 this time instead of I-90. In the past we've always taken the Interstate passing through here. 45 minutes later, when we had finally inched our way along the 10 miles from Monroe, where we got on US-2, to Sultan, we found out what caused the delay.
It was the Sultan Shindig, whatever the heck that was.
It looked to be some sort of flea market/carnival/county fair, and because everyone in Seattle had apparently decided to attend, then got there and found no place to park, we lost 45 minutes of our lives that we can never get back, backed up in 10 miles of bumper to bumper traffic.
And of course, just as the traffic was freeing up through Sultan, they had one of those electronic signs that says "Slow Traffic This Weekend – The Sultan Shindig."
Now they tell us!
But finally getting through Sultan, our delay was somewhat redeemed by the beautiful countryside, and the great photos Jan took along the way.
We got into the Leavenworth Thousand Trails Park about 2:30, unhitched the truck, parked the RV in a temporary area, and drove around to pick out a site. We finally found one we liked, and went back and got the rig, got parked and set up.
This Thousand Trails is heavily wooded like the Bend/Sunriver TT, but the sites are closer together. I thought I had a site picked out that would let us get satellite TV, but it didn't work out. I picked a site with an opening in the trees that should have let me get a signal with my new dish, but I never could get it to lock on. Of course no one around me can get it either so it just may not be possible.
Either the trees are just too tall, or it may be that the dish can't find any of the other satellites it needs to find first, before it can find the one I want.
As soon as I dumped our waste tanks, Jan started doing 8 days of accumulated laundry, since we couldn't use our washer in Bremerton.
Then about 5 pm we headed over to the town of Leavenworth about 20 miles away to have dinner and see the area.
And it turns out, that instead of the expected 'prison' motif, the town is done up as a Bavarian Alpine village, complete with 'haus' this and 'strasse' that.
And boy was the place packed. It was just wall-to-wall people and cars. Every hotel and motel seemed to have a 'No Vacancy' sign. It looks like during the winter, Leavenworth is a ski resort, and during the summer, it's tubing and raft rides down the rapids of the Wenatchee River that winds in and out through the town.
And some of these rapids are definitely 4's and 5's.
We ended up having dinner at Kristall's, a faux-German Inn with pretty good food. We got there just in time, because when we left, the place was packed.
Leaving town and heading home, we noticed even the "Wells Fargo" bank gets in the act. I think it must be a zoning thing. We never saw one normal sign the whole time we were there.
Getting back to the rig, I played with the satellite until it got too dark. Still no luck.
Tomorrow I'm going to install the plugs and receptacles on my transfer switch bypass so I can easily switch back and forth between the generator and shore power.
On To Sioux Falls, SD
---
July 9, 2013
Why Do Cows Huddle?
Since we would lose an hour about 3 miles down the road as we passed into the Central Time Zone, and also wanted to get diesel in Murdo, SD about 25 miles down the road, we left the park about 7:30 and headed east on I-90.
As we passed the 1880 Town we tried to check the diesel price at their Shell station, but it wasn't posted anywhere and I didn't want to drive up to the pumps without knowing the price, so we just headed on by.
We took on 59 gallons of diesel at the Murdo Pilot station at $3.89 a gallon ($3.86 after my Pilot discount card) and then after parking over to the side, we went back and got breakfast sandwiches from the Subway and Hazelnut coffee from the Pilot, and then got back on the road. Kinda thought about dropping some coins in the slots while we were there, as this is the only Pilot/Flying J I've ever seen that also has a casino inside.
Leaving Murdo and back on I-90 we came across this guy and his pet.
I wasn't able to get a photo so I found this one online. Looks like they could both stand to put on a few pounds.
At our first rest stop, about 95 miles into our day, Jan took over the driving again while I caught a nap. She even handled a 15 mile section of road construction lined with pylons with no problems.
Over the last couple of days we've been through a number of these 10-15 mile construction zones. The interesting thing about these is what they're doing on the other side of the Interstate, something that I've never seen before.
They are completely tearing up the pavement, all the way down to the dirt, even pulling out the rebar. Then they start building up the new road from scratch, just like they did originally. What's not clear is why.
Is it because it wasn't built right to start with? Or did the extremely cold weather damage it beyond normal repair? Googling doesn't give me any info, so I guess I'll ask around.
The other funny thing is what's up with the 'huddling cows'? Along the Interstate we've seen these groups, large and small, of cows all huddled together in a tight mass. Are they fighting off marauding wolves? Getting ready for a cold winter? What?
After Jan's driving for about 100 miles, I took over again for the last 35 miles, getting into the W. H. Lyons Fairgrounds about 2pm CST. And after checking in with the camp host, I went looking for a site without ruts with no luck. Just like when we were here in 2008, we're parked on grass backed up to a fence. And we're parked in the bare-dirt ruts of all the previous occupants.
When we were here in 2008 for a week, everything was fine for the first 5 days, and then it poured for the last two days. And when we tried to leave, we were stuck, couldn't even move forward a single foot. I really felt bad for the guy that Good Sam ERS sent out as he had to lay down in the mud to hook up the tow rope to our rig, and it was still pouring down at the time. I slipped him a $20.
As it stands right now, it's not supposed to rain before we leave here on Saturday so maybe we'll luck out.
After getting set up, Jan and I headed out to a nearby UPS store to get our Residency Affidavit notarized. We need these to get our drivers licenses renewed tomorrow, along with some other ID items. Hopefully we won't have any problems.
By the time we got finished it was after 4:30 so we headed over to a nearby Famous Dave's BBQ for our usual great meal. With leftovers of course.
While at Famous Dave's I asked the waitress if she knew why the cows huddled. She didn't know but the guy sitting behind us did. It's to help them ward off the biting flies they have around here. And then when we got home, I found that our friend Cool Judy (Judy Rinehimer) had asked the same question and gotten the same answer on Facebook.
Another thing I noticed is how diesel got a lot cheaper as we got closer to Sioux Falls. I saw it as low as $3.56 around here. Wait if you can. Unfortunately we couldn't.
Tomorrow we're going to head out early and try to beat the rush at the DMV.
---
July 9, 2014
Mister Wants A Hammock . . .
Saw this video online and now Mister wants one of his own.
A few days ago I posted this amazing video of a quadcopter drone flying around and through a fireworks show. Here it is again if you missed it.
It was done in West Palm Beach, FL, but as I thought it wasn't this past 4th of July, but back in May during West Palm Beach's Sunfest..
And now the pilot is being investigating by the FAA because in flying through the fireworks, he may have flown too close to the airport. Of course the question is, how many planes would be flying through the fireworks, anyway, since the airspace had already been cleared for the show.
http://www.palmbeachpost.com/news/news/local/faa-investigating-drone-shot-video-of-fireworks-ov/ngbh4/
And it sounds like the guy lives in South Africa, anyway.
---
A little before 5 we headed out to have dinner at the Sherman House Restaurant in Batesville. We had hoped to eat here on Monday when we got to the park, but they're closed on Mondays, so we went Mexican.
The Sherman House has been around since 1852 and has a great menu, including a lot of German specialties, as well as a really good salad bar. So we were really looking forward to it tonight.
But when we got to the restaurant, we found a large chalkboard out front that said, "Sorry for the Inconvenience. We closed at 4pm today."
Bummer!
So we decided to try the nearby Chinese Buffet that had pretty good reviews.
THEY WERE WRONG!   And I'm not going to say anymore about it.
We even tried to save the evening with a stop at Dairy Queen on the way home, and they got our orders wrong.
Maybe we should have just stayed home.
---
Got this picture today of Landon and his daddy, Lowell. Really looking forward to seeing them in August.
Tomorrow we're going into Cincinnati to see some sights.
On To Amarillo
---
July 9, 2015
Amarillo by . . . eh, Afternoon
Since we had a 300 mile trip to Amarillo today, and just like yesterday, we would lose another hour moving into Central Daylight Time, we wanted to get an early start this morning, or at least earlier than normal for us. Plus we also wanted to make a fuel stop at the Flying J about 5 miles down the road.
The Flying J website said they had 8 RV lanes, but they didn't. They only had 2, and those 2 were out of service because they were redoing the concrete pad around the pumps. So I had to circle around the parking lot, back out on the street, and then into the truck pump area.
The fill-up went smoothly, and with my RV Plus Card, I got 7 cents off the cash price, ;for a cost of $2.72 a gallon. Not bad.
Jan had followed me in the truck from the park, and after I was finished fueling and pulled around front and off to the side, she pulled in behind me so we could hook up. But first we went inside to pick up a couple of Cinnabon's for the road.
While I was there I also checked for green diesel antifreeze, once again with no luck. All they had was red and pink/purple. The pink/purple is red antifreeze with an SCA charge added. Still no good for my use.
We were finally on the way about 9am Albuquerque time / 10am Amarillo time. It was so cool and overcast that I didn't fool with the genset / transfer switch to run the AC's We again just had the fans on, and windows open, and it was very nice. In fact, when I checked the temp in the coach at a rest stop about noon, it was still only 73 degrees inside. I did start up the genset and let it run for about 20 minutes just to check it out. Of course since we weren't on shore power, the transfer switch didn't switch over, but at this point I really didn't expect it to.
So, after a nice, smooth trip, we pulled into the Amarillo Ranch RV Park a few minutes after 3pm. Since we had reservations, we were quickly checked in and guided to our site. We last stayed here in 2010, and they still had us in their computer system,
After we got everything set up, and we rested up, we headed out for dinner at Coyote Bluff Café about 4:30. Coyote Bluff is a ramshackle burger joint that we first ate at about six weeks ago on our way back to Illinois for our Memorial Day family reunion.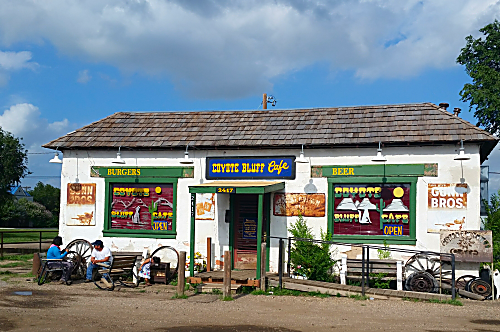 It was really great then, and maybe even better this time, since we hadn't just driven 750 miles, and weren't dead tired like last time.
I started out with a cup of their Green Chile Stew, which before La Salita last night, would have been really good. But the Green Chile Stew at La Salita was so much better, it overwhelmed tonight's by comparison. So tonight's was just good.
As far as burgers, I had the regular Bacon Cheese Burger,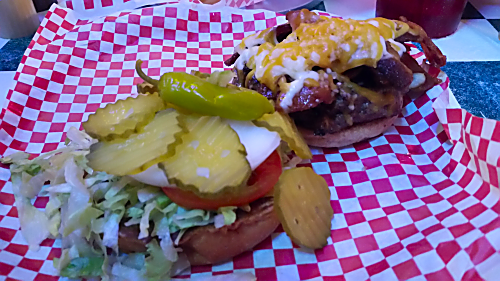 while Jan got the Mushroom Cheddar Burger with Grilled Onions.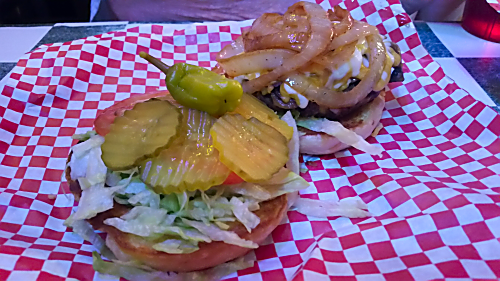 These things were delicious, but so big that we both felt like we were going to have to unhinge our jaws like a python to get our mouth around it. We ended up kind of eating our way in from the top and the bottom just to make headway.
And along with our burgers we got a basket of half and half Fries and Onion Rings, both made in-house, and really good.
Coyote Bluff only has about a dozen tables and is usually on a wait. We first got there at 4:50 and finding the parking lot empty, realized they didn't open for dinner until 5. So we checked out a couple of nearby auto parts stores for antifreeze (still no luck).
When we pulled back into the parking lot at 5:01, there were almost a dozen cars there, and we got the last open table. Now that's busy.
---
July 9, 2016
Shades of Gators . . .
Although we have a lot of shade here, we still get a lot of sun in the windshield from noon on through the afternoon.
So I'm thinking about putting my outside solar shades back up. But there's a problem.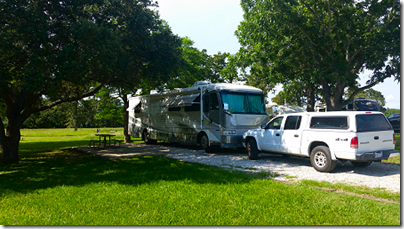 Long time readers will remember my constructing my own version of Magne Shades last year while we were out in Arizona.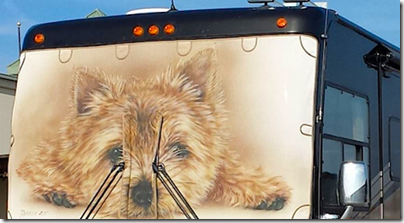 I had to go through a couple of iterations to get the right number of magnets necessary to hold the shades in place during strong winds.
I found these very strong Neodymium magnets 1/2" in diameter and 1/4" thick on Amazon that did the trick, although I did have to add some additional magnets later.

I positioned the magnets in the solar screen by making slits in the folded over edge and holding them in place with Black Silicone Adhesive.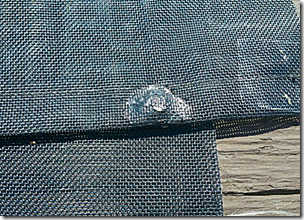 The magnets on the windshield were held in place using 3M VHB double-sided tape, which really held them in place.
But after using them a number of times last year with no problems, that came to a quick stop with our rig's blowout in May of 2015. Toward the end of our two month sojourn in Prescott, AZ for the repairs, the repair place broke our passenger side windshield while jacking up the rig.
We had to stay in a motel while they replaced the windshield, but I told them before we left to save the magnets off the old one.
Guess what? They didn't.
But no biggie. The magnets were not expensive, so I would just order more. But as it turns out, Amazon doesn't stock them any more.
I did find some other places online, but either they were very expensive, or sold in large quantities.
So now I mulling over a couple of ideas. I'll keep you informed.
Brandi, Lowell, and Landon took in an Astros' game this afternoon, and it looks like everyone had a good time.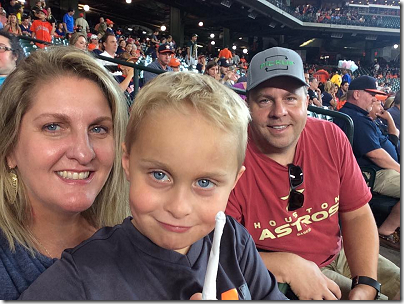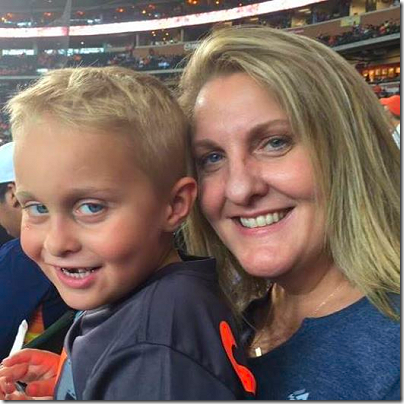 When we were down in Key West back in 2009, we noticed that the chain link fence lined both sides of the highway when were were driving through the swamps and marshlands.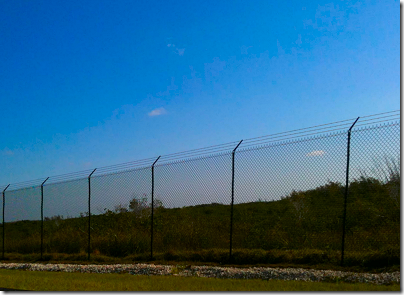 So I wondered what the deal was with these signs.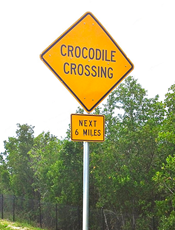 Do they actually think alligators and crocodiles can climb fences?
Well, as it turns out,  they can.
Florida even has Tree Gators.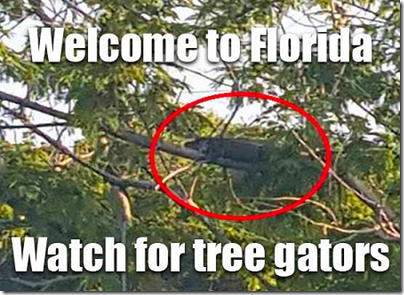 And as far as the whole fence-climbing thing . . .
---
July 9, 2017
Sliding In . . .
We tried to get an early start, about 9:30, this morning, we really did. But as Roseanne Roseannadanna said, "It's always something."
And this time it was the slide . . . again. And I still don't know what the cause of the problem was.
We haven't had a problem with the side since the broken bolt we had at the Cochise Terrace RV Park in Benson back this past March. You can read all about it here.
https://ourrvadventures.com/2017/03/voyager-bound/
When we got to Colorado River TT two weeks ago, the slide went out with no problems, so we weren't expecting any this morning. But when we started to bring the slide in, it only moved about 2" and then stopped.
So I was outside and underneath the slide, opening both bin doors. Then I had Jan again try to bring the slide in. And got the same result. But I couldn't see anything stopping it or jamming it. But just in case I sprayed the gears and the track with silicone lube, but no luck.
Then I tried to manually crank it in using the 1/2" ratchet handle and extension I keep in the bay just for that purpose. But I found my ratchet was stuck turning in only one direction, and it was the wrong one. But a little of the magic elixir, Strike-Hold took care of that problem
But trying to crank it in manually didn't work any better than electrically. It still wouldn't move. So what do you do if something won't move?
You get a longer handle, or in this case a 16" piece of 1" galvanized pipe slid over the end of the ratchet. Either the slide is going to move, or the ratchet is going to snap.
And with a big 'POP' at the other end of the slide, everything started moving with no more problems. We were now able to move the slide in and out again.
Ok, but I want to know what CAUSED the problem. And I still don't. And because I don't know, the problem is still waiting out there to bite me again.
I hate that.
Finally on the road, we made a stop at the Colorado County Oil Co. for some diesel at $2.14 a gallon, and we were on our way.
We had a smooth trip to Conroe with no more problems, but more traffic on I-10 than we normally see on a Sunday. Don't know why.
Coming into Katy it was nice to see another big jump in the US Rig Count. 952, up 12 from last weeks 940. Very nice, and bodes well for gate guarding later this year.
We got into Lake Conroe TT about 1:15 and found a nice site in G13, and got set up. Then I took a nap.
About 4:30 Jan and I drove into Conroe to have dinner at Culver"s, one of our favorite burger places. We were first turned on to them in Elkhart, IN, so we were really happy to find that one had opened up here in Conroe a while back.
Jan had her usual Mushroom and Cheddar Butterburger while I had the Butterburger Bacon Deluxe.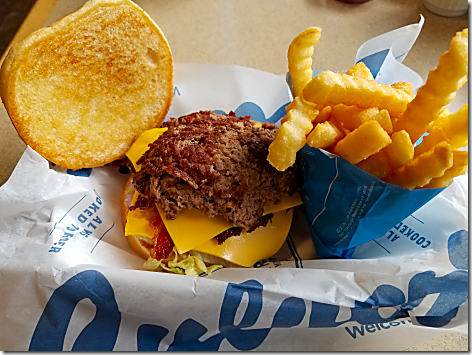 We both really like their crinkle-cut fries, crispy, crunchy on the outside and moist on the inside. Really good.
And then for dessert Jan got a Strawberry Sundae while I got Salted Caramel Concrete Mixer with Reese's Peanut Butter Cup Pieces. Both just great.
Coming Home
---
July 9, 2018
Wrapping Up Our Trip . . .
We were out of our site at Poche's Fish N Camp RV Park and on I-10 heading toward Houston a little after 7am.
As we hit the road, we were hoping that our luck with the cool weather would hold. And lucky for us,  it pretty much did.
It stayed overcast the entire trip with short bouts of rain, at least until we were coming into Lake Charles. Then the bottom dropped out.
And as we made the last big curve and approached the bridge, I told Jan it did not bode well that we could not actually 'see' the bridge, just the lights of the cars going up and coming down. Nothing of the actual structure of the bridge or the water below.
The rain was pretty much gone by the time we reached the Texas border where we stopped for a break, but the heavy cloud cover held and it stayed cool all the rest of the way.
And, as I mentioned the other day, about 50 miles back into Texas,  we rolled over 150,000 total miles in our 1999 American Eagle coach, and of course, 85,000 miles for us a couple of days ago.
Our first stop before home was at the Buc-ee's down in La Marque where we unhitched the truck and then dieseled up. I was pleasantly surprised to find that gas prices had really dropped in the 2+ weeks we were gone, and diesel was only $2.77/gal. Nice.
We were backing into our site here at the Petticoat Junction RV Park a little after noon. And it was nice to be back 'home', even though we had a great time seeing everyone.
After getting plugged in and then catching our breath for a bit, we headed up to the Webster area, with a quick detour along the way to pick up some chairs from our storage room to take by the house so we'll have a place to sit.
Our first real stop was our favorite East Star Chinese Buffet for lunch. With all the different foods we had on our trip, Chinese is the one that got left out. Between BBQ, Mexican, and Cajun, we pretty much covered all the rest.
After that we made a WalMart stop for a few things, and then went by the house to drop off the chairs and be sure everything was OK while we were gone. And it was.
Back home I finally set up the Sat/TV system for the first time since we left June 21st of  last month. We both agreed we kind of like our 'quiet time', and we may have a little more of it to come.
Tomorrow it's back to work for me, and probably a lot of puttering around the rig for Jan, putting everything back where it goes.
---
July 9, 2019
Old TENS, New TENS . . .
Last night was so-so, mainly because the new TENS unit shuts off after an hour. Better than the 30 minutes of the IcyHot version, but either way I'd wake up in pain a while later. So I'd start it up again for another hour. Rinse, Lather, Repeat. At first I thought I'd tear into to it and see if I could add an external timer, but decided to just look for another unit.
And I quickly found one, that even thought it's not rechargeable, a 9V battery will last for 48 hours straight. And even better, at $27, it's $10 cheaper than the one I have now. That one I'll return when the new one comes in on Thursday.
But even though last night wasn't really great, today was pretty much back to normal. Even Jan said I looked and sounded better. And I felt better too.
And hopefully the feeling good will last because I have a number of projects that are stacking up in the queue. Along with the new TENS unit that came in on Monday, I also received the 7 additional Blue Streak Ignition coils for the truck, so I want to replace them and the plugs as soon as I can.
Then of course there's the rear brake job staring me in the face. And I've got the new UPS for our DirecTV DVR charging up and I'll put it in place tomorrow. I tried to this evening, but Jan had a bunch of her shows set to record, so I'll have to wait.
And with all this ordering stuff, of course, I had to get a new toy. Well, maybe not a toy, but a new TV 'thingy'.
I'd been thinking for a while about getting a outside antenna to pick up some of the 70 local Houston stations. Of course we already get the 10 or so main Network stations on DirecTV, but we'd like to see some of the 50 or so sub-channels that carry old movies and TV shows
So I ordered this antenna to give it a shot.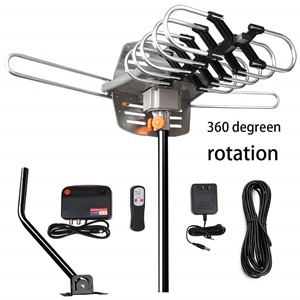 I finally got a chance to put it together this afternoon, and after hooking it up, I just laid it on the passenger chair and set the TV to scan for new channels. And it found 34, with the antenna inside the rig and pointed up in the air about 30 degrees.
I had already used Google Maps to get the direction to point it, easy to do since almost all of Houston's TV stations are in the same area of southwest Houston in the Missouri City area.
So then I took it outside and just laid it on on the patio table. Now I got 59 channels.
I'm looking forward to seeing what I'll get with I put it up in the air.
For dinner tonight Jan and I made another visit to Doreck's Meat Market for a Cheese Burger/Ribeye Steak Sandwich redux. However this time we shared some of their Potato Salad and Baked Beans, both very good.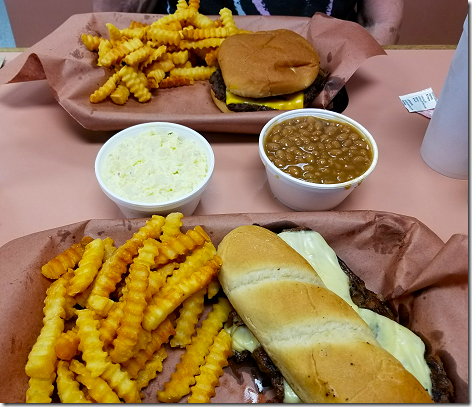 And of course, any Texas meat market worth the name, will have Alligator on the menu.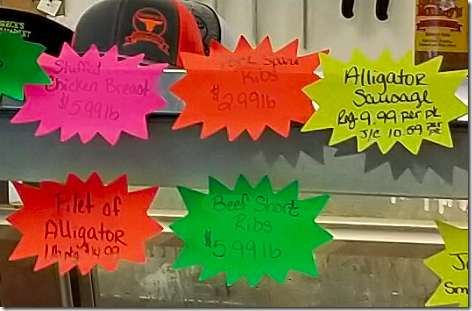 Hopefully tomorrow I will feel as good as I have today.
---
July 9, 2021
Change of Plans . . .
As I mentioned yesterday we were planning on having dinner at the Monterey's over in Alvin tonight and then attending the Alvin Opry. But Jan woke up with a bad headache and a stuffed-up head, no fever though, so we didn't go tonight.
I'm still not sure what's going on with my Jeep. Although it seemed to have improved somewhat after adding the HEET/Seafoam, and then topping off the 18 gal. tank with about 13 gallons of new gas. And every now and then it runs fine for a couple of minutes and then goes back to running rough and skipping. I did check under the hood this morning, wiggling the igniters wires, etc. But no change.
I could almost entertain the idea that this was just a coincidence and had nothing to do with getting gas. But the fact that the problem is not just one cylinder, but showing up on two separate cylinders, 4 and 5, and they're on opposite sides of the engine.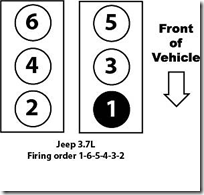 Really, the only thing they have in common is the fuel feed. Which puts me right back where I started.
And I even thought about trash in the gas, rather than water. But that would clog the fuel filter in the tank and affect all the cylinders, not just 4 and 5 specifically.
If I don't make any headway with this weekend, Jan and I will drop it off at my mechanic's Monday afternoon and let him worry with it.
Look's like Buc-ee's is expanding along the I-10 corridor once again. They've now got locations in Luling, Katy, and Baytown in Texas, and another in Robertsdale, AL. And now there's a new one going up in Mississippi.
This one will at Exit 24 in Harrison County. It's north of Bay St. Louis and Pass Christian, but actually it's kind of out in the middle of nowhere, with no real towns nearby. Looks to be a good location.
And I've heard rumors that they're looking at another I-10 location, where it terminates in the Jacksonville FL area. They've got over 40 locations around the country now, so no telling where's next.
---
Thought for the Day:
I suspect there should be a Happy Face on this sign.