Daily Archives:
July 8, 2022
Things were kind of quiet at work today. At least until our SpectrumVOIP phone system died about 1:30.
So I spent the next 3 hours on the phone with Spectrum TechSupport rebooting, refreshing, reloading, rewiring, as well as a bunch of other 're' I've probably forgotten about. All to no avail.
Our system has its own router/controller box which is fed from a separate Internet feed from our house Internet system. Finally, out of desperation, and despite the support tech telling that line must be good since he could see their router on it, I unplugged their input line and plugged in a cable from our system.
And—voilà!—Everything was working again.
And to double check, I plugged the old line back in and all the phones died again.
So what happened with the first line? Right now I have no idea.
That's something I can look at on Monday. I didn't have anything with me to actually test the signal on that line. But I will Monday when I go back in.
---
Some readers are still having occasional problems when they go to our blog. Instead of the blog page, they see
'Hi Jetpack! All Systems Go'.
Googling shows it's a known problem, and not just on Godaddy. The only common factor seems to be the WordPress software.
Jetpack is a plugin used with WordPress to handle a lot of different tasks. Like sending out the email version of the blog to subscribers, and tracking the number of visitors to the site.
But . . . it also shows up on the blogs of people who don't even have Jetpack installed. And since it's so intermittent, it's hard to track down. Right now I'm seeing it on my desktop machine, but not on my Tab tablet, or my Verizon phone. And the desktop and the Tab are both on the same WiFi.
I thought it might have something to do with the new Firewall I added, but after I turned it off, I was still seeing the problem.
But . . . I do have a workaround for you so you can get to the blog.
Rather that use the URL www.ourrvadventures.com, put the date of the blog that you want to see in the URL too.
Like this.
https://ourrvadventures.com/2022/07/07/
Year, then, month, and then day.
This will take you straight to the blog of that date. You can even use this to check out other years and dates.
Give it a try while I'm trying to the problem fixed.
---
Thought for the Day:
"We've all heard that a million monkeys banging on a million typewriters will eventually reproduce the entire works of Shakespeare. Now, thanks to the Internet, we know this is not true."
---
July 8, 2009
Planes, trains, and spaceships…
Well, we braved the DC Metro Rail line, and survived.
We started out with breakfast at the Silver Diner, a place we had noticed right down the road from our RV park.
It looks like one of those old-fashioned roadside diners that looked like it was made out of stainless steel. It even had the jukebox music selectors at each table. And the food was very good. We will probably eat there again some morning.
We then drove over to the Vienna/ Fairfax Metro Station and caught the Orange line into Metro Center, switched to the Red line (that's the one that killed 9 people a couple of weeks ago) and ended up at Union Station.
Union Station, built in 1908 and remodeled several times, is very impressive. Besides having 3 levels of train tracks, it's pretty much a shopping mall inside, with shops, restaurants, hotels, and tour agencies.
We ended up at Union Station because we wanted to take another Old Town Tolley Tour, like we did in Key West, St. Augustine, and Savannah. We plan on completing our set by taking their other tours in Boston and San Diego as we travel.
So we did the tourist thing, seeing all the usual sights…
The U.S. Capitol,
The White House,
The Washington Monument,
The Lincoln Memorial,
The Supreme Court,
The National Archives, where the original copies of the Declaration of Independence, the Constitution, and other famous documents are stored.
After we made the tour bus loop, we rode it back around and got off at the National Air & Space Museum, the other side of the Udar-Hazy Center that we visited the other day.
We got to see a lot more 'original' planes and space vehicles this time. But the next picture isn't one of those.
Below is a mockup of the Apollo 11 Lunar Lander as it sat on the moon.
This is a mockup of the Hubble Telescope. The Shuttle just finished up a repair mission that should keep it working for a few more years.
This is the M2-F3 Lifting Body. One like this is what you saw crashing at the beginning of the '6 Million Dollar Man' TV show. There was a pilot inside that ship and he survived, and they didn't have to put him back together with bionics, either.
This is the real thing. It's Burt Rutan's SpaceShip One that won the $10 million X prize in 2004 for being the first private ship to make it into space.
This is Chuck Yeager's X-1 rocket plane that he piloted to break the sound barrier for the first time in history.
This is the X-15 rocket plane, the world's fastest and highest flying aircraft, at Mach 6.72 (4534 mph) and 67 mile high.
This is the original Apollo 11 Command Module that the astronauts used to return from the moon.
This is the German Me-262 jet fighter. It was the first really operational jet fighter. There aren't too many of these left.
This is another item I have personal experience with. It's a GE J79 jet engine. I spent a lot of time pulling these things out of and putting them back in F-4 Phantoms at Marine Corps Air Station in Beaufort, SC.
This is the Ford Tri-Motor. Who know Ford used to built aircraft? Although these started flying in 1928, they were still flying them in South America when we lived there in the early 1960's. The ones we flew on down there only had 2 engines, not 3. The center engine had been removed and the two wing-mounted engines had been replaced with more powerful ones from the DC-3s.
This is another plane I worked on. It's an A-4 Skyhawk, except mine were for the Marine Corps, not the Navy.
This is Charles Lindbergh's original 'Spirit of St. Louis', in which he made the first solo, non-stop flight from New York to Paris in 1927. For this, he won $25,000.
This is Amelia Earhart's Lockheed Vega that she used to make several record-setting flights, before she left on her ill-fated flight in her Lockheed Electra in 1937.
This is the original 1903 Wright Flyer that the Wright brothers used to make the first successful powered flights in 1903. The one we saw at Kitty Hawk a few weeks ago was a replica.
This is a Tomahawk cruise missile. It can be launched from plane, a ship, or a submarine, travel over 1500 miles, and then fly through the exact window you aimed for.
This is a Predator UAV complete with Hellfire missiles. These are being used in Iraq, Afghanistan, and Pakistan today.
This is Voyager. Designed by Burt Rutan, and flown by his brother, Dick, and Jeana Yeager, in 1986 it was the first plane to fly around the world in 9 days without refueling or stopping.
And, of course, what spaceship display is complete without the NCC-1701, the Starship Enterprise. This is the original model used in the 'Star Trek' TV show in 1966-1969.
Tomorrow Jan and I plan to see the Museum of Natural History and the Museum of American History.
Another fun trip on Metro Rail…
---
July 8, 2010
Waco…finally
First, a little Waco musical interlude…
Cross the Brazos at Waco
---
Well, Gina couldn't think of anything else for me to fix, so we finally got out of Canyon Lake about 10:15 am, but it took some doing
First we had to stop at the park office to pay our electric bill. This Passport America is $12 a day plus electric, so at $52.40 for 13 days, that's about $4 a day. Not bad with the 95 degree days we've been having.
Next, right after leaving the park, we stopped at the Exxon station and got diesel. I glad we stayed a couple of extra days because in that time diesel dropped from $2.85 to $2.75. Hey, ten cents a gallon for 122 gallons adds up.
By the time we got finished it was a little after 11 am so since we had to drive right by it, we decided to have lunch at Milagro's, a really good Mexican restaurant in the area.
After we finished lunch, I used their large parking lot to hook up the toad, and finally about noon we were on our way.
It was about 12 miles into San Marcos where we got on I-35N heading to the KOA in West, TX, about 20 miles north of Waco.
We pulled into the North Waco KOA about 3:30 pm and were led to our site.
Whoops! Someone was already in our site. And the one they wanted to put us in was not a pull-thru like we had paid for.
Finally they got things straighten out and led us to this nice site on top of a hill.
Tomorrow we'll head north and east to somewhere around Shreveport, LA.
More tomorrow…
---
July 8, 2011
Seattle, Act II, or . . .
Gluttons for Punishment.
Yes, we didn't get tired enough on Wednesday trudging up and up the Seattle hills, so we went back for more.
Jan decided we wanted to Ride the Ducks, see the Seattle Aquarium, and eat some more seafood before we start heading back east tomorrow.
So we took the 11:10 ferry over to Seattle. But we were smarter this time. We took a taxi up to Westlake Station where we got on the Duck.
Our Duck Tour left set sail at 1pm for a 90 minute trip around Seattle.
One of the first places we passed was the Elephant Super Car Wash. In 1962 Elvis Presley was in Seattle performing at the 1962 World's Fair. Every day he brought his beloved pink Cadillac here to get it washed. The Elephant Super Wash was the first automated car wash in the U.S. and he was fascinated with it. And while his Caddy was being washed, he put on a show under the sign.
A few minutes later, we were feet wet in Lake Union, north of downtown Seattle.
We saw houseboats that look like boats,
houseboats that look like houses,
and houseboats that look like mansions,
and houseboats that look like the 'Sleepless in Seattle" houseboat. Oh, wait. It IS the "Sleepless in Seattle" houseboat.
And in 2008 it sold for 2.5 million dollars, Tom Hanks and Meg Ryan not included.
This little inlet in front of the willow tree is where Bill Boeing launched his very first seaplane and started United Airlines and the Boeing Aircraft Corp.
We've take a number of the Duck Tours around the country and we've found them a good way to see an area, and this one was no different. We got back to Westlake Station about 2:30, and after a mocha and a muffin, we decided to walk down to the Seattle Aquarium, instead of taking a taxi. It was downhill, after all.
We got to the aquarium about 3:30 and spent a little over an hour wandering through all the exhibits.
I'll just let the photos tell the tale.
About 4:45 we walked back down the waterfront to Ivar's for a last seafood meal. We had chowder, seafood platters, and fish and chips. Really good!
Catching the 6:45 ferry back to Bremerton, we passed this container ship heading out into the Pacific. With these containers stacked 6 high, it's easy to see how they sometimes fall off in rough weather.
Getting back to Bremerton a little before 8pm, we headed back to the rig with a quick stop at Wal-Mart to pick up our prescriptions.
Tomorrow morning we'll head out for the Thousand Trails Resort in Leavenworth, WA about 175 miles away.
Leaving Gillette, WY
---
July 8, 2013
Back Home Again . . .
The rain came down heavy about 2am this morning. In fact it was so loud that I thought it was hailing until I looked outside. I just hoped it wouldn't keep me from getting out of here this morning.
Jan and I were up about 7am, even though we didn't plan to leave until about 10. That let us have nice slow breakfast with coffee and breakfast sandwiches.
So we cranked up a little after 9:30 and got ready to head out. But my departure wasn't quite so easy.
I put the rig into gear and very gently gave it a little throttle. I moved forward a foot or two before the wheels started to slip. Before it could dig in, I stopped and put the rig into reverse, backing up several feet past where I had started. Now on more solid ground, I slowly started forward and once I was moving, gave it more throttle than before.
This time when the tires started slipping a bit, I just continued on, because though the tires were spinning a bit, I was still steadily moving forward without digging in. Then after a few more seconds I was on the road and we were on our way.
Whew!
We headed down to the I-90 interchange where Jan and I headed east for the East Belvidere KOA about 250 miles away.
The trip went very smoothly, with a couple of 10 mile two lane under-construction sections, but we were about to keep our 55mph speed with no problems. Our first rest stop was at the 80 mile mark, where Jan said she wanted to take over the driving for a while.
And that 80 mile stop also marked our return to our home state of South Dakota. We've been South Dakota residents since 2008 and it's now time to renew our drivers licenses. With this first renewal, we have to do it in person, but after this, we will be able to do it by mail.
Jan drove for about 100 miles until we made another pit stop, saying she wanted to drive again tomorrow. She likes driving in the rolling hills and wide-open spaces of South Dakota. Not a lot of traffic and the towns are few and far between.
Around 2:45 we pulled into the East Belvidere KOA, and since we already had a paid reservation, we were quickly escorted to our site. Since we're only going to be here for one night, we just got a site with electric and water only.
As it turned out our park is at the same exit as a tourist attraction called 1880 Town that looked very busy as we came by. It looked interesting but we'll have to check it out next time through the area.
After getting set up we both ended up taking a nap until a little after 5 we walked over to the park restaurant. Our meals were simple but good, with Jan having a really good chili cheese dog and fries. My Buffalo Burger was also delicious as well.
This is a very nice KOA park, well laid out and landscaped, with all the amenities.
All the sites are long pull-thrus with 30/50 amps and water, and some with sewer.
And back behind us, we found this very nice GMC rig.
A little later while we were watching TV, Jan said "That rig looks familiar" as one went by. Turned out to be Bob and Molly Pinner, the directors of the Escapees' Escapade in Gillette, WY that we had just attended. They're heading back to Virginia, by way of Goshen, IN to check out the location of the next Escapade there next May.
I told them how much we enjoyed the recent Escapade, and talking about the next one.
Tomorrow we've got a 230 mile trip to the W. H. Lyons Fairgrounds in Sioux Falls. On the way we'll make a stop about 20 miles down the road in Murdo, SD to diesel up at the Pilot there.
Still In Elkhart, IN
---
July 8, 2014
Missed It By That Much!
We got a call this afternoon from Diane with Gate Guard Services. She wanted to know where we were because she has our home address in Friendswood, TX. Before I told her we were in Indiana, she said she had a gate for us. It's a 12 hour gate over in Sugarland, only about 30 miles from Chris, Linda, and Piper, and about 15 miles from Brandi, Lowell, and Landon.
And did I mention it's a 12 hour gate!
Really hated to tell her we were up in Indiana, but I did tell her we expected to be ready for a gate the end of August, if she wanted to hold this one for us.
But no luck.
Hopefully there'll still be a gate like this when we're ready.
For lunch Jan fixed pimento cheese sandwiches using some of the beautiful tomatoes we got last week at E & S Sales, the Amish bulk food place, over in Shipshewana.
Not only are they beautiful, but biting into one the flavor just explodes in your mouth. Much better than store-bought. Just wish we'd bought more.
I spent most of the afternoon playing around with my Samsung Galaxy S5. One problem I found was that some programs that I liked and a few that I liked AND had paid for, on my old phone, were no longer available, I guess because the companies were no longer in business.
This meant that I couldn't download them to my new S5, but a little Googling led me to an app called 'apk extractor', 'apk' being the Android program format. This program would bundle up the selected app and save it to the old phone's SD card. It could then be transferred to the new phone and installed.
So I needed to first install the 'apk extractor' on my old Samsung Droid Charge. Of course my old phone was no longer able to download apps over the 4G phone system. But as I had hoped, I could still download apps through the Wi-Fi on the phone.
After downloading and running the 'apk extractor', I selected a number of programs to extract and transfer. Getting the programs to my S5, I installed them one by one. The only problem I found was that a couple of the apps would not run under the new version of Android software that the S5 runs, but all in all, it was a good solution to the problem.
For dinner, Jan heated up the leftover King Wha from the other night. Still very good, especially when spiced up with Sriracha and then sprinkled with Chow Mein noodles.
Delicious!
---
July 8, 2015
Inside Out In Albuquerque, NM . . .
We ended up making today a shopping/movie/dinner day. There was a lot of stuff we wanted to see, but we didn't feel that one afternoon would do it justice. Jan had already said she wanted to spend more time here on our next trip through.
We headed out about 12:30, but just as we were ready to leave the park, I got a call back from my transfer switch company. I had left a message with them this morning about my problem.
The guy said he hadn't heard of this problem before but agreed with me that it had to be in the little control board that looks for genset power coming in and pulls in the genset contactor when it does. The board is still under warranty, but I'll have to figure out where to have them send it.
Our next stop was at a Sam's Club for a few things. One thing interesting was that there was a Costco right next door. Never saw that before.
Finishing up at Sam's, we headed out looking for a SuperCuts. I was starting to get into ponytail territory since I hadn't had a haircut since we left Houston the end of February, and Jan's last one was in Las Vegas, so we were both due. The first one we found was out of business, but the second one was up and running. So now we have that taken care of.
We haven't been to a movie in a good while, so today we decided to see "Inside Out", the latest animation from Pixar. We both thought it was very good, and very well done. It's written on several different levels, so there' plenty for young kids to laugh about. and plenty for adults to think about.
The story follows the emotions inside the head of Riley, an 11 year old girl as she suffers through the pain and anguish of moving across the country with her family. The emotions, Anger, Fear, Disgust, and Sadness, along with Joy, the leader, bicker over the control of Riley's feelings and memories.
It's a really good movie for kids and adults alike. Well recommended.
Our next stop was a quick one, at a NAPA Auto Parts, looking for green diesel antifreeze. And as I have found it's getting harder and harder to find the green over the newer red. So this winter I'll probably drain my green and replace it with red, and then I won't have to worry about it.
Our final stop was for dinner at La Salita. We'd tried here last night, but they don't open for dinner until 5pm, so we were back tonight. And I'm really glad we made the second trip.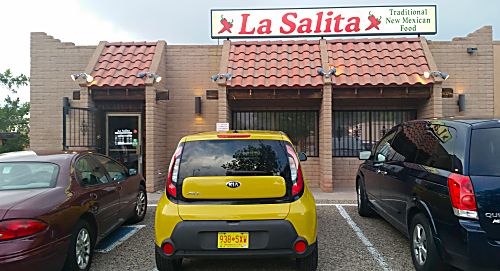 Like many of other favorite places, La Salita is tucked away, but was still easy to find due to the large crowd waiting outside in the parking lot when we arrived about 6pm. We got our names on the list, and luckily found an empty bench to wait. Our forecasted 30 minute wait turned out to be only 20, and we were quickly seated.
Looking over the menu, Jan immediately zeroed in on the four different kinds of Chile Rellenos, Cheddar Cheese, Swiss Cheese, Avocado, and Naked (A Naked Chile Relleno is not breaded and fried, just served warm). She ended up ordering a two Relleno plate, one with Cheddar Cheese and one with Avocado.
For me, I quickly noticed the Green Chile Stew, so I knew I wanted a bowl of that. For the rest, I went with the #1 Combo, with a Cheddar Cheese Relleno and Cheese Enchilada.
My Green Chile Stew showed up quickly, and was delicious.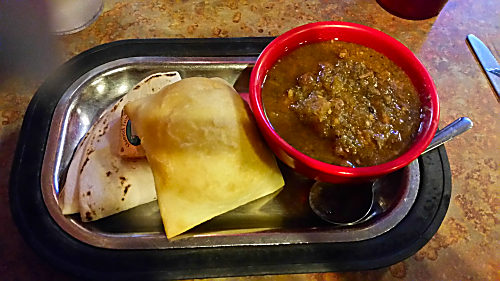 I shared several spoonfuls with Jan, and we both agreed that there was an unusual taste or spice that we hadn't encountered before.
Just about the time I had finished up the stew, our entrees showed up. Perfect timing.
Here's Jan's,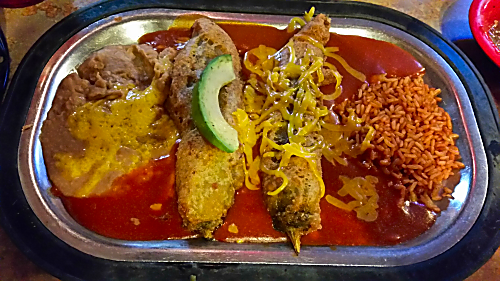 and here's mine.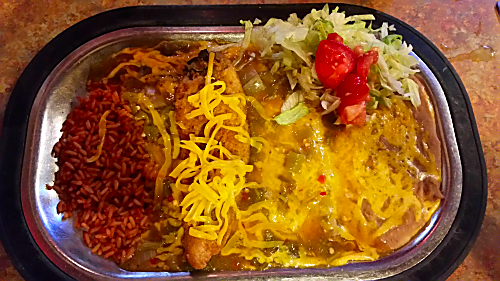 Believe me, they were as good as they looked, with everything perfectly seasoned.
We had been talking to the manager about the spice we couldn't identify (and we never did) and Jan mentioned that we were RV'ers, and another RV'er had told us about this place. When he saw me taking pictures of the food for our blog, he asked for the URL, so I gave him my card. At the same time Jan mentioned that he should check out the other blogs on the right hand side.
Tomorrow we've got a 300 mile trip to Amarillo where we'll spend two nights, before heading out to Pauls Valley, OK for a few days.
Just moving on.
---
July 8, 2016
Serendipity?
Jan says it's kind of like childbirth.
I guess to convince me that there really was a 4th of July golf cart parade here at Colorado River Thousand Trails, Barbara Spade sent over these photos to prove it.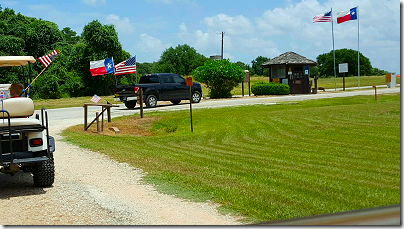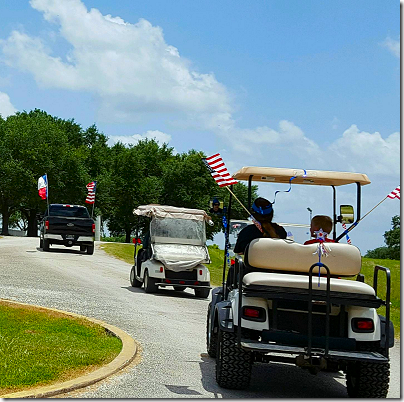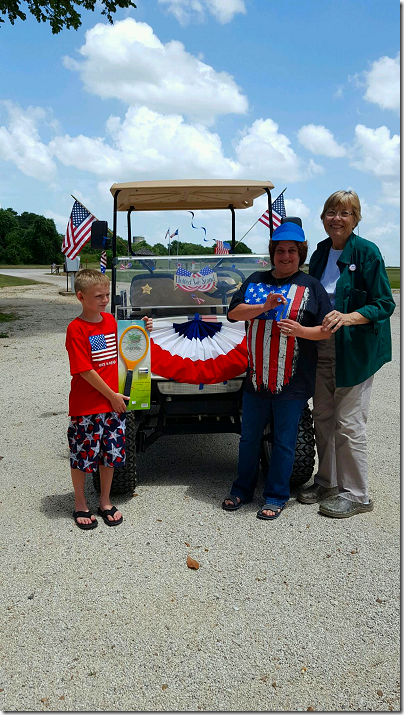 A couple of days ago Jan told me we're going to gate guard this year, that is, assuming we can get a gate. But things do seem to be looking up in the oil patch.
And, in a little serendipity, Sheri Facebook messaged us this morning wanting to know when we would be available this year. Sheri is the wife of Jamie Hime, who's been our Gate Guard Services supervisor since we first stated gate guarding in 2012.
I told her any time after the 22nd of August, pretty much like last year. We'll be back from our Alabama sojourn, and then here for Landon's 6th Birthday on Saturday the 20th. Then after a day to get ready to travel, we'll be good to go on Monday the 22nd.
Jan says gate guarding is kind of like childbirth. In the middle of labor, a women would probably tell you she never wants to have any more children. But afterwards, it's probably a different story.
Maybe it only works with Champagne.
I'm sure you've seen the commercials on TV with the guy pouring Champagne on his Galaxy S7 phone, talking about how 'waterproof' it is.
But according to Consumer Reports, that's not quite the case.
So maybe just stick to dunking your S7 in Champagne.
---
July 8, 2017
Scheduling 2018 . . .
Tomorrow we're moving back over to the Lake Conroe TT for the next two weeks. We're still trying to decide if we're going to make the trip over to Alabama this summer.
If we do we'll probably leave on the 23rd of July at the end of our time there. But we'll see.
We're also starting to map out our travels for next year. We plan to do the East coast again, for the first time since 2009 when we left Houston, traveled around the Gulf coast down to Key West, and then up the East coast to Maine and then out to Newfoundland.
Coming back to Maine, we headed north into the bottom of Canada through Quebec, Montreal, Ottawa, and Toronto, before coming back into the US near Niagara Falls.
We finally ended up back in the Houston area on Sunday, November 22th. This was before we started gate guarding in 2012, so we traveled the entire year, always coming back to the Galveston Bay RV Park the Sunday before Thanksgiving.
But next year's trip probably won't be quite so elaborate, especially as far as Canada . . . and Key West, too.
We'll only go down Florida as far as Tampa/St. Pete before crossing over to the Atlantic side to the Palm Beach area.
Then it's up the coastline, doing Washington, D.C. and New York City once again, before moving on up to Massachusetts, and maybe New Hampshire. After that it's back down through Pennsylvania and over to Elkhart, IN for a while, before visiting Jan's sister, Debbie and her family, in Vandalia, IL.
Our only hard date scheduled so far for next year is May 27th – June 1st in Sedalia, MO, for the 58th Escapees Escapade.
And after that, we don't know yet.
Breaux Bridge, LA
---
July 8, 2018
The King Is Dead . . .
Long Live The New King?
Wanting to beat the heat we were up before 6 and pulling of our site at the Benchmark RV Park in Meridian by 6:40.
And 5 minutes later we were on I-20/I-59 heading west and then south on I-59 at the split. Jan had thought about driving again this morning, but it was pretty foggy in spots, and even with the very light traffic she decided not to.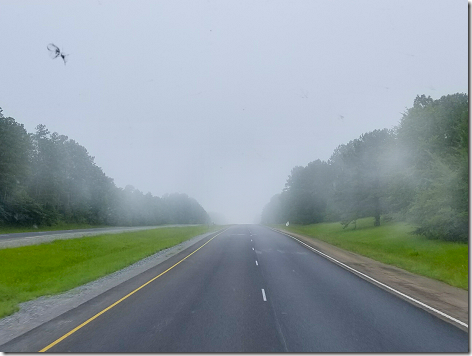 If you check out the upper left of this photo you'll see a rock chip on our rig's windshield. This is notable because it's the very first chip we have ever gotten on the rig.
Even going to Alaska and back in 2008, we didn't get a nick. And we also never got a chip on the toad windshield either, and we didn't have one of those shields or car covers you see people using. Just lucky, I guess.
At least until now.
The trip was nice and easy with no problems. Even going through Baton Rouge was a breeze with no slowdowns, at least until I got trapped behind a pokey semi going up the bridge. Then I got behind the power curve and ended up putt-putting up at 42mph, instead of the 50-55 along with the other traffic. But it was still nice.
The cooler weather held the entire way with a total overcast and occasional bursts of rain, just enough to keep the temps down and us very comfortable. And everything was great until the very end.
We were at mile marker 120, four miles from the end of the Atchafalaya River Bridge and about 20 minutes from the park, when every thing ground to a halt. And then it took us almost 90 minutes to go that 4 miles. Although we saw a police car and a flat bed wrecker come by us on the right shoulder lane, we never saw anything else, even when the traffic started moving.
So instead of getting to our site Poche's Fish N Camp RV Park by noon, it was more like 1:30pm. But we stayed nice and cool anyway.
Normally every time we're here in Breaux Bridge we eat at Pont Breaux nee Mulate's, and have for about 30 years. But it seems like since the place sold a few years ago, and even though they seemed to have keep the same recipes, the place is just not the same. So when I called to double-check their hours, and found out they were closed today , in addition to being closed as usual on Monday and Tuesday, we started looking elsewhere.
Now back in the Mulate's days that wouldn't have happened. They were open all day, every day. But we've noted on our last few visits that they're not near as busy as they used to be. So I guess we're not the only ones disappointed in the new regime.
Any way, I remembered another place here in Breaux Bridge. It turned out to be the Crazy Bout Crawfish, right off the Interstate, and BOY, was it good!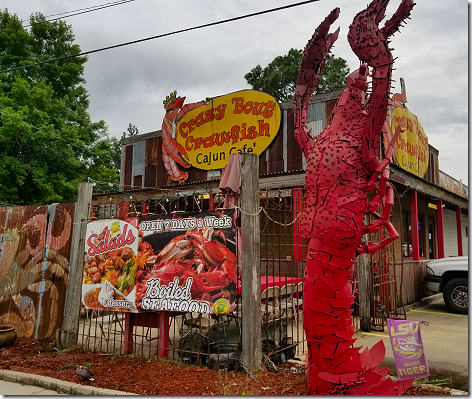 Jan and I remembered eating here one time years ago when Mulate's was closed due to flood damage, but it was a different place then, I think specializing in Po'boys. But it was nothing special and we never thought about going back. But this new place is really, really good.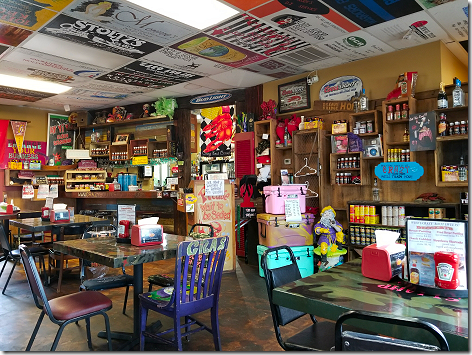 It has that typical eclectic Cajun décor in a nice setting. The staff was very attentive, the service was great, and the food was fantastic.
Jan started off with the house salad and then went with the Grilled Catfish and Grilled Veggies.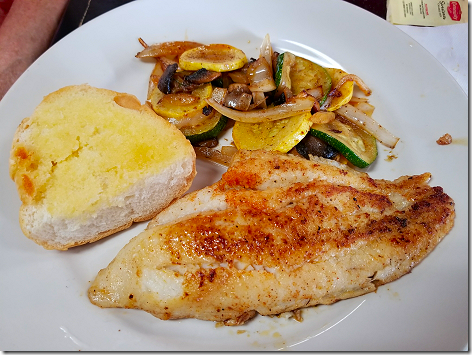 I started off with my traditional Seafood Gumbo, but a cup this time instead of my usual bowl,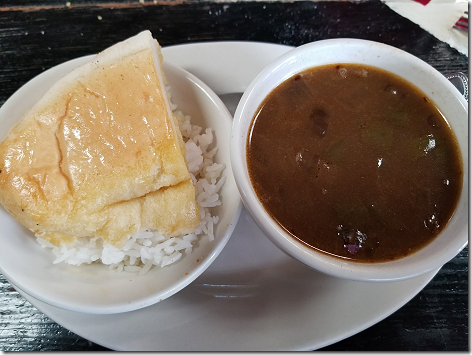 because I wanted the Spicy Boiled Shrimp.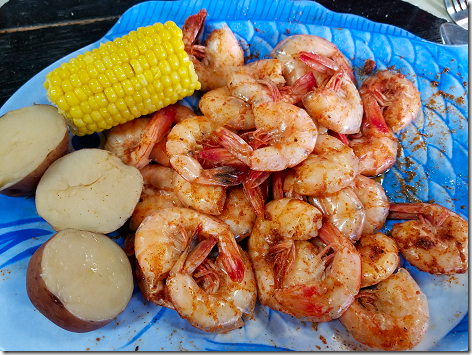 But with the Gumbo, and even sharing shrimp with Jan, I still had 1/2 the shrimp to take home. Of course the other reason I took a lot home was trying to leave room for their homemade desserts.
Jan go the Ooey Gooey Strawberry Shortcake with Fresh Strawberries,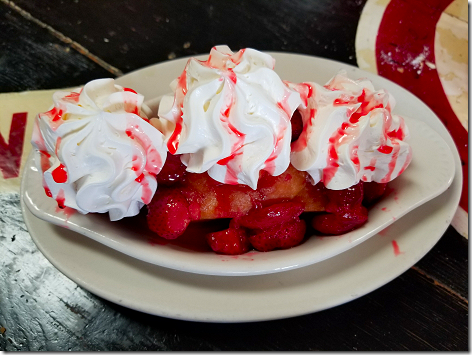 while I got the Bread Pudding with Rum Sauce.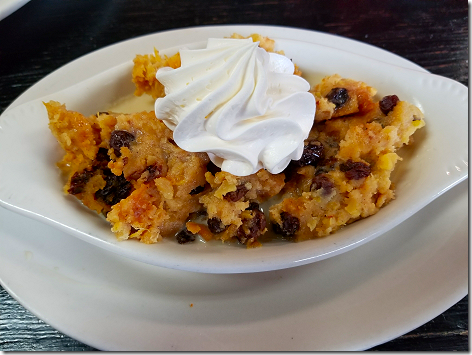 But I still didn't leave enough room, I guess, because I took half it it home too.
Heading home, stuffed to the gills, we both agreed that this is our new restaurant in Breaux Bridge from now on. So there goes a 30 year tradition.
I guess the King is Dead. Long Live The New King.
Later back at the rig, I went outside to hook up the toad for tomorrow's trip back to Houston. With that done all I'll have to do in the morning is disconnect shore power and put the key in the truck ignition to unlock the steering column, and we'll be ready to roll.
Wrapping up outside I got this great sunset shot from our site.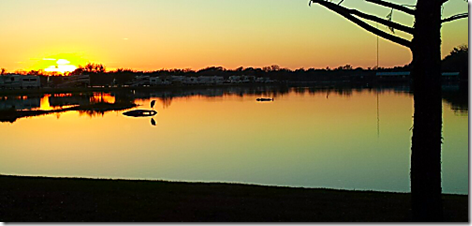 This is a really nice park, a great place to stay, and it was Passport America too.
Tomorrow we've got about a 250 mile trip back home, and it looks like the cool weather will hold.
But we'll see.
---
July 8, 2019
But It Got Better . . .
Today I felt probably the worse I've felt since this sciatica thing started a few weeks ago. In fact after a really bad time, tossing and turning all night, I didn't even want to go to work, but I knew it was possible that our office manager might be out sick, since she left early on Friday.
Plus my new TENS unit was supposed to come in today, so I wanted to get started with it as soon as possible. And I'm glad I did go in since it turns out that our office manager has the flu.
Oh boy, Something else to get sick from.
And since I was pretty blah at work, and it was pretty quiet, my client told me to go on home an hour early. I had already been using my new TENS unit. But I couldn't put the electrode pads in the right position without stripping down, but I did feel a little better. So getting home, we made a Yummy Yummy run for an early dinner.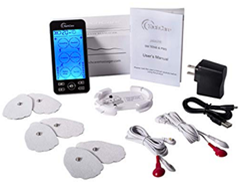 Back home I let Jan put the pads in place shown for Sciatica treatment , which for me was one right about the waist line on the left side, and the other one on the same side on the upper thigh. I then turned it on and and raised the level until it was a definite tingle.
Then I went and laid down for a couple of hours, and for the first in days I slept with no pain, and felt great when I got up. I used the unit several times on and off the rest of the evening and still felt great.
Now if it just works the rest of the night.
---
July 8, 2021
See! It Did Happen!
or maybe it's just me.
I went outside this afternoon to try and pull the Check Engine codes for our Jeep from yesterday's possible bad gas problem. I discovered that the reason my code reader didn't work yesterday was that I hadn't yet Bluetooth-paired to my new phone. So once I did that it worked fine.
The codes I got were P0300, P0304, and P0305. Which didn't really tell me anything new, since the P0300 just tells me that some cylinders are misfiring. And the P0304 and P0305 tells that it's cylinders 4 and 5.
None of that really helps me, since I already knew that was happening. And knowing what cylinders doesn't help either. At least at this point. But just to see what would happen, I cleared the codes, anyway.
When Jan and I headed out for lunch, I made a stop at the O'Reilly's Auto Parts two stores away from yesterday's CircleK/Valero. I wanted to get a can of Seafoam Gas Injector Cleaner, and I wanted to ask if anyone else had come in complaining about bad gas at the nearby station. But they hadn't heard anything.
Bummer!
So maybe my engine problems were just a coincidence, and it's just me. Or as Freud once said, "Sometimes a cigar is just a cigar."
Before we left the O'Reilly's I dumped about half the Seafoam in to the Jeep's gas tank, and we headed up to Webster for lunch.
And once again, Jan wanted to have lunch at Twin Peaks. Yep, and unlike last time I have proof.
Jan had the Spicy Chipotle Chicken with a cup of the Tomato Basil Soup.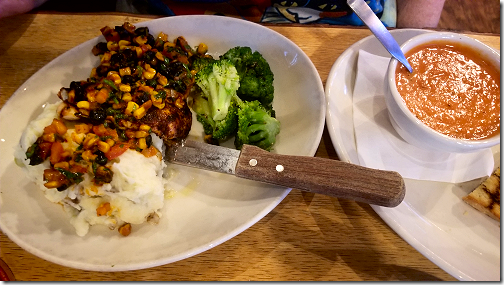 In my case I went a little lighter than my usual Billionaire's Burger, getting the Soup & Half Sandwich Combo, a BLT and a bowl of their Green Chile Chicken.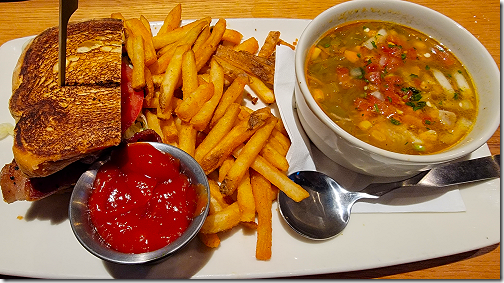 So, see it did happen. There's the proof we did have lunch at Twin Peaks.
Oh? That's not the kind of proof you were talking about, you say?
Is this what you meant by 'proof'?
This pretty young lady is Haley.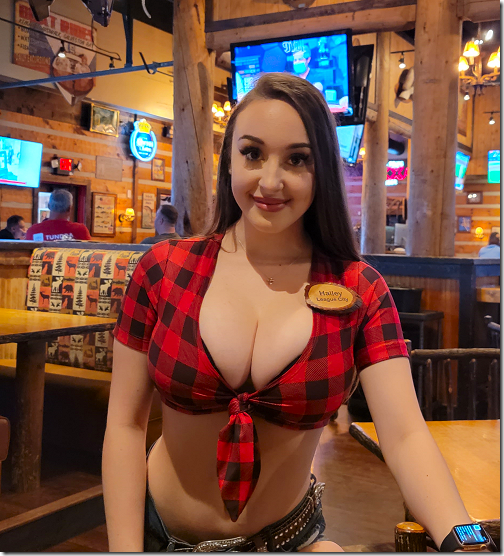 Proof enough?
Looks like our favorite Monterey's Little Mexico over in Dickinson is getting closer to opening, since there's a Now Hiring banner hanging from the façade.
But we've still got a temporary substitute, since we'll be having dinner at the Monterey's over in Alvin before ending up at the Alvin Opry once again. Really looking forward to both, since we missed last month's show because we were on the road.
Next we made a stop at Kroger to pick up a prescription and then headed home.
Finishing up I found the another interesting photo on the DailyTimeWaste.com website.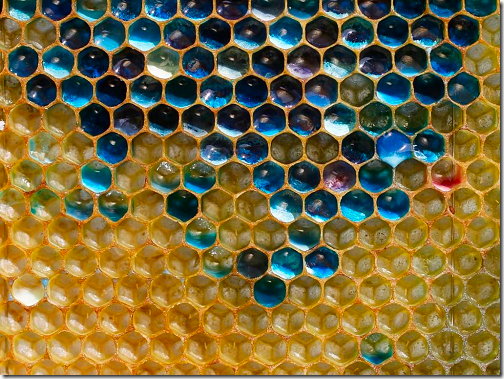 Apparently this is what happens when honeybees start feasting on discarded M&M's in a factory dumpster.
Looks like they like the blue ones the best.
---
Thought for the Day:
People who do not study history are destined to believe really ignorant statements.