Daily Archives:
July 12, 2022
This afternoon was my first Physical Therapy session/consultation, so we were on the road about noon for my 1pm appointment. It only took us about 30 minutes to get there, the same Houston Physician's Hospital where I had my Cervical Spine Fusion last November. But I figured there would be first-visit paperwork, and there was. But I was called in right on time.
Melissa, my therapist, spend the first 40 minutes or so going over my history, asking me questions about my symptoms, and testing the strength of my legs and back in different directions.
Then the last 20 minutes of the hour were spent going over 4 exercises that I'll be doing everyday for about 15 minutes. Exercises to strengthen my legs and back. And it seems that not only will this help me now, but also later if I decide to do the lumbar fusion at some point. Supposedly it will speed my recovery.
We'll see.
Then it was on down the road a bit for lunch.
And it seems that, to my enjoyment, it's Bikini Week at Twin Peaks.
A while back, our regular server, Sylvia, had given us her phone number so we could text her before a visit to be sure she was working that day. And when I did that this morning, she said she would be.
But when we got there a little after 2pm, and ask for a table in Sylvia's area, we were told she had just gone off shift.
Bummer.
But we took a table in her area in her area anyway.
And about 30 seconds later, Sylvia showed up, and after checking with the server who would have been ours, she came back on duty and took care of us.
Jan got her usual Chipotle Chicken with Double Broccoli,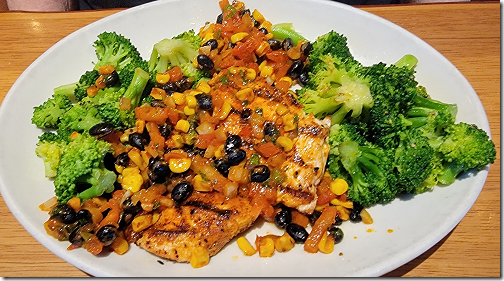 while I changed from my usual half-BLT and Soup, to the Soup and Salad, along with a side of Broccoli and another of their Green Beans.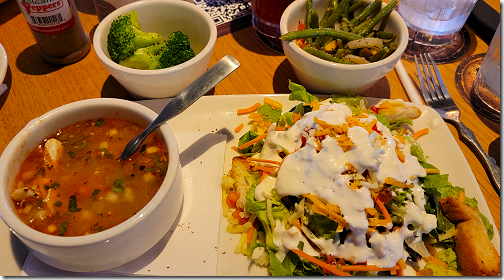 Just as delicious as always.
And of course, I can't forget the obligatory photo of Sylvia in the bikini motif.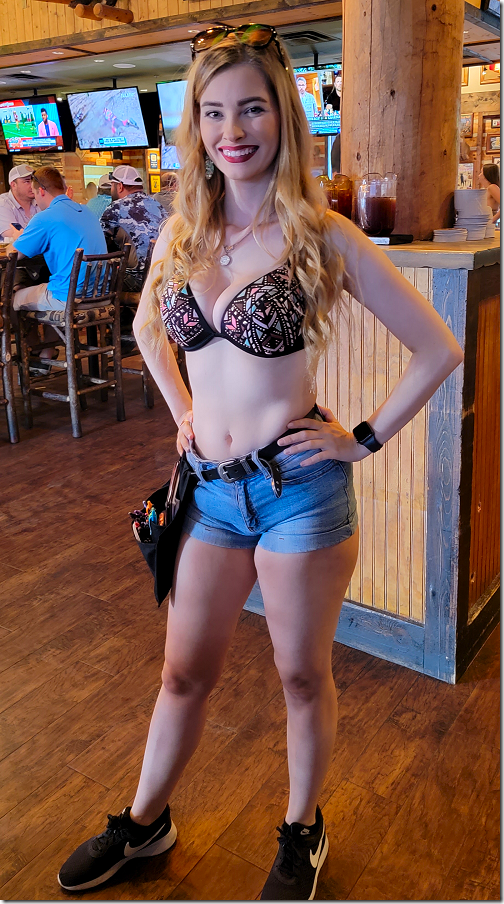 Saying our goodbyes, we headed home, making a quick stop at the nearby Costco for gas.
And at $3.89 a gallon, it's the cheapest we seen in a good while.
---
Thought for the Day:
Harlequin Romance: Version: "2022"
He grasped me firmly, but gently, just above my elbow, and guided me into a room, 'his' room. Then he quietly shut the door and we were alone. He approached me soundlessly, from behind, and spoke in a low, reassuring voice close to my ear,
"Just relax."
Without warning, he reached down, and I felt his strong, calloused hands start at my ankles, gently probing, and moving upward along my calves, slowly but steadily.
My breath caught in my throat.
I knew I should be afraid, but somehow I didn't care. His touch was so experienced, so sure.
When his hands moved up onto my thighs, I gave a slight shudder, and partly closed my eyes. My pulse was pounding. I felt his knowing fingers caress my abdomen, my ribcage. Then, as he cupped my firm, full breasts in his hands, I inhaled sharply.
Probing, searching, knowing what he wanted, he brought his hands to my shoulders, slid them down my tingling spine and into my panties.
Although I knew nothing about this man, I felt oddly trusting and expectant. This is a man, I thought, a man used to taking charge. A man not used to taking 'No' for an answer. A man who would tell me what he wanted.
A man who would look into my soul and say . . .
"Okay, ma'am, you can board your flight now."
---
July 12, 2009
Baltimore and Buggies…
We left Lake Fairfax County Park in Reston, VA about 10 am, heading north for Pennsylvania. Kinzers, PA to be exact.
And things were going fine until we hit Baltimore. Actually, I would like to hit Baltimore.
It deserves to be punished. Twice.
Because that's how many times we were forced to drive thru DOWNTOWN Baltimore. Yes. I said DOWNTOWN. In a 63 foot long vehicle!
We were heading up I-95 coming into Baltimore and approaching the Fort McHenry tunnel when we found out we weren't allowed in the tunnel because we have propane on board. They consider it a HazMat problem.
Anyway, we were dumped off the Interstate at the edge of downtown Baltimore, and left on our on.
No signs telling us of alternate routes, nothing. And the only way we could go was straight into Baltimore. DOWNTOWN Baltimore!
Finally we saw a sign directing trucks to I-95. And we took it.
Big mistake.
We ended up back on the Interstate just one exit down from where we got off before. And had to get off again.
Suddenly we were heading right back into Baltimore just like before. On the same street.
I found a place to pull over and plotted a new course on my GPS mapping program thru town, around the tunnel, and out on US 30 back to I-95.
And it would have worked great, except for two things.
The Baltimore Orioles were playing and a lot of streets were blocked off because of the game. Streets I wanted to drive on.
And the other streets I wanted to drive on all seem to be under construction.
But after wandering around for over an hour, we finally made it out of beautiful, downtown Baltimore.
Soon we were in Pennsylvania, motoring through Amish country. And there were Amish buggies everywhere. We had to be very careful going over the hills.
Finally, we were less than a mile from our RV park and then about a 100 yards past an intersection a small sign said "Low Clearance Ahead".
No height mentioned, and there was no way to turn around.
And then less than a half mile from the park we come to the Low Clearance, a railroad underpass with a sign that "Height: 12 feet 0 inches"
And we're 12 feet 6 inches.
I can drop about 6 inches by dumping the airbag suspension, but you can't always trust these signs down to the inch. Sometimes what will happen is the the street will repaved multiple times under the underpass, raising the level of the street, shortening the height, and making the signs wrong.
So we didn't chance it.
But we had to unhook the toad, so I could turn around in the small parking area where we had stopped in front of the underpass. About a mile down the road we found an overpass instead of an underpass.
At last, a few minutes later, we were pulling into the park.
It had been a very long day.
And I still hate Baltimore!
---
July 12, 2010
Old Homes and Old Times…
After a relaxing morning, we headed out about 1 pm to check out Montgomery, and how it had changed in the last 32 years or so since we lived here.
We left in December 1978 when we moved to Houston when I went to work for NASA. We moved here from Birmingham in December 1974 when I went to work as a Broadcast Engineer at WCOV Ch. 20 and Jan had a job at Jackson Hospital.
We first went by Jackson Hospital so Jan could look up old co-workers, including Kathy Wilkes, who we were planning to get together with for dinner tonight.
Leaving the hospital, we drove over to our first place in Montgomery, these apartments on Burbank Dr. We lived in the bottom floor unit just to the left of the entrance way.
They still look very nice, although when we lived there they were out in a big open field. Now there's so much around them, they were hard to find.
After a year we moved into this house on Matterhorn St.
It still looks very good, too.
Nearby was Chris' Elementary School, and it stills looks very nice, too.
A few months later, we bought our first home, here on Brookwood Dr. A little run down now, but not bad after 32 years.
Montgomery has changed so much we never really got our bearings here. Thank goodness for the GPS. Otherwise we wouldn't have been able to find anything.
Our trip down memory lane done, we headed back toward the rig, stopping off at Walmart for the usual stuff, and the Post Office to mail a letter.
Then it was back to the rig for an hour or so, before heading up to Prattville, about 20 miles away to meet Kathy and her husband Whalen for supper.
They said the Longhorn Steak House was good and, boy, were they right. Not only were the steaks great, but so was the conversation. We spent almost two hours talking over old times. Here's Kathy and Whalen.
On the way home we stopped off at a Books-A-Million to look for some books and magazines.
Then it was home for the night.
---
July 12, 2011
Shakey's and Tomato Street
After a long day's drive yesterday, we both slept late this morning, with Jan getting up a little before 10, and me about 15 minutes later.
And since it was close to lunch, we just had coffee before Jan heated up the leftovers from last nights great Mexican meal at Rancho Alegre in Newport. The tortilla soup was even better today than last night. It certainly aged well.
Then about 1:30 we made the 30 mile trip into Spokane for some errands. Our first stop was Home Depot where I wanted to some more wire and some new wire splices to finish up my transfer switch bypass fix.
I used these Split Bolt Splices the first time but found they are a real pain in the rear working in close quarters like I am under the bed.
But this time I found these Reducer Splices that will be much easier to work with when I try to finish this up tomorrow. Then I will be able to use the generator again when needed.
Leaving Home Depot our next stop was the SuperCuts right down the street so Jan could get her hair done, while I spent the time reading on the Kindle in the car.
Then it was off to the nearby Wal-Mart for supplies. If Wal-Mart's parking lots had full hookups, it would probably be easier to just stay there full time.
By then it was a little after 4 pm so we decided to have dinner at a nearby Shakey's Pizza. The last time we ate there was last year when we were staying at the Antelope Valley Fairgrounds in Lancaster, CA, and we were looking forward to trying it again.
But unlike the one in Lancaster, this only has their buffet during lunch time, so we decided to came back another time. But I did get some great photos of these neat old cars. They were setting up for a car show in the parking lot and these 4 were the first ones there.
Leaving Shakey's, our next stop was Tomato Street a couple of miles down the road. We had passed it on our way through town yesterday, and had planned to eat there before we left. We had last eaten at the one in Coeur d'Alene, ID, and had really enjoyed it. As it turns out there are only two restaurants in this small chain, and now we've eaten at both of them.
And as last time, the food was great. I had the Baked Spaghetti and Jan had the Chicken Parmigiana, and then we split a delicious Bread Pudding for dessert. The servings were so large we had plenty to take home for later, so lunch will be really good tomorrow.
---
July 12, 2012
Hi Ho, Hi Ho . . .
It's back to work we go.
Well, as I posted on Monday, a knock at the door put us to work on our new gate. It seemed kind of early to us. They didn't even have the derrick up yet. But I guess that's why they pay us the big bucks. LOL
Like our gate-before-last, we're just a few hundred feet from the rig. It is convenient for dropping off the logs at the rig office, but it is noisy. The big chillers make a loud roaring sound very much like the roar of the water at Niagara Falls.
Last time we were almost a mile and a half from the rig, and couldn't even really see it through the trees. We kind of do miss the peace and quiet.
This is what it looks like from our RV.
This is our 3rd gate with this drill rig, and should be our last, since we'll be leaving sometime around the 20th of August to start heading north.
One nice thing about moving with a rig is that you don't have to learn a whole new group of people. The drill rig has the same core of 15-20 people all the time. Actually I should say 30-40 since half are off at any one time.
The Marathon guys work 2 weeks on and 2 weeks off, and the H&P guys (the crew) work 1 week on and 1 week off. Marathon owns the lease and runs things. They hire H&P to furnish the drill rig and the crew to do the actual drilling,.
The other thing different about this new site is the rain. This past Tuesday and Wednesday we had a lot of it. Inches of it. And we discovered a problem with our pad.
Even though it should be nice and dry under our canopy, we were slogging around in about 2 inches of mud. The problem is that the pad has a definite slope from behind us, under the rig, under the canopy, and out onto the road. I guess the idea was for drainage, and it does drain, pretty much right under our feet.
But that's not the worse part. The roadway and the pad are all made from caliche, a form of calcium carbonate. When it's dry, it hardens like concrete. That's why it's used for the roads and pads. But when it gets wet, it becomes, as my grandpa used to say "slick as snot", and very sticky.
The slick part makes it kind of hard to walk on and the sticky part means it clumps to your shoes until you're just walking around on about 2 inches of mud caked to your boots. But the real problem comes if you let the stuff dry on your shoes.
It turns to concrete and you pretty much have to chip it off, unless you soak them in water until it softens again, and then scrape it off. I finally ended up just wearing my Crocs since they were the easiest to wash off and clean.
One nice thing was that yesterday (Wednesday) we got another steak dinner for each of us dropped off at our rig. But since we had already had dinner, we just saved it for tonight.
Now that things have settled down I'm going to try and catch up on the blog comments and emails. I'm a few days behind, but I'll get to them.
---
July 12, 2013
It's A Four'fer . . .
Isn't that what you call two two'fers?
I'm not sure if anything is going on here this weekend, but a lot more rigs came in today. We've actually got next door neighbors.
As I mentioned the other day, we're parked right up against the fence. And right on the other side of the fence are railroad tracks. I think it must be a law somewhere that every RV park comes with a set of railroad tracks.
And a lot of the online reviews complained about the noise from passing trains, but I don't think we've really heard any trains, especially at night. Of course that may be because we use a White Noise Generator like this one.
It pretty much masks out any outside noise. We've used one for years, even before we started RV'ing. And they work.
After a quiet morning with coffee and conversation, we headed out about 1:45 for another movie two'fer, in this case an all-animated two'fer.
First up was Despicable Me 2. We didn't see the first one, but now we want to. DM2 was hilarious, laugh out loud funny. Like other well-written animation stories, it's written on two levels, one for the kids, and one for the adults that are there with them. Or us old f**ts, anyway. There is a scene at the very end of the movie with the Minions (the little yellow guys) that probably no one under the age of 30 will recognize.
About 15 minutes after DM2 finished up, we were sitting in the Monster University theater. In this case we had seen the first one, Monsters Inc., years ago and really liked it. But MU wasn't quite as good, or maybe because we saw it right after DM2.
By the time we got out of MU it was after 6:30 so we headed back over to Famous Dave's BBQ for one last visit. It was a few minutes after 7pm when we got there and the lobby was full of people waiting for tables. They told us it would be about 20 minutes, but it turned out to be only about 5, because most of the others were large groups, and we got one of their tables for two.
Jan got a Brisket Sandwich with Fries this time but I got my usual Ribs and Sausage.
That way I'll have plenty of leftovers for later. And even better, the last time we were here, we won a free Bread Pudding Dessert for our next visit, so we got it to go.
Coming home we dropped off some mail at the PO and then got back to the rig about 8:30. Another nice day.
Tomorrow we've got a 180 mile run to the Freeborn Fairgrounds in Albert Lea, MN, where we'll be for one night, before heading for the Wisconsin Dells on Sunday. Jan plans on doing some more driving tomorrow, and I'm hoping I can talk her into starting out here at the fairgrounds, rather than taking over after we're on the road.
We'll see.
---
July 12, 2014
The Big Move Is On . . .
I've started the process of moving everything over to the new blog site.
If the URL you're using to access the blog is www.ourrvadventures.com, you will be taken to the new site automagically.
If you use the http://ourrvadventures.wordpress.com/ URL it will take you to the old site, but I will have a link there to take you to the new one. Be sure you save that one for use from now on.
Unfortunately there is no way to transfer the Email subscription database from the old blog to the new one, so you will have to re-subscribe at the new site. Sorry 'bout that.
---
About 1:15 Jan and I headed out for a Wal-Mart run, but getting out to the truck we found this waiting for us. Or rather me, since I had to change it.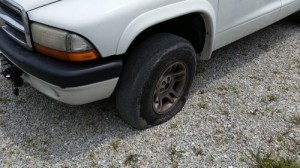 I had the jack out, the tire off, and the spare dropped down in about 15 minutes. Then I spent the next 15 minutes trying to get the spare mounted on the front hub. On this truck the hub doesn't stick out any further than the lug bolts, so you've got nothing to hang the wheel on so you can rotate it into position. And when I tried to use a crowbar to lift it into position, the crowbar kept sinking into the ground instead of lifting the wheel.
But finally I had the wheel in place and tighten down, and we were really to go in about 30 minutes. I didn't rehang the flat tire because I've got a plug kit and I'm going to see if I can fix it myself. I didn't see any obvious punctures, but I'll air it up and see where the problem it.
After we got back from Wal-Mart, I completed the install of my LED fluorescent upgrade by finishing up the wiring.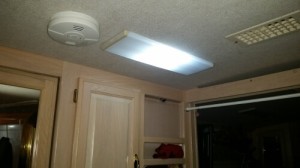 The 3 additional sets I ordered should be in on Tuesday, so I'll do the other lights then.
---
July 12, 2015
Cowboys and Sodas . . .
About 9:30am, Jan and I left our rig parked on City Lake and headed over to our son-in-law's, Sonja and Lendel's house. They were taking us into OKC to do some tourist stuff.
Our first stop was for lunch at the world-famous Cattleman's Steakhouse in Oklahoma City's historic Stockyard City.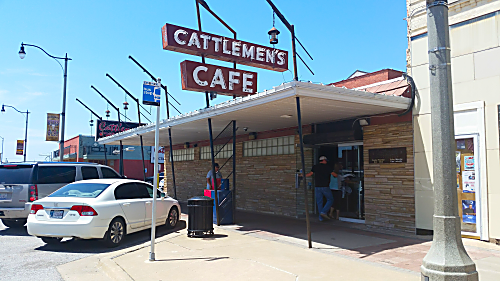 In business for over 100 years, it has hosted presidents, movie stars, sport figures, and singers. And in 1945 its ownership change hands based on a bet whether a guy could roll a 'hard' six (two 3's). He did, and was suddenly in the restaurant business.
And like you can't judge a book by its cover, you can't judge this place by its entrance. Inside it's much bigger than it looks, and is well-appointed with rich woods and leathers, and really good steaks. Well, at least for some of us.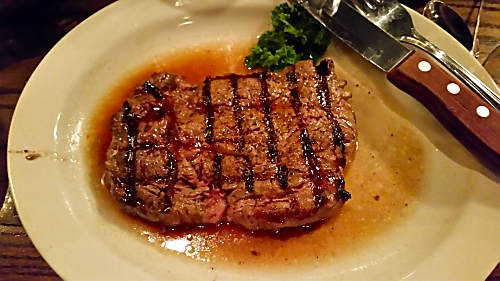 Lendel and I both had the 10oz Luncheon Ribeye above, while Sonja had the Luncheon Strip Steak. Jan of course, being at a world-famous steakhouse, had the Turkey & Dressing.
That's my Sweetie!
Even my cellphone camera was stunned by this. I tried 3 times to take a picture of her meal, and every time I pressed the shutter button, the camera app crashed and dropped back to the home screen.
Then after a really great lunch, Sonja next drove us into downtown OKC to visit the location of the Oklahoma City Bombing at the Alfred P. Murrah Federal Building.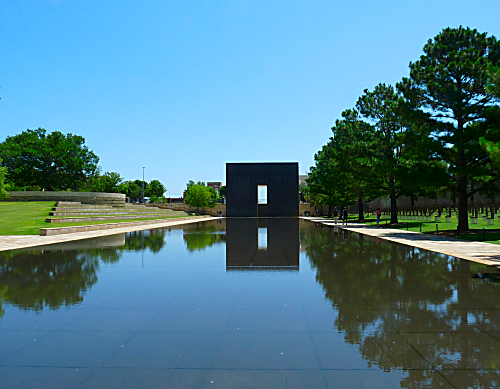 It's hard to describe the feelings that run through you as you visit this memorial. It's stark and bleak, yet comforting in its serenity. 168 people, including 19 children, died here over 20 years ago, but it doesn't seem that long ago. And visiting here really brought back memories of watching the rescue efforts on TV, always hoping for more survivors to be found.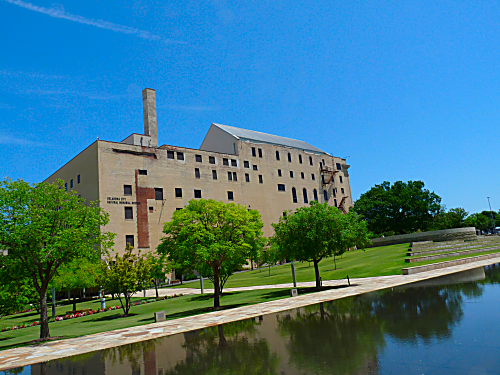 The building right next door houses a museum with the story of each person killed in the blast, telling their life history.
The chairs, one for each of the 168 victims, are arranged in rows, with each row representing the floor of the building that the person was on.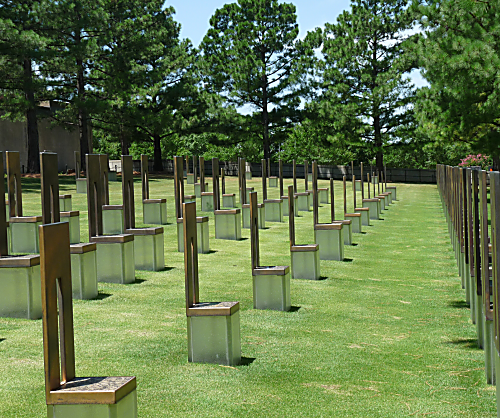 The shorter chairs represent the 19 children killed.
This is the memorial from the other end.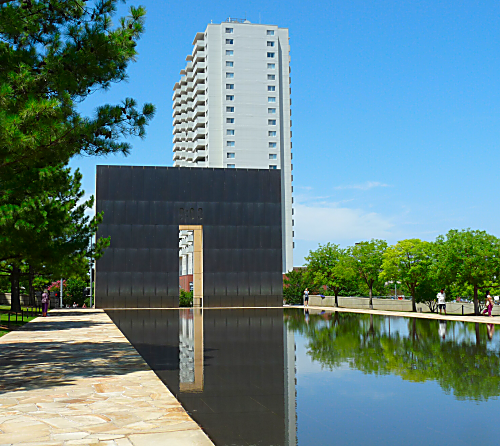 This is one of two memorial walls, covering in mementos and other keepsakes.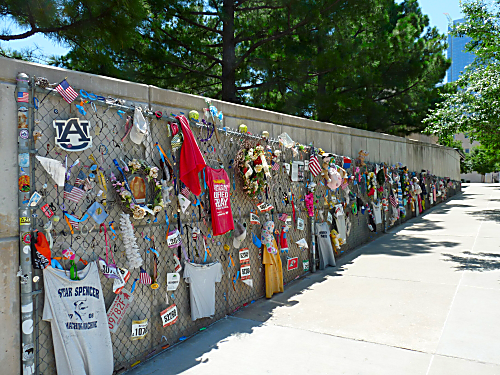 One final fact is that although the official death count from the bombing was 168 people, it was probably 169. The reason being, that after identifying all the victims, they had a leftover leg, which could not be matched to anyone else.
Strange.
Our next stop was the National Cowboy & Western Heritage Museum.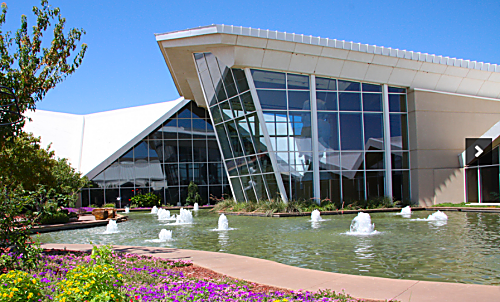 Housed in beautiful building complex on the outskirts of OKC, the first thing that greets your eye as you enter the foyer is James Earle Fraser's world-famous sculpture, "The End of the Trail."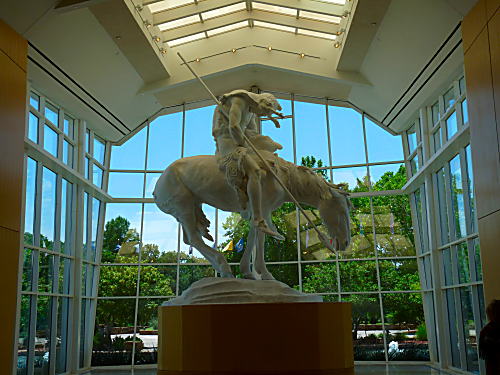 It's hard to believe that this piece of art was almost lost to the world when It was abandoned in the mud because World War I's need for metals prevented it from being cast in bronze at the time of Its creation.
The second thing that greeted us was our docent, Carol Lee. A friend of Sonja's, Carol took us under her wing and showed us around the museum.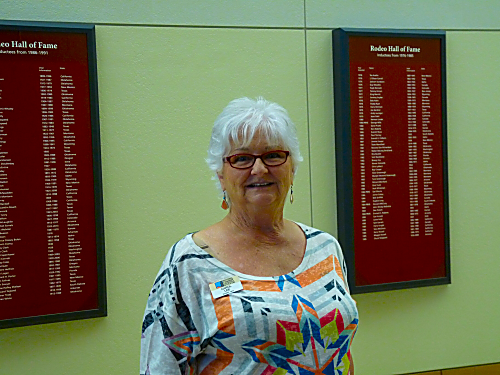 But besides being our docent, I found out that Carol is also a blog reader, a real surprise.
The museum has room after room of beautiful western art, which we really enjoyed, but can't show you. Because of copyright reasons, no photography is allowed. So you'll just have to go see it for yourself.
Two of the most interesting exhibits were about Western 'hardware', I.e., guns and barbed wire. They had examples of the earliest Colt revolvers, both barrel-loaded and breech-loaded, covering everything from cap and ball to percussion cap and cartridge loads. They even had examples of revolving cylinder shotguns, something I'd never seen before.
But the exhibit that even caught Jan's eye, was the one on the evolution of barbed wire and how it changed the west. It's hard to believer how many different ways you can manufacture wire with sharp things sticking out of it. But there was row after row of them.
The longest single run of barbed wire was over 200 miles, and the famous XIT ranch in the Texas panhandle had over 6000 miles of barbed wire fencing encircling its 3 million acres.
Wrapping up at the museum, we followed Carol over to another place we wanted to visit, the famous Pops, on old Route 66.
You know you're getting close when you come over a hill and see the 66 foot tall soda bottle.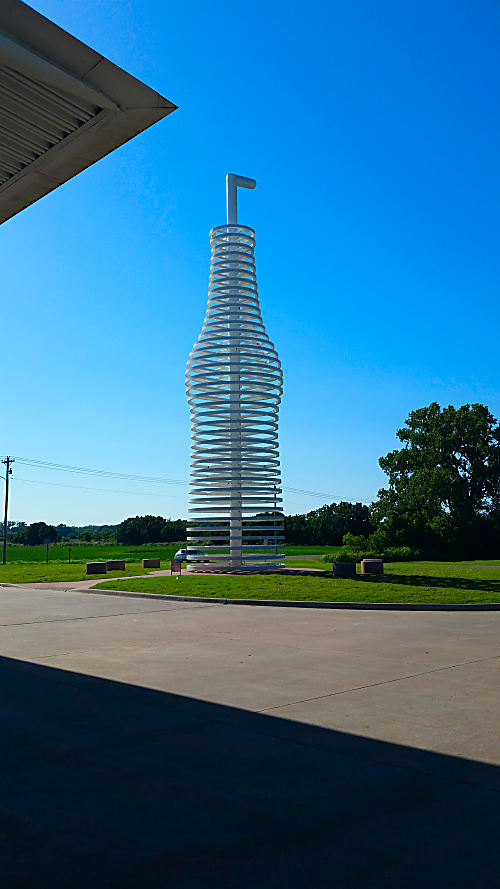 And it's even more impressive at night with its kaleidoscope of colors rippling up and down the bottle.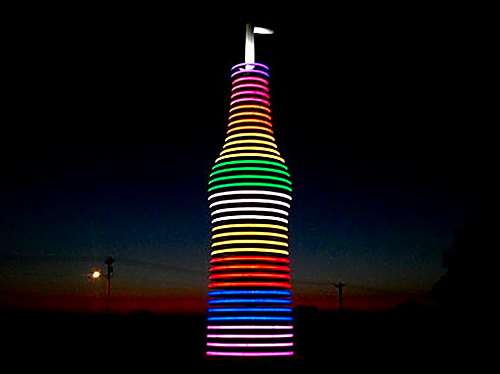 Pops has over 600 varieties of soda, including 80 types of root beer and 50 types of cream soda.
And yes, you can even get a Coke.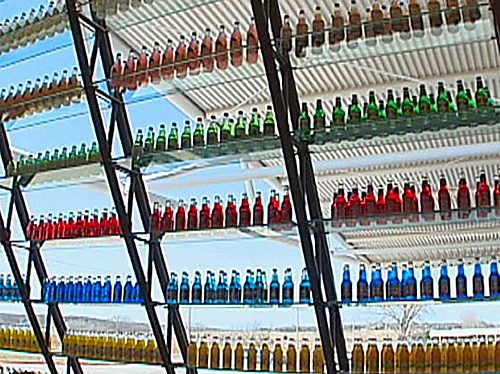 Pops also has excellent food, really tasty sandwiches, and other stuff. But everyone agreed that the highlight of the meal was the Root Beer Bread Pudding that we all shared.
So good in fact, that Jan asked for the recipe and was told it was a secret and they did not give it out.
But Google knows all, and here's the recipe from an OKC newspaper. Of course you might want to cut it down a bit.
POPS Root Beer Bread Pudding
Yields 1 full pan at 24 orders (6×4)
5 loaves Texas toast (cubed)
10 eggs
5 T vanilla extract
1 2/3 cup root beer syrup
13 cups heavy cream
2 ½ cups granulated sugar
3 ¼ cups raisins
3 cups brown sugar (for crust)
Spray the inside of deep hotel pan (12×20 inches) with pan spray. Mix the eggs, vanilla, root beer syrup, cream, sugar, and raisins in a large bowl. Add the cubed Texas toast and mix just until incorporated. Transfer to the hotel pan. Top with the brown sugar and bake at 350 degrees for 35 minutes
Glaze for Bread Pudding: yields 3 ¼ quarts
6 ounces butter
1 ½ cups brown sugar
9 cups heavy cream
1 cup root beer syrup
Melt butter and brown sugar together in a saucepan. Whisk until smooth and
simmering. Add the cream and root beer syrup and allow to reduce by a third (15 minutes).
Tomorrow, more fun stuff to do.
---
July 12, 2016
Not Enough Time . . .
Seen on a license plate.
IML8IML8
What make and color car is it?
---
A week or so ago I happened to notice that the clock on my Galaxy Tab 4 was off by about 5 minutes. Now this was strange since I had set the Tab to automatically sync the time when I got it a couple of years ago. So maybe that setting had been turned off somehow.
So I went into Settings – General – Date and Time.
And well, it wasn't just turned off. It was now completely gone.
I know it was there originally, or was I just imagining it?
A Googling told I was still sane (well, I wasn't any worse, anyway) and that the Auto Time Sync had disappeared sometime in a past update. And nobody knew why.
Now on phones, when you set 'Automatic Date and Time' to On, it uses the inherent time signal that is part of your phone's connection to the cell system. But of course that won't work on a WiFi-only tablet.
But there are other options. A very, very accurate time signal is available through your GPS connection, and you could also use a program that accesses one of the many online atomic clock sources like 'time.windows.com' or 'time.nist.gov' like your PC does.
And there are now a number of apps that will fix this. Kind of.
I looked at a number of these apps, and ClockSync seems to be one of the best. But unless your tablet is 'rooted' (if you don't know what 'rooted' means, your tablet is almost certainly not 'rooted'), ClockSync still not not update your device's time automatically. But it can make it easier to manually sync it yourself.
Check it out.
A number of you have sent me info on the magnets needed for my magnetic shade project. I had already checked Home Deport and they don't have any that are strong enough. In fact, with the ones I have now, if you can pull them apart with your bare fingers, they're not strong enough.
Several others had the right ones, but much more expensive than before. And the ones that are vinyl coated won't work either.
Reader John Cox turned me on to BangGood.com which looks like it might be a good source, and I'm going to check it out.
---
July 12, 2017
A Nice End to A Nice Day . . .
I spent the morning trying to finish up some last minute stuff on the new website I'm doing for a client.
But part of that time was spent reminding the client he'd already approved some things and can't go back and start changing them without incurring some extra costs.
Jan and I headed out for dinner and shopping a little after 4pm. As we were leaving the park I got this photo of where the new RV sites are going up here at the Lake Conroe TT.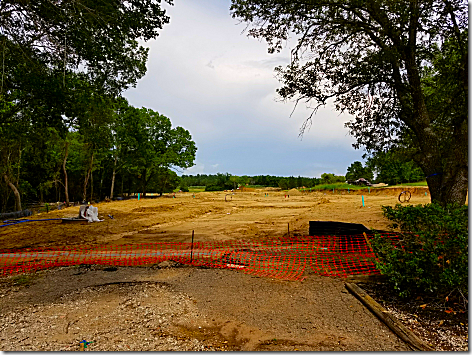 Supposedly it's going to have 67 sites with concrete roads and concrete pads, and should be finished sometime in August. We'll see.
The area is just to the right of the guard shack as you come down the hill entering the park.
We had planned to eat at the Asian BBQ & Grill, but as we got there we remembered that they close at 3pm after lunch and don't reopen for dinner until 5. So since we didn't want to wait for 30-40 minutes, we drove back across the Interstate and went to Jason's Deli, another place we really like.
Jan had her usual 1/4 Turkey Muffuletta with a cup of the Broccoli Cheese Soup,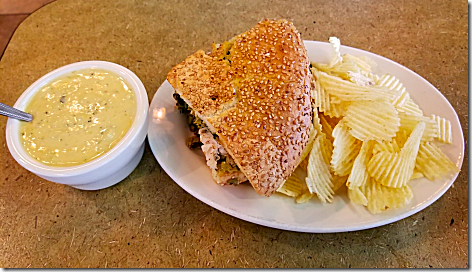 while I got the Small Reuben and a bowl of their Southwest Chicken Chili.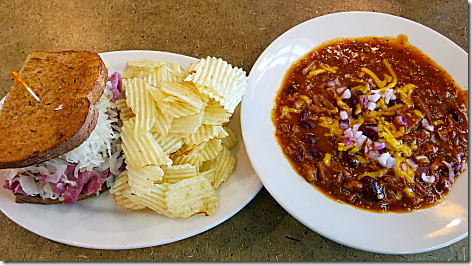 The Rueben didn't turn out to be all that small. Wonder how big the regular one is?
Our next stop was to get gas at the Sam's Club station for $1.93. Not bad. Not bad at all.
Then it was into Sam's for a couple of things, and to pick up our prescriptions. I got a text Monday evening telling us they were ready, and that the total for the 4 would be $351.56.
Now I might have been upset at this, but I knew what had happened. Because they'd done it before. They hadn't priced them under my Sam's Club Business Plus Card.
Most people know about Wal-Mart's $4/$10 prescription discount list, but it seems most people don't know about Sam's Club's Extra Value Prescription List.
And the Sam's list has a lot of drugs on it that Wal-Mart doesn't. And more expensive ones, at that.
And when I got to the Pharmacy, that turned out to be the case. My two prescriptions were priced correctly, but they hadn't don't Jan's correctly. And it made a BIG difference.
One of Jan's was $45 and the other one, Anestrozole, that she takes as a breast cancer preventative, was priced at $270.56. But when the clerk ran it under our Business Plus Card, they dropped down to $24 each.
There are two things different about the Sam's Club list. Just like the Wal-Mart one, it's $4 for a 30 day supply. But unlike Wal-Mart's, it's not $10 for 90 days worth, but $12. Still not bad.
The other thing different is that it costs a little extra. The regular Sam's Club membership is $69 per year, but the Business Plus membership is $99 a year. So $30 more.
But I saved over 8 times that $30, on just one prescription today. You can go to the Sam's Club website and download a copy of their list. Then look it over and see what you can save.
You might be surprised.
You can upgrade your regular card at any time by going to the Customer Service desk and paying the prorated upgrade charge.
Check it out.
Next it was on to the Wal-Mart right next door for a bunch of stuff and then home with quick stop at the Culver's across the street for a couple of sundaes.
Nice end to a nice day.
---
July 12, 2018
Not Enough Eye Bleach . . .
We were out the door about 9:20 this morning, heading for Jan's 10am doctor appointment up in Friendswood, unaware that I would later see something that can not be unseen, and also be run down by a shopping cart
But before we left the Santa Fe area, we stopped at the local Valero (soon to be Circle K) for a fill-up. It's hard to believe how much gas prices dropped while we were gone for our 2-1/2 week vacation.
When we left the price was pushing $3 a gallon, but today it was $2.55, a nice drop. Don't know if it can all be attributed to the fact that the 4th of July has passed, but I'll take it, anyway.
Jan's appointment was just a blood draw, to check up on her thyroid . . . or lack there of. She hasn't had one since the mid-90's so she takes levothyroxine to compensate. But they like to keep an eye on her dosage, thus the tests.
Finished with that we drove over to Webster to have breakfast at our favorite The Egg and I, a doctor appointment tradition of ours. We'd have breakfast here more often, but it seems like doctor appointments are pretty much the only reason we're up in Webster this early in the day. And that's why we usually end up at the Denny's down here when we're have breakfast for dinner.
Jan likes their Build Your Own Omelet, with Onions, Mushrooms, and Tomatoes, Bacon, Fruit, and an English Muffin.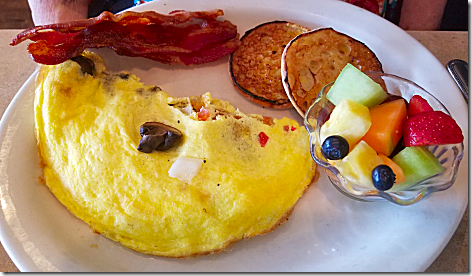 For me, it doesn't really matter where we have breakfast, Denny's, IHOP, First Watch, or The Egg and I, I always get my usual Two Eggs Over Easy, Bacon, Fruit, and an English Muffin. It's a nice rut, what can I say.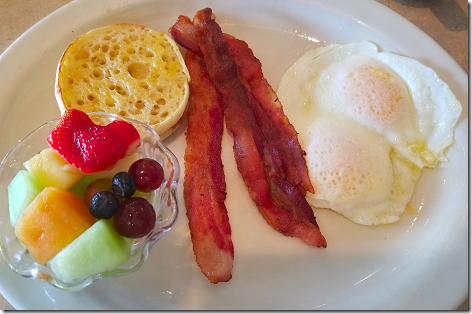 After our delicious breakfast, I made a pit stop and walked in on two full moons. A gentleman was at the urinal and apparently decided to just drop his shorts and underwear down around his ankles while he took care of business. I think the most apt term is 'pasty white'.
I need eye bleach.
Our next stop was at WalMart to drop off a couple of prescriptions that we'll pick up later this afternoon. Then leaving the store, I was ambushed by reality again.
A lady?, I guess in a BIG hurry, wheeled her cart around the corner and ran me down as I was coming out the EXIT, and rocked me back on my heels. In fact I suspect if I hadn't been walking forward, she might have knocked me down.
Looking at her with the cart pretty much embedded in my gut, I said, "I'm sorry. I thought this was the exit." Then I looked up at the sign overhead and said, "I was right. This is the EXIT." When she continued to just stare at me, I pushed her and her cart back about a foot and headed out to the truck.
I'm not sure who, or what I ticked off, but I'm going to be really careful the rest of the day.
Our next stop was a couple of miles away at our house, so we could started making a list of things we want to fix, change, or update throughout the place.
I was happy to see that 'Juan' had done a really nice job on the yard, so I'll see if I can get him to do it every two weeks or so.
"Por favor, corte mi patio cada dos semanas."
Overall the place looks pretty good, especially for a house that will turn 40 next July, with just a couple of major things and some other small ones that need to be done.
One thing that sets our place off from the others like it in the subdivision are the French doors across the back of the living room.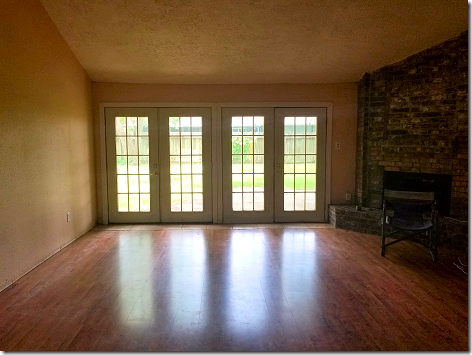 Originally this wall consisted of a solid wooden door located where the far right door is now, and a 4' x 6' window on the middle left. Then, probably 20 years ago or so, Chris and I knocked out the entire wall, installed a 4" x 4" pillar in the center, and added the two sets of French doors. It really opened up the space.
Another plus is that our place has never been flooded, not during Hurricane Alicia in 1983, Ike in 2008, nor Harvey last year. Everything stayed high and dry.
Finishing up, with a lot of ideas and measurements to consider, we headed back over to WalMart (no cart injuries this time) for our prescriptions, and few other things, and then next door to the Sam's Club for a few more scripts.
---
July 12, 2019
My Punishment Continues . . .
I mentioned yesterday that I had gone into work on my off-day. Jennifer, our office manager, has been out with the flu since noon last Friday, and the orders, both call-in and website, were piling up.
So Dr. Heimlich and I jumped in and starting processing them. He would pull the products and I was packing them for shipment. Normally, unless it's an International shipment, we used either USPS or UPS, and have online apps to do this.
If they've ordered from us before, they're in the system's address book, so I just have to select the recipient, box up the order, put it on the scale, print the label, slap it on the box, and toss it in the outbox.
Probably 80% of our orders will fit in a Priority Mail Small Flat Rate Box which simplifies everything. But we do have bigger, heavier orders that have to go via UPS.
We had pumped out about 25 orders when Dr. Heimlich called Jennifer to ask a question about where a certain product was stocked. But when he told her that we were doing orders, she was certain that we were doing it wrong, and to stop until she came back today. So we stopped.
Don't mess with Jennifer.
But when she didn't show up this morning we called and found out that she had been hospitalized and didn't know when she'd be back. So It's back to doing orders.
And I'll be doing them tomorrow, and probably Sunday too, still trying to catch up.
No rest for the wicked, or weary, or both.
I used my new TENS last night, and it worked great. Much stronger. But the 9 volt battery that was supposed to last about 20 hours, lasted about 3 hours before the output weakened.
Glad I've got the 9 volt eliminator ordered.
For dinner tonight it was our regular Friday night visit at Los Ramirez Mexican.Delicious as always.
---
July 12, 2020
Don't Forget To Feed The . . .
I went outside this afternoon to run another check on the truck's A/C system. Based on yesterday's results I figured the Freon level would have slowly leaked back down to zero. And it had.
So I've got medium size leak, and not a big one. And rather than try and go any further myself, I'll take it over to Mike's Auto Repair, the place that replaced my water pump last June.
I could probably do it, but I have to buy some equipment I no longer have. Like a Freon leak detector, a full set of gauges, etc., and then there's finding the time to do it.
So I'll try to set up a car rental in the next couple of days and then get it in the shop.
This morning when I got up Jan said that during the night she had thought of something that she wanted to do this morning, but now couldn't remember what it was.
I told her that what she should do is keep a pencil and paper by the bed, and if she thought of something during the night, just write it down. But when she said that was a great idea, I warned her that it might not always work out.
When she asked why, I told her that back in college I woke up in the middle of the night with a great idea for something, and wrote it down. But when I looked at the paper the next morning, it said,
"Don't forget to feed the Unicorns."
This was a surprise to me because I didn't even know it was MY job to feed the Unicorns.
---
July 12, 2021
WYSIWYG
Once again Jan and I sat outside this morning with our coffee, the nicest morning in a while. First off, it wasn't raining, a big change from recent days. But even better, the temp was in the low 80's, with low humidity, and enough breeze to keep our chimes gently, well, chiming.
Jan and I dropped off the Jeep at our mechanic's this afternoon, but he had already left for the day, so I left a note and the key in his key drop box and I'll call him in the morning.
Just to be sure that we wouldn't have any trouble using the truck for a few days, I drove it into work today just to be sure. And except for a little smoke, there were no problems.
Recently I was reading an online article about different word processors and problems with them, and I thought to myself, they have no idea what word processor problems are.
In fact when started, they weren't even called 'word processors', but text editors. And all you could do was just type text on the screen, pretty much like on a typewriter. And you had to hit the Enter/Return key at the end of every line.
And if you typed a paragraph of text and then discovered a typo three lines back up, you couldn't just click on the incorrect word and correct it using your mouse. In fact there was no such thing as a mouse anyway back then.
And the only way you could back up to correct the error was to backspace back through all the text to get to it, then correct it, and then retype the text all over again. Fun!
And if you wanted to change the type in any way, you had insert the codes directly into the text. So if you wanted to print 'this text is in bold' in bold, you had to do it like <b>this text is in bold</b>.
The <b> turned on the bold function, and everything afterwards was in bold until you turned it off with </b>. And you did italics the same way with <I> </I>.
What's kind of interesting is that these inline control codes carried over into a computer language called HTML which is what websites were programmed in,.
And actually printing something was just as archaic, and expensive. I bought my first printer, a Base2 dot matrix model, in 1979, and it was the first one at under $1000. It was only $995. And that was in 1979 dollars too. And that was so long ago in computer years that I haven't been able to even find a picture of it online, just a couple of ad references.
Like most dot matrix printers of that era it used a 5 x 7 dot matrix printer head, which meant the font looked like this.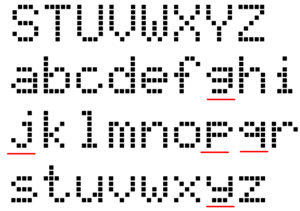 Note that the characters underlined in red have no descenders. That's the part of a lower case letter that hangs down below the line. So because of the printhead limitations, everything had to be above the base line, so they just squished it all on top.
But I figured out a way to make the printer print the descenders using the graphic mode, and it was the very first article I ever had published in a computer magazine.
But finally the first actual word processors appeared, with a very early one being called Electric Pencil appearing in the 1976 timeframe. But EP was eclipsed in just a few years by WordStar, which put word processing on the map. And WordStar was probably the first word processor to bear the acronym WYSIWYG or What You See is What You Get .
This meant that what saw on the screen looked exactly like what would print out. Bold letter, Italics, photos, etc., it all looked exactly the same.
But WordStar in turn was left in the dust by WordPerfect which dominated the field for years. But WordPerfect never really made the transition to Windows after a severely bug-ridden version for Windows was released.
Then Microsoft Word took over the top position and holds it to this day.
---
Thought for the Day:
When you're dead, you don't know that you're dead. All of the pain is felt by others. The same thing happens when you're stupid.