Daily Archives:
July 4, 2022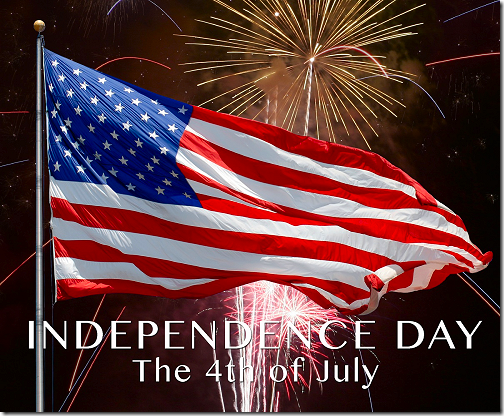 The Fourth of July demands BBQ so about 1pm we drove over to the nearby Spring Creek BBQ on I-45 for our BBQ fix. And it was as good as always.
Jan had the Baby Back Rib Plate with Beans and Beans, both Green and BBQ.
For me, I got the Baby Back Ribs and their Hot Cracked Pepper Sausage, also with Beans and Beans.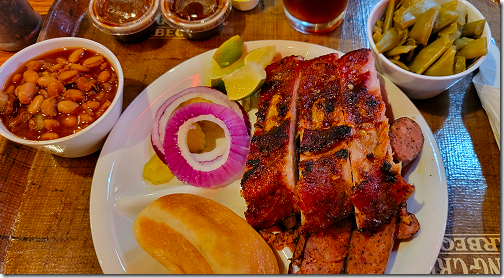 Then, before heading home, I made a quick stop at the Lowe's next door for some 10-24 Wing Nuts, but they had every size but that. I only needed two, but I ordered a pack of 10 from Amazon for $7.93. And they'll be here on Wednesday.
In a quick change of plans, tomorrow I'm taking Jan up to Brandi's to Landon-sit next week, picking her up on Saturday. So it's just me and Karma next week.
While she's gone, and with no rain on the schedule, so maybe I'll have a chance to install the new window regulator on the Dakota. It's be nice to be able to raise and lower my window again.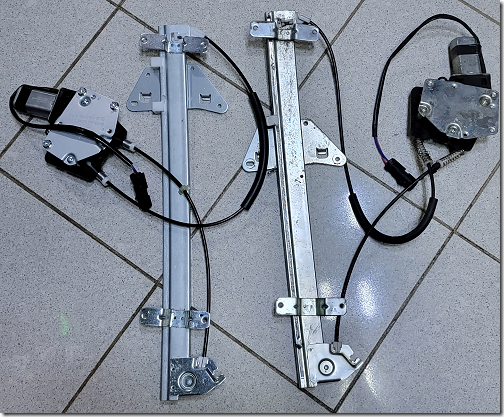 That's the new one on the left, and it's noticeably heavier and sturdier. So hopefully it will last as long as the Dakota will.
A couple of days ago I discovered the free Freevee streaming app. Formerly known as IMDB TV, it's from Amazon.
Available on pretty much every streaming device, it has 1000's of TV shows and movies, everything from more recent stuff like Madmen and Bosch, along with all 47 seasons of Saturday Night Live, along with every episode of Columbo, Banacek, and Bewitched. And it goes all the way back to Petticoat Junction, Dick Van Dyke, Ozzie and Harriet and Father Knows Best.
And it even has a All ALF channel. Every episode of all 4 seasons.
Jan and I watched the first few episodes this evening, and it really holds up well, and in some cases it's laugh-out-loud funny.
Check it out.
---
July 4, 2009
Happy Birthday, America!
Today is our country's birthday, and where better to be, then the birth place of the writer of the Declaration of Independence, Virginia and Thomas Jefferson.
Happy Birthday, America!
Tomorrow, we will visit the Monticello, the home of Thomas Jefferson, but today we're going to stay around the coach and enjoy the day.
We're staying at the Small Country Campground in Louisa, VA, about 20 miles southeast of Charlottesville, VA.
This place is really out in the country, but our site is basically a large gravel parking lot. This area is the only one left that will fit our rig, so we really can't complain.
We'll we can't… but Mister can. He doesn't like it, at all. The large chunks of gravel hurt his feet, and of course, there's no where for him to roll around on the ground. He's not a happy camper.
We are having BBQ this 4th of July. We have leftovers from our stopover at Famous Dave's yesterday. Ribs, pulled pork, baked beans, corn on the cob, fried apples, with peaches and ice cream for dessert.
Hmmm, Gooood!
We were happy to see the park was having a fireworks show, but weren't expecting much. Boy, were we surprised!
The show lasted over 30 minutes. It didn't have as much variety as some city/county shows we saw around Houston, but it made for it in quantity.
Everyone started setting up about 8 pm with the kids being given sparklers to play with.
And then about 9 pm the show began…
We're really enjoying the cool temperatures here. It was 59 last night and will only get to about 69 tomorrow. Of course, it is also supposed to rain, so we'll see.
As I said, tomorrow we're going to visit Monticello, and maybe, if we have time, Appomattox Courthouse, where the South surrendered at the end of the Civil War.
Jager Schnitzel
---
July 4, 2010
Happy 4th of July…
Our friend Gina was under the weather this morning, so about 10:30 am we headed out for Fredericksburg by ourselves, promising to bring her back supper.
Our first stop after arriving in Fredericksburg was Der Lindenbaum, our favorite German restaurant. We've been eating there for a number of years with our family. Our daughter-in-law Linda's mother was born in Germany, and Linda knows good German food. And she says this is some of the best she's eaten.
Jan and I both had the Jager Schnitzel, which is a thin breaded pork cutlet in a wine sauce with fresh mushrooms, and comes with German potato salad and red cabbage. And it was delicious!
And we got the same thing to take home to Gina.
And along with the great food, our timing was perfect too. We left the restaurant just in time for the 4th of July parade.
Everybody needs their own tank.
A great looking SS396 Chevelle.
First time I've seen a real airplane as a float. Apparently, it's flyable. They just took the wings off for the parade.
And what's a Texas parade without horses?
And, as they say in Fredericksburg, TX,
"Das ist Alles, Y'all!" ***

After the parade was over we headed back toward Canyon Lake, stopping off at the Walmart just outside of Fredericksburg to get the wire nuts I need to complete Gina's deck project.
A few miles further out of Fredericksburg, we encountered camels. Why we don't know.
But there's 6 of them, including a baby.
About 2 miles out of Johnson City, we saw this chrome sculpture of a bull along the side of the road. It's been here for years, but today we decided to investigate further.
But you'll have to come back here tomorrow to see what we found out.
How's that for a cliffhanger?
We got back to Gina's about 4 pm and dropped off her Jager Schnitzel, and then headed back to the rig.
---
*** German for "That's All Folks!"
Landon-Skyping
---
July 4, 2011
4th of July–Redux . . .
Things started up about 10 this morning with coffee and bagels, the coffee courtesy of our new Mr. Coffee.
Our old one apparently met his untimely end due to our recent electrical problems.
Then around 12:30 Jan fixed us some lunch while we waited for our LandonSkyping call.
About 1pm the call came thru and we were on the air. Brandi, Lowell, and Landon are in Oklahoma this weekend visiting Lowell's parents, so they were Skyping from the hotel where they had Internet service.
It looks like Landon is just about ready to walk. He's stands up on his own now, he just needs to take a few steps.
And he's also got two upper teeth coming in to match his two bottom ones.
Our call lasted for about 15 minutes, and reminded us wonderful this technology is that lets us keep in touch like this. And it's also nice to realized that we'll be seeing everyone the middle of August at the family reunion at Jan's sister Debbie's place in southern Illinois. We're really looking forward to it.
When we were finished with the call I headed to the Camping World inTacoma about 40 miles away. They were having sale today on the Winegard CarryOut Automatic Satellite Dish and I wanted to check it out.
Our old manual dish is starting to show its age and at our last two parks I've had problems getting a good signal. In fact yesterday, I helped the RV'er behind us get a 90 on his dish, and when I sat mine right by his, all I could get was 49.
So it was time to think about updating, and I liked the idea of just being able to set it down, plug it in, and let it find the satellite signal on its own.
I was concerned about whether or not it had two outputs for our DVR, but after looking at it, it looked like it would work, so I brought one home.
When I first got it home I couldn't get it to lock onto a signal, but after moving it to another location it worked fine and locked on almost immediately. I then was able to hook up the 2nd video line and got both tuners to work. So it looks like it's a keeper.
We had leftovers for dinner and then Jan had done one of her delicious Nana's Apple Cake's from Tastefully Simple.
OMG!
Tomorrow we're going to take the Ferry over to Seattle and explore the market area. Should be fun.
TireTraker
---
July 4, 2013
It's Was A Tie . . .
Jan was up early this morning because she wanted to attend an 8:30am seminar. Lucky for me, she took the golf cart shuttle taxi over to the Cam-Plex so I didn't have to get up early.
That's my sweetie!
I got up at my usual 10am, and after coffee, I took care of some chores around the rig. Jan was back at the rig for the afternoon and we both ended up having nice naps, before we headed over to the Cam-Plex about 5pm for the closing ceremonies and the dinner buffet.
It was after 7:30 when we got back to the rig, but the night wasn't over. Fireworks were scheduled for either 9:30 or 10:00, depending on which brochure you wanted to believe.
We had planned to meet over at Charles and Chris Yust's rig to watch the fireworks from there, but Mother Nature had other ideas. A little after 9pm, a light rain and a lot of lightning moved into the area. After checking the weather radar, we decided to just sit in our truck and watch the lights through the windshield.
In fact it seems like they started the show early because of the oncoming weather.
The really spectacular part of the show was the fact that the fireworks were interspersed with a lot of big lightning bolts, many of them cloud to cloud behind the fireworks. It was kind of like dueling banjos, but with fireworks. A really neat sight.
Brandi sent over these pics of Landon's 4th, watermelon and all.
Love those Día de Muertos (Day of the Dead) swimming trunks he's got on.
Not sure what we're doing tomorrow. It kind of depends on the weather. I've got a couple of things I want to do around the rig, but that might have to wait. We'll see.
Last up, a big Thank You to Daryl and Cheri Lawrence of Lawrence RV Accessories for their usual great customer service. Cheri had given me some replacement caps for the sensors on my TireTraker Tire Pressure Monitoring System since I had a couple that were cracked.
But on one of them, the top part of the cap broke off but the threaded part was stuck on the sensor. I used successively more force trying to get the stuck part off until I broke the battery clip on the sensor. Oops.
I called Daryl and Cheri to see if they left the area yet because I wanted to buy a new sensor to replace the one I broke. They were still in the area, and a little while later appeared at our rig door with a new sensor at no charge. Now that's what I call service.
Every RV'er should have a tire pressure monitoring system for both his RV and his vehicle, and the TireTraker is one of the best. Check it out.
---
July 4, 2015
They Lied . . .
Based on our visit to La Fonda the other day, their sign said they'd be open until 2pm today, July 4th. But when we got there a few minutes after 1pm for our last Mexican fix here at Verde Valley, they were already closed for the day.
They lied.
But a family in the parking lot with us recommended Concho's up in Cottonwood near the DQ so off we went. And it was well worth the trip.

Like many of our favorite places, it's another hole-in-the-wall place right off the main drag in Cottonwood. it was only after we got inside that I checked Yelp and found they had 4 1/2 stars
And when they brought our meal, it was easy to see why.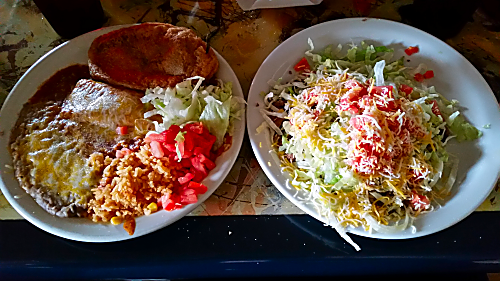 We both got #18, with a Chili Relleno, Ground Beef Enchilada, and a Ground Beef Tostado, and of course, with Rice and Beans. It was all great, the salsa, the chips, and everything on the plates, especially the Chili Relleno. It was stuffed full of cheese, and actually had some heat to it. And the portions were so big, we had some to take home.
The only downside, at least for Jan, was the ice tea. Unfortunately it wasn't fresh brewed, but came out of a soft drink dispenser like Coke or Pepsi. It has a taste that Jan just doesn't like. Me, I just add more lemon and sugar, well, Equal, anyway, and struggle through.
When we come back to this area, probably in a couple of years, it's going to be hard to decide between La Fonda and Concho's. But better too many choices than not enough, right.
Leaving Concho's we drove on into Old Town Cottonwood to pick up some cupcakes from Wild Irish Rose. And we were almost too late. They bake cupcakes in the morning, and when they run out, they're out.
So we got the last 3, a Chocolate Chip, and two Salted Caramels. Guess we'll have to get there earlier next time. Or two years from now.
Coming back toward home, we made a stop at Hog Wild BBQ to pick up a pound of BBQ to go, a half pound of Pulled Pork and a half pound of Beef. We plan on vacuum-sealing, and freezing it to have later on the road. Lastly we made a quick Wal-Mart stop for a few things, and then home.
We had thought about taking in the fireworks show at the Verde Valley Fairgrounds in Cottonwood, but it rained on and off pretty much all day, and was supposed to be raining tonight, so we passed.
Tomorrow we'll start wrapping up and packing up to get ready to leave Monday morning. We both agree we're really looking forward to getting back on the road.
Grimaldi's
---
July 4, 2020
Pizza and Piper . . .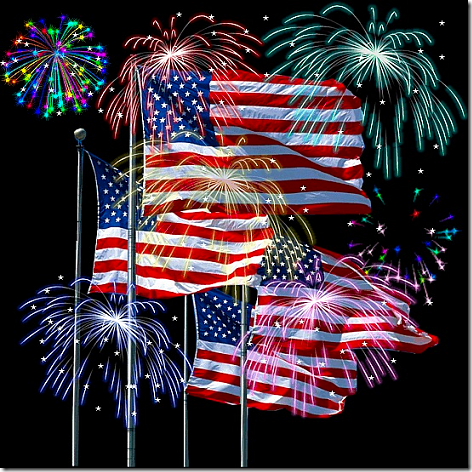 Happy Fourth of July!
Jan and I headed up to Katy about 10:30 to meet up with our granddaughter Piper where she was housesitting at her aunt Brandi's while they were up in Oklahoma visiting Lowell's parents.
After a short conversation, Jan and I drove over to the nearby Grimaldi's Pizzeria, followed by Miss Piper in her car. We had been to this location several times before, nice because it's only about 10 minutes from Brandi's.
We started out with our usual, the Small House Salad, which is small in name only.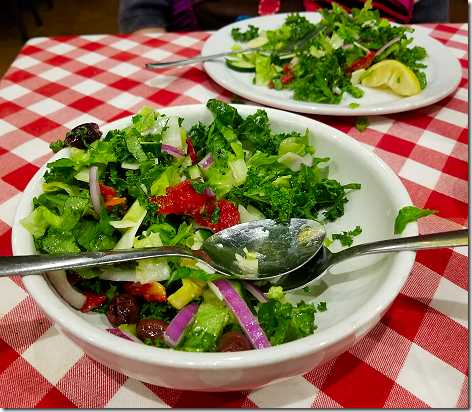 And the 'small' salad was enough for all 3 of us with some left over that didn't get eaten due to saving room for pizza.
Piper went the white pizza route with the Prosciutto Arugula Pizza, topped with thinly sliced prosciutto, shaved cheese blend and fresh arugula.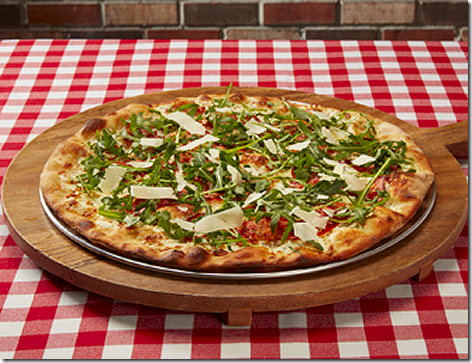 While Jan and I did the more traditional thing with The Don, topped with Italian Sausage, Meatballs and Pepperoni. To which we added Mushrooms, Bacon, and Jalapenos.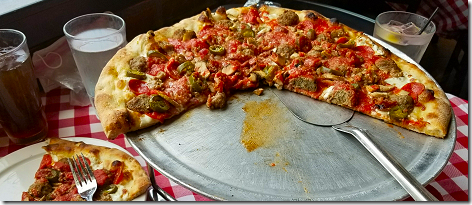 Really, really good, and we all had some to bring home.
Ron Jon
---
July 4, 2021
Happy 4th of July, America!
While we were outside with our coffee this morning, we made what I hope is the final addition to our sticker collection.
When we were over in Gulf Shores we made our usual stop at the Ron Jon Surf Shop in Orange Beach and got one of their stickers for our Jeep.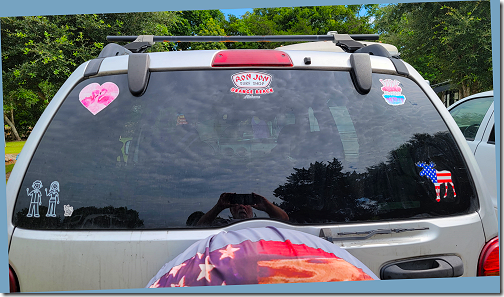 Unlike a lot of places, Ron Jon's give these away free, which is why you see them everywhere.
And now on our Jeep.
Ron Jon's also has kind of a personal connection for Jan and I. On one of first dates we drove over to Cocoa Beach to check out their store. I had used a couple of their boards for several years, so I wanted to see where they came from.
Now back then, Ron Jon's was a small, narrow storefront, basically a double-wide aisle with surfboards propped up side by side down the way.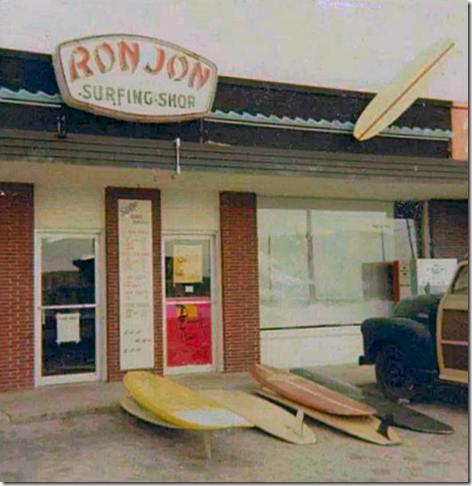 And I was told that if you said the magic word, you could buy pot in the back room.
And I think the word was 'pot', though I never tried it.
Of course, now Ron Jon's is big-time conglomerate with the Cocoa Beach store now covering a full block of prime beach real estate.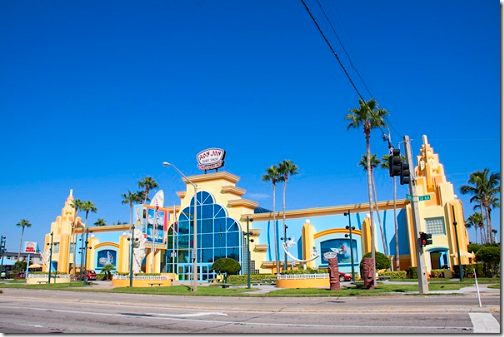 And of course, now they've got locations all around the world, and even several vacation resorts.
About 2pm I set up the cooler and, after stacking the rib packs inside, I filled it up to the immersion cooker water line using the 130° water from the rig.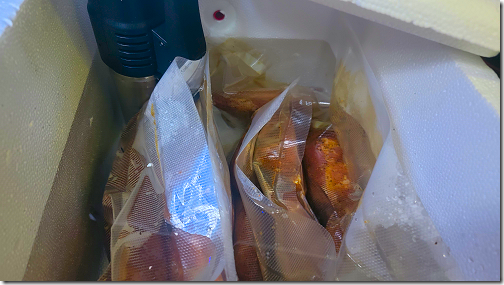 According to the InkbirdSmart's control panel, the water temp dropped down to about 110° due to the cold bags of ribs. But I was surprised at how quickly the water temp started to rise, and in less than 30 minutes, the temp had reach 150° and the 24 hour cycle countdown started.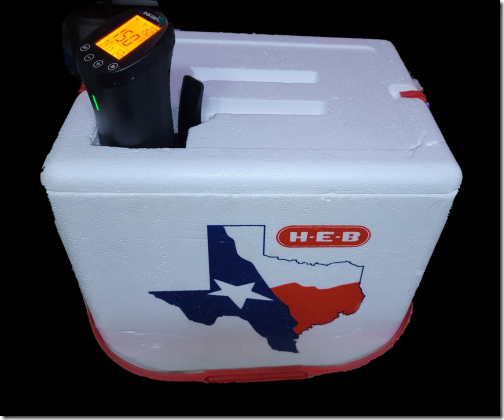 So our meal should be done about 2:45pm tomorrow afternoon. Yum!
Right after I got things started, we headed over to our local Denny's for our Ultimate Omelets. Then coming home we made an unplanned stop at Cowboy Coffee here in Santa Fe. I say 'unplanned' because normally they're closed on Sunday, and especially on a Holiday Sunday. But not wanting to pass up a chance for Cowboy's coffee, we pulled in. Turns out this was a one-time thing, opening from 12pm to 4pm, since it seems a lot of people were out and about, and stopped by just like us.
And when we left, we had our Cold, Blended Sugar-Free Hazelnut Lattes, a copy of the Constitution and Declaration of Independence, and a bunch of sparklers for our own celebration tonight.
A nice surprise.
---
Thought For The Day: