And We've Got Leftovers . . .
We were out the door this morning by about 10am, heading up to Conroe to meet up with Debi and Ed Hurlburt at Vernon's Kuntry Katfish for our monthly get-together.
One thing nice about Vernon's is that they bring you out a plate of Hushpuppies and Pickled Green Tomatoes first thing, kind of their version of Chips and Salsa, I guess.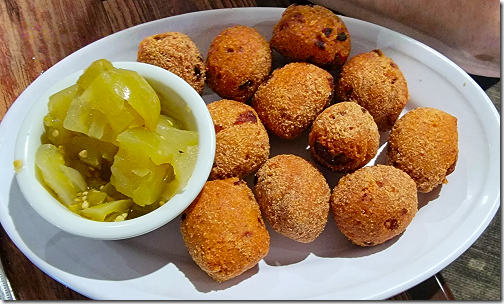 Jan and I both got pretty much versions of the same thing, the Seafood Platter,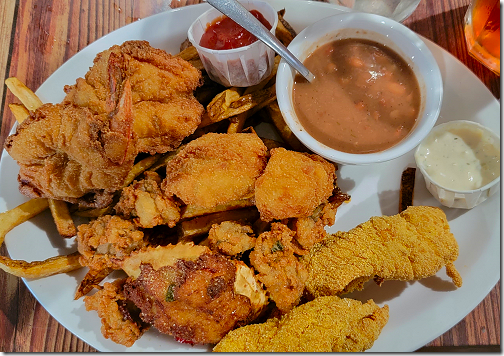 with Katfish (of course), Shrimp, Oysters, Scallops, and a Crab, along with Cole Slaw, Pinto Beans, and Fries.
Delicious, and we had leftovers!
Saturday we're heading up to Brandi's in Katy so I do some updates to Landon's Ender 3D printer.
I'm constantly amazed at some of the things that other people are printing on this printer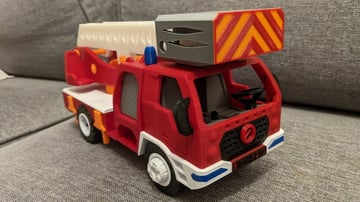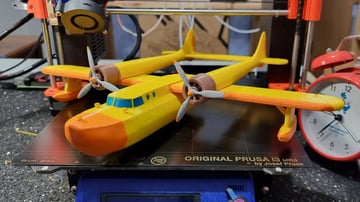 Really Neat!
---
Thought For The Day:
"Sometimes I lie awake at night, and I ask, 'Where have I gone wrong?'
Then a voice says to me, 'This is going to take more than one night.'" — Charlie Brown
---
January 5, 2011
Laptops and Texas Tea . . .
My day started early with a 9:30 panic call from a client who was leaving at 1 pm for a business meeting out of the country and both of her laptops were messed up. She was hoping I could get one of them working before she left.
Nothing like waiting until the last minute.
It took about 3 hours of going thru the system before I finally got one of the them working and she left for her meeting a happy camper. The 2nd laptop will have to go back to the dealer since the hard drive is dead and it's still under warranty.
I finally got home about 3:00 pm and tried to get some more stuff done on the rig. I did manage to get the drain plug loose on the water heater, but since I didn't have time to shut and drain the hot water I left it at that until tomorrow.
After a nice nap, Jan and I headed out about 5:30 to meet Brandi, Lowell, and Landon at Texas Tea Room up in Friendswood, a place Jan and Piper checked out a week or so ago and really liked. Unlike most tea rooms they were also open from 5pm – 9pm Monday thru Friday. But we found out tonight that this is the last week they will be open at night. Apparently they just didn't get enough business then.
Too Bad. We really like the place and it's easier for us to go at night.
On a disappointing note, I'm sorry to report that I did not win the $355 Million Mega-Millions prize last night. Two tickets, one sold in Washington and one in Idaho, split the prize.
Bummer! I would have been happy with even a 3 way split.
That's about it for today.
---
January 5, 2012
Spoonbills and RAM Sticks . . .
The tide was out this morning so I got some more bird shots right out in front of the rig. I also saw our Roseate Spoonbills, but they flew off before I could get the camera.
I'm always amazed at the wildlife we see in this area.
On another note I decided to try a better antenna for the Wi-Fi here in the park. The USB Wi-Fi adapter that I use for my desktop in the rig just has one of those 5" stubby antennas, and I wanted to see if I could increase the 2 bars of signal I normally get.
So I picked up one of these Hawking HiGain Wi-Fi Antenna at Fry's. It's a little over 12 inches tall and comes with wall mounts if you need them. In my case I just hang it from my crankup TV antenna handle and connect it to my USB card using the supplied 5 ft. cable.
Since this antenna is very directional I wanted to have some way to aim it easily. With a little Googling I found inSSIDer, a free program that does it all.
The instantaneous graph at the bottom lets me turn the Wi-Fi antenna for the strongest signal.
And it does make a difference. I went from two bars to four bars, and occasionally, five bars on my signals. Between the new antenna and the free software, I may now be able to use the Wi-Fi signal at more parks when my Verizon Air Card is marginal.
The program also shows me the type of encryption used and the max speed of each Access Point, and even the manufacturer of the hardware. A really useful program.
Today was busy but not complicated. Leaving the rig about noon, I only went three places. My first stop was Fry's Electronics to exchange the 4 – 2 GB RAM sticks for 2 – 4 GB sticks to finish upgrading the client's two new computers.
Then it was on to the client's office where I installed the new RAM, and then started setting up and configuring the second computer. I'll probably come back this weekend and install the computers and the new wireless router and get them online.
My last stop was the client's house that I've been fighting the AT&T problem. As I wrote yesterday, AT&T make the Static to Dynamic IP switchover yesterday, so all I had to do was setup their new wireless router and check everything out. I also installed a number of Microsoft updates that were needed, and after one last check, I headed home.
Jan had said we were going to have the leftover fajita beef nachos from Tuesday night at Monterey's Little Mexico, so I decided we needed some Chicken Tortilla Soup and Queso & Chips to go with it. So I called ahead to Monterey's and had it ready for me to pick up as I went by.
It made for a very delicious supper.
---
January 5, 2013
An Honor Delayed . . .
My great-niece Stahlie Calvin posted this news on Facebook.
My Uncle Theo Calvin is being awarded the French Legion of Honor from the Consul General of France. He's also received several awards that were lost in the shuffle after the war.
The Legion of Honor is France's most distinguished decoration and is bestowed for acts of bravery during the fight for the liberation of France during World War II.
My Uncle Theo landed on Omaha Beach on D-Day, June 6th, 1944, and fought his way across France.
Here he is with my Aunt Virginia in the summer of 1949 in front of their house in Athens, AL.
Oh, and that's me he's holding.
And here he is in 2006.
The Consul General is presenting the award to three other veterans at the same time. You can read more about it here.
http://athensplus.com/VeteransReceiveLegionofHonorAward2012.htm
---
Jan and I headed out for an early lunch. We figured if we got there early enough we could beat the crowd at Jimmy Changa's, the new Mexican restaurant we ate at a week or so ago. And we were right. We got there about 11:30 and got seated right away, but by the time we left about an hour later they were on a 45 minute wait.
Jan had the Ground Beef Taco Salad and I had the Mexican Caldo Soup again. Jan said the Taco Salad was delicious, the ground beef very well seasoned.
Leaving the restaurant, we checked out several feed stores and hardware stores in the area looking for deer corn. Jan uses the deer corn to feed the many ducks in the area. But deer season has ended since we last bought any, and so it's getting hard to find. We've got a couple of more places to check before we give up.
Our last stop was at our son Chris' to see if I could fix a couple of problems with his and Linda's laptop. Turned out deleting and reloading the printer driver fixed the problem.
We finally got home about 4:30 after another nice, but cold, wet day. And it looks the same for the next several days.
---
January 5, 2014
A Little Less Blah . . .
but still not back to normal.
But at least I didn't have to get up at 9:30 this morning.
But we did head out about noon for lunch and some errands. Our first stop was at Jason's Deli where Jan got her Ham Muffuletta with a cup of Broccoli-Cheese soup, and I got a bowl of Chicken Chili and a side salad. Pretty much the usual for both of us.
Then it was on to the same client I tried to catch yesterday, with pretty much the same result. Called his cell but didn't get an answer.
Then it was on to Wal-Mart for some things. One of the 'things' we were looking for was Hot Chocolate K-Cups for our new Hamilton Beach 2-Way Brewer.
Hamilton Beach 49980A 2-Way Single Serve Brewer and Coffee Maker
One thing I've noticed is that a lot of people must have gotten K-Cup brewers for Christmas because no matter where we go, we find the K-Cup coffee selection to be really picked over. At the same time the regular coffee section was well-stocked.
And we still didn't find any Hot Chocolate K-Cups either.
After another unanswered call to my client, we finally headed home, getting back about 3 PM. The first thing I did then was to disconnect and drain our shore water line, because we're looking at 28° tonight and 26° tomorrow night. And having been burned once before in our early RV'ing days, I also disconnected our inline water filter and brought it inside. Once before when I didn't do this, I found it's very difficult to actually drain all the water out of one of these filters, and when I left it outside in 20 degree weather it split wide open. So now it comes inside, and we'll just stay on rig water until Wednesday or Thursday when things warm up.
One thing that was interesting this morning was to watch the front come through. At 10 AM the outside temp here at the rig was 66 degrees. 40 minutes later it was 50 degrees. That's a fast drop.
---
January 5, 2015
84 cents a gallon . . .
First up this morning, I called Moen to order a new hose for my Renzo model kitchen faucet.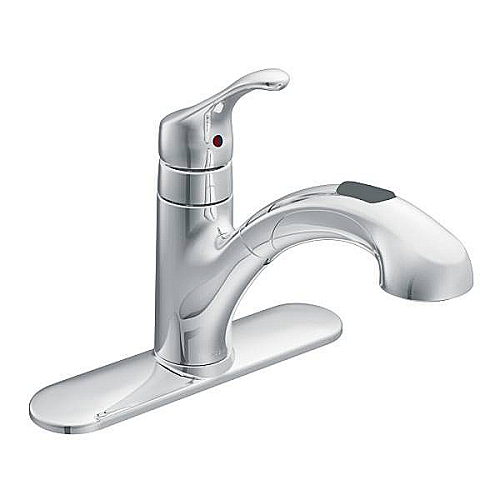 And as reader Ray McElhenry reminded me, with Moen's lifetime warranty, they're sending one out to me one free, and that includes shipping. Nice.
---
About 2:15 we headed out for the afternoon. Our first stop was the Home Depot about 5 miles down the road. Since I was getting the replacement hose from Moen, I don't need the 'Not So' Universal, 'Doesn't' Fit All Brands replacement hose any more and want to get my $27 back.
Then it was on to the Fry's Electronics for a few things and also to check out possible new computers for a client. And of course it's always fun to just walk around the place.
Then we headed back up to The Woodlands to have dinner at Grimaldi's Pizzeria. We got there a few minutes after 4pm, which was perfect. Between 3 and 4pm, Grimaldi's re-stokes their coal-fired pizza oven, so no pizzas until they're done.
We had our usual order of a Small Salad which we split.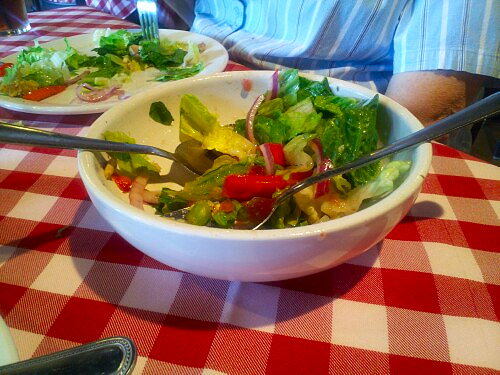 In fact it would easily feed 4 people,
And we had the large pizza with mushrooms, pepperoni, jalapenos, Italian sausage and meatballs.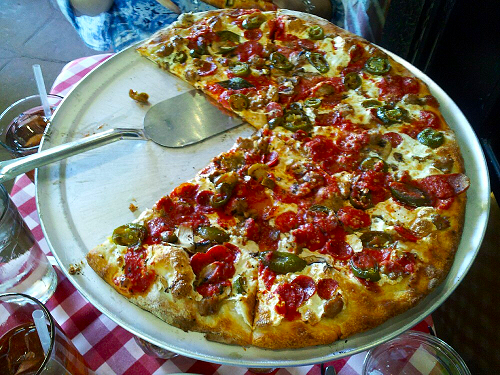 By getting the large one, we have half of it left over to take home for later.
After a great meal, it was back up to Conroe for stops at Sam's Club and Wal-Mart for a few things. Jan had planned to pick up a prescription at Sam's, but it wasn't ready because they didn't have enough pills to fill it, so we'll pick it up tomorrow afternoon.
Then it was on across the Interstate for the pleasant task of getting gas at the Kroger's. And I say 'pleasant' because it cost me only 84.9 cents a gallon. That's got to be pleasant.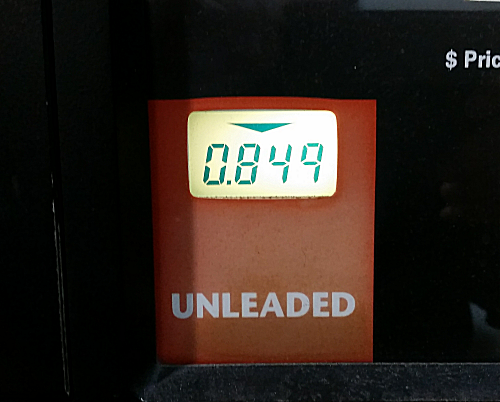 Of course, that was because I'm still getting the $1 a gallon discount from our gift card purchase before Christmas. But even without the $1 discount, $1.849 is nothing to laugh at.
Tomorrow we'll start wrapping up our two week stay here and get ready to move back to the Colorado River Thousand Trails on Wednesday.
---
January 5, 2016
Well, It's Official . . .
I found out last night that Jan and I will be giving our Gate Guarding seminar at the upcoming 56th Escapees Escapade, July 24th – 29th, in Essex Junction, Vermont.
We first gave this seminar, "Gate Guarding for Fun? and Profit", at the 55th Escapade last March in Tucson, AZ, and with another episode of gate guarding under our belt, we've got even more good info to pass on.
See You There!
Jan and I headed out for our walk this morning a little after 11, and with the sunshine, 50° temps, and just a little wind, it was about perfect walking weather. The only problem is that we know too many people here. So, between meeting up with Jim and Claudia Horak, Dave and Janice Evans, and Ed and Debi Hurlburt, our minutes/mile rating on Runkeeper was pretty useless.
But we had a great time catching up with everyone, and even better, extended our walk to 1.21 miles, our longest yet. Hopefully in the next few weeks we'll get back up to 2 miles, where we were a while back.
About 2:30 Jan and I made a trip into Columbus to pick up a few things. I needed a few things from the hardware store, Jan wanted some things from Brookshire Bros. and I wanted to pick up some lottery tickets for the $145 Million Mega Millions drawing tonight and the $450 Million Powerball drawing tomorrow night.
You can't win if you don't play.
But before we left the park, we stopped off to say 'Hi' to Gordon Pendergast and his wife Merlyn. They're parked in their 5th wheel up on the 'A' loop, but they're leaving Thursday so we'll have to catch them back at Lake Conroe for dinner.
Passing the Colorado County Oil Co-op, I saw diesel for $1.85 a gallon, the lowest I've seen so far. I'll probably fill up the next time we're back over here, and if I'm lucky, it'll be even cheaper then.
For dinner tonight we were going to finish off the last of the Christmas dinner leftovers, but since they were getting kind of skimpy, Jan wanted to bulk it up with some mashed potatoes, so we decided to try the Ore-Ida Steam n Mash Potatoes.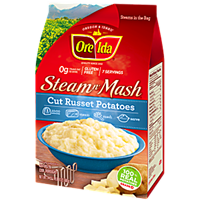 They turned out to be very easy, and very good. Not just some powder stuff, but these are actual chunks of Russet potatoes that you just steam in the bag in your microwave. Cook for 6 minutes, let them rest for 2 minutes, and pour into a bowl. Then mash and mix with 2/3 cup of milk and 2 Tbsp. of butter. Then serve and eat.
And we both thought these were really good, probably as good as any mashed potatoes we've had. Recommended.
I got an email today from Spartan Chassis announcing their new Spartan Mobile App called Spartan Connected Care. Available for both Android and Apple, it will give you diagnostic codes specific to your make, model and year, maintenance schedules, service locations, pre-trip inspection lists, shows & rallies where Spartan reps will be attending, and more. So check it out.
If you have a Freightliner chassis, they have something similar called Freightliner 24/7 Direct.
Tomorrow we're driving down to the Clear Lake area to spend the day taking care of some errands, and catching up with some friends. Looking forward to it.
---
January 5, 2017
When I Said I Wanted Some Winter Weather . . .
I didn't mean like this.
Today the high temp was 68° with a low scheduled tonight of 33. Then tomorrow's high is 34° with a low of 25.
I do not like the direction this is going.
Jan and I had originally planned to take in a movie as part as our San Antonio day trip today, but that didn't happen. I had a lot of trouble sleeping last night due to the fact that I'm normally working when I was trying to sleep.
So we dropped the early morning start and left the rig about 2pm with our first stop at Lone Star Real Estate to pick up two days work of Amazon deliveries. Then it was on to the Sam's Club/Wal-Mart in the City Base area of San Antonio for some shopping.
Finishing up there we met our long-time friends Jim and Peri Dean at La Fonda on Main for dinner.
Besides Magic Time Machine, La Fonda on Main is our other go-to place in San Antonio, and it's another place we been eating since the 1980's. And the place itself has been open since the 1930's hosting such notables as Dwight Eisenhower, George Patton, Yul Brynner, Roy Rogers and Dale Evans, and of course, us.
Between the four of us, we all went for something a little different.
Jim went the in fish direction with their Salmon selection,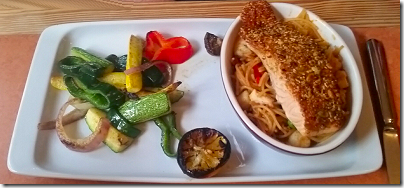 while Peri went for the vegetarian course with the Sweet Potato Enchiladas.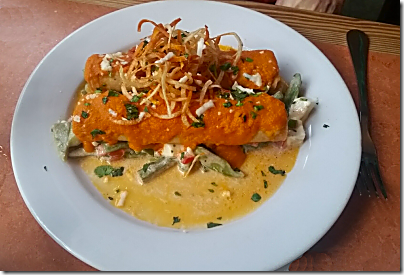 Jan got her go-to dish, the Chile Relleno,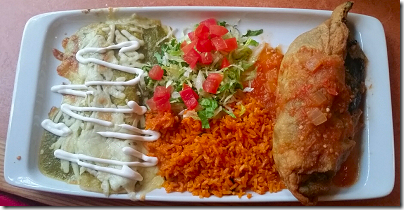 while I had my usual beef selection with the Carne Asada.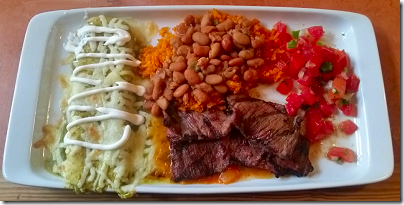 Once again Jan and I only ate about half of our entrees, with the rest to take home. This left us with enough room for Jan and I to share our usual Tres Leches.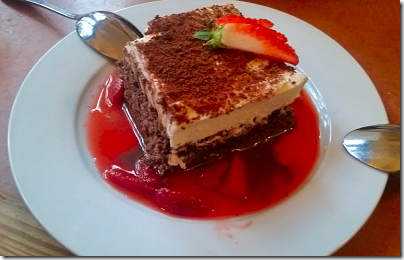 But this time we got an upgrade with their new special, Chocolate Tres Leches. And following our lead, Jim and Peri split one too.
Even better.
After spending another hour talking, and then saying our good-byes, and making a pit-stop at the Valero in Floresville, we got home about 8pm.
Passing through Floresville even as full as we were, we drooled as we passed the Whataburger there. This again brought our question about why Kenedy/Karnes City doesn't have a Whataburger of our own.
At first we wondered if the population was too small, but the K/KC has a combined population of about 6300, plus all the surrounding countryside. This is only about 100 people less than Floresville.
Plus with all the oil stuff going on around here, they're losing a lot of money from the oil workers. Oil guys loved Whataburger, and some of them eat there every day when they can. And when we've been on gates with one nearby, the guys would regularly bring back burgers for Jan and I.
When we stopped to pick our packages at the real estate office, I ask Nancy Christian, the owner (and the owner of our RV Park) why K/KC doesn't have a Whataburger. She said, "Because they're stupid."
She said that a while back she and her husband had been at the one in Floresville and saw what were obviously some big-wig corporate types visiting the location. So her husband went over and talk to them about it, and was told it sounded interesting and that they'd look into it. But nothing so far. But even then we certainly won't get one in the next 5 or 6 weeks that we'll be here. Bummer!
WE WANT OUR WHATABURGER!
---
January 5, 2018
Settling In Back Home . . .
Jan really relished her first night back in her own bed. She's getting around better and better all the time.
But her favorite thing was to be able to take a shower again, the first one since Monday morning before she got sick.
About 12:30 Jan got a call from Clear Lake Regional Hospital asking about her recent stay, and also giving her the login info for MyHealthOne, the hospital website area that has shows all of the tests done and the results, procedures done, and diagnoses.
Really helpful for Jan since she likes to document everything. We also got the phone number of her urologist so she can set up her appointments for next Wednesday and Friday.
About 4pmwe headed out for dinner at Phở 20 and then HEB for some supplies.
This visit to Phở 20 we both went for something a little different. Or course we did start out with our favorite House Crunch Salads.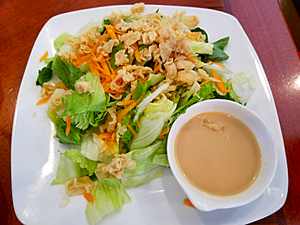 Then, both wanting soup of some kind, we got the White Meat Chicken Phở with added veggies.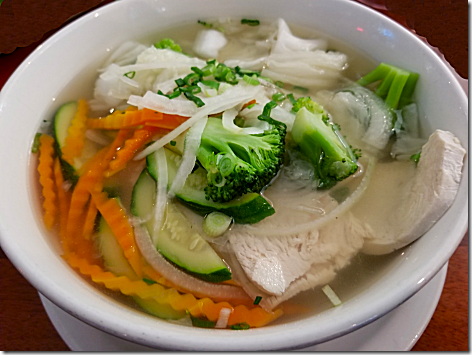 Normally their Phở comes with the broth, the slices of white meat chicken, and rice vermicelli noodles. Then there's the garnish on the side.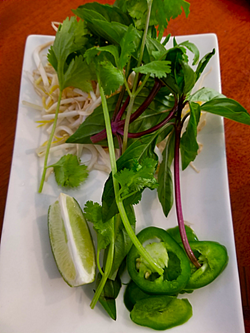 This gives you jalapenos, cilantro, Thai basil, bean sprouts, and squeeze of lime juice. All great additions.
After tonight this Phở has become my new favorite dish here. Well, along with the House Crunch Salad, or course. I've always liked soups, Hot & Sour at King Food, Chicken Tortilla Soup at Monterey's, etc., so this is a great addition to my choices.
One thing kind of interesting about Jan's stay was the nurse anesthesiologist who came by on Tuesday to put a stent in for the anesthesia for Jan's procedure the next day.
Just talking, she ask if we were from around here. And when I told her that we had a house here, but that we were really full time RV'ers. She turned around with a big smile and gave me a fist bump, saying, "So are we."
Turns out she's a contract nurse. She and her husband are semi-snowbirds, spending summers in the New England area and winters down south. But pretty every season is spent in a different area of the country. Then where ever they are, she has no problem getting a job at a local hospital.
Neat!
Looks like the weather this weekend will be nice enough for me to reinstall my rear awning and then take down the big one on the passenger side to take over to Sundowner and pick up the other rear one.
---
January 5, 2020
Beware The Caps Lock Key . . .
Jan and I had a nice quite day at the rig, not doing much of anything. Very nice.
About 4pm we headed over to Dickinson to have dinner once again at Los Ramirez Mexican Restaurant. And I think we're just about at the point where we can just sit down and say, "The Usual", since we always get the same thing.
Jan gets her Pechuga Rellena,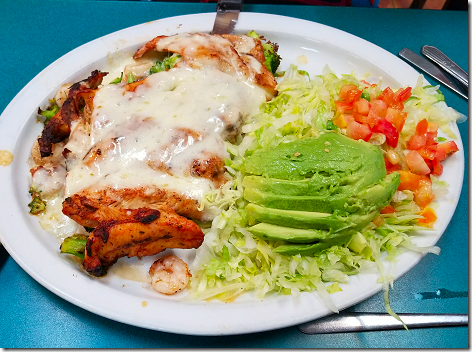 but without the rice.
So that leaves her with Shrimp, and Broccoli. covered with a large Chicken Breast topped with Melted Cheese. And it's not just a few shrimp hiding out under there, but an entire school.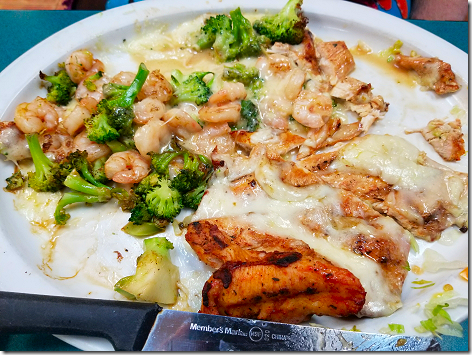 I of course got my usual Beef Fajita Taco Salad.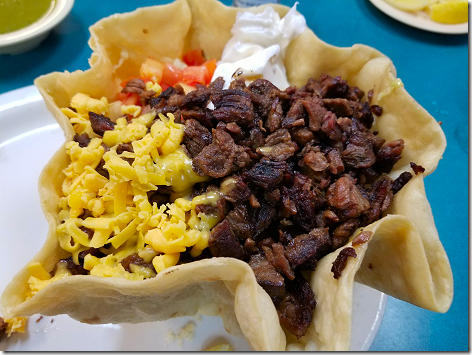 For some reason though they look at me funny since I don't eat the taco shell, jus the good stuff inside. I think the shell has about as many calories in it as all the goodies inside.
Then after dinner we drove over to Nassau Bay to check in on a friend of ours who was having printer problems. And of course as it often happens, it all worked fine while I was there.
This has happened often enough over the years that I've often thought about having some of those life-size cut-outs made of me, glaring. Then I can rent them out to clients to stand next to their computer so I can intimidate it into correct operation.
Three times in the last few weeks I've had client's called me with login problems. And in two of the three cases it was because they had accidentally pressed the Cap Lock key without realizing it. So they were typing in their password incorrectly without knowing it.
This is why I really don't like password fields that don't allow you to either show the password, or at least have the Eyeball in the field so you can double-check it.
In the third case they had a flakey key on their keyboard which they didn't notice. If you ever suddenly have a problem logging into something, go to Notepad or some other text editor to be sure that what you think you're typing is what you're actually typing.
---
January 5, 2021
Back In The Groove . . .
Although we had a great time this past weekend, it was great to be back home and back in the groove.
Our new (to us) Jeep Liberty performed flawlessly, with the only problem is the missing Cruise Control. There isn't one.
Apparently for some reason, a lot of Jeep Liberty's are ordered without Cruise Control. Some many in fact that there are aftermarket kits available to retrofit it, kits that look just like the factory version. So I'm looking into that.
One reason is to help keep my speed down. When we were coming back down US290 where the speed limit is 75mph, that's when I really missed it. I would have just set it for 79 or so, and cruised along.
Otherwise you find yourself pacing a car out in front of you, holding a safe distance behind. But here in Texas that can be a little dicey. At one point I had been following a big red diesel dually pickup for about 20 miles, when I looked down and found I was doing 91mph!
I really need a Cruise Control!
I've had several purchase inquiries about the Wind Chimes that our son Chris makes, both the smaller one he made for Jan,
or the much bigger one he made for himself.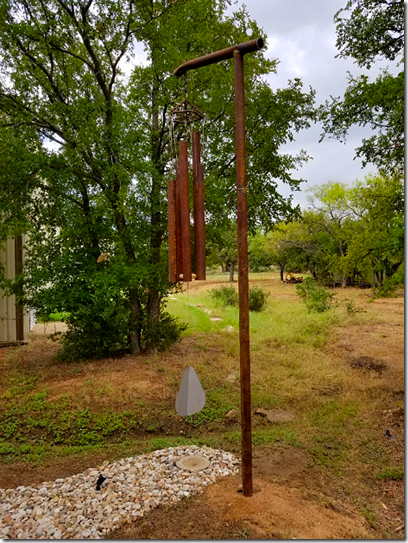 This one gongs like Big Ben.
Jan and I headed out this afternoon with our first stop at the Three Acres Food Truck Park, and the New England Lobster Truck, for Clam Chowder, Deep Fried Nutella Sandwiches (they were out of the PB&J's), and an order of Fried Mushrooms. Delicious as always.
Then it was on up to the office to pickup some Amazon orders that came, and then on over to WalMart for a few things, including a couple of these nice Adirondack chairs to put out on our patio to listen to Jan's new Wind Chimes.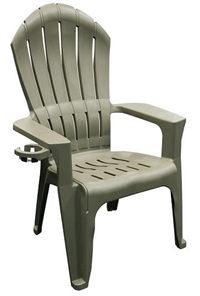 Really nice chairs, and only $30. Very nice.