Just Calm Down . . .
Lunch today was at Floyd's Cajun Seafood up in Webster, another of those places where we used to eat all the time, but it's somehow fallen off our list. In fact the last time we ate there was last March.
But it was as good as always.
Jan started with a Side Salad,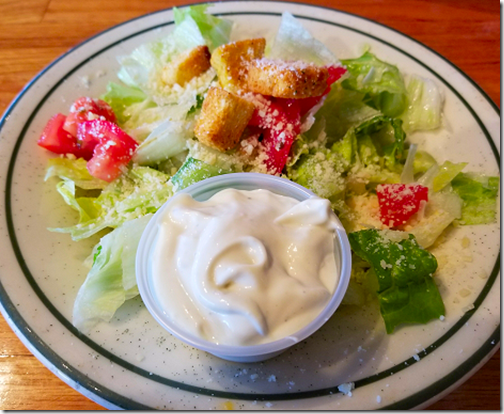 while I led off with a bowl of their Shrimp Gumbo.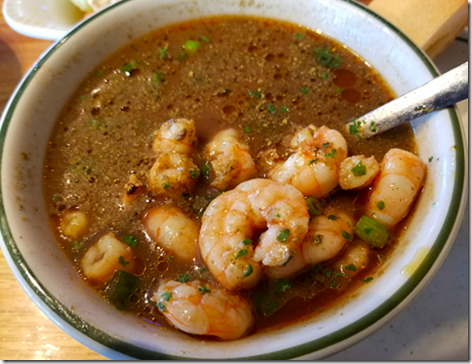 Just chock full of Shrimp.
Then Jan segued on to the Grilled Catfish with Grilled Veggies.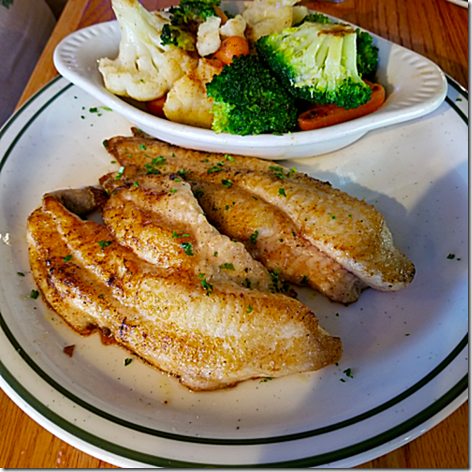 while I actually had a Wedge Salad for my meal.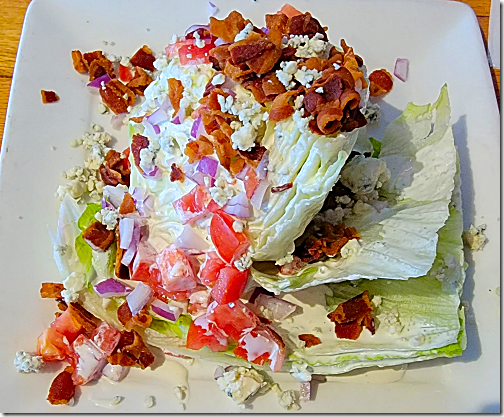 More like half a head than just a wedge. But plenty of bacon and Bleu Cheese, as well as the other goodies.
All delicious!
Moving on, we decided to save our Costco visit until this weekend, so next up was a stop at the office before heading back down to our area for a Wal-Mart stop before heading home about 4pm.
Another nice day.
Had something strange happen while we were eating at Kelley's Country Cookin' last week. While I was eating, my phone was sitting on the table, and I had not touched it for a few minutes. Then suddenly my phone lit up with a flashing red screen and a siren sound, showing that it was now dialing 911.
I shut it down as soon as I could, hoping that I had gotten to it before it actually dialed. But no such luck.
About 15 seconds later I got a call back from Emergency Services wanting to know if everything was all right. I told her what had happened and that my phone seemed to have done it all on its own, and I thought I had stopped it in time.
She then got a little fussy about calls like this, saying that I should have called them to let them know that it was a mistake, because they got too many calls like this that they didn't have time for.
OK, wait.
She wanted me to call 911 to tell them that my call, which I was hoping hadn't gone through, was just a mistake so I wouldn't be wasting their time with non-emergency calls.
Huh?
Now I knew that I had the Automatic SOS featured turned off on my phone, and that anyway, it normally took 5 presses of the power button to activate it. Then after 60 seconds it would automatically call. And I knew I had not pressed the Power button 5 times.
But when I got home I found that when I recently upgraded my phone to Android 13, that it magically turned the SOS feature back on, AND that it now only takes pressing the Power button 3 times to activate it.
Well, thanks for letting me know.
---
Thought For The Day:
NEVER in the history of calming down has anyone ever calmed down by being told to calm down.
---
January 26, 2011
Tea Rooms and Cinnamon Buns . . .
14 Days and Counting . . .
We had another appointment this morning at 10:30 so the doctor could go over some test results. So we headed out about 9:45.
Thinks went quickly, so by 11 we were having lunch at the Texas Tea Room. And as usual, it was really good. They make a great sandwich.
Our next stop was one of our storerooms. This one contains my mother's furniture and I'm hoping we can get it emptied before we leave in two weeks.
Then it was on to a client's office for a few minutes, followed by the bank ATM drive-thru.
Next, after a quick phone call, we headed over to a possible new client's office in the Ship Channel area. They setting up a new office and want someone to wire up it up for Internet and phone service. They're interested in possibly using VOIP (Voice Over Internet Protocol) for their phone system, which should be much cheaper, considering what a 4 lines from AT&T would cost every month, not even considering the phones themselves. We'll see how it works out.
We got home about 2pm and were in for the evening. The weather was nice enough to actually get some things done outside for a change.
We topped off the evening with hot coffee and the last of our Buc-ee's muffins.
That was about it for today.
---
January 26, 2012
Monuments and Battleships . . .
Today started with a trip up to the Houston Ship Channel for lunch at Monument Inn. Located right on the Channel, where, along with really great seafood, you get a fascinating view of the large barges and ships coming up from Galveston Bay to the Port of Houston.
We were meeting Rudy Legett and his wife Caroline there for lunch. Rudy is an Aqua Hot Repair Technician, and one of the few that will come to your coach, rather than you having to take your coach to them.
We had a great time getting to know Rudy and Caroline, and hope to run into them on the road again soon.
Leaving Monument Inn, we stopped off right down the road to get some photos of the San Jacinto Monument, where Sam Houston surprised Santa Anna and his troops, and defeated the 1400 main force with only 900 Texans. Over 600 Mexicans were killed, and more than 700 were captured. Meanwhile, only 9 Texans were killed.
Across the road from the Monument, lies the Battleship Texas, the only remaining dreadnaught battleship, and one of the few that served in both WWI and WWII.
The USS Texas fought at the D-Day Landing in Europe, and the Battles of Iwo Jima and Okinawa in the Pacific, and after being decommissioned in 1948, became the first US battleship to become a permanent museum.
Coming back to the RV park, I dropped Jan off and headed back into Clear Lake to work with a couple of clients.
Finally getting home about 5 pm, I napped for about an hour, before Jan and I drove over to Dickinson to have a late dinner at Monterey's Little Mexico.
Tomorrow we're going to drive down to Galveston, and then tomorrow night we're having dinner at Floyd's Cajun Seafood with Brandi, Lowell, and Landon.
---
January 26, 2013
Jasper's & More . . .
After a nice, quiet morning with our coffee, a little before 3 Jan and I headed up to Brandi and Lowell's to meet up for a 50 mile drive up to the Woodlands area to have dinner at one of Lowell's favorite places, Jasper's – The Woodlands.
Jasper's is the brainchild of Kent Rathburn, an award-winning chef, with 4 other highly-regarded restaurants in Texas. He trained in Paris at the famous Le Cordon Bleu Institute. But even more important to our tastes, in 2008 he beat out famed chef Bobby Flay to take the Iron Chef America crown.
We started off with a really delicious Shiner Bock Beer Cheese Soup, maybe the best soup I've ever eaten.
And yes, that's popcorn in the soup, and it adds a nice crunchy texture to the dish. A novel touch.
For our entrées Brandi and I had their award-winning Ribs, Jan had the Crab Cakes, and Lowell had the Prime Rib. And we all agreed how good it was
For a light dessert, we tried out their "mini's", small, about the size of a shot glass, but just the right amount.
Jan and I split the Caramel Bread Pudding with Vanilla Ice Cream. Brandi also had the Bread Pudding, while Lowell had the Butterfinger Crème Brûlée.
The perfect end to a fantastic meal.
After dinner we had planned to take in a nearby movie, but realized that we were so full that we'd probably all just fall asleep.
So instead we just walked around the Market Street area and took in the many high-end shops and stores. Jan and Brandi made a stop at the Baby Gap store for some new jammies.
Jan's sister, Debbie, sent over these shots of her granddaughters (our great-nieces). Below is Ella, new addition, Annisten, and Avery Jane. Really cute kids.
And this little beauty is Gwen.
---
January 26, 2014
Do Big Cats Dream of Electric Dogs?
We got in a 1 mile walk this morning, and will probably do another one tomorrow morning since the weather starts to get cold and crappy from Monday night on.
Since it was not too windy, we sat outside for a while with our coffee and finished up the last of the Buc-ee's Cranberry Nut muffins that we got a few days ago.
We left Mister outside on his leash with the door open most of the afternoon as we often do when the weather is nice. Later I heard dogs barking outside and looked out the door. I saw Mister in his usual place out in the sun, which puts him pretty much at the end of his leash. The two dogs, one, a young yellow lab about 40#, and the other a small poodle about 15#, were about 10 feet away barking at Mister, who for his part, just lay there watching them.
What happened next was really amazing. And sneaky.
Mister had a strategy. He turned his back on the dogs and slowly walked back toward the coach, making about 8 feet of slack in his leash. Then he turned back around and crouched down, facing the dogs, and I then realized what he was doing.
He had a plan. He was luring them closer!
And they fell for it. They both came nearer, ending up a couple of feet inside where his leash reached. And he knew it.
At this point his rear end came up and started swaying back and forth, you know, just like you see on NatGeo right before the cougar pounces on the unwary antelope. But not wanting dog parts splattered all over the truck and the rig, I yelled at the dogs a couple of times and they ran off.
After a few seconds, Mister turned around and gave me a really dirty look, like I was spoiling his fun. Then he stalked back over to his spot in the sun, curled up and went back to sleep, probably dreaming of dogs that got away.
---
Our son-in-law Lowell sent over a photo of Landon wearing the glow-in-the-dark Thomas the Tank Engine shirt I bought him at the train show a few weeks ago.
Now all I need is a night shot.
Jan and I headed out a little before 4 PM so she could get the haircut she missed yesterday. And even on Sunday she had almost an hour wait before she got started. But I was just fine waiting in the truck since I had my Kindle Paperwhite to keep me occupied.
For my part, I was happy to see her walk out of the hair place with a smile on her face. Sometimes she comes out with a scowl because she's not happy with her cut, and I hear about it. A lot.
Jan had said she wanted breakfast for supper tonight so after she was finished with her hair, we drove across the large parking lot to the nearby IHOP, the same one we tried to eat at with our friend's Bob and Maria last Sunday morning. Then there was a 30+ minute wait so we ended up going to the breakfast buffet down on SH146 at La Brisa.
But tonight there was only a couple of other diners when we got there, though after a while the place started to fill up. I did note to Jan that I thought we were the only couple in there under the ago of 70. If some of the others weren't over 70, then they had led a really hard life.
Tomorrow it's back to more client stuff. Busy, busy, busy.
---
January 26, 2015
Three in One Day . . .
After coffee and muffins this morning I got on the phone with Thousand Trails to change our reservations around. Originally we were staying here at Lake Conroe until Feb. 4th and then over to Colorado River for two weeks until Feb. 18th. Then it would be back to Lake Conroe until the 1st of March when we'll head for Tucson and the Escapade.
But now we'll flip our schedule around and go back to Colorado River a week early, on the 28th. Then Jan and I will come back to Lake Conroe for two weeks. Then it's back to Columbus until the 1st of March.
This puts us 120 miles closer to Tucson when we finally head that way. And of course, it's still possible that we may get some time down at Galveston Bay RV Resort, but that seems less likely every day.
* * * * *
Last Wednesday, I pulled out my Sears Air Compressor to top off one of my rig tires before we headed over here to Lake Conroe, and quickly noticed it was taking a long time. In fact it wasn't making a lot of headway at all. Looking closer I found that the hose coming out of the compressor was pulled loose and leaking air. I was able to get my tire taken care of, but wanted to replace the hose as quick as possible.
I found one at Wal-Mart the other day, so I pulled out the compressor again today and took care of the problem. As it turns out the new hose is a lot longer so I won't have to move the compressor around as much.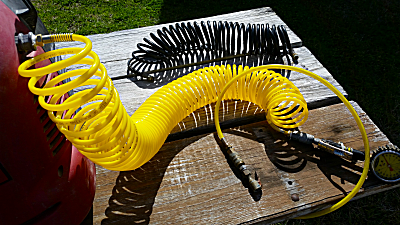 The old hose is the black one at the top of the photo.
Next up, I got back to work on the shower. I was finally able to get the retaining clip to seat correctly, which let me completely reassemble the handle. So now everything works like it's supposed to, and, more importantly, so far it looks like the leakage problem is also fixed.
When we visited Brandi and Lowell yesterday and got our mail, one of the things that came in was a new spray nozzle for our Moen Kitchen Sink faucet. For once this was a simple repair. Just unscrew the old nozzle and screw on the new one. Leak fixed.
So that's three repairs in one day. I wish every day was that productive.
---
January 26, 2016
Nick and The Colonel . . .
Although it didn't rain last night, or this morning either, as I suspected we still didn't walk this morning. Seems like Jan's under the weather feeling yesterday was the beginning of a mini-migraine that was still lingering this morning. Luckily it hasn't progressed into a full-blown one. So far.
Tomorrow's supposed to be nice, so we'll see how Jan feels then.
Neither of us did much today, just played around and goofed off, which was nice.
Things seem to go in cycles on Facebook, and the latest to circle back around is the copycat recipes for 'authentic' Kentucky Fried Chicken. I've seen 3 or 4 versions in the last few weeks, and although they all profess to be the 'real' thing, they're all a little different. But the thing none of them get right is the way it's fried.
Despite the name, Kentucky Fried Chicken is not just fried, it's pressure-fried in large industrial pressure cookers. The cookers held three chickens, cut into nine pieces each, and took about 10 minutes for each batch.
Back in the mid-60's I worked for one of the first KFC's that opened in the north Alabama, and even got to meet the Colonel who was still coming around to every new store that opened, even though he had already sold the chain.
Strangely enough, the thing he was most concerned with was the quality of the gravy. Made to go on the Mashed Potatoes, and for dipping your rolls in, we made it from scratch using the pan drippings found on the bottom of the chicken storage trays. And if you didn't get the recipe right, you ended up with the dreaded 'library paste'.
And Colonel Sanders hated 'library paste', and was known to literally pitch a fit, throwing pans around the kitchen. He also wanted the gravy made fresh every day, and not stored in the fridge overnight.
Luckily, the day he visited, unannounced, I had made the gravy fresh that morning, and had done a good job, at least according to him. He dipped a roll in the gravy pan, stuffed it in his mouth, chewed for a moment, then smacked his lips and gave me a big smile.
Whew!
As far as the '11 Different Herbs and Spices', I don't know if they are still using them, I've heard they're not, but we certainly used them back then.
We started out with a 50# bag of flour, a couple of pounds of salt, and a couple of cups of black pepper. This was all mixed up in a large plastic garbage can with a wooden boat paddle. Then we tore open an aluminum foil packet that came directly from KFC. When we dumped it in the flour mixture and stirred it up, it smelled like a spice shop had exploded, scenting up the entire kitchen.
Wrapping up, here's a little known KFC fact. Dave Thomas was one of the first six KFC franchisees in 1956. He developed the large rotating red bucket sign, and helped set up the take-out concept that dominated the KFC store concept for a couple of decades.
Then in 1968, he sold out all his KFC stores, and the next year founded Wendy's Hamburgers.
---
January 26, 2017
Turn, Turn, Turn . . .
Well, we got our surprise turn-around to night shift today. After I got off today at 5pm, I come back in tomorrow evening at 5:30pm
But it's only me that's turning around. Jan is off until she comes back in for two days, Tuesday and Wednesday, only still on day shift. After that we don't know for her.
We were hoping to both be able to work until we leave in a few weeks, but right now that's up in the air.
We'll see how it goes. It seems things change minute by minute.
I had only 5 vehicles into the pad today, but that's all going to change in the next couple of days when the frack crew starts moving in. Then it's going to get really busy.
After last night's Whataburger visit, tonight we decided to again visit La Bella Tavola for dinner. This is our 3rd visit in the week we're been here because it's that good.
Last time we had pizza, but this time we went back for the pasta dishes. Jan once again got her favorite Chicken Alfredo.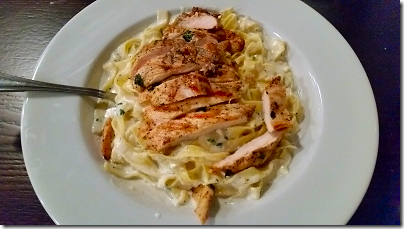 While I had my new favorite dish for the first time, Chicken Florentine.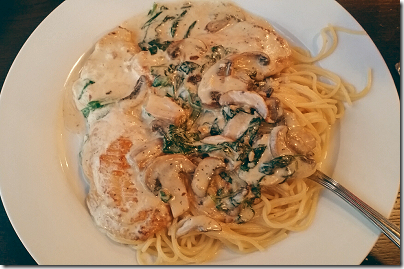 It's two chicken breasts sautéed with fresh mushrooms, fresh garlic, fresh spinach in a sherry wine cream sauce over spaghetti. Probably the best pasta dish I've ever had. So it's my new go-to dish there.
Unless we have pizza.
We've been eating out more than usual just because of our limited time after working a 12 hour shift. And Jan (or me) just doesn't feel like actually fixing anything. So we either eat out or we have leftovers from eating out.
We'll both get another meal out of tonight's dishes, and we got 3 leftover meals from the pizza. In fact the only place we don't have leftovers from is Whataburger.
But that's because it's Whataburger.
---
January 26, 2018
Just in Time . . .
I mentioned the other day about my time crunch getting a mail-out ad card designed and the mailing list culled and cleaned up and off to the direct mail company by 1pm today.
It didn't help that I was having to dodge the workmen putting up the new sheetrock ceiling throughout the office. Everything needed to be uploaded by 1 so that it could be printed, addressed, and in the mail by Tuesday morning. And I did it just in time with 5 minutes to spare.
Here's the ad card I came up with:
FRONT: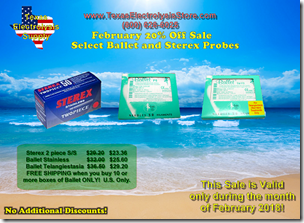 BACK: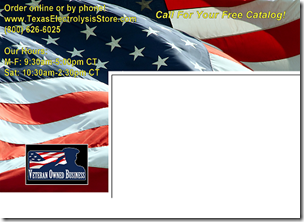 I could have probably done a little better without the time-crunch, but the client was really happy and that's what matters.
Up until recently there were two blogs I read every day.
The other two were Dr. Jerry Pournelle's Chaos Manor and Robert Bruce Thompson's Daynotes Journal.
If most people have heard of Jerry Pournelle, it's as a best-selling science fiction writer, authoring dozens of books over the years. But most people don't know about his involvement in the very beginnings of the home computer revolution, and in the nation's space program.
He is credited with originating the very first blog, before the term (weB LOG) was even created. He called it a 'Daybook' and it ran on BIX (Byte Information Exchange) and GEnie networks starting in the 1985 timeframe, almost 10 years before the World Wide Web got cranked up. However, he never called his Daybook a blog, since he never liked the term.
The other thing he was first in, was submitting the first major published book written on a home computer word processor . . . in 1977.
He started working in the aerospace industry with Boeing in the late 1950's, working on the Mercury, Gemini, and Apollo programs. He also was a consultant on the space program to President George H.W. Bush
Unfortunately Dr. Pournelle died at the age of 84 in September 2017. So now I was down to one.
Robert Bruce Thompson started out in 1980's writing top-selling computer books, like Building The Perfect PC, PC Hardware in a Nutshell, PC Hardware Buyer's Guide. etc. His prolific output lasted into the early 2000's when the market for computer books faded.
But Robert was a chemist by background and in 2009, lamenting the death of the home chemistry set, started producing a line of Chemistry, Honors Chemistry, Biology, and Forensic Lab Kits specifically aimed at homeschoolers, but usable by anyone who was interested.
The kits allow students to cover every thing normally available in the public school course, but on their kitchen counter.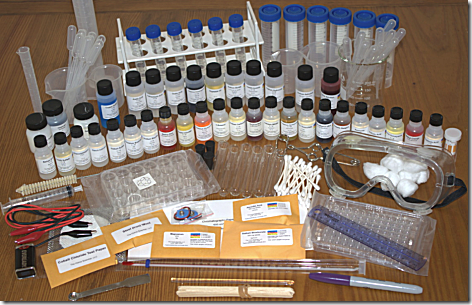 And along with the kits, he also wrote the almost 400 page manuals that went with them.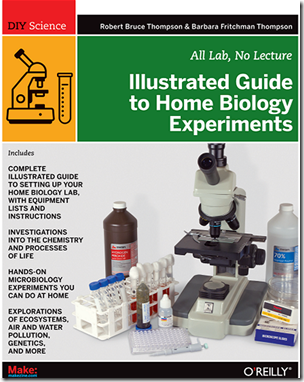 In addition to all this, he was also into the prepping scene and regularly talked about long-term food storage, and being prepared for any disaster, natural or man-made, that might interrupt our way of life.
A real Renaissance man.
At 64 he seemed to be in good health, but about six weeks ago he caught a cold he couldn't seem to shake and went to the doctor for the cough. The doctor gave him decongestants and other things and sent him home.
A week later he went to the ER because he was having trouble breathing. He was immediately hospitalized with congestive heart failure. And he never came out.
Although the blog posts from his wife and friends put a good face on how well he was doing, and how much he was improving, reading between the lines dispelled this.
He died six days ago on January 20th.
I'm running out of blogs.
---
January 26, 2019
Jan's Hooked . . .
We both are.
After a nice, quiet morning, Jan and I headed out about 12:30, on our way up to Webster to have lunch/breakfast at The Egg and I. Breakfast is pretty much our favorite meal, so we regularly have breakfast for breakfast, lunch, and dinner.
We both got our usual, with Jan's Avocado Toast and a side of Dressed Greens, and my Eggs, Bacon, Fruit, and an English Muffin. And of course their great Hazelnut coffee.
Delicious as usual.
Then it was on to the nearby HEB for some more of the Lola Savannah Texas Pecan coffee, both regular and Vanilla Cinnamon.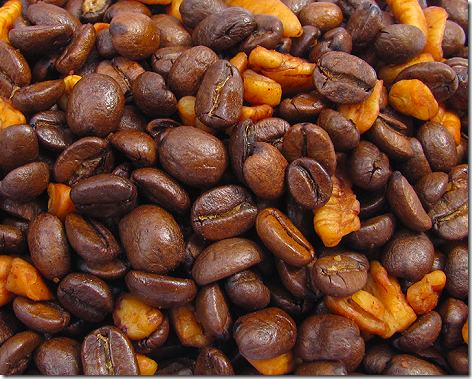 It's only sold as whole beans, so I have to grind it there. You can see that it's just full off pecan pieces. And it smells so good after it's ground that even the checkout girl commented on it.
Finishing up, besides being the love of my life, Jan has a couple of other nice attributes. She likes airplanes/airshows and she like science fiction. So now we're both hooked on two new Sci-Fi shows – Project Blue Book and Roswell, New Mexico.
We've watched the first couple of episodes of both and they're really good. Project Blue Book is a 10 episode limited series detailing Dr. J. Allen Hynek's work on the Project for the Air Force, starting back in the early 50's. He started out being a skeptic and evolved into a believer.
There are 3 episodes of Blue Book so far, and if you want to catch up you can stream them on History.com.
Roswell, New Mexico is a sequel to Roswell, a TV series that aired for 3 seasons starting in 1999. And Roswell was based on a series of books called Roswell High.
This new series picks up with the same characters 10 years after the original, but so far, you don't seem to have had watched the original to know what's going on.
Check'em out.
---
January 26, 2020
Well, It Was A Nice Drive, Anyway . . .
We got up to the Buc-ee's in Katy about 1pm and a few minutes later Brandi, Lowell, and Landon showed up to take us over to Little V's Vietnamese Bistro for lunch. We were all looking forward to it since we hadn't been there for about a year. Brandi and Lowell used to live about 5 minutes from Little V's so we ate there often, but since they moved a good bit further away, not so much.
Both Jan and I tried new dishes, with Jan getting the Chicken Skewers,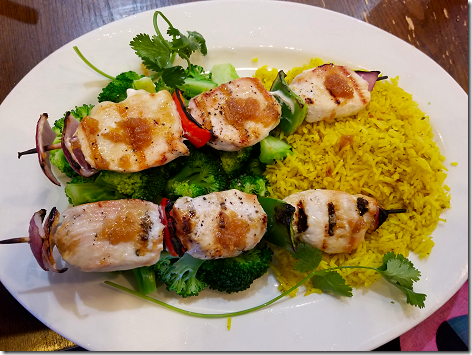 while I got the Shaking Beef Plate.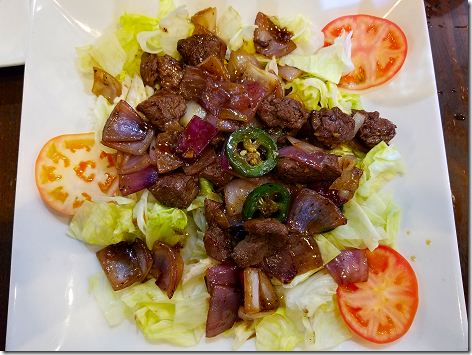 I don't know what they do to make these chunks of beef so tender, but they literally melt in your mouth. Delicious.
Finally we headed home, getting parked in our site about 5pm
Site Sweet Site.
---
January 26, 2021
Aliens and Indians . . .
Our day consisted of lunch of Baby Back Ribs at Spring Creek BBQ. and some time consolidating some things at our storeroom.
Then it was a Cowboy Coffee stop on the way home for Blended Sugar-Free Pumpkin Praline coffees with Almond Milk. And when we got home we sat outside and listened to Jan's Christmas.
Very nice day!
Jan and I are looking forward to a new show that starts tomorrow on SyFy (stupid name) called Resident Alien.
Starting Alan Tudyk of Firefly fame, it's about an alien who crash lands near a remote Colorado mountain town. His mission is to scout the earth for an alien conquest, but disguised as a human, he ends up as the town doctor and helps to solve a murder. Only a 9 year old boy can see him for what he really is.
It's billed as a Comedy-Drama, though it starts out a little darker it seems.
Recently I came across this neat photo showing a scene from Arizona Now and Then.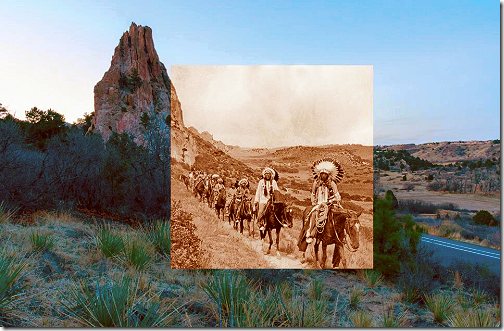 Even the path is still there. Amazing.