Nothing Much . . .
Happened Today, Either.
Just like yesterday.
But 2023 is off to a good start. I wrote my first (and only) check of the month today (for our park rent) and I remembered to write 2023 and not 2022.
And I forgot to post this photo of my beautiful Sweetie from our New Year's Eve dinner at Saltgrass Steakhouse.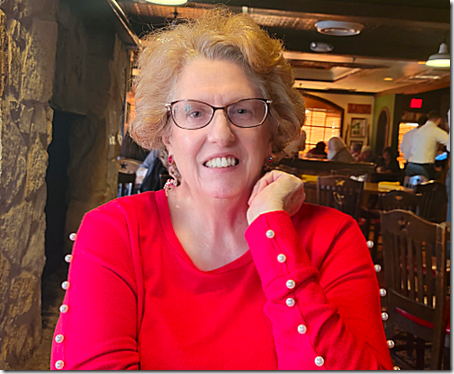 Even more beautiful than when I married her 55+ years ago.
Lunch today was at Los Ramirez Mexican once again. We were surprised to see how busy it was, forgetting that today was actually a holiday, probably busier than we've ever seen them.
But it was just as delicious as always.
Then it was on over to HEB for a few things before heading home.
And that was about it.
Like I said, Not much.
---
Thought for the Day:
From Scott Adams of Dilbert fame.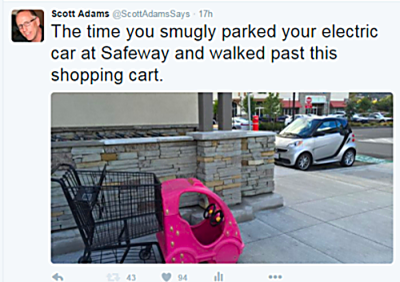 ---
January 2, 2011
Over 56,000 . . . WOW!
We left the rig about 10:30 this morning heading up to League City for the Breakfast Buffet at La Brisa. But not the La Brisa we usually go to on SH 146, this time we went to the one on I-45 in League City.
And their buffet was even better than the other location, I think mainly because the restaurant is bigger and they have more room for more stuff.
Like made-to-order omelets, eggs, Belgian Waffles, French Toast, and pancakes, with bacon, sausage, tamales, chicken & beef fajitas, carne Guisada, rice, refried beans, biscuits, gravy, fresh fruit, orange juice, milk, coffee, and Mexican hot chocolate. Delicious.
We thought we were going to have the whole family, but Brandi, Lowell, and Landon stayed home to keep working on putting down the new laminate flooring in the master bedroom.
Leaving the restaurant we headed back to the rig, stopping off for gas on the way. It was good to see the price was down a little since last week…from $2.89 to $2.77.
And, of course, after filling up at Kroger's, we passed a Buc-ee's selling at $2.69.
Of course.
Getting back home we turned right around and headed out to a special Sunday afternoon concert at the Alvin Opry featuring Tony Booth.
Tony is a local country/western singer who's been recording hits since the 70's, and touring with the likes of Buck Owens and Gene Watson.
He's a four-time Academy of Country Music award winner, and has had numerous albums and records on the charts. And on top of that, he's a really nice guy. You can find out even more about Tony here. He's even got his own Wikipedia page.
After a great concert we met up with fellow concert-goer (and Tony Booth groupie) Maria and her husband Bob at the IHOP in Kemah for dinner.
We got back to the rig a little before 8pm just in time for a new episode of Desperate Housewives, one of Jan's favorite shows.
On a final note, I want to thank all of our many loyal readers for giving this blog a great year.
I just received the year-end summary from WordPress with our stats.
We had over 56,000 viewers this year, a new record, and a one-time high page view of 1,864. And that was for this post in August.
I guess with sex and bathroom humor in a single post you can't go wrong.
---
January 2, 2012
When The Moon Hits Your Eye . . .
I've been reading recently about Verizon upgrading their 4G network in the Houston area and all I can say is . . . WOW!
First off, we now have 4G here at the RV park. It was only 3G when we got here, but was on Verizon's website as "Coming Soon". Guess they were right.
But the speeds are something else. Look at that first line of SpeedTest.net results.
Yes, that says 27 Mbps download speed. That's about 20 times what I usually get with my Verizon Air card. Later in the afternoon it ranged between 7 and 8 Mbps, still very, very good.
After a nice slow morning I went in my client's office to work on configuring one of the new computers I bought for him the other day. It took about 3 hours but I got all the software installed and updates.
Later this week I'll move the data from the old computer to the new one and put it online.
. . . Like A Big Pizza Pie –
Tonight we decide to check out a new pizza place that I read about in the newspaper called Russo's New York Pizzeria.
The pizza was good and so was the bowl of Tomato Basil Bisque I had. But the real standout was their large pizza. Most pizza place have a large pizza that's 16 or even 18 inches, but this one is 28 inches in diameter!
The box it comes in looks like a freakin' coffee table. It almost takes two people to carry it.
We got the medium which is 16 inches, and could only eat half of it. But that just makes for great leftovers.
Tomorrow I'm going to see a new client, a referral from one of my other clients. Over the years that's where most of my business has come from, so I'm always glad to hear from someone new.
---
January 2, 2013
More of the Same . . .
Today was the usual coffee, clients, and dinner.
But at least the dinner was a little different. Jan and I left out for Fuddrucker's about 6pm to meet Chris, Linda, Piper, and Piper's boyfriend Casey for dinner.
Fuddrucker's is one of our two favorite national burger places, along with Five Guys, of course. The last time we ate at one was last October in Hershey, PA. In fact we ate there twice in two weeks we liked it so much.
One reason I really like them is that they have an 8 oz. Ribeye Steak Sandwich. Not ground, but an actual piece of Ribeye steak. Really, really good.
But in addition to the good food, we had a really great time, talking and laughing. In fact we didn't leave until about 8pm.
---
January 2, 2014
Hi, Ho, Hi, Ho . . .
It's off to work I go, again.
About 10:30 AM I headed over to the Alvin area to deliver the new Dell laptop and HP printer to my client.
After getting everything set up, I finished the install of the UPS software and got it verified online. Next I got the new Zebra Label printer set up as well as the new HP 2542 Deskjet.
The Zebra printer is used to print the actual shipping labels that go on the packages, and the HP Deskjet prints out the invoices and reports.
After everything was configured and working, I then got the Dell laptop set up on their Wi-Fi network, and the HP talking wirelessly to the computer. Unfortunately the Zebra is wired only.
It's always better to get everything working first, before trying to configure the Wi-Fi part of things.
Last up, I tried to move the data from the old UPS machine to the new setup. But quickly found a problem. The old program exports the data in a form that the new program won't accept. That's the problem trying to upgrade from the 2009 UPS software to the 2014 version. Things have changed too much in the meantime.
Since it was getting late, I'll have to come back tomorrow and get on the phone with UPS Tech Support to see if there's a way to convert the data and move it over.
Leaving the client's, I stopped by the Doctor's office to get some info on Jan's prescriptions from this past Tuesday. I'm beginning to think that the pharmacy may have given her the wrong pills which resulted in the $245 charge.
But as it turned out, their computer system was down and they won't be able to give me a copy until tomorrow.
Next it was on to yesterday's client to double-check that their new UPS software was working OK. While I was there we talked about installing a new printer, which I will probably do tomorrow.
Finally about 4:30 I headed back to the rig, getting home around 5 PM. Later, Jan and I headed back into Clear Lake to meet our friend's Bob, Maria, and Connie at King Food for dinner.
We've known Bob and Maria since the mid 80's and Connie since the late 90's, and always try to get together several times while we're back in the area.
After a great meal, and two hours of catching up, and Jan trying to stay awake, we said our goodbyes and drove over to Chris' to pick up our mail.
And Amazon has done it again.
Originally my new Kindle Paperwhite was supposed to be here the week of the 6th to 10th of January. Then it was Saturday, the 4th.
Yesterday they said it had shipped and would be here Friday the 3rd. But as it turns out, they shipped it Next Day, and it came today, the 2nd.
Great!
On another note, I found myself following this minivan this morning and got this photo.
Either the 19 Kids and Counting family is in town, or this the modern version of a clown car.
I count Daddy and Mommy, 3 girls, 4 boys, 2 cats, and 5 dogs. Looks like each kid has their own pet. I kind of wanted to follow them to see how many get out.
Finally, I've post an new entry on how the dastardly Wal-Mart corporation is once again cheating consumers. This time by giving too much of something, or maybe not enough of something. I'm not quite sure which.
And I don't really think I want to know.
You can check it out here at What Where They Thinking.
---
January 2, 2015
All Doesn't Necessarily Mean All . . .
Another cold, rainy day here at the Lake Conroe Thousand Trails with no nice weather forecast until Sunday. Nice as far as no rain, but still a low of 29 degrees Sunday night.
I guess you can't have everything.
Later in the morning I called our friend Garland to set up our dinner plans tonight. Looks like it's another visit to El Bosque Mexican.
Mmmm, Good. Looking forward to it.
Next up, I called the Danco Co. up in Irving to find out why my Universal Kitchen Faucet Hose won't fit my Moen faucet, even though the package says that it Fits All Faucet Brands.
The Danco Tech Support guy acknowledged that the hose would not fit my faucet, and that the Fits All Faucet Brands statement didn't really mean that it fit ALL Brands, just a lot of them. Ironically the picture of the faucet on the box is identical to my Moen faucet.
The Tech Support guy suggested that I buy a Danco replacement faucet nozzle to go with my Danco hose. That's another $25 to go with the $25 I've already spent, but a new hose alone from Moen is $65 and would take about two weeks to get here. So I guess I'll pick up a new faucet tomorrow from Lowe's.
Since I still had a few hours before our dinner get-together, I decided to go ahead and install my Power Converter in the compartment under the bed. My main goal was to just get it up and running inside the coach, instead of out in the battery bay where it resides now.
It took a while to get the connections set up, but within a short time I had it wired up and working fine.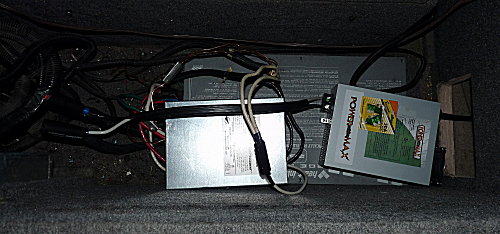 That's the new transfer switch on the left and the new power converter on the right. This is so that the cooling fan on the power converter is up against the vent on the side of the compartment. It's amazing how much difference in the size of these units 16 years makes.
I haven't fastened them down yet and won't until I decide what I'm going to do about the inverter(s). When I do that, I'll reroute the wires and lace them up neatly.
We don't boondock very much where we would need a big hunking inverter. Our old one that I just ripped out was a 2500W modified sine wave unit. I've thought about replacing it with a 2000W pure sine wave unit, or maybe a 2000W and a 1000W unit.
The microwave is the only thing we have that would need the 2000W unit, and that's for short periods. Next would be the toaster oven, The only other things we would run are the TV/DVR and the Computer/LCD Monitor, all of which will run on one 20 amp outlet.
I'm going to have to think on it some more.
Garland and Valencia picked us up at 5:00 and we headed over to the new location of El Bosque. The food was delicious, and unlike our last visit a month or so ago after they just opened, the service was really good too.
We really enjoyed getting together with Garland and Valencia and hope we can do it again soon. Unfortunately it will probably be a while, since they're heading out tomorrow. But hopefully it won't be too long.
---
January 2, 2016
Another Day . . . Another Repair
Well, our scheduled walk with Garland and Valencia this morning was called on account of rain . . . that never materialized.
The Weather Channel had predicted rain around noon, and the Rainy Days weather radar app show a large rain storm moving in from the southwest. But after we cancelled our walk, it never showed up. It just split apart and went around us.
But as it turned out, it worked out well for Paula and Rob Kingsbury. They're parked two spaces down from us and we met them a couple of days ago as we were finishing up our walk.
They were just getting set up with their new Forest River Wildwood X-Lite on their first trip out. Paula Kingsbury happened to mention that they couldn't get their water heater to work. Of course Jan volunteered, "If you don't get it fixed, let Greg know. He's good at fixing stuff."
That's my Jan!
Well, this morning Rob showed up to see if I could take a look at it. So a little later I grabbed my voltmeter and headed down there to take a look.
Turns out they have a Suburban SW6D, which is a 6 gallon Gas Only model. I did confirm that it had never worked since they picked up the camper, and didn't put out hot water, so I had to keep that in mind as I investigated the problem.
The power switch was lit, and the DSI Fault light was off, so it looked like the 12V DC power situation was probably OK and the electronic igniter was working.
I next checked continuity on the two solenoid gas valves which were OK. Then while I was looking at the manual, the unit came on, ran for about 5 minutes and then shut off.
But when they checked, there was still no hot water. So I went back to the rig to do a little Googling, which gave me a couple of more things to check. But again, no luck. The unit would come on every once in a while, but still no hot water.
Finally, as we were inside talking about other stuff, I noticed the unit come on and shut off a few minutes later. So since I was standing at the sink, I turned on the hot water and put my fingers in the stream. It came out very hot for a couple of seconds and then went lukewarm. And it kept running lukewarm for a good while, longer than I would have thought it would under the circumstances. And this started a tickle in my brain.
It reminded me of something I'd seen before, but I couldn't quite grab it. But as I stood there feeling the water stream, it finally clicked.
A few years ago, while we were staying at the Indian Lakes Thousand Trails in Batesville, IN, a couple parked next to us were having the same problem. I don't remember if their rig had been in for repairs or what, but they also only had lukewarm water.
In this case we could feel that the water heater was hot, but again, no hot water. We were all looking at the drain and bypass valves in the water bay used to winterize the rig. At some point, we reached in and turned a valve, and presto, they had hot water.
The valve we turned was the the Bypass valve, which actually connects the cold water input to the water heater and the hot water output together, 'bypassing' the water heater. So the hot water output was being diluted with the cold water, resulting in the lukewarm output.
So I started looking for the bypass valve, finally finding it behind an access panel underneath the sink. And the bypass valve was closed!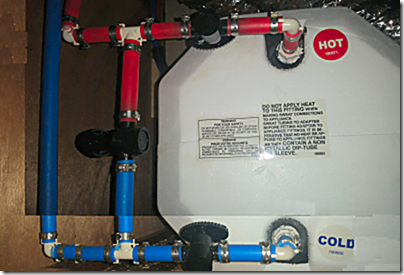 Crossing my fingers, I opened the valve and voila, they had hot water.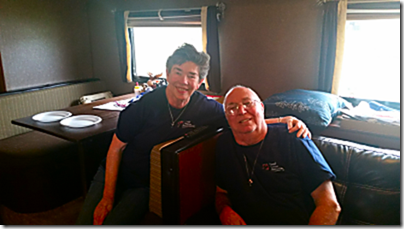 And here's the happy couple, Paula and Rob Kingsbury, excited now that they've got hot water.
Later, about 2pm, Jan and I drove over to the Kroger's in Willis to pick up a few things before we leave Lake Conroe tomorrow morning
Getting back to the rig, I replaced one of my sewer hoses because it had developed some pinhole leaks. I had ordered a new one from Amazon, one without the end connectors. So today I took the connectors off the old hose and installed them on the new one. The hoses are much cheaper this way.
I learned a while back that the easiest way to get the connectors on is to first soak the hose ends in hot water for about 30 seconds or so, and then the the connectors just slide right on. Easy Peazy!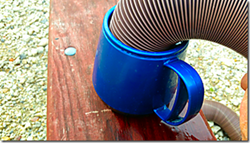 About 4pm, our friends, Garland and Valencia Scott, picked us up and we headed out for El Bosque, our favorite local Mexican place.
I had the Fajitas de la Diabla. I'm not sure what a 'She Devil' has to do with it, but with beef, chicken, and shrimp, as well as onions, mushrooms, green peppers, and jalapenos, it was really good, maybe the best fajita dish I've ever had. Really good.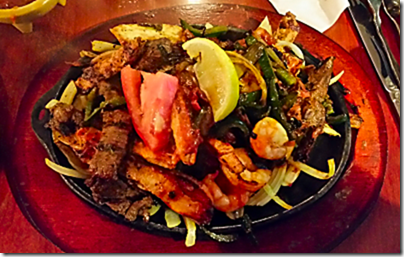 Jan had the Stuffed Avocado, which she said was not quite as good as the same dish at the Los Cabos Mexican Restaurant over in Columbus, but really good just the same.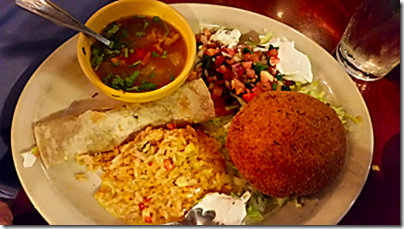 We had our usual great time talking with Garland and Valencia. Valencia worked for Chevron for many years, and Garland spent 31 years with the Houston Police Department. So we really enjoyed listening to some of Garland's many stories about the police department.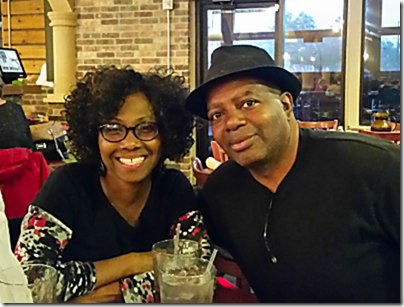 Hopefully we'll be able to get together again when we get back here in a couple of weeks.
Getting back to the rig, I plugged in our engine block heater, and then disconnected and stowed away the water and sewer hoses.
I wanted to get as much done as possible before tomorrow morning because we're going to have breakfast at Cracker Barrel before we head out for Colorado River Thousand Trails later in the morning.
---
January 2, 2017
Jan Got A Gate . . .
Jan Got A Gate. Though it looks like it's only for one day.
But still she's happy about it.
This morning about 7:25 Jan got a text from Todd wanting to know if she wanted a gate. So she woke me up to check it out. (I had only been asleep for about an hour and a half.) Turns out that it's for the the day shift guard on my night shift gate.
This morning when I was relieved, it was by someone I'd never met, but knew of. Then sometime later in the morning he told Todd he needed off the gate for some reason. So Todd needed someone pretty quickly.
Todd had apparently forgotten that I was already the night shift guard on this gate, but it really didn't matter. So Jan had her shower and got dressed and we out the door in about 20 min. And 15 minutes later we were leaving the HEB McD's with breakfast and a full tank of gas.
I had thought that the day guy might have gotten sick or something, but he seemed fine when we got to the gate. So who knows.
More money for us.
After dropping Jan off at the gate and getting her square away, I headed back to the rig to get some sleep. Then I relieved Jan at 5pm when I came on my shift, and then she took the truck home. Of course this means she'll have to pick me up at 5 AM tomorrow morning.
In one of his texts about this gate, Todd said we could use one of the company trucks that's left at the park just for this purpose. But I was so groggy at first that it didn't click until we were almost at the gate that she could have driven our truck out here while I followed in the company truck.
Jan was a little leery of driving out here by herself for the first time which is why I would have followed her. But either way I could have then driven the company truck out to relieve her this afternoon so she wouldn't have to pick me up at 5 AM.
I'll know better next time. Or at least be more awake, maybe.
As we left the rig, Jan had grabbed a TV dinner from the fridge to have for lunch, quick and easy with the shack's fridge and microwave. But her lunch was not to be.
When we first came in the guard shack, she put her dinner in the freezer section of the fridge, as the day guard was gathering up his stuff. But what we didn't catch was that when he got his stuff from the fridge he also took Jan's TV dinner. She was not a happy camper, or guard, around lunch time. Luckily she'd had breakfast, and had some snacks in her bag.
The day guard also brought a Winegard Satellite Dome and a DirecTV receiver with him, as well as a bunch of other stuff, so it took him awhile to pack up.
I thought I had a lot of stuff with my laptop and aircard/antenna, but I guess not.
And my aircard didn't do me much good tonight. About 8pm everything died, phone service, 3G, and 4G. Zip, Zero, Nada, Nyet. All gone.
This gate is no fun anymore. And it's still down at 11pm.
* * * * *
Under the heading of You Snooze, You Lose, when Jan got back to the rig this evening our next door neighbor came over to ask about Jan's day gate. Turns out that they didn't get up until after 8am so they missed Todd's text when he tried to give the gate to them first.
More money for us.
* * * * *
Every shack has a flyswatter as part of its equipment, as well as paper towels, Lysol wipes, Windex, garbage bags, a broom and a sponge mop. But I'm not too sure about the flyswatter.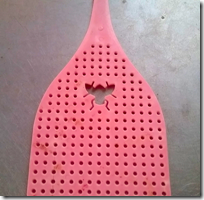 The only thing I can think of is that this is the PETA version, so as to give the flies a somewhat better chance. Kind of like catch and release when you're fishing, I guess.
Now for more of Greg's Musings – Stirring Up Trouble Since 1948.
Several readers asked me about the Ronald Reagan quote that was my Thought for the Day a few days ago. It goes like this:
"There are no easy answers, but there are simple answers." – President Ronald Reagan
They wondered what he meant by it.
He was saying that often there is a simple solution to a problem, but the solution may not be easy to implement for various reasons, maybe either political or societal.
Here's an example.
One of the prime issues of the past election was immigration – Build the Wall, Sanctuary Cities, Round'em up, etc.
And one of the main memes of this was, even if you do build the wall, how are we ever going to deport the 10 million, 12 million, 20 million, or 40 million (take your pick) illegals that are already here?
And here's the Simple Solution I came up with a few years ago.
1. Mandate the use of E-Verify for all jobs.
The E-Verify system is already in place and many companies already use it. But it's voluntary. Make it mandatory through the IRS reporting system. You would have to give the E-Verify transaction number for each employee you paid and reported wages for.
2. Then if an employer is caught hiring illegals –
a. $ 1,000 fine per illegal for the first offense.
b. $ 50,000 fine per illegal for the second offense.
c. $100,000 and 5 years in jail per illegal for the third offense.
3. Next mandate the use of E-Verify for all housing, sales and rentals.
4. Then if an seller/rentor is caught dealing with illegals –
a. $ 1,000 fine per illegal for the first offense.
b. $ 50,000 fine per illegal for the second offense.
c. $100,000 and 5 years in jail per illegal for the third offense.
Many/most rental agencies already run background/credit checks on prospective tenants. Just add E-Verify.
5. Then with nowhere to work and nowhere to live, the vast majority will leave on their own, or in other words, self-deport.
Think self-deportation won't work? It already has.
Back around 2007 or so, Arizona passed a new strict immigration law. And although much of it was later struck down by the US Supreme, while it was in effect, illegal immigrants were literally 'streaming' out of Arizona. Check this article from CBS News in 2010.
Illegal Immigrants Leaving Arizona Over New Law
Yes, some of them went to other, less strict states, but many went back to Mexico.
Ironically, the Arizona law that was mostly struck down by SCOTUS was modeled on the US immigration laws that were not being enforced, mostly just substituting State of Arizona for United States Government.
And the reason the Arizona law was overturned was that SCOTUS said that states do not have the right to enforce immigration laws, only the Federal Government.
But if the Federal Government isn't enforcing them . . . ?
E-Verify is quick and simple to use. And free. (Well, except for your tax dollars)
Each employer/rental agency, etc., is given an ID and a password to the system. They just log in, enter the person's name and SS# and a few other bits of information. Within a few seconds they get verification of the person's identity and a transaction number for the person that is entered into the paperwork showing that E-Verify had been checked. If it turns out later that the person really was illegal, the employer is off the hook as long as E-Verify has been checked.
So that's the stick, now the carrot.
Although you would probably want to set a deadline, maybe three years for them to all leave, set it up so that the quicker they leave, the better chance they have to be allowed to come legally. When they pass through US Customs on the way out of US, they would register at the border and get pushed to the top of the list for a green card.
So First Out, First In.
Now there are a few additional things might want to implement, like maybe bounties for turning in employers/rentors/illegals who are violating the law.
Despite some of the bad historical connotations of this, it's already done a lot. Whistleblowers can receive rewards for reporting government theft and corruption. And individual citizens can get bounties for the IRS for turning in tax cheats.
And I don't know if it's still done, but a number of years ago, employees could receive a reward if they turned in their employer, anonymously of course, for using bootleg computer software in the business.
So there's certainly both the legal and moral precedent for it.
So here's my quick, cheap, simple solution to most of the illegal immigrant problem.
But due to political and societal pressures from both sides, how easy would it be to implement it?
And while we're on this subject, here's a few thought questions.
How many is too many immigrants, illegal or otherwise?
At what point do you lose your country?
If you don't enforce your borders, do you really have a country?
Discuss among yourselves.
Wrapping up, what ever happened the fabled 'Melting Pot' that we all heard about?
It seems like we do less and less to integrate immigrants (legal) into our society. Back when I was growing up, you had be able to pass a test on American History given in ENGLISH to become a US citizen.
Now I've read that New York City prints up ballots in over 100 languages. What's up with that?
And remember when every January you'd see the public service announcements on TV about how every 'alien' (that's the term they used) must register at the PO by January 31st. What happened to that?
In fact Mork and Mindy did a great episode with Mork down at the PO trying to register as an 'alien'.
So let me know your thoughts on all this.
---
January 2, 2018
Jan's Doing A Little Better . . .
First I want to thank everyone for the dozens of get-well wishes, so many that I can't answer them all separately right now.
I was back at the hospital by 9 this morning, wanting to be sure I was there when the urologist came by. I was told he normally came in early, but he didn't show up until about 1pm. Maybe that's early for him.
About noon I went down to the cafeteria to grab a sandwich to eat there. I didn't want to bring it back to the room, afraid the sight and smell would make Jan even hungrier than she already is, not having eaten until yesterday morning.
Luckily, besides the standard cafeteria food, they had farmed out the sandwich area and had fresh Subway subs, and chicken sandwiches from Chick-fil-A. So I went with a Spicy Chicken Sandwich from CFA. Really good and better food than I was expecting,
The urologist showed up about 1pm and turned everything around. He wants to treat the UTI and get that taken care of before they worry about the remaining kidney stone. In fact they may wait 10 days or so before they come back to it. She's not in any pain from it so it should work out OK.
What they wanted to do today was to put in a urethral stent to help flush and drain her right kidney where the infection is.
They took her in to PreOp about 3pm, started the procedure at 3:45 and were done by 4pm. Pretty quick.
By 6pm she was much more coherent and not as drowsy. I did get her to eat a few bites of turkey sandwich and some Jell-o when her dinner tray came. But that filled her up pretty fast, so they'll try to get her more later this evening.
I left about 7pm and stopped off at King Food for a big bowl of Hot & Sour Soup before I headed back to the rig.
I'll be back down there by about 9 tomorrow morning. really hoping to see a big improvement after the Cipro really kicks in and she's gotten a little more food in her.
---
January 2, 2020
That Wonderful Stuff . . .
Yesterday we finally got a chance to try out Jan's favorite new Christmas gift, a Ninja Foodie Digital Air Fryer Oven.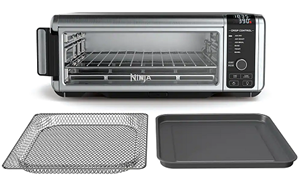 The Ninja folks don't make it easy to keep track of their Foodie line, what white 5 different appliances, including a blender.
Our daughter Brandi has one and loves hers, so I got Jan one too. And it works great for us, since, although it's larger than the Toaster Oven it replaces, it folds up out of the way for storage, leaving us more counter room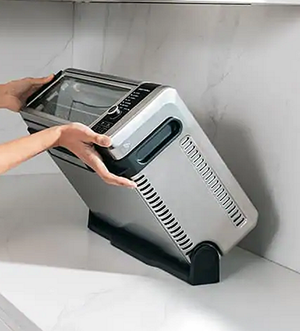 But just in case she might decide she doesn't like it, we're keeping the old Toaster Oven around for a while, anyway.
The first thing Jan wanted to do with the Oven was to Air Fry some chicken wings, or in this case, drums. Brandi told us they were fantastic and gave us her really simple recipe.
1 Tbsp. of Baking Soda
1 Tsp. of Salt
2 Tsp. of Pepper
Apparently the Baking Soda is the secret to really crispy wings. Or at least, so says the Internet . . . and Brandi
Here's what our Foodie looks like folded up.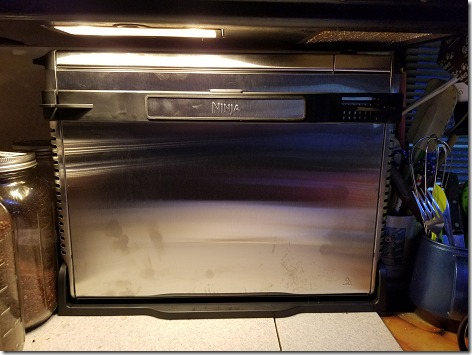 And here it is folded down and ready to use.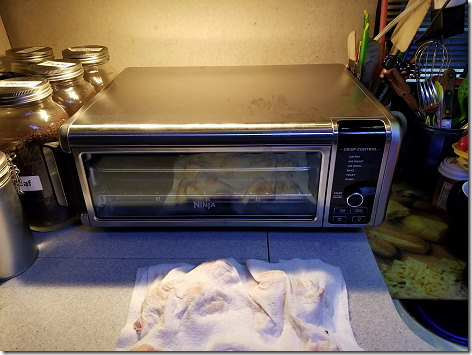 Out in front I've got the drums drying in paper towels, since they're supposed to be as dry as possible.
After tossing the 10 drums in the breading,I arranged on the grill, not letting them touch.
I set the oven on Air Fry at 375° for 13 minutes and then turned the drums over. Then it was another 13 minutes at the same temp. Then I raised the temp to 420° for about 6 minutes and they were done.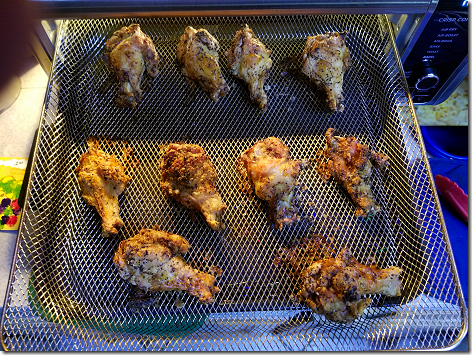 And they were really crispy, crunchy, delicious. The only real problem was that we wanted more. We didn't do anything special as far as sauce, just a small dip of Kraft's Bacon Ranch Dressing, our favorite.
I will however do things a little differently next time. The 1 Tbsp. of Baking Soda really wasn't enough to thoroughly cover the drums, and the 1 Tsp. of Salt was a little too much. So I'll try 2 Tbsp. of Baking, 1 Tsp. of Salt, and 4 Tsp. of Pepper next time to see how that works.
Jan's cold is doing a lot better, especially since she's sleeping so much better, due to what she calls "That Wonderful Stuff." And that would be NyQuil NIghtime Severe Cold Medicine.
We got some good news today on the storage shed front. Rob, the park owner, said it was OK to put one up, and that we could put it right at the end of the patio where I pictured it.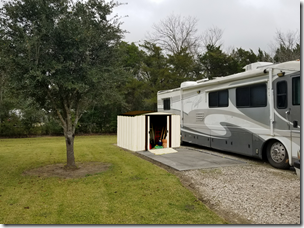 ---
January 2, 2021
Oh, Deer!
Our second day here in Kingsland started with a great breakfast at Grand Central Café, the same place where we ate the last time we were up here.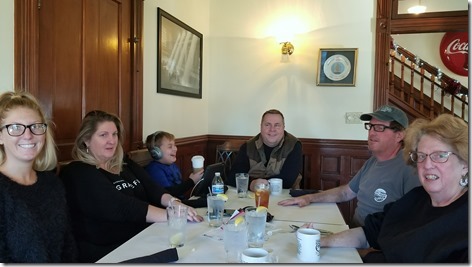 Unfortunately Linda couldn't be with us since she's working a lot of extra hours since her manager is out with the WuFlu.
Then it was on over to Chris' for the rest of the day. One of the first things I did was get a better shot of Jan's new wind chimes without trees in the background.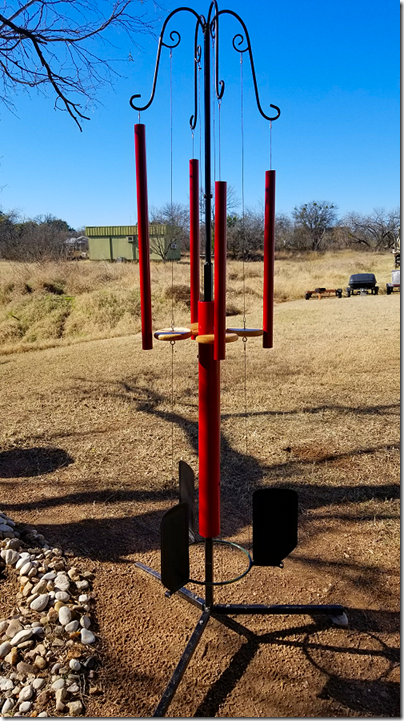 The workmanship on this is just beautiful.
Later in the afternoon we all dug into big bowls of Chris' Seafood Gumbo, really, really good as usual.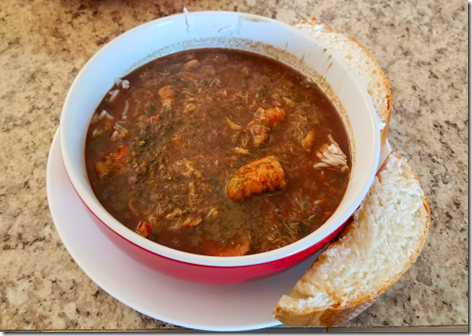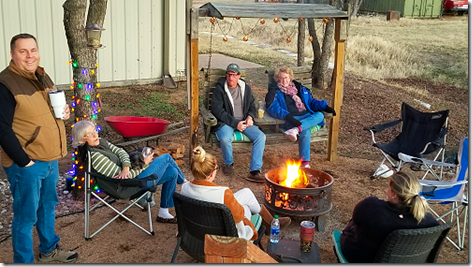 Later we did S'mores, a little earlier before it got so cold.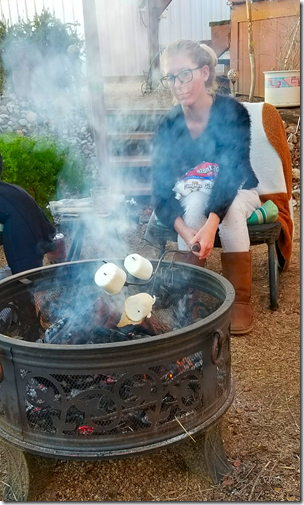 Later as it got dark, Chris threw a bunch of treated pine cones on the fire treating us to a lot of great colored flames.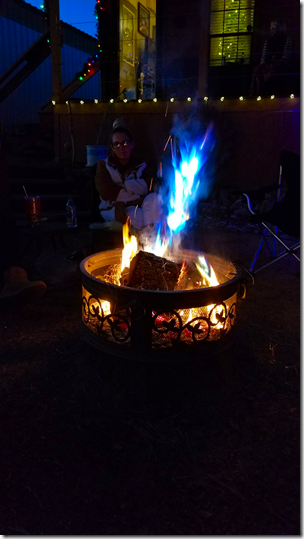 Then about that time the deer started coming out of the woods all around us.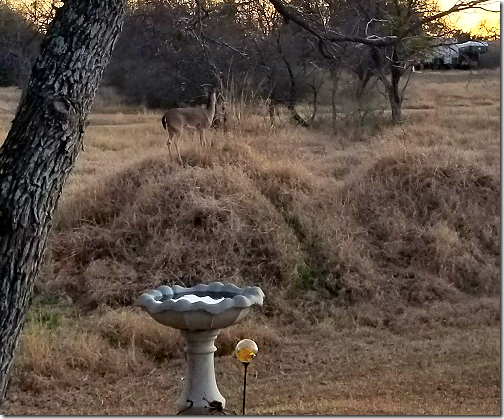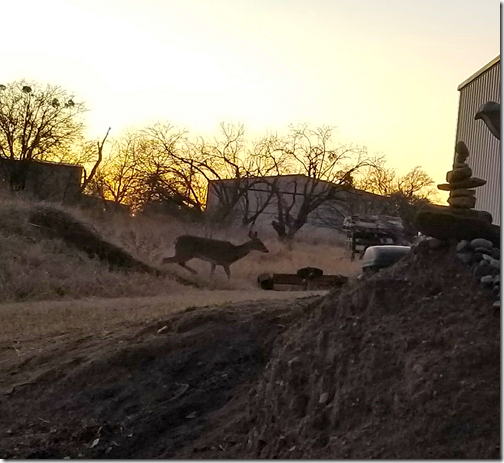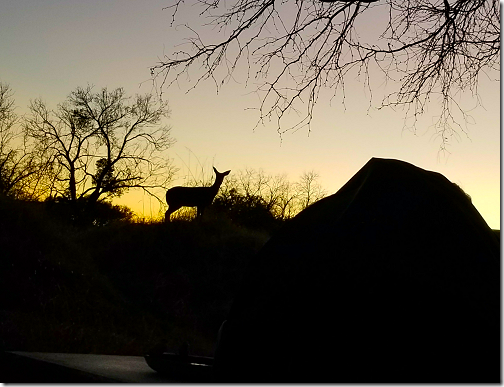 All in all, a magical day.