Peanut and Lobster . . .
The Alvin Opry get-together this month was at the Red Lobster up in Webster, and I was beginning to wonder is this month's get-together was going to run into next month's.
Really, really slow service, which I figure probably had something to do with the fact that they weren't very busy at all. Especially compared to Saltgrass Steakhouse that we passed on the way that was jam-packed with a full parking lot.
Now you'd think that not being very busy would be quicker service.
You would be wrong. We had been there for an hour and still didn't have our food. Stuff just came dribbling out.
Won't go back.
Getting back to yesterday's big event. Since we wanted to eat before Jeff Dunham's 'Still Not Canceled' show, we got to the Longhorn Steakhouse in Webster about 3:30 and had a really good meal, starting with their salads.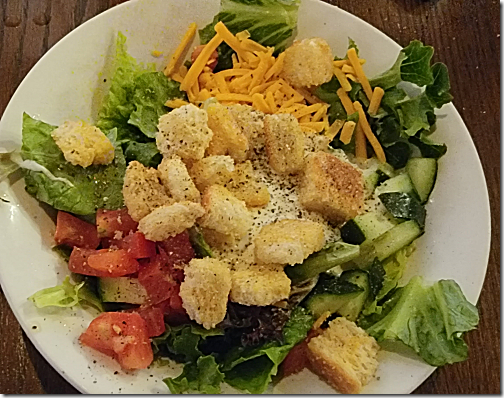 Then Jan got the Flo's Filet with a Baked Potato,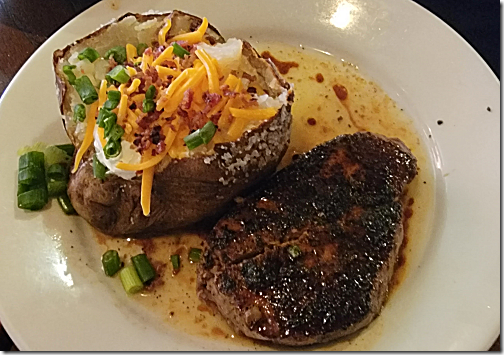 while I got my usual Ribeye, this time with a Sweet Potato.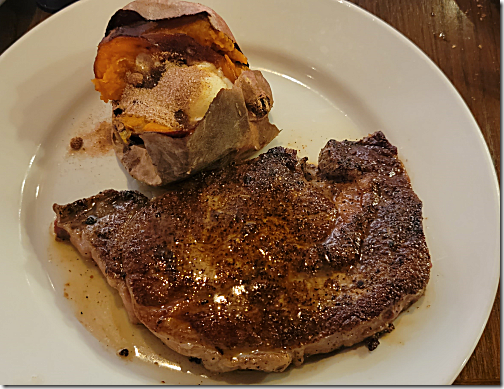 Really good meal, and great service too.
Heading up I-45 to the NRG park arena, getting a great parking spot only about 25 yards from the Arena entrance. We did have about a 45 minute wait until they opened the doors a little before 6pm.
And after a bathroom stop, we were in our seats by about 6:15.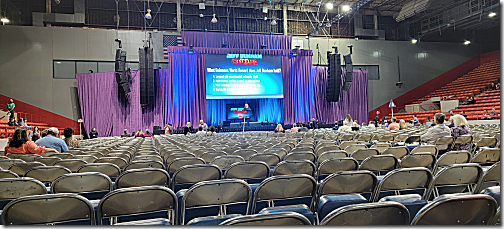 We didn't find out about the show until tickets had already been on sale for a while, so these were the best seats I could get. But with the big screen we could see fine.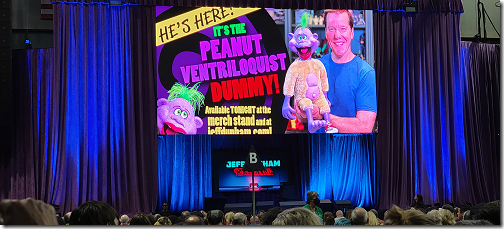 The show was supposed to start at 7, but didn't kick off until 7:30, probably to allow all the people lined up at the Merchandise Kiosk, and the booze ones as well, to allow them to get to their seats.
The show started off with Walter as President Biden, and had the entire 8000 attendees roaring with laughter.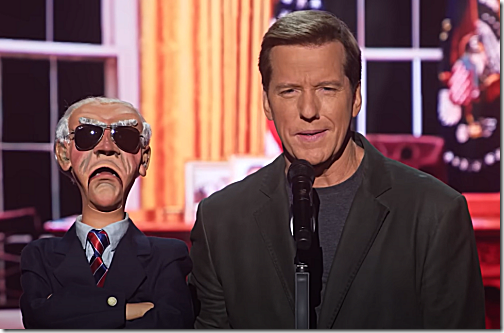 BTW most of these photos are from the Internet since we weren't supposed to take photos during the show, though I did sneak a couple.
Next up was Bubba J, 'Drinking and Thinking', leading us to a new character, URL, pronounced Earl.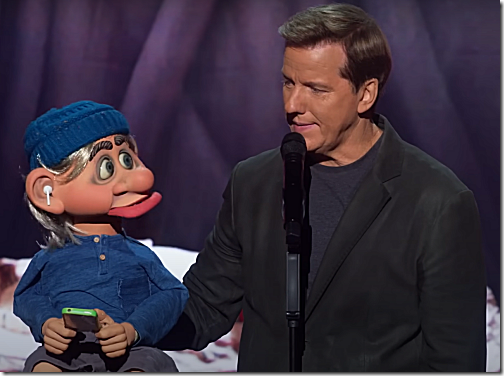 A typical Gen Z'er, he lives in his parent's basement, has no job, and is always texting on his phone.
Next up was Achmed the Dead Terrorist, who is trying to be even more terrifying by invoking the CoVid virus.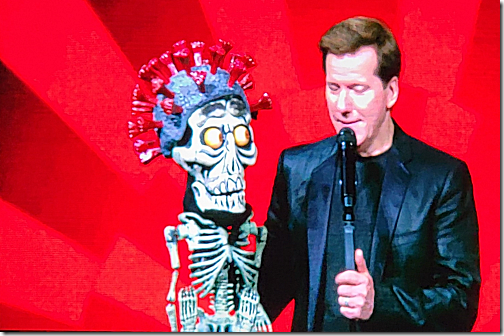 Somehow during Achmed's visit, Jeff started playing Harry Nilsson's song "Can't Live Without You" from his phone into the mic, and suddenly the arena lit up with about 8000 cellphone flashlights waving to the music.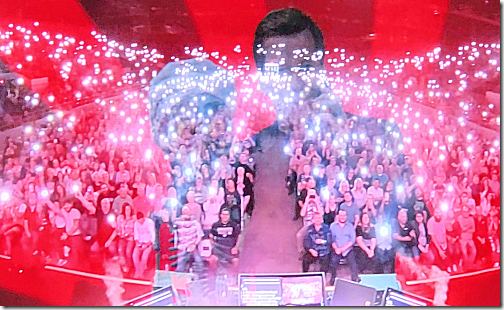 Wrapping up was everyone's favorite Woozie, Peanut, along with Jose, Jalapeno On A Stick.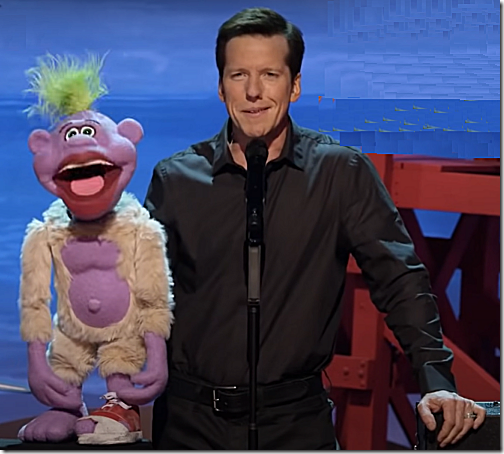 The guy next to my right was laughing so hard during this last part that he seemed to be having trouble breathing, either that or he was having an asthma attack, or maybe both, I guess.
One of the things that makes Jeff Dunham so great is that he manages to seem actually surprised, and even embarrassed by some of the things his 'companions' come up with.
Peanut was ragging on him about the fact that when he was already working clubs as an adult of 23, Aubrey, his wife, was 5 years old. And Peanut accused him of stalking her at the Ball Pit at McDonald's.
So he's 18 years older than her.
A really great show. Hope we can see him again sometime.
Finally, in one of those weird coincidences, sitting two seats to our left in a arena of 8000 seats, was a couple who was having dinner at the Webster Longhorn Steakhouse at the same time as we were, and we recognized each other.
---
Thought For The Day:
I Can Summarize Everything I've Learned About Life In Just 3 Words: WHAT THE HELL?? – Peanut
---
January 12, 2011
It was the cat's fault . . .
Well, it got down to about 30 degrees here at the rig last night, a little warmer than the 25 or so up in Houston. Being right on the water keeps us a little warmer.
Then tonight I saw a news story online that over 70% of the US was covered in snow, and it was snowing 49 of 50 states, including HAWAII! Only Florida was snow-free.
About 10:30am a client called and said he had lost Internet to his computer last night and it still wasn't working. He'd tried all the normal things like rebooting, etc., with no luck. He said his wife's computer in her home office was working fine. I told him I'd be over a little later to check it out.
Then our son Chris called a little before 11 to lock in our dinner plans for tonight. We're going to our favorite local Italian place, Mario's Pizza, up in Seabrook.
After I got off the phone with Chris, I called my Doctor to schedule my yearly checkup for the last week in January. I also made an appointment for Jan since her old doctor had moved away, and she wasn't enamored of his replacement in the group practice.
A couple of minutes after I got off the phone, I heard some indelicate words coming from bathroom. Turns out Jan had dropped one of her opal earrings down the lavatory drain. Telling her not to run the water, I got my strap wrench and took apart the upper and lower fittings and pulled the pipe down.
They don't give you a lot of clearance, but after putting a bowl under the trap, I was able to splash enough water out to retrieve the earring.
When I started working, Mister was hanging right over my shoulder watching my every move. But he finally got bored and retired to the bedroom. Apparently he just couldn't watch any more.
A little while later Jan and I headed up to Clear Lake to check out my client's Internet problem and run some other errands. It took me about 5 minutes to figure out what happened. It turns out…
It was the cat's fault.
This one to be specific. And no, this is not Mister. He does kind of look like him, but he only weighs about half of Mister's 23 pounds.
He looks perfectly innocent, doesn't he.
But apparently he walked across the power switch on a plug strip that powered a router that fed the Internet into his owner's computer. At least he was the only one in the house who could fit behind the desk where the power strip was, so he gets the blame.
Leaving the cat to finish his nap, Jan and I headed over to Sam's Club to pick up a prescription. Then next it was down the feeder to Baybrook Mall.
First Jan had a opal ring she wanted to get resized. You might have noticed a pattern here with Jan and opals. Opal is her birthstone and she's really got a thing for them.
And this ring has a history.
It you watch the TV show 'Pawn Stars', about the pawn shop on the Strip in Las Vegas, you know where this ring came from.
Jan bought it last March when we were in Vegas. And if you watch the show, you'll recognize Chumlee, one of the stars. He's the one who sold it to her.
Next, we went next door to Sears where I was looking for an Sears Air Compressor like this one.
I wanted one that would handle both the toad tires, and our 22.5 coach tires that are inflated to 110#. No small order.
But according to several guys on the RV.net forums, this one will do the job. I'll see when I try it out in a day or so.
Of course, I could use the air compressor built in to the coach, but that entails dragging out the hose and then cranking up the diesel. It's a pain in the butt just to put a few pounds of air in a truck tire. So we'll see how this one does.
Then we headed toward home, first stopping at the Kroger's to get gas, and then Wal-Mart for more 'stuff'.
One of the things I wanted to get was a new water filter, like this one.
I always start off the year's travels with a new filter. I've also got one under the sink that feeds the drinking fountain and the ice maker, but I have to get it later at Home Depot.
We got back to the rig about 4pm with only about 45 minutes before we had to leave to meet Chris, Linda, and Piper at the Mario's Pizza in Seabrook.
Then our friend Maria called a few minutes later wanting to know if Jan wanted to go Bingo-ing tonight, but Jan begged off.
Boy, are we popular.
---
January 12, 2012
How Many Have You Done?
or Rockin' and Rollin'.
Today was a lot like Tuesday, but without the rain or occasional tornado. But what we had was 40 mph winds with gusts to over 60, which really kept the rig rockin' and rollin'. And the offshore wind, combined with a low tide, turned our beautiful water view into a mudflat all the way out to the channel.
I didn't have any clients scheduled today so it became a DIY chore day around the rig. My first thought was to install my new power window motor system, but I was afraid my tools would blow away.
So I started in on my list, first repairing the retaining latch on one of the pull-out pantries. The screw had pulled out, and although I had fixed it once before, there just wasn't enough wood left to hold. So I moved it to a new location and was able to use bigger screws. Coming back to Houston in November the pantry slid open as we drove and a bottle of expensive vanilla fell out and broke. Don't want that to happen again.
Next up was to install a retaining bolt on our dining room table. Unlike some I've seen, there is no latch on our table and occasionally it will slide out while we travel. So I drilled a hole through the slide and inserted a bolt. This will keep the table in place, but the bolt can be easily removed if we need to put the table extension in place.
Last up were our folding closet doors. In damp weather they stick and bind, and are hard to open and close. So the other day I bought a rotary sanding pad at Home Depot that chucks in my drill to use in sanding down the bottom and top of the door opening where it binds.
After finishing the sanding, I rubbed the surfaces with an old piece of candle for lubrication. This works well and isn't greasy so it won't get on the clothes.
Then after all this hard work it was time for a nap, which lasted until it was time to head up to Webster to meet Chris, Linda, and Piper for supper at Cheddar's.
And yeah, we just went there last night with Brandi, Lowell, and Landon, but we all like the place, and it wasn't like we had to order the same thing we got last night.
Piper cut her hair and it really looks great. It's the first time we've seen her with the new style.
One thing great about having dinner with Piper is that I don't have to keep picking things up that she's thrown on the floor like I do with Landon. She's a little neater.
---
On another note, I came across a website today that listed the 10 most scenic drives in the United States.
Top Ten Scenic Drives in the United States
1. Anchorage AK to Seward AK
2. Highway 1 from Monterey CA to Morro Bay CA
3. Beartooth Highway north of Cody WY
4. St. George UT to Zion National Park
5. Custer Scenic Highway in the Black Hills of South Dakota
6. North Shore Drive from Duluth MN to Grand Portage along Lake Superior
7. Houma LA along the Gulf Coast to Breaux Bridge LA
8. Route 100 from Wilmington VT to Stowe VT along the Green Mountains
9. Blue Ridge Parkway in the Smokey Mountains
10. Jekyll Island GA north through the Low Country to Savannah GA
---
I was happy to see that we've done 6 of them.
1, 2, 3, 5, 7, 9, & 10.
7, the Louisiana drive, we did in the mid 90's, before we started RV'ing, coming back to Houston after a weekend in New Orleans. All the rest we've done since the beginning of 2008.
8, we've been in the area, but didn't take the drive specifically.
So it looks like we've got 3 more to go.
How many have you done?
Or do you think they've left one off the list?
---
January 12, 2013
Go Texans . . .
Since we were gone a good part of the day, and spent the afternoon and early evening Landon sitting, it will be tomorrow before I will post my blog on "Bullets and 'High Capacity' Magazines.
After a cloudy, rainy morning, Jan and I headed up to Brandi and Lowell's about 3 pm. We were going to be watching Landon for the afternoon and evening so Brandi and Lowell could get some time to themselves. While we were there we were also going to do some laundry, since our washer is on the fritz until the parts come in.
We got Landon's car seat installed in the truck (not an easy task, believe me) and we all headed out. Our first stop was right outside the subdivision at Barcenas Mexican Restaurant.
Since it is so close to the house, we've eaten here for years, but don't get to as much now.
But when we do get here, it's always good. Jan had their delicious Ground Beef Taco Salad, and I had a big bowl of their Mexican Chicken Soup.
Landon had a Corn Dog and Fries, and a lot of chips and Queso.
After dinner, we headed back through the subdivision and out the other side to Sam's to pick up some things and let Landon pick out a book.
Our next stop was right down the road at Baybrook Mall. We got a stroller and just walked around the mall, letting Landon take in the sights. Right before we left we got him an ice cream and sat down for a while and just people watched.
After getting back to Brandi's, we spent some time playing with Landon and some of his Christmas toys.
We finally got home about 9pm after a really fun day, but a really tiring day. Although Landon was an angel, chasing after a two year old will really wear you out.
Tomorrow afternoon the Houston Texans play the New England Patriots for a spot in the Super Bowl,
Go Texans!
---
January 12, 2014
I Miss Ashtrays . . .
Jan and I decided to have breakfast this morning at the Sunflower Café down in Galveston so we headed out a little after 9 to get a jump on the crowds, but were questioning the effectiveness of this when we got there and found the waiting room full. But we were seated immediately. Turns out there was a couple of big groups who were waiting, so lucky us.
The only problem was that we got seated right by the bakery area. But the Force was with us, and our willpower was strong, so we made it through breakfast and out the door without succumbing to temptation.
Jan had a Belgian Waffle with Bacon and Eggs, while I tried something new. I had Carne Guisada with Eggs, which consisted of chunks of tender pork slow simmered in green chili sauce, covering scrambled eggs, and resting on a thick tortilla, along with refried beans and ranch potatoes.
Really, really good. Though Jan said her waffle wasn't as warm as she would have liked.
I really miss ashtrays, at least in restaurants, not because I smoke, or plan to start, but because there's no place to put your trash.
With an ashtray you have somewhere to put your trash. Like your empty sugar paks, creamer containers, napkin wrappers, straw wrappers, used lemon slices, etc. Otherwise the stuff just lays the table, getting in the way, and looking messy.
That's one thing I like about Texas Roadhouse, the small galvanized bucket on the table for your peanut shells. You also have a place for your trash.
Leaving the Sunflower, we drove along the Seawall for a while, and the first thing we noticed was that the parking spots along the Seawall were almost completely empty.. Normally on a beautiful sunny day like today, the parking spaces would have been full with people walking on the beach with their kids, and patronizing the many businesses along the way. But no longer.
Back in August 2013 the city of Galveston started charging for the previously free parking spots. And visitors immediately stayed away in droves.
So much so, that according to this article, Seawall parking, the city lost $300,000 last year, instead of making $390,000. They say that it was because they started late in the season, but looking at the numbers, they will have to make up $690,000 next year. Plus what the local businesses say they're losing.
Nobody ever plans for 'Unintended Consequences."
Heading back home, we stopped off at Buc-ee's for a couple of Cranberry Muffins for later, before a quick visit to Kroger's for a few things, and then home.
Lowell sent over another photo of Landon at yesterday's train show.
---
January 12, 2015
Apparently Facebook doesn't like the word . . .
Readers of this past Saturday's blog post saw the photos of the burned-out Newmar Kountry Star that we saw while we were checking out the Marina Bay Lake Cove RV Resort down in Dickinson.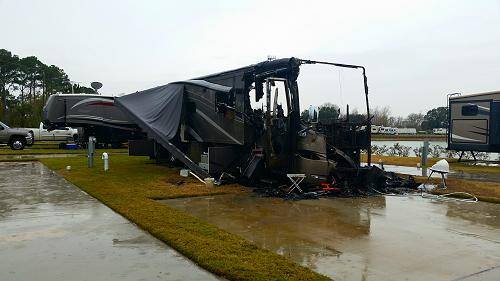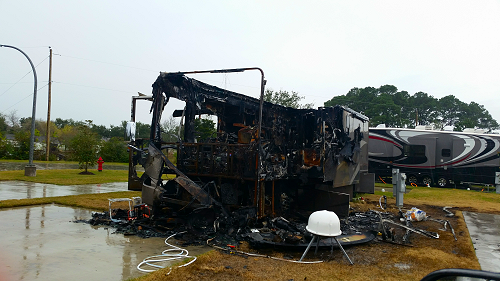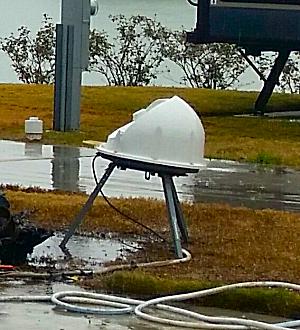 Blog readers who check out the comments also know, that amazingly, the owners, Mike and Vanette Miedl, are blog readers.
The fire happened December 17th, and was a refrigerator fire. At least Mike saw flames coming out from under his Norcold. To me, that's a dead giveaway.
Here are the blog comments in case you didn't catch them.
Hey Greg. Imagine my surprise this morning. The burnt Kountry Star was ours. Burnt Dec 17th. Guess they are a little slow to get it cleaned up as they are arguing with Norcold over fire cause. I saw flames coming from under the fridge when we woke up. I believe the fridge was the cause, but of course there is contention. I mean, I was there but evidently eye witness account doesn't mean a lot to the people trying to protect their company. By the way. The satellite dish was 15′ in front of the RV on a raised platform. (trailer)

Mike and Vanette

So sorry to hear about this.

It's amazing sometimes how small the RV community is. I speculated to Jan that this might be a refrigerator fire.

Glad y'all made it out OK.

Was there anyone parked on either side of you at the time?

Do you mind if I pass this info on to our readers in a future blog post?

Let us know how you're doing.
Hi Greg,
Yes there was a 5er next to us. It sustained damage to the side, and the clear cover over the shower and air conditioner cover. No one on the other side. Yes, you can pass on any info. Best part was, reading other blogs we had decided to replace our Norcold as soon as we got to Waco. (About 2 weeks) We looked at refers at Home Depot and found one we liked. but needed a carpenter to drop make the size just over an inch bigger. So, that's what happens.
I had planned a number of outside chores today since the weather was supposed to be 55 degrees and partly sunny.
They lied.
It never got over 45 and not a ray of sunshine was to be seen. But I wanted to at least get the truck AC repaired, so I bundled up, broke out my trusty soldering iron, and had at it.
First off, I cut the insulation where the wire was already broken and pulled it back.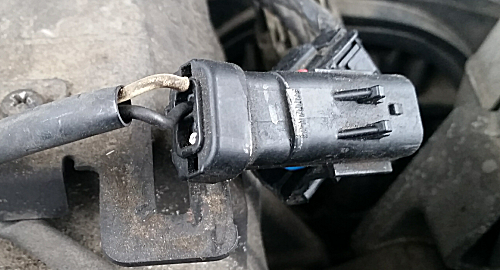 This didn't give me a lot to work with, but I found the plug endcap could be pulled off, leaving me more wire to work with.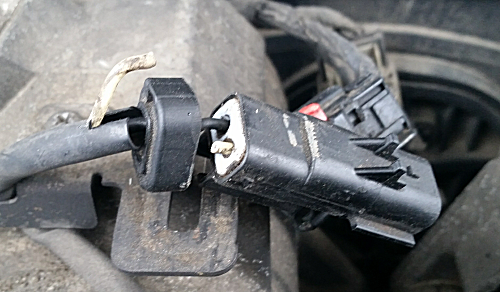 It's hard to see here, but I stripped the two ends back about an !/8", and then tinned them with solder.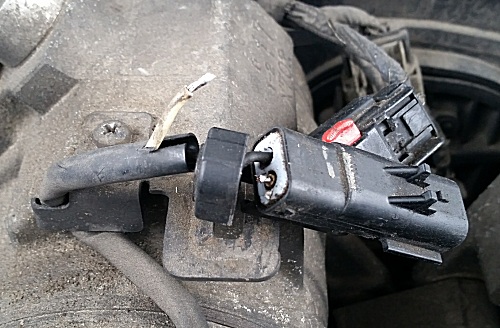 My next two photos didn't turn out very well, but I took a 1" long piece of 14 gauge jumper wire, stripped and tinned the ends, and then slid a piece of heat shrink tubing over it. Then I soldered the ends of the jumper wire between the two broken ends and then used a heat gun to shrink the tubing on both ends.
Putting the endcap back on left me with this. .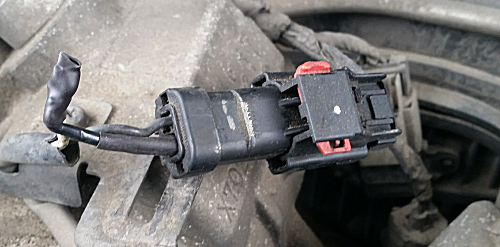 Then using my ohmmeter I confirmed the circuit was working fine. Once I try it out for a few days, I'll wrap the entire thing in electrical tape to seal it up
It's not pretty, but it works.
Later Jan and I headed into Columbus for dinner and Wal-Mart. Going by the Colorado County Fuel Co-op where we got diesel a couple of weeks ago for $2.59, I was happy to see it is now $2.49. Nice.
Our dinner stop was the Los Cabos Mexican Grill, where we've eaten a number of times and always enjoyed it. And tonight was no exception.
I had the Plato Loco, which had a Beef Fajita Taco, a Tamale, a Beef Enchilada, and a Cheese Enchilada.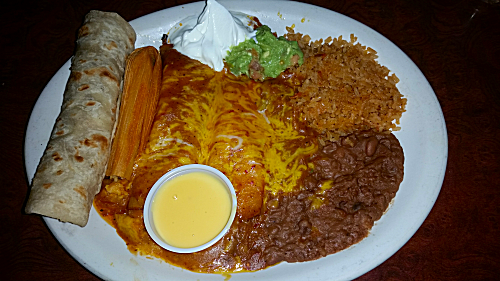 Jan had the Pollo Relleno, which was a Chicken Breast stuffed with Shrimp, Tomatoes, Cilantro, and Onions, and covered with a Butter Wine Sauce made with Shrimp, Mushrooms, Tomatoes, Jalapeños and Onions.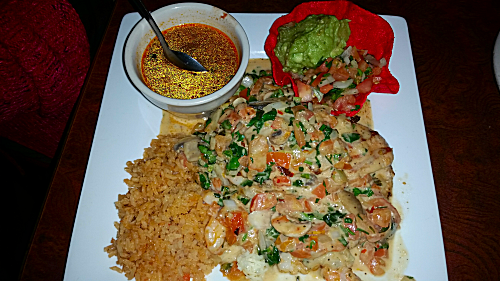 As usual, everything was seasoned perfectly, and really delicious.
Coming home, we stopped off at Wal-Mart for a few things, including a stack of DVD's. Then as soon as we got home, I ran the Recovery Disk Creation Software, and made the 5 DVD backup set for the new computer I'm setting up for a client.
Tomorrow I'll see how the 'freezer trick' works on the old hard drive.
---
Apparently Facebook doesn't like the word . . .
Butt!
As in yesterday's blog title – Pucker Butt
As in the Pucker Butt Pepper Company, developer of the Carolina Reaper, the hottest pepper in the world.
As usual last night (actually very early this morning), after I made the latest post to the blog, I also posted it to Jan's Facebook page. Then about 15 minutes later it was gone. It still showed up on Jan's personal page, but it had disappeared from her Timeline. So I posted it to Facebook again. And again, about 15 minutes later it was gone.
So I guess these Facebook recipe pages better not post any recipes for a Boston Butt Pork Roast.
Of course I guess it could be the word 'pucker', so be careful around Valentine's Day when you ask someone to 'pucker up'.
---
January 12, 2016
Triscuits and Cream Cheese . . .
As I said a couple of blogs ago, when the new PowerBall was posted at $1.3 Billion, I figured it will go a lot higher, probably $1.6 to $1.7 Billion. And it's on its way, as this morning it was already up to $1.5 Billion.
Keep buying those tickets so the prize will be higher when I win tomorrow night. I can always use an extra couple of hundred million dollars.
Here's an interesting PDF about the downside of winning the lottery. Like you're 20 times more likely to be killed, and 120 times more likely to be killed by a relative,
Congratulations, You Won The Lottery!
Check it out.
There's a lot of other things being written online about what to do if you win, and how to handle the money.
Here's one suggestion.
If you win the lottery big tomorrow night… sure, give some money to your family members. But then find that one family member you really don't like and give them 10 million dollars.
Then, tell the rest of the family that you gave them 10 million dollars.
Then hide.
---
Jan and I did another split walk this morning, for the same 1.52 miles as yesterday. And did it 6 seconds faster, at 27:32 min/mile. So it looks like we're holding our own so far.
I'm always impressed on how accurate the Runkeeper app is as we walk. I mean we're talking hundreds of a mile. Much more accurate than pedometers or Fitbit-type devices, at least according to this article.
They say that that smartphone apps are within 5-6 %, but the others can be over 20% incorrect. One thing that tells me about the accuracy about the Runkeeper app is the repeatability.
If we walk the same route, we get the same distance, down to a hundredth of a mile. And if I add a short walk over to the dumpster, it records that small addition.
And Runkeeper's free. Even better.
Jan and I are continuing to binge watch our shows that we recorded while we were on the gate. We finished up with Once Upon A Time and are now about half way through Marvel: Agents of Shield. And talk about a lot of twists and turns!
For dinner tonight we just make a couple of apps, Queso Blanco, and hot jelly cream cheese dip.
I started out by chopping up a block of Velveeta Jalapeno White Cheddar,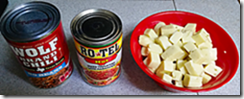 and then with a can of Rotel Hot Habanero Tomatoes and a can of Wolf Brand Spicy Hot Chili (no beans), melted it all in the microwave for 5 minutes.
Poured into a couple of bowls, and along with a big bag of Calidad Tortilla Chips, really good.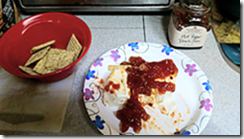 For the other dish, Jan spooned Hot Pepper Peach Jam over a block of Cream Cheese, and along with a box of Cracked Black Pepper and Olive Oil Triscuits, it rounded out a really good meal.
I called American Coach this afternoon to see if they had my rig screen door hinges in stock. The first thing they said was the screen door itself is no longer available, but that they would check about the hinges and email me when they had some news. But nothing so far today.
Tomorrow I'll probably call Colaw RV Salvage near Carthage, MO to see if they have any. I know in the past that they have several American Eagles in stock, so I may luck out. We'll see.
For now I may go ahead and remove the door to take a closer look at the hinges to see if they can be repaired in any way. But then I've also got a couple of projects in progress, so it may get pushed down in the queue.
---
January 12, 2017
Not This Time . . .
Except for fighting a squirrely iPad last night, it wasn't a bad shift. Steady, but not too busy, either.
I'm not sure what the problem was, but you would enter a person into the frack site once and then they would sometimes show up four times in the personnel list.
It's possible that some of the problems might be caused by the fact that due to the bad phone service in this area, we can sync and upload the data. The program is definitely running slower, sometimes taking 3 or 4 taps before it recognizes a button click.
I was up about 12:15 and we were out the door to first have lunch at Barth's, and then some HEB shopping.
Today being Thursday, it was our first time to have the Fried Pork Chop/Meatloaf lunch buffet. So now we've done all seven days/menus.
Jan, not being a big pork chop fan, had one of their delicious Cheeseburgers, but after a bite of my meatloaf, she might have regretted her choice a bit.
She said she really like the meat loaf, so maybe next time. And she also missed out on the mashed potatoes and gravy.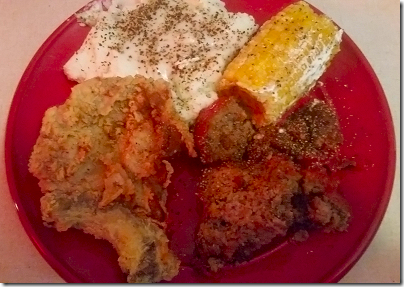 The pork chops were great, really chicken-fried, since they use the same batter as on their chicken-fried steak and chicken-fried chicken. Really good.
Normally I make my Escapade reservations earlier, by kept waiting to hear about whether or not we would be doing our gate guard seminar. I don't know why, because were going to go anyway, but it fell by the wayside.
So now if I book into the Escapade I can only get a boondock site, I.e., no hookups whatsoever. Not something we want to do for a week or so. And even boondocking, the cost is still $335. But if we just do a walk-in it's only $170.
So now we're booked into the Voyager RV park right down the road for the duration of the rally at a lot less money. Win-Win.
I never got a text from Todd this afternoon, so it looks like the other guy finally showed up, so not this time. Now just waiting for the next gate.
I mentioned a week or so ago about using Sam's Club new Scan & Go feature. You just scan each product as put in your cart, and then when you're finished shopping just click the Check Out button and you're done. A receipt is displayed on your phone, you show it to the greeter and you're out the door.
I was hoping that Wal-Mart would come out with the same idea, and today I heard they had. So I went right to the Google PlayStore to download it. But the first thing I notice was that the program only averaged 2.8 stars, while the Sam's version was 4.5. So what's the difference?
Well, a little reading explained everything. The Wal-Mart Scan and Go app only works in one Wal-Mart location in Rogers, AZ.
Bummer!
Not very useful yet, hence the 2.8 stars. Hopefully it will be rolled out nationwide at some point.
---
January 12, 2018
Yum! Yum!
When I got to work this morning, it looked like snow flurries in my office. They had replaced the sheetrock ceiling and the lights in my office yesterday without covering my desk with plastic sheeting.
Why they didn't, I don't know, since there was a UNOPENED roll of sheeting right outside the door. So I ended up with a flurry of white dust in my keyboard, printer, and chair.
At least they didn't turn off the power again.
On the way home about 3pm, I stopped off at Sundowner Canvas to drop off the big awning I took down yesterday, and pick up the other rear window one, this one on my side of the bedroom.
Hopefully I'll get a chance to put it up this weekend. Two down, two to go.
Getting home Jan and I turned right back around and headed into the Clear Lake area to have dinner at one of our favs, Floyd's Cajun Seafood.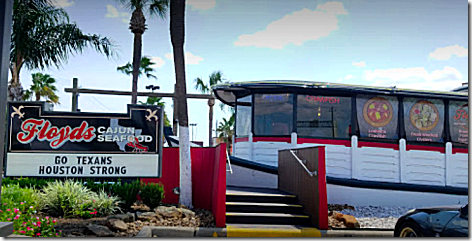 We started off with a dozen raw oysters, and with plenty of chili sauce and horseradish mixed as a dip.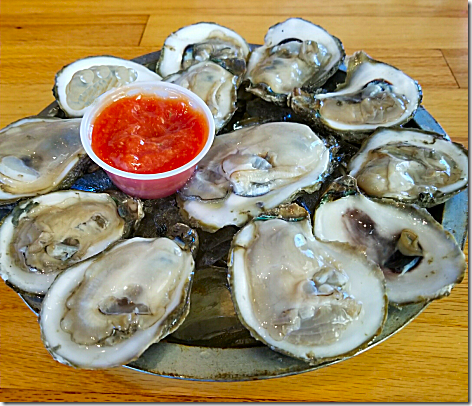 Yum!
This time Jan went with the Grilled Catfish and Mixed Veggies.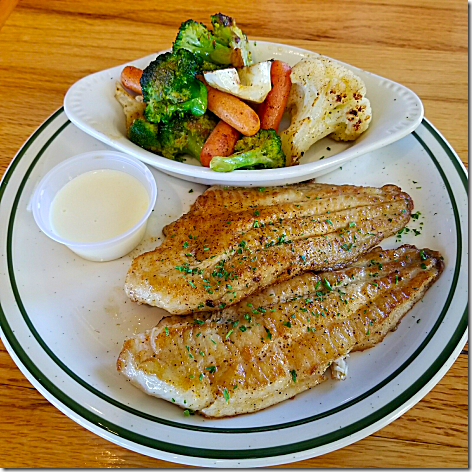 Normally these veggies are just steamed, but Jan asked them to throw them on the grill as well. Really delicious, and her new favorite.
I went with a big bowl of their Shrimp Gumbo.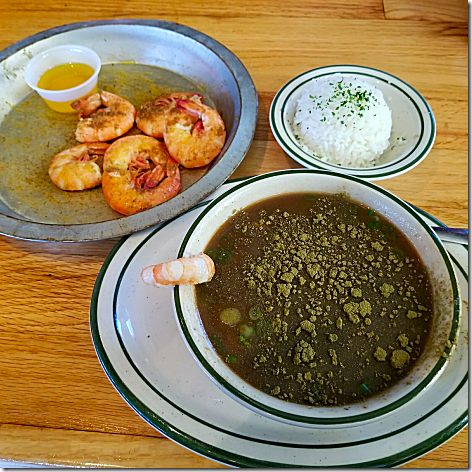 And yes, I like a lot of filé on my gumbo. And then I'll rounded it out with a 1/2 dozen hot Boiled Shrimp. Really good and spicy.
Not sure exactly what's on the menu for this weekend, or even tomorrow, for that matter.
But it's usually fun,
---
January 12, 2021
On The Cusp . . .
Jan and I decided to make another visit to the Toasted Yolk, a new breakfast/brunch place nearby.
Jan wanted to try their Greek Chicken Salad, with feta cheese and Kalamata olives, and chicken, of course.
'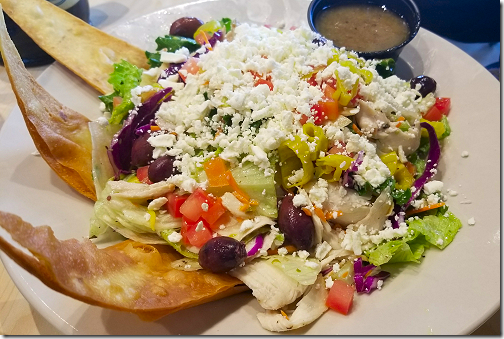 She said it was good, but not really 'have-again' good, so she'll probably go back to her Avocado Salad next time.
For myself I went back to the same Double-Decker Omelet I had last time, with ham, bacon, sausage, and a lot more.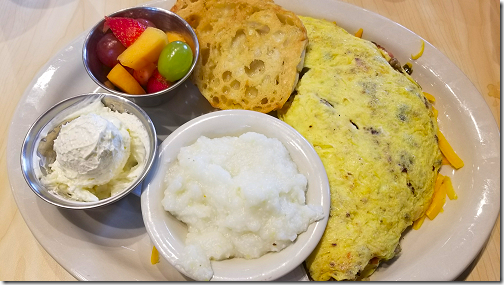 Still really good.
Then it was right across the Interstate to get a few things at WalMart before getting back home about 3:30pm.
Jan and I are still waiting to see if our Holland American Alaskan Cruise is a go or not. Originally scheduled for late August – early September, 2020, it was cancelled, so we rescheduled for 18 May 2021.
And as it stands right, Holland American has cancelled all cruises so far up to the middle of May, so we're right on the cusp of a decision. We're supposed to make our final payment on February 17th, so hopefully we'll know before then.
Personally I kind of think that they will probably cancel further cruises for the year, but we'll see.
I called National General Insurance today to cancel the Collision/Comprehensive coverage on our Dodge Dakota truck and Jeep SUV. It doesn't make sense to have this coverage on 17 and 18 year old vehicles. I'm probably paying more per year in premiums than they would pay if the vehicles was totaled.
Of course, I kept full coverage on the RV, just in case. And it looks like it will save me almost $1000/year. Nice.
I also put in a call to Dakota Post to tell to send out our $1200 Stimulus Check when it comes in. Which should be pretty soon since it was mailed out on January 6th.