They're Dead To Her . . .
First off, the Jeep's engine has been repaired and is running fine.
But . . . (Somehow you just knew there was a 'But' coming, didn't you?)
there's a wiring problem, probably a bad ground, that's causing a Check Engine light due to wildly fluctuating oil pressure, going from 0 to 120 psi and then back to 0. However the actual pressure measured at the engine is fine, and pressure reading coming out of the oil pressure sensor is also fine, though they replaced the sensor just to be sure.
The problem seems to be between the sensor and the computer. Hopefully they'll track it down soon. But our Old Faithful Dodge Dakota is still working fine.
Tomorrow I've got my possible Lumbar Fusion evaluation to see what's what with my lower back, comparing my recent MRI/X-Rays with the ones taken a year ago. So I'll know more tomorrow.
Lunch today was to assuage Jan's hunger for Turkey & Dressing, but of course, not at Cracker Barrel.
As Jan says, they're dead to her.
So today's lunch was at Kelley's Country Cooking, the one over in Alvin. Because unlike CB, Sunday is a Turkey & Dressing day at Kelley's, just one of the Daily Specials.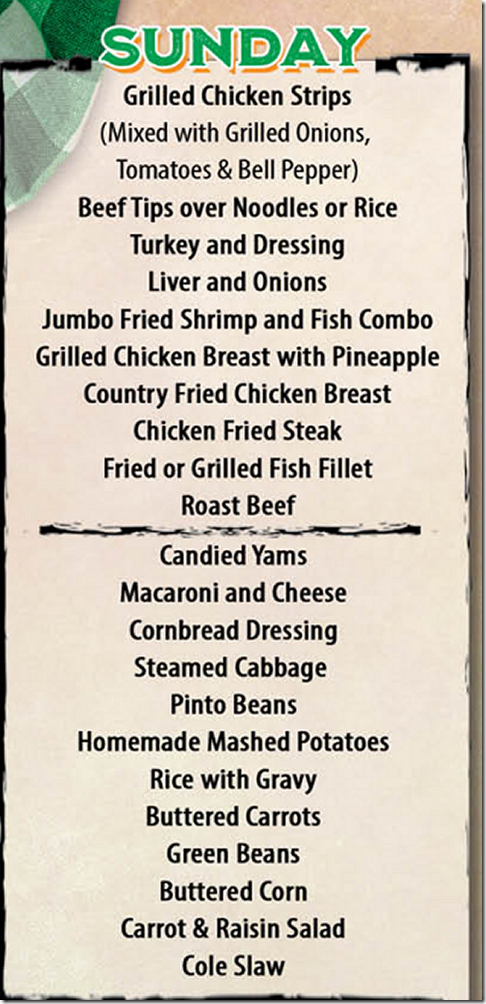 As planned, Jan got the Turkey & Cornbread Dressing, along with more Dressing, Mashed Potatoes, and Green Beans,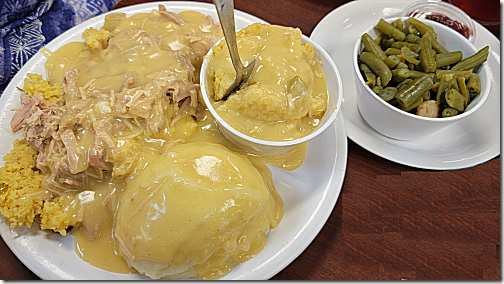 while I got their enormous Country Fried Chicken Breast,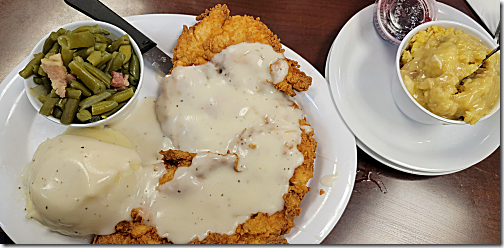 along with Cornbread Dressing, Mashed Potatoes, and Green Beans.
Note that Chicken Breast actually hangs over the edge of the plate.
And everything was delicious.
Jan's found her CB replacement.
Jumping back to yesterday . . .
We got to Brandi's about 11 so I could do some updates on Landon's Ender 3 Pro 3D printer. While for lunch Brandi set out a Charcuterie Board with some delicious tidbits.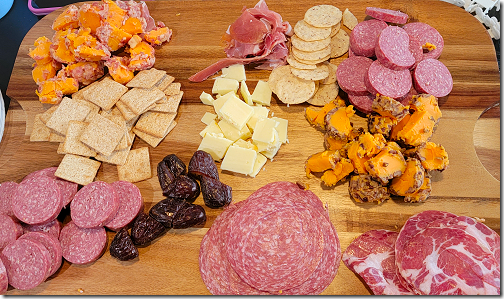 Of course, according to Facebook, Charcuterie is French for 'I just touched all your food'. But I noticed that Brandi was wearing gloves as she laid it out.
And it was fantastic!
Then it was back to work.
First I installed a new glass print bed, which took only a couple of minutes since I just had to remove the old one and clip the new one into place.
Next up I replaced the filament stepper motor, the filament drive, and installed a knob to make it easier to load in new filament, giving me this.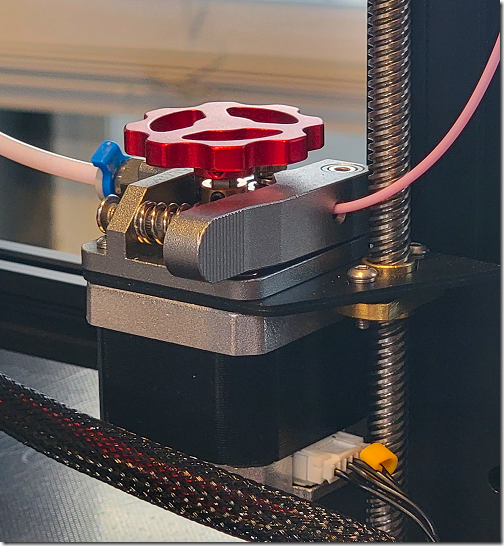 So first up was to print Jan a Flamingo.
It started out like this, laying out the base pattern.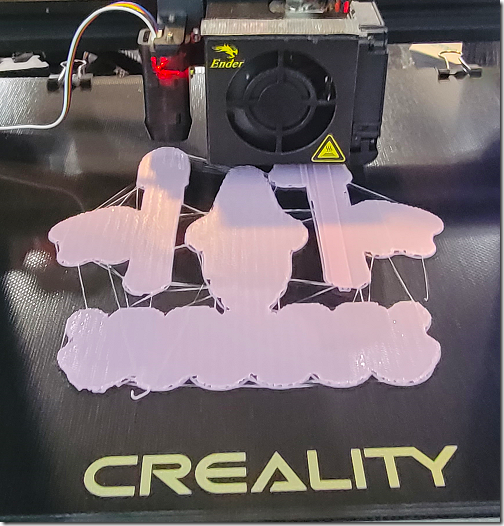 Which when done, and cut apart, looked like this.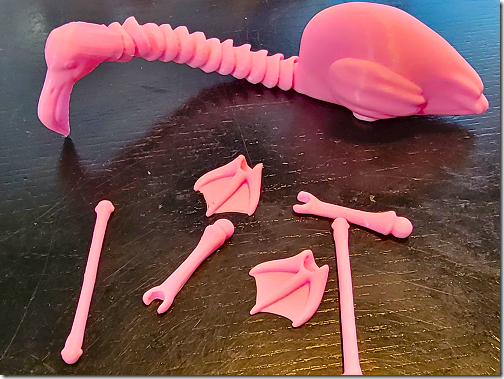 And when snapped together, came out looking like this.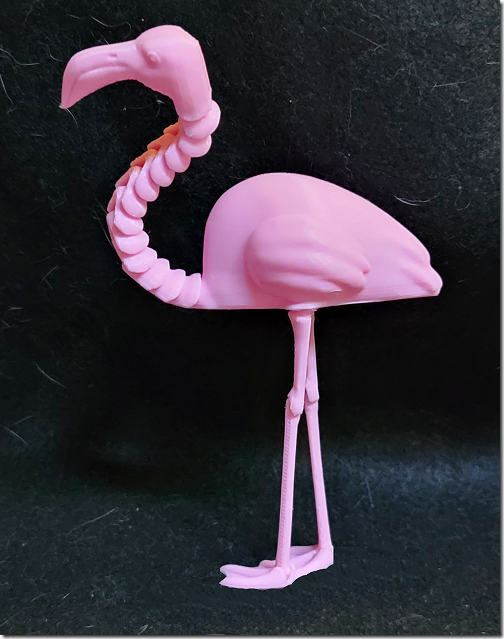 And as you can see the neck is flexible.
We'll probably do this again next Saturday since I've got some upgrades in mind.
---
Thought For The Day:
The four most beautiful words in our language are, "I told you so.
---
January 8, 2011
Trojans and Tanks . . .
Today got off to a nice slow start for a change. I made coffee and we just sat around and enjoyed each others company, and life itself.
Our daughter Brandi called a little after 10:30 to let us know that Jan didn't need to come and Landon-sit this afternoon. Bummer! But we'll probably get together one way or the other tomorrow.
I left the rig about 12:45 headed over to Pearland to visit a client's home and work on a couple of problems he's having.
I got him straightened out on one thing but ended up bringing his wife's computer home with me, since I wasn't able to get it de-virifyed before I had to leave. It has a 'susp_irp_mj_create' trojan that I haven't run into before so I need to do a little research.
I got back to the rig about 5pm after stopping at the Wendy's in Dickinson for a supper of Spicy Chicken Sandwiches and Natural-Cut Fries. Hmm, hmm, good.
After that I went out and dumped the waste tanks since Jan was worried that she wouldn't have room to do another wash load unless I did. I had closed off the grey tank a couple of days ago because the black tank was getting full and I wanted to have plenty of flush water available
I talked to our son Chris a little after 6pm to set up everyone meeting for lunch tomorrow, at Texas Tea Room again. We really like this place.
Then I made me some coffee (Jan doesn't usually like coffee at night) and we watched some "Two and a Half Men" reruns before it was time for "Primeval" on BBCA, one of our favorite shows. I mean time travel, dinosaurs, intrigue…what more could you ask for.
Of course while we were watching TV I was also working on the computer I brought home. It took a couple of hours (mostly waiting for the virus programs to scan) but I finally got rid of that trojan (and several more). I've rescanned the machine 3 or 4 times with different programs and it keeps coming up clean, so I guess it's fixed.
---
January 8, 2012
Bulbs and Buffets . . .
After our busy week, today was a take-it-easy, do-nothing day.
We did get up a little early to head out about 9:30 a few miles up TX146 to La Brisa for their great weekend breakfast buffet. They really make a mean omelet.
Then after a quick stop at Wal-Mart for a few things, including 4 F15T8 fluorescent bulbs to the replace the ones in the kitchen, we were home for the day.
Getting home, I installed the 4 bulbs. These things have gotten expensive. Seems like the last time I bought some several years ago, they were around $4 a piece. Today they were $8.47 each.
$34 for light bulbs. Ouch.
Later, after Jan fell asleep on the sofa reading, I decided a nap sounded like a nice idea so I retired to the bedroom for a very pleasant two hours.
About 5pm Jan heated up our leftover King Food Chinese from the other night. Really good, as usual.
At 7pm we watched our friend Tony Booth on a Hee Haw rerun from 1973. Tony had a number of big hits in the 70's, including "The Key's in the Mailbox", "Lonesome 7-7203", and "Cinderella", and he and his band won 4 ACM (Academy of Country Music) awards during that time period, including "Most Promising Male Vocalist" in 1971.
That was then.
This is now.
Jan says he's "aged very nicely", and then just smiles. I'm not sure how to take that.
I'm gonna have to keep a closer eye on that girl.
We see Tony quite often at the Alvin Opry, when he's not touring around the country with his band.
I know tomorrow will be busy. I'm just not sure with what yet.
I'll let you know.
---
January 8, 2013
And The Rains Came . . .
or BUMMER!
The rain really hit about 6am this morning and it quickly became obvious that my caulking job yesterday didn't fix the problem. It might have reduced it some but it's hard to really tell.
I guess I'll have to actually get up on the roof and see if it's really leaking in up higher and running down under the roof. But I would think that I would see some indication of that inside the rig.
One thing that may complicate things is that our big awning is mounted along there and forms a trough that runs right below the roof seam. So the water may be backing up somewhere along there.
But it's all got to wait until the rains pass on.
Yesterday, before the rains came, we had a large attendance at Jan's feeders.
The many wild ducks, in this case male and female Mallards are new this year. Also new, although they don't come to the feeder, are the White Ibis, Ibises, Ibi, whatever.
Anyway, there's a lot of them and you can see them in the background in this photo.
Here's a closeup of one of the male Mallard ducks.
While Jan got her veggie soup started I headed out for a few errands.
My first stop was at one client's to do some work for another. I needed to make 36 copies of a catalog DVD, and one of my other clients has an 1 to 11 duplicator that looks like this.
You put in your master DVD in the top drive, put in up to 11 blanks, push the Start button, and off it goes. If you need more than 11 copies, you can put in the master, press the Load button, and it copies the master into RAM. Then you can place a blank disc in the top drive and make 12 copies at a time, as many as you need.
Then it was on to the next client's to deliver his DVD's. Done.
Finally heading home about 4pm, I stopped off at the feed store to pick up the deer corn which had come in.
Getting home, I opened the rig door to the wonderful smell of Jan's delicious soup. YUMMM!
---
January 8, 2014
'Raylan' is Back . . .
One of our favorite shows is "Justified" on FX, and last night was the beginning of the 5th season. Raylan Givens, a Deputy US Marshall out of Eastern Kentucky, is a character created by famed writer Elmore Leonard, and brought to life by actor Timothy Olyphant. You're never sure what will happen next, but you can be sure the body count will be high,
With all the cold weather around the country, especially in areas that aren't used to the low temps, I remember the time we spent in Fairbanks, AK in 2008 and how people reacted differently to the temps.
2008 was a cold summer in Fairbanks. We had 1 day in the 80's – 81 on the 4th of July, 12 days in the 70's, and the rest in the 50 and 60's. When the temps were in the 50's, you would have some people in parkas, and some people in shorts and T-shirts. Our granddaughter Piper who visited us in July couldn't understand why she was bundled up in a heavy coat, and people were jet-skiing on the Chena River in their bathing suits.
I told her it's all what you're used. This was summer to the Alaskans and they weren't going to miss out. Jan was an Air Force brat living in both Fairbanks and Anchorage back in the late 50's. She said in school that they used to play outside until it got colder than 20 below zero. It's all what you're used to.
As a follow-up on that idea, here's a chart to compare people's reaction to low temps around the country.
60° F: Arizonans shiver uncontrollably;
People in Buffalo, NY are still sunbathing.
50° F: Californians try to turn on the heat;
People in Buffalo plant gardens.
40° F: Californian's Italian sports cars won't start;
People in Buffalo drive with the windows down.
32° F: Distilled water freezes;
Lake Erie water gets thicker.
20° F: Floridians don coats, thermal underwear, gloves and wool hats;
People in Buffalo throw on a light jacket.
15° F: People in Buffalo have the last cookout before it gets cold.
0° F: All the people in Phoenix die.
Buffalonians close the windows.
10° below: Californians fly away to Mexico .
zero The Girl Scouts in Buffalo are selling cookies door to door.
25° below: Hollywood disintegrates;
zero People in Buffalo get out their winter coats.
40° below: Washington, DC runs out of hot air;
zero People in Buffalo let the dogs sleep indoors.
100° below: Santa Claus abandons the North Pole.
zero Buffalonians get frustrated because they can't start the car.
460° below: All atomic motion stops (absolute zero);
zero People in Buffalo start saying, "Cold enough for ya?"
500° below: Hell freezes over.
zero The Bills win the Super Bowl.
---
January 8, 2015
Gone, Gone, Gone . . .
Well, it made it down to 25 degrees this morning, and didn't get back above freezing until almost 11am. Since this was expected, I didn't even hook up water when we got here yesterday. But since it's supposed to stay in the mid-30's at night for the next week or so, I did connect us up this afternoon
I've got a lot of stuff I want to do outside around the rig, but the weather is either cold or rainy, or cold AND rainy, so that's kind of on hold. I want to get up on the roof again and get the rest of the drilling mud off, now that I know that vinegar will cut it.
And I also want to try out the new toy that I bought myself for Christmas. When we stayed with Chris and Charles Yust for a few days on their lot at the Livingston Escapees Park, I borrowed Charles' pressure washer trying to get drill mud of f. And although it didn't help with that, I really liked the unit for washing and waxing the rig. So I bought me one.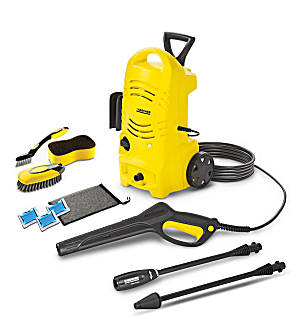 It's a Karcher K2.360, 1600 psi, with a built-in detergent tank and a lot of accessories. And even better it was really marked down at Wal-Mart right before Christmas
One of the other things I want to do outside is repair the AC in our truck, now that I know what's wrong with it. It's not like we need it right now, but with Texas weather you never can tell. I've seen it in the 20's one day and in the 80's a few days later.
Last up, thanks to our son Chris, and all his hard work, we are finally storeroomless, or the first time in 20 years. As I mentioned before, we rented a 10' x 25' storeroom in August of 1994 to store household furniture for a few months while we remodeled the house. And it just never went away, because it was just too convenient to stick stuff out of the way there.
But finally it's gone, gone, gone.
Thanks again, Chris.
---
January 8, 2016
A Walk in Two Parts . . .
Jan and I headed out for our walk about 11:30, but after the top loop, about 3/4 of a mile, Jan wanted to stop for a while. Her back was bothering her from all her cleaning yesterday, so we stopped and sat outside with our coffee and breakfast bread for about 30 minutes. Then we did the bottom loop for an additional 1/2 mile for our usual total of about 1.25 miles.
So I guess tomorrow or Sunday we'll make the jump to 1.5 miles
Later in the afternoon I took a look at my door problem. While we were on the gate, one of the wind gusts caught the door and slammed it back. After that it was much more difficult to close and lock the door.
At the time I figured that the main door hinges had been torqued or bent, but when I really got into it, I discovered that the real problem was with the screen door and its hinges, and not the main door.
When I got a closer look, I found that the top hinge was cracked and this was throwing the door out of whack.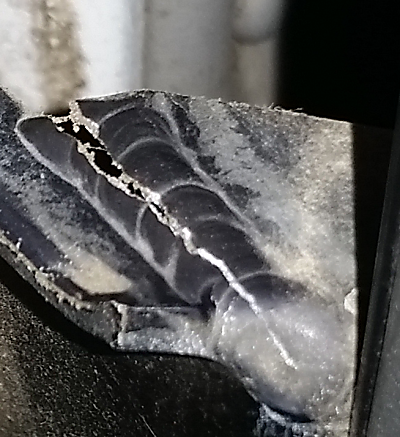 So it looks like I'll need to order new hinges for the screen door, since I don't think this one can be repaired. Even though only the top one appears to be cracked, I'll replace them both so they'll match.
Shouldn't be too difficult to remove the door and replace the hinges, but like a car door, it may take a little fiddling to get it aligned.
A little before 4pm, Jan and I headed up to Ellinger to meet up with a bunch of RV'ers for the Friday night BBQ Buffet. This place is a must-eat at least once during every stay here at Colorado River Thousand Trails. And this time we had 14 RV'ers, including a newbie couple that just bought their camper a week or so ago.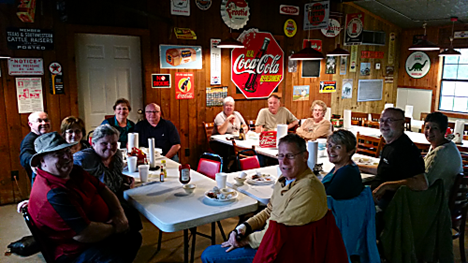 Starting at the back left, it's Roy and Nancy (didn't get their last name) Dennis and Rita Spriggs , Janice and Dave Evans, Jim & Claudia Horak, Rick & Janice Binns, my Jan, and Ed and Debi Hurlburt.
As usual when you get a bunch of RV'ers together, we did about as much talking as we did eating. Well, maybe almost as much. Everyone talks about where they've been, what they've done, and where they're going next. We had a great time with these old and new friends, and are looking forward to doing it again.
Getting back home, Jan and I got back into binge watching our DVR'd TV shows, all from the time while we were on the gate. We only lack a couple of episodes of Once Upon A Time, and then next will probably be Marvel: Agents of Shield.
Tomorrow's up in the air, but will hopefully include celebrating our winning the $800+ Million PowerBall Lottery.
---
January 8, 2017
21°
Well, last night was even colder than the night before. The forecast was for 25° but here at the rig it got down to 21°
In fact when I went out to hook us back up to shore water this afternoon, I still had a couple of big chunks of ice from where the rig end of the hose had drained.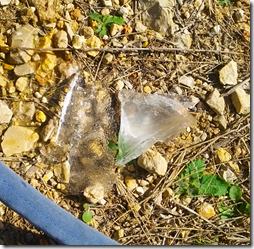 But by Tuesday the high's supposed to by 81°. A 60 degree swing in two days, so just a typical Texas winter.
When we left for lunch about 1pm we noticed that our neighbors on the left of us were gone. They were here last night so I guess they left sometime this morning. Certainly were quiet about it, anyway.
Don't know if they moved on, or got a gate somewhere else. The first part of December we were offered a 3 week gate in West, Texas paying $160 a day with $100 in travel money.
Only problem was that it was a 24/7 gate without a shack. Since we had dropped off all of our outside stuff, canopy, tarps, etc. at Brandi's at Thanksgiving, so we're really not set up for a gate like that anymore. But if it had had a shack we might have been tempted.
Since Sunday is Barth's Turkey & Dressing/Fried Chicken Day, that was lunch for today.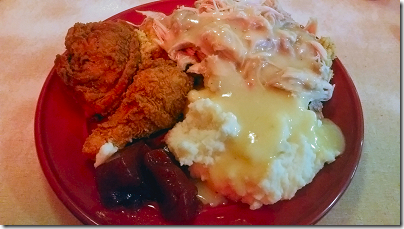 Then it was on down to the HEB for gas and a car wash. But the car wash was still shut down after last night's freeze so we'll try again another day, probably tomorrow.
We had planned to head down to Beeville this afternoon for the 4pm showing of Passengers, but the tryptophan intervened and naps ensued. So maybe tomorrow.
In fact we've got Amazon orders coming in tomorrow, and we need to make a Wal-Mart run so we may lump it all together with the trip to Beeville for the movie and then dinner.
When we were at Wal-Mart a few days ago we picked up a new bed/scratching pad for Karma.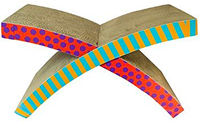 We had the original one since the Mister days, so it lasted 3 or 4 years. But it finally broke in two, cracked at the joint. It's made from corrugated cardboard and comes with a packet of catnip to sprinkle in the little pockets.
Karma really likes it and spends a lot of time either scratching on it or just lying on it.
---
January 8, 2018
Pet Parade . . .
After being out all last week due to Jan's illness it was actually good to be back at work today.
Of course I had a lot of stuff to catch up on, but the big problem was that right after I got in we found that the webserver email system had crashed completely. This means that no one gets a confirmation email for their order. Nor can we send out any emails on the company account.
I did finally get it limping back to life, but this problem has just reinforced my determination to get the Zen Cart shopping cart off this server and up on Godaddy. That way I can also set up the email there too and not have to worry about all this again.
It didn't help things that workers were in and out of my office replacing the sheetrock ceiling that was damaged during Harvey, either.
Over the years we've come across a lot of RV'ers who travel with unusual pats – Ferrets, Nubian Pygmy Goats, Monkeys, Iguanas, large tortoises, a pot-belly pig, parrots and cockatoos, and even six large St. Bernard show dogs in a small camper. Watching them all come out was like watching a clown car.
And the Full-Time RV-traveling nurse I met at the hospital fits right into this. She and her husband travel with TWO ferrets and a Sugar Glider.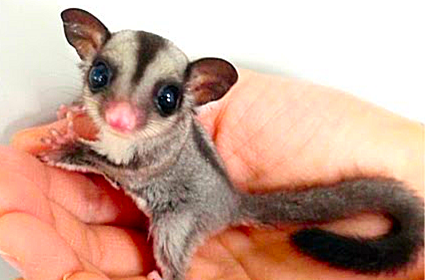 A Sugar Glider, like a flying squirrel, can glide from one side of the room (or coach) to the other.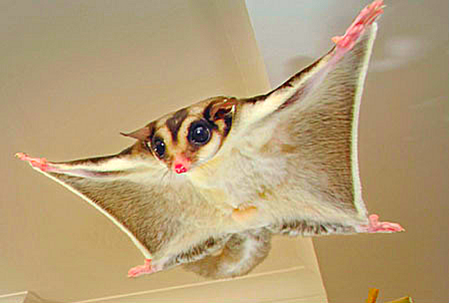 But while flying squirrels are rodents, sugar gliders are actually marsupials like a kangaroo.
When I was a kid I had a pet flying squirrel that I raised from a baby. it was perfectly tame, and whenever I would walk out on the large screen-in porch where he usually stayed, he would swoop down and land on my shoulder waiting for a peanut or a piece of carrot. I could even take him outside and he never tried to get away. He would just ride around in my shirt pocket with his head poking up looking around.
I had him for 5 or 6 years until I gave him to a friend when we moved to South America.
And what was the name of my pet flying squirrel, you might ask?
Well, Rocky, of course.
---
January 8, 2020
Still Not Impressed . . .
We made another run at making chicken drumettes in our new Ninja Foodie Grill, and they were just as delicious as before. We really like this unit, and going to be trying some new recipes, including doing entire meals in the tray.
As I mentioned Jan had kept her old toaster oven in case she didn't like the Ninja, or didn't think that it would replace the oven, but I think she's about decided it can go.
Once again, I'm not impressed.
Jan was prescribed an ointment by her dermatologist, so I thought I'd again compare GoodRx, SingleCare, and WalMart's regular price, which in this case was $65.26.
SingleCare at WalMart was a little cheaper, at $60.97, with Kroger cheaper still, at $54.14.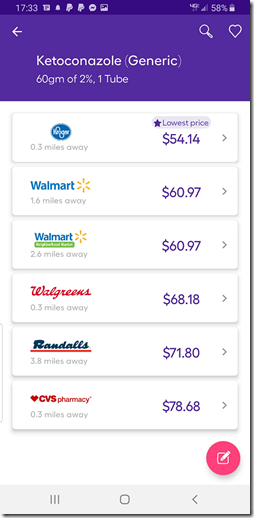 But once again, GoodRx was the runaway winner, at $31.55 for WalMart, and $32.16 at Kroger.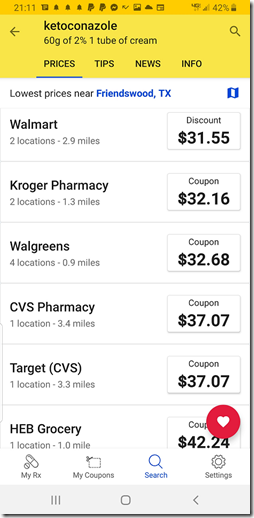 As I said, I guess that's what happens when you have to pay Martin Sheen and Charlie Sheen to be your spokesmen.
Earlier I had thought I might be able to crawl under the rig tomorrow and take another shot at fixing my oil leak by pulling the filter and adapter head and replacing the gasket once again. But it's looking like a 50% chance of rain. so I'll hold off for now. But the Saturday=Sunday timeframe looks good so far.
We'll see.
As far as the rest of tomorrow, we plan on brunch at Snooze and then some shopping, and a trip by the storage room to drop off the Christmas decorations. And there'll probably be a stop by the office as well.