They Admit It Was Defective, But . . .
I'm set up with RV Mobile Lube for late morning tomorrow. They'll be doing a complete Full Service Oil Change which consists of  changing engine oil, oil filter, primary and secondary fuel filters, lubing the chassis and driveline, checking all fluids, and correcting tire pressures. And they will also be doing a Coolant Service which consists of testing the coolant, and changing the coolant filter. Costs should be around $400.
I called the Starlights RV Lights people today about a problem with my Smartlight 1000 patio lights. In 2008 I bought a pair like this one for our rig.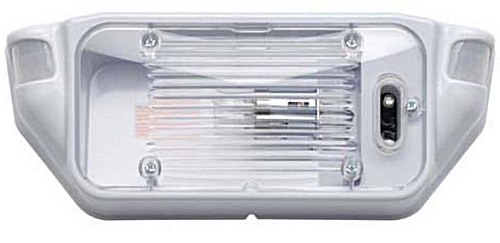 It's a motion-sensing light that turns on and off at night, but shuts down during the day. They worked great, but did have a problem. When they turned on as you came home at night, they turned off too quickly, and the sensors didn't look down enough to trigger when you were at the door.
But by 2012 they had come out with a new model with a longer activation time and a better look-down angle. In addition, they now used a very bright LED bulb, so at Nick Russell's last Celina Rally in September 2012 I purchased two new ones, this time in black, because the original white ones had started to yellow slightly.
A couple of months ago, I noticed mine had both stopped working, even manually. But with all our oscillating back and forth between the Lake Conroe Thousand Trails and the Colorado River Thousand Trails, I didn't have a chance to check them out until the other day. And what I found was this.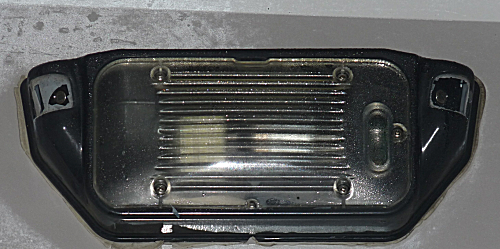 Both of the sensor lenses on either end looked like they had been smashed out, which of course let water in and killed the lights. Jan thought maybe someone had poked them out for some reason (sometimes she's more paranoid then I am) but our son Chris thought they might have just deteriorated from the sunlight.
And he was right. When I climbed up on the ladder, I found that the plastic was so brittle that merely touching it with your finger made pieces break off.
So I talked to Customer Service about my problem. The guy said that that they knew about the problem, and that the first run of the new LED models were done by a different manufacturer who used an inferior plastic for the sensor lenses.
I said I knew I was out of the one year warranty, but since this was a manufacturer's defect, did they had any remedy. He said they would be happy to send me new replacement lenses, but when I reminded him that the units were already dead, he agreed that that wouldn't help much.
So now I guess I'm supposed to buy two new units ($100 – $150) and hope I don't run into the same problem after another two years, again with no support.
It's really a shame when a company  takes a good product and then destroys their reputation by failing to support it with their customers.
Not Recommended.
Our son Chris showed up about 8:30 this morning and finished up his part of the fiberglass bumper repair today.
Remember it started looking like this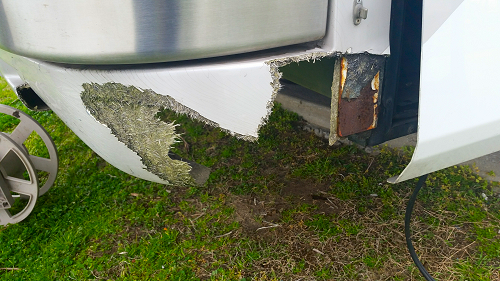 and now looks like this.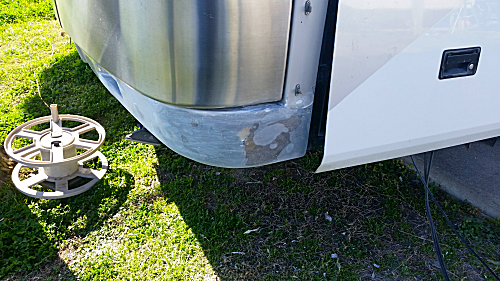 and started like this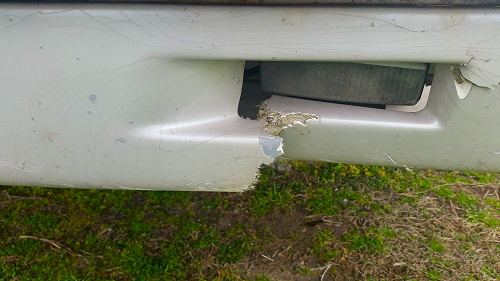 and now looks like this.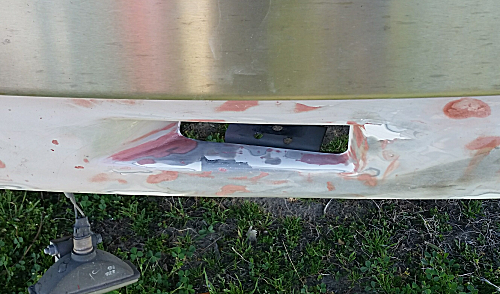 The passenger side started like this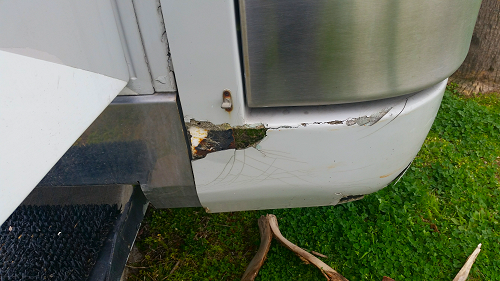 and this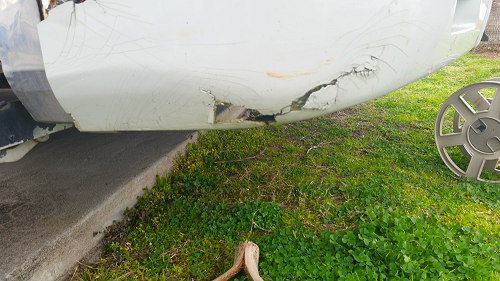 And finished like this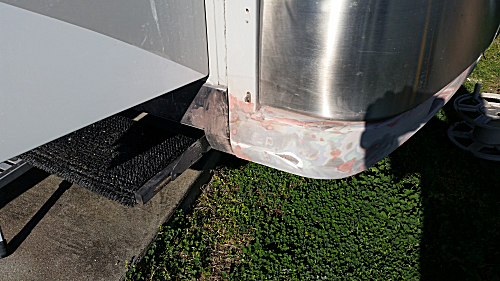 and this.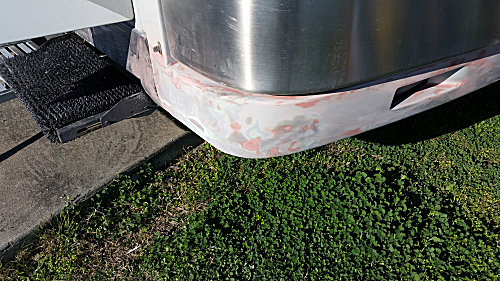 Now when the wind dies down, I'll mask off the area and spray on some sand-able primer and do the last bit of sanding and prep work before spraying on the final coats. Again when the wind dies down.
Chris did a great job, and I really appreciate all his hard work.
___________________________________________________________________
Thought for the Day:
"When women go wrong men go right after them." – Mae West
adfadfda