Monthly Archives:
March 2015
No, not the western plains, but the many RV parks around Apache Junction. Every time we drive around here at Countryside RV Park, we see more and more empty spaces where yesterday sat RV's. And a growing numbers of the park models have obviously been closed up for the summer.
The annual northern migration of snowbirdus rves has begun in earnest.
Jan had been wanting some way to have her favorite earrings easier to find than digging through her jewelry case, so I mounted these hooks on either side of the bathroom cabinet to make it a little simpler.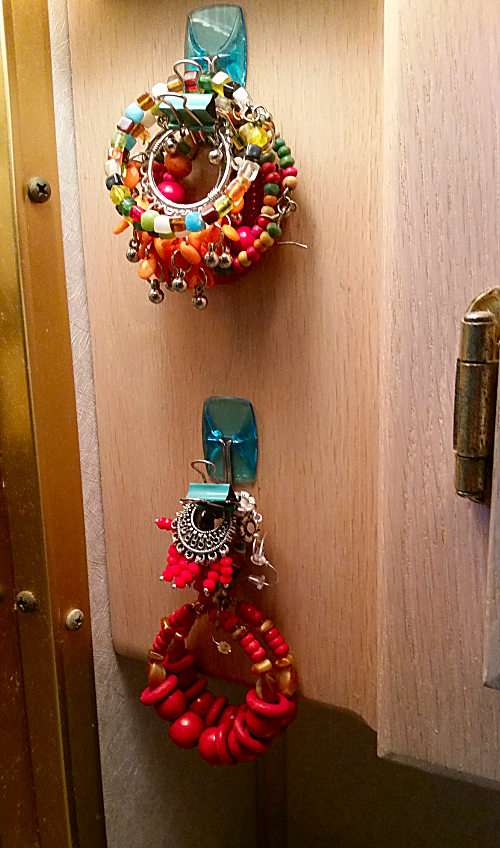 Nick has been wanting to migrate his blog over to a better, faster server on Godaddy for a good while, So about 1:30 Jan and I went over for the afternoon so Nick and I (me) could work on making it happen. But first things first, I followed Nick down to a repair shop so he could drop his Explorer off get his brakes done.
Back at his rig, I called Godaddy and got things started, and although there were a couple hiccups along the way, once things got started, it actually went pretty smoothly.
Basically Godaddy just copied all the old site into a new Managed WordPress area that's not online yet. This way we can check it out to be sure it all came over cleanly with no problems or missing stuff.
It took about an hour for the move before we got an email saying it was done, and giving us a temporary URL to access it so we could check it out.
Then tomorrow we'll hopefully be able to take it live. It won't look any different to the user, but it should run faster and smoother, without the slowdowns and interruptions that some readers have reported.
Cross your fingers.
Around 5pm the repair shop called and said Nick's Explorer was ready, so we all piled in our Dakota to head that way. Then leaving their SUV there, we continued over to the Golden Corral about 7 miles away for dinner.
Later coming home, and really stuffed after a good meal, we dropped Nick and Terry off to pick up their vehicle, and then we headed home with PO stop to drop Landon's Easter card in the mail.
__________________________________________________________________
Thought for the Day:
"Since when do you have to agree with people to defend them from injustice?" – Lillian Hellman
adsfadsf
Our daughter Brandi sent over some photos of Landon's first  T-Ball game this season.
Pre-Game Huddle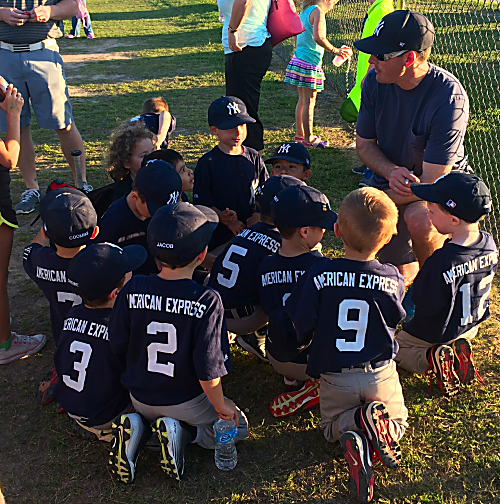 Who's on Third?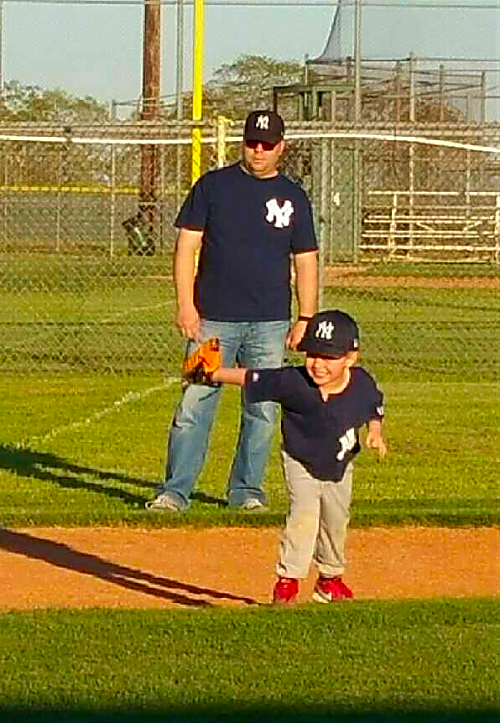 Heading for home.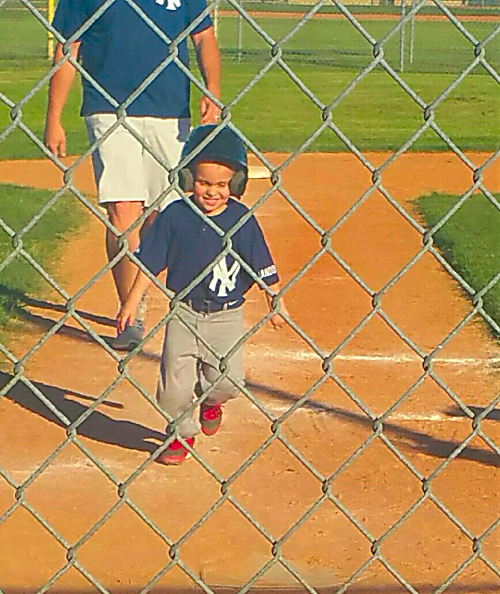 Later in the afternoon I went outside and installed the new Camco EVO Premium Water Filter that I bought on closeout from Wal-Mart yesterday. It was very easy to install and set up, and replaced the smaller type of blue Camco filter that we've used for years.
Per the instructions, I hooked it up to the faucet and let the water run for a couple of minutes to flush out the filter before I connected it to the coach water intake. The box said that this filter is high-flow at 5GPM, and it seems to show up in the water pressure inside the coach.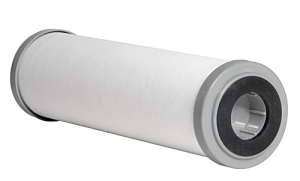 The instructions say the filter will last an 'entire camping season'. Not sure exactly what that means, but I'll check it in a month or so and see what it looks like. A replacement filter seems to be less than $15 so that's not bad.
Our daughter-in-law Linda posted this pic of some new patio furniture that our son Chris repurposed out of scrap wood. It's also nice to see some of our ornaments, the piranha and the lizard, are still on view.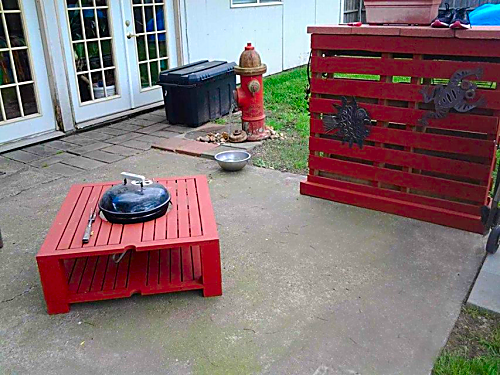 Since Nick and Terry were out of town today, about 6 Jan heated up some leftovers for dinner. She had her chicken pasta dish from The Tilted Kilt while I finished up the rest of my BBQ Combo Platter from Famous Dave's BBQ last week.
Tomorrow afternoon Jan and I will be over at Nick and Terry's while Nick and I are going to try to move his GypsyJournal Blog website to a new server area on Godaddy.
So if Nick's blog disappears tomorrow you'll know things went terribly wrong.
_________________________________________________________________
Thought for the Day:
"In a perfect world you wouldn't need a utopia." – Mike Meyers
adfdsfd