Monthly Archives:
December 2017

Wow! It turns out that a number of our blog readers also suffer from BPPV, actually more than I had imagined.
---
---
I don't feel so lonely now.
I haven't started the 'canalith repositioning' exercises yet, but probably will tomorrow. I've been trying to determine which side is affected. In my case it seems to be my right side. At least turning to my right gives me the most vertigo, although I do get a little when I turn to the left.
I'll see how it goes, I guess.
A little after 11 this morning Jan and I headed up to meet Brandi, Lowell, and Landon's at La Finca, our favorite Mexican place in the Katy area.
While Jan had the Beef Fajita Nachos, I tried the Marcos Salad, a souped-up version of a taco salad.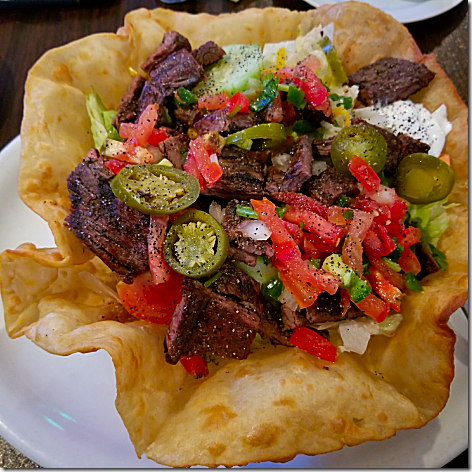 This one comes with large chunks of Fajita Beef and was really good.
After lunch Jan and I followed Brandi et. all., over to their new home.
The reason we're up here, and the reason Jan is Landon-sitting for the next several days is that Brandi and Lowell are selling their house.
They've had it on the market for a few months, and now have a buyer. Although they love the present one, they're looking for something a little smaller than the almost 3800 square feet, but they want a bigger backyard, big enough for a pool. The house they're in now might hold a lap pool, but that's about it.
You can scroll through the Realtor.com listing of Brandi's Old House here.
---
---
They close on January 15th, and since they want to take their time looking for their new one, they started moving into a rental home where they'll be for the next year. It's not far from their old one, but in a different subdivision. On the other hand it's only a block from Landon's school, so he'll be able to walk in nice weather.
Here's a photo of their rental house.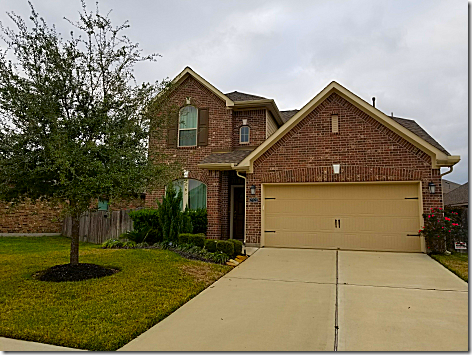 They just got the key this morning and are going to spend the next couple of days moving all the small stuff over. Then they'll get a mover for the big stuff in the next week or so. So while they're doing this, Jan will keep Landon occupied and out of the way, they hope.
Leaving Jan to ride home with them, I headed back to Santa Fe and the rig. I did make a few stops along the way, first at the nearby Kroger's for gas, using some of my fuel points for a 20¢ a gallon discount.
Later coming into Clear Lake I stopped off at my client's to close out the books for December and 2017. I also did some backups to cover the last year too.
Then finally getting to Santa Fe I stopped at the Valero for Powerball/Mega Millions tickets. With PB at $440 million and MM at $343 million it's worth a few bucks.
I had hoped to get my new awning mounted tomorrow, but with a forecast high of 35°, I think I'll pass.
---
---

The Word of the Day is: Antithetical
---

Thought for the Day:
Remember if your paranoid, you're only crazy if someone's NOT out to get you.
fghdgh
I've mentioned the health problems I've been having the last couple of weeks, actually the last 10 days.
---
---
It started in the early morning of December 21st when sometime during the night I rolled over and experienced a short burst of vertigo. But I didn't really remember it until the next morning when I set up on the side of the bed and suddenly thought I was on a carnival Tilt-A-Whirl. And I like the Tilt-A-Whirl.
I was suddenly so dizzy I couldn't even stand up without falling off to the side. but the real problem was the nausea and urge to vomit. I've never been seasick or airsick so this was new to me.
By holding onto the wall and door I was able to make it to the bathroom and then out to the living room to talk to Jan, The problem with getting sick today was this was the day for our Trans-Siberian Orchestra concert at 3:30. And at that point I was pretty sure I wouldn't be able to go, much less drive.
Going back to bed I did check my blood pressure which was 128 over 88, so I was sure that it wasn't a blood pressure problem. And later in the afternoon the vertigo was gone, but I still felt kind of blah, but well enough to go to the concert.
Then this past Wednesday it hit again, but not as bad, and with no nausea, but still didn't feel well enough to go in to work. And again, by the next day it was pretty much gone.
So now I want to know what the heck this was. And a little Googling pretty much nailed it. I have BPPV, or Benign Paroxysmal Positional Vertigo.
Symptoms
The signs and symptoms of benign paroxysmal positional vertigo (BPPV) may include:

Dizziness

A sense that you or your surroundings are spinning or moving (vertigo)

A loss of balance or unsteadiness

Nausea

Vomiting
My symptoms to a 'T''
---
---
The problem is caused by small particles breaking loose in the inner ear and then drifting into the semicircular canals, which usually happens while you're lying down. It's fairly common with about 200,000 new cases a year.
The fix is a series of 'canalith repositioning' exercises done three times a day. Hopefully this will help. I'll let you know.
BTW if you want your own Tilt-A-Whirl, you can go here and get one for only about $250,000, complete with low-boy transport trailer.
Tomorrow Jan and I are heading up to Brandi's for lunch and also to drop off Jan so she can Landon-sit for a couple of days. I'll drive back up on Tuesday to pick her up, so Karma and I will be batching for a couple of days. Hopefully we'll survive.
I played around with my new Alexa Wand some more this afternoon, finally ordering something through it, hopefully getting my $20 rebate doing it.
In the latest Global Warming news, Niagara Falls is frozen over,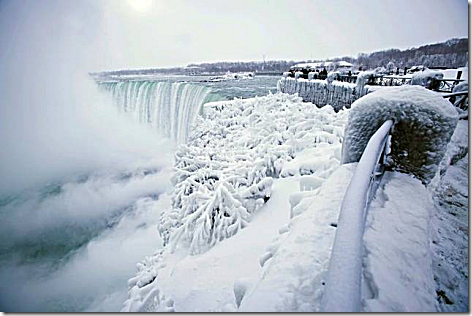 and parts of the US are colder than the surface of Mars.
---
---

The Word of the Day is: Nabob
---

Thought for the Day:
"Whether you think you can, or you think you can't–you're right." ― Henry Ford
dfasdfd