It Was Skinnylicious . . .
Today was a work day for me, since my client is out of town today and tomorrow, so I went in today, and will tomorrow as normal.
And since we were also scheduled for our monthly Alvin Opry get-together, Jan came in with me, and then did some shopping before ending up at the library checking out some magazines that she doesn't subscribe to.
Then, a little before 2pm, she picked me up and we drove right down Bay Area Blvd to the Cheesecake Factory in front of Baybrook Mall to meet up with everyone.
We were last here with the kids in June of 2018, so it's been a while, but we always enjoy it. And just like last time, Jan and I both got the Tuscan Chicken,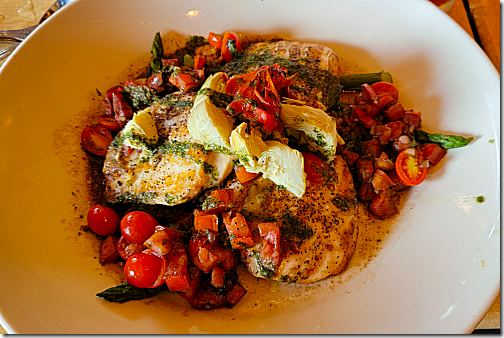 It's three Grilled Chicken Breasts with Tomatoes, Artichokes, Capers, Fresh Basil and Balsamic Vinaigrette. Served over Fresh Vegetables, Grilled Asparagus, and Farro.
Really, really good, and I'm not a big fan of artichokes, ether
You can't go to the Cheesecake Factory without getting Cheesecake, but Jan and I were just too full. So we got a couple of slices of their Skinnylicious Low Carb Cheesecake with Strawberries to go.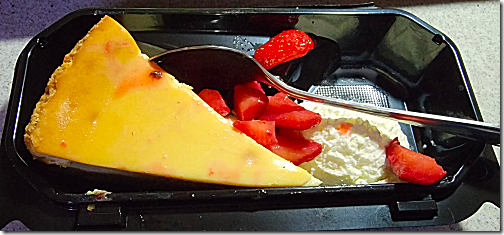 And as happens, we were all having such a good time talking, I forgot to get a photo, so here's a shot from a previous get-together a while back.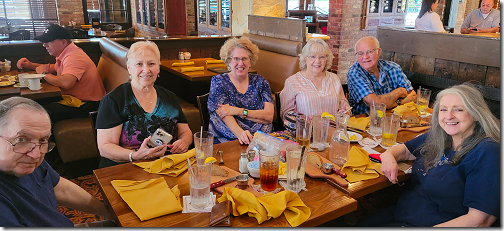 We've known Bob and Maria, on the left, since the mid-80's, and the others since the late 90's. And we were there for over two hours before we finally said our good-byes.
And next month is already scheduled.
---
Thought for the Day:
There are 30 times as many guns in the United States as there are swimming pools.
Yet, swimming pools are six times as likely as firearms to be involved in a fatal accident for children under the age of 15.
Ban Swimming Pools.
It's for the children.
---
July 21, 2010
The Rally – Early Bird Day 2…
Today we decided to try another well-known restaurant here in the Louisville area, although in this case it's actually in Indiana, which of course is just right across the Ohio River from Louisville. So we left about 11:15 am heading about 25 miles north and out in the country to the Joe Huber Family Farm and Restaurant.
The Huber family has owned this 200 acre farm since 1843, but the restaurant got its start in 1967 when the family begin advertising "Pick Your Own" fruits and vegetables. It turns out that the customers were hungry after picking in the fields, so the family began serving box lunches.
Then in 1983 they built the restaurant that began it all. Today it's a tourist destination, with a petting zoo, gardens, rides, gift shops, and meeting halls for wedding receptions, reunions, and company picnics.
And the restaurant is great! Here's my Country Platter Dinner.
It had Fried Chicken, Country Ham, Corn, Cole Slaw, Chicken N Dumplings, Mashed Potatoes, and Green Beans. And It was "All You Can Eat"
Believe me, this was all I could eat. In fact I had to take some home.
And the grounds were very nice, too.
After a great meal, we got back to rig about 2 pm, and it seemed like a good time for a nap.
Then, about 3:30 pm we went over to look at the new RV's on display. These next two photos are of 2010 American Eagle, the same one as our 1999 Eagle. This one lists for $580,000.00, about twice what ours went for originally. Guess we'll have to wait for that Mega-Millions winning ticket.
One of the other rigs we looked at was this Prevost from Parliament Coach in Florida.
We really need a place to store our crystal glassware!
And what's even better, you can buy it today for half price, only $975,000. What a deal!
Then about 6 pm we walked over to Freedom Hall to see the Monarchs, a 60's rock and roll group. Two of the band are original members from when the band formed in 1960. They had a number of hits, including "Look Homeward, Angel", which made it to #13 on the Billboard Chart. They toured with Dick Clark, The Beach Boys, The Righteous Brothers, Dion, and Frankie Valli and the Four Seasons, among others. I remember seeing them in Birmingham, AL in 1965 on the Dick Clark's Cavalcade of Stars. And they still sound good.
After the concert we walked back across the parking lot to our truck, passing a display of old RV's.
This one looks like the one from Lucy and Desi's "The Long, Long, Trailer".
We got back to the rig about 9 pm and started planning our day tomorrow.
---
July 21, 2011
20 Miles of Bad Road . . .well, 11 miles anyway.
Since we only had a 100 mile run to Cody, WY this morning we were able to sleep in a little and not get up until about 9.
After coffee and breakfast sandwiches, we hooked up the toad and pulled out about 11 am.
Our route took us about 15 miles back west on I-90 where we turned south on US-212. We were moving right along until we turned onto SR-72 just south of Bridger, MT.
Now it would have been very to easy for them to post a sign at the turnoff saying the road was under construction . . . a lot of construction.
But Nooooooooo!
As soon as we got around the curve we were on a rough gravel road, because they had torn up all the asphalt.
It took us almost an hour to travel the next 11 miles, mostly because the one-lane construction zones where we had to wait for a pilot vehicle to lead us through each way. Finally, right before Belfry, MT (and yes, they have two belfries in the town) we hit clear road and sailed into Wyoming with some more great views.
Of course, they couldn't let us into Wyoming without a little construction, but we were only stopped for about 10 minutes before we were back on our way.
We got into Cody, and the Absaroka RV Park about 1:45 and got set up.
Absaroka is a nice park, with full hookups for $29 a night. The sites are kind of close, but not too bad. And no problems with the satellite view.
As an update, my new Winegard Carryout Automatic Dish is still working fine.
I just set it down, hook up the cables and power, and about 5 minutes later, I have a signal.
Neat!
About 2:30 we called our friends, Al and Adrienne, who are workamping here for the summer. We decided to meet at 5 pm at Zapata's, a Mexican restaurant in downtown Cody on the main street.
We first met Al and Adrienne in Fairbanks, AK, where we were all workamping for the summer, although at different places. This year they're working for the Blair Hotels in the Buffalo Bill Village Resort here in Cody.
After a great meal at Zapata's we walked up and down a couple of blocks to check out some of the shops.
While we were walking we saw this fine example of what I guess you would call a 'Wyoming Woody'. I wonder if the owner worries more about termites, or maybe pine bark beetles?
Later we went over to their RV for a while to work out plans our Yellowstone trip tomorrow. Somehow those plans ended up with me having to get up at 6 am tomorrow morning. But I guess I'll live.
Maybe.
---
July 21, 2013
Riding the Soo Locks . . .
For our first morning here in Sault Ste. Marie, Jan and I set outside and drank our coffee while we watched the big boats go by. This has got to be one of the nice views we've had in an RV park.
Even Mister got some sun with us.
Since it was such a nice day, we decided to take the Soo Locks Boat Tour this afternoon so about 2:15 we drove down the road about a block to the tour boat dock to make the 2:30 tour.
The first place we passed was our site at the Elk's Lodge here. Shows you what a great view we have here.
And then right down the road we passed the Soo Locks Campground. It's a pretty big park, but only a few sites are as good as ours.
This is a crane barge, capable of lifting 300 tons. It's used to lift the enormous lock gates when repairs are necessary.
Here we are entering the lock that will raise us to the level of Lake Superior. Lake Huron is 21 feet below Superior, and before the locks were built, a 3 mile line of rapids covered the area. At that time they would haul the boats around the rapids on skids.
This lock holds 10 million gallons and it takes about 10 minutes to raise our tour boat to the upper level. There are no pumps involved in moving the water. To fill the lock they just open valves under the lock and let the water from the high side run in. To empty it, they just open valves at the other end and dump the water out the low side.
The only electricity used is to open and close the lock gates and valves, and uses only about 11 cents worth. For this reason passage through the locks is free, no matter if you are a row boat, or a big taconite (iron ore) freighter like the American Century below.
The American Century is 1000 feet long and 105 feet wide, and clears the locks with only a few feet on each side.
Once we were 21 feet higher, the gates opened and the safety boom moves out of the way. The boom prevents runaway boats from crashing into the lock gates and damaging or destroying them.
So now we were out into wide open Lake Superior.
Next up we passed a big steel mill that uses some the taconite ore brought in on the big freighters.
A large moving crane scoops up the ore from the piles
and then dumps it into the train car that takes it to the blast furnace.
Coming back, we came through a smaller set of locks on the Canadian side. The original large lock here was damaged about 50 years and set idle for a good while. It was decided that it was uneconomical to repair it, so they actually built a new, smaller lock inside the old one.
Only 238 feet long it is used for pleasure boats, tour boats, and other small craft.
Finally headed back to our dock, we passed the US Niagara, Admiral Perry's relief flagship in the Battle of Lake Erie during the War of 1812. Sunk on purpose in 1820, it was refloated in 1913 and suffering through several abortive restorations before finally ending up like this. During the summer it travels the Great Lakes as an ambassador for the state of Pennsylvania.
Jan even had a moose sighting, so she was happy.
By the time we got back to the dock and in our car, it was almost 5pm so we headed out to Applebee's for dinner.
Not sure what we'll do tomorrow. We might have some thunderstorms rolling in so we'll have to wait and see.
Cherokee Landing Thousand Trails
---
July 21, 2015
A Dog and His Boy . . .
Jan and I are really enjoying our days here in the woods. After being on the go almost constantly for the last two weeks since we left Cottonwood and the Verde Valley Thousand Trails, it's nice to just do nothing for a while. Of course that will only work for so long with me, so I'm already putting together a list of projects I want to try to get to, and also some of the parts I'll need.
About 2:30. the Ranger came by to tell us that they're shutting down one of the bathhouses until the weekend so they can repaint. I would have asked him about these 'phony' 50 amp hookups here, and if we could possibly move to a real 50 amp site, but earlier Jan had told me that she'd rather stay here and tough it out than to pack up and move.
So here we stay.
Today was a good bit cooler with the high only getting up to about 93. and tomorrow's only supposed to get to 89 degrees. Later in the afternoon we did get some rain, and it's the same forecast for tomorrow.
But then it's supposed to be back in the high 90's the rest of the week.
Our daughter Brandi sent over this photo of Landon and Kitty, entitled A Boy and His Dog.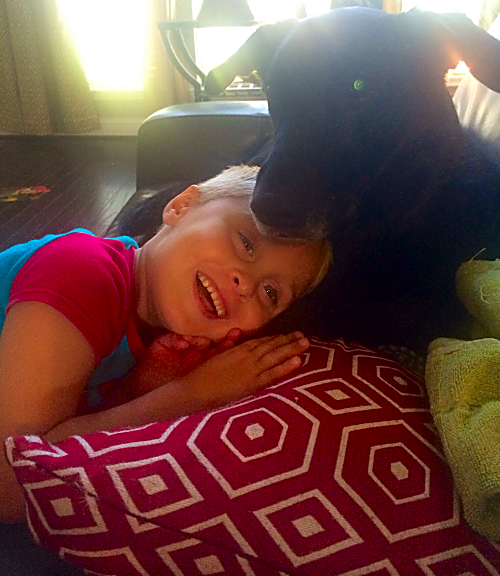 But I think it should really be called A Dog and His Boy, since I think Kitty thinks that Landon belongs to her rather than the other way around. I know when we first visited Landon at home after he'd been born, Kitty would not let us, or anyone for that matter, near Landon until Brandi or Lowell told Kitty we were OK. Otherwise she would use her 130 pound body to block us, pushing us away.
Now they're more like brother and sister, fighting over toys, pushing each other off the sofa, and chasing around the house.
Of course they've been together for a long time.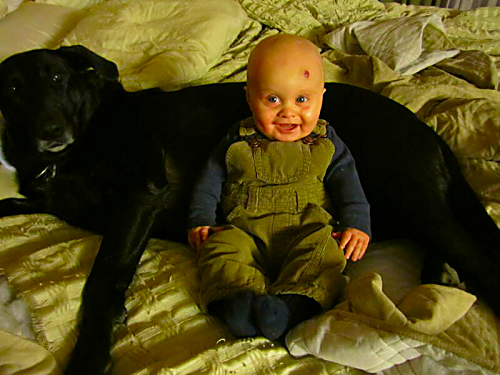 Colorado River Thousand Trails
---
July 21, 2016
There's Always One Left Over . . .
Either that, or I have a screw loose.
I was up on the roof by about 9am this morning, a little later than I had hoped, but it was still only 76 degrees out, so not bad.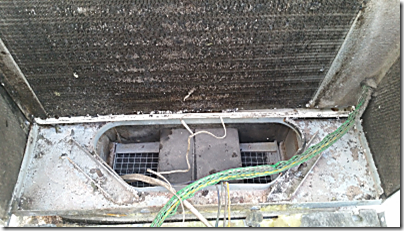 You can see how dirty the coil is before I started.
After I got both the cover and the sheet metal off, I first taped over the hole that drops down into the bedroom with Gorilla Tape.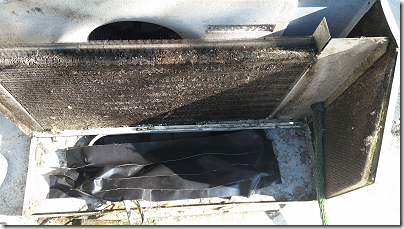 Then I used a legal-size clipboard to cover over that to provide a firm base.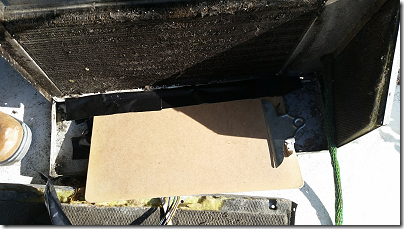 After that I used more Gorilla Tape to seal that off.
Next came a garbage bag and more Gorilla Tape to top it all and make it as waterproof as possible.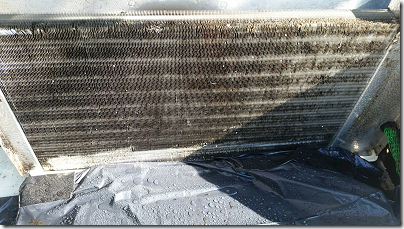 Now I sprayed the coil with 409, let it soak for a while, and then sprayed it again.
Then using a soft brush I started brushing upwards, pulling as much gunk as possible out the top of the coil.
Then I used my hose spray nozzle to flush as much stuff out as I could.
Then I started by over with the 409 soak/spray nozzle until I could see daylight through the coil itself.
Finally I was ready to start putting the sheet metal coli enclosure back together. It's important to get this done right and tightly sealed so the unit is not is not pulling in hot outside air along with the cooler air that is being recirculated through the coach.
So I took my time to be sure that I was getting every screw (there are over 20) back in place. I also sealed all the corners and edges with Gorilla Tape to make sure it was as airtight as possible.
And of course, after all that attention to detail, I had one screw left over.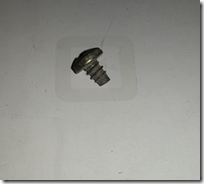 From where I don't know. There weren't any empty screw holes left. So maybe they were breeding down in the bottom of the bag?
Then I put the cover back on and I was done, the job only taking me about an hour.
By now it was starting to get hot, especially since the last 15 minutes or so were in the direct sun. So getting down from the roof, Jan and I sat outside in the shade with a nice breeze.
While we were there, Rick and Janet O'Connor stopped by to get acquainted, since they had seen me up on the roof.
Finally coming back inside about 10:45, I took a shower and then a nap for about an hour, since I really was even supposed to be up yet.
The only other big project on my schedule before we leave on the 31st is to get out the pressure washer to wash and wax the rig.
Tomorrow is definitely a 'rest up' day.
On another front, Landon is Cool!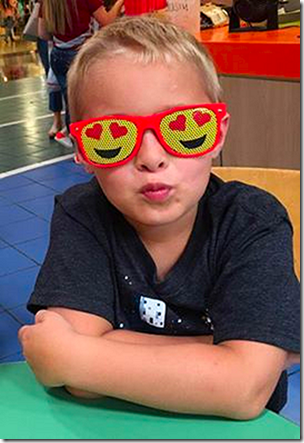 ---
July 21, 2017
Last of the Consequences . . .
I was hoping that in at least in this last article, I wouldn't have to talk about Seattle. But they make themselves such an easy target.
I mentioned a couple of days ago a University of Washington study commissioned by the city of Seattle to back up their idea that raising the minimum wage result in more money in low-wage worker's pockets without hurting businesses.
Kind of like having your cake and eating it too.
So when the bipartisan UW study showed that, because of hours being cut, workers were making 6%, or about $125 a month less, and small businesses were closing at a much higher rate than before the wage increase, the city abruptly pulled the study, disavowed it ever really existed, and turn the study project over to an group headed by Professor Reich of UC Berkeley.
Amazingly, Professor Reich is most well-known for being a founding member of the anti-capitalist group, the Union for Radical Political Economics (URPE).
Don't know what Seattle will do if this doesn't work either.
Now back to your regularly scheduled 'Unintended Consequences' screed.
It's a standard axiom in economics that when you throw money at a system, prices will rise to absorb the excess. And here's a personal example.
When my little sister was born in 1961, my mother's entire medical bill was a little over $400. That was for pre-natal care, delivery, hospital, i.e. the total bill.
However, when our son Chris was born in 1968, just the pre-natal and delivery doctor's bill was $1200. The hospital was on top of that.
Now what happened between 1961 and 1968? I'll give you a hint.
LBJ signed it into law.
It was known as the Social Security Act Amendments, more popularly known as Medicare/Medicaid. The House Ways and Means Committee estimated that by 1990 the cost of Medicare would be $9 Billion.
So are you really surprised to find out that the amount actually clocked in at over $67 Billion? And now in 2016 Medicare alone accounts for over 15% of the Federal budget, or about $588 Billion
And we're not even talking about Medicaid yet.
Another system that has suffered from an excess of money is education. And this one has the money coming from two different sources – The expanded college loan program, and Jimmy Carter.
Today's student loan program really got its start in 1965 with the Higher Education Act, loafed along until the mid-90's, and then skyrocketed in the 21st century until last year student loan debt topped out at over $1.3 Trillion, compared to about $800 Billion in total credit card debt.
And why would that be?
In 1970, the. average yearly tuition was $358 for public four-year institutions and $1,561 for four-year private colleges.
In 1980, the. average yearly tuition was $2,100 for public four-year institutions and $9,500 for four-year private colleges.
In 1990, the. average yearly tuition was $3,720 for public four-year institutions and $17,340 for four-year private colleges.
In 2000, the. average yearly tuition was $5,110 for public four-year institutions and $23,560 for four-year private colleges.
In 2010, the. average yearly tuition was $8,820 for public four-year institutions and $29,700 for four-year private colleges.
Note the big jump was between 1970 and 1980, when the 1965 loan program really kicked in, and tuition increased by over SIX times. And since 1980 tuition has increased 1120%
By comparison, medical costs, the bugaboo everyone's worried about, has only gone up 601%, while food costs went up 244%.
I guess the best thing we can hope for is that the government doesn't start throwing money at the food supply
So how does Jimmy Carter figured into this? Well, he created the Department of Education in 1980, and then money started pouring back to local schools. From your taxes, of course. And since the house always takes a cut, they send back to the states a lot less than they take in. Gotta pay for those 3 martini lunches somehow.
Remember the government has no money of its own. It all comes from you.
So what did all this money do? It gave us school buildings that look like luxury hotels, high schools with football stadiums that could host the Super Bowl, and staff (not teachers) that increased many multiples times.
For example, Foley Elementary School, Junior High, and High School, where I went halfway through the 8th grade before we moved to Colombia, South America, had about 8 employees in 1962.
The Principal who ran the Junior High/High School, the Vice Principal who ran the Elementary School, two secretaries (one for each), two nurses, and two librarians. And of course the custodians.
Now, according to their website, they have 55 people working on staff, with only a 25% increase in student population.
They've got to use up all those extra dollars somehow.
Wrapping up, remember what I said about hoping the government doesn't start throwing money at the food supply? Well what do you think will happen if they start throwing money at EVERYTHING?
Recently there have been new calls for a guaranteed income for every man, woman, and child in the US, most recently by Mark Zuckerberg, founder of Facebook, in a Harvard Commencement speech.
The idea has been around for a while, but it's been gaining steam with calls to help people whose jobs are being taken over by technology. You know, the ones losing their jobs to technology because of the increases in the minimum wage. Funny how that works out, huh?
Different amounts are mentioned, but in the neighborhood of $13, 000 to $15,000 per person is usual. So a family of four would get $60,000.
Now if this happens, I predict several things will result.
1. Prices of everything will skyrocket.
2. People will start to have more kids. (remember the cobras from a previous blog!)
3. Many people will stop working, since they don't need to now.
4. As more people stop working, the taxes will have to rise substantially on the people who still work to pay the basic income of those who aren't.
5. As this happens, more people will stop working, deciding why work if it's all going to taxes. Lather, Rinse, Repeat.
6. At this point the death spiral sets in, and it all descends into chaos.
And isn't that a happy thought.
---
July 21, 2018
A Do-It-Yourself Colonoscopy . . . Cheap!
I had a meeting at the house at 3pm with one of the We Buy Ugly Houses people. Jan wants to be sure you know that her house is NOT ugly, but that's the name they go by.
Turns out they're actually a nationwide franchise with local agents..
The guy showed up right on time and spent about 45 minutes going over the place. He made us a good offer that is close to what we want, but not quite. So I'm going to call a few other places to see what they'll offer.
One thing nice about his offer is that it's all cash, no closing costs, close in 7 days, and more importantly, AS IS. So no redoing baseboards or anything else.
After I got home we headed back out about 4:45 to once again have breakfast at Denny's, pretty much our favorite place for our favorite meal.
Or at least our favorite for dinner-breakfast. For breakfast-breakfast, or lunch-breakfast, we like The Egg and I a little better, mostly due to their delicious Hazelnut coffee, but they're only open until 2pm.
Then, after Denny's, we drove across FM646 to the Target for a few things, mainly a fillable lamp base and a shade. Jan wanted to make a shell lamp for herself like the one she made for her sister Debbie on our recent trip to visit her up in Illinois. Jan already had plenty of shells so she just needed something to put them in.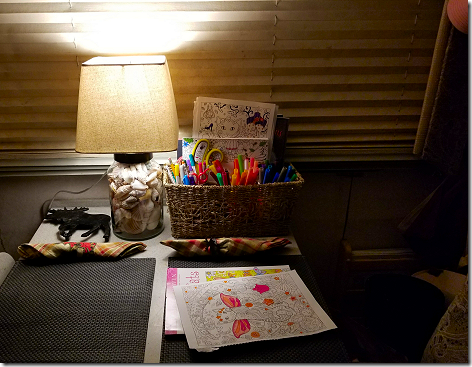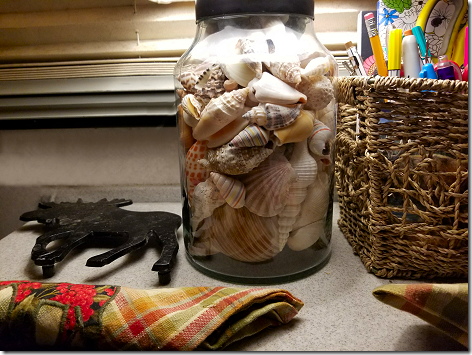 Looks really good, and great for her coloring book sessions.
While we were there we decided to pick up some groceries to save ourselves a separate stop at WalMart. But one thing we quickly noticed was that stuff we were buying, was noticeably more expensive than the same stuff at WalMart.
As we were getting home, I got a call from Rob, the park owner, asking me to try the park WiFi again when we got home. It had been down since yesterday, and Comcast had been out again working on it. They came out yesterday and it worked for a while afterwards, and then died again. But so far this evening it's still going strong.
Tomorrow we're heading up to Katy to have lunch with Brandi, Lowell, and Landon at our favorite Little V's Vietnamese Bistro. Really looking forward to it.
Everyone knows how much I like toys, and I had a new one delivered today. And not only is a very useful device, you can maybe save some money on medical bills by doing your own colonoscopy, right in your very own home.
Yes, you can have your very own $35 Endoscope Inspection Camera,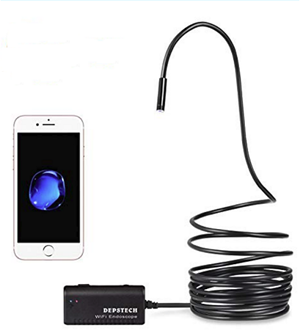 handy for checking out tight, dark areas, anywhere within about 11 feet. It even has an LED light on the end to brighten things up. It also comes with interchangeable tips, one with a magnet, one with a hook for grabbing things, and another with a right-angle mirror for peering around tight corners.
I plan to use mine to look up beside the rig's engine, trying to see where my oil leak is coming from. But just think of all the money you can save at the doctor's every 5 or 10 years.
Vaseline sold separately.
---
July 21, 2019
I Got It Out, But . . .
This evening after we got back from our Denny's dinner/HEB run, I changed clothes and went back outside to try to get the one remaining spark plug replaced.
I was hoping that with the engine hot, I might have a better chance due to the engine block expanding slightly from the heat. And it worked.
But it wasn't easy. All the plugs came out with no problem once I broke them free, but I had to fight this one all the way. And once I got it out it was easy to see what the problem was
The bottom three or four threads were pretty much worn off but threads above that were fine. Plus unlike all the other plugs which were a dry light chocolate brown, this plug was slightly wet and oily and blackish.
But even stranger, this is not the plug that the engine computer says was the problem, but the one right next to it. So now we'll see how it runs.
I still plan on doing the rear brakes on Tuesday and it's actually supposed to be a little cooler then which will be nice.
I've finally got back to working on the next couple of installments on our Europe trip, Cologne, Germany and Kinderdijk, The Netherlands, the last two stops on our cruise before we finish up in Amsterdam. So stay tuned.
This weekend NASA used the Washington Monument as a screen for the projection of the Apollo 11 Saturn V launch.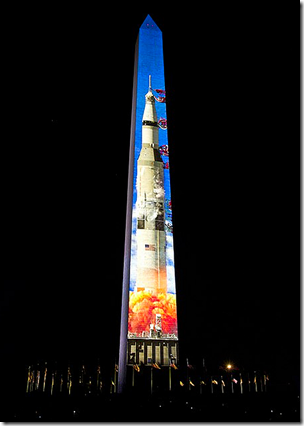 You can see the entire 24 minute video at the link above.
---
July 21, 2021
It's Nice To Be Recognized . . .
Jan and I just got word earlier this evening that long-time friend Leighan Cortes was killed in a traffic accident in Germany this past Monday.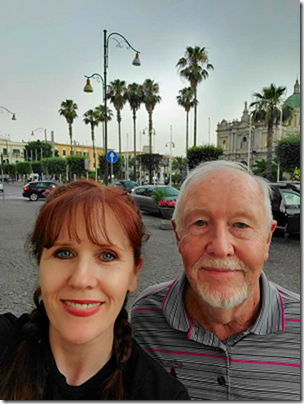 We've known Leighan for over 20 years since we started attending the Alvin Opry in the late 1990's. And we were always taken with her wonderful voice.
She had recently been touring Europe with her father, posting photos from Italy and Germany. She leaves behind a husband and six children.
So sad!
This morning I booked our upcoming Christmas in Branson trip this coming December. Using Booking.com, I booked our hotels going and coming in Texarkana, and our 6 day stay in Branson.
I always use Booking.com, and have for years. Enough so that I've accumulated a lot of points raising me up to Genius Level 2, the highest one.
It's nice to be recognized.
And it gets me nice perks like an additional 15% off the hotel's usual rates, free breakfast at places that charge extra for it, and free room upgrades. Plus I can book rooms without any kind of deposit, and I can cancel right up until 6pm the day of the reservation.
Jan went into work with me this morning so she could have lunch with Bonnie, an old friend and former coworker. And unlike her Monday get-together with someone else, Bonnie showed up.
Coming home, Jan and I decided to have dinner at Gator's once again. And this time we both got their Strawberry Walnut Salad with Chicken, Jan's Grilled and mine Blackened.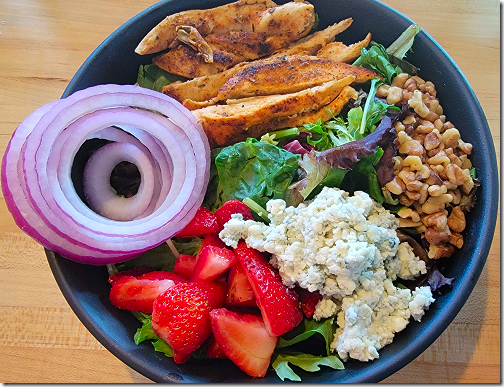 On my salad, that double pile of onions was originally avocado slices, but those go to Jan and I get her onions. An even trade.
I recently got a new shirt for my collection.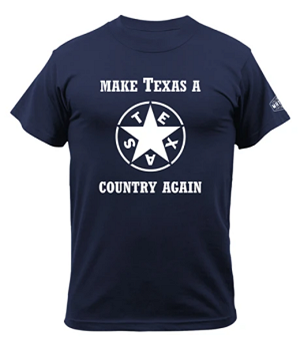 It seems there's a lot of people thinking about this more and more. And it's not completely out of the realm of possibility.
Texas, being the only separate COUNTRY that became a State, retains the right to leave the Union and become a country again.
So don't count it out!
---