Daily Archives:
September 2, 2020
Since I'm off tomorrow I'm going to be back on the phone with Spartan (maker of our RV's chassis) to try and make sense of the wiring mess I found yesterday.
I still don't know where the wiring harness from chassis is supposed to tie into the rig's taillights/turn signals. So maybe they've got some old-timer hanging around that can give me a clue.
Hope so, anyway. Otherwise I'll have to try and ring it out myself starting at the taillight itself and working forward.
---
Thought For The Day: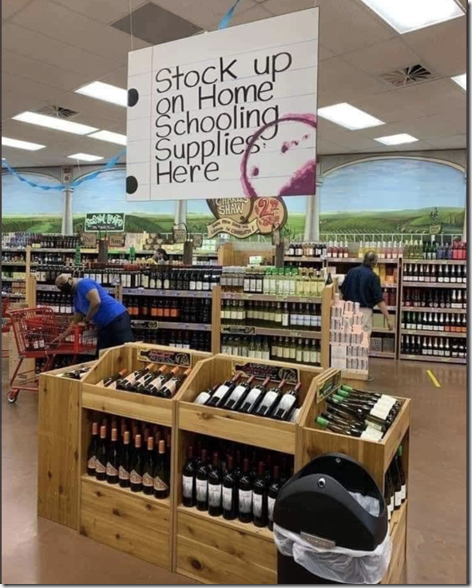 Out in Nova Scotia
---
September 2, 2009
McLobster and Pizza…
Today is our only full day in Antigonish before we head east toward Newfoundland so we wanted to drive around a bit to see the area.
On our way out of town we decided to stop at the McDonald's drive-thru for a breakfast sandwich. We also wanted to see what this was.
But we still don't know. They only had the breakfast menu posted at the drive-thru.
So, Canada gets McLobster, and we just get McRib? What's up with that?
We then headed back northwest to the town of Pictou.
Pictou is known as the "Birthplace of New Scotland" as it was here that the first wave of Scottish immigrants landed in 1773. And of course, Nova Scotia means New Scotland.
It's kind of hard to describe the scenery here, and the pictures just don't do it justice. It's rolling hills of forests and farms falling away to rocky cliffs that overlook the North Atlantic.
Here's a Googled pic of Pictou from the air.
After wandering aimlessly for a while just admiring the view, we headed back to Antigonish for dinner at Boston Pizza. We always get a large pizza just so we'll have leftovers.
Arriving back at the park, I decided to spring for the $3.50 to get the cable turned on at our site, since I couldn't the satellite working because of a large tree in the way.
And surprise, the channels are pretty clear. Unusual for an RV park.
More tomorrow…
---
September 2, 2013
Ahhhh, Cool Air . . .
Since we got a water delivery last night, our misting system was working again today, and it really makes a difference in keeping us cool. Officially we only hit 97 here, but our local temp was 102 for a little while before settling back down to around 99 for most of the afternoon. Still hot, but really not too bad.
I was able to arrange to have our defective Coleman canopy replaced by Amazon with no problems. They're sending out a new one, which should be here Thursday. Then I'll pack up the old one in the new box and they'll pick it up from the office whenever I tell them it's ready to go. The usual great service from Amazon.
After this glowing endorsement, maybe it's a good time to remind you that our blog is an Amazon Affiliate, and doing your Amazon shopping through here is much appreciated.
With our replacement canopy on its way, I was beginning to wonder if I'd have anything left to send back to them after today. There was a very large thunderstorm area down around Corpus this afternoon, but our only result was some dark clouds to the south and a strong southern wind. VERY strong.
And with the two broken struts the canopy is not at its best in high winds. Without the rigidity, the sides tend to want to torque over and bend, almost collapsing the whole thing. A couple of times I actually had to hold the southern side down to keep things under control. But luckily, as sundown neared, the wind finally died down, and our canopy lived another day.
Brandi and Lowell have been in New Orleans this past weekend while Landon stayed home with Aunt Sherry. But she was not expecting to come home and find that Landon had turned to piracy.
A sleepy pirate, but a pirate none the less.
Pirates was the theme of Landon's recent 3rd birthday and I guess he had some party favors left over.
Finally, in one of those headlines you just have to love, you have this one. Global Warming Expedition Foiled by Ice. To quote, "It's just ice, ice, and more ice."
This is what happens when you tempt fate by organizing an Arctic expedition to highlight the perils of global warming; the worst Arctic ice conditions in more than 20 years.
———————————————————————————————————–
Thought for the Day:
"Obstacles cannot crush me. Every obstacle yields to stern resolve. He who is fixed to a star does not change his mind." – Leonardo da Vinci
Waiting For A Gate
---
September 2, 2014
Should We Stay, or Should We Go . . .
So we went.
Talk about your ups and downs!
After starting coffee this morning I walked over to the office about 9:15 to see if Mark had anything coming up for us. He said nothing definite, but you never know.
Then about 9:40 Diane called me from the office and said they had a gate for us, and it was close by, only 7- 8 miles from the office. Sounded great so I told them we'd be ready to pull out in 45 minutes to an hour.
About 10:25, about 5 minutes before we were ready to crank up and pull shore power, Diane calls back and says the gate has been cancelled.
Bummer!
But knowing something could come up any time, we left everything pretty much ready to travel. Only thing I did was put the satellite dome back out and put out the window awnings.
And what do you know, about 1:45 Jamie called us from Madisonville with another offer. He had a gate for us near Madisonville, starting tomorrow (Wednesday) if we wanted it. It's a long term gate, apparently not too busy, just sign people in and out, and tell them to watch the speed limit. Told him I'd call him back in a few minutes.
Jan and I talked it over after I checked out the route. Looked to be about 300 miles, (better than the 450 miles to Shreveport he offered us last week.) Figure, yeah, it was 300 miles but we would be working starting tomorrow, and we don't know how much longer it would be before we got a gate in Whitsett. Plus Jamie said this gate would last our entire anticipated time (end of November) so we wouldn't have to move around. So we decide to go for it. And after checking the route out some more, we decided to got ahead and get on the road today, and not wait to start out tomorrow.
So I called Jamie back and said we were on our way and would see him tomorrow. Then I headed over to the office to tell them we were leaving. And as I walked in the door to talk to Mark, Diane waved and said, "Bye." Turns out Jamie had already called them to let them know he was 'poaching' us. Glad we weren't leaving Mark in a lurch though, since there was another couple in the yard also waiting for a gate.
So right now, Jan and I are parked for the night at the East View RV Ranch near Georgetown, TX. We did 175 miles today, with about 125 tomorrow.
It was an easy trip with some rain on and off, but nothing too bad, and some one-lane construction on I-410 around San Antonio.
We'll head out tomorrow about 9am. It sounds like our gate is somewhere on FM39 south of North Zulch, which is west of Madisonville on US190.
Apparently Jamie is going to give us directions directly to our gate tomorrow morning.
So we'll see how it goes.
_________________________________________________________________
Thought for the Day:
Politics is not a bad profession. If you succeed there are many rewards, if you disgrace yourself you can always write a book. — Ronald Reagan
Everyone In The Pool
---
September 2, 2018
Perfect Day For A Swim . . .
At least for some of us.
It was pouring down rain when Jan and I headed up to Brandi's about 10:30, and it continued to come down hard until we turned onto the Sam Houston Tollway.
We did stop at the Santa Fe Valero for gas on the way for $2.47. It's nice to see the price coming back down. I actually seen prices in the area for as low as $2.31, but just not when I need it.
We got to Brandi's about 11:45, about 20 minutes earlier than her previous house. So, nice for us, and also for her drive into work.
Brandi had fixed us a really good lunch of street tacos, with smoked pulled pork, red onions, fresh cilantro, cheese, and salsa, along with Deviled Egg Potato Salad. Really delicious!
Then a while after lunch we all headed out to the pool for swim time. Well, most of us, anyway. After nagging me about swimming, Jan sat this one out, but at least she got her feet wet.
The dogs, Miss Kitty and Mister Baxter, are not too sure about the whole 'pool' thing either.
One thing kind of unusual is that their pool is filled with salt water, and doesn't use chlorine, or a lot of other chemicals, Just salt, and muriatic acid/baking soda to balance the pH. So the water is soft, and doesn't burn your eyes or turn your hair green.
It's also very buoyant. Sometimes it's hard to keep your feet under you. But it feels great on your skin.
It was a perfect day for being in the pool. It was very overcast, and at about 80°, very comfortable. In fact they were heating the pool a little, keeping it at about 90 degrees. And the heat will be really nice this winter.
Coming home about 4:30 we made a quick WalMart stop before getting back to the rig about 6pm. A really nice day, and it looks like we'll get do it again after Landon's birthday party next Saturday.
Tomorrow, since my client's office is closed, I'm going top off the rig engine with oil and the ran it at high idle for an hour or so, or at least until I see some leakage. Since we're parked on gravel, I'm going to put down some plastic drop cloth sheeting underneath the engine area to catch any drips and make it easier to see any leaks.
After that, it's either BBQ or Steak for Labor Day.
Decisions, decisions.
---

Thought for the Day:
Some people are so anal-retentive that they don't just want everything in its place, they insist that it like it there.