Daily Archives:
September 28, 2020
In 1967, 53 years ago this afternoon, Jan and I exchanged vows, rings and "I Do's" in a little chapel on Northington Campus, the married student's housing at the University of Alabama in Tuscaloosa, AL.
I was wearing a suit and my beautiful red-headed wife was wearing a wedding dress that she had made herself the week before.
We have no pictures of our wedding. When I say it was a small wedding, I mean really small. There was the minister, the minster's wife, who was the witness, and also the organist.
But whatever, there was no one to take pictures. Remember this was 1967 when no one was carrying a cell phone camera. In that time period, it would probably been a Kodak Instamatic anyway. But we didn't even own one of those.
Along the way we had two great kids, Christopher Andrew and Brandi Leigh, and two fantastic grandkids, Piper Jean and Landon Thomas.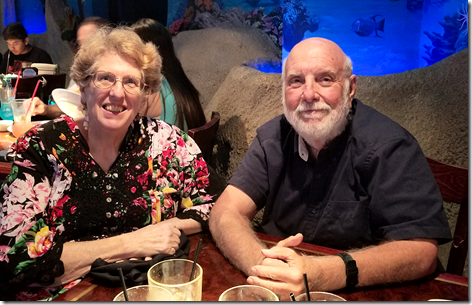 At that time, Northington, an old Army Hospital dating from the beginning of WWII, was the married student's housing for the University.
The long wings, making up the hospital wards, were cut up into individual one and two bedroom apartments, each with their own entrance. There was a waiting list to get in so it was a few months before we got an apartment there. In the meantime we lived in a concrete block duplex with cracks in the wall that let in daylight.
Later in the winter we got a letter from rental agency reminding us that during extremely cold weather it would be necessary to put anti-freeze in the sink, lavatory, and toilet drains to keep the pipes from freezing up . . . INSIDE THE APARTMENT.
We spent most of the winter cuddled up with our cats under the electric blanket.
Really nice for newlyweds.
Then ten years later, while we living in Montgomery, AL, we got to watch Burt Reynolds and Sally Field have Northington Campus blown up around them in the stuntman movie, "Hooper'.
And, amazingly, it all seems just like yesterday.
On our 50th anniversary, we were up at the Thousand Trails in Conroe, and had our anniversary dinner at the Longhorn Steakhouse in the Woodlands.
Our waitress, a cute Asian girl, seemed surprised that we had been married for 50 years, She said she had seen other couples who were celebrating their 50th, and they "all looked so stiff, angry, sad, old and miserable."
And we didn't look that way.
I told her that we were married in Alabama and that they marry young there. And that I was 15 and Jan was 14 when we got hitched.
I let her stand there with her mouth open for about 10 seconds before I told here that actually I was 18 and Jan was 19 at the time.
She's 345 days older than me. I was born on October 5th and she was born on October 25th, but a year earlier. So we're now coming up on that sweet spot where every year for 20 days we're the same age.
And actually, she didn't know she was older than until we went to get our marriage license at the courthouse. I think she stood there for a few seconds with her mouth open, rethinking the whole deal. But then, apparently just said, "What The Heck!" Or words to that effect.
But it worked out for the best. I got a sexy Cougar and she got her own personal Boy-Toy.
Another question was whether or not Jan and my mother ever got along. The answer is a resounding NO!
Over the 40 years (my mother died in 2007) the best they were ever able to do is probably best described as 'respectful disdain", light on the 'respectful' and heavy on the 'disdain'
As I've said before, Jan was determined that the marriage would last at least 5 years just to spite my mother, because my mother said it wouldn't even last that long. And I think my mother believed that until the day she died.
And it's been a wild ride.
Three years later, in 1970 I was working for the DOD at the Marine Corp Air Station in Beaufort, SC, part of the Marine's Parris Island complex. During the next 3 years, we were also at England AFB in Alexandria, LA and Otis AFB on Cape Cod, MA.
Two years later, I was a Broadcast Engineer at Channel 10 in Birmingham, AL, part of the Alabama Educational Television Network.
By 1974 I was a Broadcast Engineer at Channel 20 in Montgomery, AL. This is also where Jan started her first job as an Accredited Medical Records Technician at Jackson Hospital there.
Three years later, in 1977 I was Chief Electronics Engineer for Alabama and Georgia with Storer Cable, which later morphed into TCI and and then was parceled out into Comcast.
Then in December of 1978 we moved to Houston where I worked for a NASA contractor on the Space Shuttle.
Over the next 30 or so years, Jan worked, first at M.D. Anderson Cancer Center, then Medical Center del Oro in Houston, Polly Ryon Hospital in Richmond, and finishing up at Clear Lake Regional Hospital here in Webster, TX.
Luckily we both chose careers where we never had any problems finding a job.
And then almost 30 years after moving to Texas, in 2007 we chucked it all, bought a big RV and hit the road full-time. And 13 years later, after 49 states, 8 Canadian Provinces, and almost 90,000 miles, it's still our home.
Like I said, it's been a wild ride, But a really fun one!
And it's not over yet.
---
Thought For The Day:
Sorry. I couldn't resist this one.