Daily Archives:
September 13, 2020
Well, the turn signals are fixed. Almost anyway. It looks like my front left bulb is out. So that's next to be replaced.
Turns out to have been the flasher unit. Yeah, I know it should have been the first thing I checked, but this has been a weird problem.
I mean, this started out as a problem with my rear taillights/turn signals/brake lights, which you would think would indicate a 'common' problem, since it seems they all quit at the same time.
But my taillights turned out to be two bad bulbs with both filaments blown in each. And now my turn signal turned out to be a bad flasher unit. So now I'm looking at the brake lights.
I know the brake lights themselves work because I can trigger them from the rear relay panel. But so far the problem seems to be in the brake pedal switches.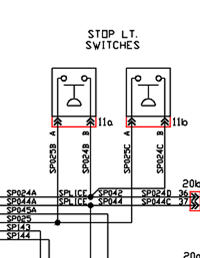 The two switches are in parallel, probably for redundancy, and I've got power feeding to the switches from the 5A fuse, but nothing seems to be coming out the other side. So next I'm going to try to ring out the wire from the switches to the rear panel. But the big problem here is that I can't really get to the switches themselves, since it's buried in the floor under the pedal.
But that's for Tuesday.
..
..
Hopewell Rocks on the Bay of Fundy
---
September 13, 2009
Where else can you walk on the ocean floor…
Today is our last full day in Canada for a while, and is also our day to visit the Bay of Fundy area.
The Bay of Fundy is home to the highest tidal changes in the world. In a 6 hour period the water level can change 30-50 feet depending on the phase of the moon.
But first we decided to try a place we'd heard about here in Canada called Cora. Cora is a type of restaurant that seems very popular here in Canada. It is only open for breakfast and lunch. It closes at 3 pm every day.
And it was fantastic. The food is delicious, and every menu item is a work of art. Hopefully we'll be able to eat here for breakfast tomorrow before we leave.
After breakfast, we made the 30 mile trip south to the Hopewell Rock area of the Bay of Fundy. On the way, we drove along the Chocolate River, which seems very aptly named.
As it was low tide and this river connects with the Bay of Fundy, it was basically a chocolate-colored mud flat.
And here is what it looked like coming back home.
We arrived at Hopewell Rocks about 1 pm, a little before the full low tide point at 1:41 pm. The trail down to the Rocks is about 3/4 mile though the forest. Getting there, here is what we saw.
Then we walked down the 125 steps to the ocean floor.
By the time high tide occurs, the water level will be to the top of the narrow sections of the rocks above.
There are a number of warning signs in the area.
Apparently people are often caught on the ocean floor when the tide comes in. Someone said that someone drowned here a couple of weeks ago.
Because it would be a little over 6 hours until high tide, we drove further down the coast along the Bay of Fundy. On the way we passed a couple of number of scenic views, including a couple of 100-year-old covered bridges, one of which is still in use.
As we neared the Bay of Fundy National Park, we came across these scenic areas. The first is a view of a cliffside shrouded in the fog that had settled in as the day progressed.
Nearby was a boat dock that shows the problem of mooring boats in an area where the water level varies 30-50 feet twice a day.
Finally we headed back up the coast to Hopewell Rocks to see the results of the tide coming in.
Unfortunately we weren't able to stay for the full high tide because it would occur after dark, and there is no lighting at the Rocks, or on the 3/4 mile walk through the woods to the parking area.
The only downside to our visit was the fact that as the sun went down, the mosquitos came out…with a vengeance. You'd think they hadn't eaten in a year, but they certainly made up for it that night.
We stayed as late as we could. In fact it was downright dark by the time we made it back to the toad.
I'd always heard of the tides at the Bay of Fundy and it was neat to be able to see them for ourselves.
But, maybe the best thing about our Bay of Fundy trip is that Jan finally got to see a Canadian moose!
Tomorrow we head back to the good ole USA.
---
Thought For The Day:
Some women won't date a man who still lives with his mom, but will date a man who still lives with his wife.
..
..
---
September 13, 2010
Going back to Houston. . . Houston. . . Houston. . .
As we were getting ready to pull out this morning, Emma and Mister started jockeying for position in Jan's chair. Note the glare that Emma's giving Mister, and Mister couldn't care less.
We left Poche's RV Park about 10:30 headed for Houston with a quick stop-over at Mulate's for lunch before we left.
One thing we haven't seen in a while since we've been out west and up north is sugar cane. From a distance it looks kind of like corn, but when you look closer, there's no ears of corn.
The sugar cane stalk itself looks a stick of bamboo, but the inside is sweet and juicy.
We went back to Mulate's for lunch for two reasons, the great gumbo and bread pudding, of course, but also to see Tracey.
Mulate's – plain on the outside.
Very nice on the inside.
As I said yesterday, I've been eating at Mulate's for over 15 years, and it seems like Tracey's been waiting on me for most of that time. Here's Tracey on the left, and Sheila on the right, Sheila's also waited on me many times when Tracey wasn't there.
Luckily, Mulate's has a nice big parking lot that makes for an easy in and out.
We left Mulate's about noon heading for Galveston Bay RV Park in Dickinson, TX.
I thought I'd include these bridge shots along the way to see if I could make Nick snivel.
The first one is the I-10 bridge over the Calcasieu River in Lake Charles. And Nick would want you to know that it's148 feet above the water.
And this is the Fred Hartman Bridge on State Highway 146 southeast of Houston, and it's 178 feet above the water.
On top of that it's a really beautiful bridge in its own right.
We did have a couple of milestones yesterday and today. Yesterday we hit 37,000 miles since we hit the road in February of 2008, and today, right before we got into Houston, we crossed 100,000 miles on the coach itself.
And Beauty is still going strong and running great. And with a partial new paint job to boot..
We saw this sign for our favorite gas station/market store just past Lake Charles. It's referring to the Buc-ee's on I-10 in Luling, TX. Luckily we didn't have to wait that long to visit a Buc-ee's, since we always stop at the one in League City, TX, which is about 5 miles from the RV park where we'll spend the winter.
They always have great prices on fuel, in today's case, $2.70 a gallon for diesel, which is a nice change from the prices up north.
When we're parked for a long time, in this case several months, I always fill the tank first to cut down on any condensation forming in the fuel tank. Diesel and water don't mix well.
131.9 gallons later we pulled into site 73 at the park and got plugged in. We didn't do anything else beside plugging in power, because we only had about 15 minutes to meet the kids at Monterey's Little Mexico, one of our favorite Mexican places in Dickinson. I love their Chicken Tortilla Soup.
We had a great time seeing everyone, and the best thing is, I finally got to hold little Landon.
Getting back to the rig I got the sat dish set up while Jan let out the slide and got things put out inside.
We're here until at least the middle of January, although we may move if our old site becomes available.
More from Houston tomorrow…
---
Thought For The Day:
"Government is not eloquence. Government is not reason. Government is force." George Washington.
..
..
Gate Guarding in South Texas
---
September 13, 2014
Miserable . . .
That's what I was most of last night and early this morning. It drizzled all night, and that, combined with a stiff breeze and 62 degrees, made the wind chill in the 50's.
And I was not prepared for 50's. The outside heaters were still packed away, and the only thing long sleeve I could find without waking Jan was a light windbreaker. I really needed something with a hood because my ears were freezing due to the wind. Finally ended up putting a towel over my head.
Yeah, I know. Whine, whine, whine. Such is the life of a gate guard.
Today was a little better. It was cloudy, and only made it up to 67°, but the wind died down so that helped. And after Jan came out at 7am to relieve me, I dug out the heaters and a hooded sweatshirt for her, so she was pretty comfortable during the day.
Last night's all-night drizzle was preceded by yesterday's high winds and heavy rains. A lot of heavy rain. I believe the technical term is 'gullywasher'. But the pea gravel we had them put down when we first got here pretty much kept the flooding under control.
And our Coleman 13 x 13 Canopy took care of protecting us from the high winds and rain.
This is our second year of use on this one and it's still holding up fine.
The Wenzel 10 x 10 canopy we used our first year of gate guarding in 2012 barely made it through our four month stint. In fact I left it at the Gate Guard Services yard for anyone that wanted it. But based on our experiences with the Wenzel, I had a better idea of what to look for in our next one.
1. Bigger is usually better, so I went with a 13 x 13 rather than a 10 x 10. The legs are still 10 x 10 but the canopy overhangs.
2. I want one with the roof vent at the top. This helps keep the wind from lifting it so much, and also lets out the hot air. (no comments, please)
3. I wanted one that had UV protection in the canopy fabric. With the old one you could feel the heat coming through on sunny days. The Coleman has 50+ SPF protection and it really makes a difference.
4. I wanted one that was heavy duty, and again this one has held up with no problems.
The whole thing comes in a wheeled case about 9" x 9" x 5' tall and weighs about 40 pounds. I paid about $170 for mine last year with free Prime shipping, which was only about $30 more than our first one. Well worth the cost.
For dinner tonight, Jan and I had the steak dinner that one of the guys dropped off for us yesterday. Really good, and even splitting it, there was plenty for both of us.
Today's vehicle count was a little higher than yesterday's 80, with 93 vehicles coming through. Still, not bad.
Tomorrow, just another day on the gate.
_________________________________________________________________
Thought for the Day:
Short answer: no.
Long answer: nnnnnnoooooooooooo.
..
..
Gate Guarding in East Texas
---
September 13, 2015
Brrrrr!
Last night turned out to be kind of chilly. Actually, at 55 degrees with a slight wind, it was down right cold. I kept adding layers until I ended up with a T-shirt, a long-sleeve FRC shirt, and a windbreaker and my orange vest, along with my pull-over knit cap. And still my hands were cold. It supposed to be about the same tomorrow night, so I'll dig out my gloves. And maybe it's time to start digging out the two small heaters we have for outside.
Today was another 85 degree day with a lot of sun and a light breeze. Very nice. It is supposed to warm up a little over the next few days, back in the high 80's and low 90's, with mid 60's at night. Again, nice.
We're always looking for ways to make our life a little easier on the gate so one of the things I do is preprint our log sheets with all the info except for the date and page number.
This saves us a lot of time writing the same things over and over. The log sheets come in pads, so I tear them off, stack the sheets in the printer, and then print them out using a template I made a couple of years ago. So at each new gate I just add the new info to the template and we're ready to go.
Our vehicle count jumped a bit today, up to 125 over yesterday's 108. Most of the increase seemed to be sand trucks. But, unlike other years, they come through the gate in smaller numbers, spread out over the day, rather than just one big gob like in previous years. Much nicer.
The new thermostat to fix my water heater should be here Tuesday in my Amazon order.
The repair kit comes with both a new thermostat and a new ECO, so I'll go ahead and replace both. From the online instructions, it looks like both units are stuck to the side of the tank with some sort of adhesive. So you pull the old ones off, clean off the old adhesive, and stick on the new ones. Easy Peezy.
I hope.
_____________________________________________________
Thought for the Day:
"The right to buy weapons is the right to be free." – A. E. van Vogt
..
..
More Gate Guarding in East Texas
---
September 13, 2016
LCD's and LED's . . .
They've started completion on this well, the first of three, so our vehicle count really jumped up. In fact, at 68, it was our 2nd highest day so far.
The temperature made it all the way up to 90 before an unscheduled rainstorm blew through around 3pm. It was only heavy for a few minutes before it settled down to a light drizzle, with two good results.
It was just enough to settle the dust on the road without making things muddy, and it dropped the temperature down to the high 70's, then stayed in the mid-80's the rest of the afternoon. Nice.
After thinking about it overnight, I had decided to not wait until Thursday to get the new TV, but to go over this morning and pick one up at Wal-Mart. Between getting the groceries, picking out a TV, and then getting lunch to bring back, I'd have to either go over early, cutting way into my 4 hour sleep window, or I'd get back late, meaning Jan has to work a longer shift.
So I was going to get the TV today (and lunch), and then get groceries on Thursday (and lunch) as usual.
But then that all changed with an early morning comment from blog reader Rob Nixon. He clued me in to a website called ShopJimmy.com that sells boards and parts for hundreds of TV's, and will even rebuild your boards for you.
So I decided to put off my BCS trip until I could check out ShopJimmy. But as it turns out, they no longer have parts for my 8 year old RCA, and when I called them, I found out that they not longer rebuild boards for it either, due to the fact that parts are no longer available. I did talk with the tech for a few minutes, and he at first thought that I might have a backlight problem.
Most people don't realize that an LCD TV is actually kind of a slide or movie projector. The TV video is displayed on the LCD screen, but you can't see it until it is lit from behind, as I said, just like a projector. So if your light source goes out, then you can't see the video. But you can shine a flashlight on the screen at a 45 degree angle and see that the video is still there.
Up until recently , most backlights were actually small fluorescent tubes just like in your light fixtures, so they do burn out. But now more and more TV's and computer monitors are using LED's as a backlight source, giving you longer life and better colors. Over the years I've had the backlight go out on both a laptop and a monitor, so it does happen.
But I know a bad backlight is not my problem because my screen lights up, but there's just no video getting to it.
So as it stands now I'm going into BCS tomorrow, Wednesday, to pick up a new one. And I'm looking at this one.
It's Full HD at 1080p, a step up from the 720p model we have now, and it has LED backlighting. It also has built in Wi-Fi so we can stream Amazon Prime movies directly to it. And it's only $228, which is less than half what our RCA cost us 8 years ago. And for a lot more features.
Whatever we get it needs to have a single pedestal base like the photo above, and not the two legs version like this one.
Where we set the TV on the dashboard is only about 20" wide so I doubt the two small feet will work for us.
Wal-Mart's computer says that they them in stock, so we'll see. I think as far as Jan's concerned, I'd better not come home without a new TV.
After calling yesterday, today I heard back from American Coach about my broken screen door latch.
And as I found out earlier this year when I tried buy new hinges for my screen door, no parts are available. That's apparently considered part of the entire main door, and that company went out of business years ago.
So my next step is try Colaw's RV Salvage in Missouri. And if they don't have it, I'll have to try and make something up from some aluminum strips.
It's always something.
---
Thought for the Day;
At what age do you think it's appropriate to tell a highway it's adopted?
..
..
---
September 13, 2018
Betsy Rossing It . . .
I spent the morning trying to get Jan's Viking sewing machine cleaned up and checked out.
It's a Viking #1, a high-end one that Gina Ellis, a late friend of ours, gave Jan in 2009. I guess she gifted it to Jan because she got something bigger and better, though I can't imagine what it could be, since this one seems to be able to do just about anything, including probably mowing your grass.
It comes with 6 programming cards like this one
that will do pretty much any embroidery stitch or pattern you can imagine, even monograms, words, or sentences in either block or cursive letters.
Or bears.
The reason his head is off a little is that the fabric got hung up while it was being stitched. Normally this is a hands-off function. Just push the button selecting the pattern, and press the foot pedal, and off it goes.
The machine automatically sets every thing – thread tension, stitch length, stitch width, presser foot pressure, etc. It's all programmed.
Jan used the machine for a year or so and then it was retired to a rig storage bay for the last 7-8 years. So I figured I might have to spend some time getting it going again.
But to my amazement, I took the cover off, wiped it down, plugged in and turned it on. And immediately ran a stitch forward and reverse, and then embroidered a pair of birds. And it all worked perfectly.
For a few minutes.
Then when Jan tried it, it would run a long stitch, and then when you stopped, it wouldn't start up again. Sometimes if you turned it off and back on, it would do another stitch of any length, but not restart.
I thought maybe I had set something up wrong, but no luck finding anything.
Finally it was time for us to head out so I thought I'd stop by the Viking dealer located in the JoAnn Fabrics at Baybrook Mall and ask some questions.
Our first stop was our local favorite, Pho 20, for lunch. Jan had the Lo Mein with
while I got the White Meat Chicken Pho, my usual.
Knowing I like it hot, Sherry, the owner, brought me out some really hot little Mexican peppers that one of the cooks got from his mother in Mexico. Jan even put some of them on her Lo Mein. And as usual Sherry send us home with a whole bag of extra goodies.
I also spiced things up by mixing in some of the Carolina Reaper paste I got at Aldi's last week.
As I said before, it wasn't as hot as I expected, but it does add a touch of good smoky flavor. Not bad at all.
Then, after Home Depot and WalMart stops, we went by JoAnn. I picked up a new 'A' presser foot, but they couldn't help me with my problem. I did find out that I could bring the machine in for a cleaning and tune-up for $129.50. Might consider it.
Getting home I started fooling with the Viking again, and finally stumbled across the problem. Turns out that the cord that connects the foot pedal to the machine was flakey at the machine end of the connector. If you bent it one way, the machine got flakey, but if you bent it the other way, it worked fine.
So for right now I just left it bent the other way, so Jan could do her sewing project, which she did with no more problems. I'll fix or replace the connector later.
---

Thought for the Day:
Maybe November's are a little quieter now that they don't play each other anymore
..
..
..
..