Daily Archives:
September 17, 2020
My old home town took a direct hit from Hurricane Sally, a Cat 2 storm, that came ashore day before yesterday. Looks like a lot of damage from the photos online.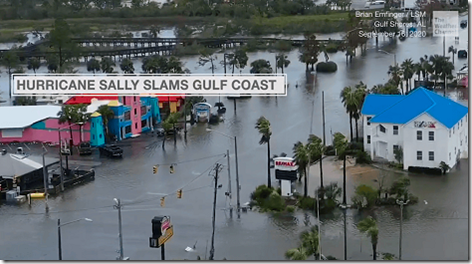 If you know the area, this is about a block or so off the Gulf on the main road, which is to the upper right.
And this 12ft gator went swimming by someone's house over in the Orange Beach area, where my parent's cottages were.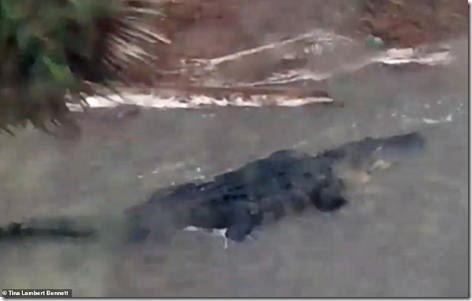 Yikes!
Looks like there's more that just possums and raccoons back in those lagoons and bayous.
I have an old friend who lives over in Fairhope and she said they have a lot of damage, no power, probably for a week, and no traffic lights.
So now a Nashville TV station has discovered that the Mayor's office and the Metro Health Department have been hiding the stunning decline in CoVid cases among bars and restaurants. While thousands of cases are attributed to construction and nursing homes, only 22 cases were linked to bars and restaurants.
And now these places are wondering why they haven't been able to reopen.
https://fox17.com/news/local/covid-19-emails-from-nashville-mayors-office-show-disturbing-revelation
And now it looks like a common over-the-counter solution rapidly kills the virus, in just a few seconds.
A commercially available nasal antiseptic solution "inactivates" COVID-19 just 15 seconds after the coronavirus is exposed to it, effectively preventing the infection from developing, according to a study published Thursday by JAMA Otolaryngology-Head & Neck Surgery.

By inactivating the virus, the antiseptic nasal rinse — a povidone-iodine solution administered in the nostril — also would help prevent those infected from spreading it to others, the researchers said.
https://www.upi.com/Health_News/2020/09/17/Nasal-solution-may-stop-spread-of-COVID-19-study-finds/1881600350075/
Let's just hope that the President doesn't mention it.
.
.
On To Quebec
---
September 17, 2009
Parlez-vous français?…
This morning we left Notre Dame du Lac, QC for St. Nicolas, QC, 166 miles away. St. Nicolas is a suburb of Quebec, and is right across the St. Lawrence River from the city itself.
We've decided to stay here for two days so we can explore the Quebec area before we head toward Montreal and Ottawa, on our way to Rome, NY and Niagara Falls.
We're getting Frencified very quickly. Luckily, we've been able to stumble thru with people who speak a little English and my very little French. It does make for some interesting conversations, though.
We're parked in a small cul-de-sac in this RV Park. I'm not really sure how I got the rig in here, and more importantly, I'm not sure how I'm going to get out.
We headed out for dinner at Boston Pizza. We figured even if no one spoke English, we could point to items that we know on the menu.
And it worked out pretty well.
Coming back to the rig, I got the satellite dish set up while Jan watched Mister roam around the woods surrounding our site.
Then it was in for the night.
More tomorrow…
.
.
Wrapping Up The Frac
---
September 17, 2013
Like Rats deserting a Sinking Ship . . .
Or we've got to eat faster. They're gaining on us.
Well, they've wrapped up the actual 'fracking' part here, so everyone involved with that is pulling up stakes and heading out, along with a lot of big equipment.
And our vehicle count is winding down too. Yesterday's count was 129 and today's was 117. Much nicer than the almost 300 of a few days ago.
Next up is the 'coiled tubing' procedure where they drive tubing down into the well. Supposedly it will get somewhat busy again, but not like the fracking part. We'll see.
Jan and I got our replacement canopy put up the other night, with no problems this time. I did check to be sure all the bolts were tightened first, and they were.
While I was getting ice, I went by the the GGS office morning to drop off the trash and see if Jamie was around. I wanted to see if he had any info on our future moves, but he was out and about, so I'll try him later. I also dropped off the old canopy for UPS to return to Amazon.
Hell Fighters' Kitchen dropped off a couple of more meals last night. Not really a problem of course, but they'd already dropped off two more from the lunchtime feed. So that's 4 meals in one day. And since we split each meal (they're that BIG), that's 8 days of meals. And we still have two days of pork chop and chicken fried steak.
I guess we've just got to eat faster.
———————————————————————————————————
Thought for the Day:
If you can keep your head when all about you are losing theirs, you've very likely misread the situation.
.
.
Passwords
---
September 17, 2014
From Russia . . . with Love?
Someone in Russia, and the Netherlands too, doesn't like me.
Or at least they're trying to hack into my blog.
Twice this week or so, someone from the Russian Federation, Volgodansk in particular, has tried to log in to my blog, i.e. take it over. And last week, someone in the Netherlands tried to do the same thing.
Why, I don't know. But this has been going on for a while. In fact, since I moved to this new blog theme a few months ago, there have been 2317 lockouts.
A lockout comes about after 4 failed login attempts. At this point, that person's IP address was blocked from trying to login again for 20 minutes. After they were locked out 4 times like this, they were then locked out for 24 hours. At least that's how it was until a couple of days ago.
Now they get two failed attempts, and then they're locked out for 60 minutes, not 20. And then after they do this twice, they're now locked out for 48 hours, not 24.
The culprits are probably using bots or scripts to throw words and numbers at the blog. In fact there are specially-written programs, coupled with dictionaries, just for this purpose. But they will almost certainly not guess mine. Because it's not a word or words. It's garbage.
It looks something like this.
oIh$P+T1f$s-W (not the real password of course)
You can use a website like Strong Password Generator to create this type of password for you. Or you can just make it up. And No, you don't have to remember this. You use a password manager, like Roboform, or LastPass.
A password manager works like this. When you go to any website that requires you to login, and you enter your name and password, the password manager pops up and asks if you want to save this password. When you click YES, the next time you come back to this site, the password manager pops up and asks if you want to login. When you click YES, it enters the name and password for you. Neat!
And the other neat thing is that when you first go to a new site and it wants you to give it a password to set up your account or login, the password manager will create one of these strong garbage passwords for you.
And then you never have to worry about it again.
Roboform costs about $30. LastPass is free. But at least get one of them.
Finishing up, whatever you do, don't use the same password, or same few passwords for all your logins. (and some of you out there know who you are.) This is just inviting trouble.
Remember the news a couple of weeks ago about 5 million Gmail accounts and passwords were stolen. Now think if your bank account login uses the same one. And don't think that because you're just little old you, you're not a target. How would they know about you?
They don't, but they have millions of bots out there, trying to hack into millions of accounts at the same time. And they just sit back and wait for the results to roll in. And they only thing they had to do was click the Start button.
It's all a game of numbers, just like Spam email, for example. They can sent out tens of millions of spam emails with the click of a button, at little or no cost. So if they get a few thousand sales, or even a few hundred, they've made money. That's why they keep doing it.
So pay attention, and let's be safe out there.
Oh, as far as here today, it's rained all evening, and a guy saw a rattlesnake about a hundred feet up the road.
__________________________________________________________________
Thought for the Day:
Heaven is where:

the police are British,
the lovers French,
the mechanics German,
the chefs Italian,
and it is all organized by the Swiss.
Hell is where:

the police are German,
the lovers Swiss,
the mechanics French,
the chefs British,
and it is all organized by the Italians.
.
.
Another Rig Repair
---
September 17, 2015
Summer's Last Gasp?
I certainly hope so, because we've got 3 or 4 days of mid to high 90's in store before it cools back down. At least unlike before, where we also had mid 70's at night, we'll still have night temps in the 60's. And by Monday we're supposed to be back down in high 80's to low 90's. We can hope.
As of this morning, our water heater is back in full operation. This morning I replaced both the ECO cutout and the thermostat with the new parts that came in from Amazon yesterday.
Turns out that when I got into it, my water heater doesn't use the stick-on method of installation, but the parts are held on behind a metal plate. The new ones also come with springs to press them against the side of metal tank.
And just to help things along, I found a tube of thermal paste left over from my computer-building days and used a dab of that on each thermostat to help the heat transfer. Thermal paste was used between the top of the computer's CPU and the heatsink/fan to help cool the CPU as much as possible.
After I finished the installation and tightened everything down, I turned on power to the water heater and used my voltmeter to check things out. Measuring from ground, I found I now had voltage all the way through to the heating element, so it appeared to be working. But the big test would be when I took my shower tonight.
The frack has been shut down since early this morning while they prepare to switch to the second of three holes they're doing at this site. So it's been relatively quiet all day with only 100 vehicles coming through, rather than the 125 to 130 we've been running.
So I decided this might be a good time to take the trash down and drop it off on the pad. We hadn't seen the usual wire-sided trash trailer come through, so we were wondering what they were doing for trash onsite. I had been dropping our trash off at the Whataburger's dumpster after getting permission from the manager.
But then a few days ago one of the workers mentioned that they did have one on the pad, but rather than the wire one, it was an open-top goose-neck gondola type trailer.
I found it all the way at the back of the pad, and threw my bags in with no problem. While I was there, I was surprised to see actually how much equipment is on site.
This is what it looked like before they started the frack,
but now it's just wall to wall trucks, trailers, pumps, and cranes. There's just barely enough room to drive around the sides.
Finally getting my shower this evening, I found everything working fine. One thing I did notice was the water temperature. When we started using it on propane all the time, I was surprised to find how much hotter the water was on gas than when we were on electric, figuring it was just the difference in the two heat sources. But tonight's shower on electric was just as hot as one on gas, so I figure that thermostat had been slowly dying before it finally quit for good.
I mentioned yesterday that I'd gotten an Amazon Echo with my order that came in yesterday. I'm going to wait a few days before I talk about it so that I can give you more info.
But for now, I LIKE IT!
_____________________________________________________
Thought for the Day:
I used to be indecisive. Now I'm not so sure.
.
.
Nice Slow Day On The Gate
---
September 17, 2016
A Problem and A Non-Problem . . .
It's been a S L O W day today, our slowest full day so far.
In fact we only had 23 vehicles come through the gate today, not even a full page of 24. So very nice.
Jamie, our GGS supervisor/service guy came by about 8:30 this morning to do the oil/filter change on our generator and top off our diesel. He didn't bring water with him, but said we still had 250 gallons, so half a tank.
I was already in bed when he got here, and I vaguely remember him shutting off the generator because the white noise machine we use went off. Then a while later I woke up HOT. It seemed like a good bit of time had gone by, and I could hear the generator running, so what the heck?
Checking up front, we had no power there either. So I stuck my head out the door and ask Jan if Jamie was still here working on the generator and still had the circuit breaker off. She said No, and that he left a good while ago.
At this point I was think that maybe he forgot to turn the 50 amp breaker to the coach back on. Todd, our service guy at Carthage Gate last year did this. But Jan's fan and stuff under the canopy run off the 30 amp breaker and the lights and bell run off the 20 amp, so hers were working.
Getting dressed and going outside I found the 50 amp breaker in the ON position, so what the heck?
Next I checked my Progressive EMS (Electrical Management System) and I found it was only showing power to L1 and nothing on L2. Going back and looking closer, I noticed that the right side of the breaker was just slightly lower than the left side, and when I wiggled the handle the left side was firm and the right one had a little play in it.
So, a bad breaker.
We had a breaker die completely last year, so nothing new.
The reason the Progressive EMS shut down power to the coach is that a low or no voltage condition on one line is considered a fault condition and it shuts down. We had the same thing happen on one of our first gates in 2012 when L2 on the generator dropped to 80 volts, so the EMS shut down to protect the AC's from the low voltage.
In this case, with no voltage, I could have put the EMS in bypass mode which would have gotten half the coach working, or I could have plugged the coach in the 30 amp breaker, and then used my AC bypass line to run the 2nd AC from the 20 amp breaker.
So I had several backup options, but I wanted take a little time to play with the breaker to see if I could get it working. So unplugging the coach power cable, I used my voltmeter to monitor the voltage on the bad side and flicked the breaker off and on until I got a reading, pushing up hard on the right side.
It took about 10 tries, but when I finally had voltage, I plugged the coach back in with the breaker still hot. Not a good idea normally, but necessary under these circumstances. And a minute later, I heard the generator lug down a little as both AC's came on at the same time. Success!
Then it was back to bed for another couple of hours. Later in the afternoon I called Jamie and told him what happened, and to bring a new breaker with him next time he comes by.
So that was the problem. The non-problem, that's where you think you have a problem but you really don't, showed up right after I got the new TV installed. Jan was no longer getting a signal back to her TV in the bedroom.
Now the TV upfront has nothing to do with her TV in back. Her signal comes from an S-Video and L-R audio output from the DirecTV DVR, both of which feed into a stand-alone RF modulator, and then the output of this feeds on Ch. 4 on the line going back to the bedroom TV.
Her TV showed no signal, just snow, so that pretty much eliminated the DVR as the problem, since if the modulator were working, I'd have a black screen, not snow. So either the RF modulator was bad, or the cable from the modulator, through the wall down the length of the coach, was bad. Not a good thought.
So to test this out, I got a 50 foot length of cable and ran it directly from the modulator , down the hall, to the bedroom TV. And now I had video.
Bummer!
I would use another word, but this is a family blog.
This means the cable was bad. And since I wasn't going to be able to pull a new cable, and I don't think Jan would like to keep the cable running down the hall, I went on Amazon to look at wireless AV transmitters. But something kept nagging away at me.
And then in one of those AHa! moments, I remember the rig's original RF switcher. This was a little push-button box that let you change inputs and outputs between the two T'V's, the rooftop TV antenna, and the VCR.
And then I also remembered that although I had bypassed all the front TV and VCR cables, the feed to the bedroom TV still went through the switcher.
So digging into the overhead cabinet where the switcher lived, I found the TV2 button in the wrong position. I guess I must have pushed against the DVR which pushed against the switcher when I was moving stuff around getting the new TV into position.
So that was how I fixed the non-problem. I just pushed the button. Sometimes it's the easy stuff that's hard.
One other thing I accomplished this afternoon was to program our DirecTV remotes so that they will control the new TV. It took longer than I expected because I had to go through about 20 5 digit codes before I found the right one.
As I mentioned yesterday, today was Blue Moon BBQ day, so I made the 1/4 mile trip down there about 12:45 to pick up lunch. And I won't make that mistake again.
In the past I've always gone there about 11:30 and have always gotten my order in immediately, but today the place was packed and I was 6th in line, with some large orders in front of me. So it was about 20 minutes until I got my order taken.
I went later today, since I slept in a little longer due to my rude awakening from no AC's working.
Jan got her favorite (well, her favorite besides the Nachos last week) Stuffed Baked Potato, while I again got the 3 meat plate, but with Pork Loin instead of Ribs. The Brisket and the Hot Sausage are delicious, but for me the Ribs are only good, not great.
They're obviously parboiled before they're put on the grill, or in the smoker. This way they have that 'so tender, they fall off the bone'. And that's what you get. With a slight tug, the meat just comes right off, leaving a nice smooth bone.
I don't like that.
I like my rib meat with more texture, and with the meat sticking to the bone, so you have to gnaw it a little to get all the meat off. But that's just me. Your mileage may differ.
We both had leftovers for tomorrow, and I also got a small Cowboy Cornbread to add to it, a Blue Moon two'fer. Nice.
---
Thought for the Day:
As I said, sometimes it's the easy stuff that's hard.
.
.
Vera Bradley
---
September 17, 2018
Back On The Road For A Bit . . .
Looks like our rig test drive is on for tomorrow morning since the rain chance is down to 20%, and that's for the afternoon.
After I got home from work this afternoon, first thing was to check the rig's tire pressures, and found them all still at 100#. These tires just don't leak, and I last checked them back in June before our Illinois/Alabama trip.
Really like these Hercules Ironman tires. I've always run truck tires on the rig, and I saw a lot of trucks at the oil rigs running these. And they've been great for us too.
Another product I picked up from the oil rig trucks is Diesel Kleen.
I found a lot of the fleet operators use it in their engines, and it's less then $9 at WalMart.
While I was at West Marine on Sunday checking out their battery cables, I also picked up a bottle of BioBor JF Diesel Biocide. With all the rain we've been having, and the cooler temperatures on the way, your diesel tank is a perfect breeding ground for algae. Which then clogs up your engine's fuel filter.
But keeping your tank as full as possible, and using BioBor regularly, will head off the problem.
I mentioned several months ago, before our most recent trip, that I wanted to order a new wheel simulator donut for one of our rig's front wheels.
The missing one looks like this.
And the replacement will look like this.
So I finally remembered to order a new one from Spartan for $24.11. So not a bad price. Until I saw it come through on my PayPal MasterCard, a charge for $44.72.
So they charged me $20.61 to ship it via UPS Ground?
Ouch!
We'll probably head out around 9am tomorrow, hoping to avoid the heat since we won't have the rig AC's, with a stop at the La Marque Buc-ee's to top off our diesel tank for our upcoming Florida trip. That will get us all the way to the Tallahassee area stop.
Our second stop will be for Jan. I have always appreciated how low-maintenance she is as far as jewelry, clothes, etc. But apparently she's had her eye on this high-end Vera Bradley shoulder bag that she wants to take on our European trip.
So our second stop will be right down the Interstate at the Tanger Outlet Mall to see if the Vera Bradley store has one in stock. If not, I'll order one for her.
After all, it's our 51st Anniversary coming up the end of the month, and she's definitely worth it.
---

Thought for the Day:
The weatherman said it only rained twice this summer: once for 45 days and then again for 30 days. That's about right here in Houston
.
.
.
.