Daily Archives:
September 8, 2020
Yesterday we were back at Spring Creek BBQ for more of their really good Baby Back Ribs, with Beans and Beans.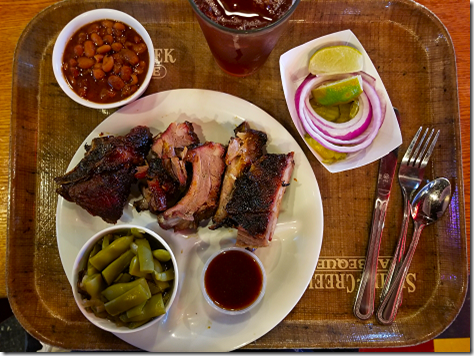 Then today we were back at Snooze for breakfast once again. Jan got her usual favorite Bravacado Toast,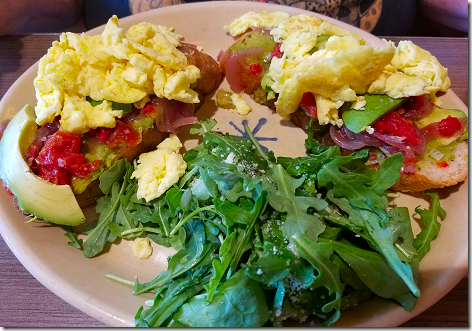 while I got my usual Snooze Classic Breakfast with Fruit.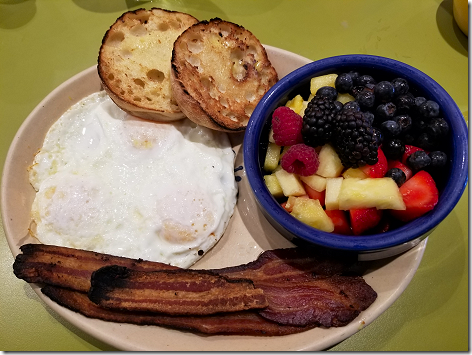 I have made some headway on my rig's lighting problem. In fact I now know that I can rewire things to work if I have to.
One of the main tenets of troubleshooting is "Divide and Conquer'. This means you go halfway between the circuit's Input and the Output, and check the signal/voltage there. Then you keep dividing the circuit in half until you narrow it down.
So today I ended up working at the rear PDC (Power Distribution Center). The way the rig's lights work, the taillights in particular, is that when you turn on the lights at the switch, the 12 volts feeds a relay in the dash area, which then feeds back to the rear PDC where it feeds another relay that actually turns the taillights on.
So what I did was to pull the relays at the rear PDC and turn on the lights directly.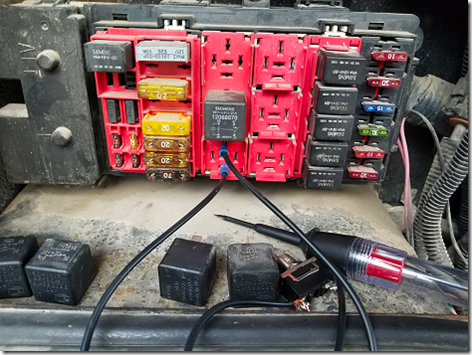 I made up a test switch with spade lugs on the ends that let me plug directly into the relay bases. But when I tried it on the taillight relay, the taillights didn't come on. But the little side marker light did. So that meant my idea was at least correct.
I had originally put off worrying about the bulbs since I thought the odds were low that both bulbs went bad at the same time. But apparently the odds weren't that low.
When I pulled the lens covers on the right side, I found the bulb, not only bad, but blown. And so was the other side. They both looked like this.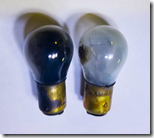 Bulbs normally look like this when they've been hit with some sort of overvoltage spike. And these are 1157 dual filament bulbs for both taillights and brake lights, and all 4 filaments were blown.
But when I removed the bulbs and again put power through the relay base with my test switch, I had voltage to both contacts of the bulb socket on both sides.
Next, as a quick check I used my test switch to put voltage to the turn signal lights, and they work. But then they don't work from the steering column, so I've got another problem.
And I ran out of the daylight before I could check and see if the taillights worked all the way from the dashboard now. That's for tomorrow.
I did order a set of LED 1157 bulbs as replacements. Should be here Thursday.
So I'm making headway, but it's obvious that I'm looking at multiple problems here, not one single problem that took out all the rear lights.
And I'm still puzzled as to how a voltage spike could get through the relays and burn out both filaments on both sides, but not cause any other problem.
It's always something.
Almost Wrapping Up In Newfoundland
---
September 8, 2009
Moose in Newfoundland – 110,000. Moose Jan saw – 0
This is our last full day in Newfoundland.
After breakfast at Jungle Jim's we left the hotel in Corner Brook on our way to Port Aux Basques (Pronounced 'Port Ah Baas'), 132 miles away, where we will catch the ferry back to Nova Scotia tomorrow at 11:30 am.
But before we left town we stopped at Walmart for some 'stuff' and then to take some last pics of the place.
Most readers of our blog know that Jan is MOOSE crazy. She had really hoped to see some moose over here. In fact, everyone we have talked to that have been here have seen moose, a lot of moose. But Jan has seen ZIP, ZERO, NADA while we are here.
I mean, there's 110,000 moose here and it's really not that large a place. We did our best. We slowed down whenever we saw someone pulled over, in case they were seeing a moose. We checked out every pond, lake, and stream along the highway. No luck.
About 20 miles outside Port Aux Basques we came thru the 'Wrecknation' area. This is an area known for its extremely high winds, I mean, really, really high. Like over 125 mph!
And this is not from a storm. These are just high winds off the ocean being channeled thru the valley below.
But today there was no wind whatsoever. Lucky us.
We got into Port Aus Basques about 2:30 pm and got checked in.
After a quick lunch, we drove around the area and checked to be sure we knew where to go for the ferry tomorrow
Coming back to the hotel, it seemed like a nap was in order, and then about 7 pm, we had dinner in the hotel restaurant.
Tomorrow we have a 5 hour ferry ride back to the mainland.
Anchors away!
---
September 8, 2014
A Big Jump . . .
Well, compared to yesterday's now-paltry 145, we had 207 vehicles through the gate today. The big jump was really due to two things: the number of semi's bringing in loads of drill pipe, and the rig workers arriving in anticipation of drilling starting soon.
And they're finally making some visible progress getting the rig up. Here's what it looked like all day today.
And here's what it looks like tonight after they erected the derrick.
Down in the Eagle Ford area, south of San Antonio, where we've gate guarded the last two years, the rig crew, made up of roustabouts, roughnecks, and other workers, work a 7 day, 12 hour shift, and then they're off for 7 days. And I assume that's what they do here.
They actually have two full crews, since the rig runs 24 hours a day. And that means they really have four full crews, to cover the entire work period. The crew lives in crew trailers, either on-site or nearby while they're on-shift. This housing is furnished by the drilling company as part of their compensation.
And they're compensated VERY well, too. We've seen guys start to work on a drilling crew, coming to work, riding with someone else. And then after working a few shifts, show up in a $50,000 dually diesel pickup truck. Of course we've run into other guys who are broke because they're paying alimony and child support to 3 or 4 ex-wives. So it's not all money in the bank.
The supervisory crew, company man, engineers, toolpusher, etc., also work 12 hour shifts, but for two weeks at a time. And they also live on-site.
---
The weather's not been bad. In fact I've haven't even set up my misting system on the fan because it just hasn't been getting that hot, mostly in the low to mid 90's. And it looks like by this Saturday, Fall may arrive, with temps forecast in the low to mid 80's. Very nice.
But I'm not really sure how well my misting system would work here since the humidity is a lot higher here than in south Texas. But it doesn't look like I'm going to have to worry about it.
There's only two real problems with our gate here; Amazon and relief guards. Since the Gate Guard Services office here is 50 miles away, and does not have a secretary, or anyone else there to receive packages, that's out.
I've thought about using a UPS store, or a FedEx store, but I never know how Amazon will ship things. So I'm still working on it.
As far as relief guards, Jan and I always try to take a day off every 3 or 4 weeks. Well, 10 hours anyway, from noon to 10 pm.This usually works out to one around the end of September, which corresponds with our Anniversary on September 28th, and one around the end of October, which corresponds with Jan's Birthday on the 25th, and mine on the 5th, too.
But unlike the Eagle Ford area down near Whitsett, there is a paucity of relief guards in this area. A relief guard must be licensed just like we are, and must have their license with Gate Guard Services. And they also need to know how to run a gate, since they have to hit the ground running, so to speak.
Down in Whitsett, there were a number of ladies who did nothing but work relief gates, and stayed pretty booked. You had to get your reservation in if you wanted a certain date. They normally make $100 a day so there's money to be made.
But up in this area, no so much. I guess GGS hasn't been up here long enough for the relief guard thing
The Computers, Not Me
---
September 8, 2017
Coming Out Of The Closet . . .
Once again I was up and out the door by 9:30 this morning, on my way back down to my client in Clear Lake.
I'm still waiting for the new USB WiFi adapters to come in from Amazon, which should be here by Monday. Then I'll reconfigure the entire network and get the server computers, including the mystery one, out of the small closet and into another room where I can more easily hook up monitors/keyboards/mouses to them.
So today I worked on a lot of little niggly bits, including repairing a couple of broken RJ-45 connectors with the new repair clips that came in this morning.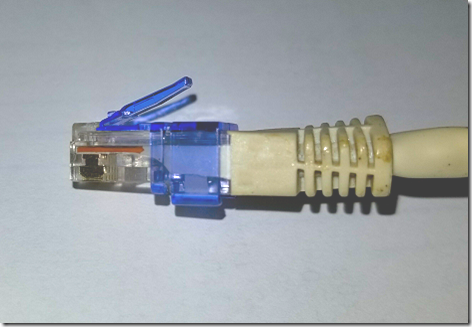 They just snap over the bad connector and lock right in place and seem to hold in the socket with no problems.
I've also been using my Ethernet cable tester to map out some of the many unidentified cables so I can tag them. Right now I'm using masking tape and a Sharpie, but I've ordered a set of these labels to make things permanent.
They're tough, waterproof plastic and come in sheets that you can print on a laser printer. A set of 300 labels (10 sheets) is less than $10.
The cable tester I'm using is one I had for 20 years or more, and in fact, I'm sure it's not even made any more.
It's so old that it not only has the RJ-45 Ethernet connectors, but also the old coax cable connector which is what networks used before the Ethernet/RJ45 twisted pair standard came along, pretty much in the 1990's. BTW the 'RJ' in RJ45 stands for 'Registered Jack' and was developed by AT&T for phone use long before it was appropriated for Ethernet use.
All I have to do is plug a cable connector into each unit and turn it on. The 4 lights on the smaller unit flash and tell me it's the same cable and whether all the wire pairs are good or not.
Later in the afternoon I was able to make our reservation at the Hillcrest RV Park over in New Waverly, about 20 miles from here. We'll use it for our week out (actually 11 days) and then come back to Lake Conroe on the first of October. This will put us back on our regular two week schedule, although right now we're thinking about changing things around, so I'll let you know.
Finally about 3:30 I headed up to Katy to pick up Jan at our daughter Brandi's. Jan's been Landon-sitting all week since his school's been closed for the hurricane. Normally it's a little over an hour trip, but again, due to all the extra traffic, it was about an hour and 45 minutes.
By the time we left Brandi's it was after 5:30, and since I didn't want to head home in all the rush hour traffic, I decided to celebrate seeing her for the first time since Monday by having dinner at the Katy Longhorn steak house, probably our overall favorite steak place, with Saltgrass a close 2nd.
After our salads, (yes, I like a lot of pepper on my salad)
Jan go her standard New York Strip Sirloin with Baked Potato,
while I went for the Ribeye Steak, also my usual.
One of the best steaks I've had in a while. I don't think I've ever had so-so steak at Longhorn, much less a bad one. Just consistently good.
Though I will say our service wasn't very good, extremely slow, with people who sat down after us, placing their orders and getting their salads before we even saw our waitress.
By the time we finished, the traffic had died down, so we headed west for a couple of miles to get on the Grand Parkway and went north to hit I-45 about 20 miles south of Conroe, with hardly any slowdowns. Nice.
Right now it looks like Miss Karma and I will be on our own again for a few more days next week. Brandi's going out of town for a convention in San Diego and Lowell won't get home in time to pick up Landon at school, so Jan's on chauffeur duty for Monday through Wednesday.
Nick said I ought to be suspicious that Jan's leaving me one babysitting job at a time.
---

Thought for the Day:
If it ain't broken, you're not trying hard enough.
More Birthday Parties
---
September 8, 2018
Like A Pack OF Hungry Hyenas . . .
Jan and I headed up to Katy and Landon's Big Birthday Bash about 11:30, but with a breakfast stop at the nearby Denny's.
We normally do the Denny's Breakfast for Lunch thing on a weekday afternoon when they're not very busy, but Saturday mornings are a little busier . . . make that a lot busier.
But we both got our usual, Jan with her Mushroom, Onion, and Tomato Omelet,
and I got my Two Egg Build Your Own Slam.
I think they've changed their bacon company because this batch was really good with a great flavor.
On the way up to Brandi's, we passed through several heavy rain showers but it was all clear by the time we got to Brandi's. And luckily stayed that way when we all headed out to the Smith Ranch about 2:30. It was nice to see that they were expecting us.
Landon's had two other birthday parties here, and the kids always has a good time, mostly due to the ginormous blowup waterslide they have.
Landon's party was Dog-themed so what's better than a birthday cake with his dog's photo on it. That's Baxter on the left and Kitty on the right.
Yes, they have a 120# Black Lab named Kitty. They get some really strange looks when they yell, "Here Kitty, Kitty, Kitty!" and she comes running up.
One thing neat about the cake is that it's actually made of cupcakes,
half vanilla and half chocolate. Makes serving it a lot easier and everyone gets the same size piece.
And of course with a Dog-themed party you've got to have a bone-shaped Piñata, of course.
Lowell had a lot of fun keeping it out of everyone's way, especially Landon. And when it finally popped, the kids were on it like a pack of hungry hyenas.
As I mentioned in last night's blog, I left Jan there so she could attend Grandparent's Day at Landon's school on Monday morning, and then I'll pick her up that afternoon.
So it's just me and Karma for the weekend.
---

Thought for the Day:
I'm know I'm supposed to respect my elders, but it's getting harder and harder for me to find one now.
And Another Birthday Party
---
September 8, 2019
Gonna Be Hard To Top . . .
From the front yard sign to the giant two-story water slide Brandi and Kristine (Sophie's mom) went all out on this combo birthday party for Landon and his BFF Sophie.
Their birthdays are within a few days of each other, and since they're constant companions it was just a natural idea.
When I got there about 1pm they were both playing king of the hill on the water slide,
with Sophie often coming out on top since she's got a couple of inches on him. I've noticed that girls this age (9) often have the edge on the boys until they get their growth spurt.
It wasn't long until the guests started showing up and the slide started filling up fast.
I did tell Lowell that I was surprised that some of the kids weren't trying to find a way to jump from the 2nd story window down onto the slide.
I know we would have been trying that when I was that age. Of course we didn't have to wear helmets and knee pads when we rode a bike.
And we were crazy enough to ride in the back of pickups, too.
After a while some of the kids started to check out the pool.
And with so many kids around they had even booked a life guard to keep an eye on everyone.
While all this was going on, I did get a look at the the birthday cake that I did the photo for.
Came out pretty good, especially considering the resolution of a cake printer. But as I thought, Baxter, the black dog between Landon and Lowell, kind of disappeared into the background. Best I could do, though, with what I had to work with.
Besides all the fruit and veggie setups, chips and dips, they also a street taco/quesadilla bar, with two ladies making it all to order.
Really delicious, and a great idea.
And it wouldn't be a Texas birthday party without piñatas. Two, as a matter of fact, one for each.
And of course, the mad scramble for the candy and gifts that fell out.
Then it was on to the cake cutting, with Landon on the left and Miss Sophie on the right.
I think one of the reasons that Landon and Sophie are such good friends is that they are both tech nerds. While a lot of 9 year old girls want Barbie stuff for their birthday, Sophie was thrilled with the several built you own robot kits she got.
And since Landon likes dogs so much, and dogs were the theme of the party, everyone got a dog balloon to take home.
I though it would have been more fun if everyone got a real puppy from the pound to take home. The kids would have loved it, the parents not so much.
With everything Brandi and Kristine had going with this party, it's going to be hard for another parent to top it.
---
Thought For The Day:
Sometimes the good you do doesn't do you any good.