Daily Archives:
September 14, 2021
Well, Hurricane (just barely) Nicky passed over us between around midnight and 3am with a lot of wind, but I don't think we got the 20" of rain that was forecast. We only lost power for a couple of minutes around midnight, and again around 3:30am. Don't know if it was connected in any way, but sometime later in the early morning, the rear AC popped its circuit breaker, but resetting it fixed the problem and it's been working fine since then.
And while the storm was over us, the rig was really rocking and rolling, but not in the fun way. In fact, we both agreed that we've never experience that much motion. And it seems that motion was enough to make Miss Karma motion/seasick since she threw up on the bathroom rug during the storm.
By the light of day, we surveyed the damage, such that it was. Two of the solar screens had come off and were laying out in the street in front of the rig, and the two window awnings on the driver's side had popped loose and rolled up.
Looking up, I saw that the vent cover over the refrigerator vent had also come loose,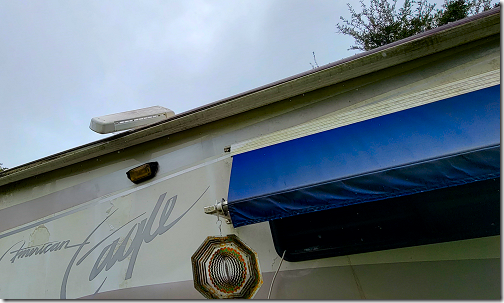 so it looks like a up-on-the-roof trip is in the cards.
But the most heart-breaking was the avian devastation to Jan's Flamingo Flamboyance.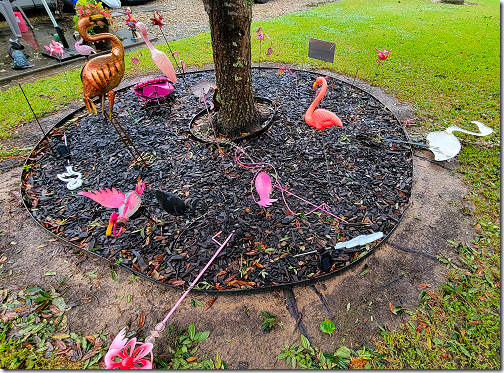 In fact it seems to have been so bad that one of them tried to get out of the storm by hiding under the rig next door.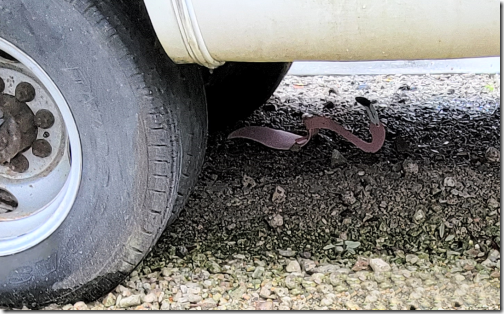 Hopefully we'll get our Jeep back tomorrow so we can park Ole Smokey until the next time. But she's still a reliable workhorse.
About 1pm Jan and I drove over to the Interstate to get some lunch and then do some WalMart'ing.afterwards. Finding a couple of places still closed from the storm, we ended up at Denny's once again, for Ultimate Omelets once again.
Coming home, we made a Cowboy Coffee stop for a couple of Theresa's (the owner) custom-blended Sugar-Free Pumpkin Spice Cold Lattes. She hadn't been able to find a source of the sugar-free Pumpkin syrup, so she concocted one of her own. And it was really good.
On the CoVid front, after doing some online research, Jan and I have added L-Lysine to our anti-Flu Manchu regime. L-Lysine is already known as a potent anti-viral in regular use against Herpes, Cold Sores, and Shingles.
Most of the data on its effectiveness against the virus shows up in European publications, but here's an article from Fauci's NIH touting its successful use against the virus.
Lysine 164 is critical for SARS-CoV-2 Nsp1 inhibition of host gene expression
Like the other supplements Jan and I take, Quercetin, Zinc, and D3, L-Lysine is also available OTC from places like Amazon.

---
Thought For The Day:

Sometimes SpellCheck is just not enough.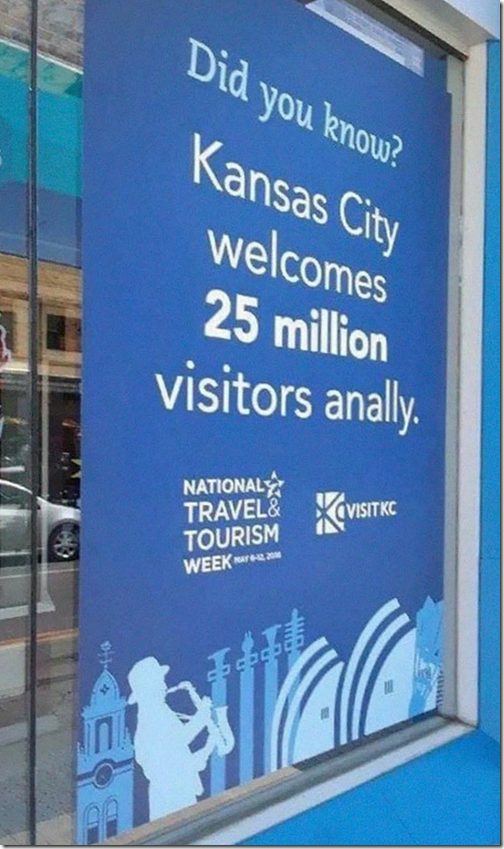 .