Daily Archives:
September 18, 2021
The weather was nice this morning so after our coffee, we were outside working. While I replace all of Jan's wayward flamingos in the garden, Jan cleaned up some of the debris and limbs left over from the storm last week.
Later, a little after 1pm, Jan and I drove up to Clear Lake to have lunch again at The Cookshack. I was hoping that the owner would be there this time so I could try to two levels hotter than AMF Chicken Tenders that he told me about on our first visit.
He was surprised that I was able handle the standard AMF version, but when we went back for our 2nd visit, he wasn't there, and no one knew anything about a hotter version of AMF. However he was there today, but I still didn't get the two-levels hotter version, just 1 level hotter.
I think I may have called his bluff, because when I asked him for the two-level version, he said he only had the one-level available, since it took him a MONTH to make up the even hotter stuff.
So what, he mixes it up in a big cauldron during the full moon, with eye of newt, puppy dog tails, lizard tongues, etc.
Yeah, right!
I'm not sure I could tell that today's version was any hotter than the original one, but it was hot. However I told Jan I probably won't order it again, since it was just the challenge more than anything.
So I got the 5 Chicken Tenders, one AMF+1, and the other 4 Texas Hot, the next level down, with Texas Caviar,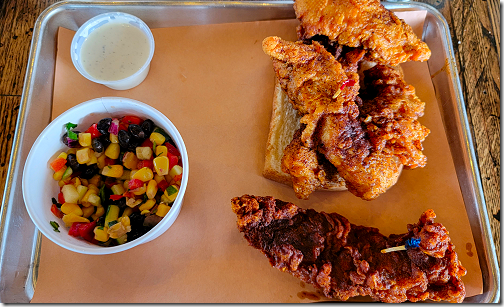 while Jan got the CookShack Salad and a side Tender.
After lunch I went by the office for a bit, while Jan read in the car, and then it was home by about 4pm.
A very nice day!
Another post about where we were 12 years ago today.
---
September 18, 2009
Quebec
Today was our day to see the city of Quebec.
We started out with breakfast at our new favorite breakfast/lunch place, Cora. Hopefully these will show up in the US soon.
We drove around Quebec, finally ending up in Vieux Quebec, or Old Quebec where we found a Tourist Information Center.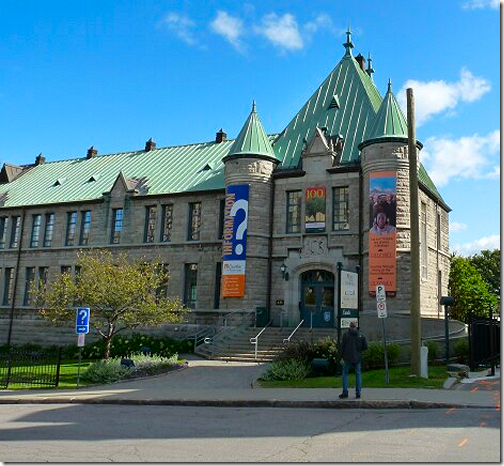 We found that there was going to be a 2 hour bus tour at 2:30 pm and signed up for it. Luckily for us, today was the last day for this tour, and, even luckier, it was all in English.
We've noticed a lot of touristy things are starting to shut down, or reduce their hours, due to winter coming on, and the tourist trade is dropping off.
We had some time to kill before the tour started so we drove to a Glass Shop on St. Jean street that Jan wanted to visit.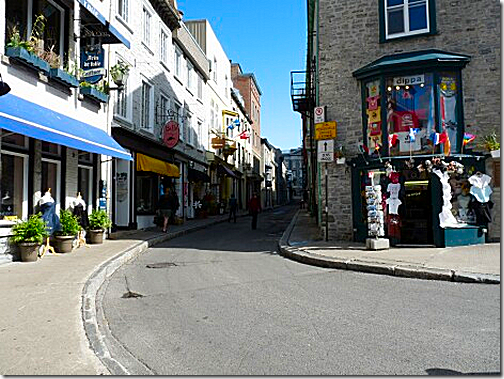 Finally we headed back to rendezvous with our tour bus. Our driver, a Quebec City native named Francois, spoke very good English, luckily for us. But Jan said he sounded like Inspector Clouseau of Pink Panther fame.
Our tour gave us a look at the major sites in Quebec, in both the old and new sections.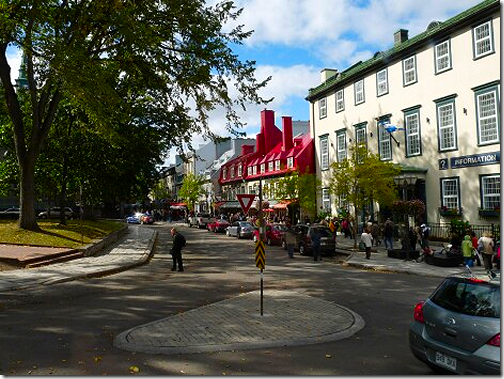 Here is the Simons fountain in front of the Provincial Capitol of Quebec.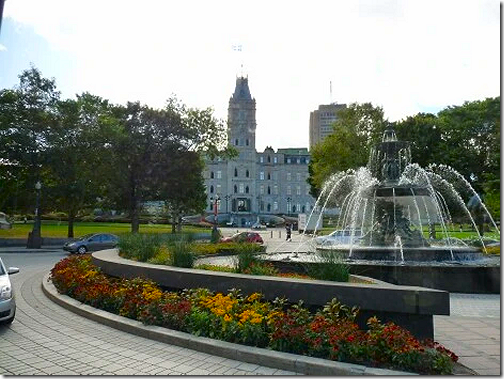 Here is the view from the Plains of Abraham battlefield site overlooking the St. Lawrence river.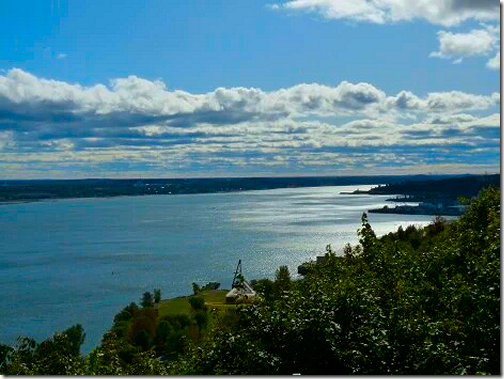 The battle of Plains of Abraham, also known as the Battle of Quebec, took place during the French and Indian War in September 1759, and the British victory over the French led to France relinquishing all claims to Canada.
Here's Jan with another view from the battlefield.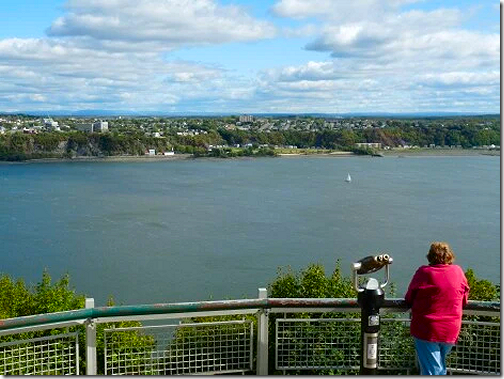 And here is the Chateau Frontenac Hotel, one of the most magnificent sites in Quebec. Built in 1893, the Frontenac is one of the premiere hotels in North America.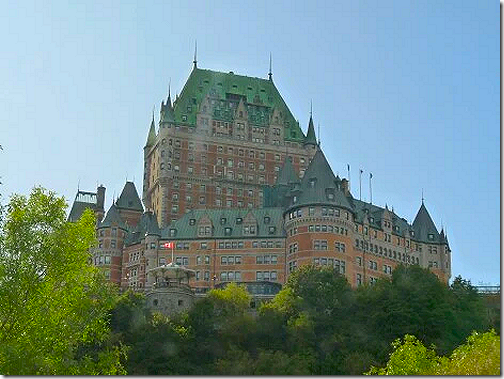 Here's one of the many pedestrian-only streets in Vieux (Old) Quebec.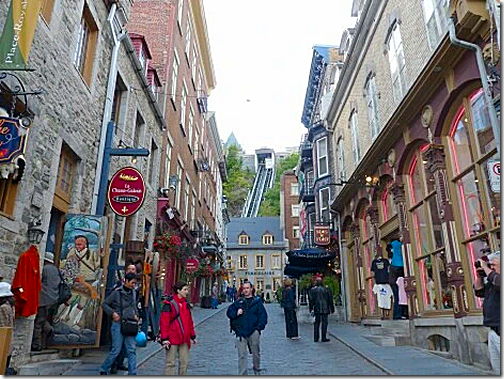 This church, the L Eglise Notre Dame Des Victoires (The Church of Our Lady of Victories) , is the oldest stone church in North America.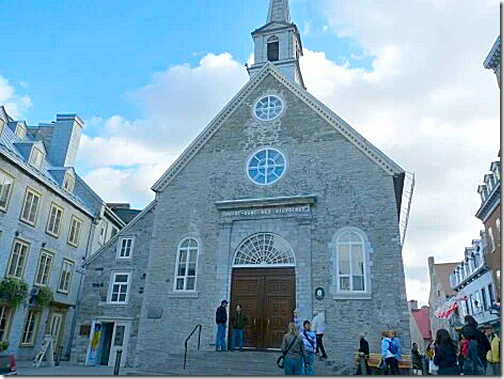 Another view.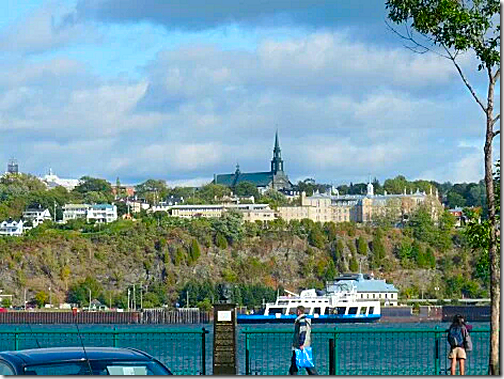 And this building, built in 1675, is the oldest one in Quebec City.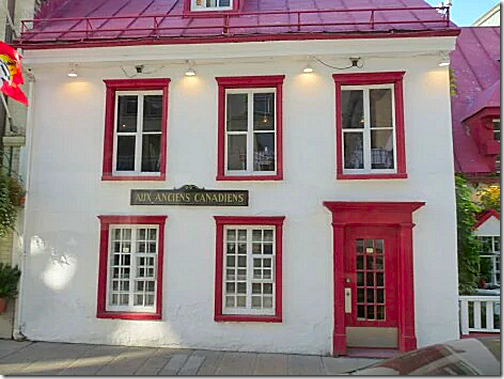 After our tour was over, we drove over to Tomas Tam's, a Chinese buffet restaurant we'd seen advertised. And it was very good.
On our way back to the rig, we drove pass everyone's favorite chicken place, PFK.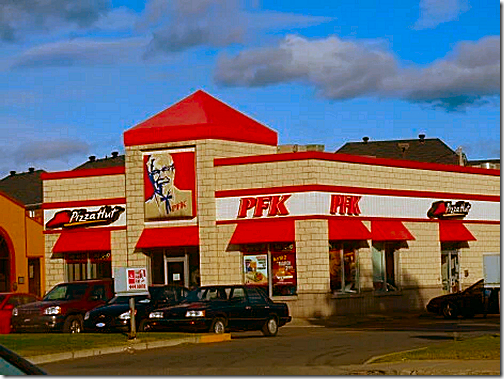 PFK???
Leave it to Quebec to put their own stamp on things.
PFK in French stands for 'Poulet Frit Kentucky', or Kentucky Fried Chicken to us.
Getting back to the rig, we got ready to head out early tomorrow on a long travel day.

---
Thought For The Day:
"Be Yourself" is about the worst advice you can give to some people.