Daily Archives:
September 17, 2021
If the weather holds tomorrow, and maybe Sunday if necessary, I'll be outside resurrecting Jan's Flamingo Flamboyance, after the devastation from Hurricane Nicholas.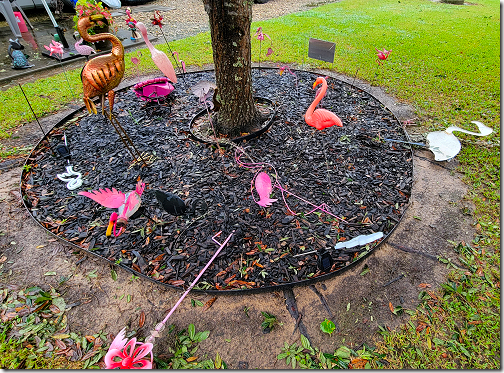 Also weather-dependent will be trying to get my new Attwood water heater completely installed. I'm going to have to completely disconnect it, drain it, and remove it from the rig. Then I'll use my Oscillating Multi-Tool to enlarge the opening, and then reverse the process. And then hopefully I'll be done with it.
Lions & Tigers & . . . Gorillas?
Lions, tigers at National Zoo return positive COVID-19 tests
18 Gorillas at Atlanta Zoo Contract COVID-19
And Then There's This.
COVID Delta Variant May Become Completely Resistant To Vaccines Says Japanese Study
A group of Japanese researchers released research (read below) showing that the SARS-CoV-2 Delta variant "is poised to acquire complete resistance" to existing COVID-19 jabs.

When four common mutations were introduced to the Delta variant, Pfizer's mRNA injection enhanced its infectivity, causing it to become resistant.

A Delta variant with three mutations has already emerged, which suggests it's only a matter of time before a fourth mutation develops, at which point complete resistance to Pfizer's jab may be imminent.

A number of experts have raised concerns that COVID-19 jabs and the mass vaccination program could worsen the pandemic by triggering the development of new variants, via a concept known as antigenic, or immune, escape.
And Maybe That's What's Causing This.
Vermont, with the highest vaccination rate in the country — 88% of adults at least partially vaccinated & 79% fully vaccinated — is about to set a new high in COVID cases, just 3.5 months after Fauci said with 50% of adults vaccinated we wouldn't see significant surges.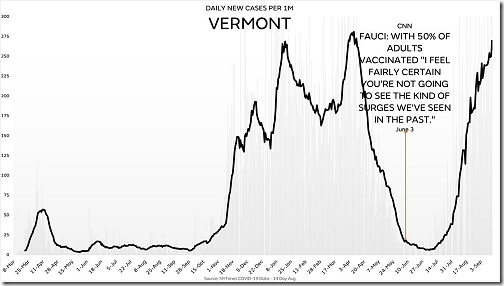 The Vermont Department of Health reported 314 Covid cases in a single day Thursday, the highest daily total the state has reported since the Pandemic began. Vermont has the highest Vaccination rate in the U.S.
And Is It Just A Coincidence?
That both of drugs, HCQ (Hydroxychloroquine) and Ivermectin, that are said to successfully combat the WuFlu, but only in other countries apparently, are anti-parasitical in use.
That India, a big user of both HCQ and Ivermectin for other human medical conditions, has 4 times the population of the U.S., but only has had 3/4 of the total cases, and 2/3 of the total deaths of the U.S.
Hmmm?
Remember, with 42,799,907 Total Cases in the U.S., and 690,714 Total Deaths, the survival rate for WuFlu is 99.9839%
---
Thought For The Day:
A woman's anger is often like a Check Engine light. Sometimes there's no way to know why it came on. So you just ignore it and hope it goes away.
Jan says, "Words To Live By"