Daily Archives:
September 19, 2021
About 1:30pm Jan and I headed over to Yummy Yummy's Chinese Buffet for the first time since March 14, 2020, when it closed due to CoVid. And after repeatedly checking back for months, we finally gave up and figured it was gone, as has happened to several other favorites of ours.
But this past Thursday a friend alerted us to the fact that they might have finally reopened. And when we drove by there Thursday afternoon, we found a full parking lot.
Yay!
So today we were back, and it's like nothing changed. Well, almost nothing, anyway.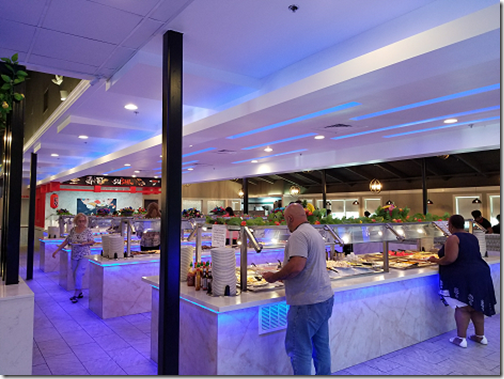 The place is just as tastefully decorated as before. the selection was just as wide, and the food was just as hot and fresh as before.
Strangely enough, the only noticeable difference was the 'tint' of the staff. In the past, as is common with most Asian places, the staff was entirely Asian. But now, not so much. A number of their servers are now of the Caucasian persuasion.
Not that there's anything wrong with that?
On the 'Upcoming Front', this Thursday we've got another get-together with some, or all, of Conroe Bunch, this time at the Golden Corral up in, where else, Conroe. By then, all of them should be completely over their recent CoVid experiences.
Looking forward to seeing them all, and to Golden Corral too. The one in Conroe has always been really good.
And it now looks like Fall is upcoming too. With our first cold, rather than cool, front coming through, we're looking at a week of nights in the low 60's down here in Santa Fe, and in the 50's up in Brandi's area in Katy.
---
Thought For The Day:

Think About It.