Daily Archives:
February 14, 2023
Our Valentine's Day dinner was at Saltgrass Steakhouse once again, pretty much our go-to place for a nice dinner out. We had a reservation for 5pm, and I'm really glad we did since they were already on a wait when we got there. But we were seated immediately.
And we pretty much have our go-to menu, starting with their Wedge Salads.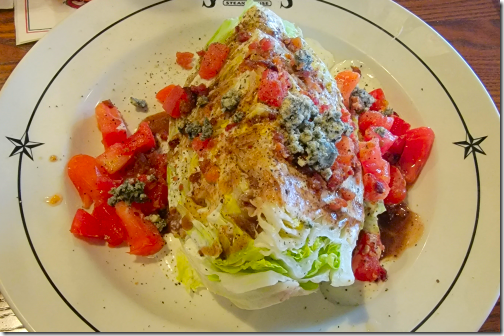 Then Jan gets their 9 oz.Maudeen's Filet, with Green Beans, and a side of horseradish.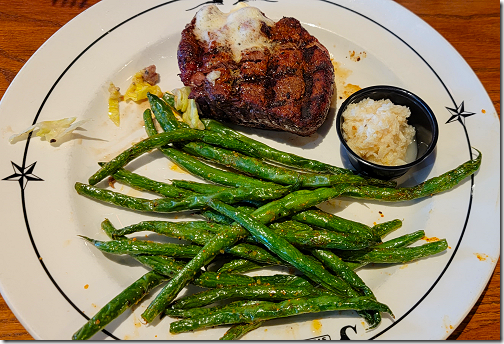 And I got my favorite 16 oz. Ribeye, also with Green Beans and some horseradish.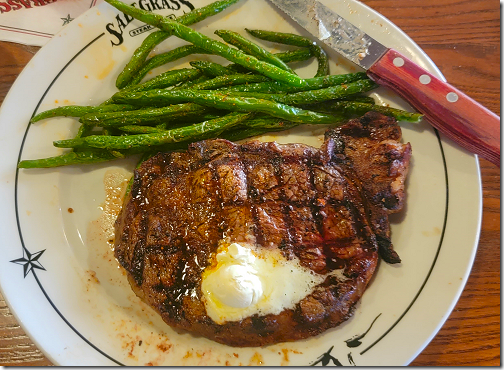 My beautiful Valentine Girl.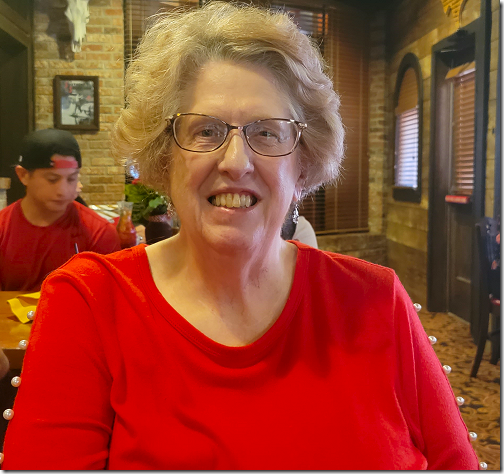 And here's her Valentine's Day gift that combines two of her favorites, Opals (her birthstone) and Octopuses.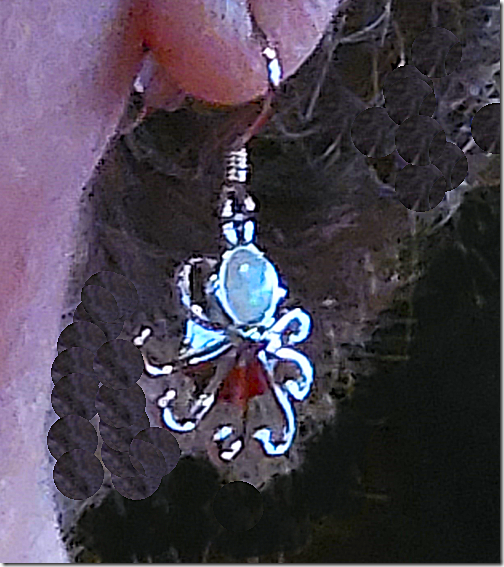 A really nice day, once again.
---
Thought for the Day:
"There is always an easy solution to every human problem – neat, plausible, and wrong." — H.L. Mencken
---
February 14, 2011
Happy Valentine's Day . . .
To my beautiful wife –
After the bad weather we had in Houston recently, the change is really nice. It's been in the mid 70's during the day, and in the low 50's at night. Just perfect.
This morning started when we left the rig about 10:45am headed over to Gina's to take her into New Braunfels for lunch and a dental appointment.
After talking it over we decided to eat at the Red Lobster in San Marcos, so we drove over there first. I think we really just go there for the Cheddar Bay Cheese Biscuits. Delicious!
After Gina's dental appointment, we drove over to Naegelin's Bakery, the oldest bakery in Texas. It's been around since 1868, and in this location since 1870.
They had some great looking (and tasting) pastries.
Gina bought some German Rye Bread to take home, and we all got something sweet. Jan got a Lemon Poppy Seed muffin, I got a Cinnamon Bun, and Gina got a Cinnamon Bun with pecans. And along with the goodies, we got coffee and sat outside and enjoyed the beautiful weather.
We got back to Gina's about 4 and sat out on the back porch for a while, just enjoying the view.
Getting back to the rig about 5 Jan immediately started feeding the many deer clustered around the rear of the rig, seemingly just waiting for her to show up. And even more deer appeared as she spread out the food. Greedy little buggers.
---
February 14, 2013
Another Busy, Last Minute, Day . . .
After a nice, relaxing morning drinking coffee outside in the beautiful weather, I hit the ground running about 11 am trying to wrap up several clients.
After finishing up one, I headed into Webster to pick up Jan's Valentine's gift at the FEDEX store. Looks like it got here from England just in time.
On the way I passed a local souvenir store and remembered I wanted to pick up a new NASA hat before we leave on Monday.
My old one is starting to look kind of frayed and it's time for another one.
After picking up Jan's gift it was back to the client countdown where I was able to knock out two more for this year.
That only leaves me two more. One I'll finish up tomorrow, the other one may stretch into Saturday. We'll see how it goes.
By now it was close to 4pm so I headed back home to pick up Jan for our Valentine's date night.
Our destination was just a few miles up the road to Kemah Boardwalk.
Kemah Boardwalk is a 40 acre dining / entertainment area overlooking Galveston Bay and the Houston Ship Channel. It has 11 restaurants and another 15 rides and amusement areas.
One of them, the Boardwalk Bullet, is one of the most compacted and twisted roller coasters ever built. It has 42 crossovers, a 92 foot drop, and hits more than 50 mph.
Our dinner was at Saltgrass Steakhouse right next door to the roller coaster, In fact you could just feel the vibrations as the coaster was running.
Our steaks were really good, with Jan having a Center Cut Filet, and I had a Ribeye with BBQ Shrimp Brochettes. The Shrimp were stuffed with Jalapenos and Cream Cheese, wrapped in bacon, and grilled with a really tangy BBQ sauce.
The steaks were delicious, the shrimp was fantastic, and the service was great. You really couldn't ask for a better meal. Perfect for Valentine's Day.
At the beginning of the meal, we had in mind to split a piece of their Blueberry Cheese Cake, but by the time we finished dinner, we were just too full. Darn!
After dinner we strolled around the complex as the sun went down, and then decided to check out Stingray Reef.
The last time we were here, our granddaughter Piper was 6 or 7, so it's been while since we visited.
Stingray Reef consists of a low-walled pond housing 20 – 30 stingrays that love to be hand-fed. If you hold out food, they will propel themselves out of the water upon to the side of the wall and take the food from your hand. You can even pet them. Really neat.
They also had a number of very nice, very large, very colorful saltwater aquariums on display.
Later we also hit a few of the rides, including the Boardwalk Choo-Choo, the Ferris Wheel,
and the Boardwalk Observation Tower.
The train ride was a freebie since we got a free ticket for two with our meal.
After walking around for about an hour, we headed back to the car with a stopover at the Boardwalk Starbuck's for a couple of Cinnamon Dolce Lattes to cap off a wonderful evening.
---
February 14, 2014
Catching Up . . .
Wednesday
A few weeks ago I talked about the new Striped QUEEN Sateen Sheet Set that we had recently purchased from Amazon, and how much we liked them. So earlier this week we ordered another set, this time in Burgundy.
Here's what I posted then.
Now, on to the sheets. When we spent the night at our daughter Brandi's on Christmas Eve, Jan fell in love with the soft sheets Brandi had on our bed and wanted to get some for us. Brandi said they were 1000 thread count sheets that she got on Groupon.

So I started researching high thread count sheets, and found that any thread count over 400-600 is kind of just advertising hype, because looms don't hold more threads than that. What they do is twist several fibers together and use those in the count. So two fibers twisted together and then wove on on 500 thread loom becomes a 1000 thread count sheet. The biggest difference is the type of fibers used and whether the sheets are percale or sateen, with sateen being the softest.

So I got on Amazon and after some research, came up with these.

They're listed as being 1500 thread count which probably means 3 fiber thread on a 500 thread loom. The reviews were pretty uniformly good except for some who were upset about the depth of mattress the fitted sheets will handle. And even they're not $200, they're not $100, or not $50. They're $25 for a set of 1 fitted sheet, 1 flat sheet and two standard pillow cases.

So we took a shot and ordered a queen size set from Amazon, knowing we could return them if we weren't happy. We also order a set of two king size pillow cases as well, since we have two king size pillows and two standards.

When they came Jan washed them and we put them on the bed. And they're a big hit. We really like them. They're very soft, but not slick, and have a kind of microfiber feel.
It looks like about a dozen of you have purchased these sheet sets from Amazon through our blog and we really appreciate it. I assume that everyone likes them as much as we do, since no one has complained.
For dinner we headed up to League City to have dinner at a long-time friend's house. Barbara is a great cook and we always enjoy her meals. Since we last saw Barbara she's gotten married and moved down from Pasadena. We had met her new husband last year, and we enjoyed catching up.
After a great meal, a fun time with a lot of conversation, and enough Muscato to keep us there for a while, we finally got home about midnight.
And thus, no blog post.
---
Thursday
Today started out great; beautiful weather, and lunch at our new favorite restaurant, Twin Peaks. Or should I say 'breastaurant'.
And even better, It was Lingerie Week. But unfortunately, our usual waitress, Lauren, wasn't working today.
Lauren knows about this blog and has even seen her picture here, If she had been working I would have had no problem asking to take her picture in her underwear.
But with a waitress we didn't know, I would have felt like even more of a dirty old man than I really am by asking to take her picture. So you'll just have to make do with the photo from their website.
It's probably not surprising that Twin Peaks was busier than we've ever seen it. We got there just as they opened at 11 and there was a line waiting to get in. And when we left about noon there was a line out the door waiting for a table. We eaten there several times at noon and never had to wait for a table. I wonder why that might be?
Leaving lunch we drove over to a client's house to pick up a recalcitrant laptop before heading back to the Clear Lake area. After a stop at HEB for a few things, and then Buc-ee's for coffee and Cranberry Nut muffins to go, we headed back to the rig.
About 6 PM I headed over to a client's house to set up a new computer, and a Wi-Fi network, as well as a new Canon wireless printer. They also wanted their old computer stuff moved and reconfigured.
One thing I ran into was a problem with their HP Officejet 6500 printer/fax machine. There was a problem with the power plug socket. It was intermittent and you had to hold the power cable to one side to keep it working. After determining that it would be almost impossible to get inside the printer to fix the socket, and after talking to the client and telling him the problem, I asked if he had any Duck Tape and told him I would fix the problem. And I did it like this.
The tape holds the cable to the side and it now works fine. I did tell him
not to move it too much. But it's better than having to buy a new printer.
But the time I got everything up and working, it was almost midnight before I got home, so once again, no blog.
Friday
After coffee and the last of the Dunkin Donut Munchkins (donut holes), I spent some time doing Internet stuff before heading outside to enjoy the nice weather and get some actual work done. I was finally going to get a chance to repair my broken Kwikee step.
While we were gate guarding last year, our step just stopped working one day. I could still here the motor running so I knew that was OK, but I didn't worry about it until we got back to Houston where I would be lying on concrete rather than in caliche mud.
When I finally got a chance to look at it, I found that the linkage bar that connects the motor/gearbox combo with the step itself had sheared off right at the gearbox shaft.
It should look like this.
The repair kit gave me a new linkage as well as a new cover plate, a bushing, a clevis pin, and a cotter pin.
I started out by removing the 3 screws that hold the cover plate on. At least that's what I thought I was doing.
As it turned out, I was removing the 3 screws that held everything together.
Including the heavy motor/gear that quickly fell down on my head. Below you can also see the shaft that remains from the broken linkage.
Removing the shaft,
I hooked the linkage back to the step mechanism and then inserted the shaft into the gear box.
I then put the gearbox plate back on and tried to screw it all back together. Easier said than done.
I found it a little difficult to hold the heavy motor over my head and also get the screws started, but finally got it all back together and tightened down.
I next sprayed all the joints with silicone spray and gave it a successful test. Another job done.
Coming back inside and still having some time before we headed out for dinner, and wanting to cover the area around the rig pedals with carpet, I started making a paper template by cutting out sections and taping them together in the correct position.
Here's the area I'm trying to cover.
And here's what I ended up with.
The rug section will be split vertically from the left side of the two openings shown above, so I can fit it around the pedals.
At Home Depot I found a ribbed charcoal mat 18" x 27" for only about $3. It's rubber-backed and very tough so it should work well. And it's big enough for me to make two attempts if necessary (probably necessary)
. I'll try cutting the template out tomorrow.
A little before 4 Jan and I headed up to Webster to have our Valentine's Day dinner at Floyd's Cajun Seafood, one of our favorite local places, seafood or otherwise.
The Floyd in the restaurant name is Floyd Landry, one of the Landry brothers that started the Landry's Seafood chain now all around the county, before selling it.
We've been eating here since for more that ten years and it's always good, and always Cajun. Jan had her favorite Chicken Fried Chicken Breast along with Sweet Potato Fries and I had a big bowl of the Seafood Gumbo along with a Blackened Boudin Link. Can't be beat.
Tomorrow I'll see how the template is going to work.
---
February 14, 2015
Valentine's Day . . .
I spent the morning working on the Kwikee step on our rig. Jan reminded me yesterday that when we stopped at Monterey's Little Mexico for lunch when we traveled from the Colorado River Thousand Trails down to Galveston Bay RV, the step wasn't retracting. So I slid under the rig to take a look at it.
The first thing I discovered is that the motor is not even trying to run, so the next thing I did was to pull the pin that connects the motor drive to the step in case the step mechanism was jammed, but that didn't help.
So I dug out my voltmeter so I could check the 12v coming in to the system. I was hoping that it was something simple like a blown fuse or something, but the 12v was good.
Next up, I checked the magnetic door switch while I had Jan open and close the door while I measured the voltage, and once again it was good.
I didn't like the way this was headed. I had now eliminated the cheap, easy to fix, stuff. The only things left were the not cheap, motor and the control box. But I would have to wait to test those, since I needed some heavier wires to drive the motor. I pick some up this evening.
Next on my list was a problem with my bin doors. Our rig has two different types: First are swing-up doors like this,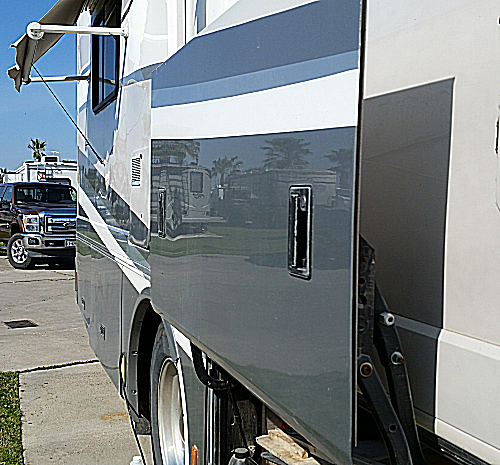 and the others are flip-up doors like this.
The swing-up doors are not a problem. You pull them out and up and the gas struts hold them in place with no problems. But the flip-up doors are another deal.
The plastic wedges that lock the doors in place have become worn down over the years, and sometimes on a rough road, the chassis twists and the doors pop open. Which means I have to stop and close them. And sometimes stuff falls out. Which is a pain.
I looked at replacing the wedges with new ones, but that requires drilling out rivets, and a lot of other work. So I decided to go with cheap, simple, and quick. And it looks like this.
These screen door hook & eye latches cost 98 cents, and after drilling two pilot holes, it just takes a couple of minutes to screw them in. And they can't be seen unless you're down on your knees close by. Like I said, cheap, simple, and quick.
Next, since I had a little more time before we had to leave for dinner, I started masking the front bumper area so I can paint it when (and if) the wind dies down.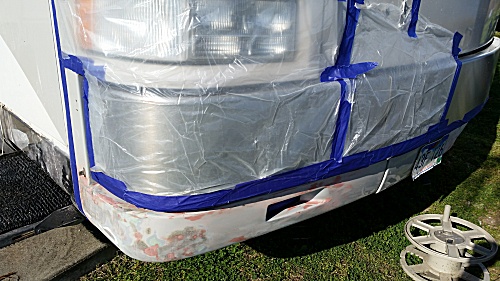 We'll see.
Jan wanted to have our Valentine's Day dinner at the Longhorn Steakhouse up in Webster, so we headed out about 3:45pm, hoping beat the crowd. A forlorn hope, as it turned out.
We got there about 4:15, but didn't get seated until almost 5pm. But it was really worth the wait.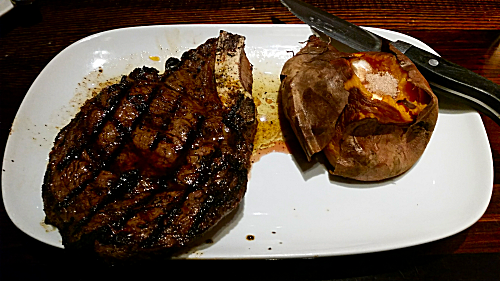 My bone-in Outlaw Ribeye was probably the best steak I've had in recent memory. Or distant memory either. It was done a perfect medium-rare, without a tough bite in it.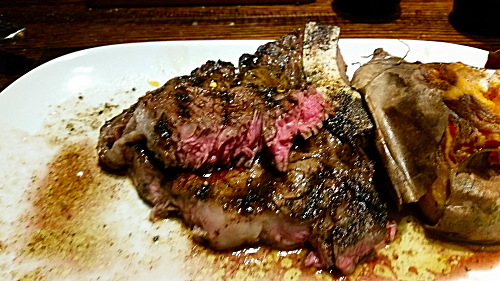 It was charred around the edges just like I like it, and at 18oz (counting the bone, of course) it was the perfect size.
Jan said her center-cut filet was perfectly done for her, and delicious. She likes her steak kind of halfway between medium and medium-well, and apparently that's a hard target to hit for some cooks.
Jan and I agreed that our favorite steak places are, in order:
Longhorn
Saltgrass
Outback
Unfortunately, our #1 and #2 choices aren't as numerous around country as 3 & 4.
After a quick stop at the Lowe's next door for some heavy wire for the step motor test leads, we got home about 7pm, making a quick stop at the park office to pick up my Amazon packages.
Tomorrow, more projects.
---
February 14, 2016
Damn! A Card . . .
Jan and I were up about 7am, wanting to wrap up our pre-travel chores early. I had already done a lot yesterday afternoon, but I still needed to take care of the satellite stuff outside and stow away the TV/DVR inside before we headed out for breakfast.
With everything else done, the last thing I did right before we left was to shut down the computer. I've learned to do this ahead of time since often I find there's a bunch of updates waiting to be installed, And so it was today.
Please Do Not Turn Off or Unplug Your Computer
Installing 1 of 18 Updates
But I figured it would all be finished up by the time we got back.
Jan and I headed into Columbus about 8:15 am, meeting up at Schobel's Restaurant with Randy Lazarine and Jim and Perri Dean, where we were all looking forward to partaking of their great Sunday breakfast buffet.
And as in our past get-togethers, between the good food and the great company, we didn't get back to the park until about 10:15. Normally by then we'd already be on the road, so we scrambled to get going, only to find things coming to a screeching halt.
The computer updates was only up to 5 of 18. And it took two hours to get there!
Having worked on several computers that had been turned off while they were updating, I was loathed to inflict this on me and mine. So since we weren't really in any hurry to get to Lake Conroe, I decided to wait. And by 11, it had progressed all the way up to 7 of 18.
At this rate it looked like we'd still be waiting here tomorrow, so I said a prayer, bit the bullet, and turned the computer off. I'd know in a few hours how that was going to work out.
Finally we were hitched up and out on the Interstate by 11:30 heading for Conroe. But before we even made it to I-10 it was quickly evident that this was going to be a windy trip. Of course that's pretty much the norm for this time of year in Texas. It was windy the last several times we drove into Houston in the truck, and also when we day-tripped to Fredericksburg last week. So it's not like you can wait a day for the wind to die down. It won't.
But there was something new this trip – traffic. Normally, traveling on Sunday like we do, it's pretty light, but today was definitely different. Starting just the other side of Brookshire, it really thickened up. Not enough to slow things down, but noticeably more.
At first I thought it might be the Houston Rodeo, but as I found out, it doesn't start until March 1st. So I guess it was just the Two Holiday Weekend, but it seems like that Friday and Monday should be the busy days, not Sunday.
We pulled into the Lake Conroe Thousand Trails about 1:30. Kim, the head Ranger, said it had been really crazy this weekend, and last night the park was almost completely full.
And we quickly found out that tonight was probably going to be the same. Both 'E' and 'G' were entirely full, and we know that because we drove up and down every row. We finally found a spot in one of the side by side, shared pedestal sites in 'F', F-48 to be exact. Not our favorite area, but as Jan said, "Hey, it's a site."
And I was very happy to see my computer boot right up with seemingly no problem what so ever, so I really lucked out. Tomorrow I'll try to restart the updates manually to get caught up.
After we got everything set up, we both took a nap until about 5, before heading out to the Whataburger over in Willis. Normally we'd do something a little fancier on Valentine's Day, but since we had a big breakfast, and didn't want to fight the crowds, Jan decided a Whataburger was what she wanted.
Ok, Karma is officially a weird cat. She is crazy about potato chips, pecans, as well as saltines and Townhouse crackers. We did have a cat when we were first married that liked peanut butter and crackers, but pecans?
"Damn! A Card!"
That's what Jan said this morning when she found the Valentine's Day card I'd left out for her. Since she hadn't gotten me one, she was a little 'fake' upset that I got her one. But if I've learned anything after over 48 years of marriage, it's to never believe your wife when she tells you not to get her anything for her birthday, anniversary, Christmas, Valentine's Day, etc.
But in her defense, since we're pretty much together all the time, it is hard to buy something for one of us with out the other one knowing about it.
Tomorrow about 1pm, we'll head down to Brandi's in Katy so we can pick Landon up from school while Lowell and Brandi are both otherwise engaged. Really looking forward to it.
---
February 14, 2017
Together Again . . .
Jan and I headed out about 11:30 to have one last meal at La Bella Tavola for their delicious Chicken Florentini.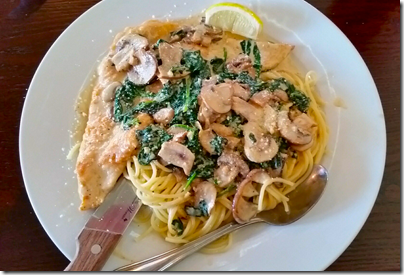 With fresh spinach, fresh mushrooms, and fresh garlic in a smoky alfredo sauce, it's probably the best pasta dish we've ever eaten.
And you can't leave out their very tasty homemade yeast rolls.
We're looking forward to coming back here again in September.
Then it was on to Wal-Mart to check out their somewhat meager cellphone selection. The Cuero Wal-Mart is one of the old ones, with the small grocery area in the center, so their phone area is small too. So we'll have to look further.
Then it was on to the HEB gas station to fill up. We were still at 3/4 of a tank, but since we'll be driving into Brandi and Lowell's tomorrow evening, we won't have to get gas on the way back.
Getting home about 2:30, I started working through my short list of things I wanted to get done before we leave tomorrow morning. The main one was to replace rig's expired tags with the new ones I got back in November. I put the new ones on the truck when they came in, but put off replacing the ones on the rig. In fact I put it off so long that we drove over here last month from Kenedy to on the expired ones. But we're legal now.
Part of me wants to take a nap since I only got about 5 hours sleep this morning. But I'm resisting the urge so I can go to bed at a decent time and get a full night's sleep.
The park owner will be coming over tomorrow morning about 9 to settle up for our electric usage. Even though we paid for a month, we've only been here 25 days, but I doubt I'll be getting a refund on that. Although we did get a refund when we left Lone Star RV Park in Kenedy 11 days early, so there's always hope, I guess.
Speaking of money, my last shift yesterday was actually in the next pay period, but SiteWatch was nice enough to go ahead and include it in the check we will get next Monday. Very nice of them.
While we were at Wal-Mart this morning, Jan made a fantastic discovery in the candy aisle. M&M now makes COFFEE-flavored M&M's.
Of course reading the label, they contain no actual coffee, but they taste good, and it's the thought that counts, right.
---
February 14, 2018
All Done . . . Again?
We hope so.
Jan and I headed up to the Clear Lake Regional Hospital in Webster about 10:15am.
She was supposed to be there by 11 for get checked in for her 1pm Laser Lithotripsy. And it all went very smoothly. I really like that the hospital has free valet parking for patients. Makes it so much easier to park and checked in.
Getting up to the 2nd floor Jan was taken right in to a Pre-Op room. Then a succession of nurses came through, each taking care of their specialty to get Jan prepped for her procedure.
They took Jan into the OR about 1pm and the procedure got started about 1:30pm. One thing nice is that I'm getting text messages from the hospital tracking everything that's happening.
She was done by 2:30 and Dr. Hackney came out to see me about 10 minutes later to tell me everything went great, and the UV laser blew the stone to dust on the first shot.
They wanted to be sure that all the effects of the anesthesia had worn off so we didn't leave leave the hospital until about 5pm. The two prescriptions they called in to WalMart weren't ready yet so we just stopped at Jason's Deli for soup and sandwiches for dinner and then headed home.
Jan has a checkup scheduled for two weeks from today, to see how it all went. But it looks good so far.
Although Jan had a little pain afterwards, a single pill took care of that, and it never reoccurred.
So far this evening she feels good, though tired and sleepy, the results of the anesthesia. But we'll have to see how tomorrow goes.
---
February 14, 2019
Happy Valentine's Day . .
After a quiet morning of Valentine's Day cards and Lindor Chocolate Truffles, Jan and I headed up to Alvin for the final ophthalmologist's appointment from her recent cataract surgeries.
After a quick checkup, and finding no problems, her doctor did a final setting on her prescription, showing her what her vision will be when she gets her new glasses.
Then, new prescription in hand, we drove over to the Sam's Club on I-45 and turn it in, along with the frames from the glasses that she got back in September. She hasn't worn them since her surgeries because the prescription was now too strong, and she thought it looked funny to be wearing glasses with no glass in them. She should have her new ones in the next week or so.
One thing nice about this was, with our Sam's Club Plus Card membership, the new lens were free, since she just got the single vision plastic lens version. Nice.
Then it was on down the Interstate to the Saltgrass Steakhouse for our Valentine's Day meal. And getting there at about 4:30 we thought we'd beat the holiday rush.
Wrong!
Normally if we get there by 5, even on weekends, we get seated right away. But today we had 15 minute wait at 4:30. However unlike our recent restaurant excursions, the service was great.
Our waitress, Desirea, was really good, and the food came out fast and hot. We started off with our usual fav Wedge Salad, but this time added an Amaretto Splash drink, made with Carnarena Silver Tequila, DeKuyper Peachtree Schnapps, Fresh Pineapple Juice, and topped off with Disaronno Amaretto Liqueur.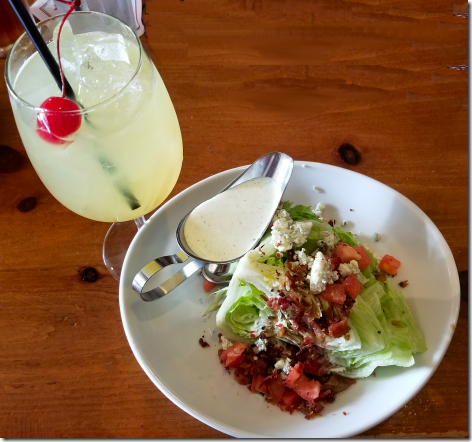 A really tasty drink, and the first one in a while that actually seemed to have some liquor in it. It seems like a lot of the time they 'forget' to add the alcohol, and all you get is expensive fruit juice. But this one had some kick. And since we normally only have a couple of drinks a year, we wanted to make the most of it.
Next up was our steaks, Jan's Center Cut Filet with the Green Beans,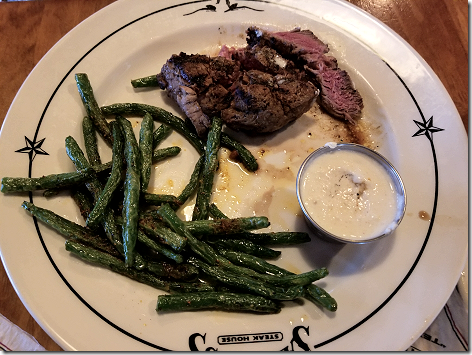 and my Ribeye, also with the Green Beans.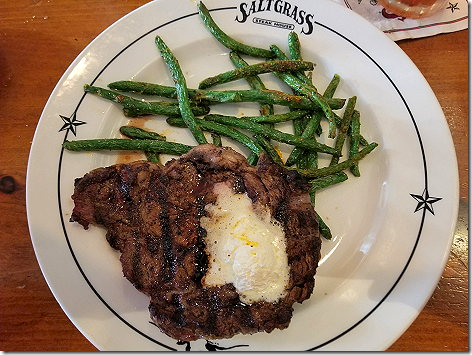 After a really great meal, and while we were waiting for our dessert, I gave my Sweetheart her Valentine's Day present.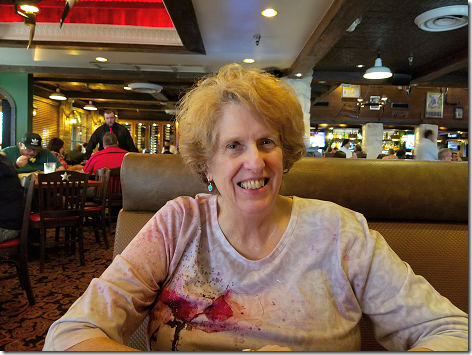 Opal is Jan's birthstone, and since she pretty much only wears earrings and rings, and she's already got several Opal rings, I got her these Opal hearts.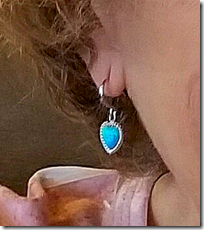 Then a few minutes later, our dessert showed up, the Pecan Pie Bread Pudding that we always split.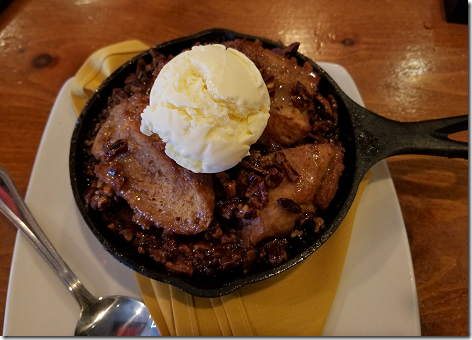 And for what it's worth, this is the least caloric dessert on the menu. The Brownie Skillet Crumble, at 2800 calories, is almost twice as high. So that means we're still sticking to our diet, right?
Happy Valentine's Day, Sweetheart!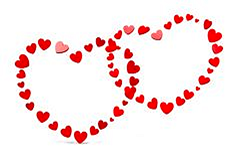 ---
February 14, 2020
Catching Up, Again . . .
On Thursday we drove back down to Birmingham to get together with long-time friend's Bill and Carol Alverson. Back in the early 70's Bill and I worked as Broadcast Engineers for WBIQ-TV, part of the Alabama Educational TV network, located in Birmingham. We also worked part-time at a local radio station as well.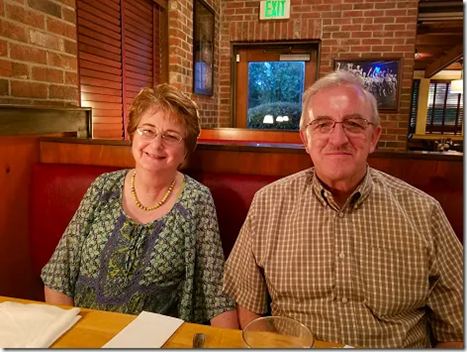 After spending some time at their beautiful home, we all headed right down the road to the nearby Jim and Nick's BBQ. Before we left the house, Bill double-checked that we still wanted BBQ since he knew from the blog that we had already had BBQ twice in the last three days. We told him 'no problem.' We can't have too much BBQ.
Bill had this enormous BBQ Stuffed Baked Potato,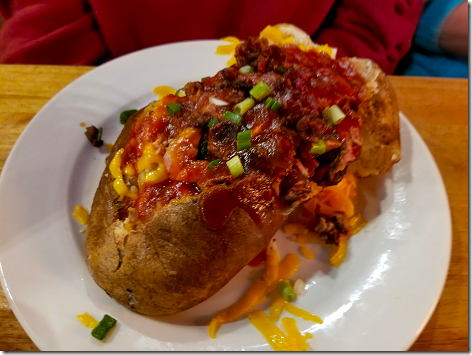 while Jan and Carol had Pulled Pork Sandwiches.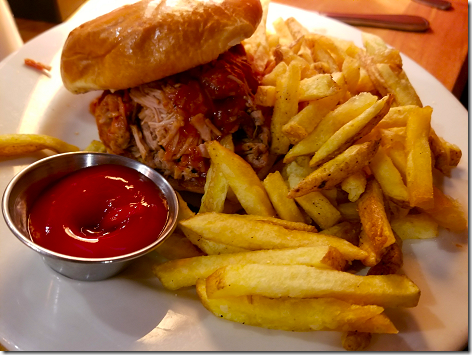 I went with the Double Decker, a sandwich with a double decker bun like a McD's Big Mac. But on this one, one layer is Beef Brisket and the other layer is Pulled Pork, the best of both worlds for me.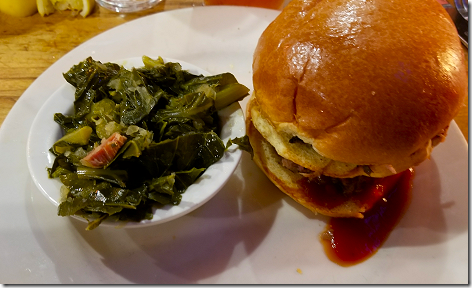 Delicious!
After dinner we spent some more time back at their home before we finally headed back to Athens a little before 9pm, and getting back to the motel about 11pm.
This morning, after breakfast here at the motel, we headed out to the nearby WalMart to pick up a new, larger TV for my Aunt Virginia. We were bundled up since it was 22° when we got up. And it supposed to be 21° tomorrow morning when we head back toward Houston.
We wanted to get her a new one because her old 32" was just too small for her to see clearly since she sits all the way across the room. So I did some measuringand found that a 43" Samsung like the one we recently got would fit perfectly.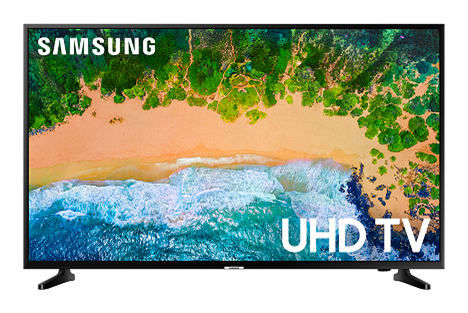 SAMSUNG 43″ Class 4K UHD 2160p LED Smart TV
At $250 this one is about $100 cheaper than ours since it doesn't have all the bells and whistles that ours does, but Virginia doesn't need. I did go ahead and get her the 3 year Extended Warranty for $25.
And as you can see here, it makes a big difference.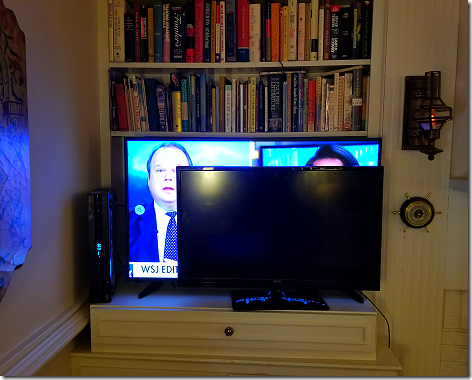 And in this case it was pretty much Plug 'N Play. I just unplugged the old one, installed the feet on the new one, set it in place, plugged it in and turned it on.
Later, about 1pm, Jan, Virginia, and I drove down to Decatur to have lunch at another favorite BBQ place of ours, Big Bob Gibson's BBQ. Found on many Top Ten BBQ Places in the U.S lists., they win more awards every year.
We met up with my Aunt Lenette, whose husband Tom Calvin, the former Pittsburgh Steelers football player and Winningest High School Football Coach in Alabama History, died a little over 3 weeks ago at the age of 93.
You can read more about my Uncle Tom here.
https://ourrvadventures.com/2020/01/some-sad-news-2/
https://ourrvadventures.com/2020/01/thanks-for-your-kind-words/
It's been a few years since we've seen Lenette it was good to get together with her again.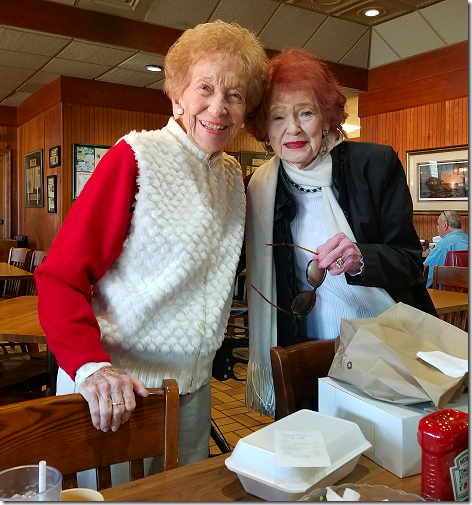 it's hard to believe that these two beautiful ladies are both 91 years young. That's Lenette on the left and my Aunt Virginia on the right.
Tomorrow we'll head back toward Houston, spending the night once again in Slidell. But this time we'll be staying at the Super-8 motel, rather than the La Quinta where we stayed on the way up here.
We got a great deal then at only $54, but when I tried to book a Saturday stay, I found their weekend rate was $84, rather than $54. But I found the nearby Super-8 for only $62, and they're rated the same.
We will make a lunch stop in Birmingham though. While we were eating at Golden Rule BBQ last Friday on our way up here, Jan suggested that we stop once again on our way home. So we'll leave here about 9am which will get us to Golden Rule about 10:30 when they open.
---
February 14, 2021
Besides a card, I had these Opal Earrings for Jan's Valentine's Day present.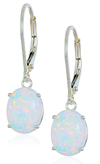 Opals are not only her favorite, but they're also her Birthstone. So it's two-fer.
And yes, she always tells me not to get her something, but I've been married long enough not to fall for that.
And here's my Sweetie at Saltgrass this afternoon showing them off.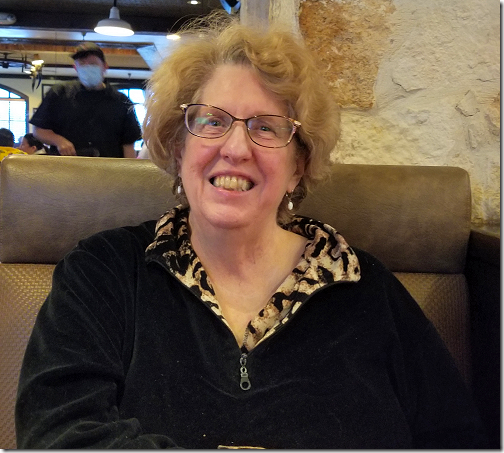 This morning I started my prep work for the cold weather the next two days and then again later in the week.
I started out digging out my aluminum clamp-on reflector lamp housing. I used it in our water bay along with a 100W bulb, an incandescent bulb, to keep the plumbing warm enough not to freeze. And it's work fine down to about 11° in the past.
But I quickly found a problem.The bulb had not survived its latest storage stint. And not you can no longer find incandescent bulbs of any size. And the LED ones don't product any usable heat.
And when I started checking out WalMart, Lowes, and Home Depot for Heat Lamp bulbs like this 250W one,

I found everyone out . . . except for the Batteries and Bulbs store over in Pearland, the only place in the area that had one. So about 11:30 Jan and I headed over that way to pick one up.
About 3:15 we were on our way to Webster for our 4pm reservations at Saltgrass Steakouse. And I'm really glad we had reservations. They were already on a wait and almost every table was full and stayed that way the entire time we were there.
We both got our 'usual', starting off with Wedge Salads,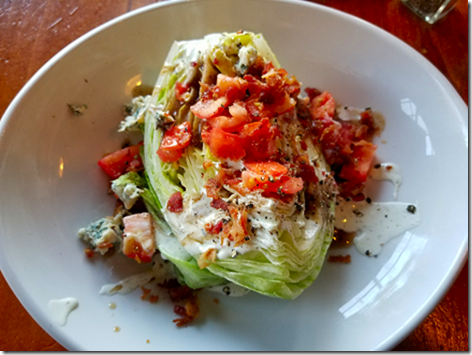 Then it was on to Jan's 9oz. Center Cut Filet, with Green Beans,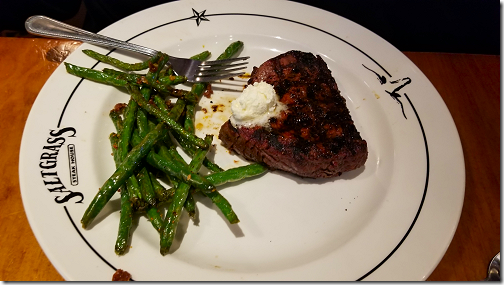 and my 16oz Ribeye, again with the Green Beans.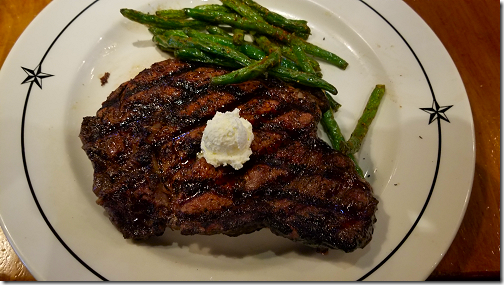 Both just as perfectly done (Jan's Medium Well and mine Medium Rare) and Delicious as always.
And of course it wouldn't be a Saltgrass without finishing up by sharing their Pecan Pie Bread Pudding, topped with Blue Bell ice cream.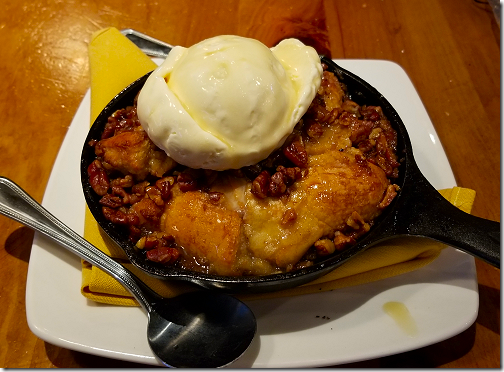 The perfect end to our meal.
And our server, Jennifer, took great care of us, even having the kitchen make up some creamy horseradish for us from scratch.
Really great service.
Coming home, I doublechecked that our 100 gallon fresh water tank was topped off, and then disconnected us from shore water and then drained the hoses.
And after hanging one of my remote temperature sensors in the bay, I set up the heat lamp and turned it on. Checking the bay temperature about 11pm, it was 31° outside and 56 in the bay. So far, so good.
Finishing up, I wrapped the pedestal with two towels and taped it in place.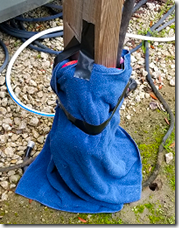 It's supposed to go down to 21° tonight with snow starting about 5am, and then 16 tomorrow night. So I'll check it out tomorrow to see how well it work, and if I need to do anything more.
Jan says I have to wear pants. Sweat pants!
Normally around the rig I wear shorts, a light t-shirt, and socks, summer and winter. But when it gets really cold outside, even though it's same temperature inside, she says I have to put on sweat pants because, as she says, "You're making me cold!"
I'm still not quite sure how that works, where me being comfortable makes her cold. So I put on sweat pans to make her happy . . . and warm, I guess.
And this is the same reason I order my eggs Over Medium rather than Over Easy. This is because she can not stand the sight of runny yolk on my plate.
But, as they say, "Happy Wife, Happy Life."
---
February 14, 2022
Happy Valentine's Day . . .
We had my 3 month evaluation with Alexandria, my P.A., this morning and she was very happy with my progress so far. As I had hoped, I can take Advil again, and to Jan's glee, I'm released from my 20# lifting limit. It seems she has a list of heavy-duty chores for me.
We also talked about the problems with my lower back, I.e., the lumbar region. Turns out that when/if I do something about it, I will need a lumbar fusion like I had done to my cervical area back in November due to the fact that my lumbar vertebrae are misaligned. f
If you think of the vertebrae segments as stacked on top of each other, mine kind of zig-zag, pinching the spinal cord and causing me problems. So they'll push everything back into alignment and then use a metal/plastic/bone plate to lock everything in place.
But we decided to put this on hold until my 6 month checkup next June to see what improvement I've had in the meantime.
Since we're having a Valentine's Day dinner at the Saltgrass Steakhouse down in Galveston, we just came straight home after my appointment.
Then about 4:30pm we headed down to Galveston for dinner.
And as all of our previous visits, Saltgrass had our window table waiting for us and we were seated immediately.
And as with our past visits, we got all our favorites, starting with their Wedge Salads.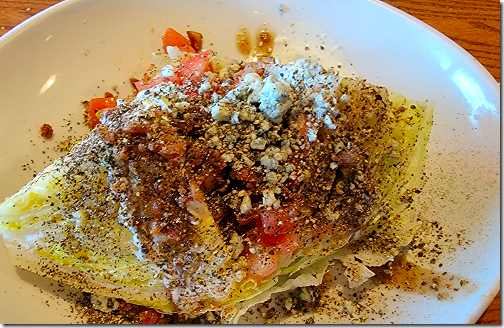 Then while Jan got the Maudeen's Filet with Grilled Green Beans,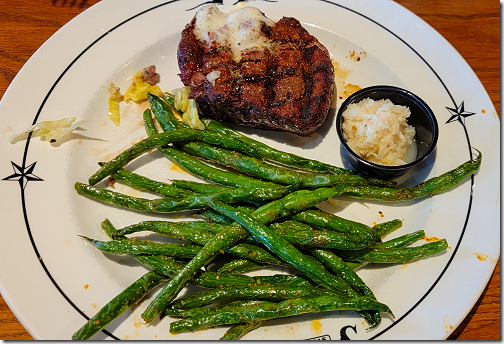 I went with my usual Ribeye, also with the Green Beans.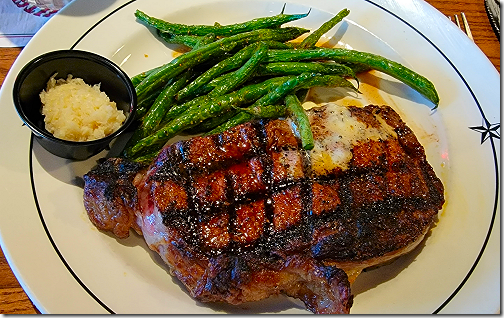 And of course we had to finish off the meal by sharing a piece of their delicious Carrot Cake.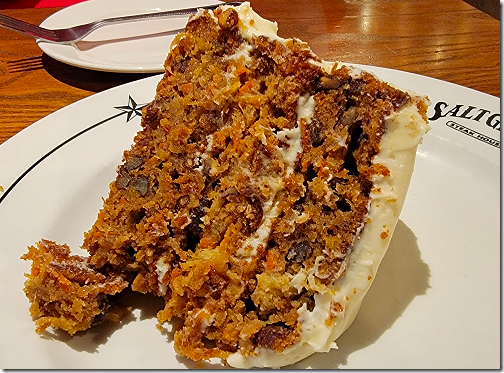 And great meal, and great service from our waiter.
Of course that may be because his name was Greg.
Just sayin'.