Daily Archives:
February 21, 2023
Lunch today was at Los Rameriz Mexican with both of us getting the Pechuga Rellena, a large grilled chicken breast on a bed of grilled broccoli and shrimp, and covered with melted cheese.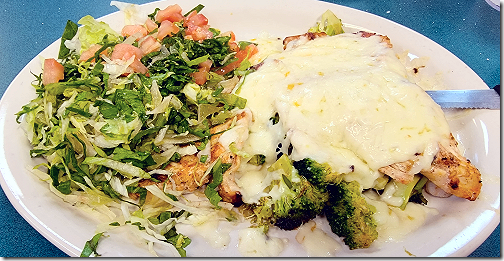 It normally also comes on a bed of rice, but we have them leave that off. And along with the salad, it also comes with half a sliced avocado, which mysteriously immediately makes its way to Jan's plate.
Really, really good.
Then it was on over to WalMart to get our weekly WalMart stuff, and then home for the day.
Jan and I were talking the other night about Young Sheldon and how it's going to connect with The Big Bang Theory, its predecessor.
Of course if you don't watch YS or watched TBBT, this will all mean nothing to you.
But if not, here goes.
YS is coming to the point where George, Sheldon's father is supposed to die from a heart attack, predicted for either the last episode of this season, or the first one of next season. This is kind of written in stone. But the fact that George is supposed to have a affair with his next door neighbor, Brenda hasn't materialized yet.
Plus a lot of things mentioned in TBBT don't fit at all with YS.
Like George keeping a bottle of 'driving whiskey' in his pickup truck.
No 'driving whisky' and no pickup truck.
Mary put ground glass in George's chewing tobacco.
No ground glass and no chewing tobacco.
His mother Mary, staying with Sheldon in Germany while he was guest teaching, had to leave him to go back to Texas because a tornado blew their trailer house off the blocks.
No trailer house
So a lot of viewers, including Jan and I, are wondering how they're going to reconcile all this.
In addition, in TBBT the grown-up Georgie mentions nothing about having a child, so some viewers wonder if something happens to Mandy and the baby in childbirth.
And finally, how does young Sheldon go from being the only slightly strange kid in YS to become the OCD/Autistic adult Sheldon in TBBT.
It seems some viewers don't want YS to go as dark as it seems to be going, and want YS to ignore TBBT and just pretend it never happened.
We'll see, I guess.
---
Thought For The Day:

Ignorance is bliss. Until it kills you.
---
February 21, 2010
90,000 and counting…
Today was a big day in our rig "Beauty's" life.
At 11:16 this morning, traveling between Canyon Lake, TX and Balmorhea, TX, our "Beauty' turned 90,000…miles, that is.
She had 62,512 miles when we bought here, so, in the last 2+ years we traveled over 27,000 miles. Not bad for beginners.
We left Lake Pointe RV Resort this morning about 9:00am, heading toward a stop-over tonight at Saddleback Mountain RV Park.
About noon, we stopped for lunch in Junction, TX. We parked at a Valero Truck Stop and drawn by the wonderful smell, we ended up at Cooper's BBQ across the street.

And boy was it good. Jan had a rib plate with beans and potato salad, and I had a rib and jalapeno sausage plate with beans and potato salad. We split a peach cobbler for dessert. Really, really good BBQ. You know that the place was going to be good, since they cook their meat in an outside pit, surrounded by a large stack of wood.
It's always interesting driving thru West Texas, despite what some people say. Along the way today, we saw wild goats, wild sheep, wild pigs, llamas, and a zebra. All without leaving the highway. And, of course, last week we saw camels, donkeys, and buffalo.
We pulled into the RV park about 5:30pm and got set up. There's not much to it, but it is cheap ($10), quiet, level, and convenient to I-10. Just what we want for an overnight stay.
Tomorrow we'll head out for Las Cruces, NM for a couple of days.
---
February 21, 2011
Hot Dog!
Jan and I slept in this morning enjoying the cool temperatures so we didn't get up until about 10am, to find a call from our daughter Brandi waiting for us. Yesterday was Landon's 6 month birthday, and today is his 6 month checkup.
Brandi laughingly wanted to know if Jan could babysit Landon this Saturday. Sure, I mean it's only 1250 miles back to Houston. No problem.
Though I think Jan would do it, just to get some Landon time.
After fixing coffee, I caught up on some computer work, while Jan read her new Janet Evanovich book. Then about 10:30 I got a call from the client that I did that one last job for right before we left Houston. And she had a problem.
All of her phones quit working this morning. They worked just fine on Friday, but when she came in this morning they quit working … one at a time.
I spent a good while on the phone with the VOIP company Tech Support guy with no luck. He didn't know what the problem was, he just knew it wasn't his companies fault. He kept wanted to blame our routers, but he couldn't answer my question about why it worked for two weeks and then went down one phone at a time.
I guess tomorrow I'll be spending more time on the phone, this time with AT&T.
About noon Jan fixed a lunch of sandwiches and chips, then I went out and pulled out our Weber Q200 grill from the bay.
Our kids gave it to us for Christmas in 2007 right before we hit the road. We haven't used it as much as we should have, but Jan had a hankering for hot dogs this evening so I wanted to be sure the the grill worked and had enough LP gas in the bottle.
After being sure the grill was working, I made a run into Gila Bend to the hardware store and the NAPA auto parts store. I was looking for a 3/4 wrench to make it easier to remove the rig seats to get at the carpet underneath them. I was also looking for a set of small snap ring pliers to let me disassemble our electric heaters to clean the dust and cat hair out of them.
Getting back to the rig I pulled the passenger chair and starting ripping up the carpet. It was slow going due to all the staples they used in the corners, but I did make some headway.
About 4:30 I started up the grill while Jan had already started the baked beans.
I grilled the hot dogs and the buns on the Weber and they both came out great. So about 5 we sat down to delicious hot dogs, beans, and chips.
Then after supper I did a little more on the carpet and then fixed evening coffee.
Tomorrow, more work on the carpet.
---
February 21, 2012
Out in the West Texas town of El Paso, . . .
After a quiet night at Saddleback Mountain RV Park, and coffee and muffins this morning, we headed out about 10 am for Las Cruces, 240 miles away.
75 miles later, a little past Van Horn, we entered Mountain Standard Time, and our trip suddenly became an hour shorter
Even going through El Paso was pretty uneventful, except for the usual idiots cutting in front of me. I was tempted to air-horn a couple of them, but I've noticed that they tend to swerve and change several lanes at one time when I do that. But it is fun to think about.
We pulled into Las Cruces and the Coachlight RV Park about 1:15. While I was unhooking, the owner came by and we talked a few minutes. Then he said that I sounded more like someone from Alabama than someone from South Dakota.
I laughed and said I has born in Birmingham and grew up in Gulf Shores and Athens. He said he learned to fly choppers at Ft. Rucker and spent 20 years in the Army.
We got parked and set up, and just rested up for a while. Then about 4:30 Jan and I drove over to La Posta de Mesilla, one of our all-time favorite Mexican restaurants. Housed in a building that was once a Butterfield Stage stop, I first ate at La Posta back in the early 80's when I was out here at the White Sands Test Facility working on Space Shuttle stuff.
Then in 2007 I got to bring Jan here for the first time when we came through Las Cruces in our rental Class C on our first RV trip.
And now we eat here every time we come through. Really good food.
On another note, I had something nice but strange happen with my HP laptop the other day. Some time after I bought it in late 2008, the touchpad quit working. It wasn't a real problem since I just plug in a mouse most of the time anyway. But it bugged me anyway.
Thinking it might be a driver problem, I uninstalled the old ones, downloaded new ones, and reinstalled them with no luck. In fact I tried this several times, and finally gave up and just used the mouse.
Then a few days ago I was installing some Microsoft updates and noticed one of them was from HP for the touchpad. Later, after the updates were installed and the laptop rebooted, I thought to check the touchpad, and lo and behold, it now worked! Strange and bizarre.
---
February 21, 2013
Subs and Biscuits . . .
We got over to Gina's about 9:30 after Jan had fed the deer here at the park. Then about noon I drove over to the Subway to pick us up some sandwiches for lunch. Later, coming back to the rig, I got back on my rig To-Do list.
One of the things I did was replace on of the 12 volt sockets on the dashboard. This one, the one that powers my Brake Buddy Alert Receiver when we travel, had become flakey and intermittent. Luckily I found one at an auto parts store that was a direct replacement so it pretty much just plugged right in.
Later I started changing the way my truck taillights are powered from the rig when we are towing it. Originally I set it up so that the normal truck lights were powered directly by the rig through steering diodes. But the voltage drop across the diodes dimmed the taillights somewhat, even when the truck was not being towed.
So after checking out my taillight lenses to see if I had enough room, I decided to add separate new sockets and bulbs to the lenses.
Here's how it looked before I started.
And here's how it looked after I drilled a hole in the lens and mounted the new bulb socket.
I ran out of time before I got any further, but next I'll remove the diodes from the system and then plug the wires from the connector on the front of the truck directly into the new sockets, which should finish things up. I'll post a follow-up when I'm done.
About 5pm I headed back over to Gina's so we could head down to San Marcos to have dinner at Red Lobster. Along the way we stopped off at Walgreen's to pick up some prescriptions for Gina
Dinner was really good, especially the Cheddar Bay Cheese Biscuits, which I think Jan could just eat along with nothing else.
On the way back to the ranch, I made another quick stop at an auto parts store for a couple of more project items for my To-Do list.
Tomorrow, I'm at it again.
---
February 21, 2014
Bombs Away . . .
or those damn flee-ridden ducks.
This morning started out with more work around the rig on things I need to do before we head out on Monday.
First up, I put new pull ropes on the leveler pads, and cleaned them up some. We're not using them right now since we're parked on concrete, but we'll need them at the Colorado River TT park where we're going. The reason I was replacing the ropes was that the original rope I used was polyethylene and I couldn't get a knot to hold in it. So I replaced it with Paracord which took care of the problem.
Next up, I crawled under the rig and sprayed the PowerGear levelers with silicone spray to keep the seals lubricated. I do this a couple of times a year and have never had a problem with oil leakage.
I finished up the morning by replacing the batteries in the rig's TireTraker Tire Pressure Monitoring System sensors. I had done the truck sensors a couple of weeks ago, so this finished things up. Tomorrow I'll get out my Sears air compressor and top off the rig and truck tires so then we'll be already to go tire-wise.
---
Then about 12:30 Jan and I left the rig, setting off a bomb as we went out the door.
A flea bomb.
Which is why we took Mister with us for the afternoon. In six years of RV'ing with two cats (at least until this past October), we have never had a flea problem. Until now.
So after trying several things, I.e. flea collars, sprays, powders, etc., none of which seemed to do much good, today we brought out the big guns. We used the Heartgard drops on the back of Mister's neck last night and bombed the coach this afternoon. Hopefully this will get rid of everything.
They have a flock of tame wild ducks around the park and the office said they're really bad about spreading fleas, so I guess we can blame it on them.
While we were out and about, I stopped off to see a couple of client's, all of which had to come out to the car and see the much-fabled Mister. And No, we didn't leave him in the car alone. Jan stayed with him all the time.
And anyway, I wouldn't leave him in the car by himself. I think he's smart enough to drive off and leave us.
Getting back to the rig about 4:30 we found any smell had dissipated and the rig was OK to enter. Actually the box says you can come back after two hours, so we were fine.
About 5:30 we headed back out, sans Mister, to meet our friend's Bob and Beth for dinner at Abe's Cajun Café.
And leaving the park, I saw this.
I knew this guy had a trailer full of remote control model planes, but I didn't realized he had some you could ride on. Or maybe in.
The food at Abe's was really good, but the menu has about 200 items on it, and it's hard to decide what to order. You want to tell the waiter to go away and come back in a half hour or so. By then you would have decided.
I had the Cajun Trio which consisted of Seafood Gumbo, Crawfish Etouffee, and a Spicy Boudin Link. And Jan had Blackened Catfish with Twice-Baked Potatoes and Green Beans. Both very good.
Saying our goodbyes, we drove over to a client's office to take a look at a problem they were having with the cash register software. Turned out not to be a problem, so much as operator error.
Tomorrow, more packing up, more last minute tasks, and another last meal.
---
February 21, 2015
I Can See Clearly Now . . .
Or at least much better.
A little before 11am Jan and I decided to have breakfast out, but just then our son Chris called and suggested lunch at Barcenas Mexican Restaurant near their house, so off we went. We were hoping our granddaughter Piper would be able to meet up with us, but she showed up later in the afternoon.
After our usual delicious meal, we went back over to Chris and Linda's so he could help me with a couple of things on my truck. One of which were my new headlights. With all the rain and wind at the rig, I had not been able to do the installation, but since Chris had the garage and a canopy to work under, I thought it might work better there.
And the uninstall the old one / reinstall the new one went about as easy as the shop manual described. Which is very unusual, believe me. Four bolts to take the old two piece unit off, and three bolts to reinstall the new one. Easy Peazy.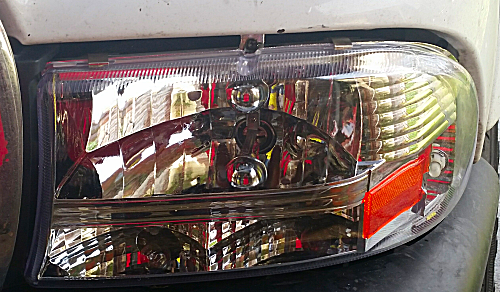 Chris thought it was weird, but I only wanted one new headlight installed right then, because I wanted to really be able to see the difference between the old one and the new one. Shouldn't be a problem since I don't think there is any law about having one headlight brighter than the other.
But we did quickly see a problem when we tested the new light. Although the headlight unit is new, you reuse the old bulbs and sockets. And while the old unit had amber turn signal lenses and white bulbs, the new unit has clear turn signal lenses. Which means since legally turn signal lights are suppose to be amber, I need to get amber bulbs to replace the old white ones. Which I did on the way home a little later.
About 6pm Jan and I headed up to the South Shore area to have dinner with our friends Tom and Barbara. We try to get together at least once whenever we're in town, and always have a great time.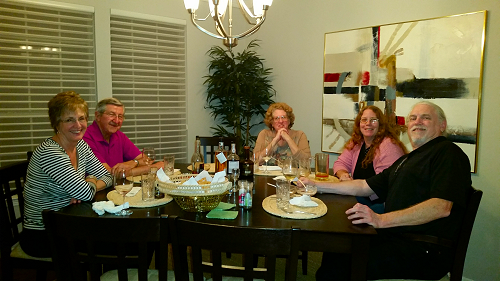 (Left to Right: Barbara, Tom, My Jan, Margaret, and James.)
And if you notice all the bottles on the table, you'll know we had a great time tonight too. Barbara is a great cook, and the meal is always delicious. Another couple, James and Margaret, also joined us, and as Barbara said, James and I have a lot in common.
Like me, James does IT support, and does it for PPL, the big consignment RV dealer here in town. Plus we've both done a lot of Military Contract work over the years. So we had a great time reminiscing about things.
Finally, after getting our hugs and goodbyes, we heading home about 11pm. And I finally got to see how my new headlight performed.
And all I can say is WOW! The new one is so much brighter that it's hard to tell the old one is even working. So I can imagine how two of them will do.
I do need to readjust the new one a little to the left, but as far as up and down, it's perfect. Can't wait to see both in action.
---
February 21, 2016
On To Plan 'C' ?
Well, we did get our walk in this morning, doing 1.15 miles, about 100 feet further than yesterday's 1.13, since we took a slightly different route. Now we're looking at 100% rain the next two days, so that's probably it until Thursday, after our doctor appointments on Wednesday.
A little later I got back on my washer drain pump repair. I had planned to be back outside, but the rain started coming in early, so I stayed in. I had left some metal parts soaking in CLR overnight, and the plastic parts in a bucket with water, Dawn, and Awesome. So I retrieved those and rinsed them off in the shower, and then dried them.
Next I wanted lightly sand outside of the rotor and the inside of the stator to get rid of the gunky buildup on the parts. To make it a little quicker to do the rotor, I chucked into my drill and then held the 2000 grit sandpaper against the cylinder as I ran the drill.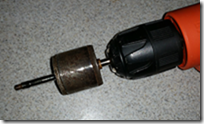 This smoothed it out pretty quickly, but I had to be carefully not to sand down too far and damage the windings.
Then I wrapped sandpaper around a screwdriver and used it to sand the inside of the stator.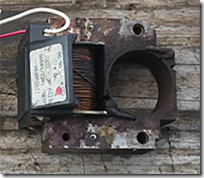 At this point I placed the rotor back in the stator and found that it turned much more freely now.
So now it was time to put it all back together and give a try. It took about 10 minutes to get it reassembled and ready to test. But when I put power to it, I still had the same jerky rotation, buzzing, and vibrating. And the coil was getting a lot hotter than it should after only a few seconds of power. So it's shorted.
So now it's back to the drawing board. I've got a couple of other things I want to look at first, but tomorrow I'll follow up on my Plan 'C", which is to take my pump down to a local appliance parts place and see if I can find something similar that I can make work.
I did find several on Amazon that looked like they might fit the bill, but I'd rather see one in person and hold it in my hand.
And of course there's always Plan 'D', which is to buy one off eBay for $185. Ouch!
A little after 5pm Jan and I headed next door to have dinner with Brett and Frankie. Brett had invited us over to show off his prowess with his smoker.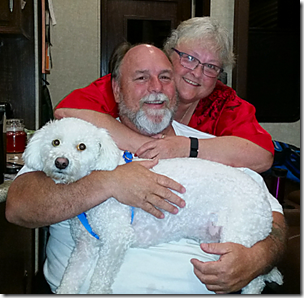 Brett was up about 5am getting the ribs going, and it certainly showed in the final results.
Frankie whipped up some fresh green beans and a batch of fried potatoes, while Brett did the ribs and also a pan of sautéed shrimp. Jan and I contributed a big bowl of her Heavenly Hash for dessert, and a bottle of Cupcake Moscato for lubrication.
And a good time, and a great meal, was had by all.
Brett and Frankie are just getting on the road in their toy hauler 5'ver for a year of traveling. They want to try out the full-timing lifestyle before they fully commit so this next year will be the test.
We had a great time getting to know them, and talking about places we've visited and want to visit, and things to see while we're there.
Jan and I finally headed home about 8:30, after a really good time. We enjoyed getting to know Brett and Frankie, and are going to try to get together for dinner later in the week.
Tomorrow, hopefully I can wrap up my drain pump problem one way or the other. But we'll see.
---
February 21, 2017
Work, Work, Work . . .
With our traveling over for a few days, it was time to get back on rig repairs and updates. I've got a checklist in Evernote that I'm working my way through.
Today's main job was a little work on the Throne. Yes, that one.
First up, I used my Sealand Toilet Seal Cleaning Tool to clean around the seal in our Sealand Toilet. Hence, 'my Sealand Toilet Seal Cleaning Tool'.
In case you don't have one, it looks like one of those wooden tongue depressors that a doctor uses to check your throat. But this one is white and flexible. If your toilet stops holding water like it should, it's usually because there is a buildup of 'debris' in the seal.
So you open the valve and then run the rounded end of the tool around between the flaps of the seal, doing this several times, until the water stays in the bowl.
Next up I replaced the seat on the throne. Every throne needs a good seat, right? Actually though, there was nothing wrong with the seat except for cosmetic problems. Over a period of time, the lid starts to wear off the finish on the seat, and once that starts it tends to spread.
I replaced our seat about 5 years ago with a Church brand seat from Lowe's. Whenever I install something on the rig I make a note in a text file I keep. So yesterday I picked a new seat with the same part number. So this afternoon it took only about 30 seconds to change out the seats. Just unlock, unsnap, snap, and lock.
Easy Peazy.
I mentioned before the digital sign on the western edge of Katy that tracks oil industry statistics, like the price of a barrel of oil, price of natural gas, and the US rig count. And according to the sign, the rig count has jumped 22 in the last two weeks, topping out at 751. And up more than 200 in the last four months.
Nice.
Saw this neat little camper in the park this past weekend, all the way from Colorado.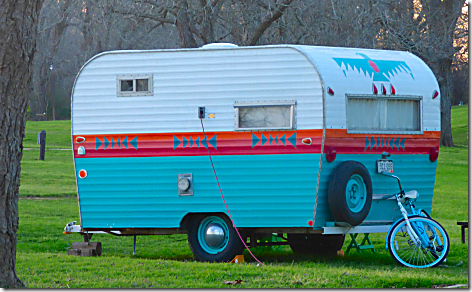 Sorry I didn't get to see inside.
---
February 21, 2018
But I Didn't Accomplish Anything . . .
As I told Jan when I got home this afternoon, I got a lot done at work today, but I didn't really accomplish anything. When she asked what that meant, I said I was busy doing a lot of different things but didn't really make any long-term headway toward any of my big projects.
It started raining about 4am, loud enough and heavy enough to wait me up, and it keep coming down just about all day long. According to my rain gauge it's total over 4 inches in the last 24 hours. And more to come.
My new LED headlight bulbs came in today but I probably won't install them until this weekend when Jan and I are up in Katy puppy-sitting for Brandi.
Since they're a little larger than the standard bulbs, they're in two pieces with a plug in the middle to make it easier to get them mounted and plugged in.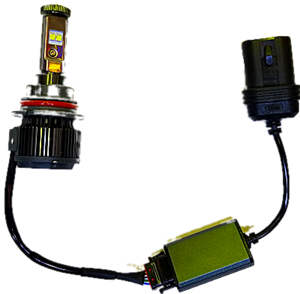 Cougar Motors 7200 Lumen Headlight bulbs
I'll let you know how it goes.
The reason we're dog-sitting is that Brandi, Lowell, and Landon are heading up to the Dallas area for a weekend at Great Wolf Lodge, a 600 room hotel combined with an 80,000 sq. ft. water park, all indoors.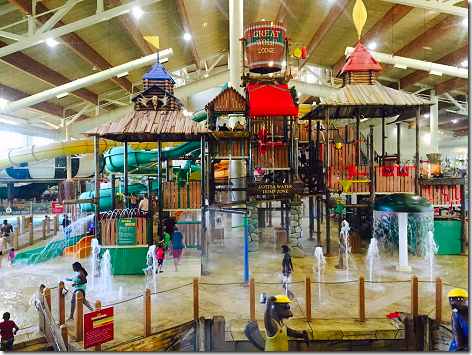 Looks like fun, and a great prequel to their DisneyWorld trip in the future.
Tomorrow Jan and I are meeting up with Chris and Linda to introduce them to our favorite Pho 20 for dinner. Really looking forward to it.
---
February 21, 2019
Jan Says She's Gonna Do It . . .
Jan and I spent the morning going over the shore excursions for our upcoming European Cruise Tour. We get an excursion included at every one of our 13 stops during the 15 day cruise. Plus there are optional ones also at every stop . . . at an extra cost, of course.
The excursions are also rated by Activity Level, I.e. Easy, Moderate, and Demanding. As such we'll probably avoid the 'Demanding' 5 hour Bavaria By Bike tour . . . at only $109 a person, too.
So now we're going to through the list booking the excursions, since they still have to be reserved, even if they're free. And we're also looking at several of the optional ones, mostly ones that include 'Food Tasting.'
Eagle-eyed blog readers will notice that I've posted a countdown calendar for our cruise, but it's really only accurate to the day. I set the time for 8am but we have no idea when we'll actually leave, since we won't get our ticket time info until April 5th, 3 weeks before our departure date.
After that, Jan and I headed up to Webster about 12:30 to meet our long-time friend Tricia at Snooze AM for breakfast.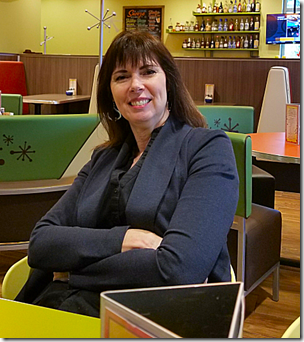 Tricia is another friend that actually started out as a computer client for her home-based business, and we always try to get together every few months.
Then it was on over to the nearby SuperCuts to get her hair done. And after talking with her hair guy, she's had an epiphany.
She wouldn't listen to me, she wouldn't listen to y'all, but when her hair guy, who also does coloring, tells her she'd look good with red highlights, she was all over that like she's never heard it before.
Never a prophet in your own land, I guess.
So now she says she's gonna do it.
While she was getting her mind changed, I stopped off at my client's to check on an order, and then it was on up to the Ace Hardware to pick up some nylon bolts to fix the toilet seat at the office.
When Jan was done at SuperCuts we walked next door to the HEB to get a bag of their great Lola Savannah Texas Pecan Coffee and some lottery tickets Next up was Sam's Club to pick up her glasses that came in this morning. And trying them on for the first time she was amazed at how much sharper her vision was with the new pair.
While we were there we went ahead and got gas, and I was very surprised to find that since last week, the price had jumped 14 cents from $1.75 to $1.89. Ouch!
Under the heading that "Jan Can't Have Too Many Cat Shirts", I saw this one on Facebook and order it for her.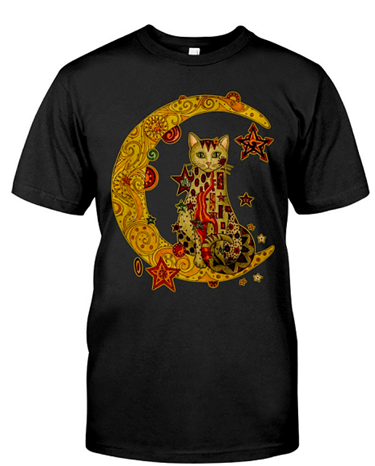 Really striking.
You can get yours here. Cat On The Moon T-Shirt.
---
February 21, 2020
I Should Have Done This A Long Time Ago . . .
Or It's God's Way Of Telling Me I Need A New Computer.
For the last several days I've been fighting a problem with my desktop computer. First Windows Live Mail wouldn't open, followed the next day by Chrome.
Internet Explorer would still work, but with no more than two tabs open. Then it seems like more and more programs slowly died or became flakey. My first thought was a hardware problem, but every test I ran came up clean.
So it looks like that my Win 7 Operating System is slowly, or not so slowly, dying. And since this computer is about 7 years old, it's probably about time for a new one.
But as it turned out, it would be a new old one. I remembered the very powerful one that we had retired at work. It originally ran our websites when we had our server in-house.
It has an i7 processor running at 4Ghz with 16GB of RAM, a 512GB SSD, and a 1TB HD. I've already ordered another 16GB of RAM which will max out the RAM.
Yesterday I scrubbed the HD, getting rid of the Linux Apache Server software, and installed a fresh copy Windows 10 Pro. Now it's just a matter of installing new copies of the programs I need, as well as copying over all the data.
Tomorrow night Jan has her yearly get-together with a number of her former hospital coworkers, something they've all done every year since we started RV'ing in 2008.
---
February 21, 2021
Chowderless . . .
Despite the fact that the temperature finally creeping up to 70° today, we had been wanting some Clam Chowder from the N.E. Lobster and Chowder food truck at the Three Acres Food Truck Park ever since the cold weather hit.
So we head over that way about 1pm this afternoon only to find ourselves Chowderless. The truck was not there and when I asked the lady in charge at the bar if they would be back, she said they had moved on to another location in 'Houston' somewhere. Well, that certainly narrows it down.
They have a Facebook page so I'll see if I can track them. Hopefully they're somewhere nearby.
So we had to get by with Jan's Mushroom-Swiss Burger and Fries, and my Philly Cheesesteak with Fries. Both really good.
The owner said he flies his bread in from Philly from the same bakery that makes the rolls for Geno's and the other famous Cheesesteak places.
We also shared an order of the Mac Attack's Pizza Mac. It's Mac N Cheese made with pizza sauce, mozzarella cheese, and topped with pepperoni. Very, very good.
Mac Attack also had Lobster Mac, Cajun Mac, Buffalo Chicken Mac, and a number of others, including of course, Mac Mac, just plain Mac N Cheese for you purists.
I'm still waiting to hear back from our La Quinta hotel about our bill. They have 4 Pending charges against my card, totaling $1405.01, if they were all to go through. Of course they won't all go through, but still.
Pending charges are what a restaurant does when they give you the check and you give them your card. The charge is Pending because you probably will be adding a tip to your charge slip. Then later, it may even be the next day, the charge is run through again, this time including the tip. and then it's Finalized.
Hopefully I'll hear something tomorrow.
Next up, we drove over to our storage place to finish cleaning out our last small storeroom and moving all the stuff over into our new, larger one. This will give us room to sort through and organize our stuff into keep, throw away, and sell on eBay.
Since we've already got something planned for Tuesday, it now looks like Thursday will be New Toilet Day.
At least that's the plan. But who knows these days?
As we've traveled around the country we've found a lot of towns that have animal mascots.
Elkhart, IN has, what else, an Elk.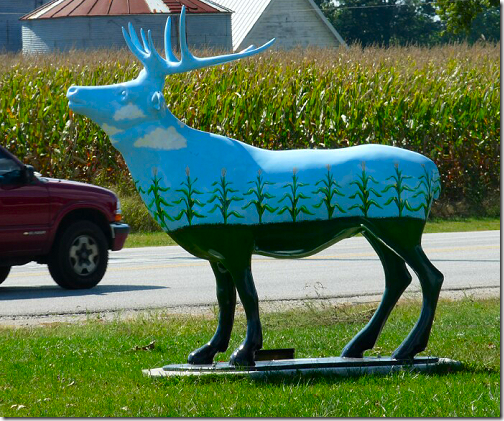 Beaufort, SC has a Mermaid.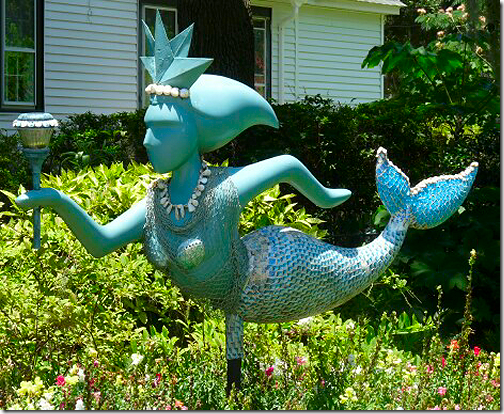 Seabrook,TX has a Pelican.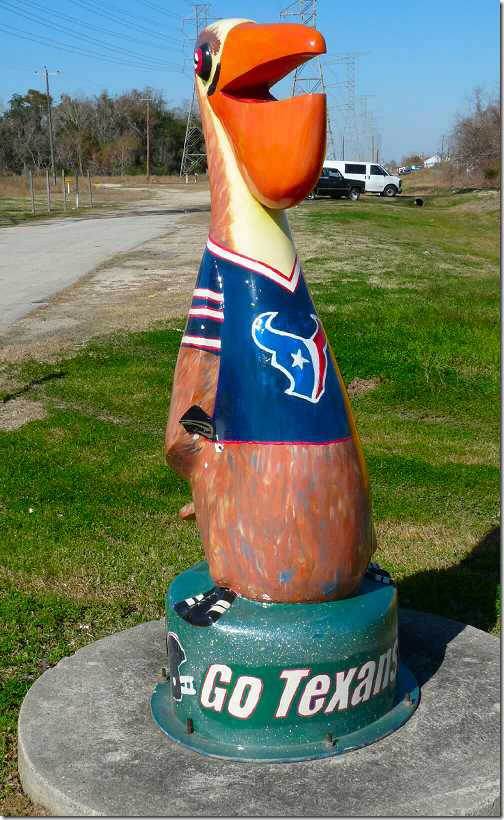 And both Mackinac Island, MI and Coeur d'Alene, ID have moose.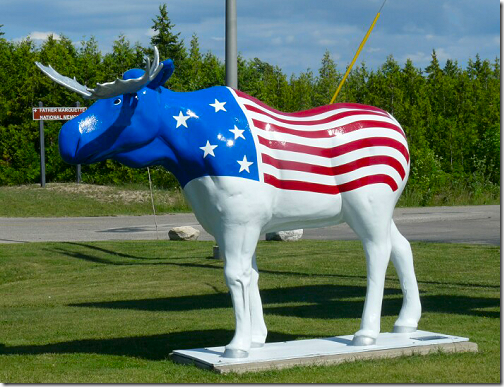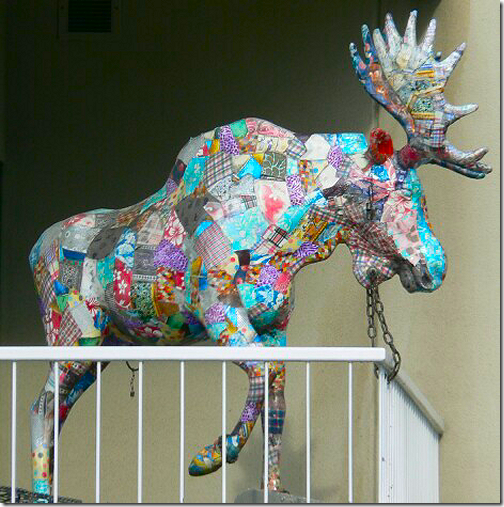 The way this guy's chained to the balcony makes it look like he's tried to 'wander' off a few times.
But animals aren't the only mascots. Sometimes fruit is involved. When we were over in Pearland, TX last week picking up a heat lamp bulb for our water bay, we discovered that Pearland now has their own line of mascot.
What else, Pears!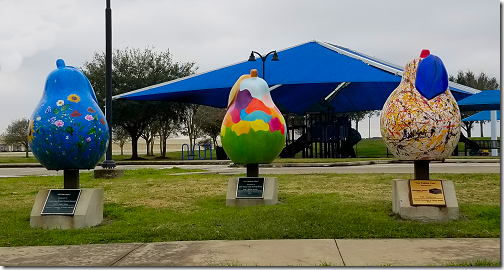 BTW what defines a 'mascot' is not just a single statue. It's a number of them all over town, based on the same form, but with different paint schemes. We've seen as many as 20 in some areas.
Sometimes at night Jan just wants to read, and I'm doing something on the computer, so we just put the MyReef 3D aquarium on the screen. It's an Android app that runs on our Firestick HD. It's an animation, but looks real.
I paid, I think, $2.99, for the full version with more fish and more backgrounds. Very restful and soothing.
---
February 21, 2022
Drill Baby, Drill . . .
Several readers asked me about B&D Battery-Powered Drill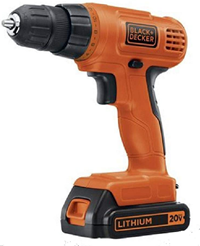 I mentioned the other day. As I said it's probably the best drill I've ever owned, and it has more torque than you would think. Enough so that it can be hard to keep a hold of when you're drilling or screwing into something tough.
After I ordered the drill, I found this custom case for it,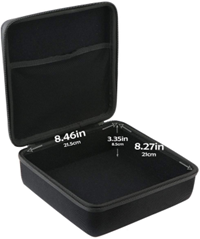 and I also got a 2nd battery for it so I can be charging one while still using the drill.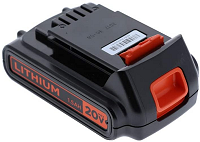 And it all fits in one neat package.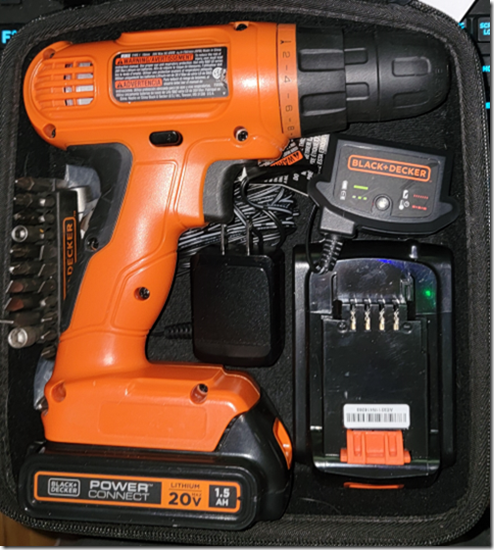 A great product.
---
Jan and I have recently added a new ingredient to our daily drug/vitamin regimen. It's selenium, in the form of 4 Brazil Nuts. Brazil Nuts have more selenium than any other food source, about 4 times as much.
And why selenium? Well, besides the usual stuff mentioned here – Benefits of Selenium, there have recently been several studies published about this benefit.
Natural mineral may help reverse memory loss
"Our models showed that selenium supplementation could increase neuron generation and improve cognition in elderly mice," Dr. Walker said.

"The levels of new neuron generation decrease rapidly in aged mice, as they do in humans.

"When selenium supplements were given to the mice, the production of neurons increased, reversing the cognitive deficits observed in aging."

The scientists also tested whether selenium would have an impact on the cognitive decline sometimes experienced following stroke, which can affect people's memory and ability to learn.

"Young mice are really good at the learning and memory tasks, but after a stroke, they could no longer perform these tasks," Dr. Walker said.

"We found that learning and memory deficits of stroke affected mice returned to normal when they were given selenium supplements."
But don't take more than 3 or 4 because selenium can be toxic in higher dosages.
Of course it might just be too much clutter.
Lifetime of knowledge can clutter memories of older adults, researchers suggest
So that's it.
I'm cluttered because I know too much useless stuff?
Who knew?