Daily Archives:
February 19, 2023
In yesterday's blog I jumped the gun saying lunch today was going to be at Los Rameriz. Los Rameriz is going to be Tuesday.
Today was Dickinson Seafood.
But HEB was still on the schedule.
But in between the those two, we got an oil change at our local Take 5 Oil Change located in between. This was our 500 mile post engine rebuild change (well, closer to 600 miles, actually)
We've got an somewhat busy week coming up.
Tomorrow I've got my PDT (Photo Dynamic Therapy) or as I call it, The Devil's Easy Bake Oven.
It's been almost 5 years since my last one, and my dermatologist thought it was about time to do another one.
The treatment itself only takes 16 minutes, 40 seconds. (I was afraid to ask what would happen if it went 16:39 or 16:41) But the prep takes two to three hours.
They smear a solution on your head and then let it dry. Then they check the coverage and reapply it to any thin spots. So I get to set out in the lobby for a few hours with this white stuff on my head.
Fun!
Then Thursday we're heading into downtown Houston to first have lunch at Katz's Deli before taking in the King Tut's Tomb exhibit at the Houston Museum of Natural Science. Really looking forward to it.
---
Thought for the Day:
"It infuriates me to be wrong when I know I'm right." ― Molière (and Me)
---
February 19, 2011
Wind, Dust, and Tumbleweeds . . .
We left Las Cruces this morning a little before 9:30am, but right before that our daughter Brandi called to check up on us and give us the latest on Master Landon. He just starting eating vegetables, and apparently he really likes peas.
About 10 minutes out on I-10 I pulled over and let Jan drive for a while. She didn't drive at all last year, so she wanted to get in some practice. And it only took her a few minutes to get back in the groove, especially after I put a small piece of tape on the dashboard to help her keep centered.
In about another 30 minutes we pulled into the Bowlin souvenir place at Akela Flats, one of our favorite stops. Jan always loves looking at the jewelry, although this time she didn't buy anything. But I made up for it.
We did spend $380.00 for 102.7 gallons of diesel. That was $3.699 a gallon. OUCH! The last time I filled up was September 13 right before we parked for 5 months in Houston and it was $2.499 a gallon.
One thing that was interesting about getting diesel was that my Silverleaf computer engine display said I had 47 gallons left in my 150 gallon tank. And I put in 102.7 gallons.
You can't get much more accurate than that.
Jan was a little nervous, but had no problems getting in and out of the parking area and back on I-10. I was really proud of her.
About 11:30 after a Rest Area stop I took back over the driving chores. The wind was starting to pick up, the tumbleweeds were out in force, and this was not to Jan's liking.
About 12:30 we were coming into Lordsburg, NM and I saw the signs for Kranberry's Family Restaurant and asked Jan if she wanted to stop. We had eaten here last year coming thru the area and knew the food was good, and maybe more importantly, they had RV parking in the back.
The only real problem with the RV parking however, is that it's just a big gravel lot with no markings, so everyone just parks willy-nilly, every which way. In fact, we pulled in thru the front, out the back exit, down a block to turn around, and came in the back, heading out toward the front. This to be sure we wouldn't get blocked in, and would have an easy exit.
As usual, our food was good, but coming back to the rig, we found this bad omen. If tumbleweeds are blowing thru the parking lots, what's the Interstate going to be like?
When we got back in the rig, we could see dust clouds on the horizon, and figured the weather was going downhill.
And it did. But luckily, not too bad. The high winds got worse, but we got out of the heavy dust areas fairly quickly, and never had a visibility problem.
We did have several instances of the rig wanting to change lanes without me turning the steering wheel, however. Not good. I think we had some gusts in the 40-50 mph range, but they weren't as bad as when we were coming into Dawson Creek, BC in April of 2008, and the 60-80 mph gusts were blowing semi's off the road, and trying to open our big awning. And on top of this it was 19 degrees.
I don't even want to think about what the wind chill was.
We finally pulled into the Pima County Fairgrounds, still in one piece, about 4:30pm. Then our biggest problem was finding where to go to check in. The sign at the gate said 'RV Office' straight ahead.
However straight ahead would have taken me right into a big crowd of kids and families all milling around. They were having some sort of high school event and the place was really crowded. So I finally found a place to park off to the side of the lot and took off on foot looking for the office. After getting two sets of bad directions, I eventually found it and got checked in. And one of the staff was nice enough to bring me back to the rig by golf cart. Much appreciated!
We got parked and hooked up, and then set off for Poco & Mom's, a really great Mexican place that our friends Al & Adrienne Cox had introduced us to about a year ago.
It's a small place, only about 10 tables and 4 counter stools, but boy is it good! I had the Green Chile Pork Stew and Jan had a New-Mex combo platter. Here's a shot of my Pork Stew.
New-Mex is like Tex-Mex, only different. They have more pork dishes, and use a lot of the Hatch red and green peppers. MMMM Good!
Of course, this being Arizona, why isn't it Ari-Mex? Or something?
For dessert, Jan and I split a fruit-stuffed Sopapilla. Since we couldn't decide on apple or cherry, they did it half 'n half. Really, really good!
And cheap, too. Only $2.50! My kind of food. Good AND cheap.
And, of course, lots of it.
Leaving Poco's we headed over to the nearest Wal-Mart, according to our GPS. However it was not a SuperStore and didn't have groceries. So we went by a Fry's that we'd seen on the way and picked up some stuff to fix in Gila Bend, since the restaurant choice there is lacking.
Coming back to the rig, I stopped to get gas, figuring it would be even more expensive out in the middle of nowhere in Gila Bend later this week.
But in finding a place to fill up, I ran into one of those mysteries of life. You know. one's like
"If the early bird gets the worm, why does the second mouse gets the cheese?"
or
"If you're going to shoot a mime, do you need a silencer?"
In this case there are two gas stations. One on either side of the street from the other. The first, a 'Gas City' station, is selling regular unleaded for $3.259. The other, a Diamond Shamrock, is selling regular unleaded for $3.059. That's a 20 cents a gallon difference! Helloo!
Why does the 'Gas City' station have any business at all? Are people just too lazy to make a left turn at the light into the Diamond Shamrock? Or don't they realize that $3.259 is larger than $3.059?
Just what is it?
Anyway, getting back to the rig, I decided not to set the sat dish up since there was nothing we wanted to watch or record. We thought we'd just watch some of the stuff we'd already recorded on the DVR.
And therein, I found a problem. Apparently, if you are not connected to the satellite, the DVR won't let you watch anything you've recorded.
BUMMER!
Tomorrow we've got a 137 mile run to Gila Bend, AZ. We'll be there for several days, while, hopefully I can get the rest of the carpet up and start putting down the new laminate.
---
February 19, 2012
'Honorary' Uncle Butterbean . . .
Finally we woke up to the sun this morning. And after coffee and some of the delicious muffins she and Gina made yesterday, Jan and I headed over to Gina's about 11:30.
Jan was happy to see it was a 1 gate day again, since yesterday it was a 2 gate day, and it was raining, and Jan was on gate-opening duty again. (That's what happens when you keep losing at "Rock, Paper, Scissors, Lizard, Spock")
Before I forget, here's a shot of the 55" TV Matt Jones and I installed for Gina in her bedroom. Right now it's just pretty to look at until the Direct TV guy comes out on Tuesday to wire the satellite to it.
The TV isn't tilted. The ceiling molding is.
Later, while Jan brought Gina up to speed on Pinterest, her new favorite obsession, I drove over to the Little Blanco river crossing to see if we'd be able to go this way on our way to lunch this afternoon.
Believe it or not, there's a roadway underneath there . . . about 6 inches underneath.
I've crossed it this deep before, but we'll have guests with us this afternoon so it will be better to take the long way. There'll be less screaming.
This is what can happen if you gun it as you're climbing the hill out of the river bottom and side-slip on the slick pavement and off the edge. We came across this sight a few years ago.
About 1:45 our blog friend 'Butterbean' and his lovely wife Joyce showed in Canyon Lake. They live about 75 miles from San Angelo and had driven over to finally meet us in person.
After meeting up at the Exxon station, we caravanned over to Salt Lick BBQ, about 45 minutes away.
We've eaten here a number of times, and our daughter Brandi even had her wedding reception here a couple of years ago, but we've never seen them this busy.
We were told there would be 90 minute wait! We have never seen crowds like this. Don't know if it was because it was a holiday weekend, or what, but it was wall-to-wall people here today.
But luckily they overestimated the time and we only had to wait for about 40 minutes.
Salt Lick serves family style, with sliced brisket, ribs, sausage, beans, potatoes, coleslaw, and bread. And they just keep bringing until you give up.
Here's Butterbean and Joyce getting ready to chow down with the rest of us.
And for dessert, they have pecan pie, blackberry cobbler, or peach cobbler, or you can even get a combo of blackberry and peach, with ice cream, which is what Jan and I split.
All in all, a great meal, with great company.
Brandi has declared Butterbean, Landon's 'Honorary' Uncle, and we enjoyed getting to know him and Joyce, and wish we had had more time together. But by the time we finished eating, it was a little after 5 pm, and they had a 200 mile trip back home. Maybe we'll get to spend some more time together next trip.
Getting back to Canyon Lake, we dropped Gina off at her house and then headed back to the rig for the night.
Tomorrow we've got an early start for a 375 mile trip to overnight at Saddleback Mountain RV Park in Balmorhea, TX, before heading onto Las Cruces for two days.
---
February 19, 2013
So Far, So Good . . .
Well, our first real travel day of the beginning of our 6th year of Full-Timing got off to a great start. We pulled out of our site back at Galveston Bay RV Park about 10:30, and made our first stop about 8 miles away.
We have a tradition that on our way out of town every year, we stop off at the Monterey's Little Mexico in Dickinson for one final bowl of their Chicken Tortilla Soup before we hit the road.
There is a large parking lot right next door so there's plenty of room to park. In fact this is where we normally hook up our toad before we eat.
We were on our way by 11:45, heading up I-45 and then west on Beltway 8 to hook up with 1-10 West. Our first stop was at the Buc-ee's in Luling, about 3 hours later, another of our travel traditions. We headed back out with hot coffees for us, and a bag of cherry kolaches for our friend Gina who we'll be visiting for the next week.
We pulled into our destination, the Lake Pointe RV Resort in Canyon Lake, TX about 4:30 and got set up.
Lake Pointe is a Passport America park so we can stay here for two weeks at $12 a night for 50 Amp, Water & Electric. Sewer is not a problem for us since they let you drain your drain your gray tank on the ground, and we can go for two weeks on our black tank. And there's a Honey Wagon available if you need it.
A little after 6pm we headed over to Gina's place, about 10 minutes away, to visit for a couple of hours. We haven't seen Gina since Thanksgiving so it was good to get together again.
Finally heading back to the rig, we stopped off at the Italian Garden Restaurant in Canyon Lake for supper. Jan loves their Meat Ravioli, and I had the Grilled Chicken with mushrooms, sun-dried tomatoes, asparagus in garlic-olive oil sauce. Really good.
Tomorrow I'll be running some errands while Jan stays with Gina, and then we'll all try to grab some dinner later.
---
February 19, 2014
Muffins and . . . well, more Muffins
Well, it was another early morning today. Up at 7:45, out the door at 8:30 (sans coffee), and at the clients at 9.
This was supposed to be my wrap-up visit with this client, but it didn't quite work out that way. One of the things I was supposed to do was hook his external harddrive to his old desktop computer and backup all his old data and prepare the unit to be given away. But the computer, not used since this summer, had developed a problem. It would no longer read a keyboard. I tried two different ones,using both the PS2 keyboard socket and two different USB ports, all with no luck.
Since the computer is no longer operational I'm just going to take the HD out and put it in a external HD case and that will be his backup. I brought the computer home with me and I ordered a case from Amazon which will be here tomorrow. But it still means another trip back there to drop it off.
Coming home, I made a hardware store stop for some more screws to fasten the metal trim down around the pedal area under the dashboard. I want to try to get that finished up before we leave here on Monday, but I may run out of time.
Last up was a stop at Buc-ee's for some of their delicious Cranberry Nut Muffins. Not only are they delicious, they're big enough for a meal. Besides breakfast, we often have one with coffee for dinner.
They're that good.
But no muffins for us tonight. Our original dinner plans fell through, so it was time for some Hooter's. You can never have enough Hooter's.
Coming home we stopped off for gas at Wal-Mart and found the price has jumped 15 cents in the last week or so. Where's the Keystone pipeline when we need it?
For some reason we're seeing a lot of white pelicans around this year, along with the usual brown ones. It must be caused by Global Warming.
Pelicans are one of those animals that are so ugly they're beautiful.
---
February 19, 2015
Blades and Bistros . . .
First thing this morning I got back on rig work. Yesterday I had started to install these new wipers on the rig, Denso Wiper Blade, 26″ (Pack of 1) , but ran into a problem.
The new ones, although the same model that I bought before, were slightly different. They only had one mounting hole, not the two on the previous ones. And the metal frame was a little bit wider. I was able to drill a second hole with no problems, but when I made the blade holder wider, I found the mounting screws were now too short. So coming home from our friend Bonne's last night, I made a Home Depot stop to pick up some longer ones.
Once I had those, it didn't take long for me to install the new blades. The only problem was that the wind coming off Dickinson Bayou was so strong that I had to be careful that the gusts didn't blow me off the ladder..
Later, about 3:45pm, Jan and I headed up to Katy to meet Brandi, Lowell, and Landon at our favorite Little V's Vietnamese Bistro, probably our last visit until we're back here in August.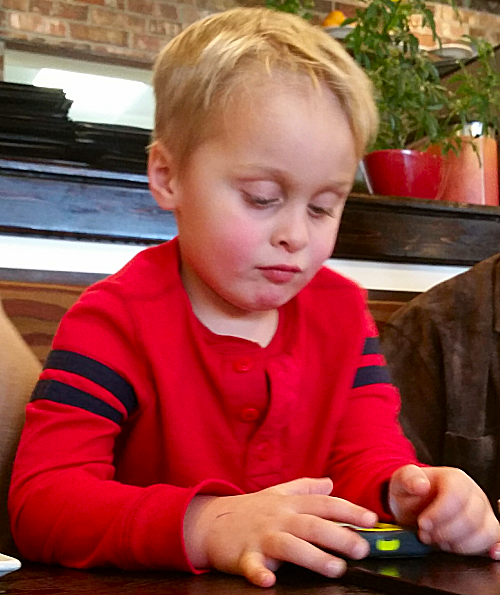 As usual the food was delicious. I don't know what they do to the beef chunks in the Shaking Beef Bowl, but they're so flavorful and tender they just melt in your mouth.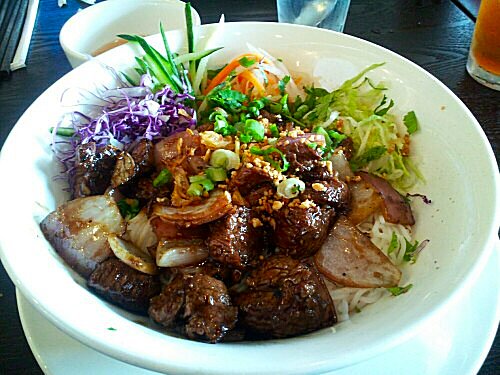 And of course, you can't forget the Crème Brule Spoons for the perfect light dessert.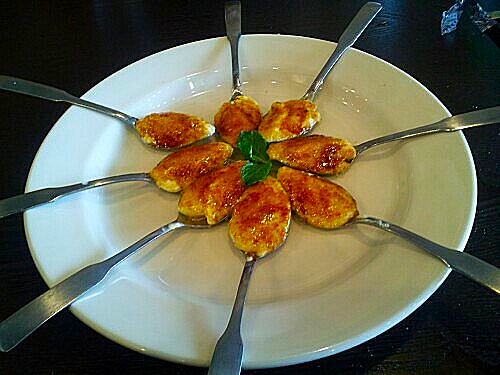 * * * * *
After trying to clean the haze off the truck headlights, I finally took the advice of my son Chris, and son-in-law Lowell, and just ordered new headlights off of eBay for $85. I ordered them Monday and they came in today. Very fast service.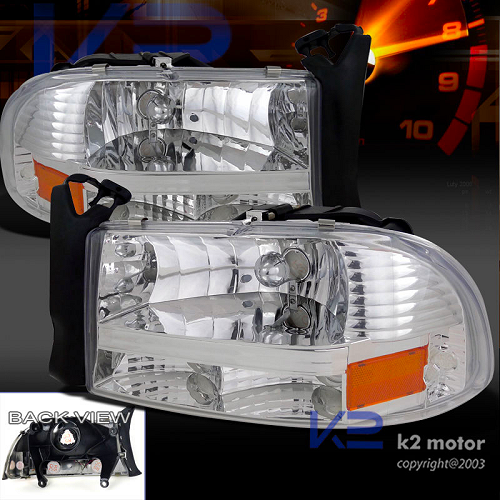 According to the shop manual I have, it looks like only 3 or 4 screws to change them out. But you never know.
* * * * *
We haven't seen as many birds here this year as usual, probably because of the construction going on nearby. But I did get this long-range shot of a bunch of them on a small island about two hundred yards out, at the limit of my zoom.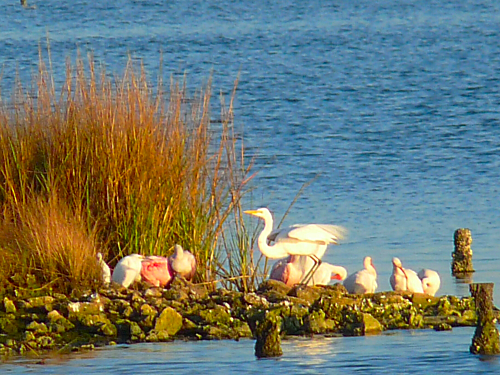 Looks like a real family get-together, with egrets, ibises, pelicans, and 'Pinky', our Roseate Spoonbill.
Tomorrow Jan has her oncologist appointment to get some blood work done, and her Anastrozole prescription renewed. Should be just routine since her mammogram / ultrasound was clean.
Then it's back on rig stuff.
---
February 19, 2016
A Bunch of 'News' . . .
Since we were heading out for lunch about 12:15, that was our excuse for not walking this morning. But I did get in a call in to Westland Sales about my Splendide drain pump problem.
As I mentioned yesterday, I noticed that when I turned the fan shown below,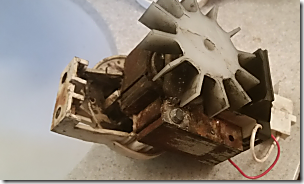 the white pump impeller shown below did rotate. But when I turn the impeller itself, the fan didn't turn.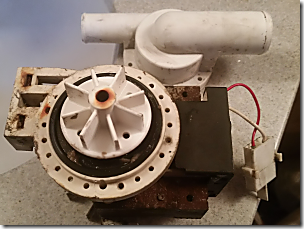 Now my first thought was that there was some sort of slip clutch on the impeller so that if a sock or something got hung up, it wouldn't burn out the pump but would just spin free. But I wanted to be sure before I went any further with the repair.
And it turns out my thought about the clutch was correct, and that's the way it's supposed to work.
So tomorrow, first up I'll put 120vac to the motor to be sure it works, and then put the washer into spin/pump mode to be sure it is sending 120vac to the pump. This part may be interesting since the washer is presently upside down in the kitchen, but I'll make it work somehow.
Then I'll disassemble the pump as much as possible and clean it up, and then try to get some lithium grease into the bearings. Hopefully this will get it working again.
And before I put the bottom panel back on, I'll spray it with the black Rustoleum paint I bought the other day to paint my re-welded screen door hinge. The panel is kind of rusty so it could use a little clean up.
We head out about 12:15 to meet blog readers Sherry and Clark for lunch at the nearby Asian BBQ & Grill. Neither of us had ever eaten there, but Sherry's son, who lives in this area, recommended it.
Based on the Yelp reviews and pictures, we were hoping for our own local version of our favorite Little V's Vietnamese Bistro. Since Little V's is out in Katy near our daughter's, and over an hour away, we don't get there as often as we'd like, so we had our fingers crossed.
Getting to the restaurant, we were warmly greeted by Sherry and Clark, and spent some time getting to know them. And we quickly discovered that there's a bunch of 'news' in their lives.
Sherry is newly retired, as in just last week, and she's still trying to adjust to the big changes in her life.
And Sherry and Clark are on their way to being new 'semi-full-timers.' They have a new Jayco 31ft Class A, and are planning to check out the fulltime lifestyle by taking several months this summer to travel the East Coast all the way up to the Escapees Escapade being held in Essex Junction, VT the last part of July. They did a one month trip last year, so this will be another step in that direction.
But the most important 'new' is the fact they're 'Newlyweds', only married for 42 days.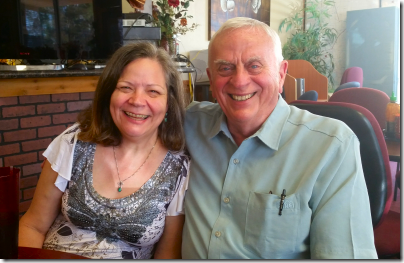 So Congratulations to the happy couple!
Finally we got down to ordering, starting out with an order of their Shrimp and Pork Spring Rolls, Really good, with a great peanut sauce.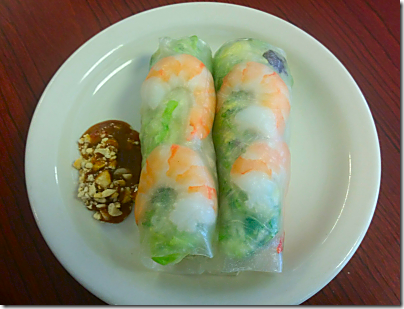 For our entrée's, Jan and I tried to duplicate our favorite dishes from Little V's. We both got the Grilled Lemon Grass Chicken over Vermicelli, while I added a skewer of grilled shrimp to mine.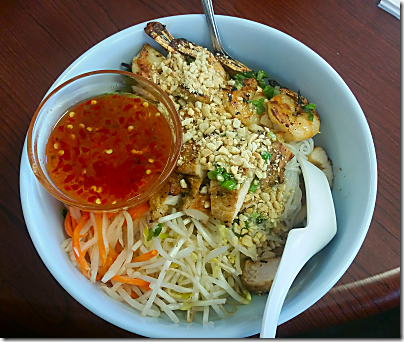 Our meals came with the Fish Sauce above, but we also asked for some of their Dragon Sauce. Really hot, and a lot of flavor too.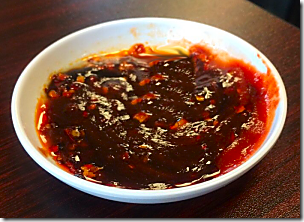 Jan and I both really liked our meals, and though we both agreed it wasn't quite up to Little V's, it was a delicious replacement, especially considering it's about half the cost of Little V's. Always a favorite of mine.
We will certainly go back.
Finally saying our goodbyes to Sherry and Clark, and thanking them again for the Pumpkin Muffins and bottle of Cupcake Moscato they brought Jan, we drove over to the nearby Sam's Club for a few things before moving next door to Wal-Mart for a few more things. Then on the way home we stopped off at Starbuck's for a caffeine pick-me-up. Jan went with her usual Cinnamon Dolce Latte, while I tried out what is now my new favorite Starbuck's drink, a Smoked Butterscotch Latte.
Tomorrow we'll try to get our walking started up again, and then I'll get back on the pump repair.
---
February 19, 2017
Smooth As Silk . . .
Once again we were up at 7am and out the door by 8, once again heading down to the Clear Lake area so that our son Chris could again work his mechanical magic on our truck replacing the shocks.
But getting down there our first stop was the nearby O'Reilly's Auto Parts to pick up the correct front shocks. The ones they gave me yesterday would have fit our Dakota, but they were a different type. And it's not a good idea to mix two different types of shocks on a vehicle.
Finally at Chris', he started on the hardest one first, the driver's rear. It's the hardest because of the location of the upper mount. But 45 minutes later, he was moving on to the passenger rear.
One thing nice about these Monroe shocks is that they pre-compress them for you, making them a lot easier to install.

Finishing up, it took him about 2-1/2 hours from start to finish and now the truck rides smooth as silk. Really nice.

Thanks Chris.
About 2pm we all headed over to Rudy's BBQ for a great meal.
With ribs, jalapeno sausage, moist brisket for me, lean brisket for Jan (or as I called it, dry and tasteless), creamed cord, and new potatoes, it was a real feast, and certainly worthy of us.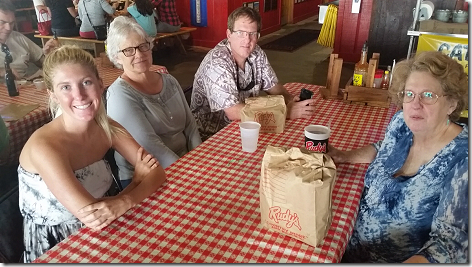 Saying our goodbyes, we detoured by Kroger's to gas up before heading back to Columbus, finally getting home about 5:30.
And tomorrow, we get to do it all over again. This time for Jan's lab work and mammogram.
And even better, it's supposed to be pouring down rain all day with a strong chance of flooding.
Oh, Boy!
---
February 19, 2018
Well, I Know What It Isn't . . .
I spent most of today at work trying to track down a slow data problem on the local in-house network. Our office manager wants to be able to call up customer info from one computer to another. But it can take as long as 15 seconds to pull up over network, where it just takes a second or so on the local machine.
It's not a network problem since the UPS shipping program does the same thing, but in the other direction. And it runs just fine.
I did try repairing and then compacting the database which did help a bit, but it really didn't fix the problem. So now I know what it's not.
I'm beginning to think that the problem might be the way that the program sorts the data to find the requested customer. As it sorts it may be moving large chunks of the 3.5 MB data file back and forth. So my next thought is to see if I can pre-sort the customer database by the customer name rather than the customer number.
I'll give it a try on Wednesday and see if it makes a difference.
Coming home I stopped off at the Victory Lakes Jason's Deli to pick up soup, salad, and sandwiches for dinner. I had pre-ordered and pre-paid for it using their phone app so it was ready when I walked in the door. I would have/ could have used the drive-thru lane, but there were already 4 cars in line. So it was quicker to just park and go in. Seems like more and more places have these apps and it's really convenient.
Tomorrow a stay at home day, though we'll probably go out for dinner. We're thinking Rudy's BBQ, but we'll see how it goes.
I had a couple of people asking about the new LED headlights l ordered. They should be in on Wednesday, so I'll let you know. I'll probably replace one first and see the difference.
---
February 19, 2019
You Decide . . .
After a nice morning Jan and I headed out about 2pm for lunch and stuff. And lunch was the Cheddars up in Webster once again.
And as usual Jan got her Key West Chicken and Shrimp with Green Beans and Carrots, while I got the Veggie Plate, with two Green Beans and two Carrots, and also comes with a bowl of soup and one of their Honey Butter Croissants.
I always get their Chicken Tortilla Soup which is really good. Not quite Monterey's Little Mexico good, but good. However at the Cheddars in Katy last week, I saw that they didn't have the Chicken Tortilla soup, but instead had something called Crispy Chicken Tender Noodle Soup, Turns out it was really bad.
It wasn't a very good Chicken Noodle Soup, I.e. I've had better from a can with Campbell's on it. And the 'Crispy' part consisted of some rock-hard nodules like oversized Grape Nuts, but didn't taste as good.
So when I got my soup today I asked to speak with the manager to put in my vote for them to keep the Chicken Tortilla version. Especially since the corporate website lists the Noodle Soup as the norm.
Turns out that this location is actually a franchise, not corporate, and they can have whatever soup they want. Great!
Next up was a quick stop by Harbor Freight to pick up some Alligator Clip Leads for work, and then it was on to my client's to pick up my Amazon orders, including my new Panasonic FZ80 that came in.
On that note, yesterday I came across this Extra Battery and Car Charger for the FZ80 and ordered one.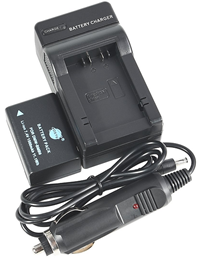 Should be here tomorrow.
Then it was on to the Ace Hardware to pick up some stainless steel bolts, nuts, and washers to redo the windshield wiper mounting on our RV. They don't make wipers that fit our arms anymore so I'm going improvise something that will work better than the kludge that I've been using.
So actually I'm coming up with a new kludge to replace the old kludge. So a better kludge, I guess.
Then it was on over to the WalMart for some supplies before we headed home.
Ok, y'all get to decide.
With her recent 50 pound weight loss, I've been encouraging Jan to change her look a bit, mostly by switching to darker, slightly redder hair color sort of like this.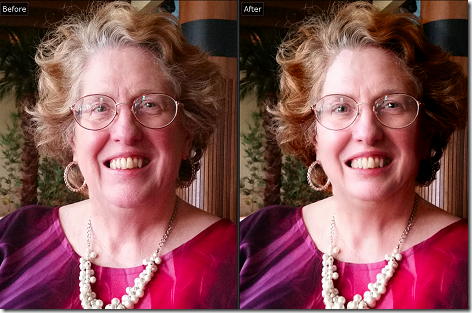 She's reluctant, having been blonde for so long, but she had dark red hair when I met her in 1967, and still was a redhead here in 1975, here with our daughter Brandi at Gulf Shores, AL.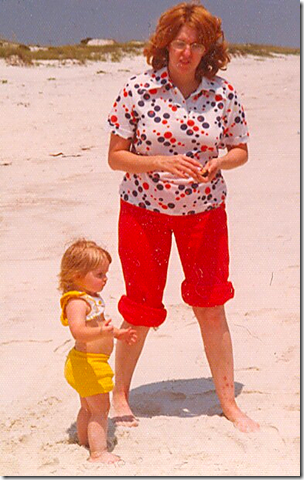 So you decide, and let us know.
---
February 19, 2020
Not Much Blog Today . . .
I didn't get last night's blog posted until this morning due to computer problems with my desktop unit. My Windows Live Mail won't open, and neither will Chrome. But the old Internet Explorer works.
I spent most of today at work trying to get a new ad card ready for our mailing company to send out. When I left for Alabama last Thursday they had decided not to do a March sale. But they changed their minds while I was gone, so for the last few days I've been scrambling to get the card ready to go for the March sale.
Right now here's how it looks. But I've still got some more tweeting to do.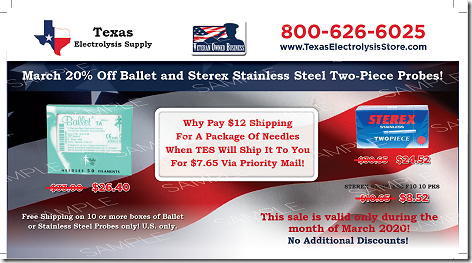 Of course it doesn't help that the products they want to sell, and the prices they want to charge keep changing.
Hopefully I can finished it up and get it submitted tomorrow.
---
February 19, 2021
Home Again, Home Again . . .
Jan and I checked out of the Texas City La Quinta about 10:30 and were back at the rig by 11am, finding it nice and toasty inside since we left the heaters running overnight.
Before I headed into work for a few hours, I doublechecked that our onboard water was still working without any leaks. And so it was. And since we're supposed to have temps back down into the 20's tonight, I'll wait to hook us back up to shore water until tomorrow. And I've left the heat lamp going in the water bay just in case.
Hard to believe that by Sunday it will be back in the 70's again.
It seems like a lot of the restaurants in the area are connected to the Texas City water system, so just about the time they got back open from the loss of power, they had to shut down again due to a Boil Order from Texas City. But hopefully everything will settle back down soon.
But it looks like the whole shipping/delivery thing is going to be awhile before everything comes back up to speed. Items that were supposed to be delivered from Amazon this past Monday, Tuesday, and Wednesday are now scheduled for next Thursday, though I imagine they will probably show up before then.
Also a number of things we had coming into the office from suppliers via UPS have just disappeared into the system somewhere. The tracking numbers come back as No Information. Check Back Later. So I guess we'll see when they finally turn up.
Our room at this La Quinta was an upgrade from what we usually ask for, which is just a King Bed, Non Smoking, like this.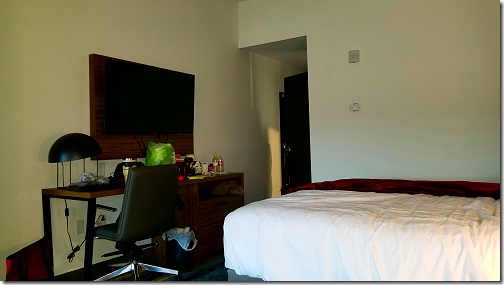 But what we got, at no additional charge, was a Deluxe King Studio Suite, which also has this.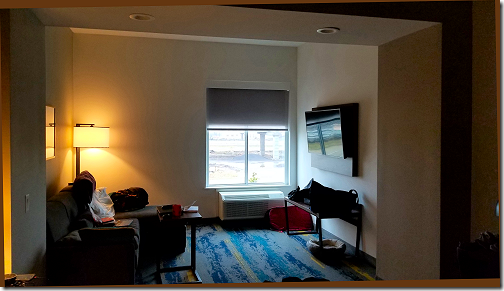 A sitting area with another 50" TV. Not exactly sure what we were supposed to do with two TV's, but it was more comfortable watching TV sitting on the sofa than lying in bed.
Might have to ask for one the next time we travel.
Nice.
Tomorrow will probably be a nice stay-at-home day, while we work on the big pot of chili Jan made today. Really spicy, and perfect for this cold weather.
---
Thought For The Day: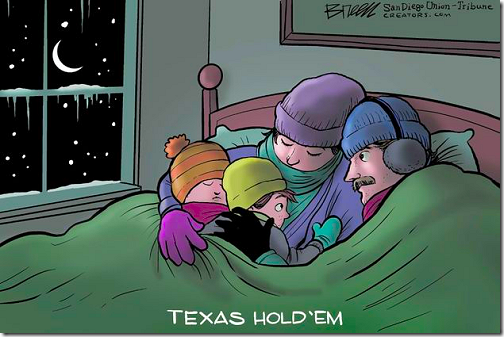 ---
February 19, 2022
Adult Supervision Needed . . .
Jan and I had lunch once again today at our favorite Pho Barr, starring with their Grilled Pork Spring Rolls.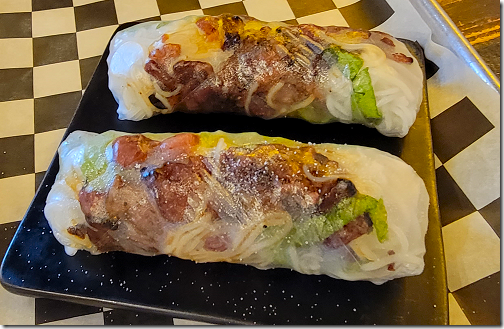 Then Jan got her usual Grilled Chicken Vermicelli Bowl, with enough left over to take home for lunch on Monday.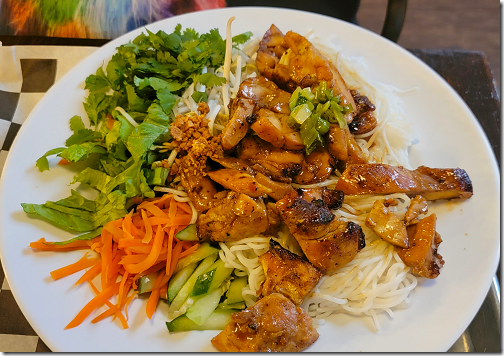 I got my favorite Pho Ga, which means it has Chicken in it.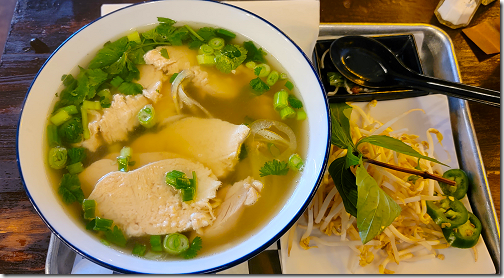 It's actually hard to believe how much chicken is in this.
And once again, our regular waiter just shook his head when I asked about the progress on the Pho Barr down in our area.
Finishing up, our next stop was at the office to drop off a bunch of my Amazon boxes for us to use to ship out stuff. Our office manager says it seems that I'm the one that keeps them in boxes with all my Amazon orders.
I also picked my my battery-powered drill that I for a project here at home.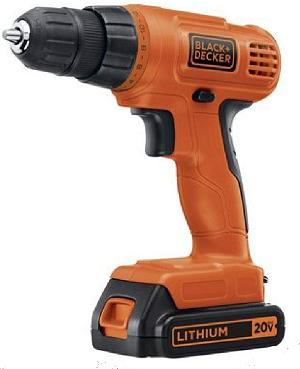 Probably the best drill I've ever owned.
Next it was on back down to our area for a WalMart run.
One thing I noticed is that while they weren't real busy, they had 9 of the 12 checkout lanes open. But the last time we were there and they were very busy, they had only 4 lanes open. What's up with that?
Then home after a nice day.
Tomorrow it's Gator's Bar & Grill and HEB, along with a quick stop at our storage room to get a photo of what we have in it so we can show the movers to get an estimate for moving us to a new storage location.
I mentioned earlier that our present place had jumped our rate for a 10 x 20 Climate-Controlled unit from $152/month to $232/month, an $80 jump, or over 52%. This after a $20 jump last year. And when I called them this past Thursday to confirm that the letter I received, the young lady immediately offered to drop the increase to $40. So maybe they're getting some pushback on this.
I took it of course, since my next payment at the new amount comes due next Wednesday, the 23rd. But I'm still moving our stuff.
I just didn't tell her that.
Found on the Net. Some people shouldn't be left alone without adult supervision.
I have a friend that flies for a small air charter service here in Alaska. While dropping off a couple at a remote cabin he asked if they had any "bear repellent" as this was brown bear country. My pilot friend gave them two cans of bear spray, a super-strong capsaicin-based defense spray. As he taxied to the end of the lake to take off, he looked back to see the now partially-clothed couple writhing in agony on the beach. Upon returning to the dock he discovered that they had used the bear spray in the manner of mosquito repellent! Soaking themselves with it to smell bad for the bears. I have it on good authority that there are times when a soak in a 37 degree Alaskan lake can feel real good!